Investment Perspectives provides insight into the markets from three of Janney's elite strategists.
Phase Transition - Mark Luschini
We do not view this recent equity downdraft as a signal to trim risk assets (beyond which we advocated midyear, which was to lower overweight equity settings to align with policy targets). Given our belief that the economy is robust, the monetary cycle is still accommodative, and corporate profits will continue to grow, it is too early to turn cautious. However, the risks are plentiful, so close attention must be given to handicapping their development.

Markets commonly undergo periods of disruptive "phase transitions" in which investor sentiment abruptly shifts from bullish to bearish and vice versa. Often, there is no new catalyst to serve as cause for the inflection point other than a consensus interpretation of the prospective outcome; good or bad, what is alike is the uniformity of investor behavior. These market reversals, bull-tobear or bear-to-bull, are analogous to water turning into ice and then back to water. There is no discernable difference for water if the temperature drops 4 degrees from 40 to 36, but drop another 4 degrees to 32, and roads freeze over, ice forms, pipes burst, and other potentially hazardous events soon follow. Conversely, the temperature rising from 29 to 33 degrees can melt ice from the roads, making passage safe. Similarly, as risks build—financial, macroeconomic, geopolitical or other—often nothing happens for a time until a phase transition occurs, at which point it all seems to matter.

In early October, we experienced a phase transition. The risk that a trade war erupts, interest rates move too high, Italy's budget negotiation turns into a battle royal, China slows dramatically, oil prices rise, earnings slide, and mid-term elections upturn market-friendly fiscal reforms, all coalesced into risk-off in what seems like a singular moment. While we don't discount the merits of these as potential disrupters, none are that new nor, in our opinion, acute in nature at this juncture. What was confirmed, however, is that we have entered a period of elevated volatility with this being the latest bout of market indigestion following a double-digit drawdown earlier in the year.

The market had been primed for some pull back for a long while, so any excuse could have been used to sell. Some date this drawdown to comments made by Federal Reserve Chairman Jay Powell in early October, when he said rate hikes had a "long way to go." The Treasury bond market sold off as investors quickly discounted a higher peak in short-term interest rates than expected. In our judgement, monetary policy is not restrictive, so the modest tightening in financial conditions doesn't represent a "choke point" for equity prices. The U.S. economy continues to enjoy solid momentum, outside some recent softness in housing, and corporate earnings are still expected to grow yearover- year at a healthy pace. Meanwhile, the synchronized global growth narrative of last year has given way to this year's storyline of 1) non-U.S. growth losing some altitude, 2) angst amongst the most indebted countries within the emerging market complex, and 3) China's economy being buffeted by tariffs and slowing global trade, all of which we expected. To be sure, the U.S. is a fairly closed economy, but one that is not completely immune to international conditions. In particular, as the stock market is concerned, foreign markets are of consequence because more than 40% of S&P 500 company profits are earned from overseas activity.

We will be monitoring business' capital expenditures and companies' stated intentions, as that will serve as a litmus test for the potential that external growth headwinds begin to undermine the U.S. economy. Given that we believe the probability of a recession in the nearto- intermediate term is remote, and because we hold a constructive view toward corporate fundamentals, the recent contraction in equity markets does not alter our recommendation to maintain a benchmark weight in global equities.
Importance of the credit cycle - Guy LeBas
Whether the U.S. economy still operates in the traditional boom/bust cycles is a topic open for debate. Whether the U.S. economy and financial system still operate in boom/bust credit cycles is not.

Credit—defined not just by borrowing in the corporate bond markets, but rather by all borrowing from private sector companies and households—is the oxidizer behind economic growth in the U.S. On its own, credit expansion is insufficient to power growth, but it is a necessary ingredient. Without credit expansion, it is almost impossible for the private sector to continue growing, certainly not at the 3%+ rate we have experienced recently. More to the point of the bond markets, the end of the credit expansion signals trouble for high yield and leveraged loan markets in particular.

Since the era of Keynes up through the mid-1990s, most mainstream economists believed that economies operated in cycles, characterized by an expansion in "animal spirits," that causes growth to exceed its long-term trend and subsequently fall below it in a recession. We tend to think that economic cycle theory still holds, but more proactive policy from the Federal Reserve has extended the cycles and, in some cases, muted the peaks and troughs.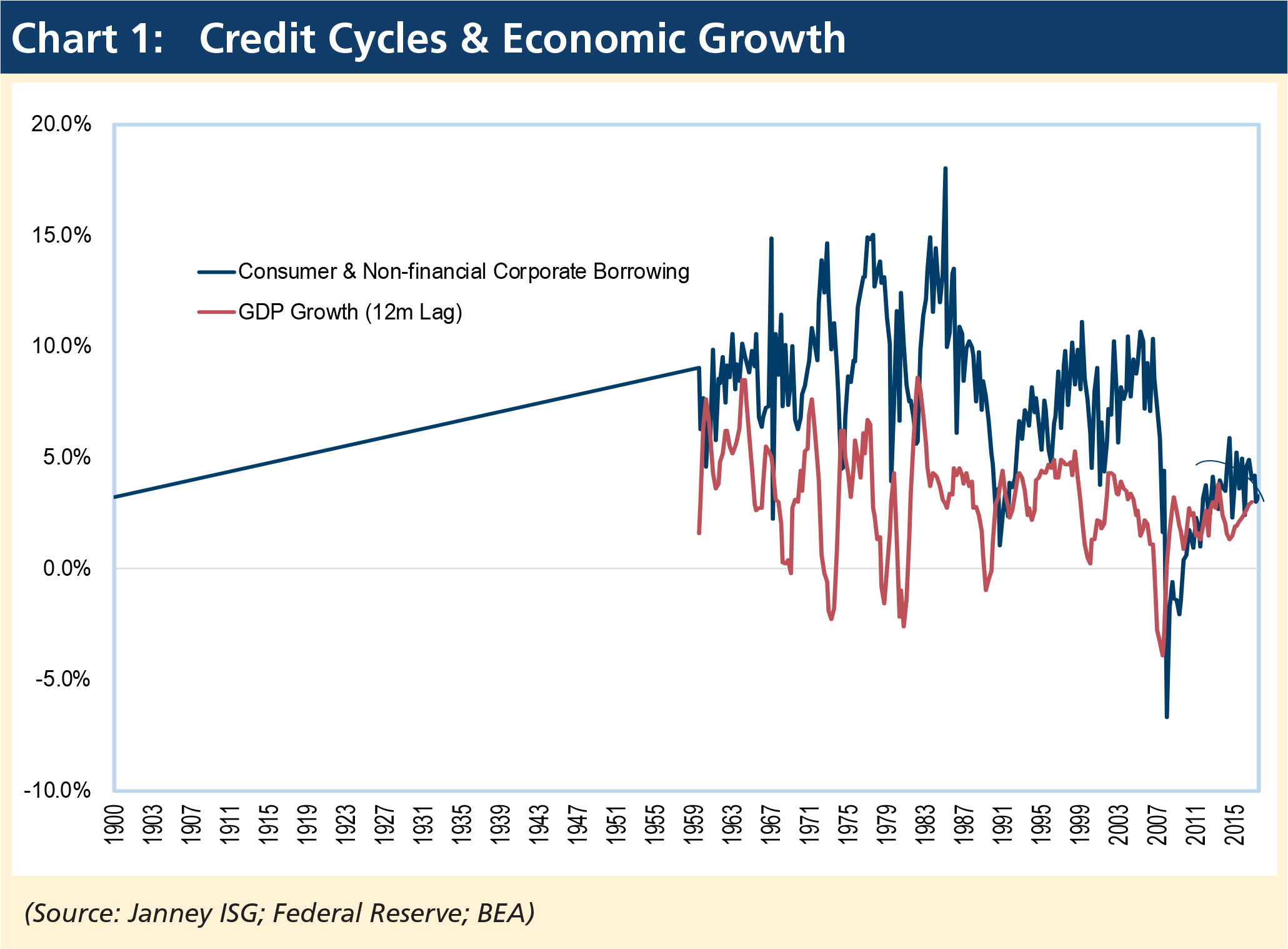 What has not changed, however, is the credit cycle. The credit cycle is a similar boom/bust sequence, but one that takes place in the expansion and contraction of overall lending, rather than economic growth. For those involved in financial markets, it is tempting to tie the credit cycle solely to the corporate bond markets, but the credit cycle is much broader, and encompasses bank lending to consumers and businesses. That bank lending can be multiples of corporate bond issuance in any given year. Since 2010, credit extension to the private sector has grown by 103%. While that figure sounds like a lot, it is actually on the low side of post-recession credit growth, which averaged 197% over the prior three credit cycles. That slower growth is, in part, the result of household balance sheet contraction—after the cultural memory of the Great Recession, many consumers have chosen not to borrow as aggressively.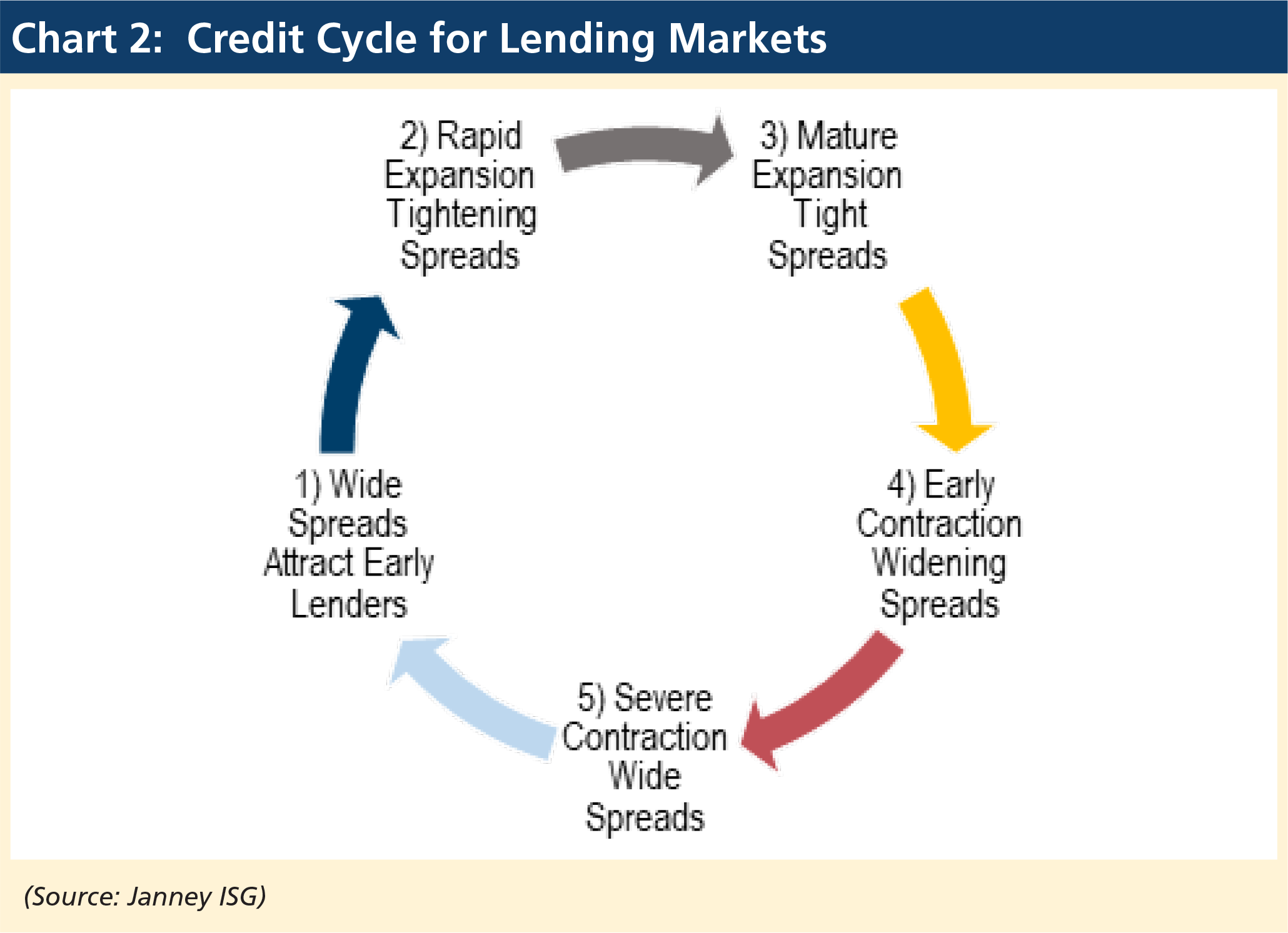 There are early signs, however, that the credit cycle is beginning to turn over. High yield spreads over Treasuries bounced off multiyear lows in the summer of 2018, and credit growth has markedly slowed over the past three quarters. Those tight spreads and slowing credit growth have come alongside Federal Reserve policy tightening, which often heralds credit slowdown. As a result, our working assumption on the credit cycle is that the U.S. economy is in the "yellow" zone in the above chart, somewhere between a mature credit expansion with tight spreads and an early credit contraction with widening spreads. Typically such a contraction would precede an economic downturn by 9 to 18 months. Although it is extremely challenging to identify a credit contraction ahead of time—unless you're a bank doing the lending in real time—there are some clear prescriptions if the U.S. financial system is sitting in section (3) or (4) of the credit cycle.

The first of those prescriptions is to avoid high yield corporate bonds and leveraged loans. We have shared this theme frequently over the past 12 months. Although both sectors have performed well, the odds of a big downdraft are growing as the credit cycle extends, and returns are quite low. It will not take much spread widening to wipe out a year's worth of income. The second prescription, when it comes to fixed income, is to rely more heavily on municipal bonds for income. Municipal credit quality is generally less sensitive to the whims of the credit cycle. While these choices may mean a temporary income give up and possibly more exposure to volatile interest rates, they will both help protect against the probability that the credit cycle does turn negative.
The great reset - Greg Drahuschak
Although it often is undeserved, October fulfilled its reputation as a bad month for stocks but not as bad as it could have been. Midway through the last week of the month, the S&P 500 was on track to produce its fourth worst October result since 1949. A strong rally in the final two days was enough to have the S&P 500 end as the fifth worst October. After being off its recent high by as much as 11.47%, the S&P ended October 7.79% below its alltime intraday peak set on September 21st, and the smallcap Russell 2000 was 13.24% below its most recent high.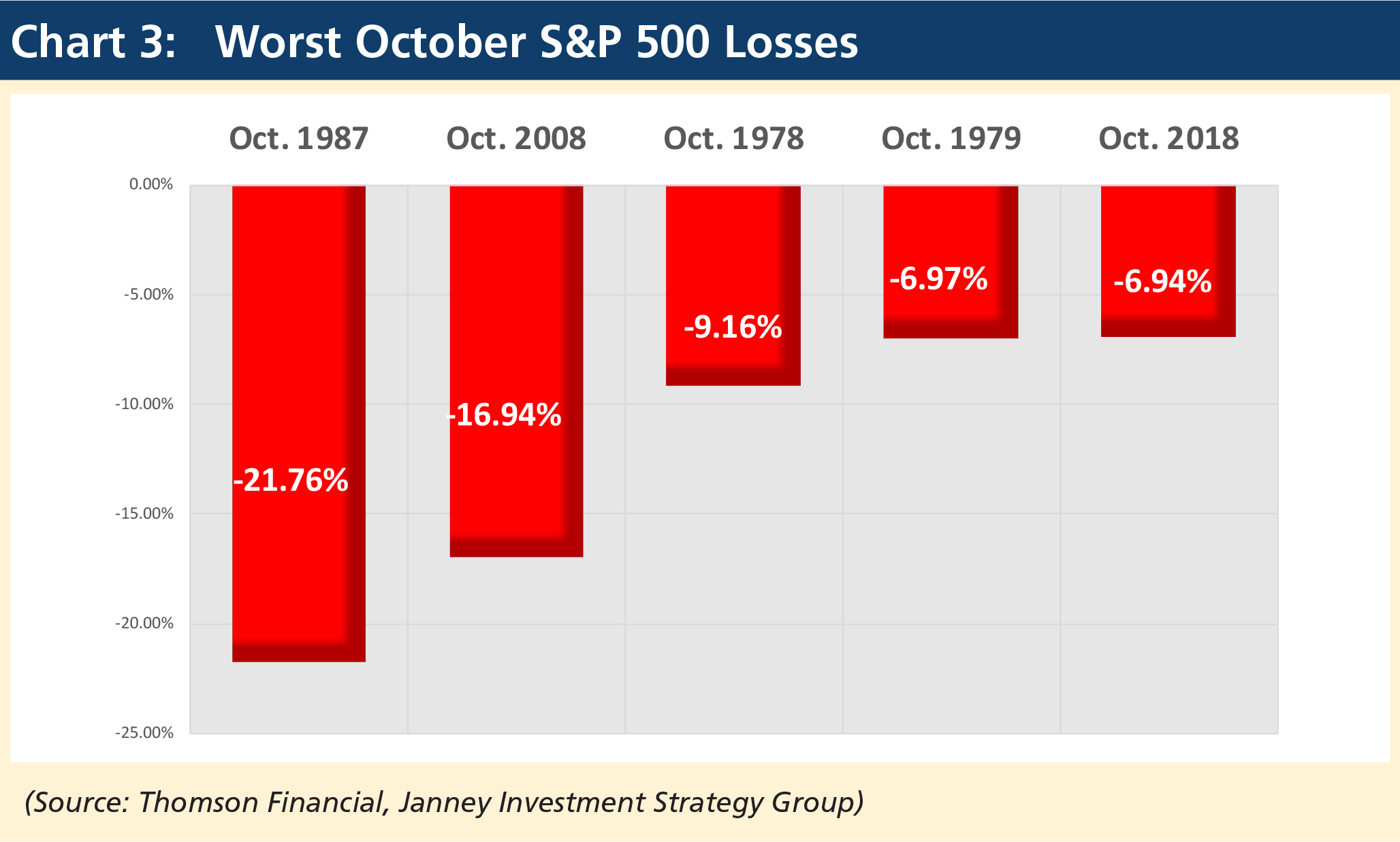 Over the last nine years, the market cast aside potentially disruptive issues that could have ended what has been one of the best and longest bull markets on record. Instead, the market thrived on improving economic conditions, accommodative credit policy, and rapidly rising corporate dividends and earnings. Worries that some of the positive catalysts were changing led to the market drop last month.

Early last month Federal Reserve Chairman Jerome Powell shifted sentiment toward a market pullback when he said, "We (the Federal Reserve Open Market Committee) may go past neutral. But we're a long way from neutral at this point." The threat of higher rates and the potentially depressing effect on price-earnings ratios in only six trading sessions sent the S&P 500 down 7.8%, while the Dow Jones Industrial Average fell 1904.05 points. The impact of Powell's statement might be best illustrated by the fact that the S&P 500 drop in the short period after his rate comment was greater than the entire drop in October.

Economic fundamentals remain solid. The Markit Flash US Manufacturing PMI advanced at the fastest pace in five months. The Markit US Services PMI increased 1.2 points. The Federal Reserve Beige Book indicated economic activity expanded across the country and employment increased. The first estimate of third quarter Gross Domestic Product (GDP) growth at 3.4% was better than expected. Consumer sentiment remained ebullient. The Present Situation portion of the Consumer Confidence Index set another new high. The primary Index number reached its highest level in 18 years.

Corporate earnings remained strong also. As October ended, third quarter S&P 500 earnings were on pace for a 22.5% increase. Of the 48% of S&P 500 companies that had reported for the third quarter, 77% beat consensus earnings expectations and 59% surpassed consensus sales expectations. On average, S&P 500 company earnings were 6.5% greater than expected.

In our view, October was part of a transition phase, not the beginning of a sinister market outcome. Third quarter earnings and the full-year estimate for the S&P 500 are on track for more than 20% gains, but the 2019 estimate is anticipating only a 9.3% year-over-year increase. The combination of a lower earnings growth rate and moderately higher interest rates prompted the market to reset its expectations. Neither the interest rate trajectory nor the lower expected earnings growth, however, are lethal for equities.

The October market reset dropped the S&P 500 valuation to only 15.37 times the 2019 estimate, which is significantly distant from the earnings multiple often present at major peaks. Economic and earnings conditions suggest that a more reasonable valuation could lift the S&P 500 back to its 2018 high (2940.91) or higher in coming months, as the typically strong seasonal bias and oversold market conditions provide a tailwind for equity prices.

It is critically important to remember that investment sentiment deteriorated last month. The fundamentals did not. In the end, fundamentals should win out.
The information herein is for informative purposes only and in no event should be construed as a representation by us or as an offer to sell, or solicitation of an offer to buy any securities. The factual information given herein is taken from sources that we believe to be reliable, but is not guaranteed by us as to accuracy or completeness. Charts and graphs are provided for illustrative purposes. Opinions expressed are subject to change without notice and do not take into account the particular investment objectives, financial situation or needs of individual investors.

The concepts illustrated here have legal, accounting, and tax implications. Neither Janney Montgomery Scott LLC nor its Financial Advisors give tax, legal, or accounting advice. Please consult with the appropriate professional for advice concerning your particular circumstances. Past performance is not an indication or guarantee of future results. There are no guarantees that any investment or investment strategy will meet its objectives or that an investment can avoid losses. It is not possible to invest directly in an index. Exposure to an asset class represented by an index is available through investable instruments based on that index. A client's investment results are reduced by advisory fees and transaction costs and other expenses.

Employees of Janney Montgomery Scott LLC or its affiliates may, at times, release written or oral commentary, technical analysis or trading strategies that differ from the opinions expressed within. From time to time, Janney Montgomery Scott LLC and/or one or more of its employees may have a position in the securities discussed herein.
About the authors