Investment Perspectives provides insight into the markets from three of Janney's elite strategists.
Stocks aren't afraid of higher rates - Mark Luschini
A share of common stock is a claim on the future earnings of the company that issued it. Equity investors are enticed to buy the share of a company, or invest in the broader stock market, when earnings are anticipated to grow. Investors project what the expected earnings stream is to be and come to a price they are willing to pay as a function of the interest rate used to discount those earnings back to the present day. Needless to say, the variables of the rate chosen, and assumptions around the expected earnings stream lead to vagrancies in the price various investors are willing to pay. Indeed, that is what makes a market as investors with different investment styles and holdings periods are matched at a bid and ask. Higher interest rates reliably begin to work as a counterweight to equity prices only when they have risen enough to slow the economy.

According to textbook security analysis, moves in stock prices are inversely related to changes in interest rates. However, sometimes the change in interest rates is occurring as the economy is gaining momentum, and therefore, the estimates for corporate earnings should rise in a commensurate direction. In fact, postwar history demonstrates that equity investors need not fear rising rates. The S&P 500 index has fared considerably better when the real (inflation-adjusted) 10-year yield has risen by at least 1.0% or 100 basis points, rather than falling by a similar amount. The index has had an average annual gain of 9.4% during such periods of a rising real yield versus a compounded annual gain of 5% during periods of falling real rates.

Having said all that, there is a limit on how far the market will tolerate high yields. Historically, the price-to-earnings multiple investors are willing to assign to the stock market contracts when the real 10-year Treasury bond yield crosses above 5%. Even then, it does not mean that earnings fall, but rather those earnings will have to do all the heavy lifting for stocks, since gains in the market will not be boosted through multiple expansion. Today, we are a far cry from a real 5% Treasury yield. Even as longerterm Treasury yields have recently crept above 3%, that is a "nominal" rate without an adjustment for inflation, which has been operating around a 2% level.

For quite some time, we have not been enamored by the return potential offered from bonds, repeatedly saying that stocks will be the asset class best suited to flatter the investment results of balanced portfolios. We said that would be the case this year in our Outlook 2018, and will more than likely advocate the same for next year. We recognize, at the same time, that the TINA principle ("There Is No Alternative" to stocks) is losing its efficacy as cash equivalent yields now exceed the yield offered by the S&P 500 index. So while income investors are close to no longer having a deeply negative real return from cash, yields are not yet enticing enough to dissuade our belief that equities remain the more compelling option for risk-based capital. Even if rates move higher from today's level, they are not likely to threaten the economy, nor the prospects that earnings growth should underpin the continued advance in equity prices. Perhaps tight supplies in labor and goods markets will eventually stoke inflation, provoking the Federal Reserve into tightening enough to slow the economy and cut off the market rally, but it hasn't happened yet. Given our view that the economy is robust, the monetary setting is still accommodative, and corporate profits will continue to grow, it is far too early to de-risk portfolios in general, let alone on the fear of higher interest rates.
Value or trap: Emerging market debt - Guy LeBas
Emerging market, or EM, debt has had quite the first three quarters of 2018. While country-by-country performance has varied wildly (Argentina, anyone?), on average "local currency" debt is down -6% on the year in U.S.-dollar terms, an underperformance versus the global aggregate bond market index's -2%. In fact, the EM relative performance year-to-date is the worst since the end of the Global Financial Crisis. We'll take a few minutes off from our regular discussion of U.S. bond markets to review the EM sector and build a brief thesis on whether the underperformance represents a buying opportunity, or whether there's further pain ahead.

Emerging market debt is on the riskier side of the fixed income spectrum. While the classic definition focuses on bonds issued by governments outside of developed nations, over the last decade, it has expanded to include corporate debt from companies based in emerging economies as well. Similarly, EM debt includes local currency bonds issued as well as hard currency bonds issued usually in dollars or Euros. There are upsides to each: local currency debt usually has higher yields, but exposes an investor to exchange rate fluctuations; hard currency debt has lower yields and no exchange rate risk, but may be harder for an issuer to repay. With the exception of institutions, the vast majority of EM debt investors access the sector via mutual funds, ETFs, or managed vehicles.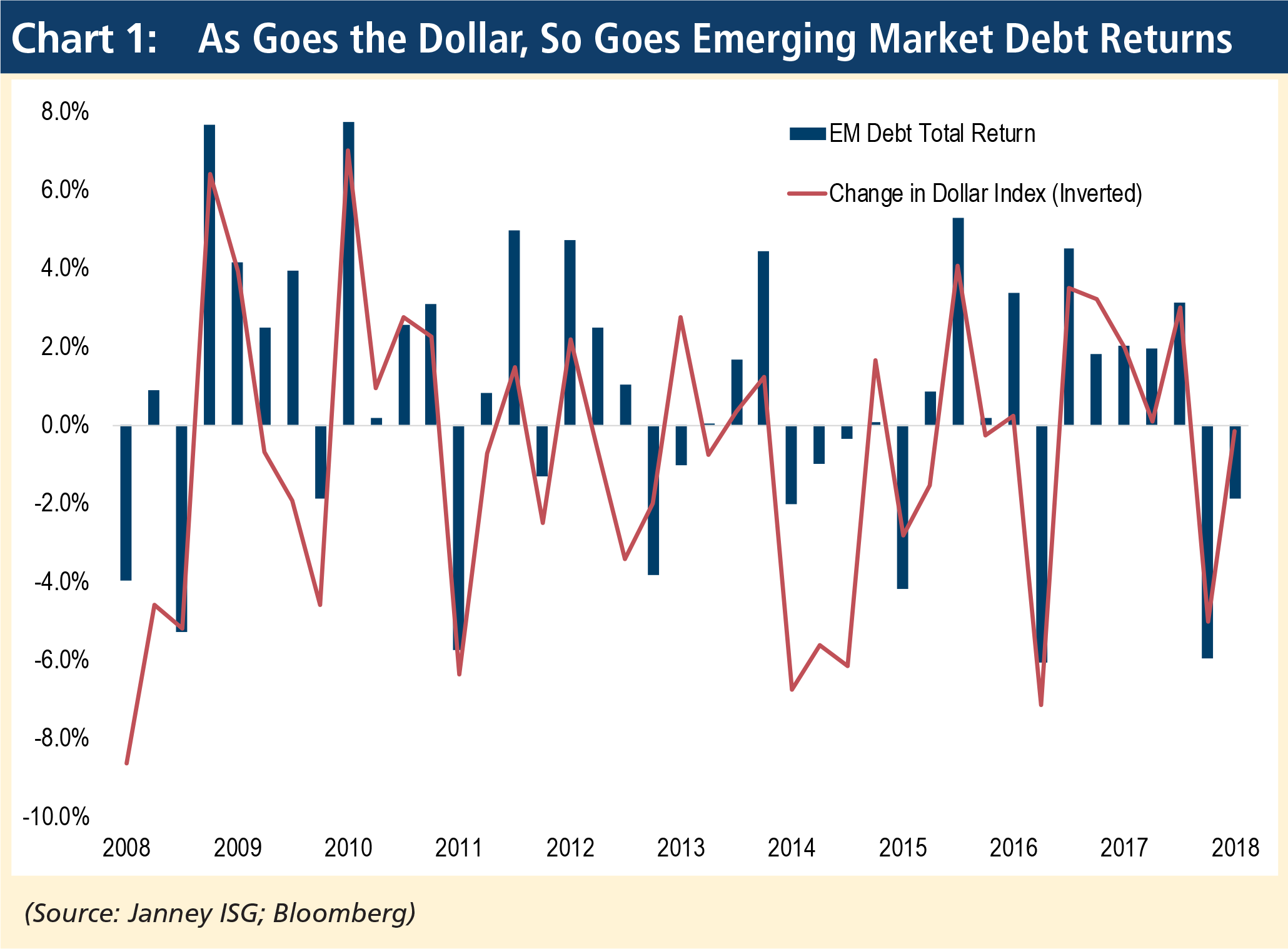 Whether denominated in local or in hard currency, EM debt is sensitive to the value of the dollar and the Euro. Arguably, that sensitivity is the reason why EM bonds have had such a lousy 2018, as the Fed has hiked and the dollar has risen, though it is well off the 2016 highs. The Euro is also trading strong relative to other non-dollar currencies, up about 8% since 2016. Said another way, emerging market currencies are down and emerging market investors have losses on their currency exposure and face credit risk as EM borrowers find it harder to repay their obligations.

Argentina, a repeat defaulter, provides a clear example of what can go wrong. The Argentine Peso has lost 55% of its value in 2018, meaning a Buenos Aires company that borrowed $1 million on New Year's Eve would have raised 18 million pesos, but would have to repay 41 million pesos today. In hindsight, that's a rather expensive loan—a 304% annual interest rate, to be precise. Investors in Argentinean debt have either seen the value of their bonds fall by more than half (local currency) or by about 20% as the risk of repayment increases (hard currency). But Argentina is an edge case. We don't have the space to go into all of the contributing factors which can lead to these extreme swings, but EM problems are generally the result of overheating inflation or unsustainable reliance on external borrowing, the latter being Turkey's main problem.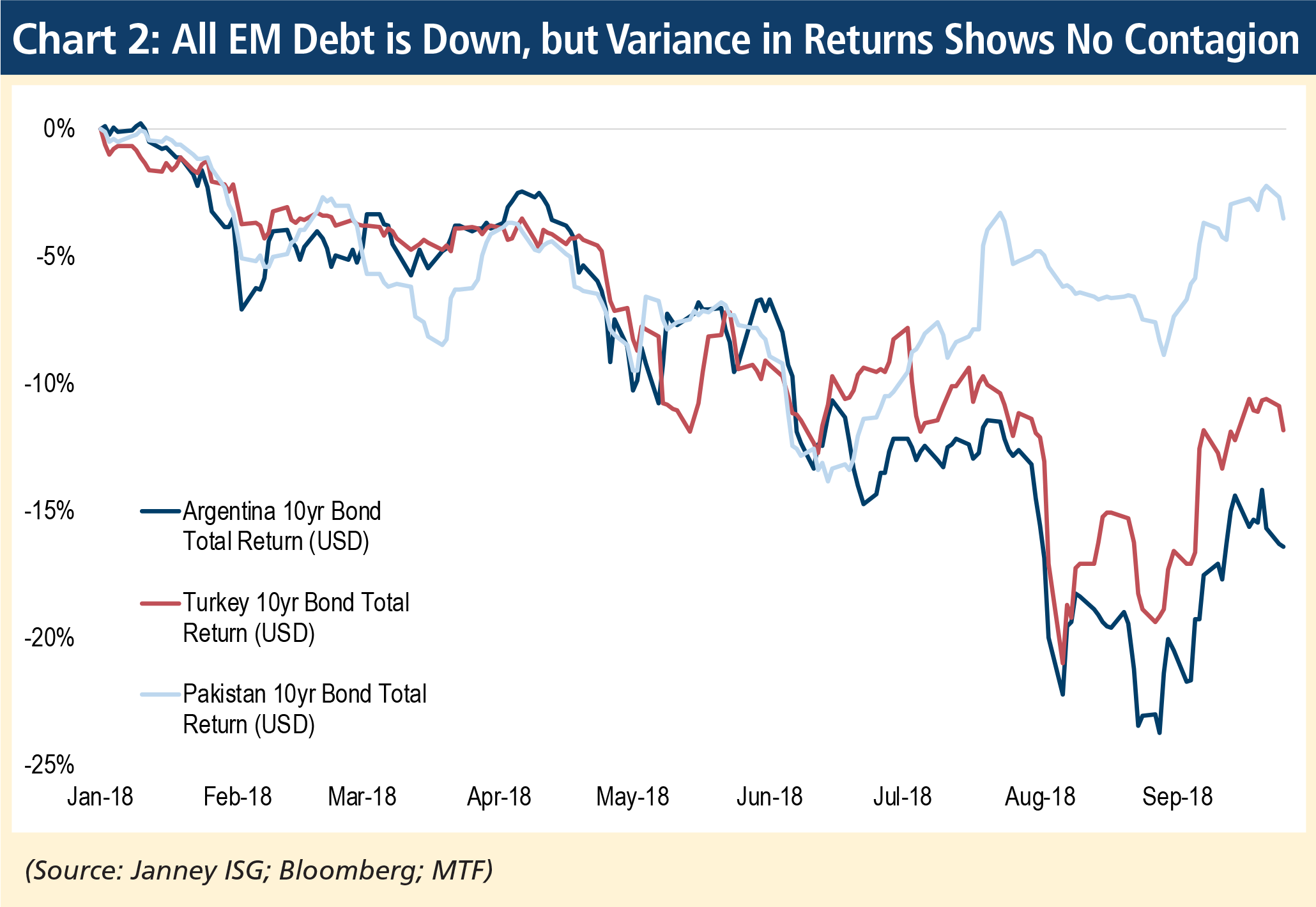 At some point, however, fundamental problems and higher interest rates stop being losses for prior investors and start becoming an entry point for new investors. The yield on local currency debt is averaging 6.4%, and even the yield on hard currency debt is 5.8%. Meanwhile, the collective market freak-out about many EM countries does appear to be fading. While there are plenty of fundamental problems spread across the EM complex, it seems like the feared "contagion," by which all EM gets painted with the same negative brush, isn't coming to pass.

The long and short of it is that EM debt offers decent value, thanks to a sizable selloff in 2018. Headline risk is fading, as is the risk of contagion. Finally, the rally in the value of the dollar and Euro relative to other currencies has reached its peak for the time. Overall risks in the emerging sector are still elevated, and we have yet to see major investors selling higher quality EM, but valuations are such that it makes sense to begin adding a pinch of EM debt allocations to well-diversified fixed income portfolios.

The season could be the reason - Greg Drahuschak

In recent times, variance from long-established patterns has become the norm.

Seasonal patterns suggest that September typically is the worst month of the year. This year September was not the worst month of the year, but instead was the sixth best. Seasonal wisdom suggested selling stocks in May and going away. In 2016, from May 1st through October 31st, the Dow Jones Industrial Average increased 2.1% and vaulted 11.6% higher last year. From the end of April to the final day of September this year, the S&P 500 gained 10.23%.

A long-standing axiom to sell stocks on Rosh Hashanah and buy them on Yom Kippur proved costly this year as the S&P 500 gained 99.27 points (3.46%) during this eight-day trading period.

Typically, November through April is the equity market's best six months of most years. This year, however, a subset of this might be more compelling and reverse the recent trend in seasonal patterns.

During the 1950-2017 inclusive period, the S&P 500 has produced gains in 75% of all Decembers, which is more frequent than for any other month. This relative consistency, however, falls shy of an even more compelling historic pattern.

The S&P 500 has ended the fourth quarter higher in 15 of the last 17 mid-term elections (1950-2014) for an average 7.79% gain. Even removing the two major upside outliers in 1982 and 1998 shows an average 6.325% gain for all other fourth quarters of mid-term years.

A more than 150 basis point jump in the yield of 30-year Treasury bond was fresh in investors' minds in the final quarter of 1994 that led to one of two exceptions to the mid-term fourth quarter results. Another hike in the Fed fund rate this December is widely expected, but interest rates are well below where they were in 1994.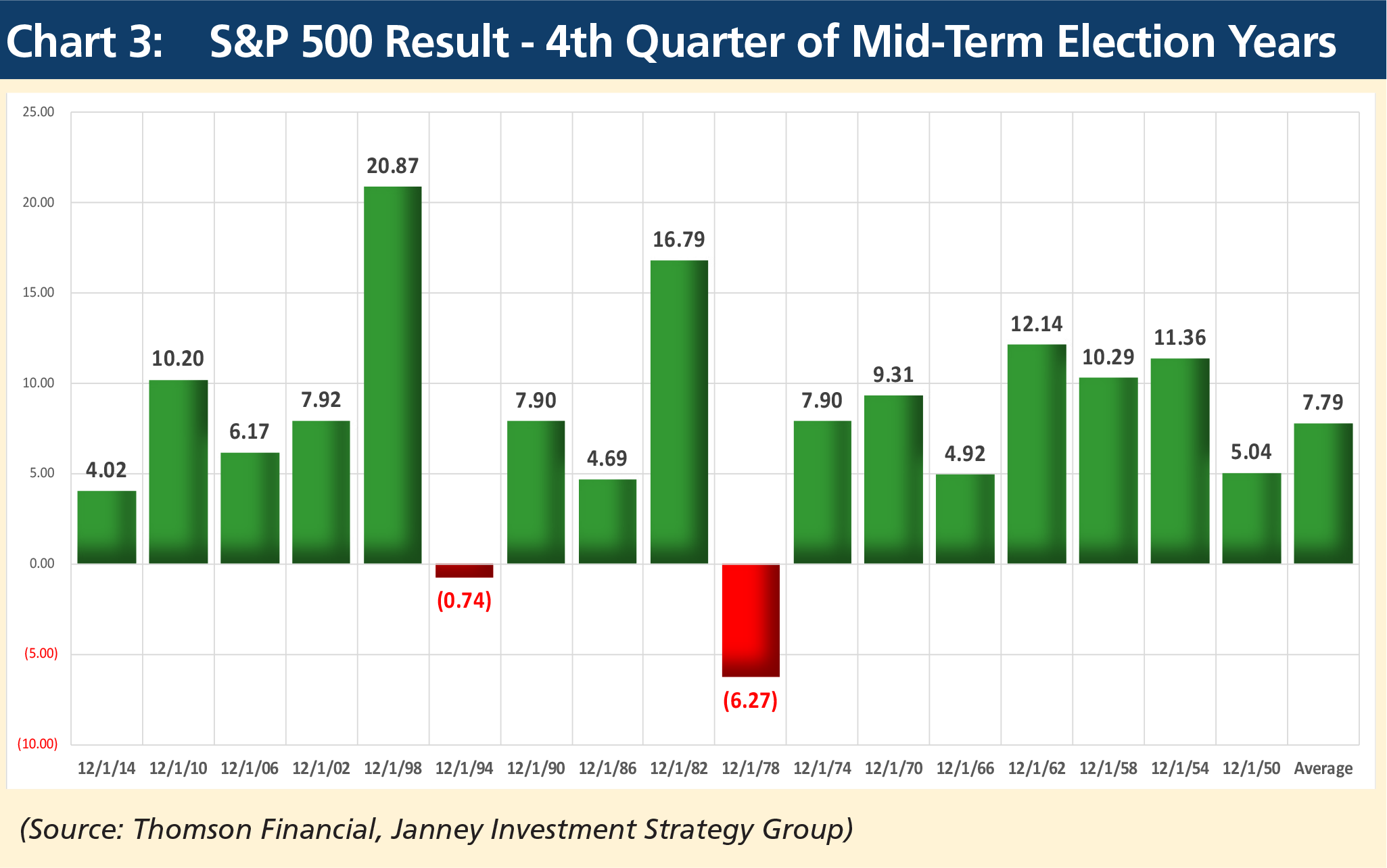 The 1998 deviance from the mid-term pattern came in the wake of Russia's debt default and the collapse of the huge hedge fund, Long Term Capital Management. It did not take long following the fourth quarter weakness in 1994 and 1998 for the S&P 500 to embark on sharp upswings.

As CFRA-S&P pointed out recently, the compelling midterm fourth quarter market history is accompanied by a generally positive fourth quarter following a positive third quarter. Historically, a positive third quarter result is followed by an average price gain of 3.8% in the fourth quarter of all years since 1945 more than 80% of the time.

October market activity will center on third quarter corporate earnings results. Presently, year-over-year third quarter S&P 500 earnings are estimated to increase 18.8%, with the energy and financial sectors expected to lead the earnings gain with 74.5% and 30.8% respective increases. Only the utility sector is expected to post an earnings drop.

The major market indices ended September with mixed technical pictures. The S&P 500 and the Dow Jones Industrial Average upward trends remained intact, but they both approached overbought conditions that tend to inhibit near-term upside or produce an interim pullback. The Russell 2000 slipped slightly below potential support at its 50-day moving average, but the Nasdaq Composite remained on its upwardly biased path. Barring a major eternally generated disruption, and regardless of October's market outcome, the fourth quarter and mid-term election bias strongly support the potential for the market to head higher into 2019.
The information herein is for informative purposes only and in no event should be construed as a representation by us or as an offer to sell, or solicitation of an offer to buy any securities. The factual information given herein is taken from sources that we believe to be reliable, but is not guaranteed by us as to accuracy or completeness. Charts and graphs are provided for illustrative purposes. Opinions expressed are subject to change without notice and do not take into account the particular investment objectives, financial situation or needs of individual investors.

The concepts illustrated here have legal, accounting, and tax implications. Neither Janney Montgomery Scott LLC nor its Financial Advisors give tax, legal, or accounting advice. Please consult with the appropriate professional for advice concerning your particular circumstances. Past performance is not an indication or guarantee of future results. There are no guarantees that any investment or investment strategy will meet its objectives or that an investment can avoid losses. It is not possible to invest directly in an index. Exposure to an asset class represented by an index is available through investable instruments based on that index. A client's investment results are reduced by advisory fees and transaction costs and other expenses.

Employees of Janney Montgomery Scott LLC or its affiliates may, at times, release written or oral commentary, technical analysis or trading strategies that differ from the opinions expressed within. From time to time, Janney Montgomery Scott LLC and/or one or more of its employees may have a position in the securities discussed herein.
About the authors