Investment Perspectives provides insight into the markets from three of Janney's elite strategists.
The hour between the dog and wolf - Mark Luschini
This unusual title is a French saying from the Middle Ages that refers to dusk, the time after sunset when the light fades and images become less clear. In this window before dark, it is difficult to distinguish between dogs and wolves, friends and enemies. It is also the name of a book, authored by John Coates, in which he describes the transformation the body undertakes when moving from calm to stress. The implication for investors is the physiological change that occurs can lead to good or poor judgments predicated upon one's ability to make a thoughtful choice under pressure. When the market is misbehaving, as it has been of late, it is all the more important to make sound decisions rather than the costly ones that are often made when under duress.

The market's correction that began in earnest in October is inviting investors in to a debate as to whether it is a harbinger of worse to come, or merely a re-setting of expectations given the risks at present, from which an advance can resume. We have been poring over the incoming data for signs that something worse is evolving. While the overall pace of economic activity has softened somewhat from the prior two quarters, it is still positive and well above trend. Since bear markets typically do not emerge absent clear evidence that the economy is heading for a significant slowdown, we believe the resolution to this dip will ultimately lead to firmer prices ahead.

Indeed, our view has been and remains that no such slowdown, let alone recession, lurks around the corner. Real-time GDP monitors from the Federal Reserve Banks of Atlanta and New York project growth in fourth quarter in the mid-2% range. While monetary conditions are tightening, they are doing so from ultra-accommodative levels, and remain supportive of both the economy and financial assets. We might not advocate an aggressive equity posture at this moment, given risks around trade, interest rates, Chinese growth and the Italian budget fiasco; however, if the stock market's pullback deepens further without the macro conditions deteriorating commensurately, we would likely upgrade global equities.

Some have pointed to the plunge in oil prices as a "canary in the coal mine," signaling weakening global growth via the demand channel. We view it differently, believing the cause to be the stroke of pen that took the oil market from tight with limited spare capacity to a million barrels of supply a day being "rediscovered" via Iranian sanction-waivers the White House offered to a handful of oil importing countries. Therefore, we see the broader implications of a supply-driven collapse in prices as less malign than were it materially weaker demand. To be sure, if a plummeting oil price was triggered by falling demand, it is hard to conceive of a scenario in which the global economy skirts a recession that is similarly felt here at home. Even if the ongoing tariff battle has cooled trade a bit, the business surveys and steady payroll reports all indicate that the expansion is alive and kicking.

The precipitous decline in oil prices and other signs of moderating growth, both domestically and more so abroad, have investors questioning whether this expansion, and the bull market, have reached their expiration date. We have sympathy for this concern but do not share it. Instead, we remain constructive on the economy and financial markets while waiting out nearterm pressure. Being sensitive to capital preservation as a priority, we will remain alert to the conditions that would cause an about face and lead us to recommend de-risking portfolios. Stay tuned.
Fixed income and portfolio construction: A rough 2018 - Guy LeBas
As 2018 nears its close, an ultimately volatile year for markets by any measure, one market factoid stands out: Returns in every major asset class are close to zero or negative.

At the time of penning, the S&P returns are up 5%, and total returns in Treasuries, investment grade corporate bonds, high yield bonds, and even municipal bonds, the best performer of the bunch, are all negative. While we do not talk about commodities much in the fixed income commentary, they too are having a lousy year, in large part on the backs of the recent plunge in oil prices. Another way to describe this phenomenon is that a balanced portfolio did not do what it was supposed to do in 2018; that is, it failed to provide consistent returns via the magic of diversification.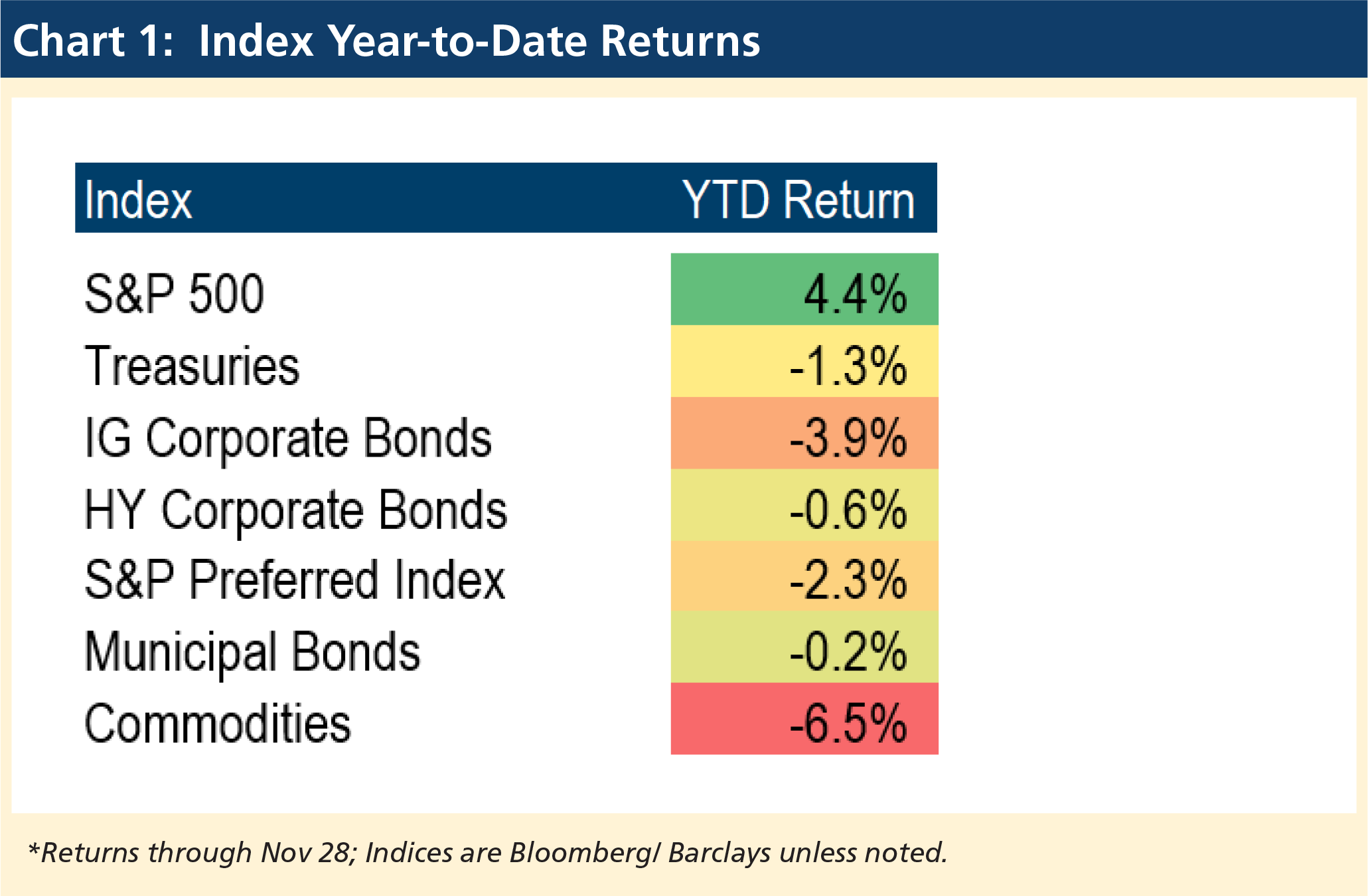 Diversification in principle is quite simple: Two investments provide positive returns in the long run, but their prices do not move in synch. Owning a little bit of investment one and investment two thereby provides a benefit in the form of reduced risk, since when one investment zigs in price, the other zags. The benefit of reduced risk comes at the expense of slightly lower long run return. The classic example of this principle—and where we come into the matter—is that of a portfolio comprised of 75% stocks and 25% bonds for a younger investor. While the bonds will likely have lower long run returns than the stocks in the portfolio, the big reduction in risk far outweighs the slight decline in long run returns for a 75/25 portfolio as opposed to a 100% stock portfolio.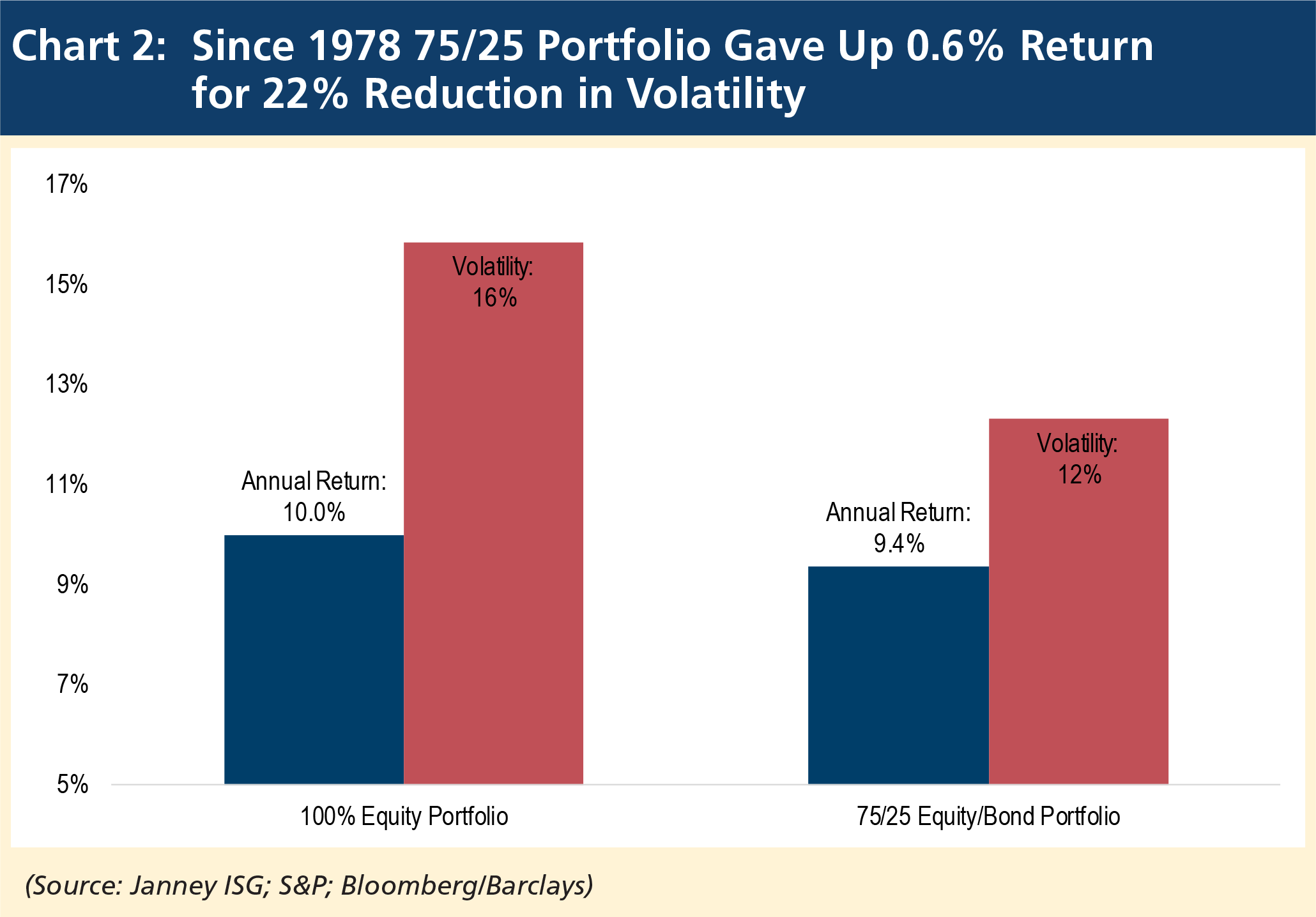 The fact that 2018's returns are about zero for stocks and negative for bonds is concerning for the principle of diversification that leads to the idea of a balanced portfolio. On one hand, while returns across asset classes have been disappointing, they have been far from disastrous as they were in 2008 into 2009. In that sense, the increased correlation between stock and bond returns may just be a natural feature of entering later phases of a credit cycle, and indeed, these increases in correlations have occurred before. There is, however, some risk of regime change that, in the past, has caused correlations to increase and the traditional stock/bond doctrine of diversification to fail. The one condition that could cause particular problems is a simple one: escalating inflation.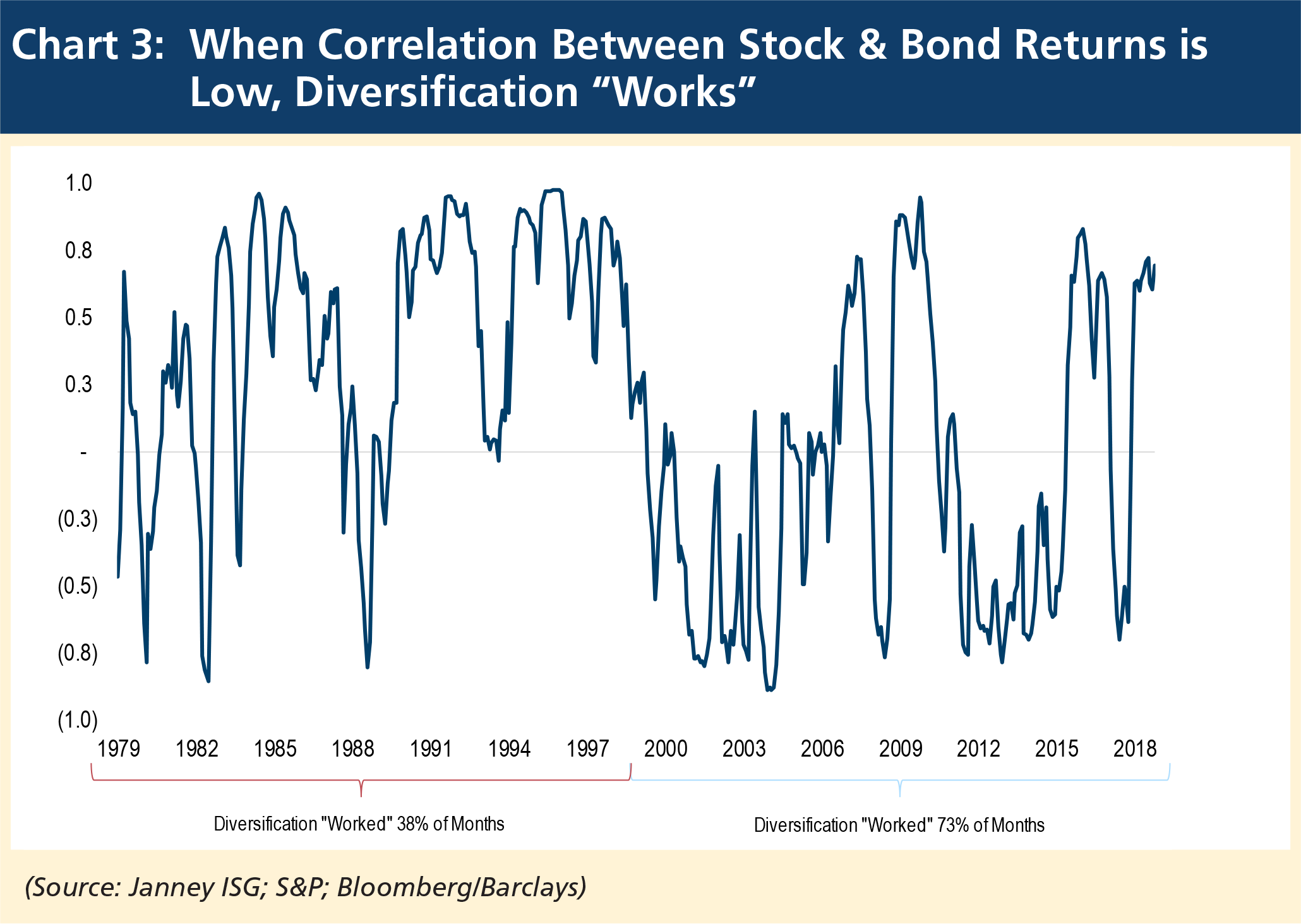 A quick look at historical returns and inflationary versus deflationary economic regimes makes it clear that bonds and stocks tend to trend negatively together when inflation is rapidly rising. At present, inflation is tame (too tame, even), and so negative returns plus positive correlations between stocks and bonds seems an unlikely outcome, 2018 aside. Against that backdrop, bonds' place in investment portfolios remains secure, as both an income generating and a risk-reducing tool. But beware the unlikely scenario of significantly rising inflation risks, which not only impact asset prices, but damage the key principles of portfolio construction that have served investors so well over recent decades.

The santa clause? - Greg Drahuschak
The first five trading sessions in November offered hope that the equity market could overcome the fifth worst loss for October since 1949. Those initial hopes faded as the S&P 500 fell from an intraday peak last month at 2815 to as low as 2631 the day after Thanksgiving.

Comments from Federal Reserve Chairman Jay Powell hinting that the Fed might take a less aggressive approach to interest rate increases enabled the S&P 500 to post a modest gain in November.

Initially, the 10.68% drop from S&P 500 2941 high commonly was characterized as a correction, but as prices drifted lower, narratives shifted to considering the market might be foretelling something worse than a merely temporary adjustment in stock prices.

U.S. economic data, however, mostly remained strong. The Conference Board's Consumer Confidence Index, at 135.70, was within a fraction of its 18-year high while the Present Conditions measure was 0.10 of a point from its all-time high. Payroll growth remained robust. The ISM Services Index at 60.3 was only slightly below the prior month reading when the Index hit its highest level in 10 years and retail sales were better than expected.

Sentiment shifted, however, to a focus on anything that was not quite as good as anticipated. For example, the 81- cent drop in the 2019 earnings estimate drew a negative reaction as the market overlooked that the $174.24 estimate put the S&P 500 at a valuation no greater than average and well below a typical market cycle peak.

The weekly Investors Intelligence poll clearly illustrated the sentiment shift. The percentage of survey respondents with a bullish market view slipped to 38.3%, which was a new low for the year and the weakest reading since May 2016. Respondents expecting a correction have a greater than bullish sentiment.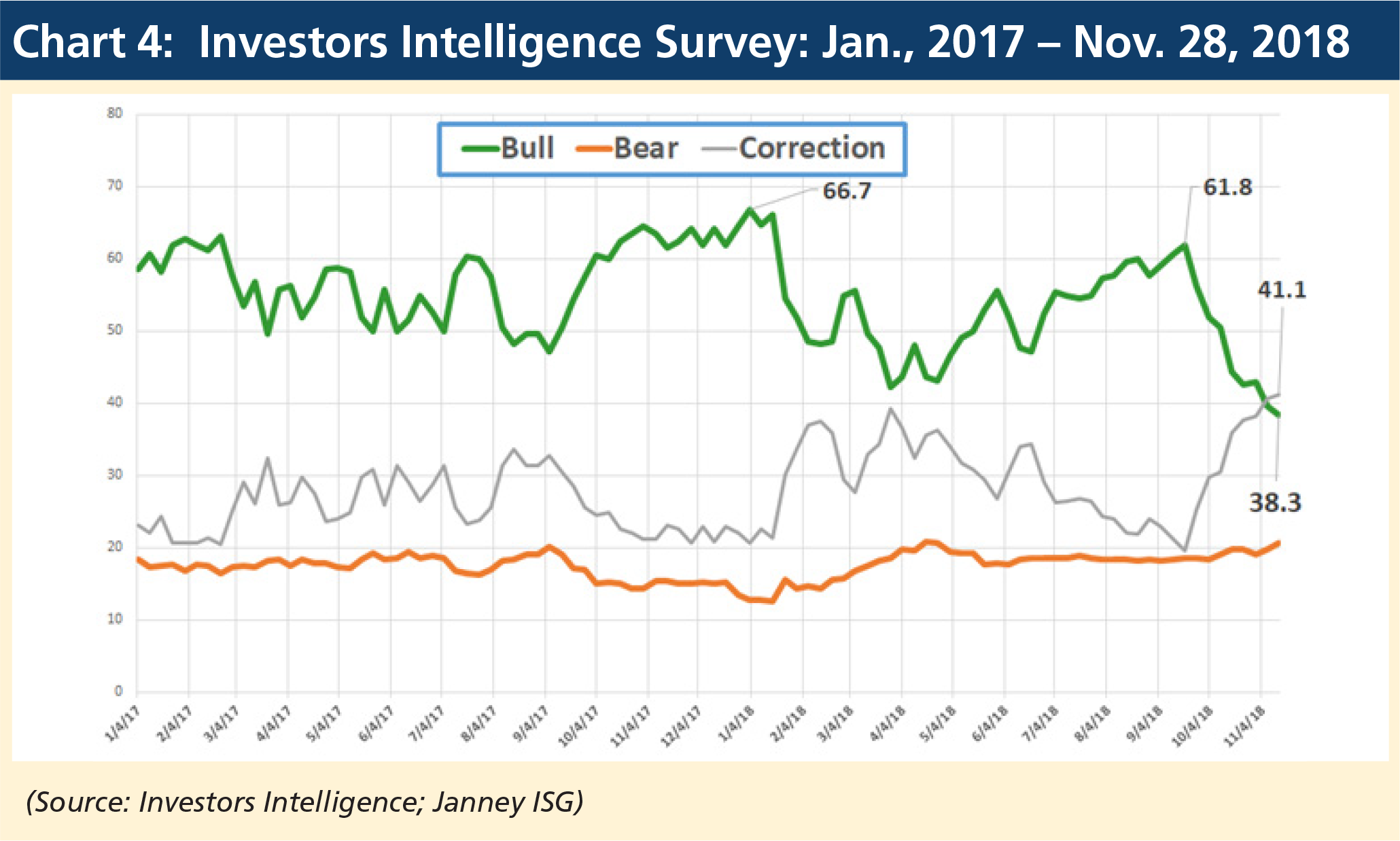 Investors entered the final quarter of 2018 anticipating a wide range of positive seasonal biases would lift equity prices. None of these biases so far has produced the normally positive results, but it is premature to assume that they all will fail.

The presidential election cycle is one of the most consistently reliable patterns. In the 22 possible third years of this cycle since 1931, the S&P 500 has fallen only four times. Despite two notable losses in 1931 and 1939 and much smaller losses in 2016 and last year, the S&P 500 averaged a 12.81% gain for all third years of the cycle, which was nearly twice as good as any other year. Minus the four down years, the S&P 500 averaged a third-year cycle gain of 18.6%.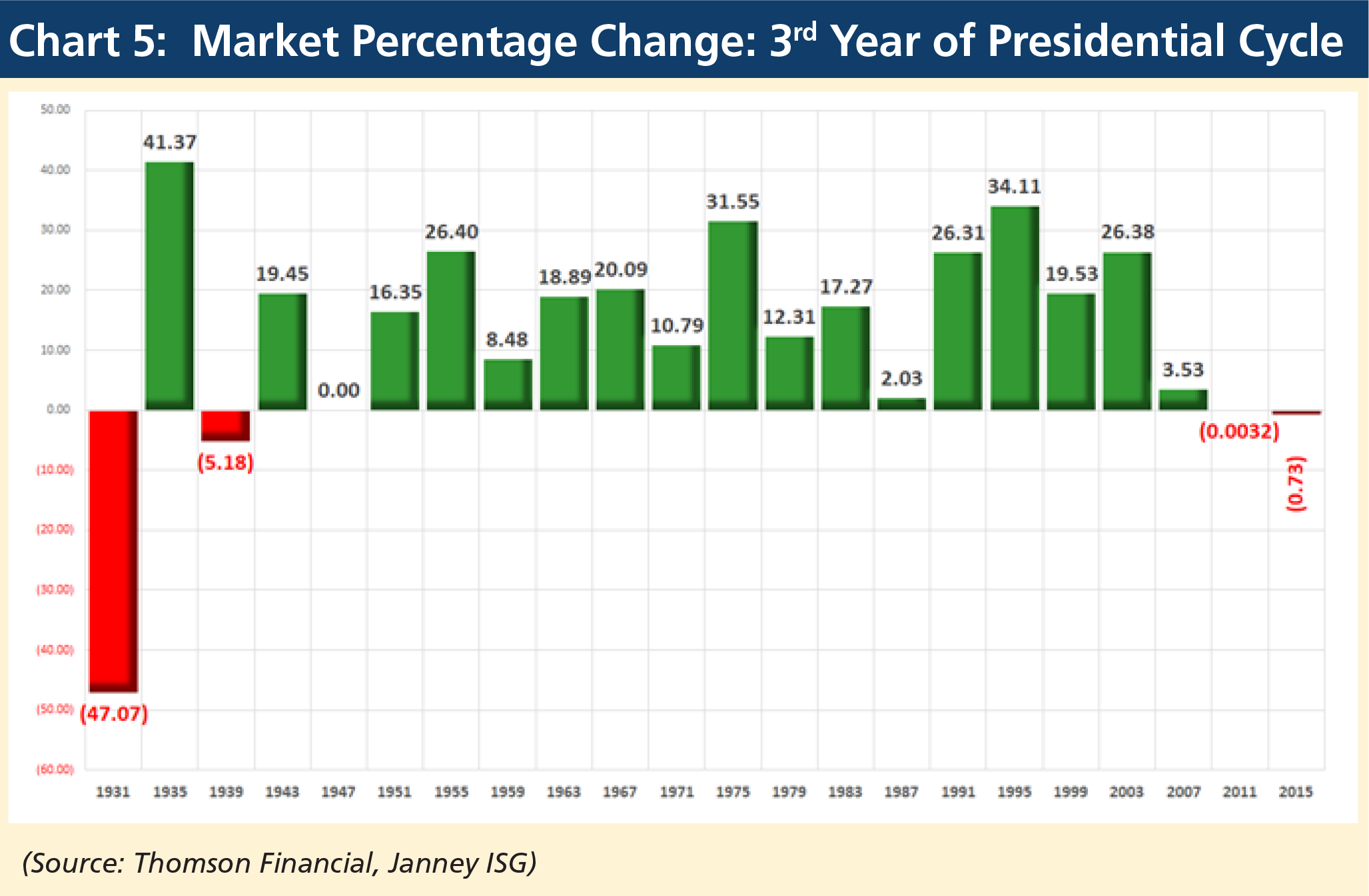 Technical factors are worth watching this month.

The S&P 500's 400-day moving average has illustrated the market's positive trend for nearly two years. This trend was challenged late in October and several times in November. The trend remains in place, but convincingly breaking the current 400-day level (2650) could be the catalyst for a steeper drop below 2600 to as low potentially as 2475.

Borrowing from a well-known Christmas song, "you better not cry and you better not pout." The economy is fine. There is no recession in sight. The market is relatively cheap and the Fed is not an enemy. It is only a matter of time before the market reembraces these points, as it also looks forward to the temporary U.S.- China agreement on trade reached at the G20 meeting, leading to a permanent pact.
The information herein is for informative purposes only and in no event should be construed as a representation by us or as an offer to sell, or solicitation of an offer to buy any securities. The factual information given herein is taken from sources that we believe to be reliable, but is not guaranteed by us as to accuracy or completeness. Charts and graphs are provided for illustrative purposes. Opinions expressed are subject to change without notice and do not take into account the particular investment objectives, financial situation or needs of individual investors.

The concepts illustrated here have legal, accounting, and tax implications. Neither Janney Montgomery Scott LLC nor its Financial Advisors give tax, legal, or accounting advice. Please consult with the appropriate professional for advice concerning your particular circumstances. Past performance is not an indication or guarantee of future results. There are no guarantees that any investment or investment strategy will meet its objectives or that an investment can avoid losses. It is not possible to invest directly in an index. Exposure to an asset class represented by an index is available through investable instruments based on that index. A client's investment results are reduced by advisory fees and transaction costs and other expenses.

Employees of Janney Montgomery Scott LLC or its affiliates may, at times, release written or oral commentary, technical analysis or trading strategies that differ from the opinions expressed within. From time to time, Janney Montgomery Scott LLC and/or one or more of its employees may have a position in the securities discussed herein.
About the authors