Investment Perspectives provides insight into the markets from three of Janney's elite strategists.
Economic Dissonance - Mark Luschini
The dictionary defines dissonance as the lack of agreement or inconsistency between that which someone wants to believe and the truth. We observe today's environment as one where investors have a pronounced degree of economic dissonance and that is being reflected in stock prices in a way that seems inconsistent with the fundamental economic conditions.

Last June, we became somewhat guarded in our outlook for equities based on rich valuations, frothy sentiment, and mounting evidence of a slowdown in global growth. We merely advocated removing overweight equity allocations, not abandoning the stock market altogether. In hindsight, a more aggressive de-risking might have been in order, but that would have been counter to our otherwise constructive view toward domestic economic conditions. Since then, the correction that unfolded has restored reasonable value to global equities. We judge that markets have discounted an overly pessimistic outlook for global growth. We do not expect the current softness to morph into a recession during the next 12 months and perhaps more. Since we do not expect a meaningful deceleration or outright decline in corporate earnings to materialize, current market valuation would seem to offer an opportunity to capture the upside of share prices due to expected profit gains, without having to make heroic assumptions about the monetary, economic, or business cycle.

Global monetary policy, particularly outside the U.S., remains accommodative. While the Federal Reserve still plans to raise rates in 2019, the U.S. economy should be able to withstand the bookends of tighter domestic conditions and slowing growth in the rest of the world. The economy here at home is operating at or near full employment, and it continues to benefit from demand-driven tailwinds, such as consumer and business consumption and the residual impact from government spending left over from the Budget Act passed two years ago.

Expansionary fiscal policy, decent wage growth, and an elevated savings rate without evidence of an overdone binge in cyclical spending suggest there is plenty of fuel in the tank. Moreover, the Fed has indicated a willingness to temper future rate hikes should the tightening in overall financial conditions (falling equity prices, widening credit spreads, and a rising dollar) weigh further on the growth outlook. This should appease investors fearing that an overly restrictive monetary setting could be the culprit that thwarts the economy in the coming year.

The outlook for growth outside the U.S. remains tenuous, however, particularly in China and emerging markets. Given the likelihood of the U.S. dollar remaining well bid on the back of flattering interest rate differentials, domestic stocks are likely to continue to outperform their international peers. We retain our bias for developed over emerging market exposure across the risk asset spectrum until signs emerge (likely by mid-2019) that global growth has stabilized, potentially marking a turning point for global equity rebalancing and a peak in the dollar.

We have penciled in the high probability of gains for 2019 and even the possibility of the double-digit variety. In fact, if history is a guide, the greater than 15% drawdown in the fourth quarter of 2018 has about a 66% chance to be followed by a year-overyear gain in the upper-teens. Still, it may yet be too soon to upgrade all economically sensitive equities relative to defensives, so applying a barbell approach, while awaiting confirmation of a stabilization in global growth, before adopting a more pro-cyclical sector stance seems prudent. That means matching industries where business and consumers are likely to spend; software, select retail, and communication services, with those more defensive, such as health care and staples. Please refer to our Outlook 2019 piece for more details surrounding our views concerning the economy and financial markets.


Fixed income 2018 recap - Guy LeBas
As is tradition, the first fixed income note of 2019 affords a good opportunity to look back at the successes (and, of course, misses) of our views in 2018 and how those views have evolved into 2019.
While there is no single story to be gleaned from our hits and misses, the clearest theme is that we were early on a number of negative calls. Rather than dominate the year, negativity in the credit markets and demand for safety in the interest rate markets emerged only in the fourth quarter.
Interest rates
Our initial forecasts for 2018 had shorter-term rates rising about 0.2% and long-term rates falling about 0.3% from the beginning of the year, causing the yield curve to flatten. While the curve did indeed flatten close to our expectations, both short- and longer-term rates are ending the year higher than our initial forecasts. W e subsequently published a positive call on longer-term bonds in February, when the 10-year Treasury note hit a 2.90% yield, and were later cautiously optimistic in October when the 10-year crossed 3.20%. Those recommendations have both turned out well, as the 10-year will be finishing the year at about 2.74%. In short, we underestimated how far the 2017 tax cut stimulus would push off recession risks, and similarly underestimated how aggressive the Federal Reserve would be in raising interest rates. Now, however, the economic climate is more mixed, as is the Fed outlook.
Credit

Our initial forecasts for 2018 were moderately negative on the credit markets. We recommended against owning leveraged loans and high yield bonds, starting in our 2018 outlook, and held that view throughout the year. We also recommended an up-in-credit bias in the investment grade sector. While both leveraged loans (-3.5%) and high yield (-4.7%) have had a dismal final quarter of 2018, loans have actually eked out a narrow positive return for the year. The same cannot be said for high yield, but high yield did indeed beat out investment grade, although both fell short of ultra-safe Treasuries. Once again, we underestimated the impact of economic strength, which pushed interest rates higher. Leveraged loans and high yield bond markets have significantly less interest rate sensitivity than investment grade corporate bonds, which is responsible for the disparity in total returns. Adjusting for the interest rate differential, investment grade corporate bonds substantially outperformed leveraged loan and high yield. We continue to recommend an up- in-credit bias.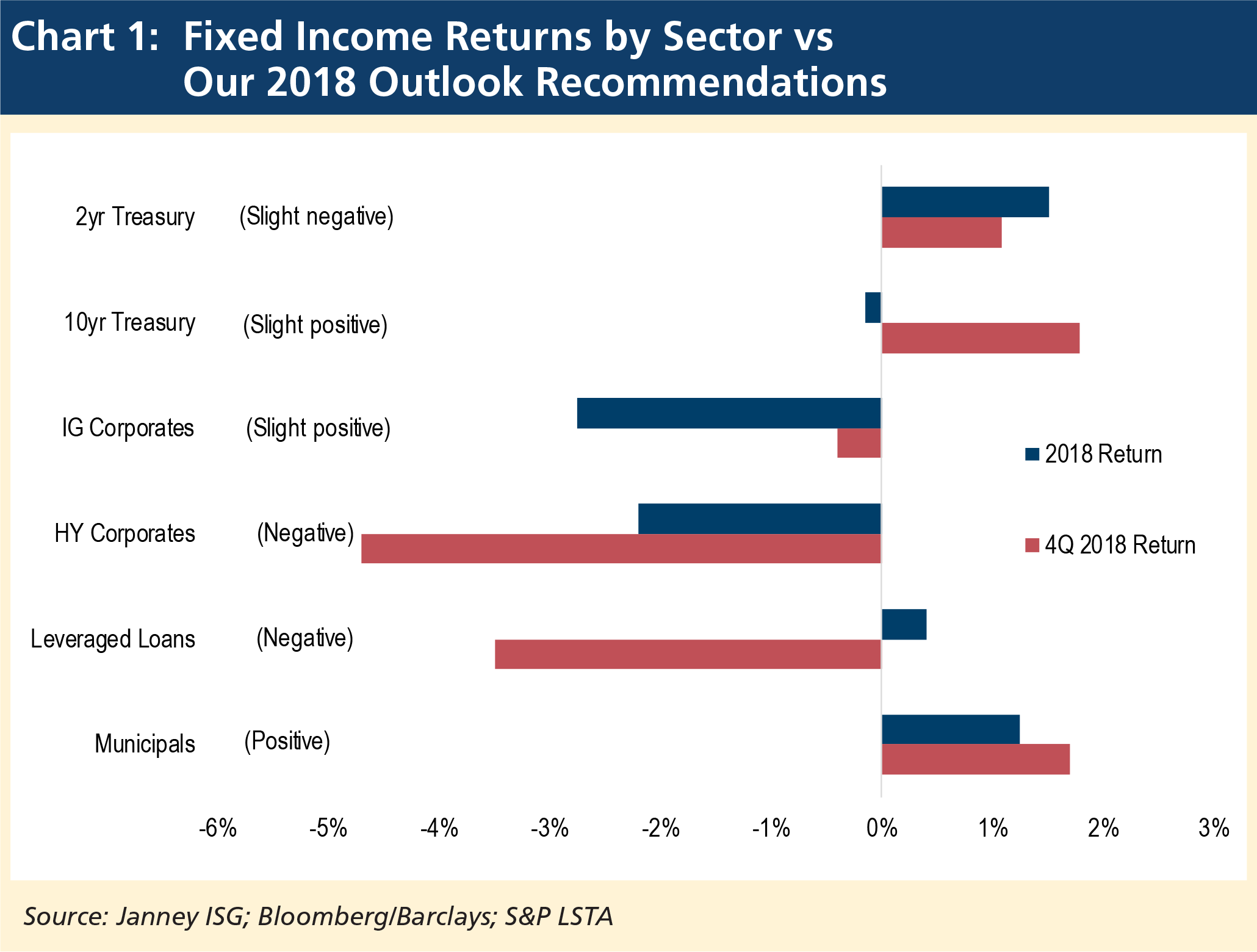 Municipals
Our initial call on the municipal markets was a positive one. Thanks to higher effective income tax rates from the 2017 tax bill, we anticipated demand for tax exempt income would rise in many jurisdictions. Moreover, we noted that low supply would help the market maintain a positive tone, which it did—on a relative basis at least. As a market, and even before considering the benefits of tax exemption on after-tax returns, munis proved to be the best performer in 2018, as supply and demand dynamics outstripped higher interest rates. We are anticipating a repeat performance in 2019 as the sector balances demand for safety and decent current income.
Recalibration - Greg Drahuschak
The S&P 500 set its most recent all-time high of 2940.91 on September 21, 2018. That day, the Dow Jones Industrial Average, S&P 500, and the Nasdaq 100 had respective year-to-date gains of 8.19%, 9.58%, and 15.70%. The weakest December in at least 69 years and the weakest fourth quarter since the third quarter of 2011 dragged these indices to full-year losses.
Numerous factors conspired to produce the disappointing fourth quarter and full-year results.

Trade and various political concerns eroded market confidence, but, not far from the time of the peak in the major indices, the consensus estimate for the 2019 earnings growth rate headed lower. By the end of the year, the 2019 earnings growth estimate for the S&P 500 was roughly a third below what it was in the middle of 2018. This and pullbacks from mid-year highs in industrial surveys like the Institute for Supply Management (ISM) and various Federal Reserve regional measures, plus weakening economic activity in Europe and China, weighed on the market.

As the market weakened, sector emphasis shifted to typically defensive areas. From the middle of May through the end of 2018, the utility, staples, REITs, and health care were the only sectors with positive results. Negative sentiment accelerated to the point that the percentage of respondents to the weekly American Association of Individual Investors (AAII) poll with a bullish market view reached its lowest level in 2 ½ years, and the percentage of respondents with a bearish market opinion reached the highest level in more than five years. As selling intensified, technical factors entered the picture. Three aborted rallies in the fourth quarter and a negative crossover of two major moving averages led to more selling that by mid-December dragged the Recalibration By Gregory M. Drahuschak, Market Strategist S&P 500 below a two-year trend line. From the intraday high for the S&P 500 to the December 26 intraday low, the S&P 500 dropped 20.21%. Only the typically defensive utility and health care sectors ended 2018 with gains.
Generating a major recovery this year will require fighting through several technical barriers. The S&P 500 first must work through price and volume congestion in the 2600-2775 range. The task then will be to surpass three interim peaks established in October, November, and December. Successfully accomplishing both tasks should leave the S&P 500 a much less encumbered path toward its prior high, which is near our 2950 target for 2019.
A guardedly optimistic approach early in 2019 is advisable, but the major downshift in sentiment, the late December spike in the put-call ratio, a solid but moderating earnings picture, a deeply oversold condition, plus still good economic news, in time could lead to a significant market rebound. Until the market's technical posture improves, we would not rule out one more probe to lower levels, but eventually, a notably higher level for the S&P 500 in 2019 seems likely.
Achieving the gain we think is possible could hinge on several key points:
Matching, or preferably exceeding, the projected earnings gain
The trade narrative hopefully improving, but not worsening
Avoiding a major move up in the U.S. dollar
The Federal Reserve keeping interest rates in line with the economy, but no more
Surpassing technical resistance present in most major market indices
GDP growth at least in the 2-2 ½ percent range
Firming economies in Europe and China
Having all seven points go as desired might be a tall order, but we think enough of them will fall in the market's favor to allow our objective for the S&P 500 to be achieved, as the market heads on a choppy but upwardly biased path.
The information herein is for informative purposes only and in no event should be construed as a representation by us or as an offer to sell, or solicitation of an offer to buy any securities. The factual information given herein is taken from sources that we believe to be reliable, but is not guaranteed by us as to accuracy or completeness. Charts and graphs are provided for illustrative purposes. Opinions expressed are subject to change without notice and do not take into account the particular investment objectives, financial situation or needs of individual investors.

The concepts illustrated here have legal, accounting, and tax implications. Neither Janney Montgomery Scott LLC nor its Financial Advisors give tax, legal, or accounting advice. Please consult with the appropriate professional for advice concerning your particular circumstances. Past performance is not an indication or guarantee of future results. There are no guarantees that any investment or investment strategy will meet its objectives or that an investment can avoid losses. It is not possible to invest directly in an index. Exposure to an asset class represented by an index is available through investable instruments based on that index. A client's investment results are reduced by advisory fees and transaction costs and other expenses.

Employees of Janney Montgomery Scott LLC or its affiliates may, at times, release written or oral commentary, technical analysis or trading strategies that differ from the opinions expressed within. From time to time, Janney Montgomery Scott LLC and/or one or more of its employees may have a position in the securities discussed herein.
About the authors