Key Takeaways
Attention now turns to potential second-quarter economic breakthroughs in the United States and globally.
Explore a comparison of the Fed's most recent U-turn and past shifts.
As inversion talk captured headlines, we examine why it might not be a sign of a forthcoming recession.
Sea change - Mark Luschini
The interest rate outlook that was released after the most recent meeting of the Federal Open Market Committee (FOMC) — the group that determines the Federal Reserve's (Fed) monetary setting — surprised investors. Not by keeping interest rates unchanged, that was widely expected, but by the scope of the downward revision in the expectations for future rate changes. While Fed officials have exclaimed their intent to be "patient" on many occasions during the last few months, it turns out the members of the FOMC expect no further rate hikes this year and only one next year. This is a sea change from the forecast as recent as December when those expectations were for at least two this year alone.
What changed? Variables include concerns that the U.S. could lose economic momentum, or that places such as China and the Euro area have slowed materially, and/or rocky financial market behavior unsettled officials. However, it also could be that the inflation undershoot against the target of 2% has persisted too long for comfort and the Fed greatly desires to move inflation expectations higher to increase its maneuverability come the next recession. On balance, it was a reasonable response especially given the sudden tightening of financial conditions imposed by the fourth-quarter selloff in stocks and corporate bonds. In effect, the markets did the Fed's work for it so there was no longer a need for monetary policy to pursue a more hawkish course. At least for now.
As mentioned, slowing momentum in the rest of the world offered another reason for Fed officials to step aside for a time. The deceleration in China's economy has crimped its import activity, which is the most direct channel through which it affects global trade. The slump in global export volumes has, in turn, dragged on European growth since its market composition is most levered to exports and, in particular, those going to China.
Back in the U.S., ongoing data releases have fostered the notion that the Fed can well afford to be patient. Signs that growth has downshifted from last year's heady pace abound, and inflation has continued to loiter around, but not pressing above the 2% level. We, however, remain constructive on the U.S. economy. The weakness in the stock market going into year-end and the government shutdown have conspired to induce some relatively lousy reports about activity in the first quarter. In spite of that, job gains, rising wages, business capital expenditures, and real-time measures of final demand give us reason to think that growth should improve in the second quarter. On the international front, Chinese policymakers have taken myriad steps to support their economy, and, as they gain traction, that will help the rest of the world.
The Fed has taken itself out of the picture for now. Any emergence of inflation or evidence the economy is reaccelerating because of the Fed's dovish turn, or otherwise, should be equity-friendly. It is much harder to get corporate earnings to contract, a worry that would pressure stock prices, when the economy is growing. We think the profit picture will improve — albeit modestly — in the course of time, which should invite a better attitude toward risk taking. To be sure, that does not mean that equities continue to post uninterrupted gains into year-end.
After all, with uncertainty so pervasive now, the market could cue off almost anything on any given day. Having said that, our position remains that China-led stability should guide investors into seeing a backdrop forming, which is supportive of an advance in global equities. While we think the opportunity to shift more investments to international markets lies ahead, domestic sectors that look attractive now include those such as housing, energy, software technology, and biotechnology.
Fed u-turn neither unusual nor conclusive - Guy LeBas
Recent swings in Federal Reserve policy stance has offered the opportunity for some colorful commentary titles (Three Steps and No Stumble; Powell Asks: Are We There Yet?; Don't Make Me Turn this Car Around; and Same Story, Different Market to name the four most recent). String these notes together — even the titles tell a story — and you have a pretty clear idea of the direction of monetary policy.
During the past six months, officials in charge of setting shortterm interest rates and managing the trade-off between growth and inflation have gone from ebullient about economic prospects, to nervous, to downright negative. Accordingly, the bond markets have gone from pricing in future rate hikes, to uncertainty, to pricing in rate cuts as early as late 2019. This about-face (perhaps, given the titles of our FOMC notes, we should call it a U-turn) seems extreme, but is actually consistent with past turnarounds on policy.
Since the Fed started targeting overnight interest rates in 1971, there have been 18 times in which policy has shifted from rate hikes to rate cuts. Across those 18 instances, the median time between the last rate hike of a cycle and the first rate cut is a mere four months, while the average time is six months (the difference between the median and average tells us that the time period is often short, but occasionally much longer). The point is that the Fed has historically changed its mind and changed policy direction quite rapidly. That short turnaround time, once the norm in the bond markets, has been much longer since 1989 at an average of 11.5 months. In other words, U-turns were once quite common but have become much less frequent during the past 30 years, which is perhaps why this recent one is surprising.

Chart 1: 6m Change in Fed Policy Rate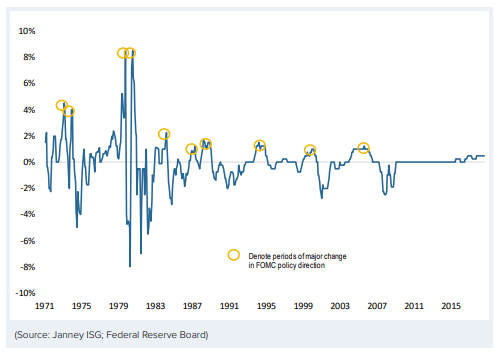 Market responses to these U-turns vary widely, which is exactly why it makes it hard to understand how 2019's Fed policy would directly affect either safe haven assets like Treasuries or risk assets like equities. The 18 instances of Fed U-turns since 1971 have produced a median +5.7% total return for the U.S. bond markets and a -3.4% return for the U.S. equity markets. As the table below indicates, however, those medians mask some extreme results. Moreover, the statistics don't do a great job of capturing the investing zeitgeist of the time — Fed U-turns in high inflation eras arguably signal something different than do U-turns in today's low inflation regime, and all of the aforementioned extremes occurred pre-1989.
Chart 2: Market Performance 6m following Fed U-turn since 1971
| | US Bond Market Return | Change in 10 year Yield | S&P 500 Return |
| --- | --- | --- | --- |
| Ave | 4.3% | -0.09% | 0.2% |
| Median | 5.5% | -0.16% | -2.4% |
| High | 9.8% | 1.70% | 26.5% |
| Low | -7.7% | -1.67% | -32.4% |
| 1989 to Present | 4.9% | -0.41% | 4.6% |
The closest single corollary to today's Fed U-turn is arguably the Fed's 2001 rate cut. In response to a major tech sector slowdown, maestro Alan Greenspan and his Board cut overnight rates by a full percentage point in January 2001. Much like today, that action took place towards the end of a nine-year economic expansion, and much like today, concerns about risk asset valuations and the over-extension of credit were prominent. During the six months following that rate cut, U.S. bond markets returned +4.2%, while risk assets have fared poorly (this period does not include 9/11). Economic growth then slowed, leading to a relatively mild recession lasting just eight months according to the National Bureau of Economic Research (NBER). However, no corollary is perfect and few people would argue that risk assets are as overvalued today as they were at the end of the dot-com bubble.
Although it may seem like Jay Powell's Fed has executed an unusually fast about-face between September 2018 and today, swinging from expectations of rate hikes to cuts, the reality is that such swings have been common for the central bank, albeit mostly in higher inflation regimes. Those turns have been historically good for bonds and not so good for risk assets. Still, the historical experience has varied widely — so much so that even the closest corollary does not even provide great information on which to base an investing thesis. One thing is clear: The domestic economy and financial markets are not prepared to tolerate tighter Fed policy at this point in the cycle.
Inversion aversion - Greg Drahuschak
After finally breaking through the top of a six-month-long trading range, a yield inversion in Treasury paper sent the S&P 500 from a March 21st high of 2854.88 to as low as 2785.02 by March 25th.
Yield inversions typically are viewed as warnings of a possible recession. However, a study by the Bespoke Investment Group showed that in the year after the last four inversions similar to the current one, the S&P 500 was positive each time, with a gain of at least 9%. A year after the 2006 inversion, every sector of the S&P 500 was higher, with the overall index up 11.5%. Keep in mind that a rate inversion for 2-year/10-year paper is the best indication of a possible recession, but 2-year/10-year rates did not invert.
The inversion-prompted downturn late in March did not stop the S&P 500 from posting its best quarterly start to a year since 1998. This year also produced the best S&P 500 result of any quarter since the third quarter of 2009. Inversion worries provided a headline excuse for the equity market to pause, but the market was susceptible to weakness before the inversion issue developed.
Typically, when the S&P 500 finally surpasses a well-defined resistance level, a solid upward move usually ensues. This time the S&P 500 limped its way higher on mediocre volume and then sank back into the prior trading range, which suggested that surpassing the prior trading range might have been a false breakout.
The Federal Reserve had a major hand in late-March market activity. In the press conference following the March 21st release of the latest Federal Open Market Committee (FOMC) policy statement, Fed Chairman Jerome Powell said "We are in a very good place right now," but language in the FOMC statement reflected a softer economic picture. The median expectation for rate hikes in 2019 dropped to zero from two in December, which was the catalyst for the S&P 500 to reach its rally peak before the yield inversion produced a modest pullback. The dawning of the second quarter brings with it some challenges. Inversion implications are likely to linger. The 2019 estimate ended March at $165.37, which suggests year-over-year growth of only 2.2%. U.S. economic data, while still good, have softened and economic measures in Europe and China are comparatively weak.
On the other hand, consumers remain in solid fiscal positions, which should support spending. Lower interest rates should continue to support home buying. Second quarter GDP growth should rebound from the deeply depressed rate of the first quarter. Weakness in the U.S. dollar could help U.S. multinational companies fare better overseas.
Second quarter focus might best be placed 7,000 miles away. China's influence on the global economy is well known, as is the nation's recent economic weakness. For example, China's industrial profits for January and February fell 14.6%. China, however, has instituted numerous stimulus programs with more likely ahead.
Some of the existing programs may be taking hold. China's Beige Book suggested that the country's economy showed an "unmistakable" recovery in the first quarter. Improvement in China could significantly influence markets globally. This impact clearly was evident when the market moved quickly higher April 1 on the heels of the official manufacturing Chinese Purchasing Managers' Index (PMI), which increased to 50.5 in March from 49.2 in February. China's Caixin/Markit Manufacturing PMI also improved to 50.8 from 49.9 in February. The market may continue to be choppy, but, in our view, it is only a matter of time before the S&P 500 challenges its all-time high.
The information herein is for informative purposes only and in no event should be construed as a representation by us or as an offer to sell, or solicitation of an offer to buy any securities. The factual information given herein is taken from sources that we believe to be reliable, but is not guaranteed by us as to accuracy or completeness. Charts and graphs are provided for illustrative purposes. Opinions expressed are subject to change without notice and do not take into account the particular investment objectives, financial situation or needs of individual investors.

The concepts illustrated here have legal, accounting, and tax implications. Neither Janney Montgomery Scott LLC nor its Financial Advisors give tax, legal, or accounting advice. Please consult with the appropriate professional for advice concerning your particular circumstances. Past performance is not an indication or guarantee of future results. There are no guarantees that any investment or investment strategy will meet its objectives or that an investment can avoid losses. It is not possible to invest directly in an index. Exposure to an asset class represented by an index is available through investable instruments based on that index. A client's investment results are reduced by advisory fees and transaction costs and other expenses.

Employees of Janney Montgomery Scott LLC or its affiliates may, at times, release written or oral commentary, technical analysis or trading strategies that differ from the opinions expressed within. From time to time, Janney Montgomery Scott LLC and/or one or more of its employees may have a position in the securities discussed herein.
About the authors