Investment Perspectives provides insight into the markets from three of Janney's elite strategists.
Key Takeaways
Investors should position themselves for the advance in the stock market to continue.
A knowledge refresher on inflation - why it is important for the economy, the Fed, and the bond market.
May is here, but find out why selling and going away might not be the most appropriate strategy.
Yes, We are still Bullish - Mark Luschini
Earlier this year, Federal Reserve officials made clear that they abandoned the gradual pace of interest rate normalization maintained throughout 2017 and 2018. In doing so, policymakers postponed crossing the neutralrate Rubicon (the theoretical point at which monetary policy turns restrictive). Their newly adopted "patience" likely not only extends the expiration date of the nearly decade-long economic expansion underway, but it also serves as support for the equity and credit bull markets to run.
There is no free lunch, however. Perhaps the combination of low rates, and a sustained pace of non-farm productivity at current elevated levels, will be enough to shift potential long-run growth higher. Indeed, that scenario is not implausible, and would justify stock prices residing at much higher levels than today. If not, the risk is that gains in the financial markets pulled forward to the present may be given back in earnest once monetary policy settings are rendered too tight, causing a deterioration in economic thrust, or a recession. In our view, the latter is not yet an investible thesis. Instead, we expect robust invest returns, possibly crowned by an incremental melt-up in equities.
What would undermine our judgment that the economy is running just fine and that it is likely that positive growth will continue well into next year, and maybe beyond? Certainly, an exogenous shock that causes a global downturn, or a deep financial market scare brought on by a geopolitical event would do it. Barring the aforementioned, the Federal Reserve could be the culprit. In this tightening cycle, interest rates have been increased nine times so far, from zero to a still historically low level of 2.25%. However, it is not the rate in and of itself that matters, but rather the pace of economic activity that can absorb it. Recent data suggest domestic conditions are operating at a level sufficiently high to do just that. Our constructive view is a function of a number of factors, but largely because of the surging labor market's impact on wages and the shoring up of household balance sheets. These two variables are meaningful in assessing the prospects for consumption—the dominant drive of domestic economic activity. We believe the elevated state of confidence across all income cohorts suggests consumers are in position to support further spending.
The upshot is the economy is faring well, and that augurs well for equities and other risk assets. In the meantime, Chinese policymakers have tabled their deleveraging campaign, and a deal to settle the trade dispute with the Trump administration is likely at some point in the near future. Both parties have a vested interest in seeing this ordeal conclude with the least amount of economic damage occurring. With the Federal Reserve on hold, and the corporate profit picture beginning to look up for the year's second half, investors should position for the advance in the stock market to continue, albeit on a glide path less steep than what the first four months of the year brought.
To reiterate, our base case is to stay the course with risk-friendly positioning, even if the rally stalls and backs up for a while, to adjust to fluid trade negotiations and unconfirmed improvement in economic conditions abroad. Our tilts include an overweight to U.S. equities. We believe the second half of this year will see sturdier growth emanating from economies such as China, Europe, and emerging markets; therefore, we are poised to shift more toward international equity markets should what are only now green shoots blossom further.

Nature of Inflation - Guy LeBas
Inflation in the U.S. is low, not only in relation to recent history, but also in relation to the Federal Reserve's (Fed) official 2% target for inflation.
The core personal consumption expenditure (PCE) deflator printed just 1.55% year-over-year (YoY) in March, well below the Fed's official 2% target. In fact, that number has hit the 2% mark in only five months out of the last 125—an abysmal performance—made all the worse by the fact that unemployment is at multi-decadal lows and economic growth is above trend. We'll address (or at least attempt to) why the economy needs inflation at all, why inflation in this context is so low, and what this trend means for the Federal Reserve and bond markets as a whole.
Inflation is useful for two main reasons, one demand and the other supply side. Conceptualizing the demand side benefit of inflation is straightforward: If the price of goods is expected to fall (deflation), prospective buyers will put off purchases until prices are lower. By contrast, if prices are rising (inflation), buyers have incentive to act now. The supply side benefits are a bit more complex and related to something called "wage rigidity." Wage rigidity is the term for a cultural phenomenon by which workers and firms refuse to accept or administer pay cuts. In times of economic stress, in theory, firms could just pay workers less, but such cuts go against cultural norms. Inflation allows flexibility. Instead of cutting wages, firms can skip pay raises, and thereby pay their workers less in inflation-adjusted terms without the cultural backlash of cutting wages. Of course, too much inflation is a bad thing as well, so the Federal Reserve and other major central banks have generally concluded that about 2% is the ideal number for inflation in the end.

Chart 1: Core PCE inflation has undershot 2% goal since 2008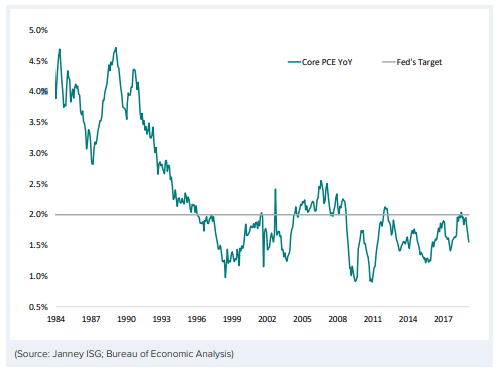 The U.S. economy is running below 2% inflation and has been for virtually the entire time since the opening volley of the Global Financial Crisis. Understanding the reasons for this low and declining inflation trend is anything but simple, but they are probably some strange combination of a stronger dollar, low commodities prices, a global supply excess, cyclically weak growth in many developed and emerging markets, and slowing demographic expansion in the developed world. Whatever the causes, clearly the Fed expanding its balance sheet to roughly $4.5 trillion was, (a) not inflationary to begin with, despite decades of policy thinking; or (b) just enough to stave off Japan 1990s-style deflation. It is impossible to know which, even a decade after the Fed's expansionary policy began.
Investors need to care about inflation for two reasons. One, inflation eats into (or, in this case, does not) returns. Since inflation corrodes the future value of money and most bonds issue fixed payments, lower inflation benefits the value of those future payments, while higher inflation reduces the benefits. The relationship between stock performance and inflation is less obvious, because while inflation corrodes future dividend values, companies' profits and dividends grow with inflation. Regardless, for investors with long-time horizons, say 20 years or more, inflation is arguably the biggest determinant of real investment income. For now, the markets seem to think that low inflation is benefiting all asset classes, as evidenced by interest rates' year-to-date declines and equity markets trading at all-time-highs.
The second reason we need to care about inflation, or lowflation as the case may be, is that it is a major input—perhaps the single most important one—into Fed decision making. While Federal Reserve policymakers may have ended rate hikes in response to stumbling equity markets, they are now contemplating rate cuts to stimulate inflation (you can see our discussion of the matter in our 2nd Quarter 2019 Interest Rate Forecast). Whether lower overnight interest rates can actually stimulate inflation— and the last decade suggests otherwise—is open for interpretation, but as long as the Federal Reserve believes they can, it is more than enough to drive bond market returns even higher.
Sell in May? Maybe Not - Greg Drahuschak
The stock market is not taking cues from the "Avengers" film series. In other words, the game is not over for equities.
The $1.2 billion in box office receipts for the Walt Disney Company (DIS) movie "Avengers: Endgame" set an all-time record for an opening weekend just as the S&P 500 set new closing and intraday all-time highs. In the market's saga, technology has performed a lead role this year thus far. The sector ended April with a year-to-date 26.96% gain.

Chart 2: YTD 2019 Sector Results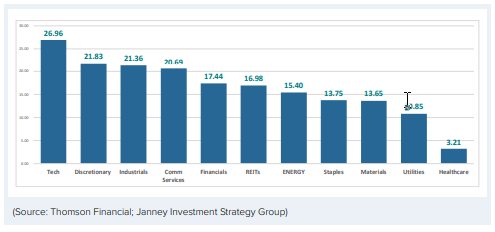 As the equity market moved closer to a new high, the duration and extent of the market's advance in recent years prompted some investors to worry that a major correction was nigh. It might be more reasonable to consider that the correction likely was behind them when the S&P 500 fell 13.97% in the fourth quarter of 2018.
With the S&P 500 ending April at an all-time high, market bears cite the "sell in May and go away" cliché to justify their negative perspective. November through April typically are the equity market's best six months of most years, while the May through October period is comparatively weak.

Chart 3: Average Monthly Percentage Results: S&P 500, 1950-2019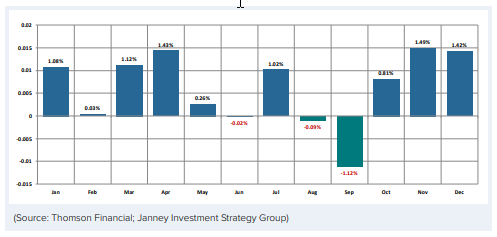 From 1990 through 2018, the S&P 500 in the November to April period has outperformed May through October 20 times for an average annual differential of 5.09%. Typically, defensive sectors like staples and health care tend to outperform their cyclical counterparts in the May through November period.

Chart 4: S&P 500 May-October & November-April Comparison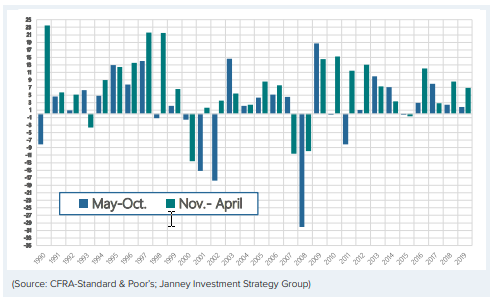 In our view, with the sell in May thesis correct on average only two-thirds of the time, it is not a compelling reason to reduce equity holdings. Culling weak or extremely extended issues and rebalancing portfolios is much more appropriate. As April ended, first quarter earnings results were far better than estimated when the reporting period began. By mid-May, the market should have a solid understanding of how U.S. companies fared in the quarter. After falling for 24 consecutive weeks, the 2019 S&P 500 earnings estimate ended April with back-to-back weekly increases. We continue to think the estimate will gradually improve as we move through 2019, toward the $168-$170 range from $165.73 presently. While the market is not classically cheap, valuation is well below what often is present at a major market peak.
Numerous economic measures are down from recent peaks, but they still point to continued expansion. As evidenced by the April report of the Consumer Confidence Index, and still robust wage and employment data, the largest component of the U.S. economy is in solid condition. In addition, the Federal Reserve's credit policy remains accommodative. A random pullback at any time is possible, but intermediate-term downside in the major indices appears to be relatively limited, if it occurs at all. Rather than worry about selling in May, efforts should be directed toward finding appropriate additions to equity portfolios.
The information herein is for informative purposes only and in no event should be construed as a representation by us or as an offer to sell, or solicitation of an offer to buy any securities. The factual information given herein is taken from sources that we believe to be reliable, but is not guaranteed by us as to accuracy or completeness. Charts and graphs are provided for illustrative purposes. Opinions expressed are subject to change without notice and do not take into account the particular investment objectives, financial situation or needs of individual investors.
The concepts illustrated here have legal, accounting, and tax implications. Neither Janney Montgomery Scott LLC nor its Financial Advisors give tax, legal, or accounting advice. Please consult with the appropriate professional for advice concerning your particular circumstances. Past performance is not an indication or guarantee of future results. There are no guarantees that any investment or investment strategy will meet its objectives or that an investment can avoid losses. It is not possible to invest directly in an index. Exposure to an asset class represented by an index is available through investable instruments based on that index. A client's investment results are reduced by advisory fees and transaction costs and other expenses.
Employees of Janney Montgomery Scott LLC or its affiliates may, at times, release written or oral commentary, technical analysis or trading strategies that differ from the opinions expressed within. From time to time, Janney Montgomery Scott LLC and/or one or more of its employees may have a position in the securities discussed herein.
About the authors