Investment Perspectives provides insight into the markets from three of Janney's elite strategists.
Key Takeaways
Looming threats exist, but that should not sway investors
What the yield curve shape does, and does not, tell
Trade uncertainties and indications of slower economic growth dampen outlook
Could an exogenous shock undermine this expansion? - Mark Luschini
The short answer is "of course." To be sure, there is always something lurking out there that can short circuit the stasis of economic conditions.

However, the key is to identify what might induce the shock, handicap its likelihood, monitor its evolution, and determine whether to scale up or down risk-asset exposure as warranted. A usual cause given to recessions is an overly tight monetary setting, which initially is deployed to cool growth, but instead ends up suffocating it. Monetary officials have made it clear, however, that further rate hikes beyond the nine already taken are on hold for an undefined period. That, in effect, neutralizes the Federal Reserve (Fed) as a culprit to undermine this expansion, at least for the time being.

The U.S. is a relatively closed economy, but there is no such thing as complete decoupling. Domestic conditions may react to what is going on in the other economies around the world in a more muted fashion, but we are not immune from it.

Currently, the Sino-American trade skirmish has taken center stage and its prospective escalation could cast a pall over the global outlook. After a ceasefire, recent developments demonstrate rising tensions on both sides. The U.S. is now threatening to levy tariffs on the remaining $325 billion of Chinese goods that has so far been spared. Among those imports in that tranche are consumer goods, representing about 40% of the total. If those tariffs were applied, the hit to consumption that may follow due to higher prices would be unwelcome. The estimated haircut to the pace of domestic growth is not overwhelming, but it does reduce the margin of safety available to ward off another growth-reducing event.

Meanwhile, the new threat of U.S.-imposed tariffs on imports from Mexico has exacerbated trade concerns. It is, however, too early to ascertain the full impact these tariffs would have on business and the economy. In any case, heightened trade tensions may delay the global growth recovery that we were expecting to bloom in the summer so it bears close monitoring.

There are, however, other potential threats as well. Increased tensions with Iran could crimp spending via a spike in oil prices. The contentiousness of the U.S.-Iran relations has ratcheted higher upon the administration's decision not to extend waivers on Iranian oil importers. With Venezuelan oil production falling and rising odds of a disruption in Libyan supply, important output to stabilize prices could be lost. While there may be sufficient supply from Saudi Arabia and Russia to counter, the near-term risk is that it takes too long to bring it to market and prices spike, sending gas prices soaring and serving up a tax on the consumer. Notably, a surge in oil prices has preceded every recession in the last 45 years, except the dot-com bubble bursting one that occurred in 2001.

While the U.S. relies on exports for only about 12% of its Gross Domestic Product (GDP), the big, multinationals that dominate equity market capitalization rely heavily on interactions with the rest of the world, as does the stock market, by way of the earnings these companies generate from overseas markets. Any further downshift in global activity will weigh on profits and create a more uncertain environment for equity market participants. Our base case has been, and remains, that none of the various external threats will tip the U.S. into recession. In fact, we think there is a non-trivial chance that the next recession is several years away, in the absence of a tighter monetary setting, or a significantly adverse exogenous event. Therefore, staying positioned for further gains in the equity market is the right choice for risk-based assets. We reiterate our recommendations that investors should maintain at least an equal weight position in equities and spread product. Enough is at stake in the conflicts with China and Iran, however, that a worsening of either could cause us to change our view, so we will be watching developments on each front closely and expressing our views accordingly.

Inverted yield curve deserves attention, not fear - Guy LeBas
While the level of interest rates is a useful economic indicator, the shape of the yield curve provides a better read into economic futures.

Throughout May, interest rates across the curve declined, with the benchmark 10-year Treasury note yield falling about -0.30% and the 2-year Treasury yield falling about -0.23%. As one can see from a simple glance at those numbers, the 10-year yield fell much farther than the 2-year yield—0.07% or seven basis points to be exact, to a difference of just 0.16% at the end of May. The spread between the yield on the 3-month Treasury bill and the 10-year note is actually negative, or inverted, at -0.13%.

The professional fixed income investing community tends to spend more energy analyzing the shape of the yield curve than the absolute level of interest rates, and the flattening and partially inverted curve sends a number of significant signals.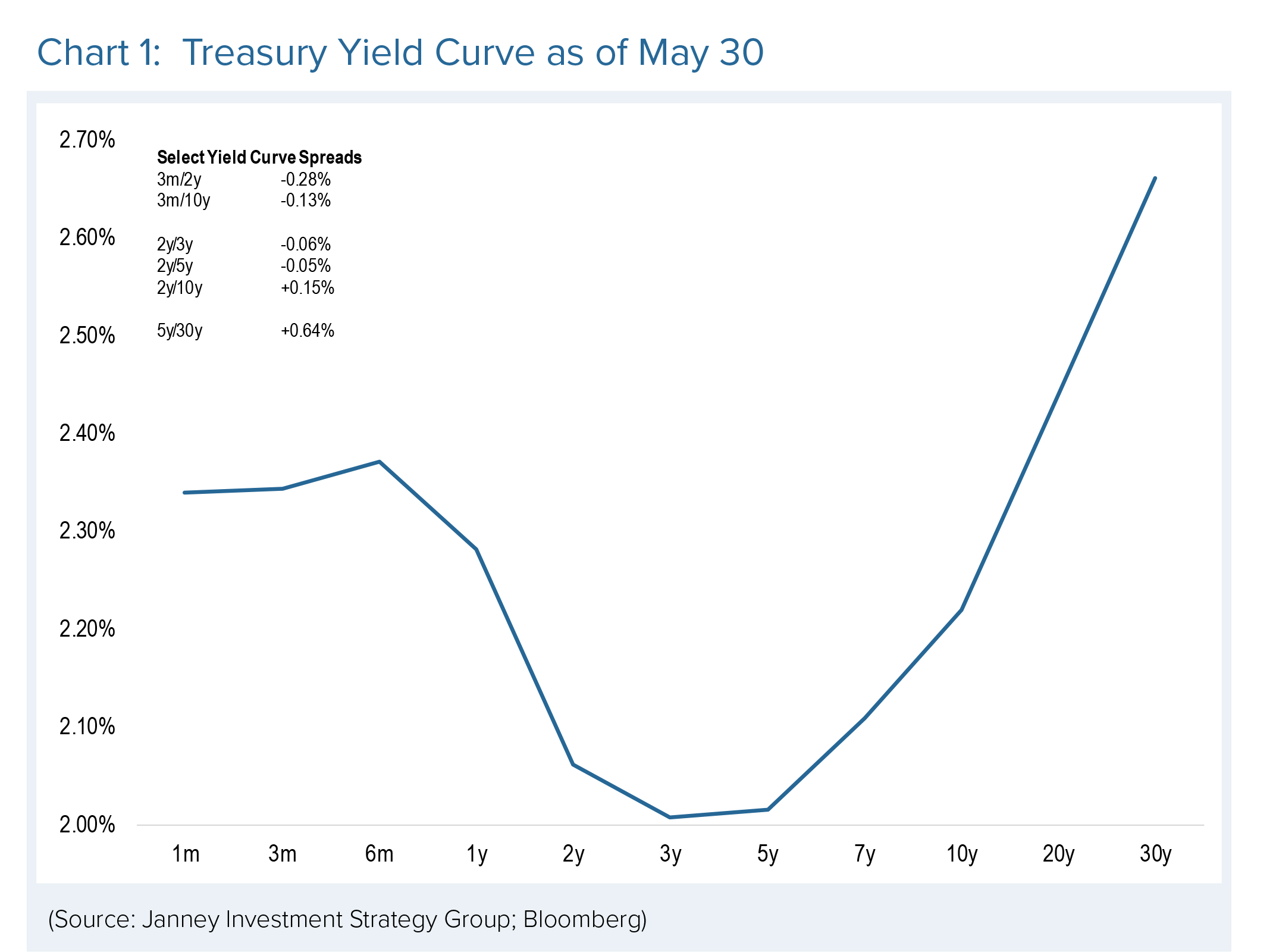 The shape of the yield curve refers to the differential in yields between longer-term bonds and shorter-term ones. For simplicity's sake, we usually focus on the Treasury yield curve and eliminate credit risk from the equation, although the shape of the credit curve can also be significant.

A steep yield curve refers to a situation in which longer-term bonds yield significantly more than short-term bonds. A normal yield curve refers to a situation in which longer-term bonds yield somewhat more than short-term yields. Finally, a rare flat or inverted yield curve refers to a situation in which longer-term maturities yield less than shorter-term ones.

Again, for simplicity's sake, we often focus on the difference between 10-year and 2-year maturities in evaluating the shape of the yield curve, also known as the "2s/10s spread." Figure 2 illustrates what is called a histogram, which identifies during the past four decades, what the occurrence of each scenario has been.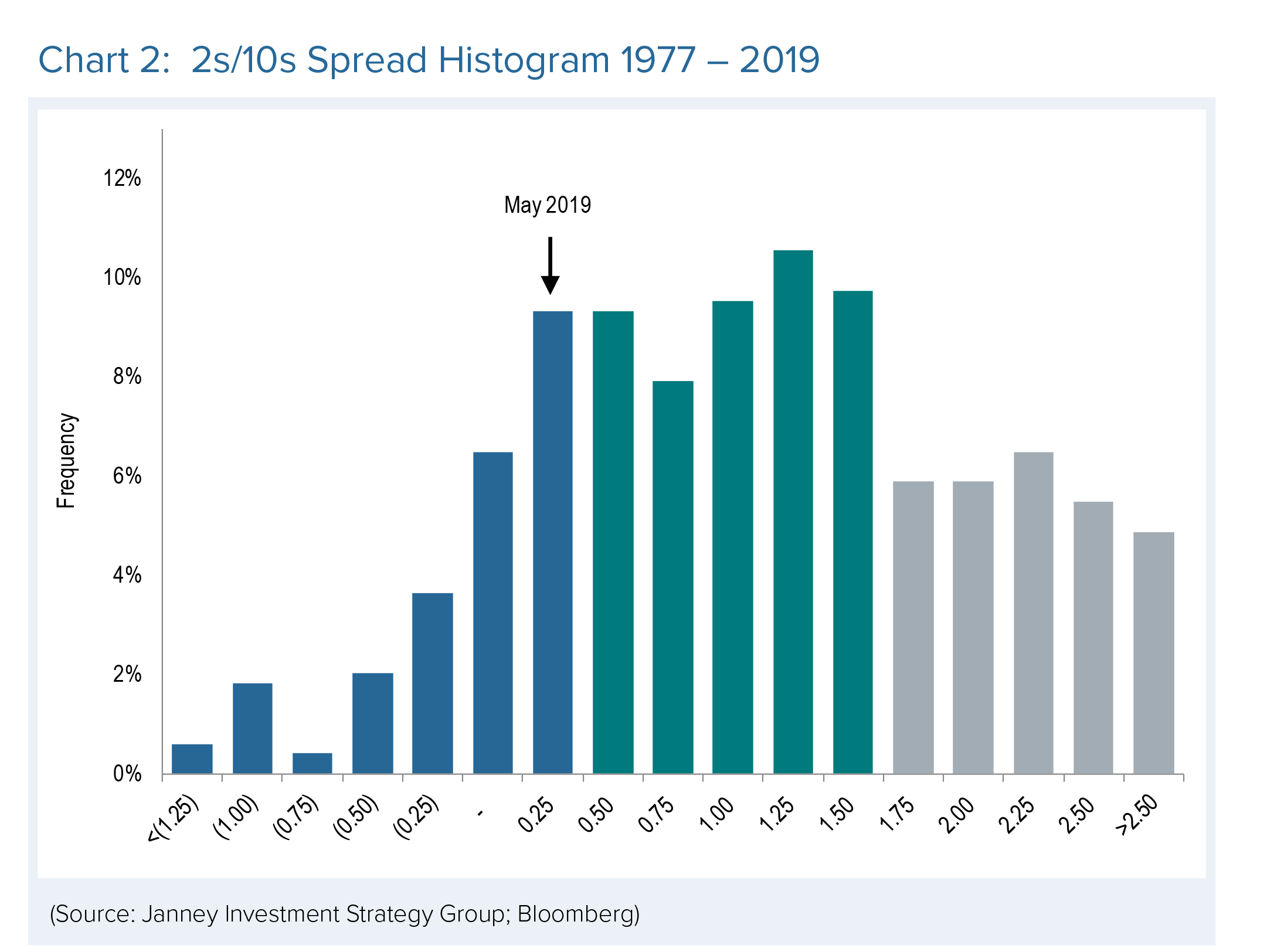 A very flat or inverted yield curve, as measured by the 2s/10s spread, occurs roughly 24% of the time. At present, the yield curve across all maturities looks something like a checkmark. That checkmark represents a relatively rare "partial inversion," in which very short-term yields and long-term yields are higher than intermediate-term yields. During the past 40 years, sharp flattening and inversions of the yield curve have preceded each of the four recessions. Moreover, each time part of the curve has inverted, it has eventually completely inverted, suggesting the current partial inversion we are in today will not last long. There have also been two false recession signals in which the yield curve inverted, but no recession followed. In each of those two instances, the Federal Reserve (Fed) cut interest rates quickly, perhaps staving off the recession. Inverted yield curves are not in and of themselves enough to offer an economic prescription of doom; they are a necessary but not sufficient predictor of recession.

Today, the fact that the short-term part of the yield curve is inverted essentially tells us that the Federal Reserve will likely cut short-term interest rates. Typically the Fed cuts rates into an economic downturn; ergo, the markets think a downturn or recession is likely. When it happens is another matter—an inverted yield curve is a notoriously terrible timing mechanism—and today's economic data, while softening a bit, do not point to an obvious recession in store.
Equities stagger into June, casting shadows of May - Gregory M. Drahuschak
Trade negotiations with China and new tariffs proposed on Mexico dominated the headlines in May. Sinking bond yields shared the spotlight.

From 3.248% early last October, the yield on the 10-year Treasury note fell by a third. The spread between the yield on the 3-month Treasury bill and the 10-year note eventually inverted. Normally, lower interest rates favor stocks, but as the drop in the 10-year rate accelerated, and as the yield curve inversion deepened, concern developed that the credit market might be signaling slower U.S. economic growth.

Durable goods orders fell 2.1%, and the prior month was revised lower. Core capital goods orders fell 0.9% versus expectations for a 0.4% decline, and the prior month was revised from a 0.3% increase versus the prior estimate of a 1.0% rise. Core capital goods shipments, which feed into Gross Domestic Product (GDP), were flat against March's 0.6% monthly drop. The Atlanta Fed's GDPNow model estimates real second quarter GDP growth to be only 1.3%, while the New York Fed's Nowcast estimate is 1.4%.

The May IHS Markit Flash Manufacturing PMI reached its lowest level since September 2009. New orders declined for the first time since August that year. The Flash Services PMI pointed to the slowest expansion since March 2016. April new home sales fell 6.9% month-over-month and existing home sales fell 0.4% in April.

The price of crude oil fell below $60 a barrel for the first time since March. The large increase in domestic stockpiles to the highest level since July 2017 and concern about slowing demand growth were the primary drivers of the price drop. Mideast tensions were not enough to support the price as U.S. crude supplies increased at the fastest pace since 2016. West Texas Intermediate crude oil fell to as low as $53.05 from $63.91 at the end of April.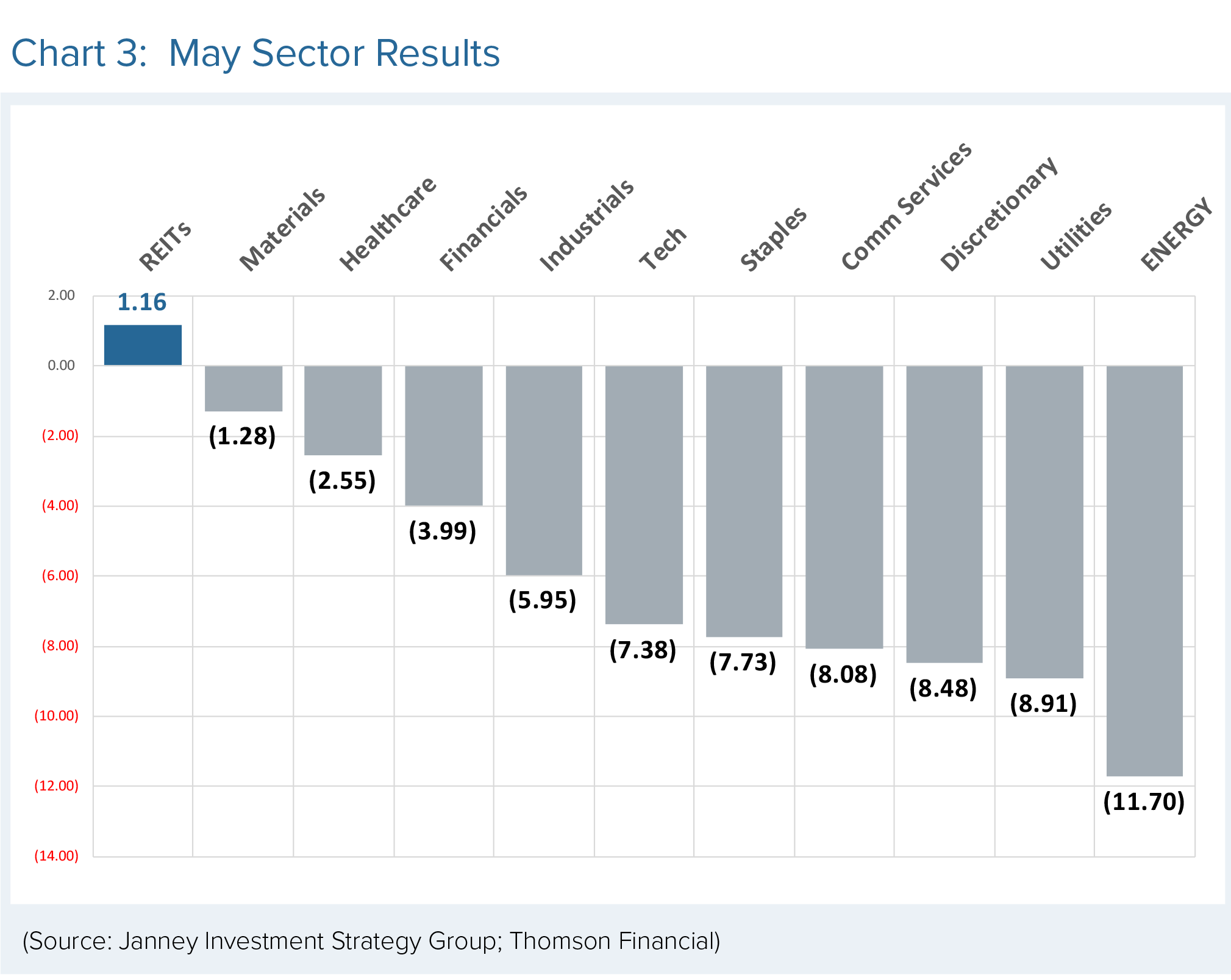 The S&P 500 peaked May 1 at 2954.13, up 25.64% from its December 24, 2018 intraday low, and then pulled back as much as 6.75% by the May 31 intraday low. This weakness prompted a shift into typically defensive market sectors as traders shunned many pro-cyclical areas. Among the 11 S&P 500 sectors in May, the REIT sector had the only gain (up 1.16%). The Materials (-1.28%), Health Care (-2.55%), and Financial (-3.99%) sectors were the next best performers. Energy was the worst by far, falling 11.70%.

Lacking trade clarity and with many economic measures off recent peaks, there is risk the economy could talk itself into a slowdown. As measured by the Conference Board's Consumer Confidence Index, consumer sentiment remains positive, as the Present Situation component set another all-time high. The expectations component, however, was off its high set last October. Continued trade uncertainty and additional indications of slower growth could bleed into the economy and prompt consumers and companies to curtail spending and investment plans.

In periods of uncertainty, technical factors often provide useful guidance. Ledges of support in 50-point increments are present to as low as 2600, with key support at 2650. The May 1 peak sets the top of the recent trading range. This suggests possible 6.7% downside risk and 5.9% upside.

June often is a go-nowhere month, producing only an average 0.004% gain through the last 73 years. At the same time, June results tend to be much better when a year begins with a solid gain.

With the background of still sound U.S. economic data, the late-May sell-off might have been enough to generate a bounce in the equity market, but without clearly positive trade news, range-bound trading might be June's fate.

The information herein is for informative purposes only and in no event should be construed as a representation by us or as an offer to sell, or solicitation of an offer to buy any securities. The factual information given herein is taken from sources that we believe to be reliable, but is not guaranteed by us as to accuracy or completeness. Charts and graphs are provided for illustrative purposes. Opinions expressed are subject to change without notice and do not take into account the particular investment objectives, financial situation or needs of individual investors.

The concepts illustrated here have legal, accounting, and tax implications. Neither Janney Montgomery Scott LLC nor its Financial Advisors give tax, legal, or accounting advice. Please consult with the appropriate professional for advice concerning your particular circumstances. Past performance is not an indication or guarantee of future results. There are no guarantees that any investment or investment strategy will meet its objectives or that an investment can avoid losses. It is not possible to invest directly in an index. Exposure to an asset class represented by an index is available through investable instruments based on that index. A client's investment results are reduced by advisory fees and transaction costs and other expenses.

Employees of Janney Montgomery Scott LLC or its affiliates may, at times, release written or oral commentary, technical analysis or trading strategies that differ from the opinions expressed within. From time to time, Janney Montgomery Scott LLC and/or one or more of its employees may have a position in the securities discussed herein.
About the authors