Key Takeaways
Seeing a clear direction of the economy continues to be the Fed's challenge
The Great Recession still haunts investors. Read why the next downturn might not be as severe.
Stocks posted a strong first half of 2019 but many are wondering if the streak can continue through the second half of this year.
Spiking the punch bowl - Mark Luschini
The Federal Reserve's monetary evolution during the past six months has moved from tightening to an easing bias. The decline in stock prices in last year's fourth quarter caused a meaningful decline in household wealth, a widening in bond spreads heralding higher debt-service costs for corporations and consumers, and a surge in mortgage rates causing would-be home buyers to pause. With the tightening in financial conditions that occurred, additional hikes would have amounted to piling on, so the Fed opted instead to move to the sidelines.

Recently, speculation has risen that the Fed may cut the federal funds rate. If it were to do so in response to a rapidly weakening economy, risk assets will fare poorly. If, on the other hand, the economy is doing fine, and the rate cut is simply an "insurance policy," the additional accommodation would give the economy an incremental boost, extending the longevity of the expansion. A longer runway for the business cycle, in turn, would mean a longer bull market in equities. In our base-case scenario—which we recanted in our Outlook 2019: Mid-Year Update—where the economy is doing fine, a rate cut (or cuts as probabilities implied in the market suggest) would be tantamount to spiking the punch bowl, and would therefore extend the "sell-by" date on our constructive view toward equities.

If the economy surprises by being on the upside, the resulting boost to earnings should help equity investors overcome any disappointment resulting from a shortfall in the Fed's actions relative to market expectations. Read: The Fed cuts, but not by as much as expected. If past is prologue, that may set up a win-win scenario in which history shows equities performing well after the first rate cut, in the absence of a recession ensuing within 12 months. Again, if conditions are such that the Fed deems it unnecessary to cut rates, that should be a reflection of strong underlying growth that could also serve as fuel for rising corporate profits and stock prices.

In the meantime, we see improvement for the rest of the world outside the U.S. After the globally synchronized upturn in 2017, last year was marked by a sharp divergence in momentum. The U.S., fueled by fiscal stimulus, powered ahead while China slowed, hobbled by monetary tightening. The rest of the world followed China, which is the world's second-largest standalone economy. Now, total social financing growth has picked up, and we expect it to rise meaningfully over the coming year in order to overcome the combination of still-muted economic momentum and a larger shock to the export sector due to tariffs. The key takeaway is that ongoing policy efforts have plenty of scope to get Chinese growth to stabilize.

Chinese imports are the key channel by which China affects growth in the rest of the world. Increased Chinese aggregate demand will feed increased demand for materials and goods imports. China's imports are Europe's, Japan's, emerging Asia's, and the resource economies' exports. If China bottoms and turns higher, we anticipate that its trading partners will as well with a lag.

What could go wrong? Indeed, a lot. Yet, the transmission of something turning for the worse would evidence itself in the monthly publication of the Conference Board's Leading Economic Index (LEI). The LEI as a recession forecasting record matches is quite good. When it contracts on a year-over-year basis, recessions have reliably followed. Today, the LEI is still expanding, but it has been steadily decelerating, and we are keeping a close eye on it. If it contracted while the yield curve was inverted—another precursor to most recessions—we would probably have to respect its cautionary readings and revise our view that the bull market in equities still has a long shelf life, and reinstate the "sell by" date for the economic expansion and risk assets to something nearer to now.
The next economic downturn - Guy LeBas
Economic PTSD (post-traumatic stress disorder)—the term we use to describe market participants and consumers' fear that the next recession, whenever it comes, will be as bad as the 2007-2009 experience.

There will be a downturn again. It could come relatively soon, as there are a number of fundamental economic and market indicators that suggest we are late in the economic cycle. Regardless of timing, the economic excesses that built up from 2005 through 2007 were far more severe than anything we see today, suggesting that any downturn that does emerge will be milder. By corollary, the impact of such a recession on credit quality, while significant, should be less severe than the last experience and lend itself to a quicker and more confident rebound.

Economic growth data for the second quarter of 2019 are not great, but they are not terrible either. The Atlanta Fed's GDPNow tracker, an estimate of economic growth for the quarter, most recently registered +1.5%. That is below the roughly 2.0% trend for economic growth, but is easily above the zero line that represents recession. Historically, a period of a few quarters below trend indicates a high probability the domestic economy will fall into recession (a statistician would say that is cheating, since "recession" is really just an extreme case of "below trend growth," but the basic point remains).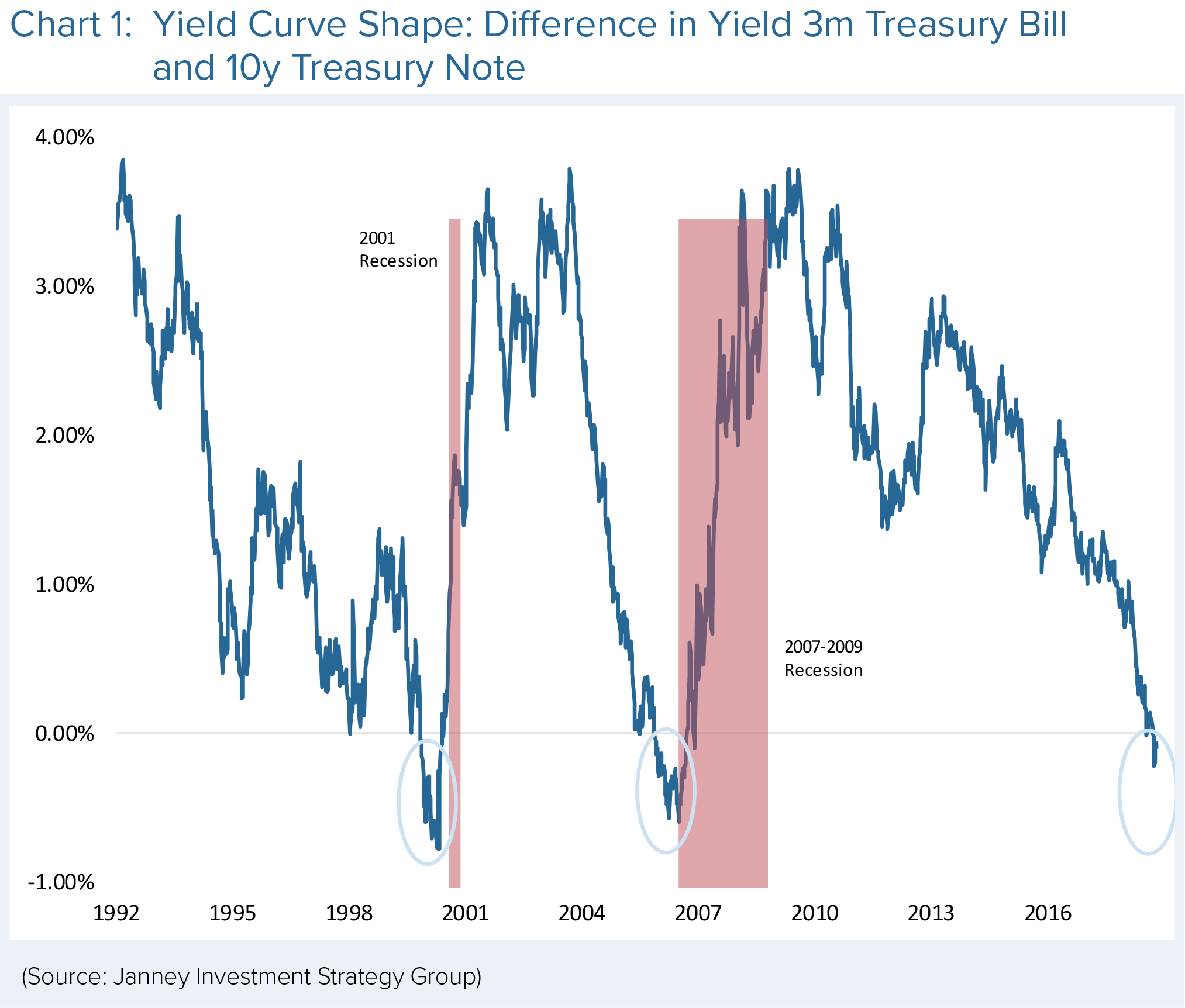 While it is often said economic expansions do not die of old age, the nature of probability suggests there is greater recession risk the longer an expansion has remained in place. At some point, the fuel behind that expansion (job growth in today's case) runs out, and "something else" must take over. The current expansion will shortly take its place as the longest in contemporary history, and job growth has likely peaked, if only because there are fewer unemployed people to hire. This transition point increases recession risk. Once the 70% of the economy (the consumer) slows, the broader economy becomes very vulnerable to random shocks, such as tariff impacts in 2019 or the expiration of government spending packages in 2020, in the remaining 30%. True, expansions don't die of old age, but the laws of randomness in economics tell us that the longer something has lasted, the sooner it's likely to end.

Another powerful indicator of recession is the shape of the yield curve, measured by the difference between short- and long-term bonds. That indicator has turned negative in on-again, off-again fashion since March. The spread between a 3-month and a 10-year Treasury has compressed to -0.10% and has held in the negative since May. This inversion represents a signal that the markets expect the Fed to cut short-term interest rates. The Fed typically cuts into economic slowing, and so an inverted yield curve provides an indirect view of recession probability.

What happens during a recession? When economic growth slows and turns negative, we typically see job cuts and lower corporate profits in the real economy. This outcome tends to lead intermediate- and longer-term interest rates to fall. Interest rates generally trough about two-thirds of the way through a recession when investor risk aversion is at its highest. Similarly, credit spreads tend to peak around the same time, creating a buying opportunity in relatively cheap corporate bonds.

A recession is obviously "bad" in that it affects jobs, incomes, and financial markets, but to assume the magnitude of a possible 2019 or 2020 recession is as severe as the prior one is a huge leap, unsubstantiated by any data or economic modeling. For the financial markets, a more modest recession means investors can be more confident in buying valuable assets at cheaper prices in the face of risk aversion—as long as said investors can fight their natural economic PTSD.
Second half starts with surge. Will it last? - Greg Drahuschak
There was no "June Swoon" for stocks this year, but July could tell a different story. The S&P 500 produced the second-best result for June since 1949 (up 6.89%) and set a new all-time high. All 11 S&P 500 sectors posted gains, as the equity market posted its best first half of a year since 1997.

Then, July got off to a solid start on news that the U.S. and China reached a temporary trade truce at the G20 summit in Japan, as U.S. President Donald Trump and Chinese President Xi Jinping agreed to suspend new tariffs and continue negotiations. Although the cease-fire sparked a brief relief rally, uncertainty about whether a final deal can be reached continues to loom over the second half of the year.

The performance from U.S. stocks in the past month occurred despite ongoing economic concerns. In addition to trade worries, investors have faced a threat to Middle East oil supplies, sliding Treasury bond rates, Europe's need for more stimulus, weakening U.S. industrial activity, and lackluster earnings growth expectations. The most recent rise in the equity market largely resulted from the inverse relationship between falling interest rates and asset values. The 10-year Treasury note yield falling to as low as 1.974% last month was all the market needed to head higher.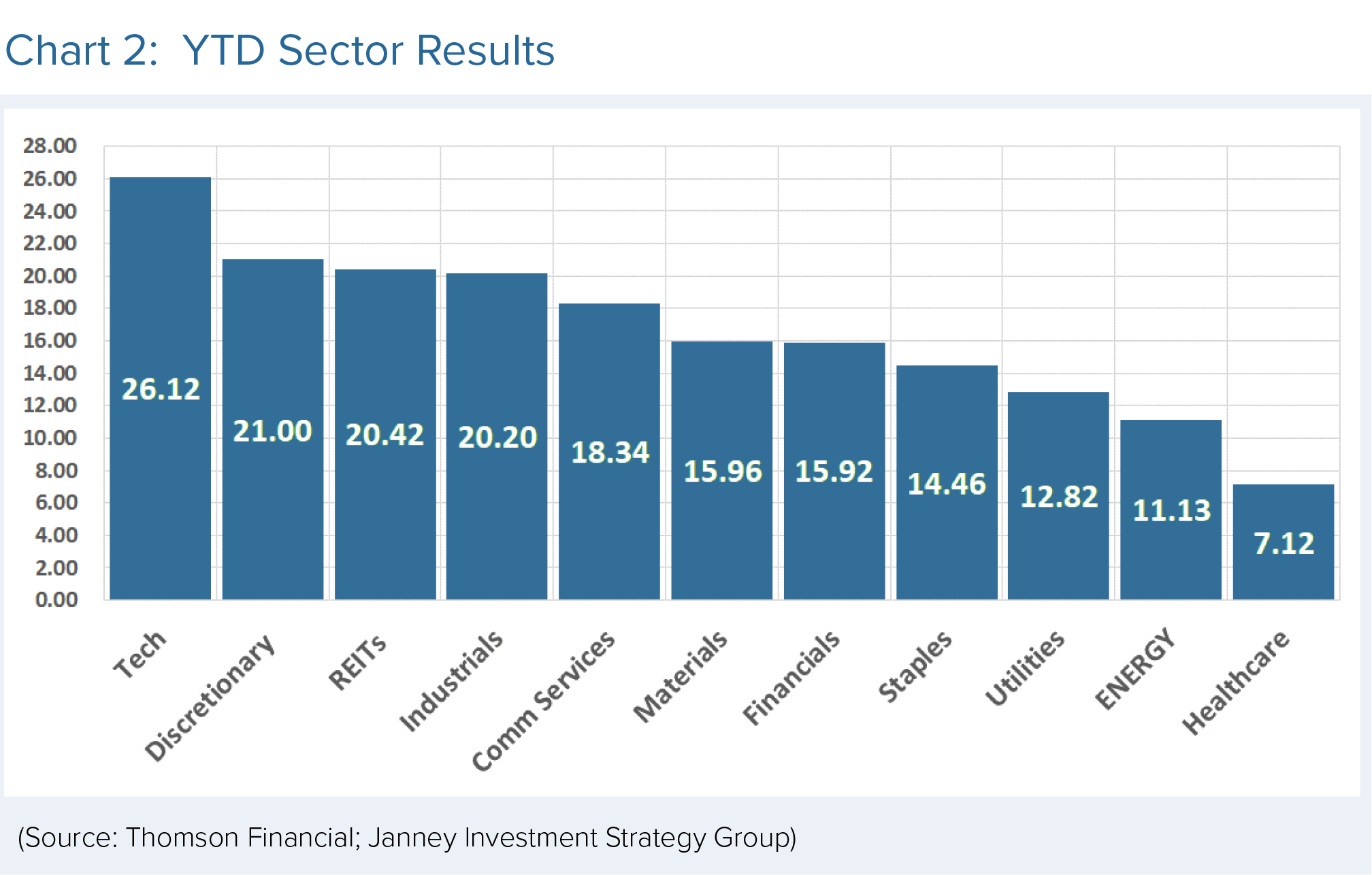 New highs for the S&P 500 last month attracted considerable media attention, but other major market indices did not share the enthusiasm. The Dow Jones Transportation Average (DJTA) struggled to go beyond a range of resistance. Similarly, the Russell 2000 small cap index was unable surpass a technical barrier. The lack of follow-through after the S&P 500 high was disappointing. As Chart 3 (courtesy of Stockcharts.com) illustrates, price and valuation at roughly where S&P 500 is now twice previously preceded significant pullbacks.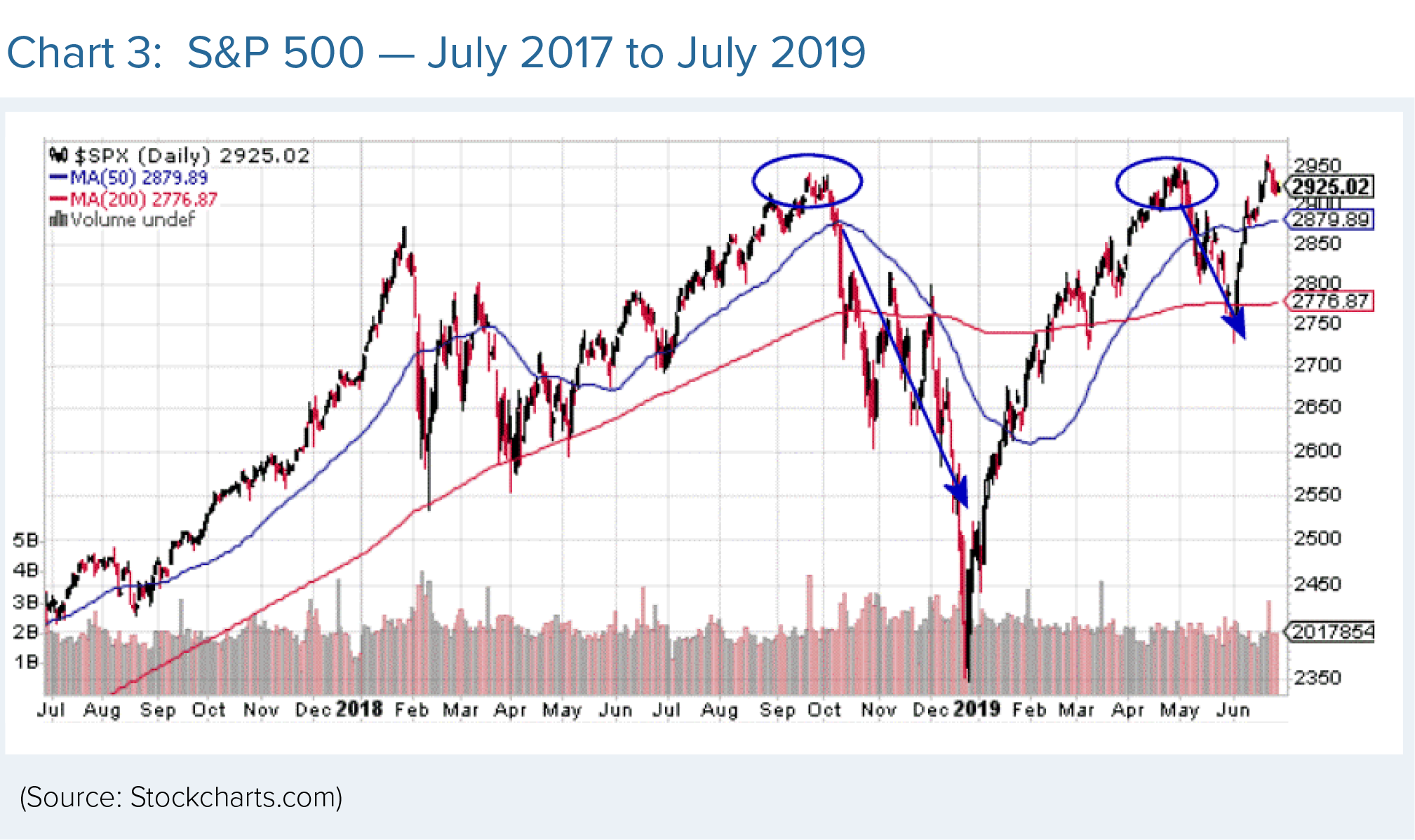 Following a major gain in one month, moderation in the next month is not unusual. July results after the previous 19 best S&P 500 results were mixed. Only July 1987 produced a gain better than the best June result, and the S&P 500 fell nine times in July. July tends to have a positive bias, and this month's results might hinge on several key issues. Earnings need to be the catalyst for higher equity prices. The 2019 S&P 500 earnings estimate has been below $166 for 17 consecutive weeks, from a high of $177.10 to the current $165.36, which suggests only 2.2% year-over-year earnings growth.

Theoretically, the expected second quarter earnings drop and anticipation of better second half results already are factored into the full-year estimate. The second quarter earnings report season hits full stride by the middle of July. This period that will include earnings and revenue guidance from most companies could tell whether better than currently expected second half earnings are realistic. This is particularly important with the market's liberal valuation, presently at nearly 18 times expected 2019 earnings.

Although it is not a prerequisite for the broad market indices to move higher, technical improvement in the Russell 2000 and the DJTA also is important to confirm that the S&P 500 can extend its gains. Once the S&P 500 convincingly surpasses its prior high, it would not face any natural sellers and have a clear path to even higher levels. The market's sharp rise in the first half might worry investors that most of the potential gain this year was already achieved. However, data assembled by CFRA-Standard & Poor's show that after first half gains of 10% or more, since 1945 the S&P 500 rose an average 7.5% in the second half and was up 80% of the time.

Results from the Trump-Xi G20 meeting that delayed implementation of additional tariffs on Chinese goods and restarted negotiations prompted a solid start to trading this month, but earnings reports are likely to be critical in determining the outcome for July and perhaps longer.
The information herein is for informative purposes only and in no event should be construed as a representation by us or as an offer to sell, or solicitation of an offer to buy any securities. The factual information given herein is taken from sources that we believe to be reliable, but is not guaranteed by us as to accuracy or completeness. Charts and graphs are provided for illustrative purposes. Opinions expressed are subject to change without notice and do not take into account the particular investment objectives, financial situation or needs of individual investors.

The concepts illustrated here have legal, accounting, and tax implications. Neither Janney Montgomery Scott LLC nor its Financial Advisors give tax, legal, or accounting advice. Please consult with the appropriate professional for advice concerning your particular circumstances. Past performance is not an indication or guarantee of future results. There are no guarantees that any investment or investment strategy will meet its objectives or that an investment can avoid losses. It is not possible to invest directly in an index. Exposure to an asset class represented by an index is available through investable instruments based on that index. A client's investment results are reduced by advisory fees and transaction costs and other expenses.

Employees of Janney Montgomery Scott LLC or its affiliates may, at times, release written or oral commentary, technical analysis or trading strategies that differ from the opinions expressed within. From time to time, Janney Montgomery Scott LLC and/or one or more of its employees may have a position in the securities discussed herein.
About the authors