Investment Perspectives provides insight into the markets from three of Janney's elite strategists.
Key Takeaways
Find out why slowing economic growth is not necessarily cause for alarm
The strange phenomenon of negative-yielding debt is on the rise
Stocks' bull run continues, but not without volatile daily swings
Another Cyclical Slowdown - Mark Luschini
While there are many things to be fixated on, including Federal Reserve policy, trade, Iran, and Brexit to name a few, the overarching question is: how close are we to the next recession? After all, bear markets for stocks rarely occur outside of one.

Recent data show the U.S. economy slowed in the past few months, so various recession-probability indicators are shaded toward cautionary warnings. If a recession is indeed around the corner, asset allocators should be decisively tilting toward safety. However, if the recent spate of slowing economic growth—which this expansion has had from time to time—is just another pause, investment strategy should stay proportionately risk-oriented. We believe in the latter outcome.

Expansion Not Dying of Old Age
The current cycle has been the longest stretch of growth in U.S. history but its longevity does not date its demise. In fact, Australia has not had a recession since 1991! More so, the intensity of the economic expansion may be a better way to handicap its likely end. Inherent in history are various boom-bust cycles—in other words, periods of economic or financial excesses that lead to a bust or cleansing in the subsequent recession. This 10-year-old—and counting—expansion has been relatively tepid and thus, has built few, if any, excesses. Overall GDP growth has steadily averaged just under 2%, consumers have been hesitant to re-leverage their balance sheets, and inflation has been benign. This has enabled monetary policy to remain supportive while interest rates stay low. Industry is healthier and profits are growing but no mainstream sectors have become overbid to the point of possessing bubble-like qualities.

To be sure, the place one could point to where there has been excessive growth is corporate debt. The alarming rise in covenant-lite debt issuance and outstanding borderline investment-grade bonds could sour in the next downturn.

If that were to occur, the sheer size of this tranche of debt could impair corporate-credit markets and insert a negative impulse on business activity. While these securities have performed well due to the economy's performance and investors' insatiable appetite for anything with a yield above nothing, troubles in the economy are often forewarned by some disruption in the credit markets; therefore, this issue bears monitoring.

Consumers Driving Domestic Activity
In the meantime, economic data is holding together and, importantly, reports on the labor market and manufacturing activity—the latter being highly levered to underlying demand—show expansionary tendencies are still in place. The primary driver of domestic economic activity is the consumer. Given the strength in job growth and wage gains, elevated confidence, and healthy state of household balance sheets, it is likely that the propensity to spend will remain well supported.

Of concern is the lack of consistent improvement in the economic data coming from abroad. While various stimulus measures undertaken by Chinese officials to stabilize their economy should promote growth, so far the response has been mixed. In addition, today more than half of central banks around the world are cutting interest rates in support of hoisting domestic demand, and yet one has to stretch to find a pattern that instills confidence that the global slowdown has been eradicated.

While the U.S. is a fairly closed economy, it is not immune to feeling the effects of weak exogenous conditions. Therefore, we remain highly tuned in to reports from overseas economies that elicit a shift for better or worse. For now, we remain overweight U.S. equities in a globally diversified portfolio but are prepared to raise international exposure should developments abroad signal a sustained improvement is in the offing. Overall, we think it is right for portfolios to be tilted toward risk assets, as our forecast is for equities to continue their ascent.

Negative Yielding Debt Grows - Guy LeBas
An estimated $14 trillion of the roughly $110 trillion of bonds in existence are trading at negative yields. We first began tracking this figure in early 2015, when the amount of sub-zero debt measured only 4% of the global markets; now it is up to 14%.

Why Would Investors Buy Negative Yield Debt?
Of the $14 trillion of negative-yielding debt, the vast majority are government bonds issued by European nations or Japan. Yields on German bunds, for example, are negative for maturities out through 25 years—said another way, bund buyers are actually paying the German government to lock up their money for decades to come. Why would an investor make that choice? There are more reasons than one might think, not the least of which is the fact that negative-yielding debt has managed a 10% cumulative return since 2015.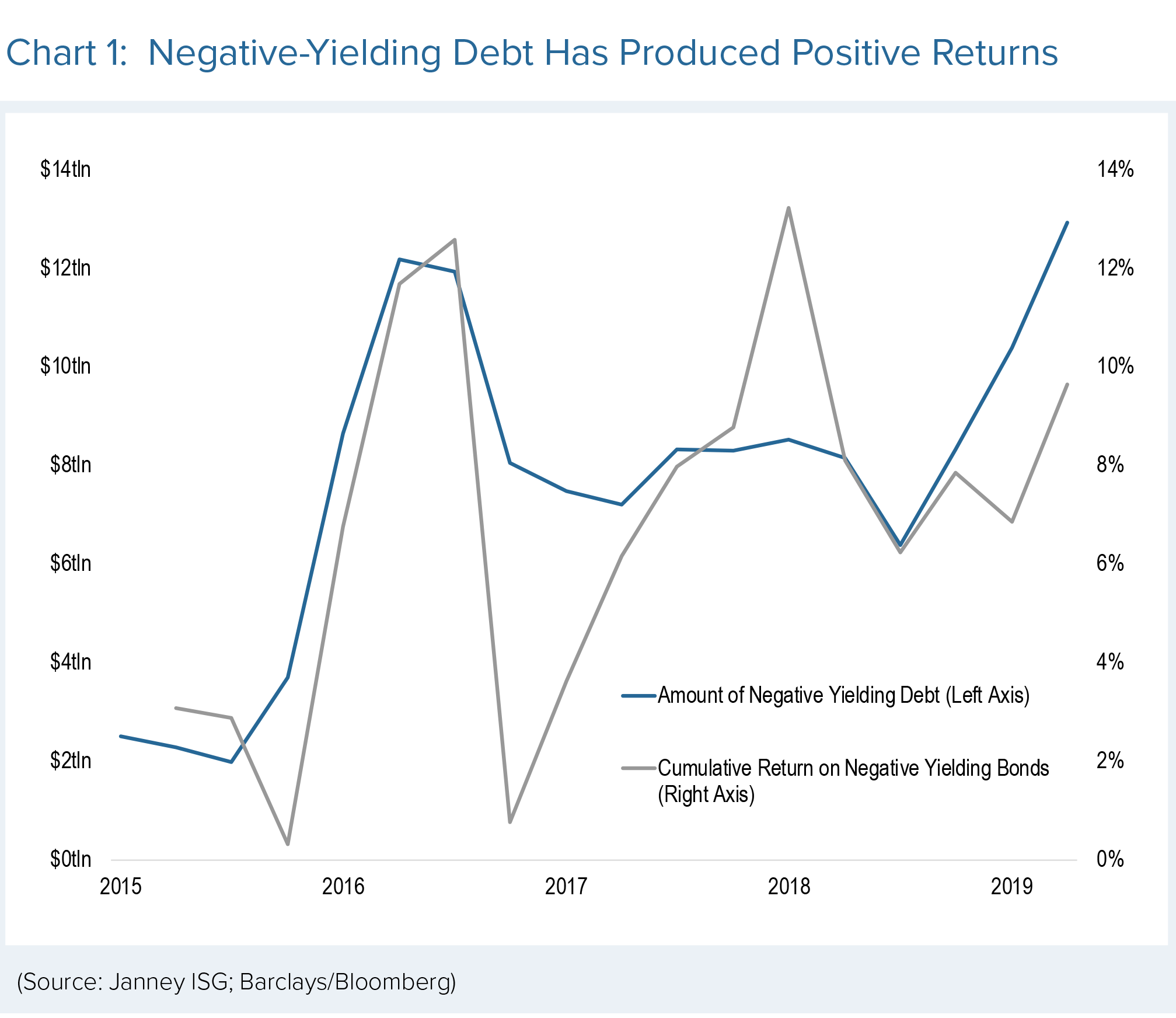 The biggest single economic justification for low, if not negative, interest rates on bonds is the potentially deflationary environment in Europe. Eurozone core inflation measured +0.9% year-over-year in July, and many forecasters, including the European Central Bank (ECB), expect that figure to fall further. Hypothetically, a 1% deflation rate implies the value of cash is declining by 1% per year; so by comparison, even bonds at negative interest rates can be appealing. It is essentially an extreme version of what we are facing in the U.S., with low inflation making even low yields on longer-term bonds appealing.

Deflation risk aside, technical factors (i.e., supply and demand) are likely a big part of the negative-yield circumstance. In the post-2010 era, demand for euro-denominated safe-haven assets has been accelerating for several reasons. The first of those reasons is the credit differentiation between Eurozone nations, causing supply of "true" safe-haven assets to decline. The second source of greater demand for safety comes from banking and insurance regulation. Basel III, Solvency II, and the Liquidity Coverage Ratio rules have forced banks to own more in the way of government bonds in order to protect the financial system from the next downturn, but it also has the impact of inflating demand for safety as compared to pre-2013 period.

The third major driver behind negative yields is what we would term the "greater fool trading philosophy"—what others might call a bubble—and the ECB. A "greater fool trade" is the purchase of an investment at questionable value under the belief someone else (the fool) will come along to purchase the investment at an even greater value. As the ECB pushes negative overnight interest rates, they reduce funding costs for leveraged buyers. Borrowing money at -0.50% to buy a bond yielding -0.25% is still an income-generating trade! In essence, the ECB has issued the economic equivalent of a promise to be the ultimate fool by buying an infinite supply of overnight bonds at negative interest rates. The Bank of Japan has a similar, and arguably ever stronger, promise.

Throughout modern market history, there existed a "zero lower bound" for interest rates, yet with extreme central-bank intervention, this lower bound was first obliterated by policy and then again by the markets. We have spent some ink explaining why this is the case, but much more problematic could be the consequences for Europe's pension and insurance investors as they reallocate their capital out of negative-yielding investments and into riskier options. How does this negative-yield situation end? It is impossible to say, but we can be confident that the potential consequences from negative yields grow, the longer the situation persists.


Bull Market Intact But not Without Bumps - Greg Drahushak
On the final day of July, the Federal Reserve gave the market what it expected, but not what it wanted.

Acquiescing to the market's demands, the Federal Open Market Committee (FOMC) cut, for the first time in nearly 11 years, the fed funds rate by 25 basis points to a target range of 2.00–2.25%. Comments from Federal Reserve Chair Jerome Powell in the press conference suggested fewer future rate reductions might not meet what the market anticipated.

Equity Rollercoaster Ride
Focus on the Federal Reserve masked what has been a good earnings-report period. According to CFRA/Standard & Poor's, estimates now point to a 0.9% year-over-year increase in operating earnings versus the initial forecast of a negative result (-1.5%) for the second quarter. This, however, has not translated into improvement in the S&P 500 earnings estimate for all of 2019, which at the end of July stood at $164.17.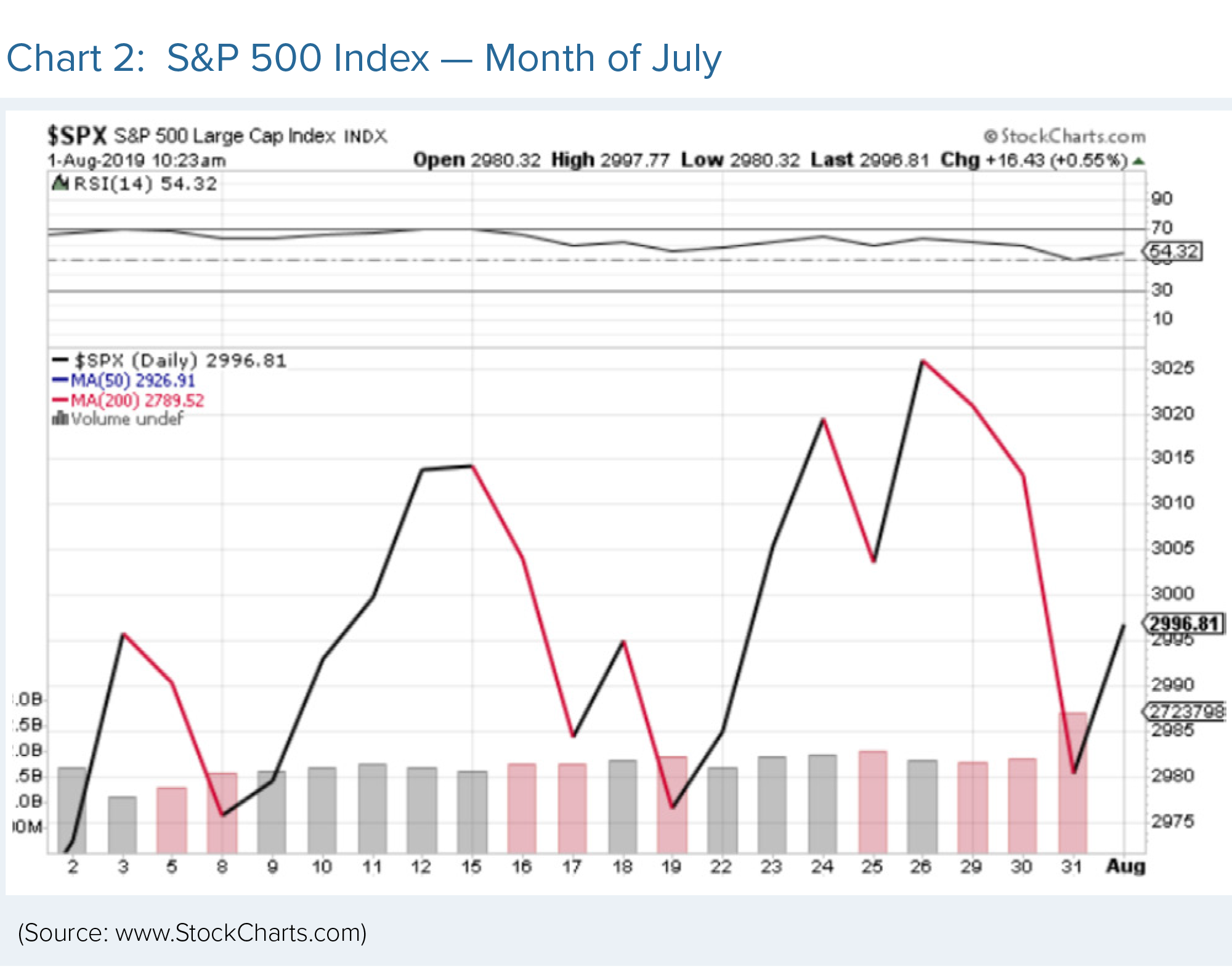 As the chart from Stockcharts.com illustrates, the equity market had a rollercoaster ride in July because of uncertainty about corporate earnings prospects, mixed economic data, lackluster economic news from Europe and China, stalled trade negotiations, and various geopolitical concerns. Nonetheless, through it all, the S&P 500 and Nasdaq Composite set new all-time highs near the end of July.

August dawns with earnings season nearly complete and vacation season hitting full stride, which typically leads to low volume and potentially volatile daily swings.

On average during the previous 69 years, the S&P 500 ends August with a modest loss (-0.09%). Only September on average posts a greater loss than August (-1.12%). However, the S&P 500 has had a gain in more than half of all Augusts since 1949.

The calendar is not the issue investors should focus on this month. Through July, investors were willing to overlook the persistent rise in the U.S. dollar. Despite the potential for an interim pullback, the dollar looks poised for additional gains. Eventually, this could put pressure on sales for U.S. multinational companies.

Once the current earnings season ends, the market will face an information void that will lead to more volatile daily swings.

With interest rates as low as they are, the chase for yield has moved many investors into higher-yield paper with low-quality ratings. Based on the typical spread between quality paper and high yield, this movement is becoming worrisome.

On the other hand, the market's intermediate-term technical condition remains sturdy. An S&P 500 Index level of 2900–2950 provides an initial level of support, followed by 2800.

With the Fed not likely to be an equity-market adversary, earnings prospects are a key consideration for the next few months. At more than 18 times the current 2019 earnings estimate for the S&P 500, the market needs confidence that results for 2019 will move up toward the $167–$170 range and show prospects that a mid-$170 number is possible next year.

Trade Uncertainties Linger
Trade-related news continues to be major factor. On August 1, the Dow Jones Industrial Average had a peak-to-trough 616-point swing after the White House increased tariffs on $300B of Chinese goods. A 98.41-point drop followed the next day.

The market weakened further on news that China asked state-owned companies to suspend imports of U.S. agricultural products. Concerns about the global-trade outlook shoved West Texas Intermediate (WTI) crude down 7.9% on August 1 for its worst single-day performance since February 2015, and it fell further on the agricultural product news as WTI slipped below $55 a barrel. The 10-year Treasury-note yield dropped to its lowest level in more than two years to 1.744%.

The focus on trade and other external events could restrain the market and increase day-to-day volatility. However, barring notable deterioration in the U.S. economy or substantial worsening in the trade situation, August might merely be a temporary lull in the ongoing bull market.
The information herein is for informative purposes only and in no event should be construed as a representation by us or as an offer to sell, or solicitation of an offer to buy any securities. The factual information given herein is taken from sources that we believe to be reliable, but is not guaranteed by us as to accuracy or completeness. Charts and graphs are provided for illustrative purposes. Opinions expressed are subject to change without notice and do not take into account the particular investment objectives, financial situation or needs of individual investors.

The concepts illustrated here have legal, accounting, and tax implications. Neither Janney Montgomery Scott LLC nor its Financial Advisors give tax, legal, or accounting advice. Please consult with the appropriate professional for advice concerning your particular circumstances. Past performance is not an indication or guarantee of future results. There are no guarantees that any investment or investment strategy will meet its objectives or that an investment can avoid losses. It is not possible to invest directly in an index. Exposure to an asset class represented by an index is available through investable instruments based on that index. A client's investment results are reduced by advisory fees and transaction costs and other expenses.

Employees of Janney Montgomery Scott LLC or its affiliates may, at times, release written or oral commentary, technical analysis or trading strategies that differ from the opinions expressed within. From time to time, Janney Montgomery Scott LLC and/or one or more of its employees may have a position in the securities discussed herein.
About the authors