Investment Perspectives provides insight into the markets from three of Janney's elite strategists.
Key Takeaways
Stocks hold on during recent bouts of volatility.
Can overall economic strength carry us through a typically rough September?
Find out why negative-yielding debt is not likely to hit U.S.
The bear trap of too much risk aversion - Mark Luschini
Our central case has been, and remains, that the U.S. economy is on firm footing. Therefore, the chatter of a looming recession is premature. However, market participants have registered their concerns about the threat of recession via the recent volatility in the stock market.

The drawdown in August was largely attributed to escalating Sino-American trade risks, which pose a threat to the already creaky global growth backdrop. Quantifying the economic impact is imprecise, although current estimates for the tariffs' impact on gross domestic product (GDP) are roughly 0.50% for the U.S. and more in China. More difficult to handicap is the effect on business confidence, which could weigh on capital spending and employment conditions. That so-called "soft data" has already shown some deterioration, so it does bear monitoring.

Many Crosscurrents Exist
The bimodal nature of some of today's crosscurrents—trade-on/trade-off being the biggest one—does present a possibility that, should something go awry, a bearish case for the stock market's prospects could develop. However, our view is that we may just plod along for a while, but the resolution should be to the upside.

Tentative signs are emerging that the elusive economic recovery abroad is at least stabilizing, which offers some encouragement. In addition, while domestic conditions have softened a bit, the powerful force of consumer spending remains well bid and should continue to propel growth in a positive fashion. Consequently, being too risk averse is a bear trap.

Trade tensions are a legitimate threat to global economic growth already challenged by a down-swing in the global manufacturing cycle. A recession is a possibility, but it is hardly a foregone conclusion. Last week's preliminary European manufacturing reports suggest activity may be readying a turn, and there is still little evidence the manufacturing slump has infected the much larger services sector.

We acknowledge the plunge in the U.S. 10-year Treasury yield since its peak of 3.2% in early November. Global sovereign yields have followed the same pattern, but the latest decline to near 1.5% is as much a reflection of ubiquitous central-bank easing biases and a gigantic pool of global bonds yielding less than nothing as it is of new concerns about domestic economic weakness. That is a subtle point of interest, but an important one. If the yield decline is not signaling new softness, then easier financial conditions coming from low bond yields and central bank largesse will be free to act as a tailwind for risk assets.

Recession Fears Overblown
An important component of U.S. economic activity is housing. It also acts as a good real-time barometer of interest-rate policy. Admittedly, we have been disappointed by the uninspiring level of residential investment, given the significant year-to-date decline in mortgage rates. The trajectory of starts and new building permits is positive, however, and household formation exceeds supply, so housing demand should remain well supported. Housing is a sizable, long-duration asset, so buying interest, which remains solid, is a good indicator of the consumer's propensity to spend. Representing two-thirds of our economy, consumption by this cohort is a key economic impulse.

The second quarter's 3% year-over-year earnings growth is much better than the consensus expected when earnings season kicked off and, despite the large oscillations in single-day moves, the S&P 500 has spent most of the past month range bound. We believe recession fears are overblown, but it may take some time for investors to overcome their concerns. That leads us to believe that equities may struggle to make new highs in the near term. However, if, as we expect, the expansion remains intact, the Federal Reserve's dovish pivot will help support the economy at the margin and quite possibly fuel a renewed phase of the bull market in risk assets.

If past is prologue, what typically follows the first rate cut is a fertile period for stocks, and the gains produced have historically been quite handsome. Therefore, in spite of continued bouts of volatility, we think stocks still hold appeal for capital appreciation.
Negative yields are not coming to the United States anytime soon - Guy LeBas
The August 2019 Investment Perspectives included discussion on negative-yielding debt across the world.

Although only a month has passed since that time, the total of negative-yielding debt has increased to roughly $16 trillion, from the $14 trillion we reported last month. Some portion of that increase is already negative-yielding debt sliding further into the negative (that process increases the market value of negative yielding debt, and our measurement is based on market values), and some portion of that increase is freshly negative-yielding debt.

One story that bounced around the financial-news echo chamber in August centered on Danish mortgages that now pay homeowners interest. While last month's note looked at negative-yielding debt abroad, this month's will explore why negative-yielding debt is unlikely to occur in U.S. dollar markets.

In order to have negative-yielding bonds, a country must have a negative-policy rate. That assessment is borne out by theory, as well as recent experience.

Overseas, negative-yielding debt in euro and yen terms did not emerge until the central banks of those respective currencies committed to negative overnight interest rates. The European Central Bank brought its deposit-facility rate below zero in mid-2014, and 2-year German yields first dipped below zero in late 2014. Similarly, the Bank of Japan brought its balance rate below zero in late 2015, and 2-year Japanese yields first dipped below zero in early 2016.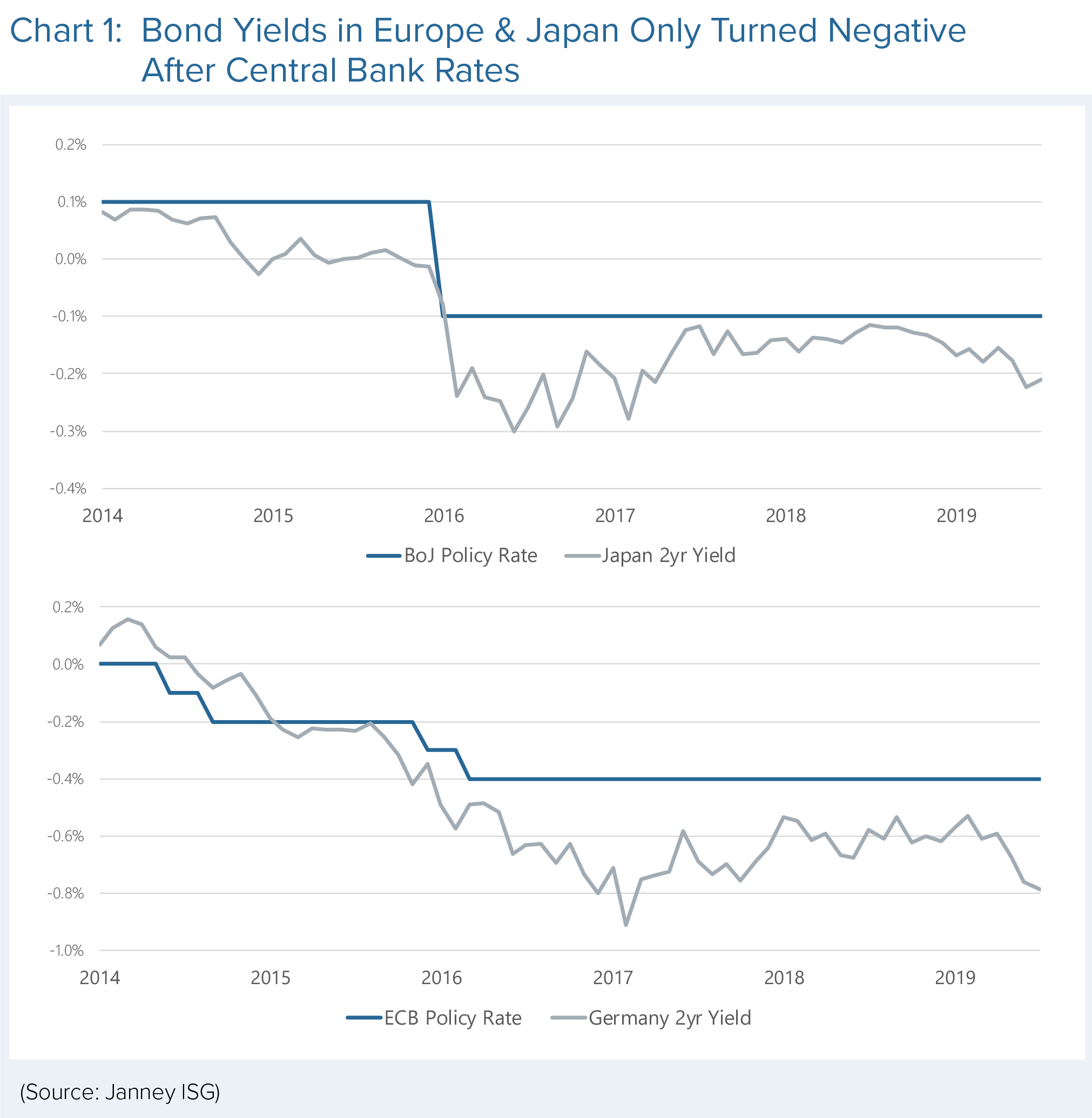 To understand why negative-yielding debt is unlikely in the U.S., we need to examine the long-term intentions of the most powerful entity in the interest rate markets: The Federal Reserve. If the Federal Reserve elects to have negative-policy rates, there is a high likelihood the U.S. will face negative-yielding bonds. Conversely, if the Federal Reserve eschews a negative interest rate policy (NIRP), it is unlikely we will see negative-yielding U.S. dollar bonds. In other words, whether the U.S. yields descend into negative territory is really up to the Fed. Having said that, there is recent evidence that suggests Federal Reserve policymakers are against the idea of negative-policy rates.

Why the Fed is against NIRP
The most powerful evidence comes from an academic analysis authored by Eric Sims and Cynthia Wu, which was presented at the Chicago Fed's annual conference in June. The Sims-Wu paper represents a robust and realistic modeling of the Fed's toolkit for stimulating the economy.

While the analysis is quite complex, the conclusions are simple: Given the structure of the U.S. economy, NIRP has significant negative externalities. Those externalities are worse in economies with highly competitive banking systems (e.g., the euro zone as opposed to Sweden, where externalities are mild). As a result, if the Fed cuts rates to zero, the best next step is to execute large-scale asset purchases, also known as quantitative easing (QE). Importantly, the research papers presented at the Chicago Fed conference are carefully curated to not just provide information to attendees, including Powell, Clarida, Brainard, Williams and other Federal Open Market Committee (FOMC) voters, but also to send a message to the financial markets.

Could we have negative-yielding bonds in the U.S.? The answer: Yes. The past few years have repeatedly taught us that many previously inconceivable financial events are indeed possible.

Is it likely we will have negative-yielding bonds in the U.S.? The answer: No. The best evidence to date suggests NIRP, a precondition for negative-yielding USD bonds, is an unfavorable way for the Federal Reserve to attempt economic stimulus. The message policymakers sent from the Chicago Fed conference to financial-market participants is loud and clear. One only need listen.
Range-bound market keeps going - Greg Drahuschak
No matter where you turned last month, there was no escaping news about trade and interest rates. In half of August's trading sessions, the S&P 500 Index ended 1% or more from the prior session's close, often because of trade- or rate-related news. The Dow Jones Industrial Average (DJIA) closed 300 or more points from the prior day's close nine times, highlighted by declines of 767.27, 800.49, and 623.34 in the DJIA respectively on August 5, 14, and 23.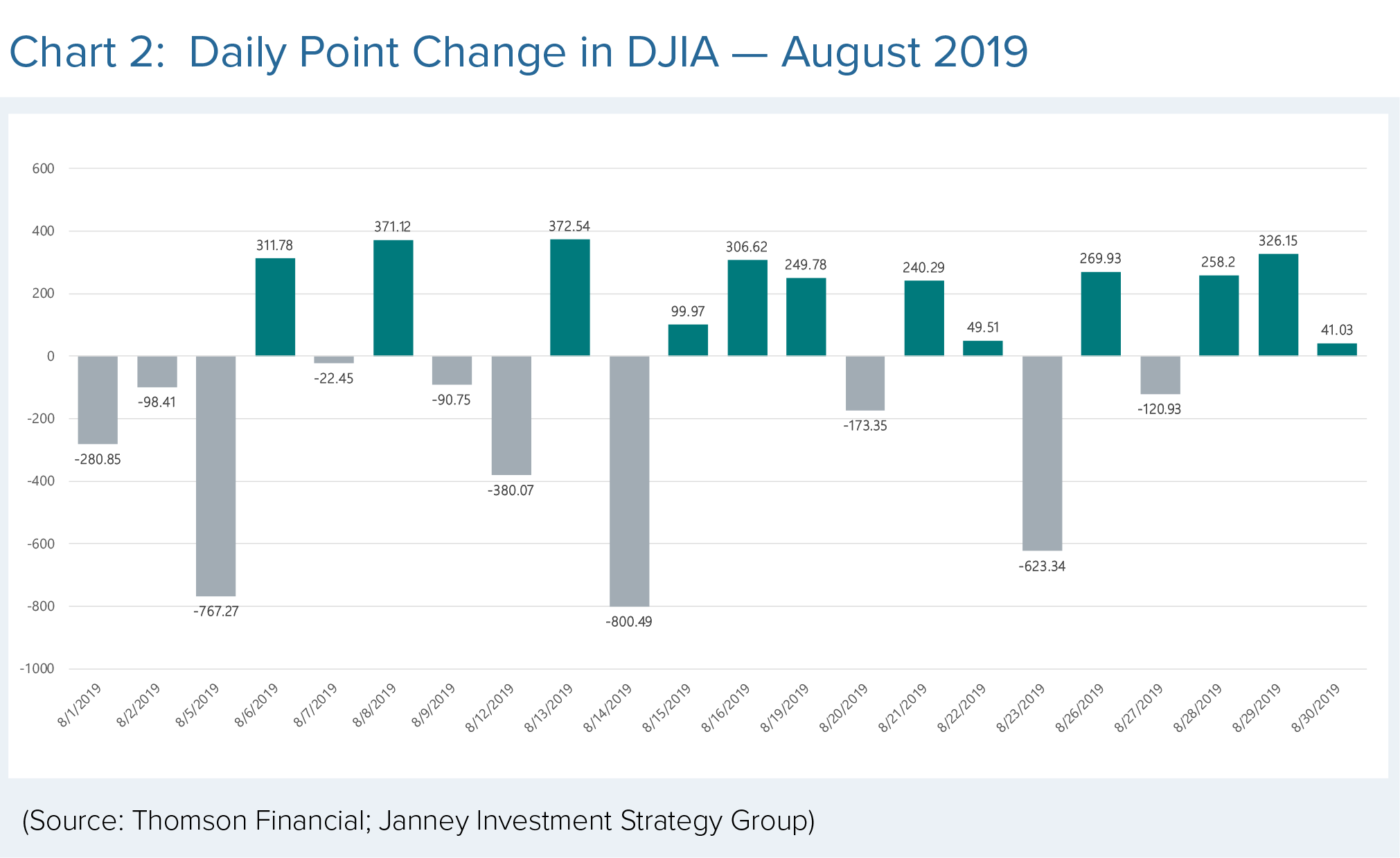 Falling interest rates and inversions in various sections of the U.S. yield curve were major issues. The market also looked overseas. Negative interest rates in key European nations such as Germany and France raised concern that U.S. rates ultimately might join the nearly $17 trillion in sovereign debt with negative yields. This helped contribute to the market taking a relatively defensive approach to stocks, as utilities, real estate investment trusts (REITs), and consumer staples have led the market since the end of June.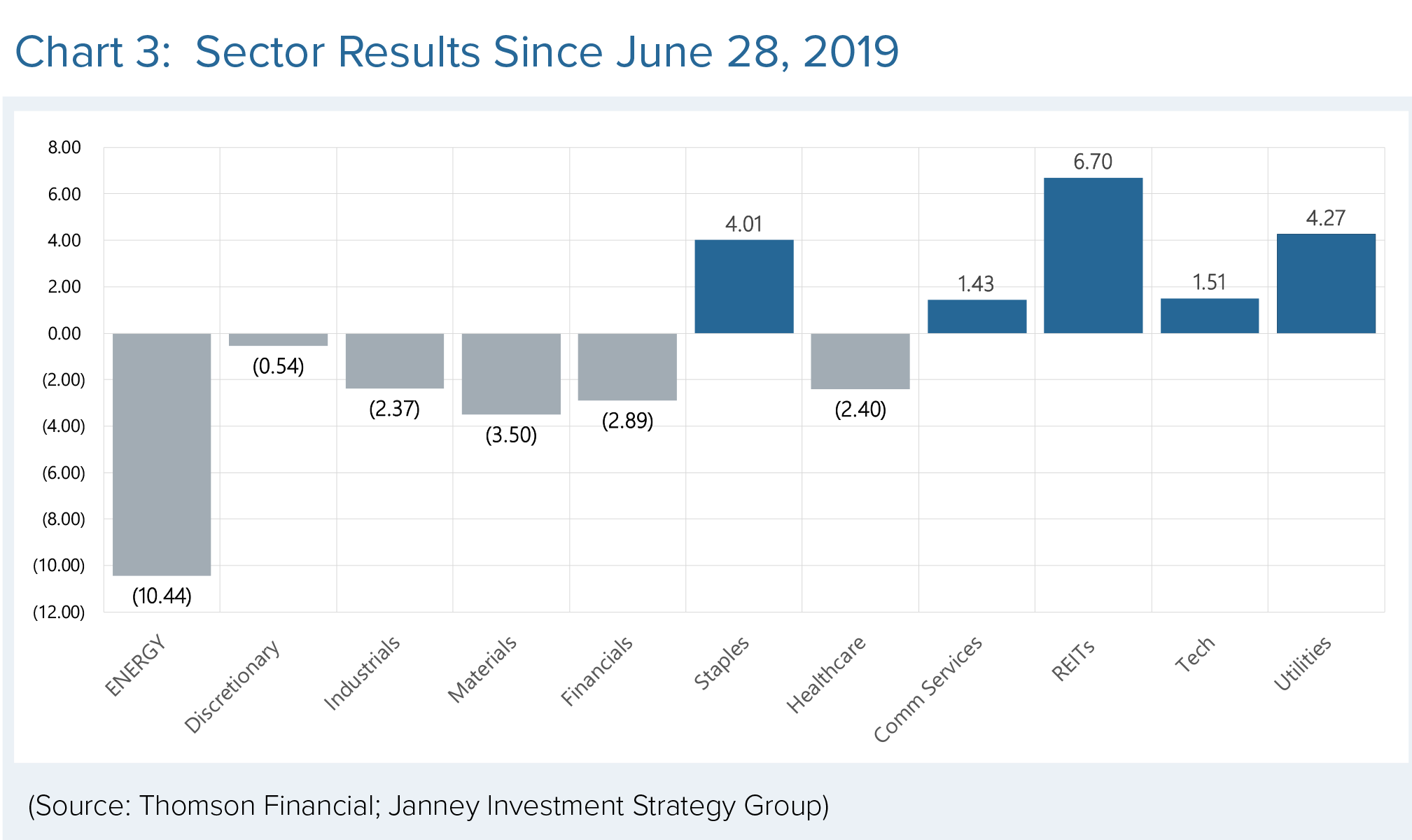 Corporate earnings growth was a concern in August also, as the 2019 and 2020 S&P 500 estimates fell. The steady slide in the 2019 estimate suggested that earnings for this year would be only 1.2% higher than the 2018 final. The 2020 estimate suggests a potential 5.75% year-over-year gain, but we think the 2020 estimate is too high. The 2019 estimate puts the S&P 500 at a relatively expensive 17.6 times earnings. If achieved, the current 2020 estimate suggests a more buyer-friendly 15.89 earnings multiple.

It is a foolhardy exercise to speculate on possible trade outcomes and timing. Nonetheless, considering all the yield, trade, and recession considerations, it is telling that August ended with the S&P 500 only 3.35% off its all-time intraday peak.

A range-bound market like the one present since early May can persist for lengthy periods, but in the process, it can create demarcations for significant market moves.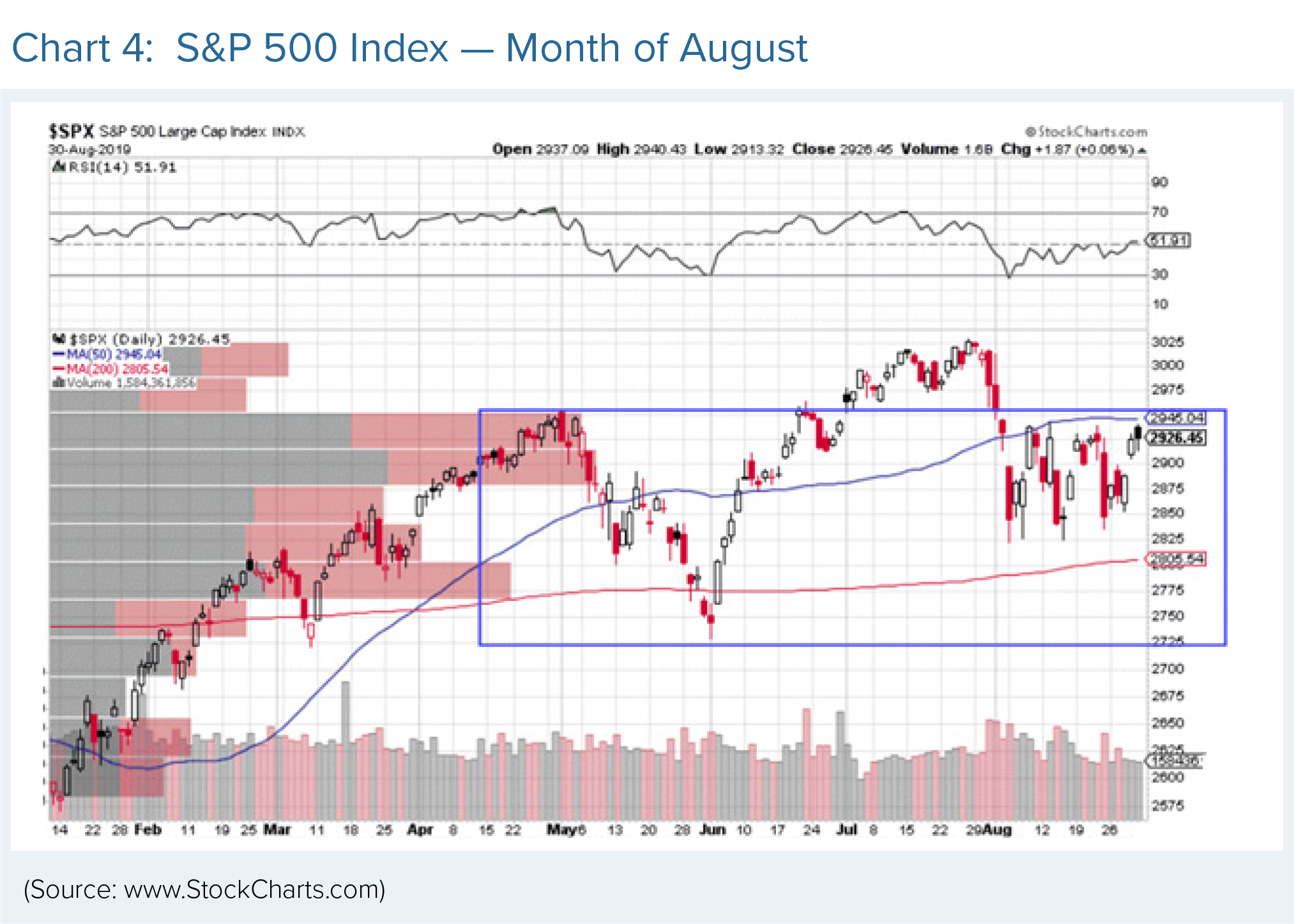 The accompanying chart from Stockcharts.com illustrates this range well. The low end of the range is 2725. The high end is 2950. The intense focus on the high end of the range suggests that once the S&P 500 can cross above it, the index could move toward 3000. Continuingly failing to accomplish this breakout could lead to the S&P 500 drifting into the middle or lower end of the range.

September on average has a negative seasonal bias (S&P 500 down 39 of the possible years since 1949 for an average 1.12% loss for all Septembers). However, since 1945, whenever the S&P 500's month-end yield exceeded the yield of the 10-year note, as it did in August, the S&P 500 was higher 12 months later by an average 22% and gained in price in 74% of all 31 occurrences. In the 20 times that the S&P 500's yield topped the 30-year Treasury yield, stocks were higher by 12% and increased 80% of the time.

We remain neutral on market entering September. Relief from the trade angst is the most likely catalyst for an upside breakout for the market, but speculating on possible trade outcomes and timing is unwise. In the longer term, the U.S. economy remains strong enough to justify higher equity levels.
The information herein is for informative purposes only and in no event should be construed as a representation by us or as an offer to sell, or solicitation of an offer to buy any securities. The factual information given herein is taken from sources that we believe to be reliable, but is not guaranteed by us as to accuracy or completeness. Charts and graphs are provided for illustrative purposes. Opinions expressed are subject to change without notice and do not take into account the particular investment objectives, financial situation or needs of individual investors.

The concepts illustrated here have legal, accounting, and tax implications. Neither Janney Montgomery Scott LLC nor its Financial Advisors give tax, legal, or accounting advice. Please consult with the appropriate professional for advice concerning your particular circumstances. Past performance is not an indication or guarantee of future results. There are no guarantees that any investment or investment strategy will meet its objectives or that an investment can avoid losses. It is not possible to invest directly in an index. Exposure to an asset class represented by an index is available through investable instruments based on that index. A client's investment results are reduced by advisory fees and transaction costs and other expenses. Employees of Janney Montgomery Scott LLC or its affiliates may, at times, release written or oral commentary, technical analysis or trading strategies that differ from the opinions expressed within. From time to time, Janney Montgomery Scott LLC and/or one or more of its employees may have a position in the securities discussed herein.
About the authors