Over the long run, a handful of universal investment principles underpin an investor's success. These principles guide Janney's investment and wealth-management decision-making processes.
Key Takeaways
During times of volatility, it is important to remember that market corrections are a normal occurrence.
Owning stocks is critical for maintaining purchasing power.
While yearly returns can be volatile, holding a diversified portfolio for longer periods usually has positive results.
Whether stirred by the 24-hour news cycle or the latest Twitter controversy, investors are often bombarded by all sorts of information that can affect their decisions. That's why it's important to take a breath before acting on an attention-grabbing number or headline. Rather than giving in to your gut, pausing to remember these investment practices can save you over the long term.
Equity exposure is important, no matter the market condition
Stock exposure is critical for portfolio growth and maintaining long-term purchasing power. Compounding returns are powerful over time, despite bouts of volatility. Stocks have significantly outperformed every major asset class over long periods. While we face significant economic challenges today, stocks outperformed during the past 90 years.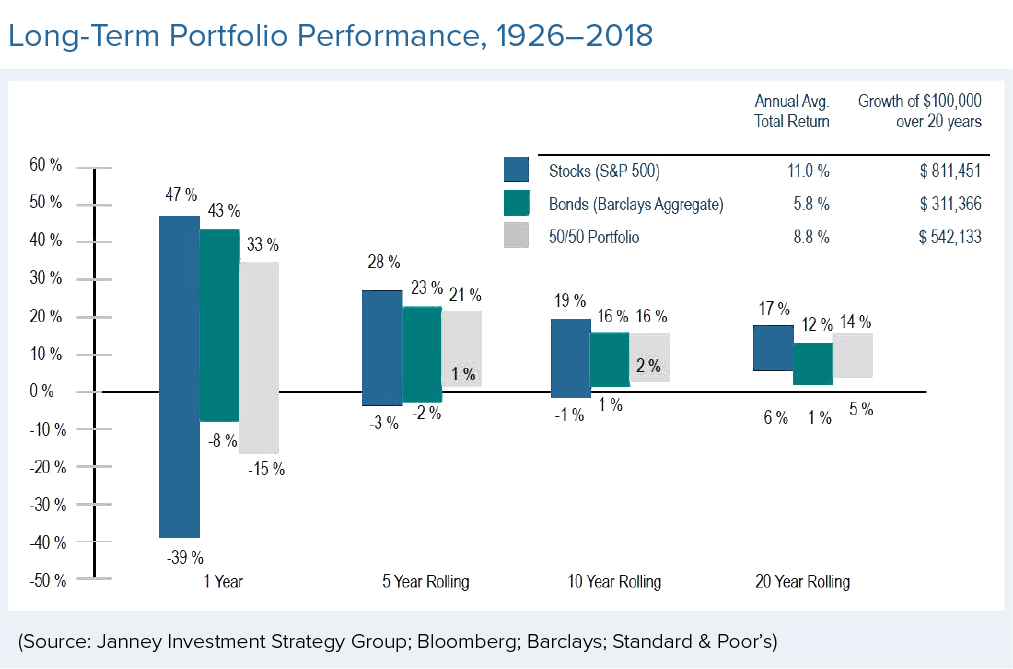 Diversification and a long-term view are key
Market timing is difficult. And short-term emotional decisions during market drops are a major threat to portfolio returns. The average investor underperforms most asset classes because of poor timing and a lack of portfolio diversification. Focusing on long-term returns and maintaining a diversified portfolio that includes significant exposure to assets with a higher risk-to-return opportunity makes the difference over 10, 20, 30, 40, or even more years. Diversification helps reduce portfolio volatility. Stocks and bonds generally don't move up or down in lockstep—although that's not always the case. While yearly returns can change, especially based on economic and business conditions, holding a diversified portfolio for long periods usually results in positive returns.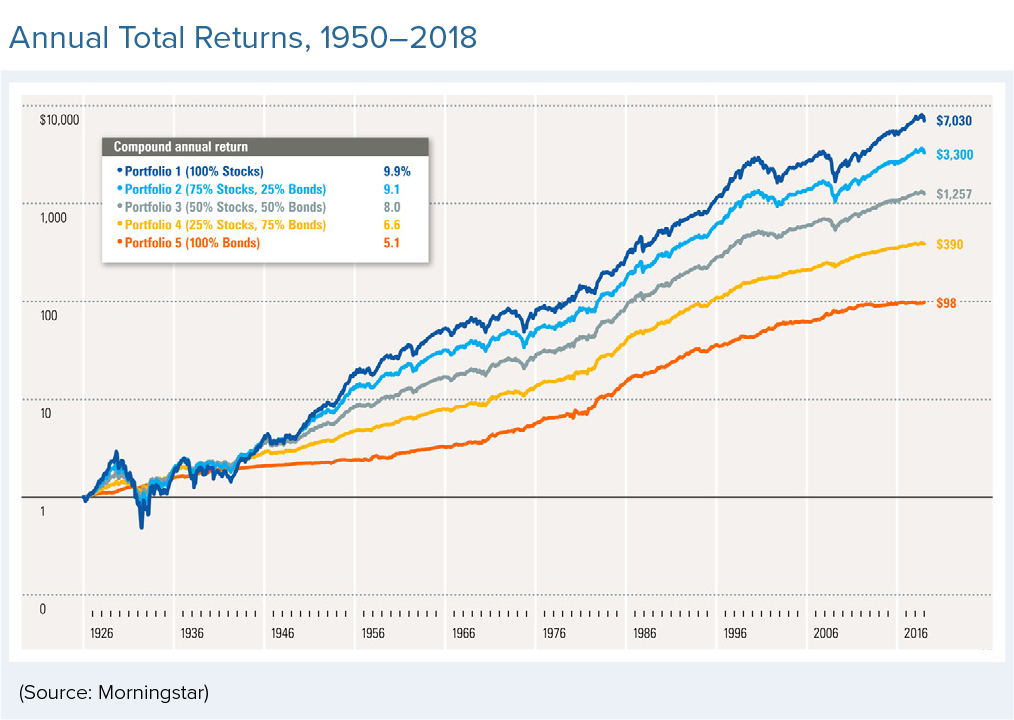 What to do when markets raise your stress level
First, take a deep breath and remember these core investing principles. Second, speak with your Janney Financial Advisor if you have concerns about whether changing market conditions mean you need to refine your financial plan.
Past performance is no guarantee of future performance and future returns are not guaranteed. There are risks associated with investing in stocks such as a loss of original capital or a decrease in the value of your investment. This report is provided for informational purposes only and shall in no event be construed as an offer to sell or a solicitation of an offer to buy any securities. The information described herein is taken from sources which we believe to be reliable, but the accuracy and completeness of such information is not guaranteed by us. The opinions expressed herein may be given only such weight as opinions warrant. This Firm, its officers, directors, employees, or members of their families may have positions in the securities mentioned and may make purchases or sales of such securities from time to time in the open market or otherwise and may sell to or buy from customers such securities on a principal basis.
About the author