Investment Perspectives provides insight into the markets from three of Janney's elite strategists.
Key Takeaways
We are optimistic that higher oil prices will not so easily precipitate an economic downturn.
Delving deeper into the financial plumbing to look at the repo market.
October is here. Off to a wild start for stocks, but it's a long month ahead.
Are oil prices an economic risk? - Mark Luschini
After surging up by nearly 20% on the morning of September 23rd (the biggest one-day spike in history), Brent crude oil prices have retreated to the low $60s a barrel, representing a markup of just a few percentage points over where they were before the strike on Saudi Arabia's state-owned oil facility. We expect the near-term direction of oil prices to be largely influenced by how quickly the Saudis are able to restore the lost output. The drone attacks apparently destroyed some highly sophisticated equipment built specifically for the Abqaiq facility, making a swift return to normal production improbable.

A Sustained Price Rise Unlikely—But Can't Be Ruled Out
Beyond the near-term impact, however, the longer-term question is whether the confrontation will cause a retaliatory response that could lead to another spike in prices or insert a more permanent geopolitical risk premium, thereby elevating prices on a more sustained basis from current levels. While a major and sustained rise in oil prices is not our base case, particularly given the abundance of strategic reserves that could be deployed to temper the impact of an oil shock, it cannot be ruled out completely. History shows that if the price of crude were to increase significantly, the economy would not respond well. Every U.S. recession since 1970 has been preceded by a large jump in oil prices and when oil prices have risen by more than 90% year-over-year, a recession occurred. However, in today's dollars, the surge would have to push the price of Brent crude well north of $100 a barrel, a level last seen in 2014.

Why Higher Oil Prices Shouldn't Lead to a Downturn
Despite the historical precedent, and the threat that we have not seen the last effort to disrupt global oil supplies still looming, there are four reasons to be optimistic that higher oil prices won't so easily precipitate an economic downturn:

The global economy is less reliant on oil than in the past. Oil production is a less meaningful factor in its contribution to overall economic activity; therefore, its price oscillations are rendered less economically disruptive.
Oil prices are still quite low when compared to the trend over the past 15 years. To be sure, prices have been materially lower than today, but not often nor for very long.
If oil prices do stay elevated, this will encourage investment in the oil patch, which will eventually bring prices back down, not to mention expand capital spending and hiring in the energy field. As the saying goes, the cure for high oil prices is high oil prices.
Higher oil prices now are less likely to un-anchor central-bank- targeted inflation expectations. Policymakers are more likely to see oil-price increases–especially those due to supply-side disruptions—as a negative income shock warranting looser, rather than tighter, monetary policy.

Why the Economy Can Withstand Higher Oil Prices
While we believe oil prices are likely to rise during the next 12 months, our view is that most of the increase will be driven by stronger global growth. The U.S. economy is growing at a reasonably healthy rate and other systemically important countries are undertaking serious effort to stimulate growth.

In the meantime, higher energy prices could affect domestic consumption but not nearly to the degree as in the past when fuel costs ate up a much greater share of discretionary income. In fact, research cited by Dallas Federal Reserve President Robert Kaplan suggests that a 10% increase in the price of oil from a supply-driven shock would lead to a roughly 10-to-30- basis-point decline in real gross domestic product (GDP) growth.

In sum, substantially higher oil prices could impose a drag on the economy, but an increasingly modest one as domestic oil production rises and the U.S. increasingly approaches energy independence. Investors should maintain equity exposure at a level congruent with their risk parameters.

The repo non-crisis - Guy LeBas
The last several weeks have seen attention paid, coupled with an impressive amount of misinformation laid, to the short-term financing markets. Most of this attention stemmed from an unusual increase in repurchase agreement (repo) borrowing rates in mid-September. However, the repo increase is a distraction from the broader issues behind it that could create problems.

The Repo Situation Explained
A repo borrowing is similar to an extremely short-term mortgage loan—one party in need of cash borrows from another party and posts a bond as collateral for the borrowing. Roughly, $2.2 trillion of repos are outstanding and hundreds of billions of dollars' worth of borrowings are renewed daily. Most of these repos are overnight loans. On September 16, overnight repo rates spiked in an unusually sharp move, rising from mid-2% to the 7%–10% range.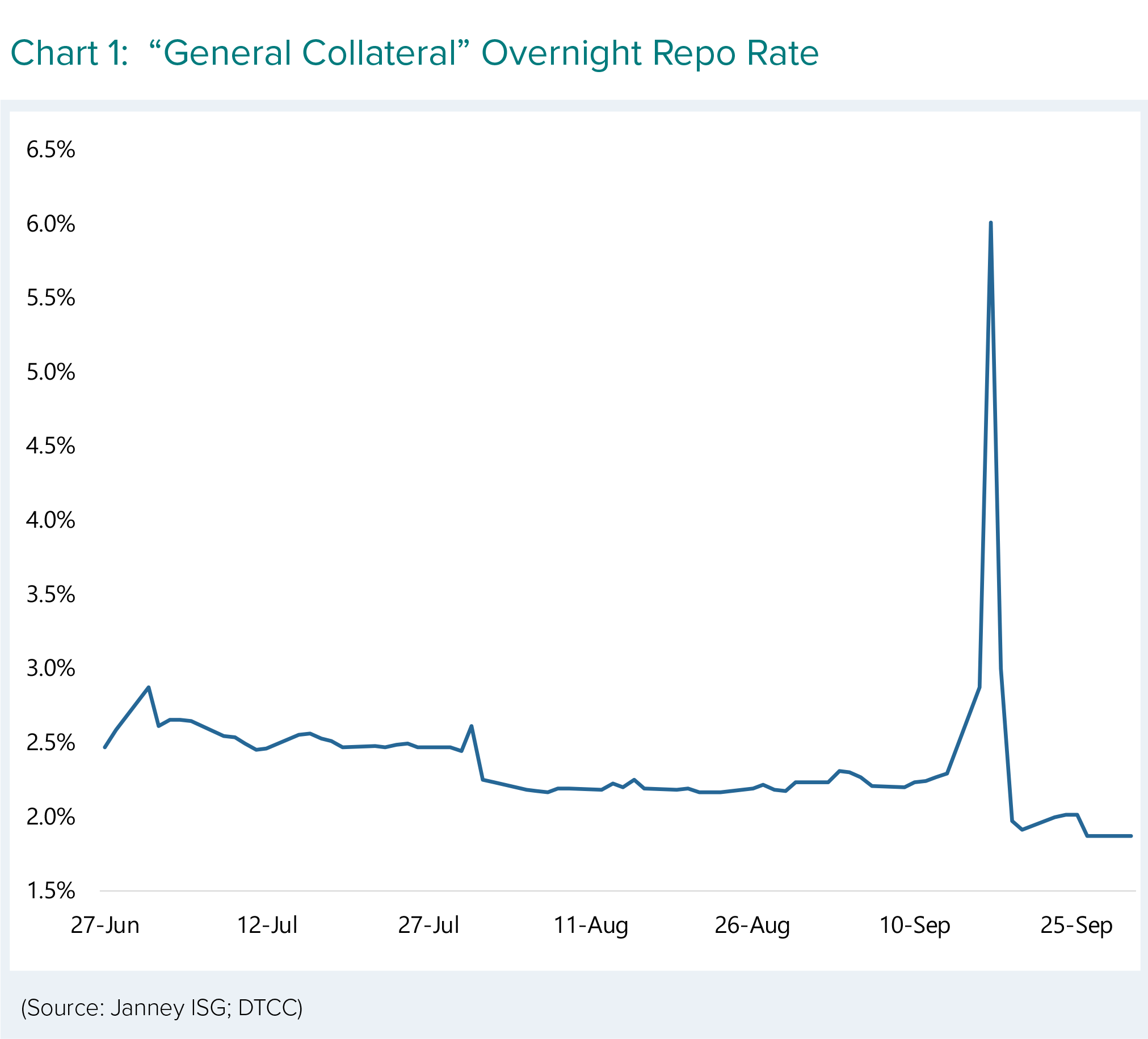 NY Fed is Equipped to Handle This Situation
The Federal Reserve's main policy tool is setting a target for interest rates on federal funds, which is a related overnight rate. The Fed's target for this rate was 2%–2.25% on September 16. While the Fed does not directly control repo rates, the spike in repos to four times other overnight rates was concerning.

In response, on September 17, the New York Fed launched a series of open market operations (OMOs), lending money into the repo markets at a rate in line with the Fed's targets.

Following is some additional perspective on the situation:

First, the spike in repo rates, while concerning, is not in and of itself a crisis. Though it is impossible to say with certainty, the most likely culprit for the rate spike was a series of predictable cash outflows from the financial system at a time when excess reserves held by banks were tight.
Second, the New York Fed is well equipped to add reserves back into the banking system, and did so with the series of OMOs. Prior to 2007, the Fed frequently lent reserves OMOs; this is business as usual for the Fed.
Third, OMOs are not the same thing as quantitative easing (QE). In QE, the Fed purchased bonds and essentially provided permanent cash into the banking system. With OMOs, the Fed only provides temporary cash, which will exit the financial system when OMOs mature. Moreover, QE is its own policy, whereas OMOs exist to implement policies.
A Pipe in a More Complex "Market Plumbing" System
The repo and short-term financing markets are one important area of what we call "market plumbing," a term referring to the infrastructure covering trillions of dollars of daily money flows. This plumbing provides a crucial yet invisible backdrop for nearly every aspect of the U.S. financial markets.

Where Pipes May Be Clogged
More significant than the repo rate spike is the way in which the U.S. banking system faced a reserve scarcity. Essentially, three factors conspired in a complicated way to make financial market plumbing more fragile:

Heavy Treasury issuance. The Treasury Department is issuing $1.1 trillion per year in new bonds to fund a budget deficit. Primary dealer banks in the United States are legally obligated to buy those.
A flat-to-inverted yield curve. A flat U.S. yield curve has dissuaded foreign money managers from buying longerterm U.S. bonds, as they can achieve the same yield with shorter-term bonds.
Global bank capital and liquidity rules. New bank capital rules have discouraged foreign banks from buying longer-term U.S. bonds, as the cost of hedging currency risk is too high. In addition, bank liquidity rules have effectively capped the amount of treasuries U.S. dealers can buy.
Individually, these factors are not a problem, but they worked together to put strains on market plumbing.

The Fed As Plumber
Unless the Fed acts, those strains will become constraints by the first quarter of 2020, when the dealer community faces a choice: Violate liquidity rules by buying too many treasuries; violate their legal obligation to buy treasuries; or sell off other assets and cut off private sector lending to free up capacity.

Only the Federal Reserve has the power, authority, and (blunt) tools to address this conflict. A series of sharp rate cuts can steepen the yield curve to inspire foreign asset managers and simultaneously cheapen currency-hedging costs to encourage foreign bank buyers for long treasuries. Only then can dealers clear the longer-term treasuries clogging up balance sheets and eliminate one source of fragility facing market plumbing.

October in full effect for stocks - Greg Drahuschak
Several attempts by the S&P 500 to exit the top of its multi-month trading range failed last month. After struggling below technical resistance through August, early in September the S&P 500 finally surpassed well-defined resistance at 2950, reaching as high as 3021.99 on September 19 before sliding back toward the key resistance level near the end of the month.

Uncertainty is the equity market's biggest impediment— and September had ample uncertainty. The Federal Reserve Open Market Committee's (FOMC) 25-basis-point reduction in September did not provide clarity on future actions the group might take. The infusion of more political disarray and conflicting news on trade negotiations added to the uncertainty.

Nonetheless, the Dow Jones Industrial Average (DJIA), the S&P 500, and the Nasdaq Composite Index ended September with respective gains of 1.95%, 1.72%, and 0.46%. The S&P 500 gain, where all but one of its 11 sectors ended higher, was the 24th best for the month in the past 69 years.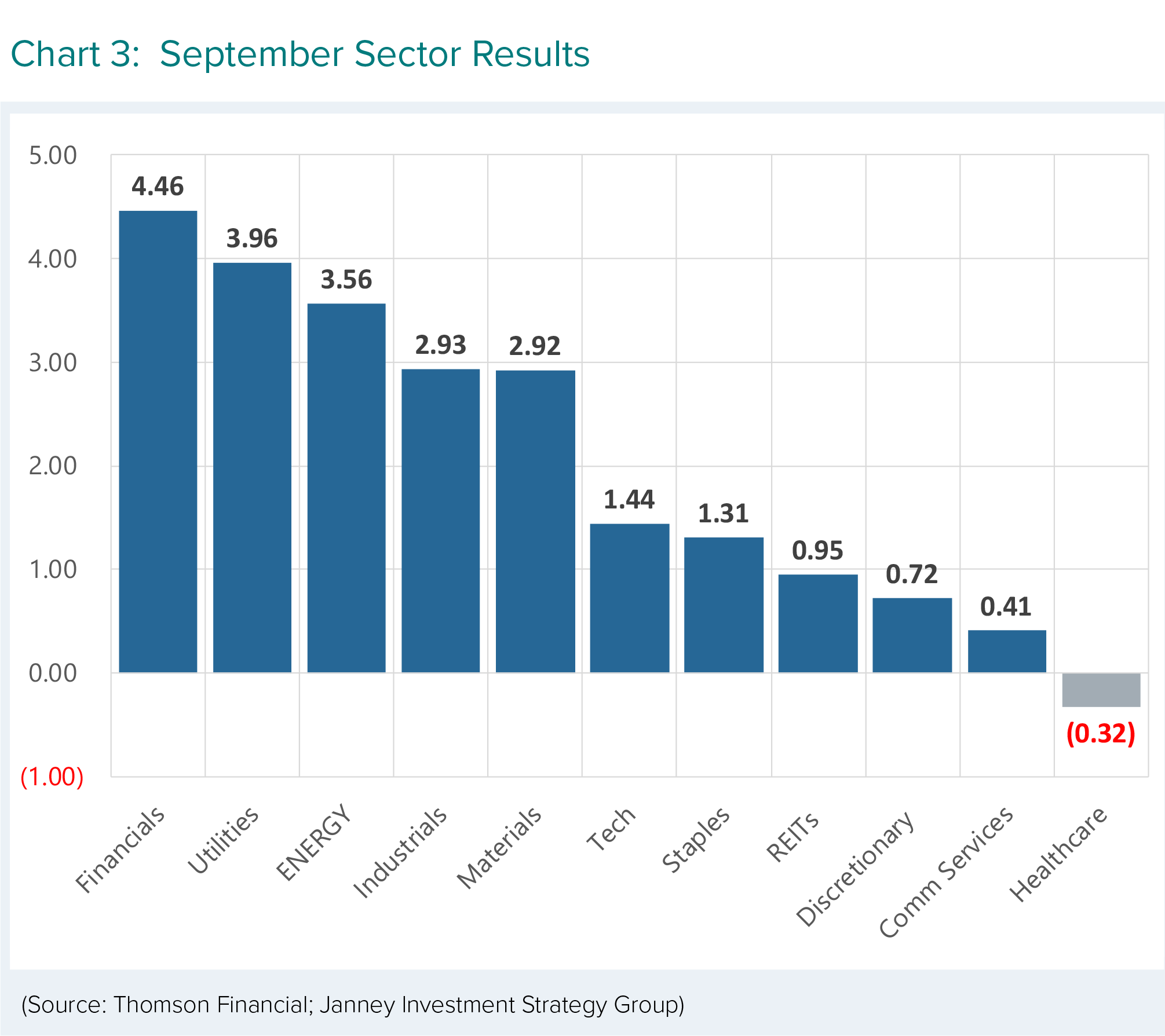 Housing data was a major positive. A string of housing-related reports exceeded expectations, which sent housing stocks higher and reinforced that consumer activity remains strong. The iShares U.S. Home Construction ETF (ITB) set an all-time high.

Many of the issues that created uncertainty last month are likely to be present in October, but by mid-month, the market will focus on third-quarter earnings reports.

The consensus 2019 S&P 500 earnings estimate has fallen in 18 of the 21 previous weeks. The latest $163.23 estimate left the S&P 500 at an 18.24 earnings multiple.

For weeks, consensus expectations for 2020 S&P 500 earnings have suggested a year-over-year gain of nearly 11%. A mid-single-digit earnings year-over-year gain is more plausible in our view.

We doubt that the 2019 estimate will change much before New Year's Day, but this earnings season could offer hints of possible fourth-quarter results, as well as what might be expected in 2020.

Stage Set for Remainder of 2019
Weighing specific investment-related issues on a one-to-five scale, with five (5) being the best, we see general U.S. economic conditions at four (4). Employment and consumer conditions, as well as credit conditions, respectively are at five (5). Corporate earnings growth and market valuation, along with technical conditions, are at three (3). Conditions overseas hold the lowest rating at two (2), but efforts in China to bolster its economic situation could go a long way toward raising this rating. These numbers combine for a total of 25 versus the 35 maximum, which reflects our current cautiously optimistic view.

October has an undeservedly negative reputation stemming from the 21.76% decline in 1987 and the 16.94% drop in 2008. However, the S&P 500 has ended October higher in 42 of the past 69 years and in 12 of the past 19 years. In most years, October sets the stage for strong performance in the final two months of most years.

In an environment when external factors like trade and political considerations weigh as heavily on the market, as they do now, the market itself often is the most reliable indicator of future activity.

Since mid-July, the S&P 500 has struggled unsuccessfully to return to its 3027.98 intraday high. Amidst all the turmoil, however, the equity market has not sold off and instead has carved out a well-defined trading range at levels not significantly below the S&P 500 close in September.

The weight of the evidence continues to support maintaining individually appropriate equity allocations.
About the authors