This paper establishes our rationale for low returns for most major asset classes in the coming years.
Background on capital market assumptions
Every year, we update our risk, return, and correlation assumptions for the major asset classes for the long-term (7-to-10-year time horizon). This long-term outlook is important in establishing realistic future return expectations for clients. Inevitably, questions arise about the process and resulting return expectations. We thought we would use this piece to answer many of the questions we get regarding our process and assumptions.
Definition of long-term capital market assumptions
Long-term capital market assumptions are intended to represent reasonable estimates of future returns for major asset classes or broad market indexes for input into investment plans. They are not intended to reflect potential benefits of active management on portfolio returns.
Projected returns are based on assumptions that take into account: 1) Economic growth potential, 2) Projected inflation, 3) Current location or point in economic cycle, 4) Initial valuation (for stocks) or yield (for bonds), and 5) Initial margins (for stocks).
Expecting low future returns relative to historical levels
A major factor for our lower expected returns is lower potential economic growth. Potential economic growth is driven by two factors—productivity and workforce growth. Slower labor force growth due to aging demographics is the primary driver for the lower economic growth outlook. This outlook is supported by Federal Reserve and Congressional Budget Office (CBO) studies.

However, the United States (which is projected to still have a growing working-age population) is well positioned relative to the rest of the world's major economies including Europe, Japan, and China, which are projected to have shrinking working-age populations.

The current starting point for future returns is also unfavorable due to the mature economic cycle—we are in the record 11th year of the economic expansion. Along with this mature cycle has come fair-to-full stock market valuations with corporate profits that are near all-time highs. At the beginning of the economic cycle, valuation and margins were depressed, which allowed for profit and valuation expansion. This provided strong support for stock returns which we don't see as sustainable in the coming years.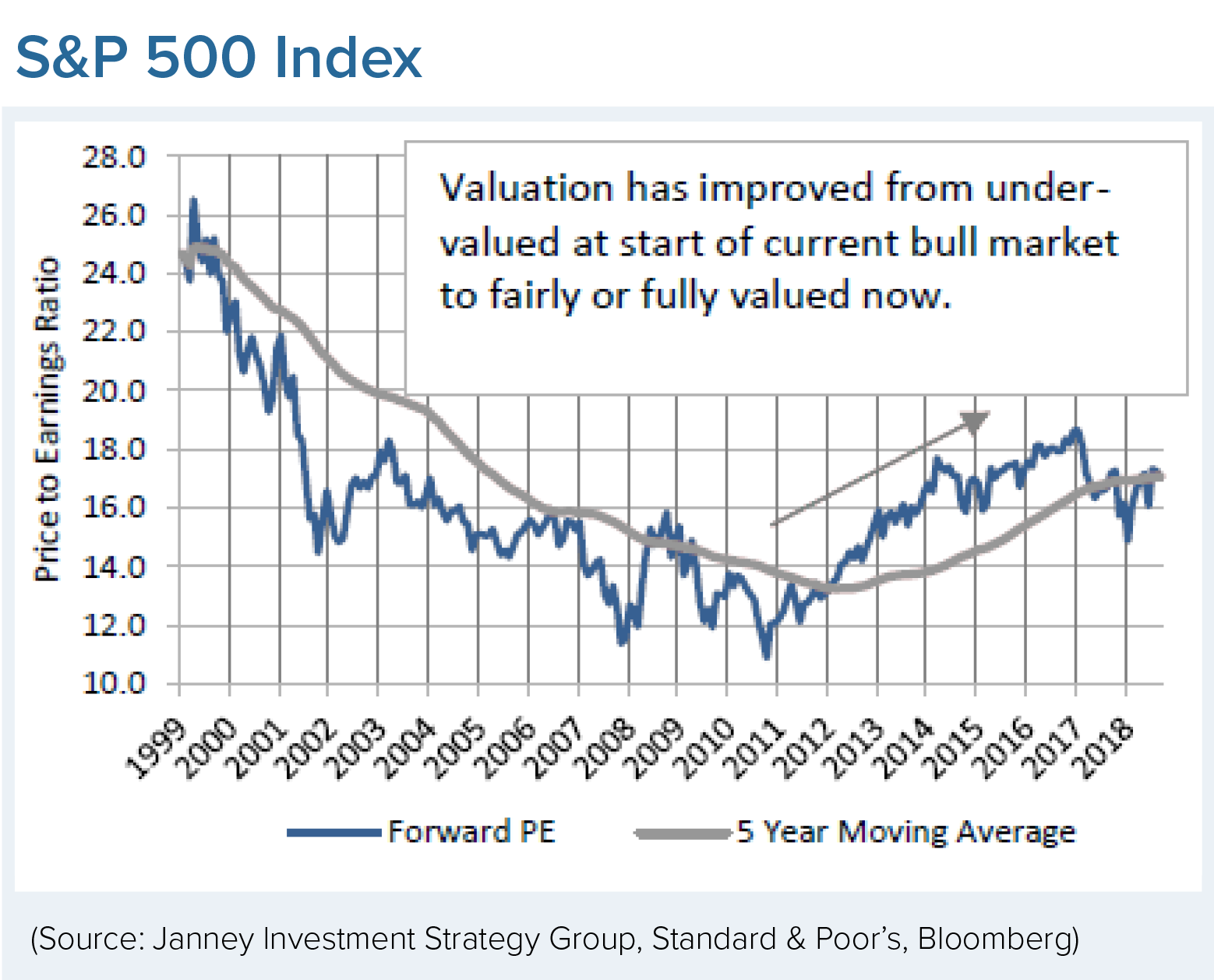 The figure shows the S&P 500 stock Index forward price-to-earnings (P/E) ratio began the current bull market at depressed levels and now stands at fair or full valuation. Many other valuation metrics are currently at elevated levels that are consistent with lower future returns.

For international developed world stocks, demographics and potential economic growth are less favorable than in the U.S., consequently we anticipate lower stock market returns relative to the U.S. We see more favorable long-term economic growth conditions for emerging markets, but still expect returns that are below historical averages.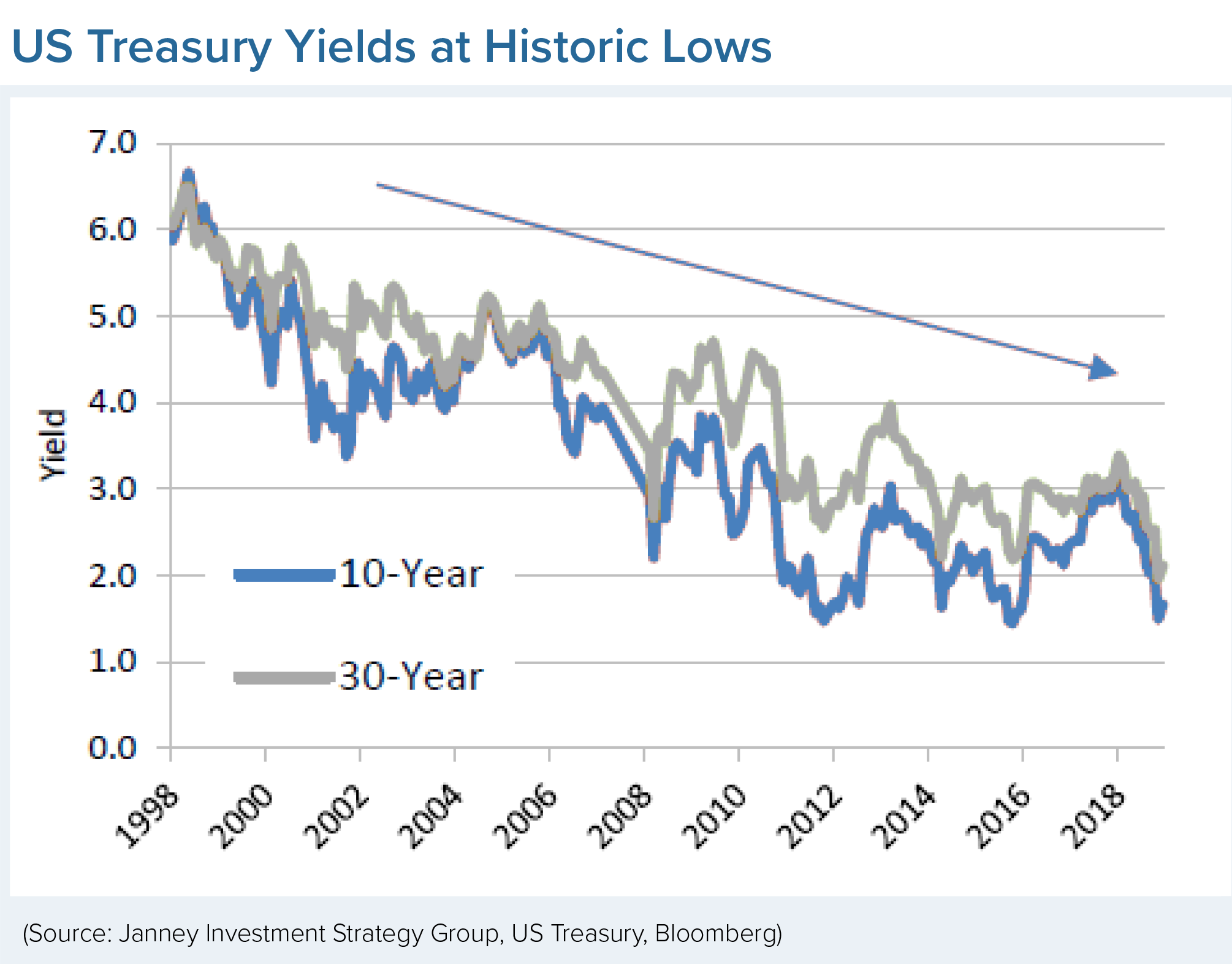 We also have historically low Treasury bond yields and about $15 trillion in negative yielding international debt. There is a strong correlation between current bond yields and future bond returns—low yields today suggest muted returns in the coming years.

Further, the extra yield (or spread relative to Treasuries) from corporate bonds, which investors demand for taking on the risk of corporate default, is very low today with corporate bonds also trading at historically low yield levels. This implies muted future returns for corporate bonds. The chart shows the extremely wide spreads during the financial crisis—which implied significant corporate defaults. As the economy healed over the last decade, these spreads compressed significantly, on the prospects of lower defaults. This compression supported performance of corporate bonds that isn't sustainable for the long-term.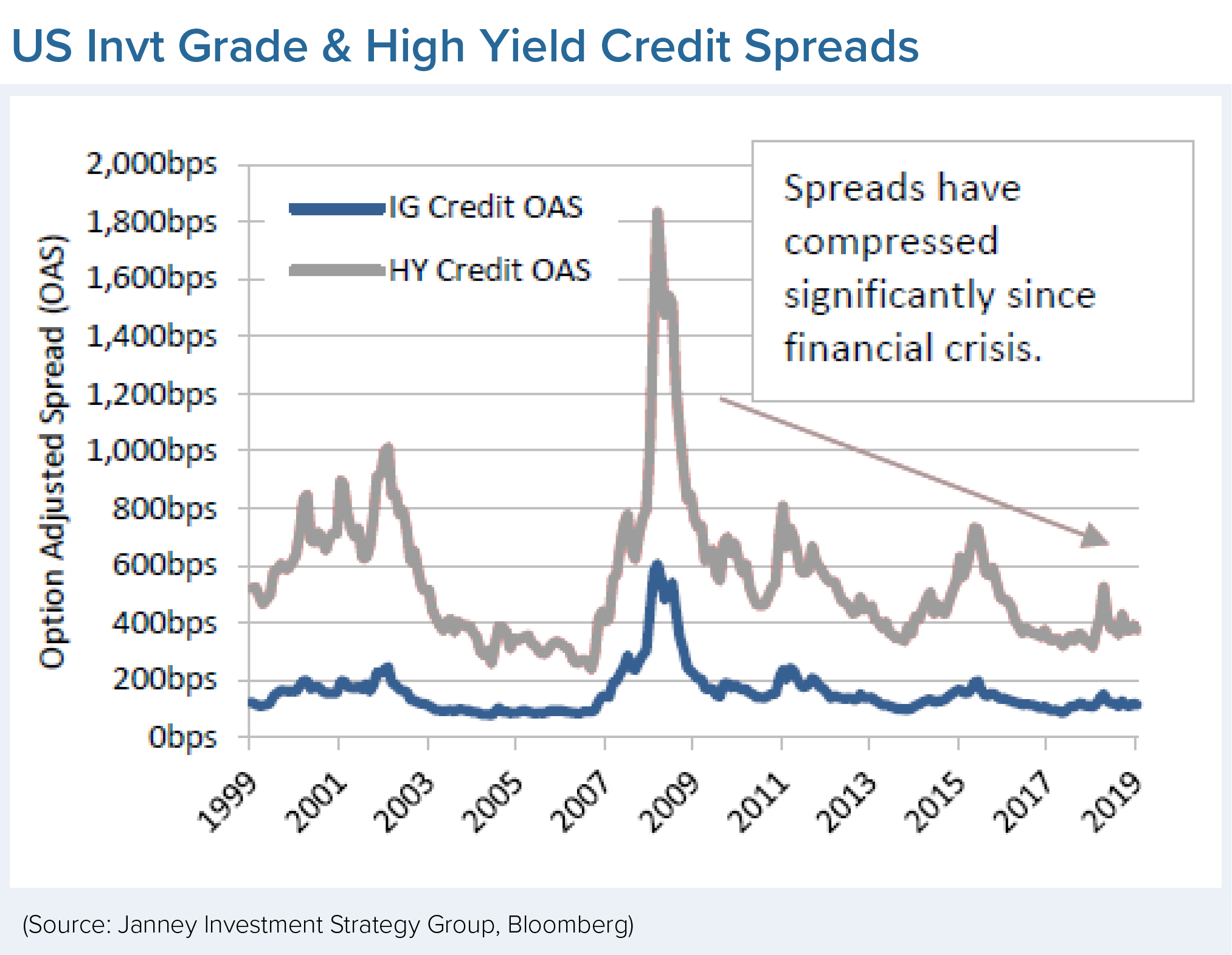 We continue to have structural concerns for most commodities including excess supply and weak demand, but project returns consistent with historical averages of the last 20 years. This factors in that commodities have been in a bear market with negative returns during the past 10 years (which suggests return expectations have been reduced).
We assume alternatives (hedge funds) provide returns consistent with the past 15 years and the lower future returns expected from stocks and bonds. Alternative asset classes have produced uninspiring returns over recent years with three-, five-, and 10-year returns of 3.5%, 2.7%, and 5.9%, respectively (source: Barclay Hedge Fund Index). We assume 4% alternative asset class returns in our long-term assumptions.
A special note on private equity
While private equity has consistently outperformed historically, we expect future private equity returns to be similar to public market returns for several reasons.
New entrants are crowding the industry—the amount of private equity assets under management (AUM) grew almost fivefold from 2004 to 2018. This increases competition for assets and bids up purchase prices, potentially resulting in lower future returns.
This has helped cause transaction multiples to rise steadily during the past decade and they now stand near all-time highs.
Leverage ratios (amount of debt in portfolio companies) are high and managers are putting up more equity at elevated valuations—this likely means lower returns.
Private equity does not have well-defined benchmark indexes that can be tracked by fund managers buying actively trades stocks and bonds. Consequently, there is significant variation in fund manager performance relative to public markets. Accessing a top performing manager that stays on top is difficult—especially for retail investors.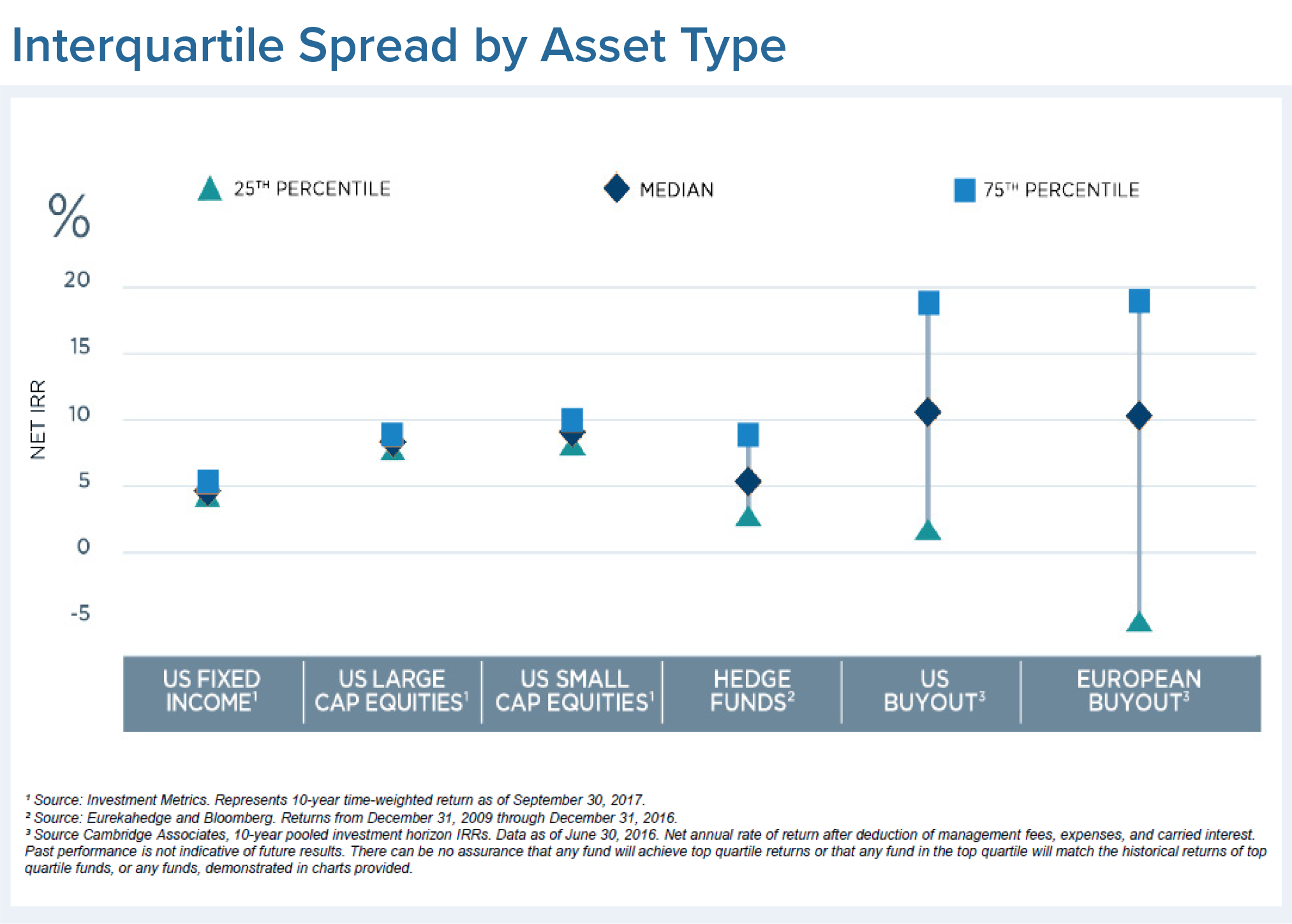 Janney assumptions are consistent with consensus estimates
Our LTCM assumptions are submitted to Horizon Actuarial Services, which compiles consensus estimates from many investment firms (34 firms participated in 2019). While significant variation exists for the estimates that comprise the consensus, Janney's estimates are generally consistent with the consensus. The figure below shows the significant variation that exists for the major asset class estimates.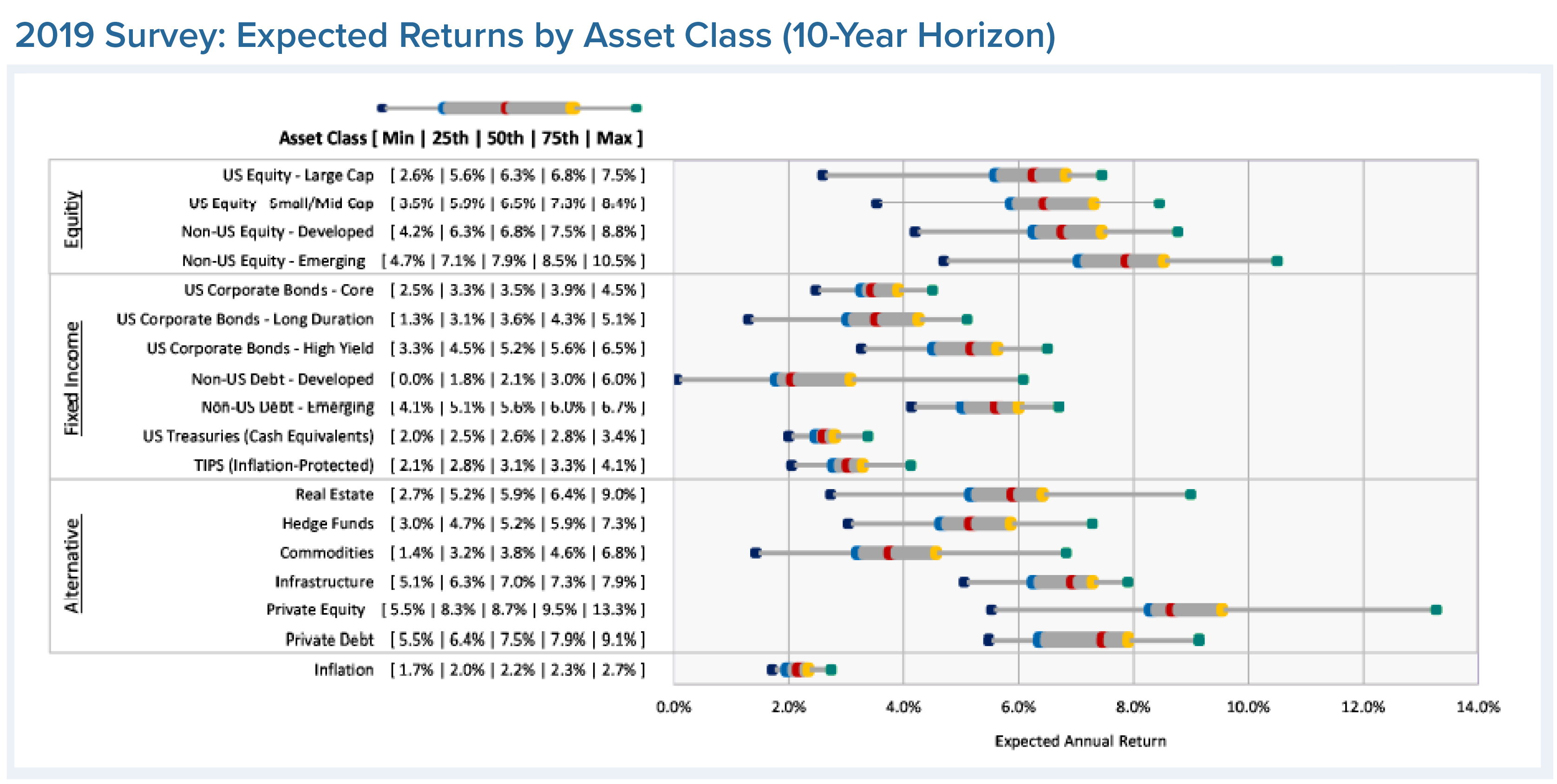 The table below shows the comparison of Janney's estimates to the consensus and the 10-year historical returns for the major asset classes.
The table shows both Janney and consensus estimated returns are expected to be below the last 10-year historical returns for both stocks and bonds. The table also shows Janney and consensus estimates for a blended equity growth and a balanced stock-bond (60/40) portfolio. These projections suggest reasonable return assumptions are 6-7% for an all-equity portfolio and 5-6% for a balanced 60% stock and 40% bond portfolio.
| Asset Class | Janney Expected Return | Consensus Expected Return | 10-Year Historical Return | Comments |
| --- | --- | --- | --- | --- |
| Large Cap Stocks | 7.5% | 6.0% | 13.4% | 11.4% average annual return since 1926. Lower projected returns are consistent with lower potential economic growth, fair current valuations, and elevated profit margins. |
| Small Cap Stocks | 8.5% | 6.6% | 11.6% | 16.0% average annual return since 1926. Over very long-term, small cap stocks have been rewarded with higher returns as compensation for higher volatility associated with owning them. |
| Investment Grade Bonds | 3.5% | 3.6% | 3.7% | 6.0% average annual return since 1926. We anticipate corporate bonds to see yields average about 1.0% higher than the equivalent Treasury bond, consistent with yields over the last several economic cycles. |
| High Yield Bonds | 6.0% | 5.1% | 7.9% | High yield bonds had an advantageous starting point for the last decade's returns. We anticipate high yield bonds to see yields average about 2.5% higher than the equivalent Treasury bond, consistent with yields over the last several economic cycles. |
| Cash | 2.5% | 2.7% | 0.5% | 3.4% average annual return since 1926. Consistent with Federal Reserve longer-run projections for short-term interest rates of about 2.5%. This return level is low by historical standards and reflects the lower level of potential economic growth. |
| Equity Growth | 7.3% | 6.1% | - | Includes US Large Cap (50%) and Mid-Small Caps (17%), US REITs (6%), International Developed (16%), Emerging Markets (4%), Alternatives (3%), Commodities (2%), and assumes 2% cash position. |
| Balanced 60% Equity - 40% Fixed Income | 5.8% | 5.1% | - | Includes US Large Cap (30%) and Mid-Small Caps (11%), US REITs (4%), International Developed (10%), Emerging Markets (2%), Alternatives (1%), Commodities (1%), US Bonds (39%), and assumes 2% cash position. |
Disclaimer: Past performance is no guarantee of future performance and future returns are not guaranteed. There are risks associated with investing in stocks such as a loss of original capital or a decrease in the value of your investment. For additional information or questions, please consult with your Financial Advisor. This report is provided for informational purposes only and shall in no event be construed as an offer to sell or a solicitation of an offer to buy any securities. The information described herein is taken from sources which we believe to be reliable, but the accuracy and completeness of such information is not guaranteed by us. The opinions expressed herein may be given only such weight as opinions warrant. This Firm, its officers, directors, employees, or members of their families may have positions in the securities mentioned and may make purchases or sales of such securities from time to time in the open market or otherwise and may sell to or buy from customers such securities on a principal basis.
About the author