Investment Perspectives provides insight into the markets from three of Janney's elite strategists.
Reading the mixed signals in economic data.
A look at what's behind TOMO, POMO, and other acronyms in the Fed's toolbox.
Nearly record levels of sidelined cash could provide the fuel for multiple expansion, increasing market potential.
Making sense of hard and soft economic data - Mark Luschini
An immense amount of data is available for market participants to get an idea about the direction of the economy.

Two Main Classifications: Hard and Soft
This data can generally be classified either as hard or soft.

Hard data include measures of actual economic activity, such as housing starts, industrial production, or retail sales. These are tangible and unambiguous counts taken of activity occurring over time. Collectively, this information is used to calculate the nation's gross domestic product (GDP). Issued quarterly, GDP is a widely cited statistic that represents the rate of economic growth in the preceding quarter, year, or years.

Alternatively, soft data is used to define survey measures where companies or consumers are asked to describe whether activity is improving or deteriorating, and whether they are becoming more or less optimistic about the future. Examples of soft data include the monthly Purchasing Managers' Index (PMI) and small business optimism surveys, as well as measures of homebuilder or consumer confidence.

Both types of data have value.

Soft data are usually timelier and often lead the hard data. However, soft data are more prone to whipsaws—feelings can change quickly given the 24-hour news cycle and access to real-time reporting via the internet.

Hard data tend to be more reliable, but do not always provide enough lead time to be actionable. For example, the release of data about activity from the previous month offers a sense of inertia but does not provide insight into how the pace of the activity might have changed in the interim.
Divergence Between Soft and Hard Data

At present, the soft and hard data are sending very different signals.

On the consumer side, core retail sales are growing at nearly 5% year-over-year, despite consumer confidence diminishing somewhat in the past 12 months.

On the business side, the Institute for Supply Management (ISM) Manufacturing PMI survey recorded the lowest print since 2009. Measures of industrial production and core durable-goods orders were similarly down, but not as weak as the PMI, and yet CEO confidence is at a level normally associated with recessionary conditions.

Housing Data Do Not Diverge
Housing, an important sector of the economy, is an area that does not currently display a dichotomy between the soft and hard data. Reports on housing activity remain solid as homebuilder confidence and housing sales are rising concurrently.

Trade Uncertainties' Impact on Data
Soft economic numbers started to dip around the same time economic concerns grew.

The Global Economic Policy Uncertainty Index, a composite of items judged to signal rising or falling geopolitical risks, shot higher last year. In our view, this suggests that worries about the trade war's negative consequences have caused sharp declines in measures of sentiment and confidence, even though the trade war's actual impact on the hard data has been more marginal.

That, in turn, is what makes the outcome of U.S.-China trade talks so important. If a détente that makes clear no new tariffs will be implemented is reached, enough uncertainty should be reduced for the soft data to improve, converging with the hard data.

Some positive news did come about on the trade front recently. In exchange for suspending the planned October 15 hike in tariffs from 25% to 30% on $250 billion of Chinese imports, China agreed to purchase $40 billion to $50 billion of U.S. agricultural products per year, improve market access for U.S. financial services companies, and enhance the transparency of currency management.

Certainly, there is still much to be done and yet both sides are aiming to conclude the deal soon. Our central case is that the looming presidential election in 2020 and China's current economic frailty provide enough incentive for the U.S. and China to strike a deal.

The bottom line is trade uncertainty has depressed survey measures of economic sentiment, but the hard economic data have been relatively sturdy.

What Could Be Ahead
If trade tensions de-escalate, witnessed by way of a deal with China and the U.S. waiving the next tranche of tariffs expected to go into effect on December 15, then the soft survey data should rebound, supporting both global growth and equity markets alike. As is our base case, we continue to recommend that investors remain at least equal weight equities in balanced portfolios.
TOMOs, POMOs, QE, and the limits of monetization - Guy LeBas
The interest rate and fixed markets have gone from being a story about inflation (1960s–1980s), to growth (1990s–2000s), to central bank intervention (2008–2017), and now one about market plumbing. That is not exactly a panacea for your friendly neighborhood fixed income strategists who have followed this progression, but here is a primer on open market operations for investors.

As November begins, there are two major Federal Reserve programs affecting market plumbing: temporary open market operations (TOMOs) and permanent open market operations (POMOs). A third program—quantitative easing (QE)—might be waiting in the wings. All of these tools have monetized federal government debt. Understanding these tools and the arcane details of market plumbing is a helpful way to analyze and forecast the level of interest rates.

TOMOs
Rates do not automatically move when the Fed sets a target for overnight interest rates, which are currently in a range of 1.50% to 1.75% as of October 31. Instead, TOMOs, which involve repurchase and reverse repurchase agreements, are the way the Fed has traditionally managed short-term interest rates.

So that overnight rates reach the target, the New York Federal Reserve is responsible for lending into the markets to add cash (to reduce rates), or conversely, borrow from the markets to remove cash (to increase rates). At present, the New York Fed is lending up to $120 billion each night and up to $45 billion for multiday operations.

POMOs
Unlike TOMOs, which exist to manage interest rates, POMOs exist to manage bank reserves—a technical need. (Reserves are essentially cash that banks hold at the Fed.)

The Fed controls this quantity with two tools: One is reserve regulation designed not to change much and the other is POMOs. In a POMO, the New York Fed buys Treasury bills from banks and thereby permanently adding reserves to the banking system. At present, the New York Fed is buying up to $60 billion per month of T-bills, which Fed Chairman Jay Powell has indicated will continue through mid-2020.

QE
QE is the purchase of longer-term Treasury notes/bonds to affect the economy or credit market conditions. You can see the efficacy of QE in the easing of financial conditions in 2009, once the effects of the Global Financial Crisis began to fade.

Note that QE's method (notes/bonds, not bills) and its goal (economy/credit conditions, not banking reserves) differ significantly from POMOs' method and goal. The same goes with TOMOs, which are temporary.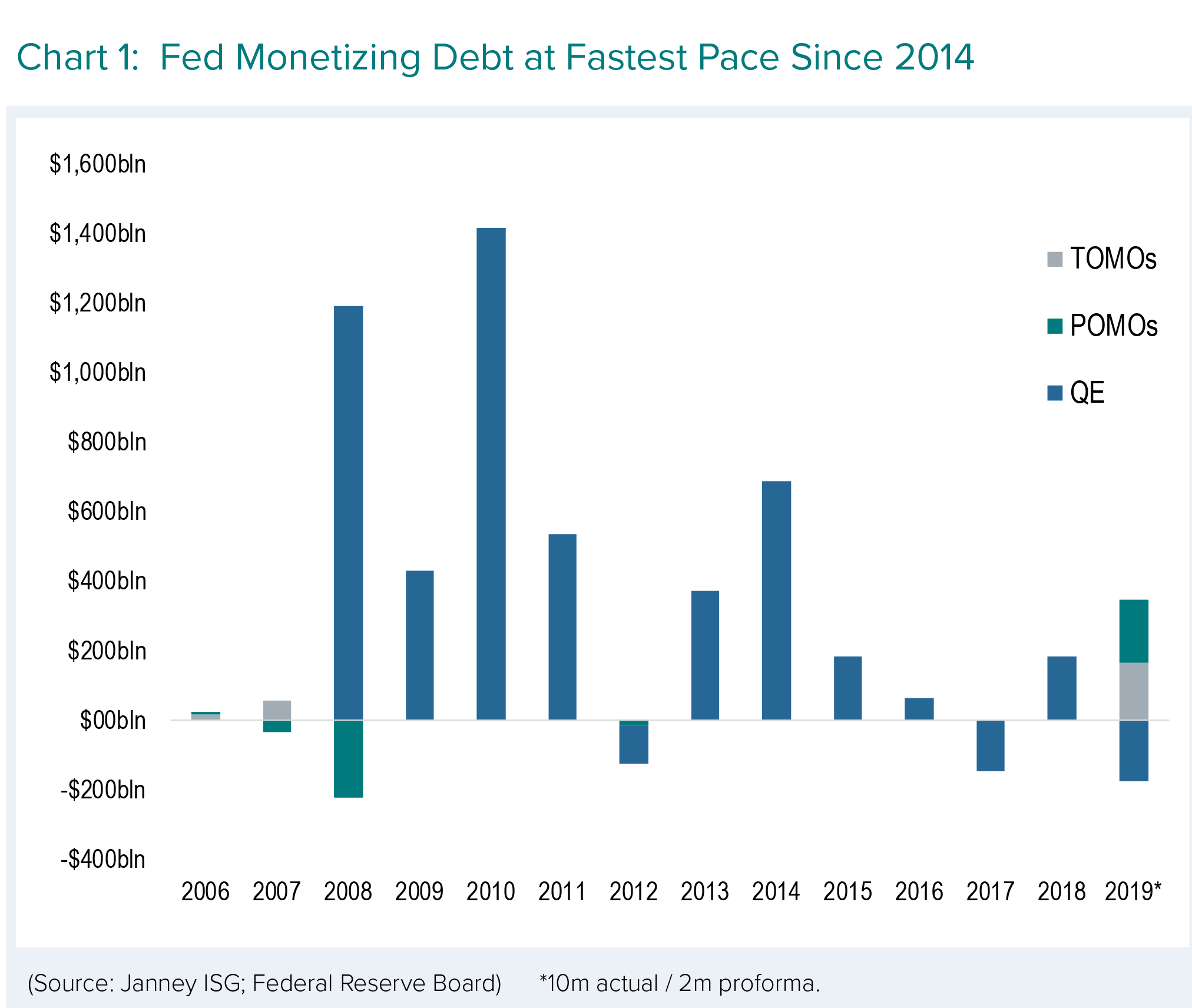 What They All Do: Monetize Debt
The key takeaway here is that all three tools are closely related in that they all monetize federal government debt. In this context, monetization means they are turning a government bond into cash.

In theory, there is some finite on how much debt the Federal Reserve can monetize without simulating inflation; our best guess is the Fed is comfortable monetizing no more than $600 billion to $800 billion over the next year.

For that reason, the fact that the Fed is temporarily adding around $180 billion to the banking system (TOMOs) and buying around $60 billion of T-bills per month (POMOs) means that it cannot practically conduct QE at present.

And why would the Fed want to buy Treasury notes via QE? Because, as we wrote in October, banks are up to their eyeballs in Treasury notes they cannot sell.

With QE severely limited, that leaves but one probable option for the Fed to help unclog bank balance sheets: More rate cuts.

Hello, November: Equities enter historically profitable period - Greg Drahushak
After more than three months and multiple attempts, the Standard & Poor's 500 Index (S&P 500) in October finally set new intraday and closing highs on indications of trade-negotiation progress.

Trade issues will continue to restrain the market, despite the uplifting news last month, until more concrete progress is evident. Calendar-related considerations soon could be influential, however.

Sometimes the Season is the Reason
Market performance from November through April, on average, far surpasses results produced in May through October. According to data assembled by CFRA-Standard & Poor's, the S&P 500 Equal Weight Index posted an average 9.5% return in the November-through-April period, with a 90% frequency of a positive return since 1990, while generating only a 0.9% average increase in the May-through-October period.

The most recent six-month comparisons matched the historical pattern. Despite the large drop last December (-9.18%), the S&P 500 gained 8.63% from October 2018 through April this year. From May through October 2019, the S&P gained 3.11%.

Since 1949, the S&P 500 has posted a gain in 47 Novembers out of the 69 and a December gain 51 times. In the 2000-2018 period, the S&P 500 has been higher in November and December in 14 and 13 years, respectively.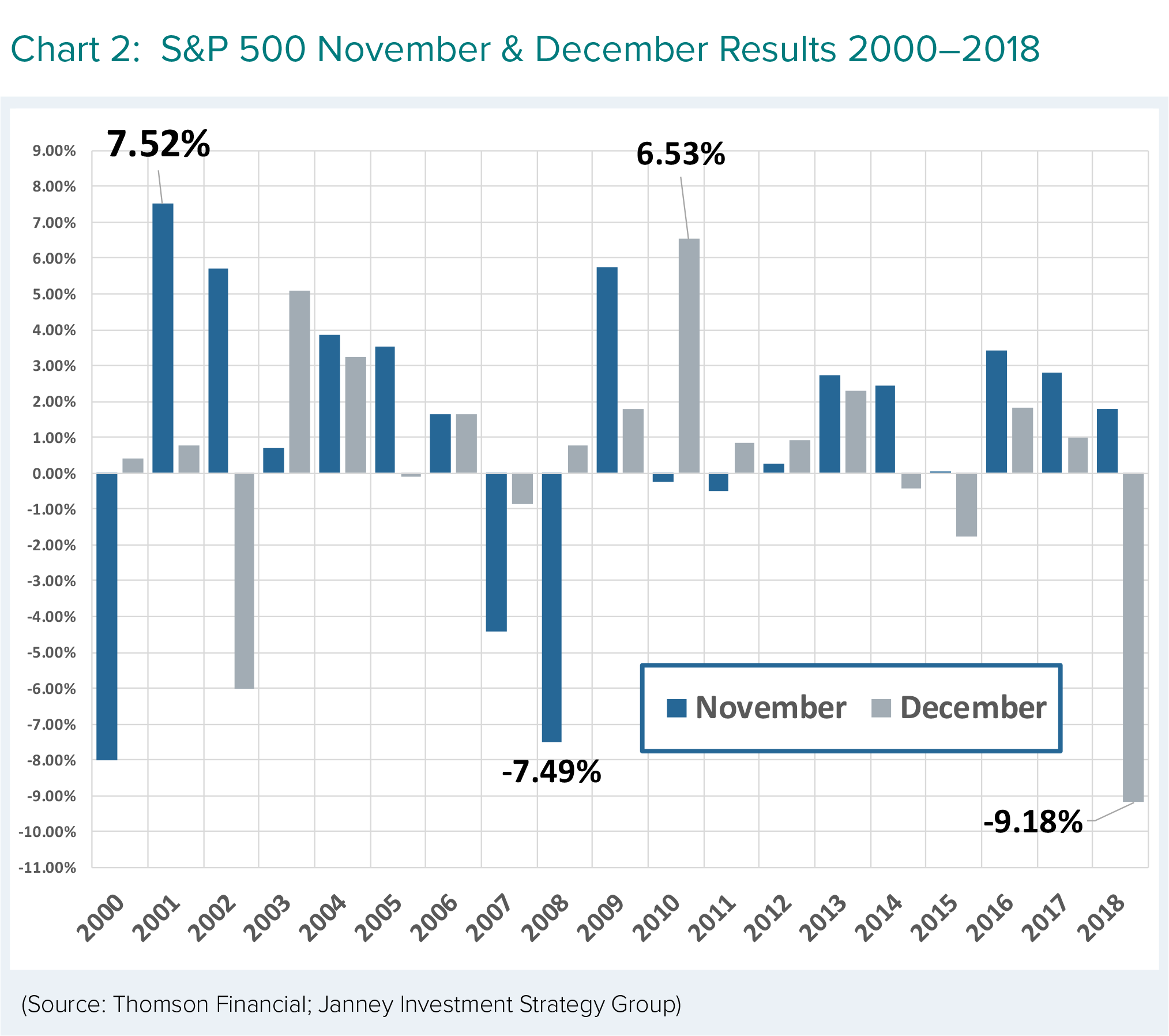 What Could Get in the Way of a Jolly November and December?
Tax-motivated selling, computer-driven trading, fear that the Federal Reserve was normalizing interest rates too rapidly, and worry that the U.S.-China trade dispute could lead to a domestic recession conspired to produce the worst December results since 1931.

The major exceptions to the seasonal pattern, however, generally occurred when the economy was weak, which is not a concern today.

Sights Set on 2020
Seasonal patterns are interesting, but they are not sufficiently compelling to formulate a short-term investment posture.

Earnings expectations are likely to be the key drivers of market movement as we move toward 2020.

The stock market's sights already are set on prospects for next year. The new all-time high in the S&P 500 values the index at 17.17 times the $177.69 earnings estimate for 2020. We think this estimate could slip to the $175–$176 range, but this would not materially alter the market's valuation.

The S&P 500 is not excessively priced but not compellingly cheap either. If interest rates remain relatively subdued through 2020, a modest increase in the S&P 500 earnings multiple could increase the market's potential.

An 18 multiple on earnings of $175, for example, would push the S&P 500 to 3150. Major bull-market cycles, however, typically do not peak at only 18 times earnings. At 20 times earnings, which historically would not be unprecedented, the S&P 500 eventually could reach 3500.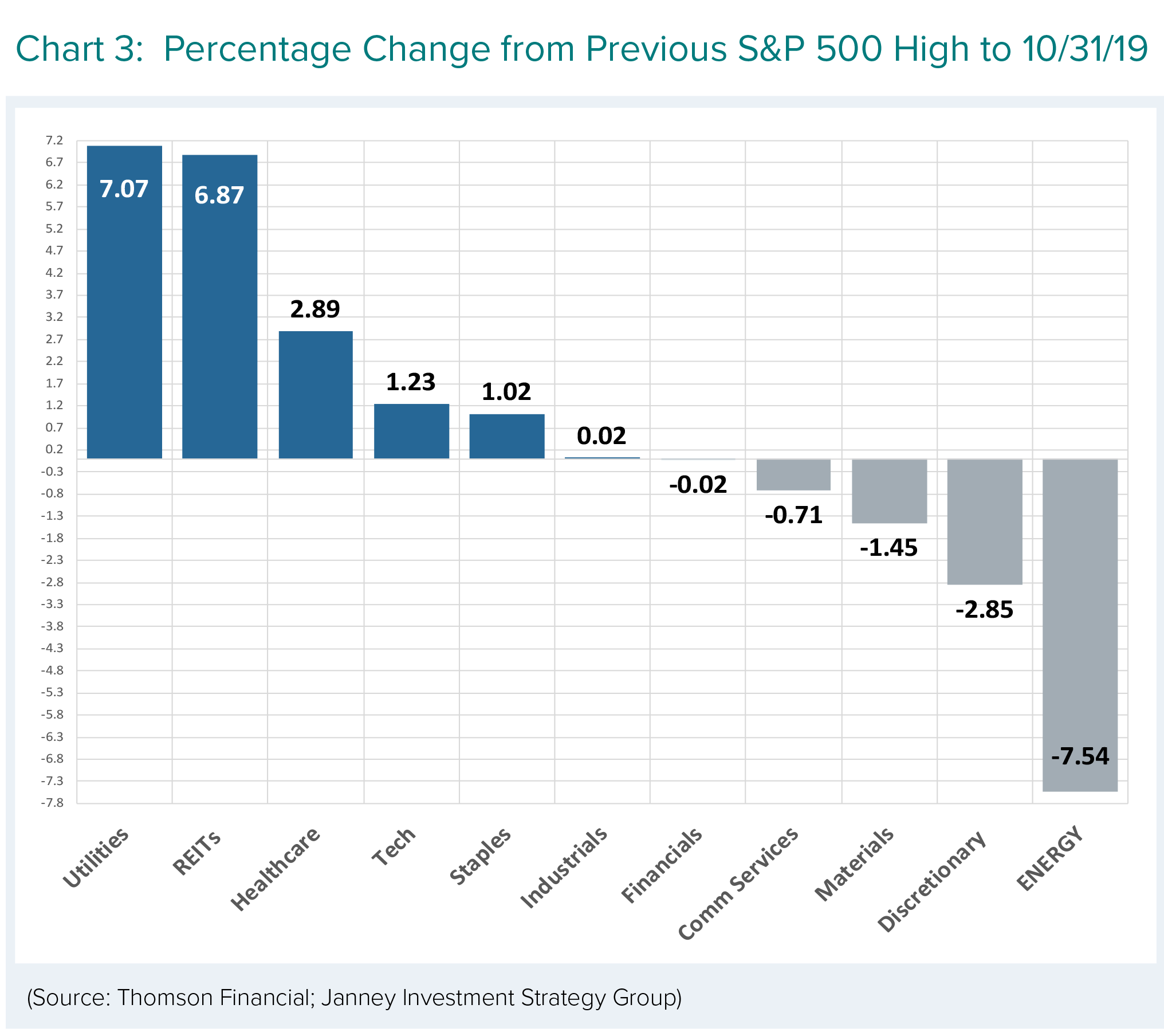 Is Multiple Expansion Ahead?

Facing few viable alternatives, nearly record levels of sidelined cash could provide the fuel needed for multiple expansion. It is notable that from the prior S&P 500 high set July 26 through the end of October, the four best performances were in typically defensive sectors, which suggests that the market is not yet ready to embrace a strongly pro-cyclical bias that usually accompanies a durable market rally. Various technical factors suggest the market might spend this month consolidating recent gains. Technical factors also, however, suggest that the market has limited downside.
About the authors