Global conditions are improving, inflation remains low, and December is poised to be a good month.
As global conditions improve, outlook for non-U.S. stocks brighten
Inflation remains low and is critical to the Federal Reserve's next move
December poised to be good month for stocks despite lingering issues
Non-U.S. equities poised for growth - Mark Luschini
U.S. equities have outperformed their global peers during the past decade. Looking ahead, we believe non-U.S. stocks are set to gain the upper hand, thanks to an improving global backdrop, a weaker U.S. dollar, and an increasingly irresistible valuation disparity.

Global Growth Recovery
Global growth should benefit next year from the dovish pivot by most central banks. The share of central banks lowering rates has reached 85%, which should stimulate growth in the coming quarters. Some of banks' collective efforts may already be gaining traction, as it appears the global manufacturing downturn is coming to end.

Another stimulator is the auto sector, which is finally showing signs of life after being at the forefront of the manufacturing slowdown. Domestically, banks have stopped tightening lending standards for auto loans and they're reporting stronger demand for vehicle financing. In Europe, new orders for automobiles and auto parts are increasing, according to data from the IHS Markit Europe Auto Sector Purchasing Managers' Index. Meanwhile, in China, vehicle production and sales are finally rebounding.

Trade War Concerns May Complicate Growth
Certainly, the trade war is a clear and present danger to our bullish outlook on global growth. The good news is President Trump has a strong incentive to make a deal. It is not lost on the White House that a resurgence in the trade war would hurt the economy and impair the president's re-election chances. If a "phase one" agreement occurs, the trade détente should lead to a sharp improvement in global business sentiment.

Softening U.S. Dollar Supports Growth Outlook
The sector composition of international stocks, when compared to that of U.S. stocks, is more skewed towards cyclicals than defensives. As a result, non-U.S. stocks generally outperform their U.S. peers when global growth accelerates.

Compared to most other economies, the United States has a large service sector and a small manufacturing base. This makes our country less susceptible to uneven oscillations in growth most other countries face. Capital tends to flow from the United States to the rest of the world when global growth picks up, putting downward pressure on the U.S. dollar in the process. A softer dollar will help to raise the value of overseas shares for U.S. investors, thus making international stocks more attractive in common-currency terms.

Foreign Stock and Bond Valuation Gap is Wide, Compared to U.S. Counterparts
Foreign stocks are currently trading at less-than-14-times forward earnings. This represents a significant discount to U.S. stocks, which trade at a forward price-to-earnings (PE) ratio north of 17.

The valuation gap between the U.S. and the rest of the world is even starker if we compare earnings yields with bond yields. Since bond yields are lower outside the U.S., the implied equity risk premium is markedly higher for non-U.S. stocks.

Some may argue that the loftier valuations enjoyed by U.S. stocks are warranted because of their superior growth prospects. It is, however, important to understand that relatively fast U.S. earnings growth is a recent phenomenon. Between 1970 and 2008, European earnings actually grew slightly faster than corporate profits in the U.S. Additionally, earnings in emerging markets increased more rapidly than in the U.S. during the two decades leading up to the global financial crisis.

Non-U.S. Stocks Stand to Benefit from Conditions
Regardless of whether the secular outperformance of U.S. equities is ending, the cyclical backdrop that we foresee for at least the next 12-to-18 months—characterized by faster global growth and a weaker dollar—is likely to favor non-U.S. stocks. For this reason, investors should remain overweight global equities but start increasing allocations to non-U.S. stocks at the expense of U.S. stocks. We are particularly fond of Europe. Net profit margins among companies in the STOXX Europe 600 index are about three percentage points below the S&P 500. This gives European companies greater scope to boost earnings; in our judgment, share prices should follow.

Lowflation remains. What will the Fed do next? - Guy LeBas
Five years ago, we discussed the risks inflation posed to the fixed income markets.

We concluded then that the risks were modest and the most likely inflation outcome was sub-2% for the foreseeable horizon.

During the past five years, core Consumer Price Index (CPI) inflation has averaged 2%, while core Personal Consumption Expenditures (PCE) inflation has been 1.6%. Recently, as wage growth moved above the 3% mark, inflation has been remarkably tame. Inflation shows no signs of accelerating meaningfully.

Why the Fed Aims for 2%
The Federal Reserve targets 2% core PCE inflation. Why 2% and not 4% or 0%?

The short answer is that having a little inflation helps grease the wheels of the U.S. economy, whereas too much inflation introduces frictional costs. Too little inflation, meanwhile, makes it difficult for the Fed to ease policy to support the economy in the event of a slowdown.

For those academically inclined readers, the key concept is wage rigidity. Having some inflation allows businesses to cut workers' wages in after-inflation terms by not giving them raises, rather than outright cutting wages. If the Fed targeted 0% inflation, these after-inflation wage cuts would be tougher and probably result in more layoffs during economic downturns.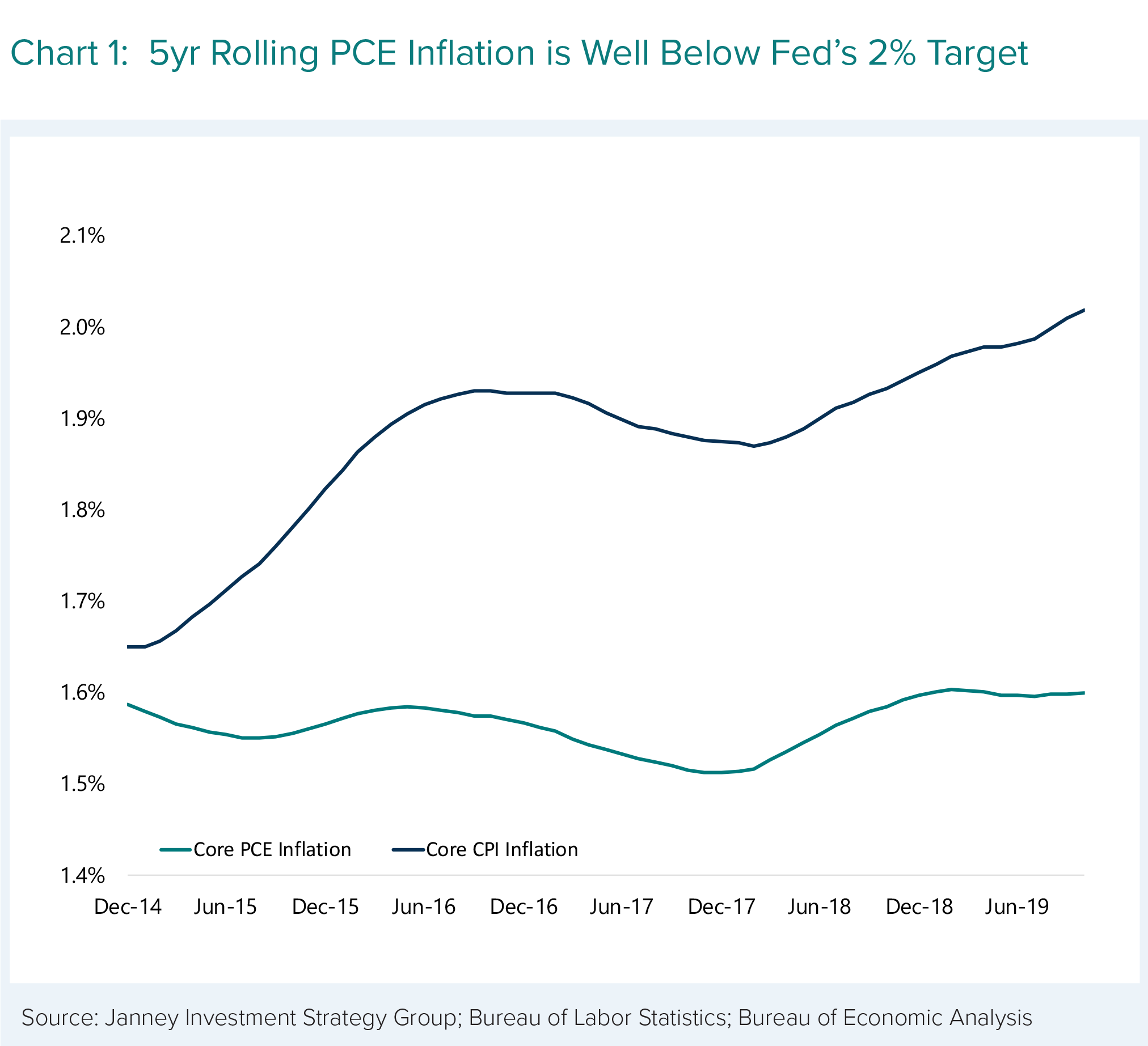 Sources of Inflation
By traditional measures, inflation has remained tame despite some theories that suggest it should have risen. We economist types are almost universally bad at predicting inflation trends, but here are the few broad sources of inflation:
Cost-Push Inflation — Increases in commodities' prices (e.g., oil) push through into broader prices. Commodity prices have been calm for some years.
Demand-Pull Inflation — Wage growth creates more demand for goods and services, driving up prices. Wages have been rising and unemployment is delving into multi-decade lows. If there is a time for demand-pull inflation, that time is now. Yet, demand-pull inflation is not happening.
Monetary Inflation — The central bank debases a currency, driving up prices. Inflationistas have been shouting about Fed money printing leading to runaway inflation for more than a decade now. They are just as wrong today as they were then.
What Might Be Behind the Lack of Inflation
So, why isn't inflation emerging? Perhaps better policy management, calmer consumer expectations, or structural changes over things like price transparency (i.e., the internet) have made it harder for firms to push prices higher.

Inflation Critical for Long-Term Investment
There are a couple reasons why I chose to discuss inflation in this month's Investment Perspectives.

First, inflation is the key economic criterion in the Fed's next action, arguably more important than growth. This we can see from recent Federal Reserve Open Market Committee meeting notes and comments from Fed Board members Richard Clarida and Lael Brainard. Senior Fed officials are so focused on inflation that they are likely to change the way they respond to it in 2020.

Second, inflation drives a large portion of long-term bond returns. Since inflation works to corrode the future value of money and most bonds issue fixed payments, lower inflation benefits the value of those future payments, while higher inflation reduces the benefits.

For those investors with bond portfolios and a substantially long time horizon, say 20 years or more, inflation is the major determinant of long-term real income. For now, market and practical indications are that inflation will remain on the low side for some time to come.

Higher levels still ahead for stocks - Greg Drahuschak
The memory of the 9.16% drop in the S&P 500 Index last December still lingers in investors' minds, but the market does not face the headwinds present in the final quarter of 2018.

After three cuts in the target range for the federal funds rate, the Federal Reserve appears to be comfortable with today's highly accommodative credit policy. Unlike last year, most major U.S. market measures have been setting all-time highs. In China, latest figures show increased manufacturing activity with new orders and factory output improving significantly. China's manufacturing Purchasing Managers' Index (PMI) for November increased to 50.2, a return to expansionary territory for the first time since March.

The Exception, Not the Rule
December 2018 was a major exception to the month's generally positive bias. Since 1949, the S&P 500 has ended with a gain in 51 of the possible 67 years, for an average 2.78% gain in the positive Decembers.

The S&P 500 gains of 1.72%, 2.04%, and 3.40%, respectively, in September, October, and November temporarily might be an impediment at times this month, as the rush to multiple new highs created a technically overbought condition in the S&P and other market indices.

Large sums of uninvested cash typically designated for stocks, however, plus possible catch-up moves by underperforming hedge funds could provide market support and potentially create an upward surge.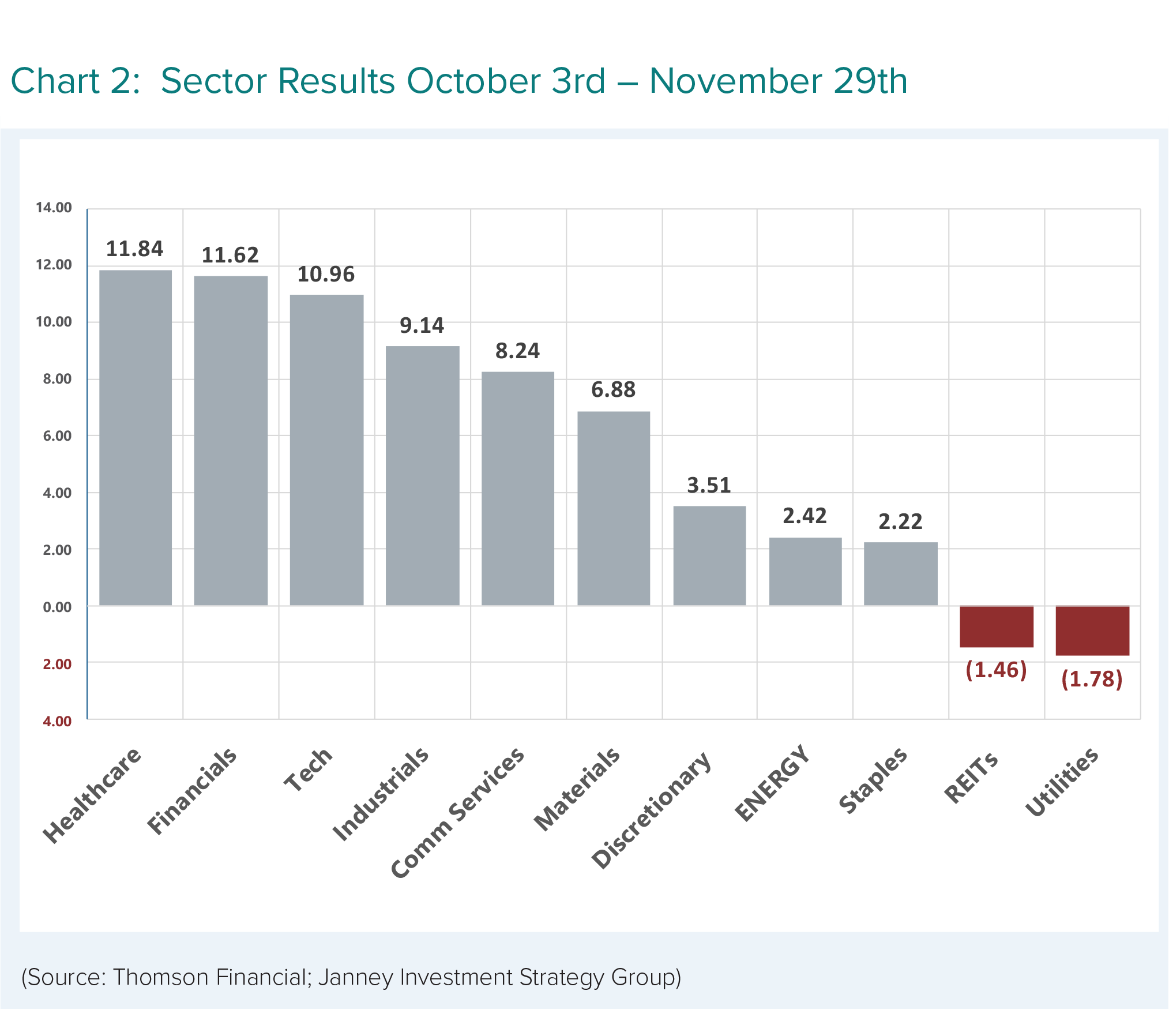 The process of setting new market highs provided a clear indication of what the market's sector bias could be going forward. From the most recent interim low in the S&P 500, the pro-cyclical market sectors outpaced defensive areas. Cyclical sectors are likely to be the drivers of additional potential gains in the equity market.
The market's new highs, however, mask issues that need to be resolved for stocks to head notably higher.
U.S. manufacturing has been in a slump through much of this year. The Institute for Supply Management Manufacturing Index in November was at a contraction level for the fourth consecutive month. This placed the index 4.79 points below its monthly average since 1947.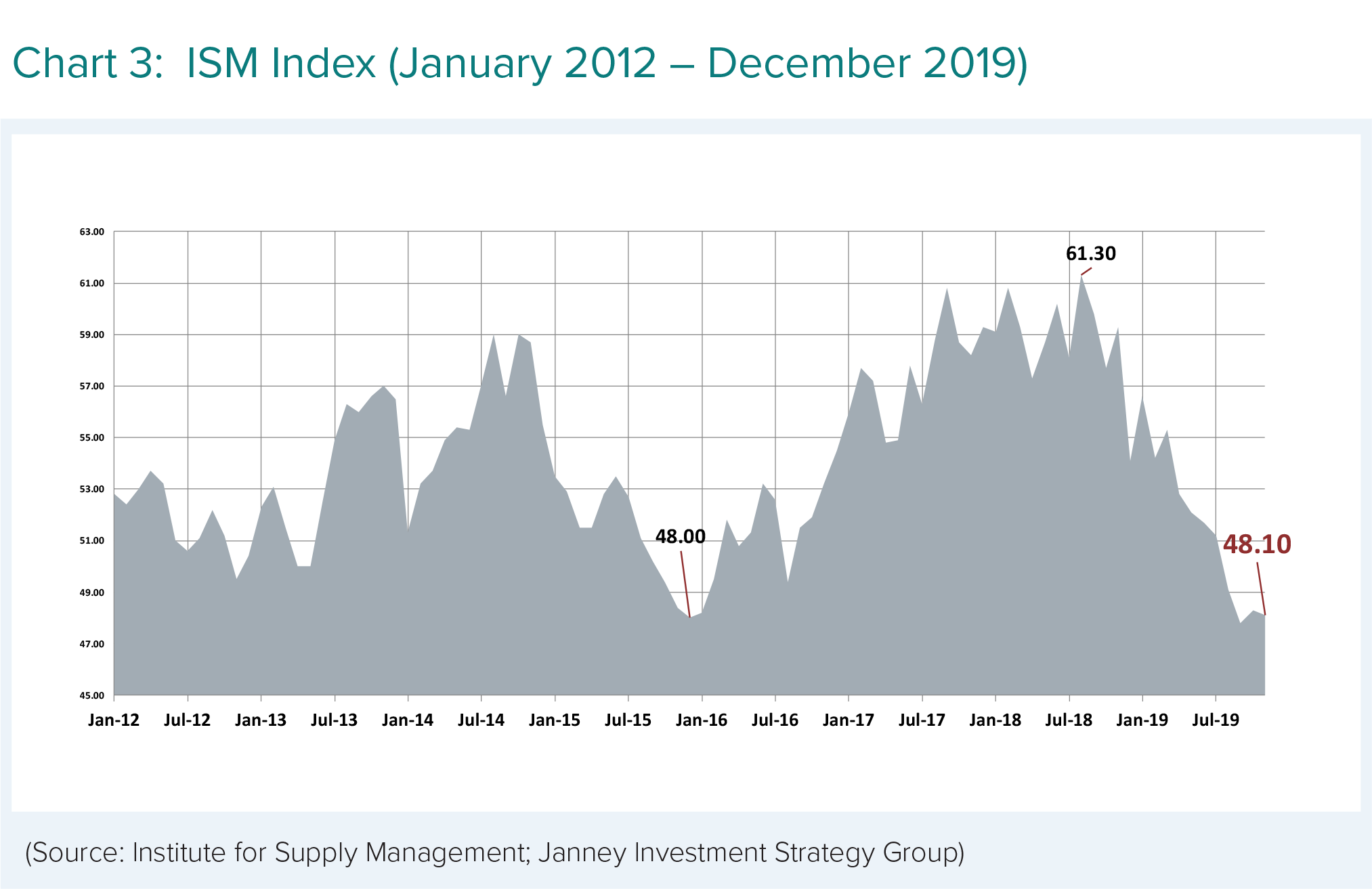 Construction spending fell 0.8% and was down 4.6% yearover- year while the previous month was revised to -0.3% from the previously reported positive 0.5%.
On the other hand, every measure of consumer conditions is favorable.
And a Happy (Optimistic) New Year?
Corporate earnings progress is likely to be the key to the 2020 market. The 2020 S&P 500 earnings estimate has slipped steadily for the last several months, but we think it will trough slightly below the current $176.18 for a year-over-year earnings gain around 8%. The forward price-earnings ratio at roughly 17.7 is above the market's average valuation but well below the earnings multiple often seen at cycle-ending peaks.

Years ago, renowned investor Sir John Templeton broke the market down into four stages. He said that bull markets are born on pessimism, grow on skepticism, mature on optimism, and die on euphoria. As 2019 ends, the first two stages are behind us. The third stage still is unfolding, and euphoria appears to be far off.
The U.S.-China trade dispute is likely to sway trading periodically, but the sum of the evidence is enough for the Janney Marketvane® stocks-to-cash ratio to remain at a bullish 85%-15% ratio, as the equity market appears poised to set additional new highs in 2020. (Marketvane® is a simple ratio that provides our view of how only the equities portion of a portfolio should be allocated between common stocks and cash.)
About the authors