Major issues persist with our optimistic outlook, a look back to fixed income in 2019, and a repeat of the market's 2019 result does not appear probable.
We are optimistic for 2020. However, we acknowledge the risks to our generally positive view.
Gain clarity on the fixed income markets and the major themes that prompted last year's returns.
Stocks are set to build on remarkable run.
What could go wrong for markets in 2020? - Mark Luschini
In Janney Investment Strategy Group's recently released Outlook 2020, we presented a sanguine view for the economy and financial markets in 2020.

Consumer spending remains healthy and business sentiment has improved, while worries about trade have dissipated and growth abroad shows accumulating evidence that the worst of the slowdown is over. That, in turn, should help to build a constructive backdrop for market participants this year.

Major Issues Persist
However, we acknowledge lingering issues that could jeopardize our optimistic outlook.

Trade and the presidential election are certainly paramount among them. Other potential issues include the effects of a stronger dollar on financial conditions and a bout of stronger-than-expected inflation. (Concern about whether inflation operates too low does not rise as high in the risk spectrum, at least within the next 12 months.)

We have not scored these issues in a manner that suggests their occurrence alone undermines our base case. We explore them nonetheless because their evolution demands keeping them at least in one's peripheral vision.

Trade
China and the U.S. are rivals and the rising geopolitical power of China will likely cause tensions to escalate in the coming years. However, a trade détente via the "phase-one" deal would at least satisfy the near-term uncertainties and lead to a better business environment for global companies.

Should either party renege on the deal and trade tensions re-escalate, business sentiment would suffer and likely consumer spending with it. Global uncertainty would rise, leading to reductions in capital expenditures and employment. The loss of confidence among households, and its inevitable impact on consumption, would drain the economy of its necessary fuel to support this expansion.

Politics
The U.S. election creates policy risk, as some Democratic candidates are touting reforms that would lead to higher corporate taxes and a stiffer regulatory climate, among other things. These policies are worrisome for many corporate leaders and business owners.

If President Trump's odds of being re-elected diminish significantly, executives may begin to curtail spending and hiring in advance of the November vote, casting a blow to the momentum currently elicited by domestic activity.

The Dollar
A rising dollar could hurt growth, as it would counteract a large portion of the easing in liquidity conditions created by accommodative central banks around the world.

A stronger dollar raises the global cost of capital and the service cost of paying interest on the many advanced and emerging market countries whose massive debt burden is disproportionately dollar-denominated.

Not unlike businesses, some countries may have to reduce spending on areas that promote economic growth to pay on or off inflated debt burdens. That could cause global growth to underachieve our expectations.

Inflation
Inflation could surprise to the upside because the labor market is tight. At 3.5%, the unemployment rate is the lowest in 50 years, and wages are rising. According to the National Federation of Independent Business, small firms are increasingly citing their inability to find qualified labor as the biggest constraint to expand production. In addition, The Conference Board's Consumer Confidence Survey reported the number of households saying jobs are easy to find is near a record high relative to those who view the labor market as offering poor job prospects.

Today, the Federal Reserve's favorite gauge of inflation remains at a benign level of 1.6% year-over-year, but inflation dynamics warrant close monitoring. Some sub-components of the inflation reading have surged, and a continued tightening in the labor market, particularly for prime-age workers, points toward higher salaries and ultimately stronger domestic demand.

A sudden flare in inflation would prompt an abrupt tightening in liquidity conditions and a potentially swift reassessment of inflation expectations by households and investors. Under these circumstances, the Federal Reserve might be inclined to shift to a more hawkish posture faster than market participants currently envision.

If interest-rate markets price in a prompt removal of monetary accommodation, Treasury yields might jump, which could crimp the economy and zap the equity market.

Discuss Risks and Opportunities with Your Financial Advisor
The scenarios above are all risks to our generally positive view for 2020 and are important for us to consider when advocating for a pro-cyclical bias. After all, were one of them realized, the stock market would likely decline.

Our central case is to overweight stocks and favor cyclical equities as well as foreign bourses.

The economic environment is an important consideration in developing your investment strategy, along with your personal financial goals and time horizon. Your Janney Financial Advisor can provide you with our Outlook 2020, where we lay out, in detail, our macroeconomic and investing views for the New Year. After you review it, consider discussing how these insights relate to your investment plan.

Fixed income 2019 - Year in review - Guy LeBas
Gaining perspective that leads to clearer investment decision-making can be challenging when it comes to the fixed income markets, which are often very opaque.

For example, we discuss valuations in 13 major sectors from Treasuries to emerging market debt and advise on maturities from short to long and everything in between. The returns can be wildly different across these sectors and maturities.

This opaqueness is why, as we enter a new year, we like to look back at returns across the fixed income universe and recast some of the major themes that gave rise to those returns.

Effects of Interest Rates and Credit Spreads
Changes in interest rates and changes in credit spreads are typically the biggest drivers for performance in the bond markets.

First, interest rates fell considerably during 2019. Benchmark 10-year Treasury yields were down by roughly -0.80% (equivalent to an approximately 9% total return), while 2-year yields were down by -0.88% (equivalent to a roughly 3% total return). As that comparison suggests, longer-term bonds almost universally performed better than shorter-term bonds, reflecting longer bonds' greater price sensitivity to changes in interest rates.

Second, credit conditions remained benign. The incremental spread that buyers demanded in order to purchase an average investment-grade corporate bond contracted by -0.60% (equivalent to a roughly 7% return on a 10-year bond). Finally, the value of the dollar increased by about +0.8% in 2019, which means that bonds denominated in foreign currencies generally performed less well than U.S. dollar-denominated bonds.

While nearly every fixed income sector delivered very strong returns, those returns were variable. As the chart below indicates, U.S. corporate bonds and preferred securities were the best performing sectors in the global bond markets, while foreign-developed market bonds was the worst performing sector.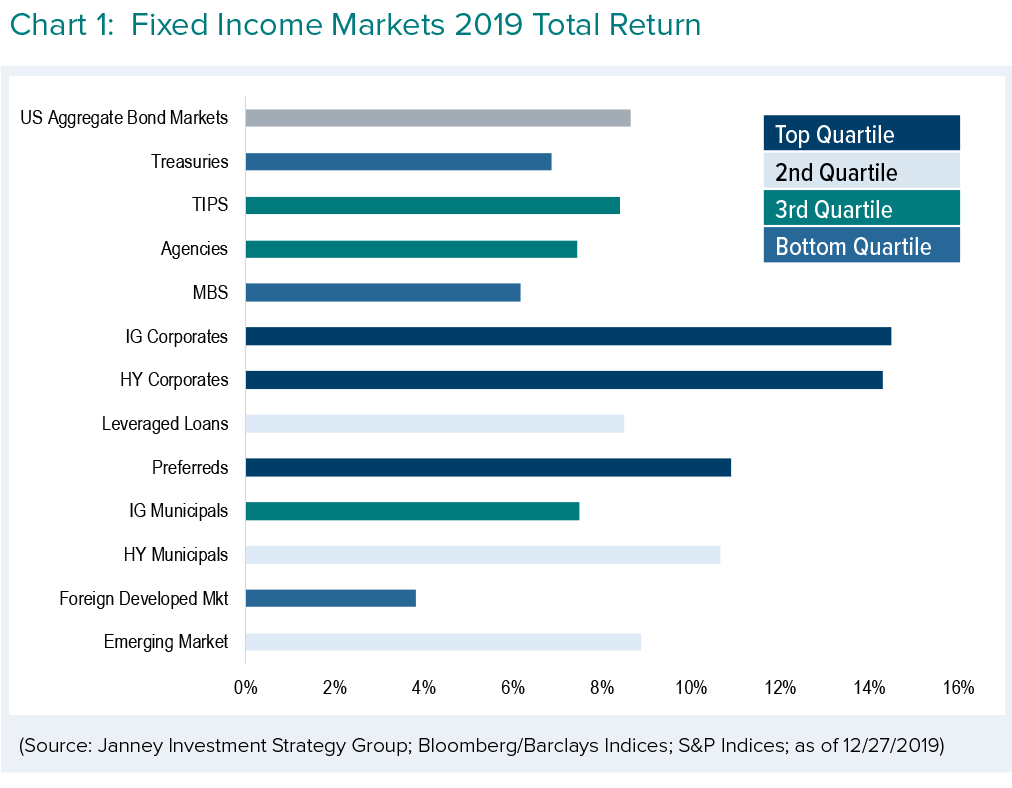 What Prompted 2019 Returns?

Two major factors drove returns in 2019. The first is more coincidental than meaningful and the second is uniquely significant.

The First Factor
At the beginning of 2019, financial markets were hanging on by a thread after a dismal December performance for risk assets. While the S&P 500 Index dealt with a -9% month, credit spreads were also widening sharply because investors' willingness to take any type of risk deteriorated.

As conditions that were more benign emerged after the turn of the year, risk taking improved and credit spreads began to contract. In that sense, one of the major drivers of return was coincidental timing.

The Second Factor
The second factor that prompted returns was an about-face from the Federal Reserve. The Fed hiked rates in December 2018 and the markets clearly viewed the action as a mistake; from that point, the Fed marched on a progressively easier course of policy, going from hiking mode to on hold and ultimately to cutting mode.

As the Fed cut their target or overnight rates three times in 2019 and signaled that there would be no hikes for the foreseeable future, interest rates across maturities declined. Beyond declining interest rates, a more accommodative Fed policy had positive implications for risk assets, which likely supported the environment for investment grade and high yield corporates.

Emerging Market Debt Underperforms
Perhaps the one most surprising areas for underperformance came from the emerging market complex. Typically, in a year in which risk assets do well and the value of the dollar is reasonably stable, emerging market debt also puts in a good showing.

In 2019, there were a handful of seemingly one-off events that echoed across emerging market debt markets and permitted the sector to buck expectations.

Argentina—one of the largest emerging market creditors—is once again struggling to pay external debts after a severe economic downturn.
Lebanon is in the middle of a governmental crisis.
Zambia is scrambling to restructure.
These three events are not evidence of some larger trend, but did serve to constrain emerging market debt performance in 2019.

Explore More Perspective in Outlook 2020

You can read more about the themes we expect to see in the fixed income sections of Janney Investment Strategy Group's Outlook 2020.

A new beginning - Greg Drahuschak
The stock market performed consistently in 2019—something that is relatively rare.

Stocks maintained a bullish bias despite pullbacks, which occurred in May, August, and September. During these months, the S&P 500 Index fell significantly short of typical corrections and dramatically shy of average intra-year drawdowns since 1928.

The S&P 500 adhered to its 200-day moving average throughout most of the year. Topped by the more than 40% gain in the technology sector, nine of the index's 11 sectors posted gains of more than 20%.

Notable Consistency in an Eventful Year
The stock market's consistency was remarkable, considering the disruptive news in 2019. Daily market swings caused by trade-related news and recession worries were not enough to weaken the market.

Instead, the market focused on impressive employment data. The Federal Reserve's decision to lower the target range for federal funds rate to 1.5% to 1.75%, along with indications from Fed Chairman Jerome Powell that the Fed was not contemplating raising interest rates, contributed mightily to the market's surge in the final quarter of 2019.

These and other factors in November prompted the Janney Investment Strategy Group to upgrade Janney's Marketvane® stocks-to-cash ratio in an all-equity portfolio from 80-20 to 85-15. The economic backdrop and the stock market's technical condition continue to support the Marketvane® upgrade.

2019 Positives Look to Carry Over Into 2020
This year begins with many of the positives that boosted the market in 2019.

Non-farm payroll data and the continuingly low level of initial unemployment benefit claims reinforce strong employment conditions.
The Housing Market Index of the National Association of Home Builders reaching its highest level since June 1999 suggests a critical part of the economy is healthy.
China's industrial production is improving. The apparent agreement on phase one of a trade deal with China eases trade worries.
Passage of the United States-Mexico-Canada Agreement (USMCA) and clarity on the Brexit issue in Britain also set aside some concerns.
Better than the originally expected fourth-quarter gross domestic product growth reinforces that the U.S. remains far removed from a recession.
Election-Year January Perspective
The quadrennial presidential election and the uncertainty it brings undoubtedly will be part of the market's considerations this year. However, it is telling that in the 17 presidential elections since 1950, the S&P 500 Index ended the year lower only three times, with the 2008 loss coming as the market grappled with the Great Recession.

The S&P 500 ended nearly 61% of all Januarys in the 1950-2019 period with an average gain of 1.08%. Nine of the 17 election-year Januarys in this period produced a gain, but with an average gain of only 0.19% for all election-year Januarys.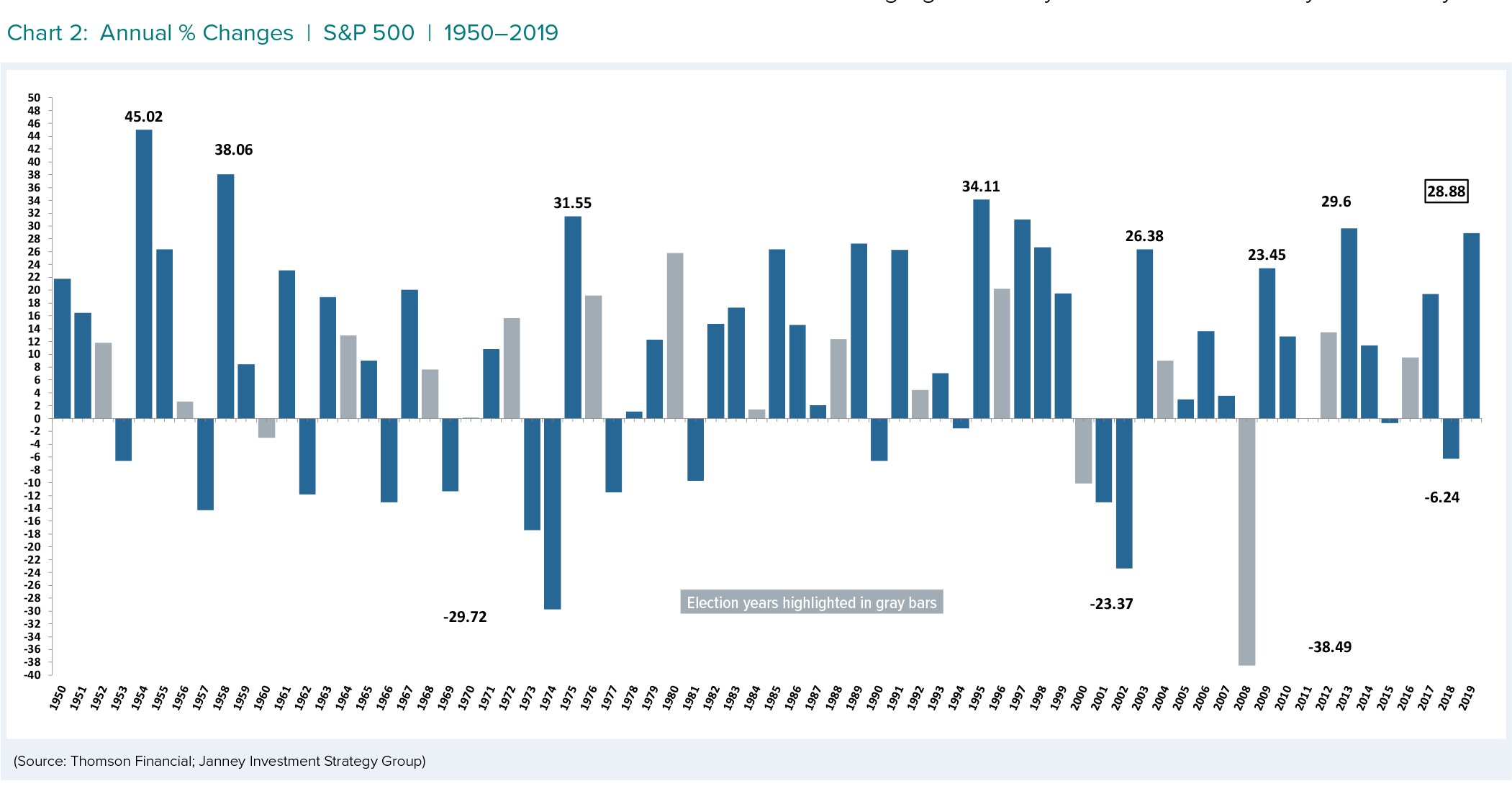 Overbought Technical Conditions Could Bring Tactical Opportunities

This year begins with the S&P 500 and other major indices in substantially overbought technical conditions, which could inhibit the market temporarily but also provide tactical opportunities to bolster equity exposure.

The early-year unrealistic estimate for potential 2020 S&P 500 earnings fell steadily last year, but now appears to be at a rational level that points to an 8% earnings gain this year.

Traditional valuation suggests the market is not cheap, but the earnings multiple is not at a level that often has marked the peak in a market cycle.

Looking Back at 2019—and Looking Ahead
Despite the market's upward consistency last year, investment sentiment through most of 2019 remained subdued. As measured by the weekly sentiment survey from the American Association of Individual Investors, the percentage of survey respondents with a bullish market view did not reach its long-term average until the middle of December.

The absence of excessive bullish sentiment, combined with large cash reserves, could lead to fear of missing out, which might thrust the major indices significantly higher.

A repeat of the market's 2019 result does not appear to be probable this year. However, new highs for the market look likely.

The information herein is for informative purposes only and in no event should be construed as a representation by us or as an offer to sell, or solicitation of an offer to buy any securities. The factual information given herein is taken from sources that we believe to be reliable, but is not guaranteed by us as to accuracy or completeness. Charts and graphs are provided for illustrative purposes. Opinions expressed are subject to change without notice and do not take into account the particular investment objectives, financial situation or needs of individual investors.

The concepts illustrated here have legal, accounting, and tax implications. Neither Janney Montgomery Scott LLC nor its Financial Advisors give tax, legal, or accounting advice. Please consult with the appropriate professional for advice concerning your particular circumstances. Past performance is not an indication or guarantee of future results. There are no guarantees that any investment or investment strategy will meet its objectives or that an investment can avoid losses. It is not possible to invest directly in an index. Exposure to an asset class represented by an index is available through investable instruments based on that index. A client's investment results are reduced by advisory fees and transaction costs and other expenses.

Employees of Janney Montgomery Scott LLC or its affiliates may, at times, release written or oral commentary, technical analysis or trading strategies that differ from the opinions expressed within. From time to time, Janney Montgomery Scott LLC and/or one or more of its employees may have a position in the securities discussed herein.
About the authors



Related Articles