Following the peak in 1981, interest rates experienced a 39-year decline. A 2% yield on Treasury notes or bonds now is not achievable without going out to the 30-year Treasury bond, and the yield on the S&P 500 is approximately 1.8%.
Presently, 24% of S&P 500 stocks have current yields at 3% or more with 19.5% of the index members yielding between 3% and 5%. Within the S&P 500, however, nearly 16% of the stocks pay no dividend while 29% have a current yield less than 1%.

The currently low yield period is particularly troublesome for income-seeking investors who benefited from notably higher yields in prior years but now face accepting much less.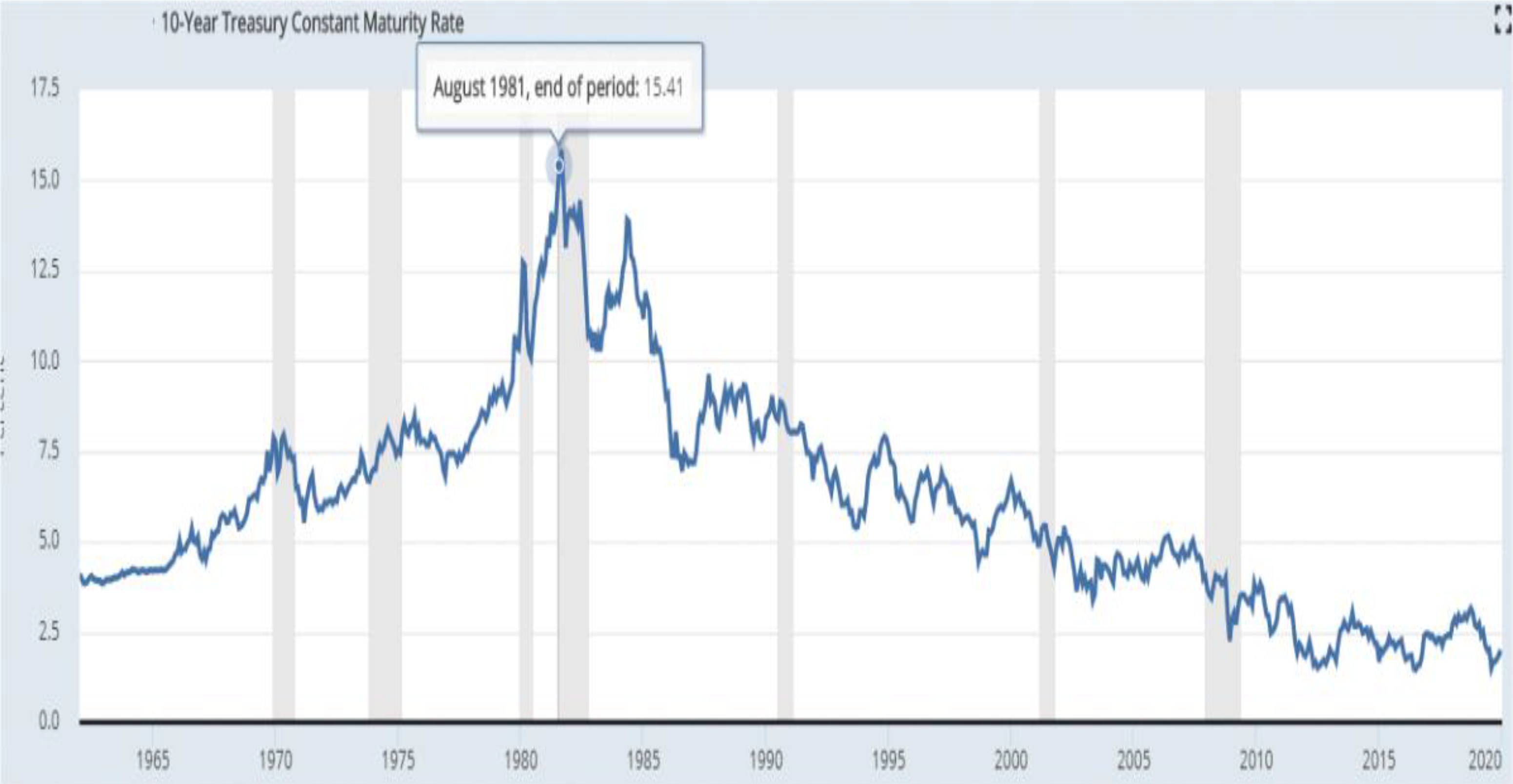 Spoiled by the previously higher interest rates, income buyers too often are willing to take credit risk they previously shunned.

As of this date, yields ranged from 1.532% for a one-month Treasury bill to 2.31% for the 30-year Treasury bond. If yield security less than Treasury paper offers is suitable, the 99 stocks in the S&P 500 with current yields between 3% and 5% and the 10 more S&P 500 stocks with yields between 5% and 6% might be attractive. Some investors who seek immediate income, however, still find these yields less than what they need or want. The drive for maximum income too often, however, ignores the due diligence any investment requires. This can lead to the acceptance of much lower-rated securities, a major extension of duration or accepting securities that appear to have a high current yield, which instead is partly a return of capital.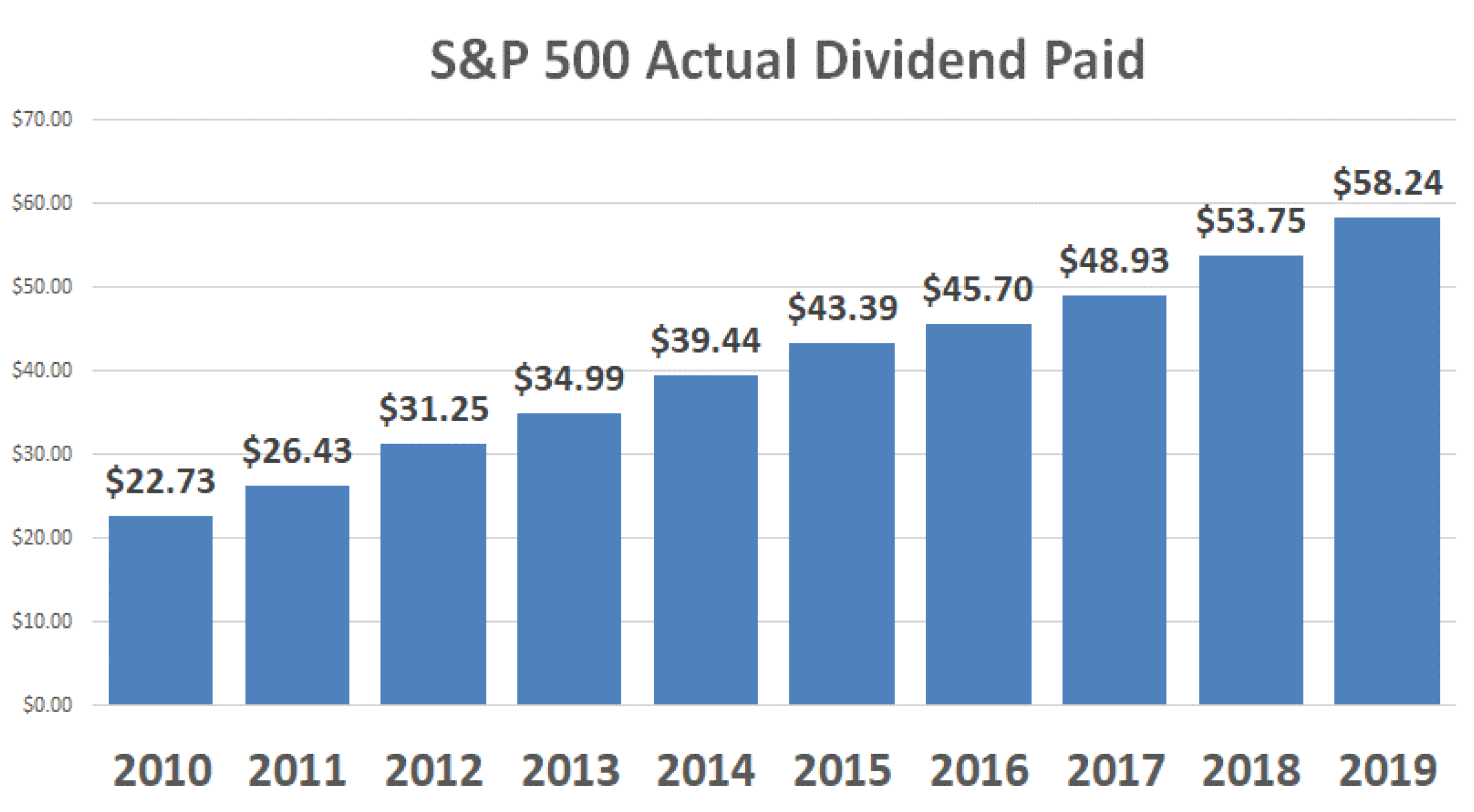 We fully appreciate that a high current yield can be attractive, but for investors with a longer-term investment horizon, a different approach can make more sense.

It has been widely documented that dividends historically have comprised a significant portion of the total return investors might achieve from the equity market. For the most part, dividends have not been the percentage of total return in the recent past due to the large gain in stock prices, but dividend growth through the current bull market, nonetheless, has been impressive. The dividend for the S&P 500 grew 156% in the previous 10 years. Last year 361 S&P 500 companies raised their dividend while six initiated a dividend payment. Within the S&P 500, 423 companies (83.8%) paid some dividend last year.

The Standard & Poor's division of CFRA recognized attractiveness of dividend growth when it began the Dividend Aristocrats list that as part of its criteria required each member to have increased its dividend each year for at least 25 consecutive years. Of the 57 stocks in this group, 10 have raised their dividend for 50 or more consecutive years while 33 have a more than 40-year record of consecutive dividend increases.

As impressive as this is, it is not the whole story.

At the end of 2009, the yield on the 10-year Treasury note was 3.837%. Assuming an investor bought the note, the yield on their original cost was 3.837% throughout the period. Rolling into a new 10-year note on December 31, 2019, would produce the 1.99% rate on that date, which would remain fixed for the next 10 years.

Several examples from widely different industries dramatize what dividend growth can produce rather than seeking out only the highest current yield stocks.

In one example, dividend increases through the previous decade, provide a yield of 18.8% today on the original cost. In other words, an original $10,000 investment in the stock by the end of 2019 was producing $1,880.00 in annual current income. Investors in 2009 might have overlooked this stock since at that time its current yield was only 3.1%.

Another is a globally exposed company that at the end of 2019 had a current yield of 2.24%. Through dividend increases, this stock now produces a 19.2% yield on the original cost. A less dramatic example is a technology stock that as 2009 ended had a current yield of only 1.71% but today produces a 6.70% yield on the original cost.

These examples are only sampling of what dividend growth can do over time to alleviate the angst about the lack of good income alternatives in a low yield environment.

Finding appropriate dividend growth candidates is not a dart throw. It requires extensive due diligence that among many factors looks at a company's overall finances, payout ratio, free cash flow generation, industry characteristics and company's view on how best to compensate shareholders.

Even when all these and more fundamental factors are favorable, the biggest requirement for investors probably is the patience to allow dividend growth to produce the desired result. As the subtitle of this report points out, there will be a tomorrow.

An old cliché says that income ultimately is the objective for all investors. The only consideration is when – now or later. If you have a horizon that allows your income need to be later, patience and solid research can relieve the angst impatient investors feel when income generation is challenging.

Contact your Janney Financial Advisor for more details on what might be suitable to achieve your income needs.

Disclaimer
Past performance is no guarantee of future performance and future returns are not guaranteed. There are risks associated with investing in stocks such as a loss of original capital or a decrease in the value of your investment. This report is provided for informational purposes only and shall in no event be construed as an offer to sell or a solicitation of an offer to buy any securities. The information described herein is taken from sources which we believe to be reliable, but the accuracy and completeness of such information is not guaranteed by us. The opinions expressed herein may be given only such weight as opinions warrant. This Firm, its officers, directors, employees, or members of their families may have positions in the securities mentioned and may make purchases or sales of such securities from time to time in the open market or otherwise and may sell to or buy from customers such securities on a principal basis.
About the author