Financial markets take their cue from dovish guidance, strong muni performance, and the election's impact on the market are included in this month's Investment Perspectives.
As enthusiasm fades, the risk of a pullback is high.
Explore the major issues fixed income faces this year.
Will it be another flat February for stocks?
Shifting from a positive monetary impulse to growth - Mark Luschini
Bond yields have mostly trended sideways during the past few weeks, even as the S&P 500 surged. The result is that a wide gulf has opened up between the rise in stock prices and the yield on longer-term government bonds.

At a time like this, it becomes popular to ask whether the stock market or bond market is "right." In other words, are equities bound to sell off and re-converge with bonds? Or conversely, will the stock market rally pull bond yields higher as investors interpret the message from stocks as one of better growth ahead?

Euphoric Sentiment Moderates
In the very near term, we think the risk of a pullback in stocks is high. Not that we expect a bear market to ensue, but rather a normal corrective process that unwinds some of the unbridled enthusiasm investors have recently exuded.

Otherwise, our view is that both the equity and bond markets are responding rationally to an economic environment characterized by abundant central bank liquidity and a recovery in global growth that has yet to develop in a convincing fashion.

Technology Sector Behind the Rally
Indeed, as we look at the relative performance of different equity sectors, we note that Technology stocks are responsible for the bulk of the recent rally. Meanwhile, economically sensitive sectors, such as Industrials, Energy, and Materials, have lagged and performed more in line with the classically defensive sectors. This is consistent with an environment of depressed global growth and plentiful central bank liquidity mixed with low yields.

Many technology firms are notorious for being cash rich; their stocks trade off the promise of cash flows they expect to generate in the future. In a sense, investors often think of these stocks as long-duration assets whose prices are very sensitive to the discount rate that, when applied to those cash flows, determines a prospective price target. The Federal Reserve's highly accommodative interest rate guidance is a principal reason for the Technology sector's outperformance.

In contrast, cyclical equity sectors—such as Materials, Industrials, and Energy—are less sensitive to monetary policy. Because of their capital intensity and leverage, they are more geared toward global economic growth. We judge that these sectors have lagged because global growth has yet to put in a decisive bottom, or at least one that is undisputable in the eyes of the majority of market participants.

Consistent Performance Across Asset Classes
Like cyclical equity sectors, Treasury yields are highly sensitive to trends in global growth.

In fact, the 10-year Treasury yield tends to track closely to the relative performance of cyclical versus defensive equity sectors. This stands to reason, as periods where cyclical industries are performing well coincide with economic growth that is sturdy and/or accelerating. In such periods, yields rise as investors expect such growth to breed a tighter monetary setting and heightened risks of inflation.

Interestingly, the performance of another often-overlooked asset class—commodities—is also consistent with this picture. Gold has rallied sharply, something that often results from a shift toward more dovish monetary policy, while the growth-sensitive Commodity Research Bureau (CRB) Raw Industrials Spot Market Price Index has only just begun to perk up.

Why a CRB Rise Matters
Historically, bond yields tend to rise when gains in the CRB index start to outpace those of gold. Since that is not yet the case, the low yield sported by government bonds while stock prices are reaching all-time highs, is congruent.

Monetary policy and global growth are most often linked by way of the circular loop of responses generated by one to the other.

In the current environment, we know the Federal Reserve lowered interest rates three times last year after growth had showed some signs of weakening, and the economic threat around the issue of trade loomed. In turn, the financial markets responded to this shift in monetary conditions. Those investments, such as Technology stocks and gold, are rallying in reaction to a looser rate setting and lower yields.

Improvement Abroad
What should follow, in our view, is an unambiguous rebound in global growth indicators.

Some, like manufacturing reports from China to Europe, have already started to improve. A few more have improved more earnestly than others have, but collectively the evidence is increasingly positive.

As the investment community adopts a more coherent view that this turn for the better is likely to persist, then the fundamental support for stocks will align with higher prices, and potentially for bond yields to follow.

The Bottom Line
Financial markets have taken their cue from the dovish guidance propagated by monetary officials. Asset prices that are most sensitive to monetary policy are rallying strongly, but if past is prologue, that same accommodative policy will soon lead to a rebound in global growth indicators and support a further advance in equity prices accompanied by better participation from the cyclical sectors.

Four key issues facing fixed income - Guy LeBas
One full month into 2020 and we can already say what the top issues for fixed income will be this year:

Bank balance sheet capacity
Credit market volatility
Fed "insurance"
Municipal market flows
Of course, there are always surprises—the coronavirus-triggered bout of risk aversion in the global markets proves this. Nevertheless, in what has become a tradition, this article will focus on the major factors we foresee affecting fixed income performance through the remainder of the year.

Bank Balance Sheet Capacity
We have discussed the topic of bank balance sheets becoming "stuffed" with U.S. Treasuries since mid-2019. For both profitability and practical reasons, large U.S. banks have been adding massive amounts of Treasuries to their balance sheets. There are, however, limits to these additions.

At some point, capital and liquidity limits will force the banking sector to choose between adding more Treasuries and lending to the private sector.

The tipping point could be as early as the second quarter of 2020. If bond purchases crowd out private-sector lending capacity, credit conditions will deteriorate. For the bond markets, we would see this trend as underperforming high yield corporate bonds and leveraged loans.

Greater Volatility of Credit Spreads
Market response to the spreading coronavirus and its economic impact have been particularly swift. Human tragedy aside, there are significant economic risks from the virus and particularly the quasi-quarantine in Chinese provinces.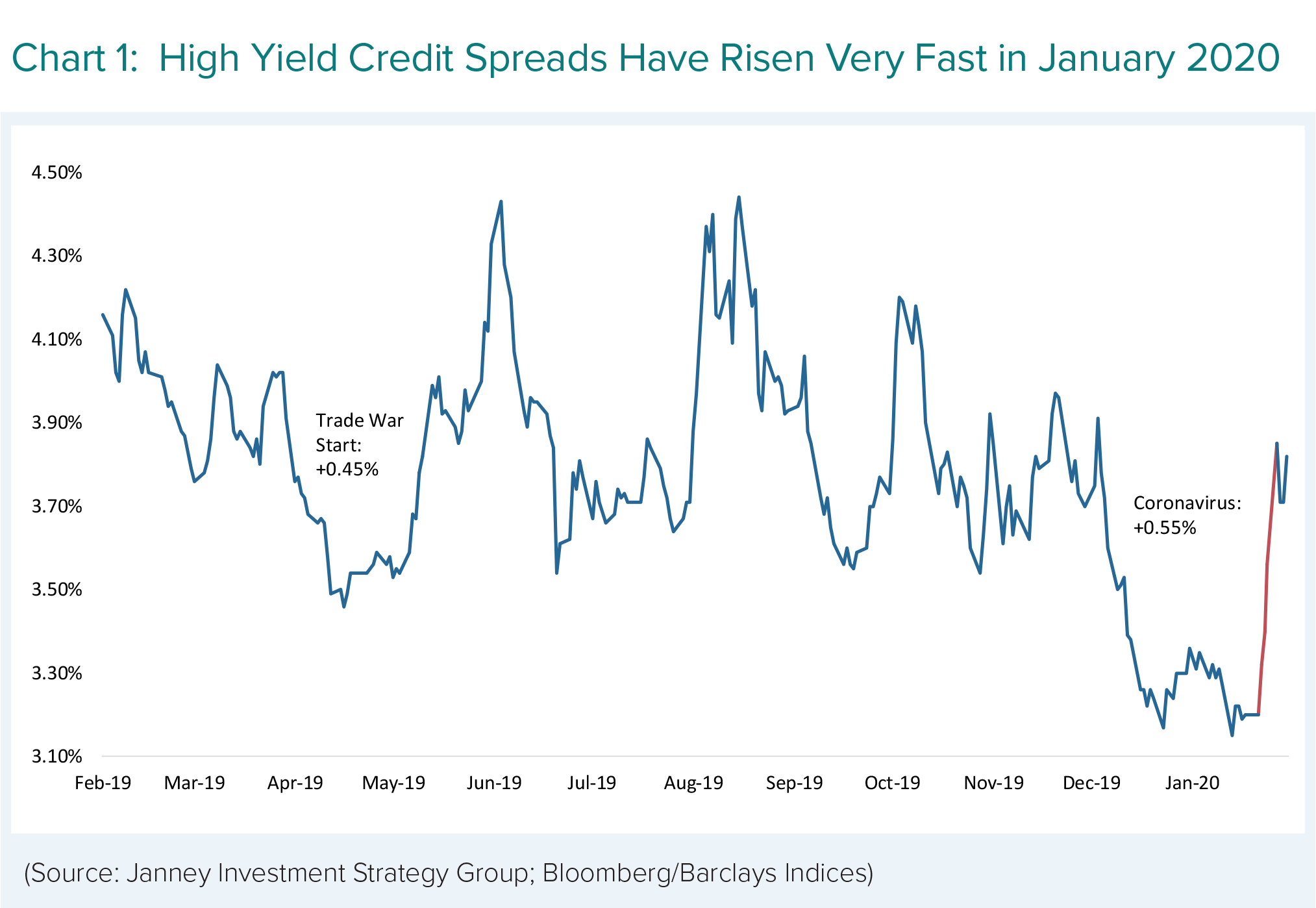 As the economic risks increased, high yield credit spreads (a measure of financial conditions) widened more than 0.55% within a single trading week. That is an unusually rapid and large response to this sort of economic risk.

In fact, it only took about a 1% widening in spreads to get the Fed's attention in May 2019. What the widening so far in 2020 suggests is that credit markets are increasingly sensitive to downside risks.

Fed "Insurance"
The Federal Reserve provided three "insurance" rate cuts in 2019, ostensibly in response to trade tensions, ongoing low inflation, and weakening financial conditions.

While trade tensions are fading, inflation remains well below the Fed's 2% target, and the aforementioned bank balance-sheet issues could threaten financial conditions once again.

The Fed's willingness to provide insurance in the face of weakening financial conditions, and their messaging around any insurance, will probably be the driver of interest rates in 2020.

Tax-Exempt Muni Flows
In 2019, there was a relentless inflow of new money into municipal bond mutual funds, exchange-traded funds (ETFs), and individual bond investment strategies. That inflow, coupled with moderate supply, has helped tax-exempt muni markets perform extremely well, even as compared to other fixed income markets.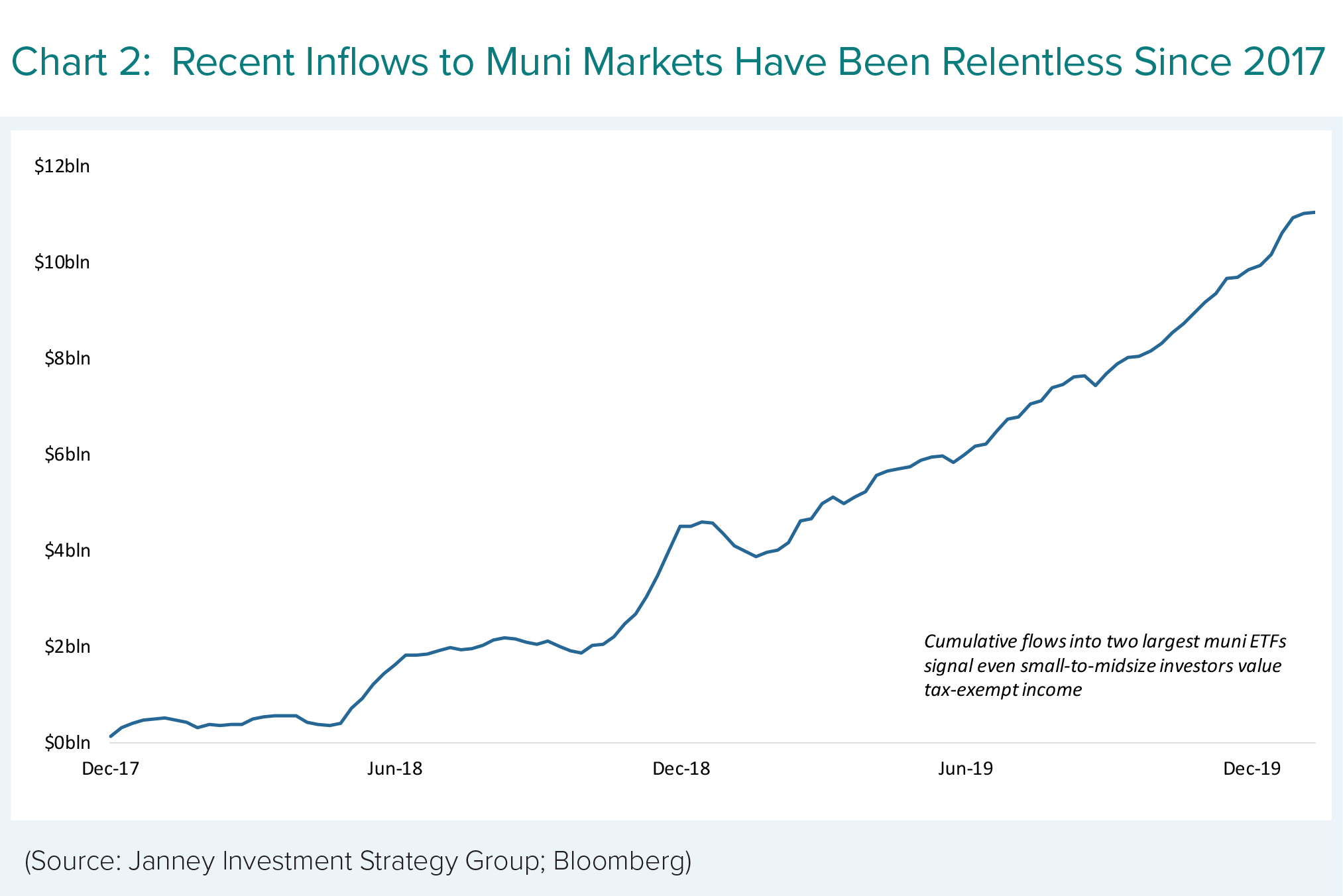 Last year's equity returns, strong consumer income growth, and ongoing effects from the 2017 State and Local Tax (SALT) deduction limits should help support flows again, at least through April 2020. As such, we expect to see strong muni performance to kick off this year, but performance is very sensitive to these sources of demand and a slowdown of consumer income growth (we are not forecasting a significant one) could put an end to this run of muni outperformance.

Stocks take a detour - Greg Drahuschak

The coronavirus outbreak blunted what had been a rigorous start to 2020.

As detailed in the Janney Investment Strategy Group report, Coronavirus Impact on Stocks Likely Short-Term, similar health scares in the past did not materially affect the equity markets. However, the concern that it might be different this time weighed on stocks.

Market Was Ripe for a Pullback
The equity market in late January was predisposed for a pullback. The S&P 500 and Nasdaq Composite Index were extended and notably overbought after rushing more than 3% above the December 31, 2019 close in just 16 days. This posture suggested that any negative news could prompt a selloff.

The price of crude oil and bond yields reacted sharply to the virus outbreak. The price of West Texas Intermediate (WTI) crude fell to its lowest level since August 7, 2019. Safety buying sent the yield on the 10-year Treasury note to as low as 1.519% from 1.971% last November.

Despite indications from health officials that the virus will not be a major U.S. health event, the equity market remained concerned that the events could weigh on the Chinese economy and affect global commerce.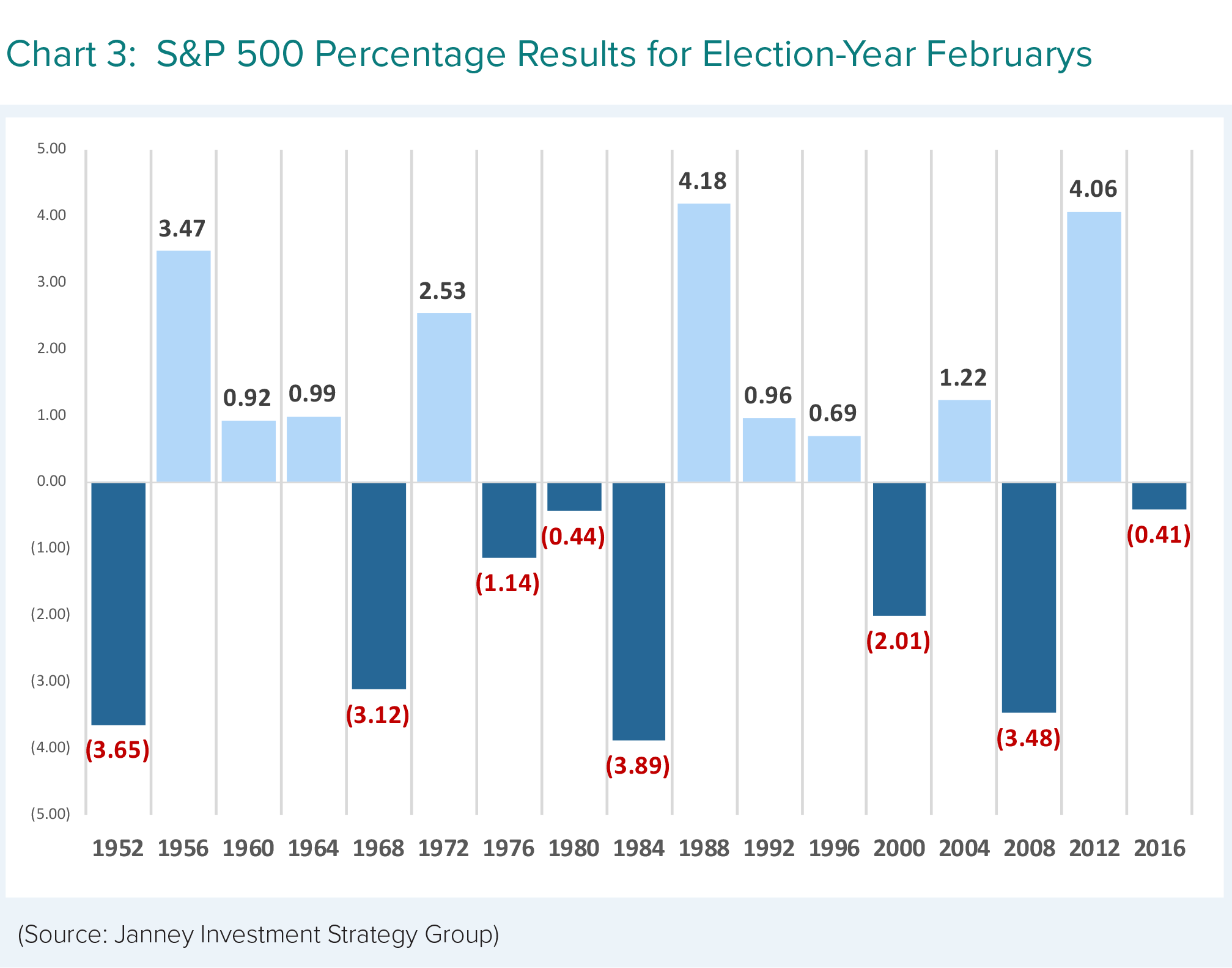 Another Flat February?
The month of February in election years since 1950, on average, produced flat market results, with the Dow Jones Industrial Average down 10 of the possible 17 years while the S&P 500 had a fractional gain nine times.

As Chart 3 illustrates, however, this masks the fact that in election-year Februarys, the market can be volatile.


Earnings to Fill in Picture
Earnings reports will remain a major market issue. By the end of January, 45% of the companies in the S&P 500 had reported calendar fourth-quarter results. Of these firms, 69% beat earnings expectations versus the 72% five-year average.

Nonetheless, at the $174.28 S&P 500 estimate for 2020, the market is capitalizing these earnings at a level not seen since 2002. The Technology sector is the most liberally valued at 22.9 times earnings, which is about 6% above the 20-year average.

The Consumer Discretionary, Utilities, Consumer Staples, Real Estate, and Communication Services sectors are all above the S&P 500 earnings multiple. The Financials sector has the lowest earnings multiple, but it still is 7% above its 20-year average. The Utilities and Consumer Staples sectors are 42% and 21%, respectively, and above their average multiples through the past 20 years.


Signs of Growth in Europe May Help U.S. Corporate Earnings
Europe may have major relevance to 2020 corporate earnings. U.S. multinational companies derive a major portion of their earnings from business in Europe. Signs of improvement in the region are surfacing. If realized, this could serve to boost U.S. corporate earnings.


The Election Question
Although February in election years at times has been volatile, the market tends to be flat until the months nearing the election. The charts that follow show the S&P 500 pattern for each election year since 1980.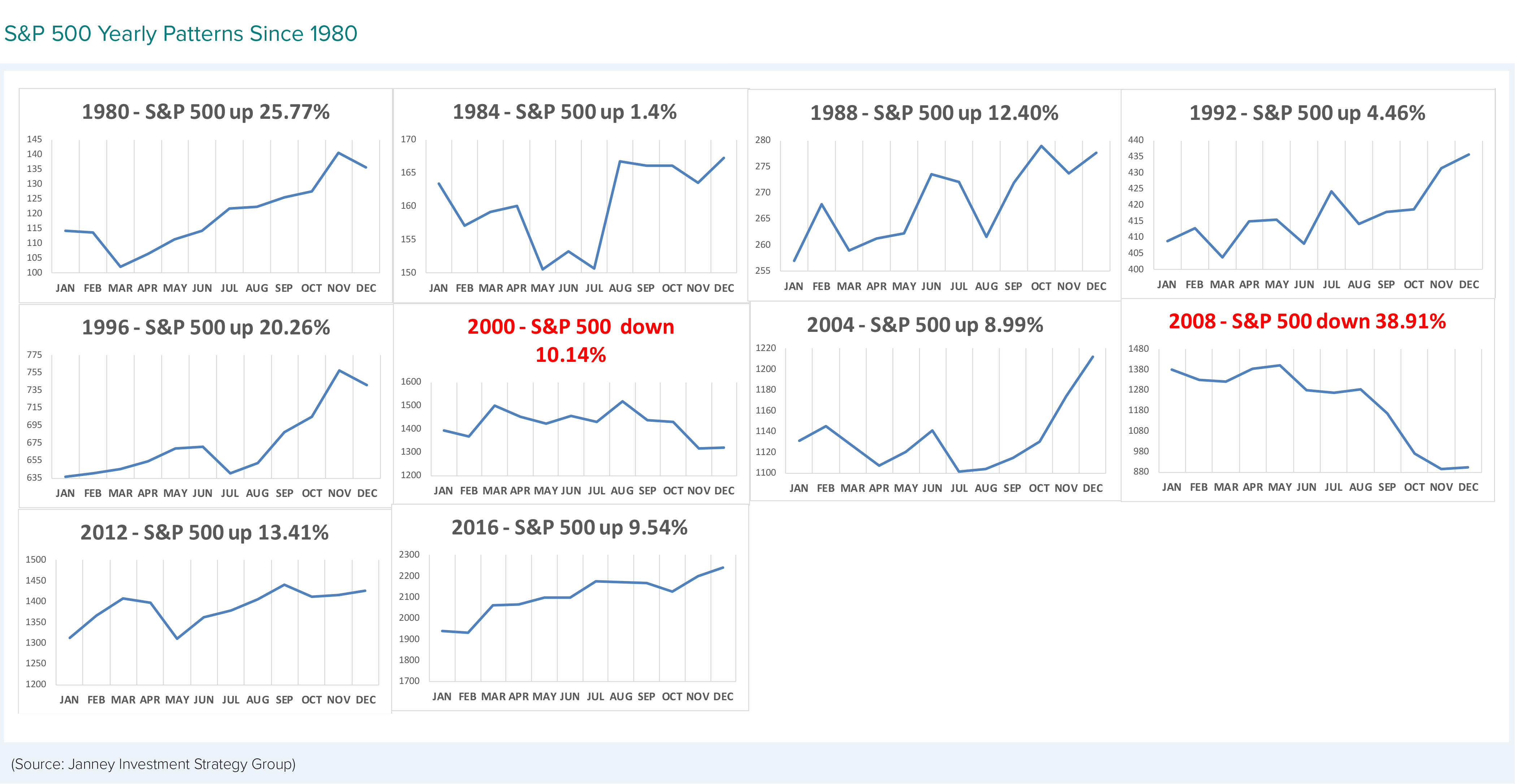 The information herein is for informative purposes only and in no event should be construed as a representation by us or as an offer to sell, or solicitation of an offer to buy any securities. The factual information given herein is taken from sources that we believe to be reliable, but is not guaranteed by us as to accuracy or completeness. Charts and graphs are provided for illustrative purposes. Opinions expressed are subject to change without notice and do not take into account the particular investment objectives, financial situation or needs of individual investors.

The concepts illustrated here have legal, accounting, and tax implications. Neither Janney Montgomery Scott LLC nor its Financial Advisors give tax, legal, or accounting advice. Please consult with the appropriate professional for advice concerning your particular circumstances. Past performance is not an indication or guarantee of future results. There are no guarantees that any investment or investment strategy will meet its objectives or that an investment can avoid losses. It is not possible to invest directly in an index. Exposure to an asset class represented by an index is available through investable instruments based on that index. A client's investment results are reduced by advisory fees and transaction costs and other expenses.

Employees of Janney Montgomery Scott LLC or its affiliates may, at times, release written or oral commentary, technical analysis or trading strategies that differ from the opinions expressed within. From time to time, Janney Montgomery Scott LLC and/or one or more of its employees may have a position in the securities discussed herein.
About the authors