Fixed income assets can provide crucial benefits to investment portfolios. While income generation is important, holding bonds also helps reduce overall portfolio risk and opens up opportunities for reallocation if equity markets falter.
Interest rates are low. That's hardly news. One of the primary results of lower interest rates is that bond returns have been excellent, but that new money invested into the bond markets generates less income.

The trend is more than just bond-centric, however. Over time, nearly all income-generating assets, such as dividend-paying equities, annuity contracts, and even real estate investments, have seen their income capacity decline.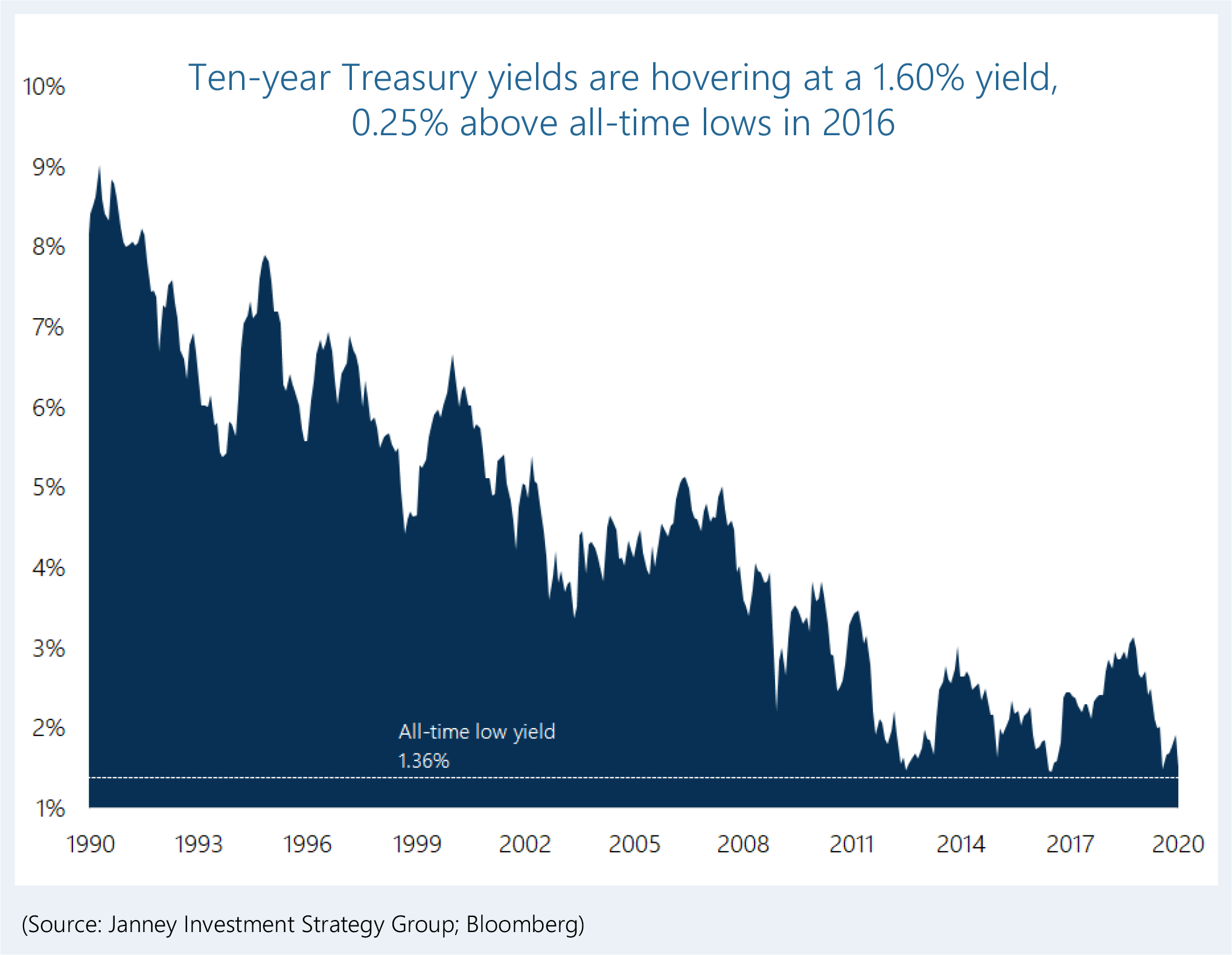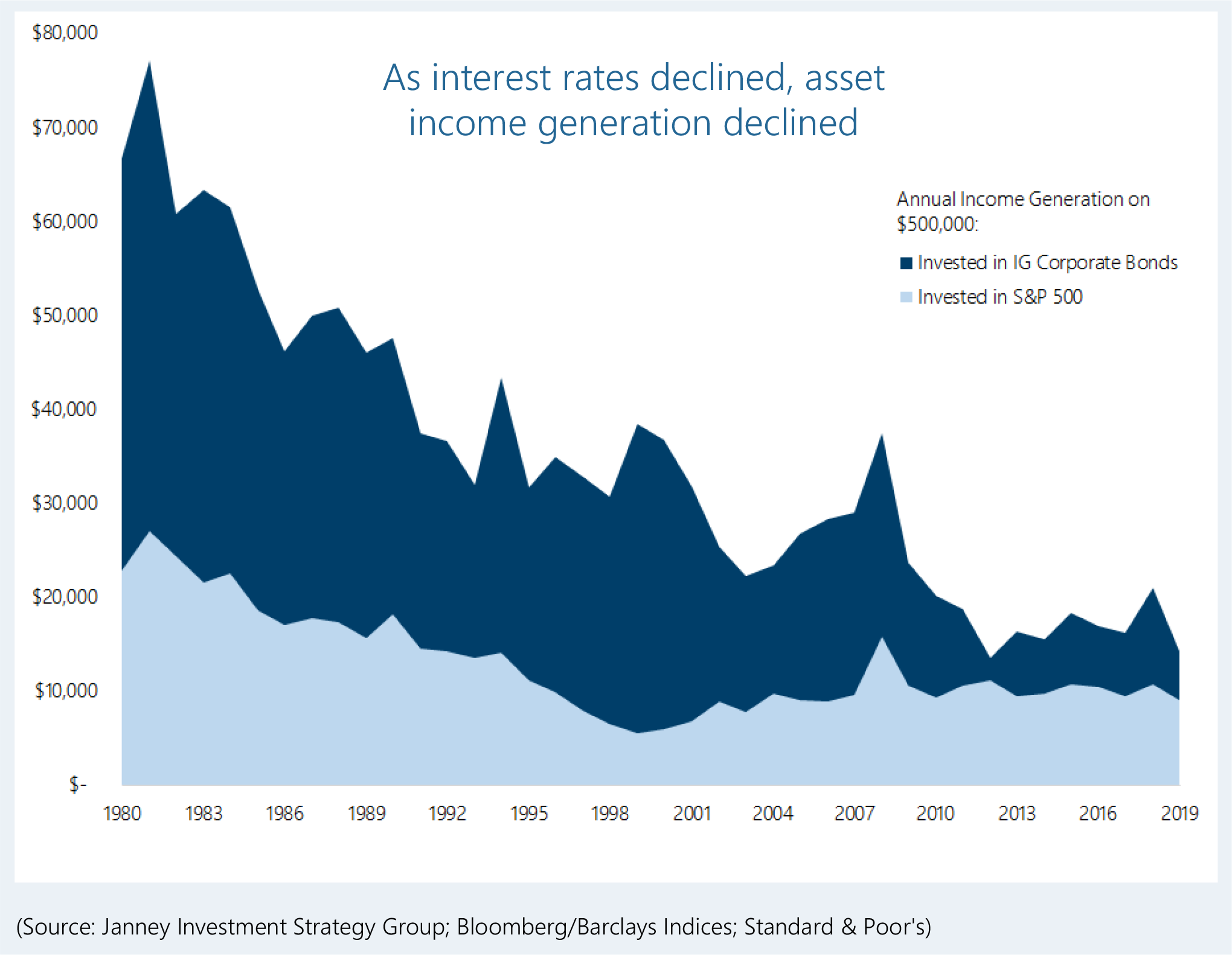 The Benefits of Bonds
From a portfolio standpoint, the purpose of owning bonds is several fold:

Bonds generate income;
Bonds provide diversification to cushion swings in stock markets (and, allow for counter-cyclical investing);
Bonds provide greater certainty for investors with fixed time horizons.
Granted, fixed income investments do not generate as much income as they used to, but these assets still hold a crucial place in investment portfolios for their diversification and time certainty benefits. Those benefits are more important considering steep valuations in many other asset classes.

Income Generation
In early 2020, a diversified portfolio of investment-grade corporate bonds has a yield of roughly 2.60%. In 2010, that same number was 4.00%. Ten years before that, in 2000, the number was nearly 7.40%!

Another way to view this change is that for a diversified portfolio of higher-quality bonds, income generation has been declining for the past 20 years. Declining interest rates are a good thing for the market value of an existing bond portfolio, but they reduce income generation going forward. Many income-hungry buyers have reached out on the risk spectrum, buying high-yield or even emerging market securities to boost income. While investments farther out in the risk spectrum do generate additional income, they actually negate a major benefit of fixed income ownership: Risky bonds tend to correlate with stock portfolios.

Diversification
Diversification is the second-oldest investing lesson (second only to the whole buy low/sell high thing), and the underlying concept is quite simple. Diversification boils down, in a statistical sense, to a non-correlated asset.

A portfolio of stocks and a portfolio of bonds both have expected positive returns over time, but they do not move in sync in the short term. When stock prices fall in response to, say, a negative economic development, bond prices generally rise. Owning some of each provides a measure of protection and a diverse portfolio tends to have smaller swings in market value.

The other less-heralded benefit of diversification is that it opens up opportunities for rebalancing that can boost returns. Envision a scenario in which U.S. equity markets decline -20% (such a decline is outside our forecast; consider it an example only). In this scenario, high-quality longer-term bonds' value will have likely increased, perhaps as much as +7%, as was the case with the 30-year Treasury bond when equity markets fell in late 2018. If, in this scenario, an aggressive investor with a 75% stock / 25% bond portfolio has a 1.8% gain on bonds they can reinvest into now-cheaper stocks.

As a rule of thumb, holding a significant portion of high-quality, long-term fixed income assets makes the most sense when equity valuations are relatively high. The level of interest rates and the income generation is a secondary concern.

Time Horizon Certainty
The third role of fixed income is to provide a certain value at a certain point in time. There are a number of reasons one might want that certainty—paying for college tuition and retirement are two common ones—but time horizon risks can take many forms.

"Time horizon risk" is in itself a strange phrase. Imagine a certain need for $25,000 on January 1, 2030. Having $26,000 to meet that need on that day is nice, while having $24,000 is financially disastrous (again, the reason is not important). In other words, there is a high need for time horizon certainty.

Fixed income assets are uniquely useful for reducing these types of asymmetric risks, especially ones that have an associated date. The fixed maturity value of a high-quality bond (or a portfolio of high-quality bonds) provides a high degree of confidence that an investor can meet his or her exact cash needs on an exact date.

Investors with requirements based on a certain time horizon should hold generally individual bonds rather than an exchange-traded fund (ETF), mutual fund, or other packaged portfolio. Individual bonds with individual maturity dates provide greater certainty against time horizon risks than does a packaged portfolio with a value that can rise or fall on any given day.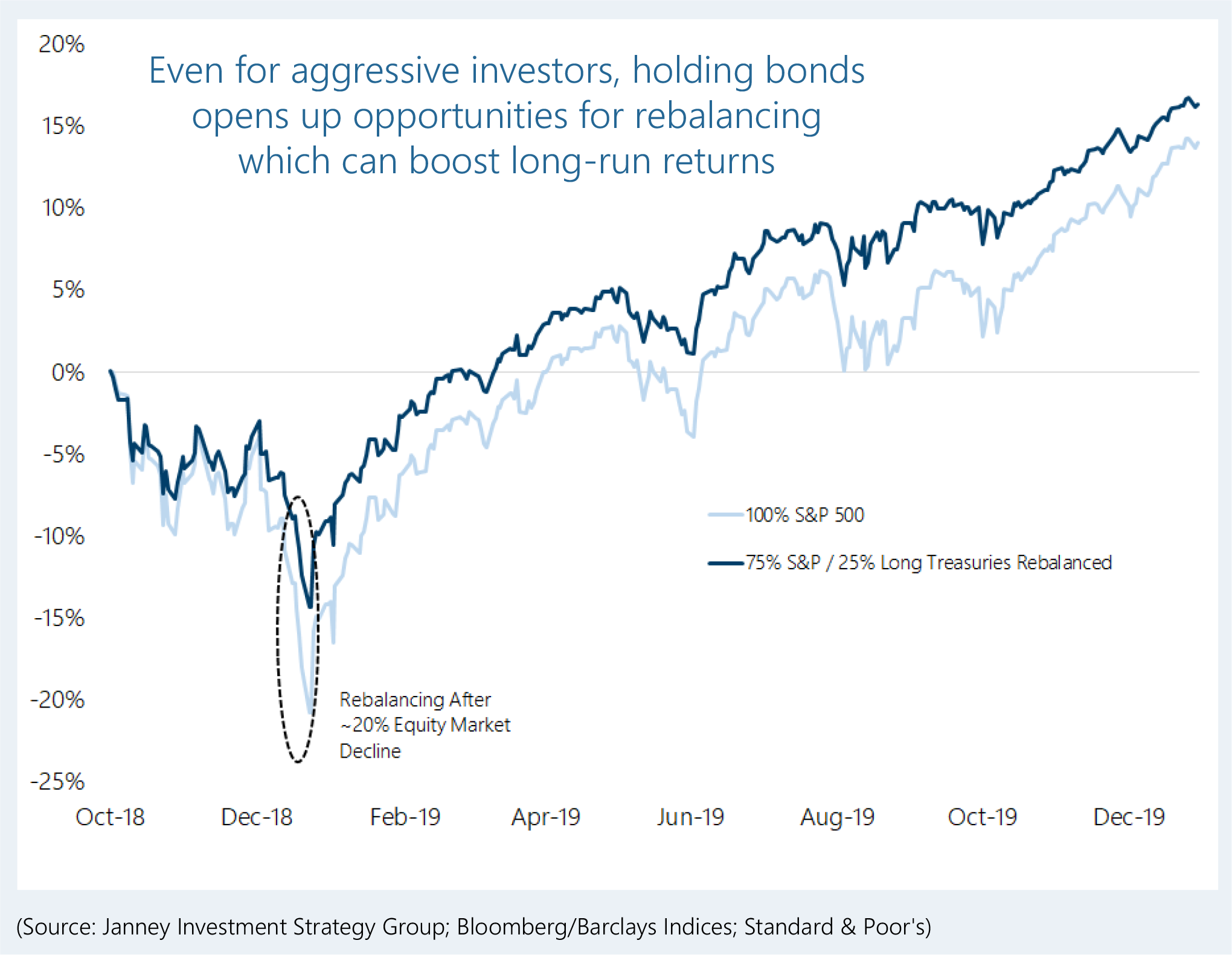 Summary
Interest rates are indisputably low in the U.S. and across the globe. While falling rates helped boost asset values for investors in the past, today it takes significantly more assets to generate the same amount of income as 10 or 20 years ago.

Lower income generation does limit long-term returns for fixed income investors, but it does not detract from the diversification or time horizon benefits of holding highquality fixed income as a significant portion of an overall asset allocation.

Analyst Certification I, Guy LeBas, the Primarily Responsible Analyst for this report, hereby certify that all of the views expressed in this report accurately reflect my personal views about any and all of the subject sectors, industries, securities, and issuers. No part of my compensation was, is, or will be, directly or indirectly, related to the specific recommendations or views expressed in this research report.

Janney Montgomery Scott LLC ("Janney") Debt Research Disclosure Legend
Janney may seek compensation for investment banking services for any company in this report in the next 3 months. The research analyst is compensated based on, in part, Janney's profitability, which includes its investment banking revenues. Additional information available upon request.

Disclaimer
Janney or its affiliates may from time to time have a proprietary position in the various debt obligations of the issuers mentioned in this publication. Unless otherwise noted, market data is from Bloomberg and Janney Investment Strategy Group (Janney ISG). This report is the intellectual property of Janney Montgomery Scott LLC (Janney) and may not be reproduced, distributed, or published by any person for any purpose without Janney's express prior written consent. This report has been prepared by Janney and is to be used for informational purposes only. In no event should it be construed as a solicitation or offer to purchase or sell a security. The information presented herein is taken from sources believed to be reliable, but is not guaranteed by Janney as to accuracy or completeness. Any issue named or rates mentioned are used for illustrative purposes only, and may not represent the specific features or securities available at a given time. Preliminary Official Statements, Final Official Statements, or Prospectuses for any new issues mentioned herein are available upon request. The value of and income from investments may vary because of changes in interest rates, foreign exchange rates, securities prices, market indexes, as well as operational or financial conditions of issuers or other factors. Past performance is not necessarily a guide to future performance. Estimates of future performance are based on assumptions that may not be realized. We have no obligation to tell you when opinions or information contained in Janney ISG publications change. Janney Investment Strategy Group does not provide individually tailored investment advice and this document has been prepared without regard to the circumstances and objectives of those who receive it. The appropriateness of an investment or strategy will depend on an investor's circumstances and objectives. For investment advice specific to your individual situation, or for additional information on this or other topics, please contact your Janney Financial Consultant and/or your tax or legal advisor. Investing in high yield bonds entails significant risk. Please read additional information and disclosures about these risks prior to purchasing any high yield security.
About the author