The Federal Open Market Committee (FOMC) announced an emergency inter-meeting interest rate cut, the first such action since the early phases of the global financial crisis.
Federal Reserve policymakers reduced their target range for overnight interest rates by 1/2 percentage point to 1%-1.25%, which is twice the size of "typical" 0.25% moves. Both the magnitude of the rate cut and its urgency (coming before March's scheduled policy meeting) signal that the Fed is providing an unusual amount of stimulus to support the U.S. economy and financial markets. However, the action comes at a time with significant evident risks for economic activity and corporate profits.

Fed rate cuts are not by themselves enough to ensure calm financial markets, particularly when it comes to risky asset prices.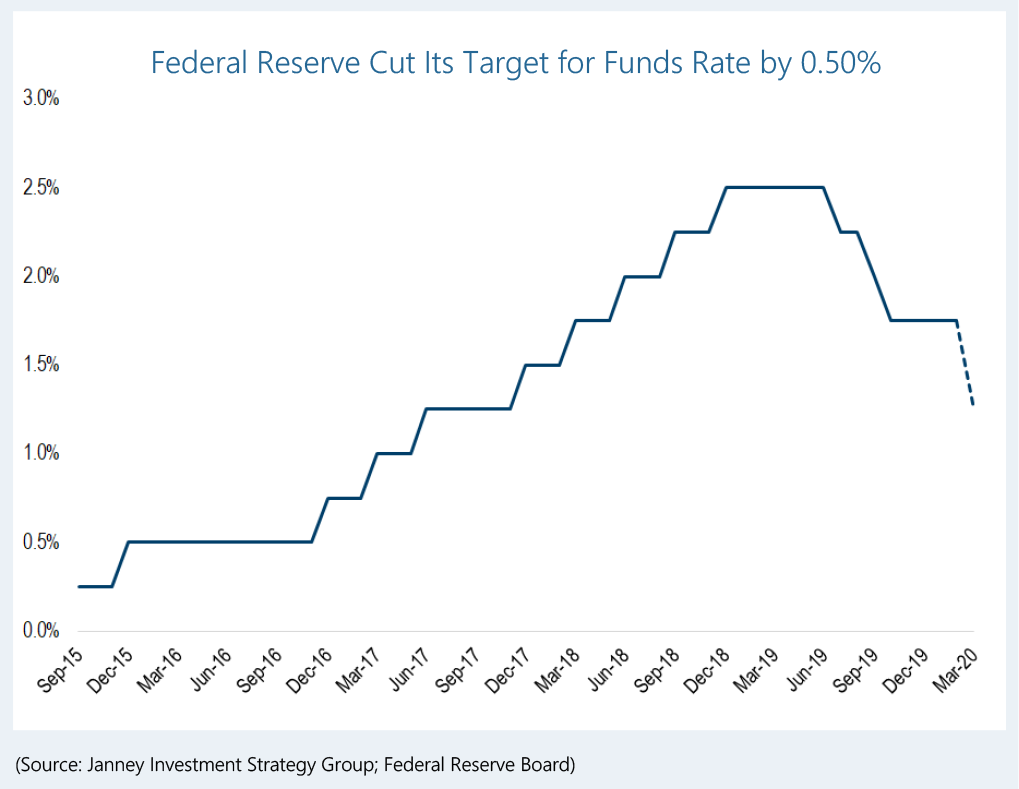 Cut is a response Coronavirus impact

The Federal Reserve seeks to support economic growth and target inflation by affecting monetary policy. Most of the time, their main tool for monetary policy is changing overnight interest rates. Lower rates provide stimulus, while higher rates fight inflation. That is the theory anyway.

Since the economic impacts of the coronavirus are potentially significant, policymakers have elected to cut interest rates to support economic growth.

In addition, adding liquidity to the financial markets with lower interest rates and other measures also helps ensure the free flow of lending, or credit, which is a crucial piece of the U.S. economy. One legitimate worry is that fear of the coronavirus' unknown economic repercussions will freeze up lending markets. When lenders are confident that they will have ample liquidity, they are likely to lend more freely and at lower interest rates. Finally, the Fed hopes that by providing support in an unusual way —the inter-meeting rate cut—they will send a psychological signal to markets, lenders, and the economy that they are capable of providing whatever support necessary.


One thing rate cuts will not do is address the underlying economic concern, social shutdown and economic damage stemming from fear of the coronavirus. That matter is left to the fiscal authorities, and Congress is in the process of crafting a sizable appropriations package to include spending on health care and other related items. It is not for the Federal Reserve to "fix" the economic problems brought on by the virus, but they can play an important role in ensuring that a credit pullback won't make economic conditions worse.

Portfolio positioning
Short-term bond markets began to anticipate Fed rate cuts last week. The net result was that short-term bond yields fell rapidly before the Fed announced anything. For example, yields on the benchmark two-year Treasury note have fallen to 0.84% on March 2 from about 1.40% just two weeks prior.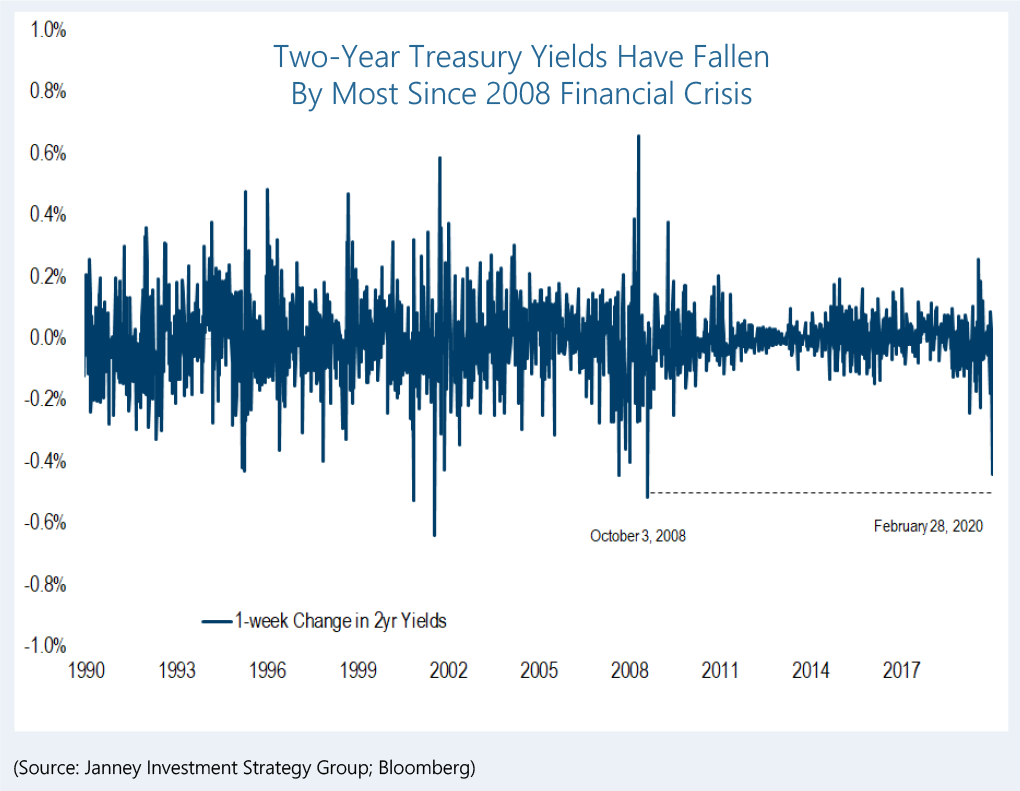 Yields on longer-term bonds are also lower, although by a smaller margin, with the 10-year Treasury yield coming down to a record low 1.08% yield on March 2. While longer-term yields are influenced by Fed policy, they should be less sensitive to changes in overnight interest rates, and may actually rise as the panicky buying of safe-haven assets subsides.

While markets for risky assets such as equities and high yield bonds are extraordinarily volatile right now, valuations of risky assets are undeniably cheaper. One of the key questions for the next several weeks and months is whether the stimulative effect of Federal Reserve (and other central banks) policy easing can overcome the economic and profit losses for the U.S. No one knows the answer with certainty, but given our outlook, now is not the time to be buying longer-term high-quality bonds, as satisfying as buying safety can seem. It might, however, be a good time to take some gains and reallocate those funds to other risky asset classes whose values have fallen.

This report is produced by the Janney Investment Strategy Group (ISG). It is the intellectual property of Janney Montgomery Scott LLC (Janney) and may not be reproduced, distributed, or published by any person for any purpose without Janney's express prior written consent. This report is to be used for informational purposes only. In no event should it be construed as a solicitation or offer to purchase or sell a security. The information presented herein is taken from sources believed to be reliable, but is not guaranteed by Janney as to accuracy or completeness. Any issue named or rates mentioned are used for illustrative purposes only, and may not represent the specific features or securities available at a given time. Preliminary Official Statements, Final Official Statements, or Prospectuses for any new issues mentioned herein are available upon request. The value of and income from investments may vary because of changes in interest rates, foreign exchange rates, securities prices, market indexes, as well as operational or financial conditions of issuers or other factors. Past performance is not necessarily a guide to future performance. For investment advice specific to your situation, or for additional information on this or other topics, please contact your Janney FA and/or your tax or legal advisor.

About the author