Janney's Investment Strategy Group has maintained a negative disposition for the high yield corporate bond markets for some time now.
The basis of that position was not about large economic or corporate profitability risks, but rather valuations: Spreads, a measure of the incremental income from a riskier bond as compared to a safe one, were very narrow based on historical standards. In other words, while fundamental measures of risk in high yield bonds were generally low, investors were simply not being paid for taking those risks.


Spreads on high yield bonds widen
Astute readers may notice the past-tense tone of the introductory paragraph. While high yield spreads were narrow heading into 2020, they have widened considerably in February. For owners of high yield bonds, mutual funds, or exchange-traded funds (ETFs), that has been a painful experience for market values. At the February lows, the high yield index was down more than 2.5% on the year. For prospective buyers of high yield bonds or funds, however, valuations are now considerably cheaper. Considering the Federal Reserve's support for liquidity conditions, an economic outlook that is still mainly stable (although risks are growing), and above-average corporate balance sheet health, the high yield sector is looking at least somewhat attractive.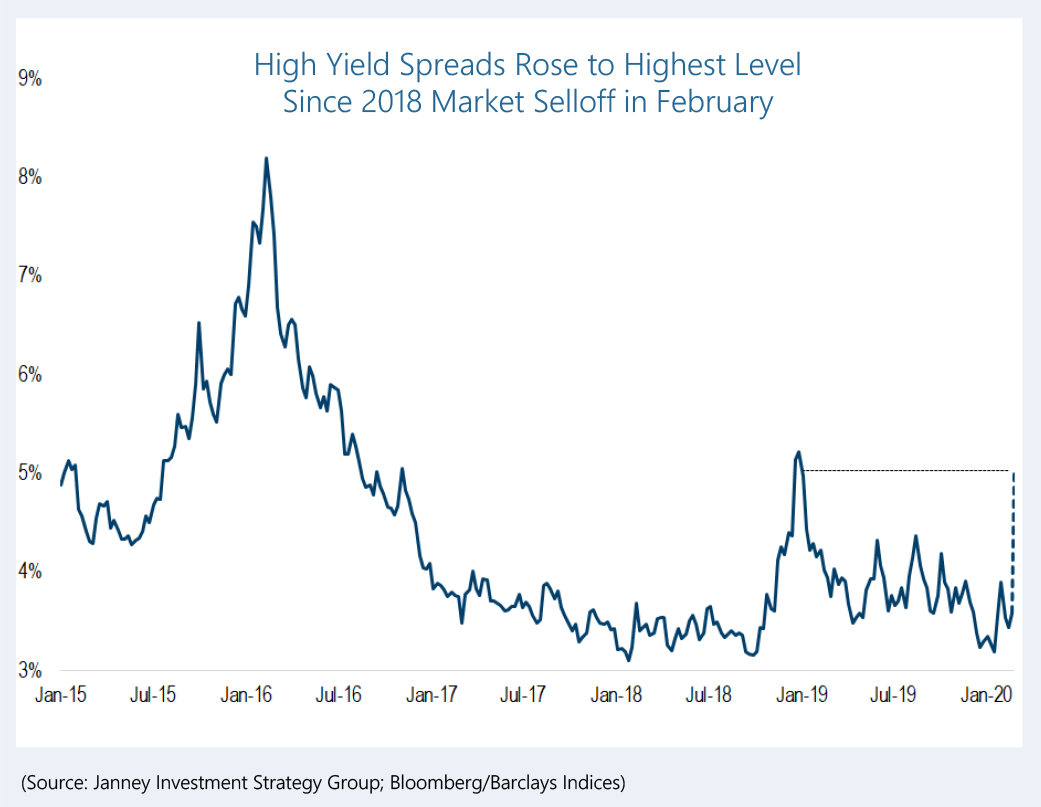 As of February 28, spreads on high yield bonds rose to 5%, or 500 basis points, above similar maturity Treasuries. That spread represents the widest level since the equity and high yield selloff in December 2018, which proved to be the best buying point for high yield in more than two years. In many respects, the late-2018 market selloff echoes today's, both in the rapidity with which it emerged and the change in Federal Reserve policy which slowed the selling.

While it is impossible to pick the cheapest entry point—akin to calling a bottom in an equity market selloff—the risk/reward tradeoff becomes far more appealing the wider that spreads move. The reason is a simple one, just as narrow spreads mean investors are not being paid for taking risks by owning high yield, wide spreads mean investors are being paid.

Investors Covered
With high yield spreads at 500 basis points, investors in the high yield sector as a whole are essentially "covered" against defaults of the underlying bonds of up to 28% in the next five years, assuming a conservative recovery on those bonds that do defaults. Even in a downside economic scenario, it seems extraordinarily unlikely that one-quarter of the high yield universe will fail to repay their bonds. Even at its worst in 2009, the one-year high yield default rate among Moody's-rated bond issuers only reached 12% (the prior high was 10%), and there is no evidence of 2009-like risks emerging. In fact, the cumulative five-year default rate has only exceeded the 28% cushion currently priced in twice in history.

Fundamental credit quality is also more solid than typical at this point in the cycle.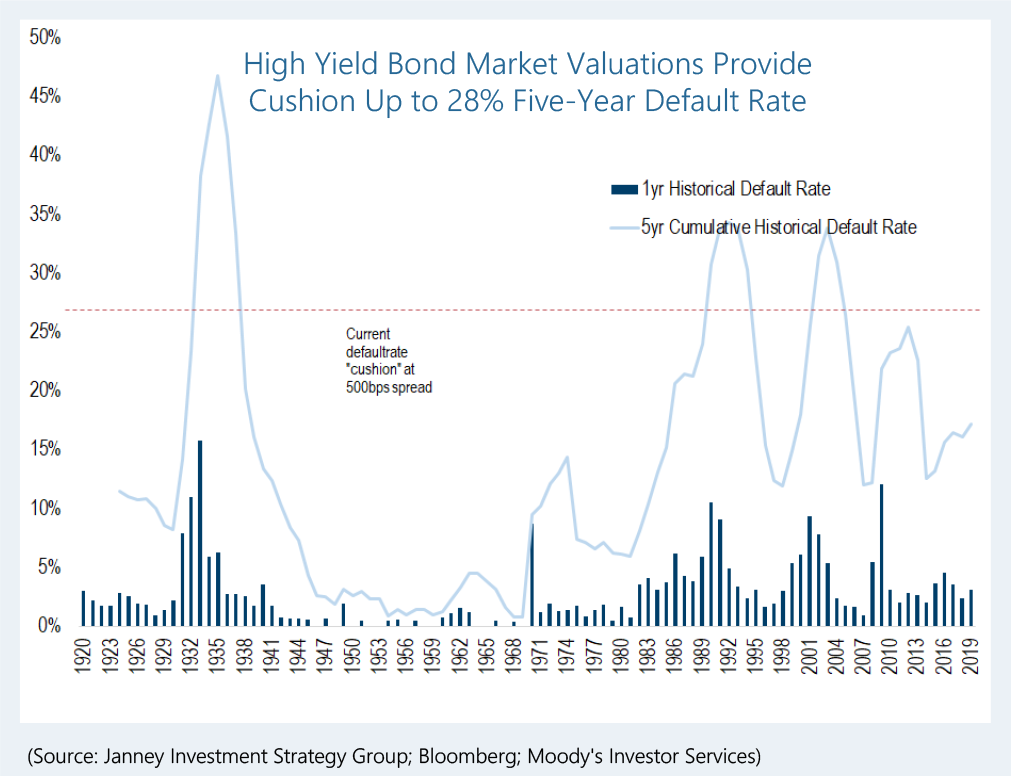 While much ink has been spilled about the greater amounts of high yield issuance, the weakening financial covenants, and the prominence of alternative financing sources, the reality is that most large high yield issuers actually face at least a moderately positive outlook. Perhaps the best evidence of such an outlook is that liquidity stress, a major indicator of default risk, is well below its long-term average.

Meanwhile, refinancing needs, which tend to peak before defaults, are only about average themselves. Low absolute interest rates meanwhile make it cheaper for high yield issuers to cover their debt service costs.


Summary
The high yield corporate markets are a volatile sector, and only appropriate for investors with significant risk tolerance. That said, valuations in the sector have come down significantly, and fundamental health across issuers remains reasonably positive. While we cannot predict with certainty whether high yield spreads will continue to widen (and the sector under-perform safe bonds), current valuations are, for the first time in more than a year, compelling. Compelling valuations exist, but other factors should inform the investment decision. But at current spreads, there is a reasonable amount of cushion to protect investors against an increase in defaults.

Analyst Certification
I, Guy LeBas, the Primarily Responsible Analyst for this report, hereby certify that all of the views expressed in this report accurately reflect my personal views about any and all of the subject sectors, industries, securities, and issuers. No part of my compensation was, is, or will be, directly or indirectly, related to the specific recommendations or views expressed in this research report.

Janney Montgomery Scott LLC ("Janney") Debt Research Disclosure Legend
Janney may seek compensation for investment banking services for any company in this report in the next 3 months. The research analyst is compensated based on, in part, Janney's profitability, which includes its investment banking revenues. Additional information available upon request.

Disclaimer
Janney or its affiliates may from time to time have a proprietary position in the various debt obligations of the issuers mentioned in this publication. Unless otherwise noted, market data is from Bloomberg and Janney Investment Strategy Group (Janney ISG). This report is the intellectual property of Janney Montgomery Scott LLC (Janney) and may not be reproduced, distributed, or published by any person for any purpose without Janney's express prior written consent. This report has been prepared by Janney and is to be used for informational purposes only. In no event should it be construed as a solicitation or offer to purchase or sell a security. The information presented herein is taken from sources believed to be reliable, but is not guaranteed by Janney as to accuracy or completeness. Any issue named or rates mentioned are used for illustrative purposes only, and may not represent the specific features or securities available at a given time. Preliminary Official Statements, Final Official Statements, or Prospectuses for any new issues mentioned herein are available upon request. The value of and income from investments may vary because of changes in interest rates, foreign exchange rates, securities prices, market indexes, as well as operational or financial conditions of issuers or other factors. Past performance is not necessarily a guide to future performance. Estimates of future performance are based on assumptions that may not be realized. We have no obligation to tell you when opinions or information contained in Janney ISG publications change. Janney Investment Strategy Group does not provide individually tailored investment advice and this document has been prepared without regard to the circumstances and objectives of those who receive it. The appropriateness of an investment or strategy will depend on an investor's circumstances and objectives. For investment advice specific to your individual situation, or for additional information on this or other topics, please contact your Janney Financial Consultant and/or your tax or legal advisor. Investing in high yield bonds entails significant risk. Please read additional information and disclosures about these risks prior to purchasing any high yield security.


About the author