Coronavirus concerns and election uncertainty caused waves in the economy and financial markets.
Despite positive economic indicators and sentiment, uncertainty surrounding the coronavirus remains.
We explore the recent decline in bond yields and tell what it means for the markets.
Effects of stock market drop lingers, but we are looking out for signs of a recovery.
Known Unknown - Mark Luschini
The U.S. 10-year Treasury bond yield is hitting all-time lows and the stock market is buckling under the "known unknown" that has been introduced by the outbreak of the novel coronavirus (COVID-19). This is occurring coincident with a range of positive developments, including improving business sentiment and rebounding global economic indicators that are gaining momentum.

The good news is the firming backdrop should help buffer the unavoidable economic impact the virus unleashes. The bad news is the situation remains too fluid to know how deep of a wound will be inflicted by it or how long it will last. If COVID-19 morphs into a global pandemic, then these nascent positives will disappear. Faced with mounting uncertainty, stocks could face additional downward pressure. However, if COVID-19 does not turn into a global pandemic, then equities should recover, perhaps even quickly.

Economic Outcome Still in Doubt
The year's outcome, both regarding the economy and financial markets, might be determined by the direction the COVID-19 outbreak takes more than anything else, including the upcoming presidential election. If it is contained, then global growth can recover after what will clearly be a dismal first quarter. However, if the recent uptick in cases outside of China continues to increase beyond the coming few weeks, we could encounter what might be a relatively short, but no less painful, recession as governments impose quarantines, businesses downshift activities, and consumer confidence shrinks.

Some research suggests global growth could be curtailed by 1% or more in the first quarter alone. That is sizable anytime, but particularly when growth forecasts for the year are just above 3%, according to the International Monetary Fund (IMF).

China was the virus' epicenter and it is going to experience a severe contraction, which will likely result in a negative quarter of growth. Since China accounts for almost 20% of global GDP and its imports account for 12.5% of the rest of the world's exports, its weakness has a ripple effect around the world. Yet as severe as the impact of COVID-19 will be, it will eventually pass.

Central Banks to the Rescue
Epidemics and natural disasters stop economic activity for a finite time, but they ultimately create pent-up demand that boosts economic growth in the quarters that follow.

Surveys of global purchasing managers show that inventory levels are rapidly falling around the world. A purge in inventory allows time for demand to build and when released, it can lend a significant boost to economic activity. Besides the expected recovery from a rebalancing of supply and demand, also improving the prospects for the post-COVID-19 rebound is the behavior of central banks, particularly in China and other emerging countries, which are easing their monetary settings. In addition, fiscal stimulus is expanding in many places such as Singapore, South Korea, Malaysia, Indonesia, and even Germany.

Outbreak Risks High, but Market Adjusts
While we can look to those things as being ultimately positive for the global economy, we must acknowledge that given how this is evolving with no vaccine yet available to treat it, the risk of a global pandemic remains elevated.

Chinese factories are re-opening and people are on the move, which is giving the virus an opportunity to spread again in places where the number of new cases reported has diminished, as well as spawning further growth in reports from other places around the world. If that should happen, we are probably looking at a global recession as factory closures will grow in length and prevalence, paralyzing global supply chains. International tourism would collapse and consumers around the world would avoid moving about, especially in crowded public places, which in turn will hurt consumption.

The uncertainty around such binary outcomes is hard to price for markets, which have already reacted rather severely, and more volatility will follow. This comes about as investors insert a large risk premium in asset prices to compensate for this lack of visibility.

At this point, it would seem the stock market has gone a long way in adjusting for the risk raised by the COVID-19 outbreak. In fact, some bargains in sectors like Technology, Consumer Discretionary, and Industrials, have started to emerge.

Investors should continue to align their exposure to risk assets with their tolerance for further downside until the situation becomes clearer. For now, our central scenario remains a global recession is avoided and economic activity will recover. In this case, stocks will begin to stabilize and recover this year, ultimately revisiting the highs that printed just a few weeks ago. However, prudence tells us not to be cavalier about a more adverse outcome should COVID-19 spread much further. Expect to hear more from the Investment Strategy Group as this evolves.
Bond yields reach fresh set record lows - Guy LeBas
Interest rates plummeted in February, particularly in the latter half of the month. At the time of authorship (just a few hours before the trading month ended), yields on the benchmark 10-year Treasury note plunged in February by -0.33%.

The rally in long-term bonds brought yields on 10- and 30-year Treasuries to all-time record lows of 1.15% and 1.66%, respectively. While yields on shorter-term bonds are well above their 2012 record lows, they have fallen by similar margins.

February was the longest shortest month in market memory. This report will decompose the decline in yields, share our thoughts on what the move implies for other markets, and conclude with some thoughts.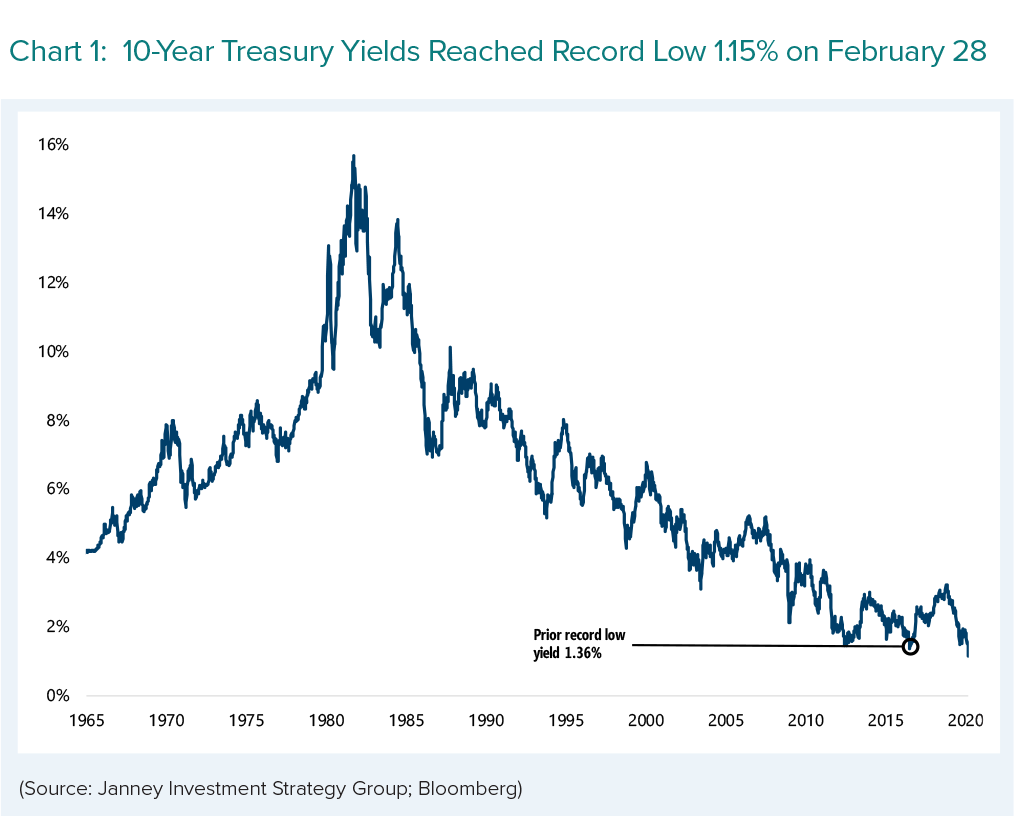 Reasons for Interest Rate Decline
There are two major aspects of the recent decline in interest rates.

The first is expectation of Federal Reserve rate cuts. Market expectations for at least three cuts by June have gone from a 3% chance to an 80% chance in February.

In other words, the bond markets now expect the Fed to reduce overnight interest rates two to three times to stave off economic slowing. Historically, when market pricing of Fed rate cuts is that strong, the Fed has never disappointed. It seems likely we will get those cuts, justifying the decline in short-term yields.

Longer-term yields, such as those on the 10-year Treasury note, also have a "panic bid" embedded, as investors reach for any hedge against further drops in equities.

That panic bid is unlikely to sustain and could fade extremely fast, causing 10-year yields to rise as much as 0.20% when equity selling slows.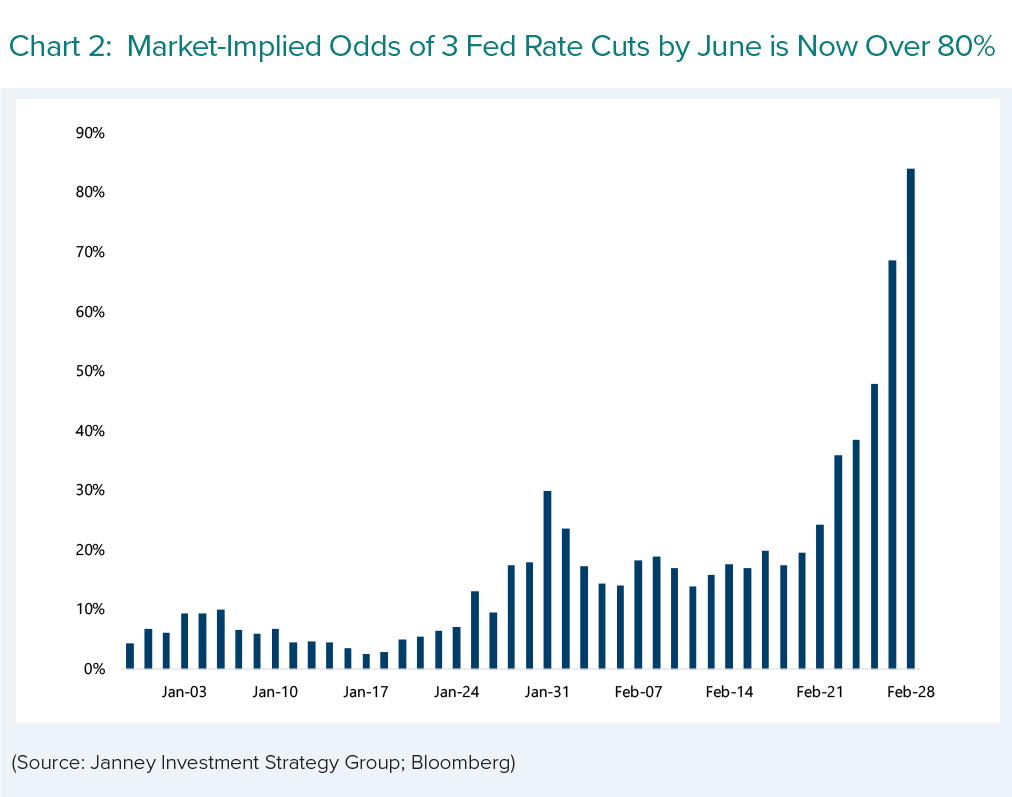 Impact of Easier Monetary Policy

Easier monetary policy reduces interest rates, provides economic stimulus, supports market confidence, and is good for a number of add-on effects.

Within the fixed income markets, the most obvious of those add-on effects is that Fed rate cuts tend to put a floor under valuations of riskier bonds. In February, high yield corporate bonds—their prices tend to correlate with stock prices—have performed dismally.

At some point, however, the combination of much cheaper valuations in high yield and Federal Reserve support for the markets should help open up a tactical opportunity to buy high yield for investors with the appropriate risk budget.

Bonds Provide Stabilization

As noted in our 2020 Outlook, Janney's Investment Strategy Group has advocated holding longer-term, higher-quality bonds in part as a hedge against the potential for volatility in risk asset markets, such as equities.

We recently published a further note, The Role of Fixed Income in a Diversified Portfolio, underscoring why a focus on quality still makes sense, despite low yields. The reason is simple: It is for situations exactly like the one we are facing today. Holding high-quality longer-term bonds provides diversification that stabilizes portfolio values in a downturn and opens up reallocation opportunities to rotate into cheaper risk assets such as equities. Now that risk assets have retrenched substantially, it is an appropriate time to consider rebalancing out of longer bonds and into riskier assets.

No leap this year - Greg Drahuschak
The nearly ceaseless barrage of data on COVID-19 and its economic effects halted the stock market's push to new highs.

At its thus far 2020 peak of 3393.52, the S&P 500 on February 19 was 5.04% above its 2019 close. By the February low (2855.84), the S&P 500 was down 15.84% from its intraday all-time high and down 11.6% from where it ended last year. This was the fastest decline of 10% or greater from a record high in the history of the S&P 500.

The Rush to Safety
A major drop in Treasury note and bond yields and a sudden aversion to cyclical areas of the equity market underscored the rush to safety. The Technology sector of the S&P 500 accentuated the move to safety. At one point, the sector had a year-to-date gain of more than 12%.

Risk aversion was evident in the bond market. At the February low, the sector was down more than 6%. The yield on the 10-year Treasury note fell from 1.971% on November 11, 2019, to a new all-time low of 1.064%.

At the end of February, all 11 S&P 500 sectors had year-to-date losses. Energy suffered the most, as the price of West Texas Intermediate (WTI) crude was 25.84% lower than it was on December 31, 2019.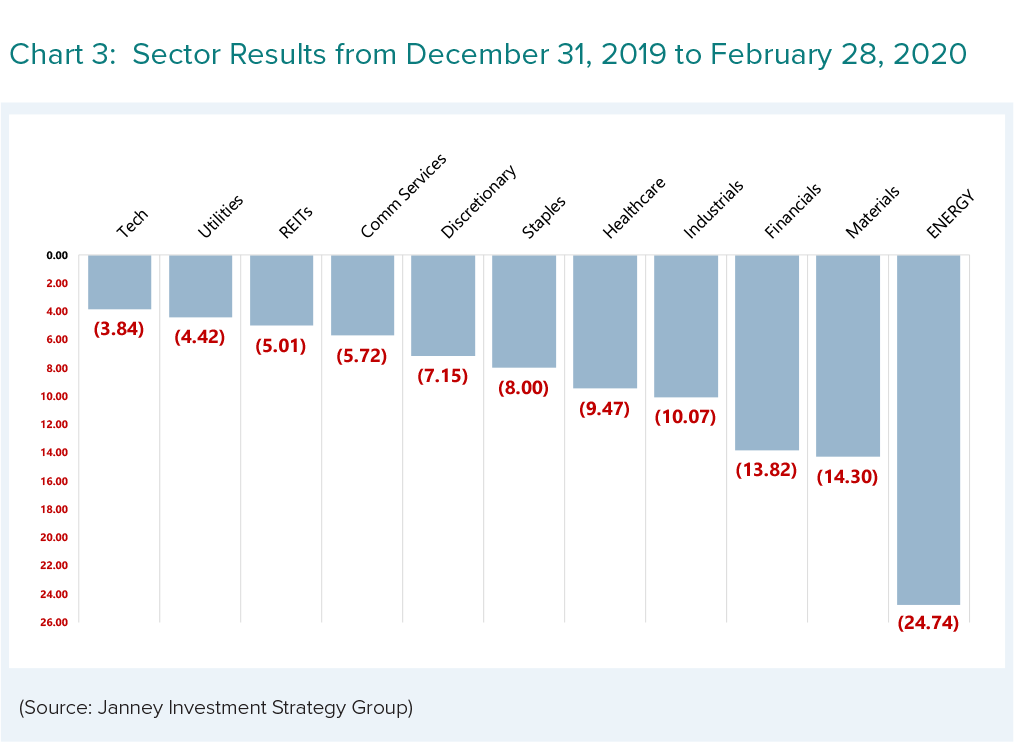 Virus concerns arrived when technical and valuation issues left the market vulnerable to a pullback.

At the most recent high, the S&P 500 was richly valued at 19.58 times estimated 2020 earnings. The market drop, however, sent the S&P 500 price-earnings ratio to a much more modest 17.09, assuming the current consensus estimate holds. The S&P 500 and the Nasdaq Composite Index on their own were stretched enough technically to lead to a pullback.

Looking for the Recovery
As has been widely documented, following previous health scares, the equity market has recovered relatively quickly. For example, the S&P 500, on average, was up 8.7% and 10% in the first 60 and 90 days following the first cases of severe acute respiratory syndrome (SARS), H1N1, Middle East Respiratory Syndrome (MERS), Ebola, and Zika viruses in the United States. More details about previous health scares and the market are available in the Janney Investment Strategy Group report, Delayed Not Derailed.

Nonetheless, the hopefully fleeting term of the virus spread still leaves the equity market vulnerable to the economic toll from the virus that will be reflected in data to be released in coming months. However, the market is likely to look over the data trough and assume that in time much of the deterioration will be reversed. In the meantime, stock market volatility is likely to be greater than usual.

The technical posture of the S&P 500 suggests that additional weakness could be contained within a range only marginally lower than the February low, as the sell-off shoved the S&P 500 and all 11 sectors to sharply oversold conditions.

Time Will Tell
It is said that time cures all ills. We think this will apply to the current virus and stock market worries. Establishing a durable bottom could be the market's main task this month.

COVID-19 was the primary cause for the market drop, but to some immeasurable degree, election uncertainties were factors also. Domestic politics soon will become a greater part of the market's considerations.

Allocation of the 1,357 pledged delegates available to candidates in the Democratic primaries on Super Tuesday, March 3, narrowed the list of viable candidates. This shifts focus on what economic policies the remaining candidates might propose.

By the end of April, 90% of the delegates to the Democratic convention in July will have been selected.
The information herein is for informative purposes only and in no event should be construed as a representation by us or as an offer to sell, or solicitation of an offer to buy any securities. The factual information given herein is taken from sources that we believe to be reliable, but is not guaranteed by us as to accuracy or completeness. Charts and graphs are provided for illustrative purposes. Opinions expressed are subject to change without notice and do not take into account the particular investment objectives, financial situation or needs of individual investors.

The concepts illustrated here have legal, accounting, and tax implications. Neither Janney Montgomery Scott LLC nor its Financial Advisors give tax, legal, or accounting advice. Please consult with the appropriate professional for advice concerning your particular circumstances. Past performance is not an indication or guarantee of future results. There are no guarantees that any investment or investment strategy will meet its objectives or that an investment can avoid losses. It is not possible to invest directly in an index. Exposure to an asset class represented by an index is available through investable instruments based on that index. A client's investment results are reduced by advisory fees and transaction costs and other expenses.

Employees of Janney Montgomery Scott LLC or its affiliates may, at times, release written or oral commentary, technical analysis or trading strategies that differ from the opinions expressed within. From time to time, Janney Montgomery Scott LLC and/or one or more of its employees may have a position in the securities discussed herein.
About the authors