U.S. Treasuries and other high-grade, longer-duration fixed income assets have seen an unprecedented wave of panic buying.
In the past five trading days alone, yields on the benchmark 10-year Treasury note have fallen -0.68%, equivalent to a nearly 6.5% rise in price. That buying culminated in the overnight session ahead of the March 9 open, when 10-year yields reached an intraday low of 0.31%.

There are a few major factors behind the buying, and while the panic nature of the buying will fade, many of these factors will be in play for months or even years.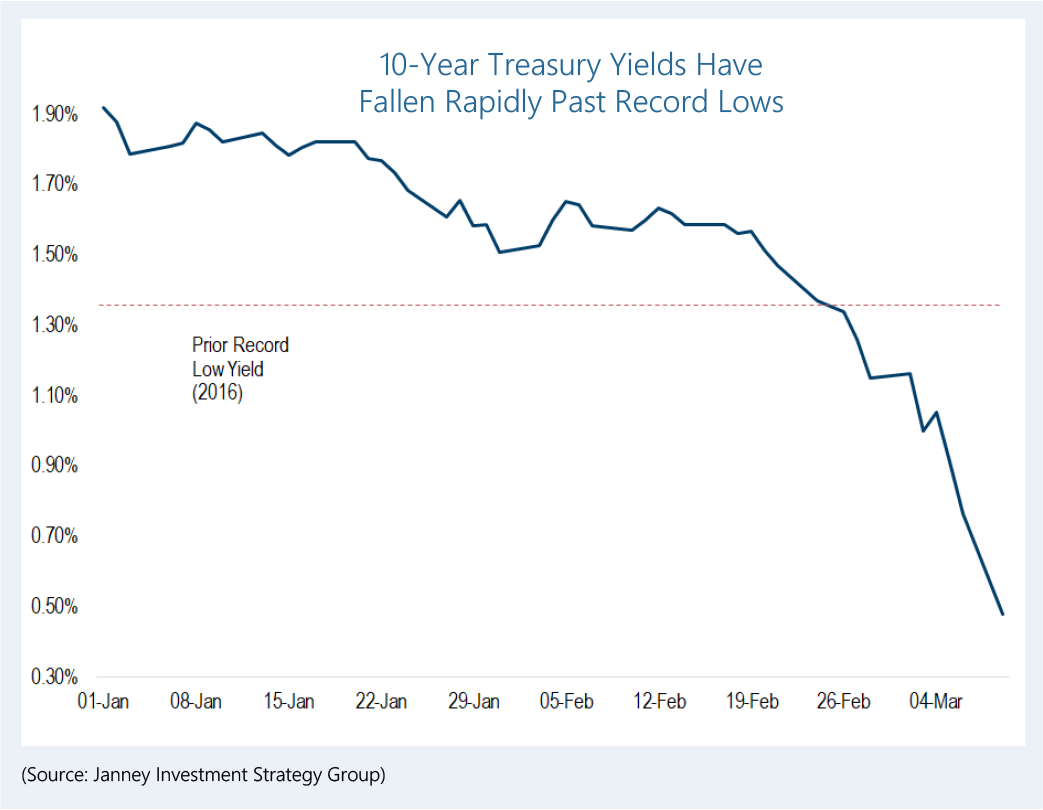 1. Downside economic risks, including those generated by the coronavirus have added to the safety bid.
These economic risks have encouraged investors to sell risky assets such as stocks and higher-yielding bonds and reinvest the proceeds in Treasuries and other safe haven assets. Evidently, there are not enough yieldy fixed income assets to absorb the safety demand without causing interest rates to plummet as they have. Lack of supply aside, the panicky demand for bonds suggests many large buyers believe the U.S. economy is in, or near, recession.
2. Fear of "Japanification,"* led by a Federal Reserve that looks set to cut overnight interest rates back towards financial crisis-era lows, have created a rush for safe yield.
The Bank of Japan first brought its short-term interest rates to near zero more than two decades ago, and long-term bond yields in Japan have been at or around zero for much of the past five years. While the economic (not to mention demographic) scenario that gave rise to Japan's two-plus decades of zero overnight interest rates is quite different from that the U.S. is facing, Treasury buyers are evidently worried about the chance of a similar outlook in the U.S. as well, and are gobbling up yield while it still exists.
3. More recently, plunging oil prices have stoked concerns about disinflation, which, if it becomes endemic, could lead to outright deflation.
Disinflation is a short-term drop in price levels brought about by an economic shock, such as the recent -30% slide in the price of a barrel of oil. The most recent leg downward in oil stemmed from weekend OPEC negotiations at which major oil producers could not agree to cut supply. While oil-driven disinflation does not always turn into deflation, it certainly heightens the risks of deflation. Income earning assets generally have lower yields in deflationary environments.
4.Technical factors, such as mortgage bond hedging by large investors, tend to exaggerate dramatic moves in yields.
While the Federal Reserve sought to stem the tide of selling in risk assets and slow the panic buying of high-quality bonds with an emergency rate cut last week, that effort has thus far been unsuccessful. We may see further action from the Fed in light of new information on oil prices. That further action could include additional rate cuts, the re-initiation of quantitative easing (QE, in which the Fed buys Treasuries), or even the launch of new liquidity programs to ensure that banks and the financial markets continue to function. Early on March 9, the Federal Reserve Bank of New York increased its repo overnight lending to banks, although the announcement had only limited impact, all of it contained to overnight lending markets.

Not only would fiscal spending support economic activity, but it would also add supply to Treasury markets, possibly boosting yields. U.S. and global financial markets have, in the past 15 years, become more sensitive to policy response, both from central banks and from fiscal authorities. While the government sector cannot replace private capital in financial markets, certain policies can prove sufficient to jump-start private-sector confidence, and we have yet to see a material response, which could alleviate the panic buying in the U.S. Treasury markets.
* "Japanification" refers to a period of extended slow economic growth, low inflation, and near-zero interest rates across bond maturities, such as Japan entered in 1999 and remains in today.

Disclaimer
Past performance is no guarantee of future performance and future returns are not guaranteed. There are risks associated with investing in stocks such as a loss of original capital or a decrease in the value of your investment.

This report is provided for informational purposes only and shall in no event be construed as an offer to sell or a solicitation of an offer to buy any securities. The information described herein is taken from sources which we believe to be reliable, but the accuracy and completeness of such information is not guaranteed by us. The opinions expressed herein may be given only such weight as opinions warrant. This Firm, its officers, directors, employees, or members of their families may have positions in the securities mentioned and may make purchases or sales of such securities from time to time in the open market or otherwise and may sell to or buy from customers such securities on a principal basis.
About the author