Financial markets have, in the past four weeks, experienced extreme volatility and in many cases losses. While the depth of the value declines in many markets were worse during the Global Financial Crisis more than a decade ago, the pace of value declines has been far steeper with the COVID-19 Crisis.
That steepness likely reflects three factors:
The degree of sudden economic deterioration
the need for a range of different investors to suddenly raise cash,
These three factors have essentially accelerated drawdowns in nearly every risky asset class, even some historically stable ones, such as the high-grade municipal bond sector.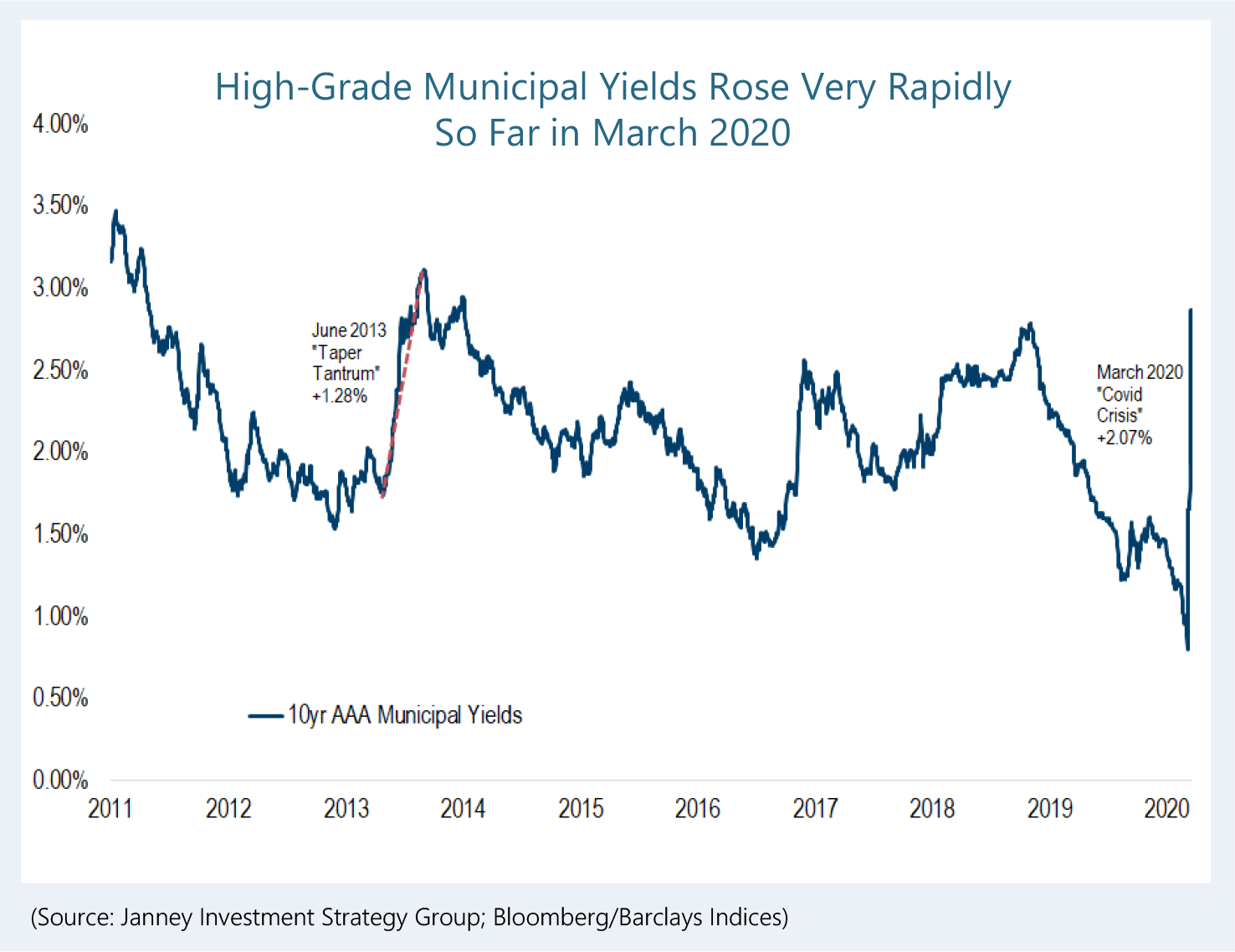 In the past several trading days, market prices of high-grade municipal bonds (we generally define "high grade" as Aa3/AAor higher-rated munis) has varied wildly from one trade to another. In most market conditions, the prices of municipal bonds largely follow the prices of U.S. Treasury notes with similar maturities. When economic times are good, the relationship between munis and Treasuries is usually fairly stable. When economic times are volatile, the relationship can deteriorate, sometimes sharply. Recent examples include the Global Financial Crisis, which began hitting municipal bonds in 2007, and the Taper Tantrum in which U.S. Treasury interest rates rose sharply in 2013 and municipal bonds reacted even more violently.

Munis uniqueness
Over the past several weeks, high-grade municipal bonds have fallen in price sharply even as Treasury prices have risen. Municipals occupy a unique place in the U.S. financial landscape.

First, munis are one of the only asset classes owned primarily by individual investors, either directly or indirectly through vehicles like mutual funds and exchange-traded funds (ETFs). Most other asset classes are owned mostly by pensions, banks, and other institutions. At present, many individual investors, faced with sudden economic risks, are raising cash by selling assets.
Second, munis are exposed to economic risks in a very uncertain way. Given the potential economic costs of COVID-19, state and local funding outlook is highly uncertain.

Third, munis are very hard to fund for broker/dealers. Banks who carry inventories of muni bonds and provide bids when investors are selling are themselves capital constrained.

At least two of these three situations will end, hopefully shortly. Individual investor cash raises should slow with the passage of fiscal stimulus measures, and the Fed has already acted to relieve bank capital challenges. While the former fiscal measures may take some time to act, there are already early signs that the Fed's various programs have improved functioning in many markets.

Reasonably, these Fed mechanisms may take a few days or even weeks to support the municipal markets, but they are slowly coursing through financial markets.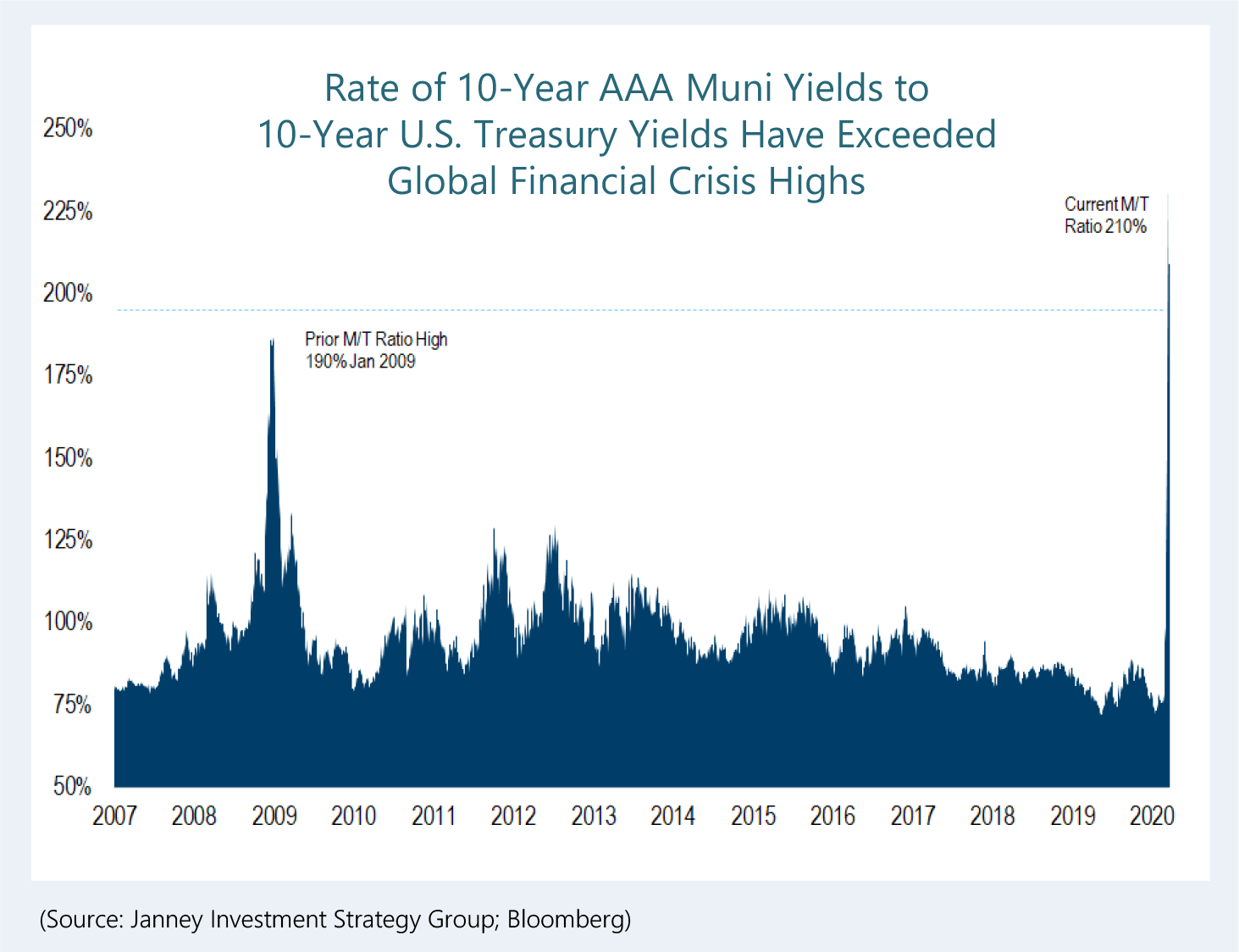 In the meantime, while market value losses have been uncomfortable for holders, municipals offer good value relative to Treasuries in this market. Yields on high-grade municipals have risen both in absolute and in relative terms in March.

Conclusion
The questions for prospective investors is three-fold: Is the cash-raise selling close to an end (we cannot know, but fiscal progress helps); are there other factors mitigating the lack of buyers (yes, Fed action); and what is the degree of credit impact from economic slowing (guesses fall short here).

Against these uncertainties, yields in the municipal sector, both in relative and absolute terms, have increased substantially. Particularly on a relative basis, municipals have rarely traded at less-expensive valuations relative to other high-quality U.S. fixed income assets.
Disclaimer
Past performance is no guarantee of future performance and future returns are not guaranteed. There are risks associated with investing in stocks such as a loss of original capital or a decrease in the value of your investment.

This report is provided for informational purposes only and shall in no event be construed as an offer to sell or a solicitation of an offer to buy any securities. The information described herein is taken from sources which we believe to be reliable, but the accuracy and completeness of such information is not guaranteed by us. The opinions expressed herein may be given only such weight as opinions warrant. This Firm, its officers, directors, employees, or members of their families may have positions in the securities mentioned and may make purchases or sales of such securities from time to time in the open market or otherwise and may sell to or buy from customers such securities on a principal basis.
About the author