Coronavirus concerns and election uncertainty caused waves in the economy and financial markets.
As coronavirus grips the world, we offer insights into the latest on the state of the economy and markets.
Federal Reserve intervention and fiscal stimulus are providing some direction for fixed income.
Past economic shocks give a glimpse at what might be ahead for equities.
Butterfly Effect - Mark Luschini
A year that began so promising will now be defined by the evolution of the novel coronavirus.

U.S. economic activity, which had been steady for a decade hovering around 2% per annum, actually picked up steam in the first two months of this year. This was accompanied by a rebound in global activity that set the stage for the overall landscape to be one in which corporations could prosper, and consumers would be inclined to spend. Then, a report surfaced of a viral outbreak in the city of Wuhan in China and in just a few months, the outbreak spiraled into a global pandemic.

The Butterfly Effect is found in chaos theory and it suggests that a small incident can lead to a profound impact later in a different state. The idea is often illustrated as a butterfly flapping its wings and causing a hurricane on the other side of the world. Scientists believe the outbreak can be traced to China, and allegedly to wet markets where the shoppers interact among live animals. This method of purchasing food is hardly new. Therefore, what may have been deemed nothing more than a trip to the market, about which the daily lives of people around the world would hardly fret about, has turned into a sinister virus that is now ravaging the well-being of individuals and economies around the world far away from a city in the Hubei province of China.

Economic Shock
The economic damage is going to be severe. Reports are already starting to capture the downshift in activity of just the past several weeks, and it is startling. Indeed, it will get worse before it gets better.

Weekly numbers of those reporting jobless claims jumped and the overall unemployment rate is sure to follow. Businesses have begun to react by mothballing pending expenditures, closing temporarily or partially, and consumer surveys show a marked deterioration in sentiment, which undoubtedly will turn into a decline in retail sales and the broader service industry at large.

The good news is that policymakers have responded aggressively to the crisis. The Federal Reserve has launched a series of facilities to support businesses of all sizes. The banking system entered this period well capitalized so the backstop the monetary officials provided will ensure its ability to operate as lenders, keep safe deposits, and act as capital market intermediator, is robust.

In essence, monetary officials are extending a lifeline, which has helped to calm the fixed income markets and allows those who qualify, and are in need, to access the funding they need to outlast this downturn. Certainly, not all will be helped evenly, or in some cases at all, so we will be closely watching how and which industries are supported by this effort. It will also be notable in what form the aid is provided. There will be instances where it is simply collateral for a loan or a direct loan. This, in turn, may alter the way market participants interpret the risk of the company's credit or common stock.

On the fiscal front, the roughly $2-trillion CARES Act is unprecedented in size, representing about 10% of U.S. GDP, and its range of provisions should help to cushion the blow to many individuals and businesses disrupted or displaced, through no fault of their own, by the healthcare threat posed by the coronavirus. Of course, this assumes a recovery might begin in the next several months. Should it not, and the benefits extended begin to expire, talk will quickly ramp up of more fiscal stimulus.

Path Forward Still Uncertain
Equity prices have suffered, having fallen into bear market territory faster than any time in history. The uncertainty associated with the path of the virus is wreaking havoc upon market participants' attempts to model for the depth of the downturn and what the shape of the subsequent recovery will look like.

The lack of visibility is inducing record volatility that will likely decline when the number of new COVID-19 cases begins to subside. Italy offers a glimpse into the prospective path the virus case count might take given its efforts to mitigate were less draconian than China, and consequently more similar to what has transpired here at home. While the number of new cases continues to go up, there seems to be a clear deceleration day over day. If that can serve as an analog for the U.S., then perhaps we are weeks, rather than months, away from that to be seen here. Then, concurrent with the proper testing and mitigation efforts still in place, can we expect policymakers to talk of re-opening the economy in some fashion. The restart will be welcome, but the economic updraft is likely to be gradual, at least at first, and nuanced in terms of industries resuming normal levels of activity.

Keeping Watch
Regardless, we are looking for signals from the trajectory of the case count and mortality rate associated with the coronavirus. After all, it would be difficult, at best, to handicap when the economy might recover and what that might look like without the expectation that officials are reasonably assured that the virus reproduction is being arrested.

We are also looking at economic divergences such as Chinese economic data (the first into the economic demise and perhaps the first out), industrial metal prices, new orders for goods and services, and trade in economically sensitive countries and regions, for insights as to when the global economy might stabilize. That may also serve to give us guidance on when a pick-up in U.S. activity might follow.

The stock market typically bottoms about four months before the end of a recession. If, as some expect, the third quarter of this year might look better and that the fourth quarter could turn positive, the time to become more constructive may be soon. In the meantime, a conservative posture is warranted. Being proportionately allocated to one's risk tolerance is always prudent, but particularly now. That might actually mean selling bonds to rebalance into stocks. If one is willing to venture into equities, we advocate sticking with high-quality companies and layering in cash over the next several months.

The selling during this plunge has been indiscriminate, leaving many great franchises to be pushed lower along with many of their less-notable brethren. That leads to opportunities to purchase in areas that will benefit from a recovery in global growth, many of which are found in consumer brands, technology, health care and even some large, well-run financials.
Roadmap for Fixed Income Investment - Guy LeBas
March 2020 will be known as the best month for U.S. Treasury performance and the worst month for credit-sensitive bonds' performance since the Global Financial Crisis. Although it is hard to see beyond the imminent economic risks, the deterioration of financial market functioning, and falling asset valuations, the good news is we now have a roadmap for the next several months thanks to Federal Reserve intervention and fiscal stimulus. While no historical corollary perfectly describes today's rapidly evolving economic and financial situation, it is helpful to revisit the fixed income experience from the end of the Global Financial Crisis to develop a roadmap for fixed income investment beginning next year through the next several years. Zero Interest-Rate Policy (ZIRP) and Quantitative Easing (QE)


Zero interest rates and quantitative easing causes longer-term interest rates to rise—after the initial downdraft, that is. In 2008, the Fed cut overnight interest rates to zero and embarked on a bond-buying program dubbed "QE."

In 2020, the Fed cut overnight interest rates to zero again and embarked on another bond-buying program dubbed "QE5."

Often overlooked is in 2008—after the initial drop in 10-year-and-longer bond yields—bond yields began rising for a full 12 months, with the 10-year Treasury yield increasing about 1.50% in that period.

In other words, zero interest rates and QE are inflationary, although depending on the economic backdrop at the time, not dramatically so.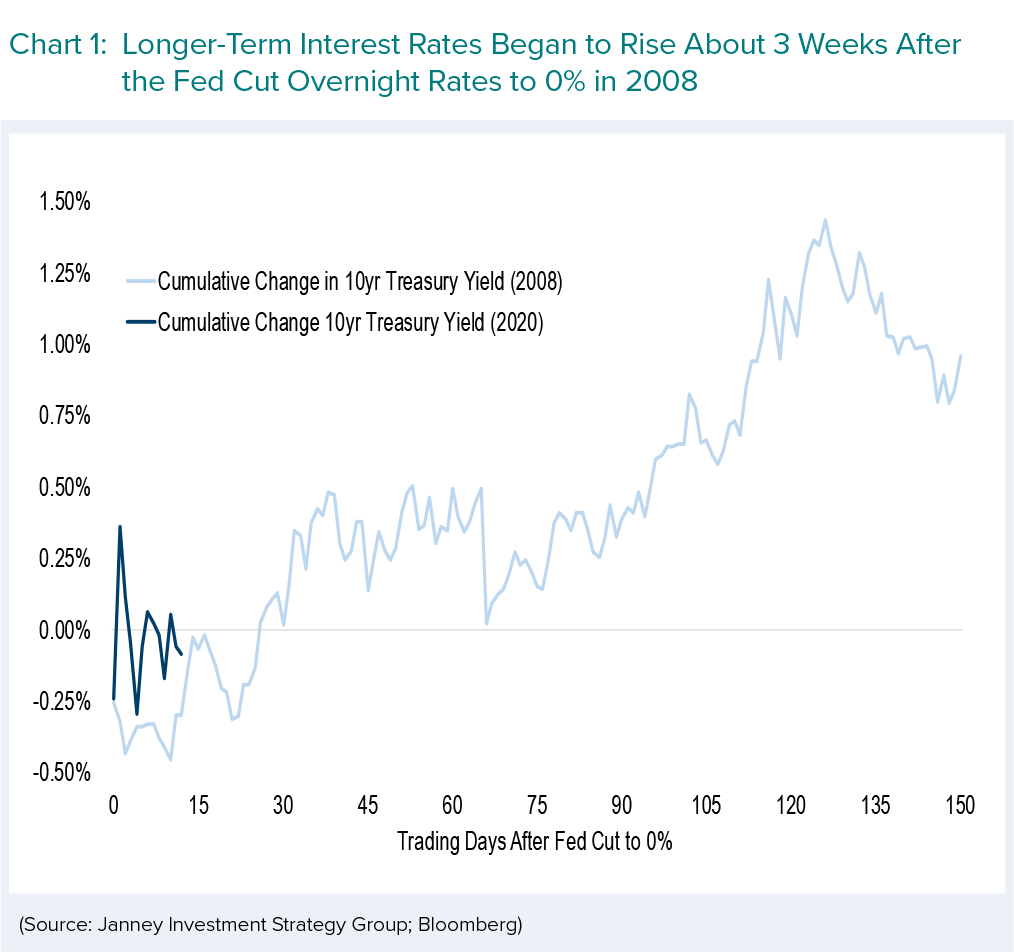 When the Fed buys assets, risky assets perform well in ascending order of risk. Again, harkening back to 2008 in the wake of ZIRP and QE1, first Treasuries performed well, followed by agency mortgage-backed securities, then investment-grade corporates and municipals, and finally high yield corporates. For roughly three months following the 2008 ZIRP, the safest fixed income assets, Treasuries, outperformed risky ones. But, as Fed bond buying continued, private investors began progressively taking on more risk to earn their returns. In early 2009, about three months after ZIRP/QE, investment-grade corporate bond returns overtook Treasury counterparts. It was not until several months after that, however, that returns on high yield corporate bonds overtook the other, safer asset classes. In today's market, a more aggressive Fed is directly buying investment-grade corporate bonds. Our hunch is that the resulting reach for yield by private investors will play out faster in 2020 than in 2008-2010, although in the same general order.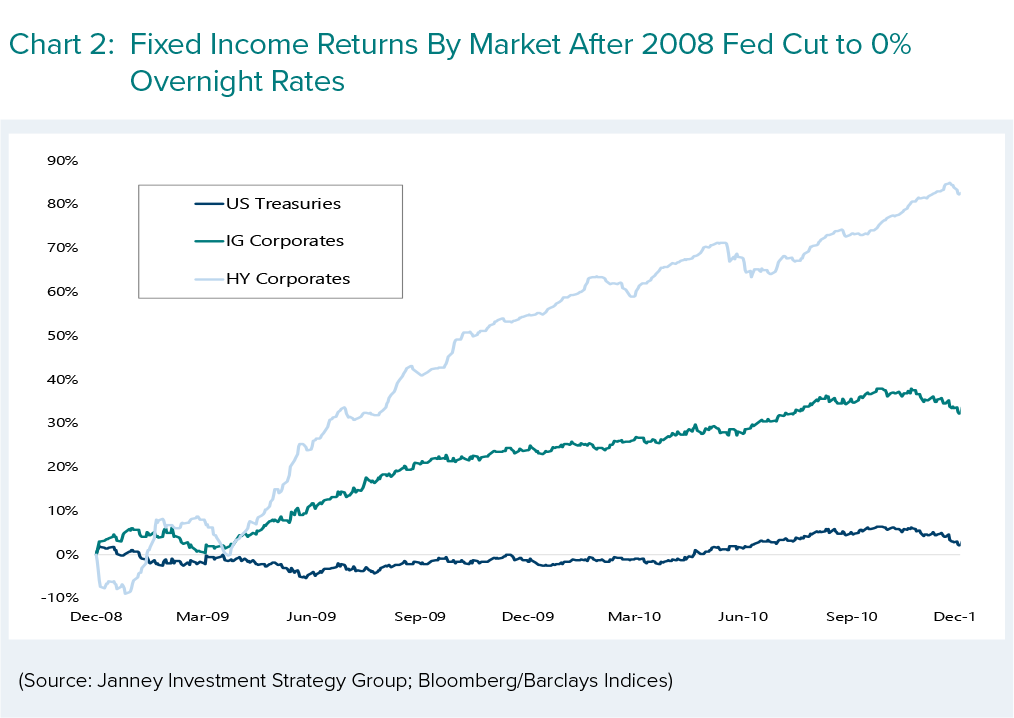 Bond-based inflation hedges perform poorly relative to risk assets. In 2008, one of the great fears of the Fed's policies was that it would result in extreme, or "hyper" inflation in the future.

Famously, in 2010, a substantial group of prominent economists published a warning letter to Ben Bernanke's Fed with much teeth gnashing over the potential for runaway inflation. At the time, some private investors, including large institutions, sought protection against inflation in assets such as Treasury Inflation Protected Securities (TIPS), commodities-sensitive bonds, and other similar securities. As these fears of hyperinflation waned, TIPS and similar securities underperformed by a wide margin.
Summary
Although the 2020 drop in risk asset prices has completely different triggers than the one experienced as part of the Global Financial Crisis in 2008, the policy response from the Federal Reserve in particular has many similarities. Those similarities can help us build a roadmap—admittedly an imperfect one—as to broad fixed income market performance in the months and possibly years to come.
Will it Rhyme This Time? - Greg Drahuschak
The article "No Leap This Year," from March's Investment Perspectives ended with, "COVID-19 was the primary cause for the market drop..."

This remains the case.

The speed and breadth of the slide from the most recent high was unprecedented, as the correlations between overall market indices, sectors, industry groups, and many asset classes moved to one.

In the process, internal market conditions reached negative extremes. For example, The Chicago Board Options Exchange's CBOE Volatility Index (VIX), which often is referred to as a "fear gauge," reached an extreme level that often precedes at least a short-term rebound.

Stimulus Stirred Hope
After enduring a peak-to-trough decline of 35.4%, the S&P 500 and other major market indices rallied sharply on the prospect of massive fiscal stimulus while the Federal Reserve adopted a "whatever-it-takes" approach to calming credit markets.

Investors would like a rapid market rebound—a "V"-shaped recovery—but it appears far more realistic to expect a "U" as the economy and the equity market react to economic adjustments that will take time.

Investors hoping for a rapid market recovery often cite examples like the lift after the 9/11 attack that was followed by respective gains of 1.81%, 7.52%, and 0.76% gains in the final three months of that year. Likewise, four consecutive monthly gains followed the record-setting Christmas Eve drop in 2018.

A "V"-shaped market recovery now, however, will be inhibited by the still-evolving virus data, as well as by business shutdowns across the nation. Data for the second quarter easily could be far worse than that from the 2008-2009 "Great Recession."

Technical Analysis
Faced with economic and earnings conditions, investors often default to relying upon technical factors to make decisions. Here, too, however, certainty is elusive.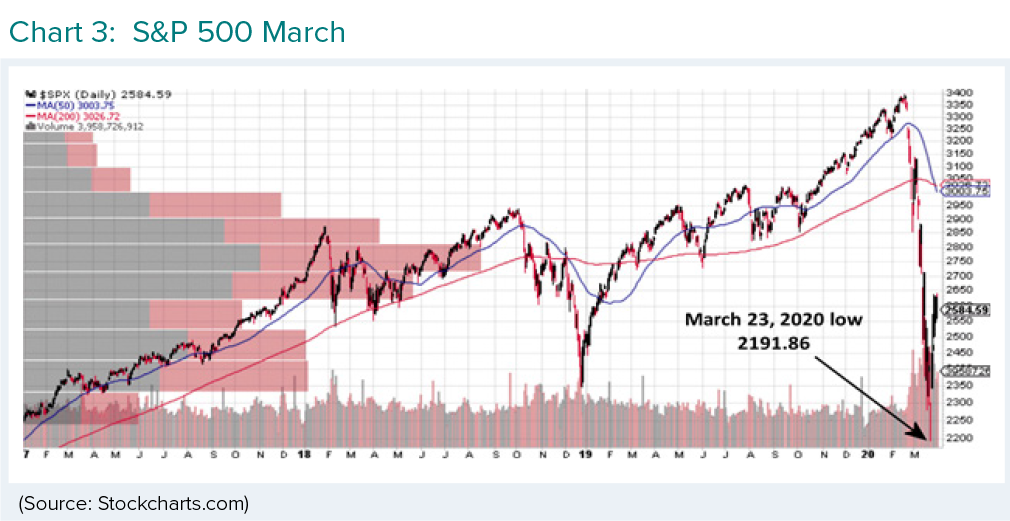 The drop from the February 19, 2020, high sliced through multiple levels that in normal times might have stemmed a slide. The speed of the decline created major oversold conditions in many major market indices. This was the major reason the S&P 500 generated a 17.92% rally gain Tuesday March 24, 2020, through the end of March. Rallies largely based on relieving oversold conditions, however, often have a short duration.

The drop in stock prices raises the obvious question about valuation, which might appear to be very depressed, but the widely implemented shutdowns create major uncertainty about what earnings will be.

The Problem With Timing Recovery
At some point, the equity market will look beyond the likely economic trough and begin to recover before the economy does. Attempting to time the recovery precisely is a mistake.

Mark Twain reportedly said, "History doesn't repeat itself but it often rhymes." If so, past market shocks provide some guidance. The market likely will undergo a gradual bottoming process, as it did in 2008 when it took nearly six months from the interim low for the S&P 500 to reach the ultimate low that set the start of a durable recovery.

Lessons from the 2008 experience prompted the Federal Reserve to act much faster than it did in 2008, and a fiscal stimulus program ($2.2 trillion) occurred more rapidly than in 2008. Both of these moves could shorten the time needed for the economy and the market to get back on track, but they will take time to be effective.

While the near-term market outcome is cloudy, keep in mind that the equity market is likely to begin its recovery well in advance of a turn in the economy.
The information herein is for informative purposes only and in no event should be construed as a representation by us or as an offer to sell, or solicitation of an offer to buy any securities. The factual information given herein is taken from sources that we believe to be reliable, but is not guaranteed by us as to accuracy or completeness. Charts and graphs are provided for illustrative purposes. Opinions expressed are subject to change without notice and do not take into account the particular investment objectives, financial situation or needs of individual investors.

The concepts illustrated here have legal, accounting, and tax implications. Neither Janney Montgomery Scott LLC nor its Financial Advisors give tax, legal, or accounting advice. Please consult with the appropriate professional for advice concerning your particular circumstances. Past performance is not an indication or guarantee of future results. There are no guarantees that any investment or investment strategy will meet its objectives or that an investment can avoid losses. It is not possible to invest directly in an index. Exposure to an asset class represented by an index is available through investable instruments based on that index. A client's investment results are reduced by advisory fees and transaction costs and other expenses.

Employees of Janney Montgomery Scott LLC or its affiliates may, at times, release written or oral commentary, technical analysis or trading strategies that differ from the opinions expressed within. From time to time, Janney Montgomery Scott LLC and/or one or more of its employees may have a position in the securities discussed herein.
About the authors