In lieu of our usual Weekly Bulletin, we are publishing special reports to discuss the market reaction to evolving news on the coronavirus outbreak. We would stress the following observations as developments continue to unfold.
April was the best month for stocks since January 1987, with the market focused on massive monetary and fiscal stimulus, advances in potential virus treatments, and the reopening of the economy. While the incoming April economic readings are historically weak, markets are forward looking and are now anticipating an economic recovery in the second half of the year. There are green shoots beginning to appear with 23 states (35% of U.S. GDP) at least partially reopening this week and many companies discussing the opening of their operations.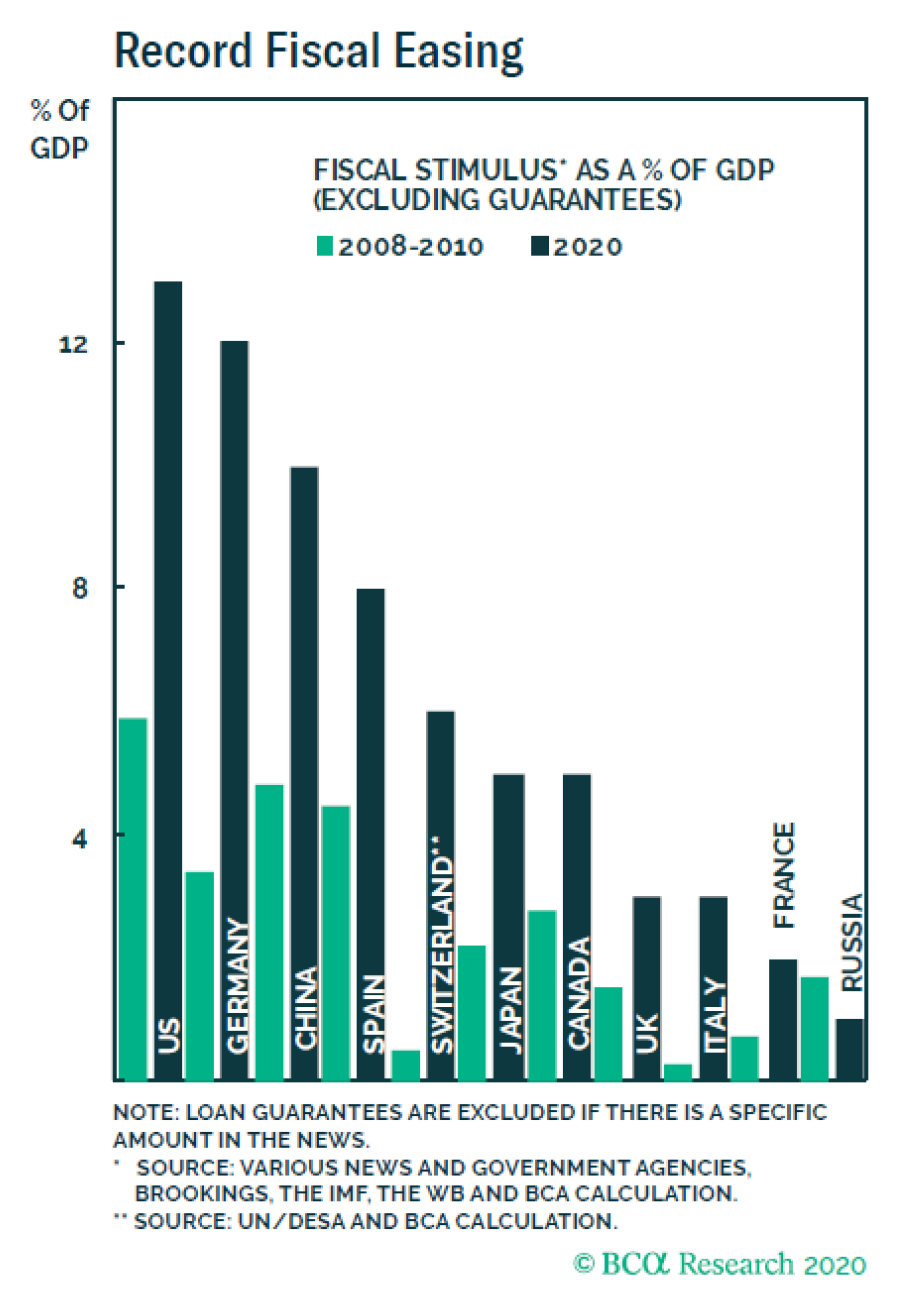 The IMF expects the coronavirus-induced recession to eclipse the post global financial crisis slump, in both advanced and emerging economies. However, the rapid response from central banks and governments around the world should allow an economic recovery to take hold as economies open back up. Indeed, we are seeing many signs that the massive response from the Federal Reserve (Fed) is having a significant positive impact.

The Fed has been the most aggressive central bank in the world, and assets directly exposed to the Fed's programs experienced large abnormal returns in April. The Fed is directly buying investment-grade corporate bonds and they generated returns more than three standard deviations above their monthly norm. In addition to the positive performance of stocks and bonds, numerous companies have been able to recently raise capital in the debt markets. These aggressive actions by the Fed show up first in financial markets and then in the real economy with a lag.

Fiscal authorities are also providing massive stimulus. Policymakers in the G-10 and China have announced larger stimulus packages than the programs implemented in the wake of the global financial crisis of 2008. The U.S. programs already total $2.89 trillion or 13% of 2020 GDP. Even Germany is abandoning fiscal discipline and has declared stimulus measures totaling 12% of GDP. While a deep recession is unavoidable, governments will provide more stimulus as needed in order to bridge the economy through the crisis.

Meanwhile, earnings continue to feel the effect of the economic shutdown. With about 70% of S&P 500 companies reported, first-quarter earnings are projected to be down by 15%, with the second quarter set to be off by 42%. Technology, Health Care and Consumer Staples are still set to post positive earnings in the first quarter. Financials and deep cyclicals (Energy, Materials, Industrials, and Consumer Discretionary) are seeing a significant earnings contraction.

We continue to advocate a conservative investment approach and favor the defensive Health Care and Consumer Staples sectors and high-quality technology firms.
Disclaimer
Past performance is no guarantee of future performance and future returns are not guaranteed. There are risks associated with investing in stocks such as a loss of original capital or a decrease in the value of your investment.
This report is provided for informational purposes only and shall in no event be construed as an offer to sell or a solicitation of an offer to buy any securities. The information described herein is taken from sources which we believe to be reliable, but the accuracy and completeness of such information is not guaranteed by us. The opinions expressed herein may be given only such weight as opinions warrant. This Firm, its officers, directors, employees, or members of their families may have positions in the securities mentioned and may make purchases or sales of such securities from time to time in the open market or otherwise and may sell to or buy from customers such securities on a principal basis.
About the author