Our analysts discuss the long road to recovery, the Federal Reserve's fight to rescue the economy, and how bear-market stock rallies are common.
Prepare for long road ahead in recovery from coronavirus crisis.
The Federal Reserve continuesfight to rescue the economy.
Bear-market stock rallies are common;we expect more volatility in the near term.
The Great Biological Crisis- Mark Luschini
A deep global recession is underway. Indeed, the International Monetary Fund estimates that global growth will contract by 3% this year, which represents a significant markdown from their forecast of positive 3% as recent as January. Many countries will experience double-digit drawdowns in growth before a recovery gets underway, suggesting that it may take years in some cases to fully recover the economic output lost to the coronavirus (COVID-19) pandemic.

Gauging the Economic Impact
Unfortunately, as grim as the economic news has been in the past several weeks, the next few months are not likely to provide a much better picture given the fact that the data collected and only now being published is just starting to reveal the damage that was inflicted from mid-March on. We expect unemployment to soar, wage growth to stall, confidence to melt, capital expenditure plans to be shelved, and industry activity to plummet. Then again, who doesn't? Therefore, market participants are not just thinking about what was, or even is, but rather what will be? Clearly, forecasts are all over the board and many publicly traded companies have stopped issuing guidance as to what business will look like in the next few quarters or more. On any given day, a cogent case might be made for as many things to go wrong as to go right.

Yet, as we all know and as they are wont to do, risk assets have already moved to discount this dire scenario. After falling more that 30% in just a matter of weeks, stocks have rallied mightily. The question now is whether prices warrant such a move or is more backing and filling a necessary condition to reflect the laboring uncertainty of the viral outbreak and its negative impulse on the economy.

In this context, one has to assess the multilevel chess game that is taking place. On one hand, mitigation protocols are still in place, which will act as a vice on aggregate economic activity, but at the same time, many states are starting to reopen, which will release some pent-up demand in the form of business and consumer spending. At the same time, expectations are high that the massive amount of monetary and fiscal stimulus announced so far can turn the economy around in the second half of the year. If this sums just right, then the rebound in the stock market is justified and stocks remain attractive. The other side of that call are those who believe stocks are not cheap enough to fully discount the uncertainty of the recovery and that cash remains king. Our position throughout the meltdown, which remains the case today, is that we think it has been and still is a good time to parsimoniously deploy capital into risk assets.

Measures Taken to Support Gradual Recovery
We acknowledge the fact that the economy has suffered its worst shock since the Great Financial Crisis (GFC), but policymakers are deploying every tool available. The fiscal and monetary measures taken so far amount to 38% of U.S. GDP. In addition, governments around the world have done the same to varying degrees but taken together, more than 20% of the world's GDP is being unleashed to reflate economic growth which we believe, along with the measured relaxation of mitigation guidelines, should allow a gradual recovery to begin over the coming quarters.

There are tentative green shoots from which to draw some cautious optimism. China was the first country to attempt its reboot and business activity has resumed to about 80% of capacity. The western countries of Italy and Spain, which were particularly hard hit, are letting shops reopen and Germany among others are following suit. Even here in the U.S., the expectations component of some fresh business and consumer surveys have improved marginally. To be sure, healthcare experts warn of a relapse if we become too casual about employing the social distancing and sanitization instructions that helped to reduce the virus' spread.
Additionally, the CDC and others have expressed a concern that cooler temperatures this fall could breed a resumption of coronavirus at a time when the seasonal influenza could develop, causing further disruptions if containment exercises have to be reinstituted. We will be listening to these and other epidemiology specialists to guide our framework for assessing developments along the macroeconomic landscape.

Bottom Line
Expect the heightened uncertainty that has been introduced by the novel coronavirus to be an influential factor in economic performance and market volatility for some time to come. However, the effort undertaken by heathcare officials in both government and private industry, and the lifelines extended to employers and individuals alike, should shallow the near-term blow, and provide a positive impulse to accelerate the recovery coincident to COVID-19 subsiding. For investors, high-quality stocks and rebalancing to equities amidst deep declines, all within one's risk budget, remains the foundation upon which to build long-term capital.

Fed Acts Forcefully, Proactively, and Aggressively - Guy LeBas
On April 29, the Federal Reserve concluded its April FOMC meeting. The FOMC (Federal Open Market Committee), led by Fed Chairman Jay Powell, is the committee that determines monetary policy, including the level of overnight interest rates, for the U.S. economy. Although there were no major changes in policy announced at the April meeting, Powell, in the press conference summarizing the meeting, issued important statements that essentially transform the Fed's mission in this economically crucial time. In his own words, the Fed now stands ready to "forcefully, proactively, and aggressively" provide credit to the financial and real economies "for as long as necessary." This commitment has particular importance for the "Fed put."

The Elusive 'Fed Put'
The "Fed put" is something of a financial market Yeti: everyone swears it exists, and there are third-hand stories, but no one you personally know has seen one.

The put is not a literal put option, but rather a representation of how Fed policy responds to and affects risky financial assets (a category including investment-grade and high-yield corporate bonds, asset-backed securities, and municipal bonds in addition to equities). Essentially, the Fed put is the recognition that, in a severe downside scenario, the Federal Reserve will ease policy by lowering interest rates and thereby prevent the value of those risk assets from falling further. During 2008 through 2009, the Fed expanded the put to include buys of Treasury securities in quantitative easing (QE).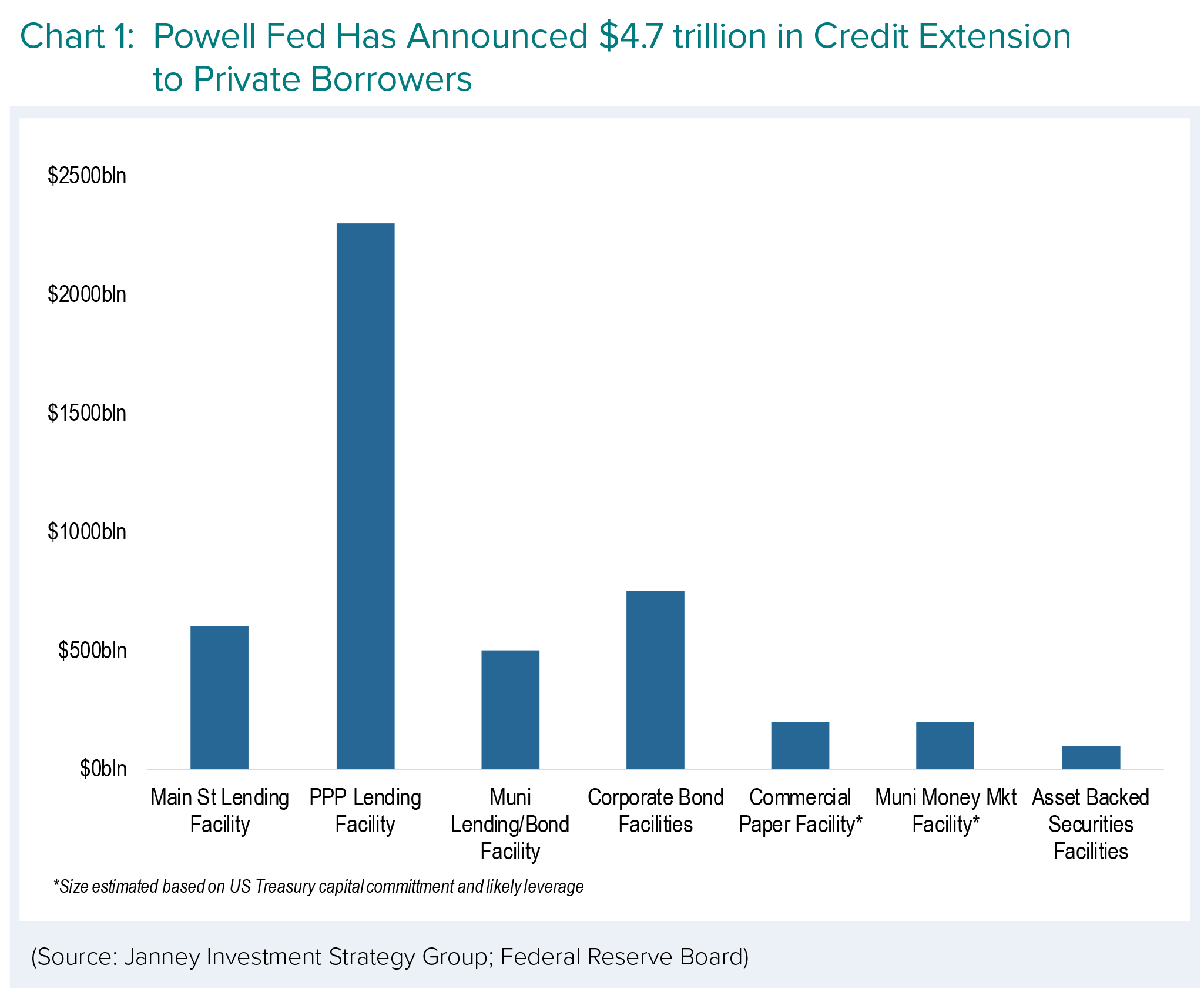 If there is one takeaway from April's FOMC meeting, it is that the Fed put has expanded to include buying of all sorts of assets. The Fed reaffirmed its plans to buy investment-grade corporate bonds, provide lending to municipal issuers, and add loans to small and medium enterprises. This latter category, we later found out, includes companies up to $5 billion in revenue, which would cover the smaller 40% of S&P 500 companies! In other words, the Fed will lend to nearly any solvent company, provided there's some risk sharing on the part of banks for that loan. To reiterate Powell's own words, his Fed will support lending markets "forcefully, proactively, and aggressively."

Revolutionary Action
That expansion, more than anything else the Powell Fed has done is revolutionary for financial markets, as it essentially takes default-from-illiquidity risk off the table through the present economic downturn. Income declines smart, weak balance sheets maim, but illiquidity kills. With rare exception, firms only file for bankruptcy if they lack sufficient cash to continue short-term operations. But, the Powell commitment to keep credit flowing and the wide variety of lending programs already announced curtails liquidity risk for many issuers.

Imagine the value of a risky asset as a range of outcomes. Within that range, there is a small chance of a very large loss and a large chance of a modest gain—the percentages are different, but the concept works for both bonds and for stocks. The value of an asset is the odds of each outcome multiplied by the value in each outcome. With the Fed's actions during the past several weeks, the odds of a very "bad" outcome (i.e., liquidity-driven defaults) plunge, and the expected value of the outcomes increases. That is how the Fed put, especially as forcefully, proactively, and aggressively implemented, supports the value of risky bonds and even equities.

Stock Rally Might Not Mean Quick Recovery - Greg Drahuschak
From October 1, 2018, through December 24, 2018, the S&P 500 Index sank 21.3%. In the ensuing four weeks, it recovered the entire drop. Five weeks ago, the equity market shuddered as a 35.41% drop in the S&P 500 wiped away all of its gains since late 2017. Five weeks after that, the S&P 500 recovered roughly 63% of the point drop. The Federal Reserve was important to both periods.

Fed's Role in Post-Drop Stock Recoveries
In 2018, the Fed mistakenly hiked its benchmark interest rate a quarter-point even as it expressed concern about the risks facing the global economy. This and internal market factors were enough to send the equity market into a sharp tailspin on Christmas Eve. Recognizing its error, the Fed cut interest rates three times in the 10 months that followed.

Hope that the worst of the virus problem might be in sight had a major hand in the market's recent rebound. Lessons from the 2008-2009 recession prompted the Fed to take aggressive actions quickly. These steps calmed the credit markets and provided a major catalyst for the recent market rally.

Technical Factors Involved in Recent Rally
Two key technical factors were part of the recent rally.

The 50-day moving average rolled over three days after the February 19 high and fell rapidly through the end of April. By March 24, the 50-day moving average slipped below the 200-day moving average as both averages continued falling. During the rally from the March 23 low, market breadth diverged from the S&P 500 upward movement even as the S&P 500 moved above initial resistance at its 50-day average.

These divergences might appear to be negatives, but they match the pattern experienced in the 2008-2009 market period and again in 2018. The time it took for the pattern to evolve was the only difference.

Is the Rally Sustainable?
The major question for investors now, however, is whether the recent rally is sustainable.

The market faces significant headwinds. The most recent S&P 500 earnings estimate is pointing to a 19.5% year-over-year decline. General economic data for the current quarter and probably the third quarter will remain decidedly poor.

At some point, valuation will matter. Based on the current 2020 S&P 500 earnings estimate, the S&P 500 trades at 22 times earnings. Earnings within a reasonable period must rebound significantly to justify the market's current level let alone much higher. S&P 500 earnings rebounding next year to $150 would still leave the index at a relatively expensive 19.4 times earnings.

Overcoming economic headwinds will be a difficult task, and by mid-summer, presidential election uncertainty is likely to become a factor that could inhibit the market.

From a market recovery standpoint, the key issue could be how much time will be required for the U.S. economy to recover fully. The speed of the market rally anticipates a faster economic recovery than is likely, which in turn leaves the market vulnerable to a possible short-term pullback.

Golf courses are reopening in some states. With this in mind, it might be appropriate to suggest that the market is giving the 2020 economy a mulligan. The risk is that before the economy is up to par, it may need more than one.

The information herein is for informative purposes only and in no event should be construed as a representation by us or as an offer to sell, or solicitation of an offer to buy any securities. The factual information given herein is taken from sources that we believe to be reliable, but is not guaranteed by us as to accuracy or completeness. Charts and graphs are provided for illustrative purposes. Opinions expressed are subject to change without notice and do not take into account the particular investment objectives, financial situation or needs of individual investors.

The concepts illustrated here have legal, accounting, and tax implications. Neither Janney Montgomery Scott LLC nor its Financial Advisors give tax, legal, or accounting advice. Please consult with the appropriate professional for advice concerning your particular circumstances. Past performance is not an indication or guarantee of future results. There are no guarantees that any investment or investment strategy will meet its objectives or that an investment can avoid losses. It is not possible to invest directly in an index. Exposure to an asset class represented by an index is available through investable instruments based on that index. A client's investment results are reduced by advisory fees and transaction costs and other expenses.

Employees of Janney Montgomery Scott LLC or its affiliates may, at times, release written or oral commentary, technical analysis or trading strategies that differ from the opinions expressed within. From time to time, Janney Montgomery Scott LLC and/or one or more of its employees may have a position in the securities discussed herein.
About the authors