Our strategists discuss economic reopening, market liquidity, and what lies ahead economically in June.
Economic reopening and gradual improvements provide support for markets, even as geopolitical tensions re-emerge.
A look at bond market liquidity, or lack thereof, and the current investment climate.
While stocks focus on economic recovery, what else lies ahead in June?
Is the U.S.-China détente breaking down? - Mark Luschini
Countries around the world have embarked on various stimulus measures on an unprecedented scale.

In the case of many developed countries, namely the U.S., Europe, and Japan, the combined fiscal and monetary response to reflate the economy from the damage incurred by the coronavirus pandemic represents a sum of 30% or more of the country's annualized GDP.
China's Actions
Heretofore, China had been aggressive when the need arose to throw large sums of money at their economy. More recently, their efforts have been comparatively shy. Until now. In late May, the government program approved by the National People's Congress (NPC) laid out the following policy objectives: First is stabilize employment. The NPC has pledged to create more than nine million new jobs in urban areas. Second, the central bank will significantly accelerate the growth rate of broad money supply.

Indeed, it is now fair to say the authorities have abandoned their deleveraging objective and are encouraging a substantial acceleration of both debt and credit. As a consequence, Mainland growth is bound to improve over the remainder of the year. However, China-related risk assets could struggle in the months ahead due to escalating geopolitical tensions with the U.S. On the surface, the COVID-19 crisis seems to be the culprit behind the recent increase, however, the pandemic has only accelerated a confrontation that was likely to renew at some point anyway.

Political Pressures Mount
Certainly, part of the reason for the boil is the upcoming U.S. presidential election. There is wide, bipartisan support for blaming China for the pandemic so a tough stance on China is a means for currying favor amongst a broad swath of voters. While the Trump administration may not resort to new import tariffs, cutting China's access to technology, in general, and semiconductors, in particular, will be a key battleground.

We also expect the administration to step up its pressure on multinationals to move production out of China. Especially those whose production of products are of national interest to the U.S., including not only technology but also pharmaceuticals. In the meantime, even though the U.S. rhetoric on China's policies toward Hong Kong will be tough, the more important battleground will probably be Taiwan and its semiconductor industry.

As for China, its political leadership cannot tolerate being perceived as weak domestically in the face of U.S. pressures, particularly now as the Chinese economy has slowed measurably and next year is the centennial celebration of the Communist Party. Together, it may well provoke some form of retaliation against the U.S., even if it is by way of proxy.

Tensions Re-escalate
How might that proceed? China could encourage North Korea to test its military weapons and that might undermine President Trump's foreign policy credibility. Another could be tolerating moderate currency depreciation. That, in turn, could challenge Trump's claims that he has been victorious in dealing with China by, among other things, discouraging them from weaponizing the renminbi.

Add to that the latest decision to ban U.S. and foreign companies from accepting orders from the Chinese telecommunications company Huawei. China is the world's largest consumer of semiconductors, accounting for 35% of global semiconductor demand. However, that could have repercussions since restricting Chinese purchases would be negative for global semiconductor producers.

Global Stocks Seek Rebound
The outlook for global share prices depends on what happens to the global economy following this post-lockdown snapback. Will the snapback be followed by a robust recovery, or will the level of activity stagnate at low levels? Our sense is that following the initial snapback a U-shaped recovery is the most likely global scenario. This does not exclude the possibility that activity in some sectors/countries will follow a V-shaped or square root trajectory.

In the absence of escalating geopolitical tensions or a new wave of infections, it is hard to see how economic data that is improving right now could lead to a substantial drawdown in equities even if the relative level of activity remains depressed. Therefore, for global equity portfolios, we continue at target levels of exposure. Our hesitancy to overweight, in the near term, is the lack of a viable therapeutic solution for COVID-19. Stay tuned.
Nature of liquidity - Guy LeBas
Violent market sell-offs, such as the one the corporate bond markets faced in March 2020, are often chalked up to "liquidity."

In March, even some theoretically highly liquid bonds, such as those for off-the-run Treasuries, proved relatively illiquid. Indeed, illiquid markets for traditionally liquid bonds have arisen a number of times in the past several years, becoming more prominent with the advent of crowded highly leveraged hedge fund strategies as well as the increased prevalence of exchange-traded funds (ETFs) and other daily-liquidity investment funds. Liquidity writ large is an issue for the markets, although it impacts different investors in drastically different ways.

Main Types of Liquidity
First, it is important to define the type of liquidity under consideration. When it comes to the financial sector, there are two major types of liquidity:
Internal liquidity, which concerns firms' abilities to fund their operating activity, and
External liquidity, which concerns the ability and ease of investors to sell investments reasonably quick and without accepting a large haircut below market value.
Internal liquidity is mixed at present, to put it gently. While market-based financing is readily available to large and highly rated corporate and municipal issuers (even a few high yield ones), anecdotal evidence indicates that the same cannot be said for smaller companies. That is something of contrast to the 2008-2009 period, when financing markets were closed to everyone, big and small, for an extended period.

By contrast, external, or market, liquidity in bonds is still on the poor side. We can measure external liquidity a few ways, but perhaps the easiest is trading volume. More volume implies more liquidity.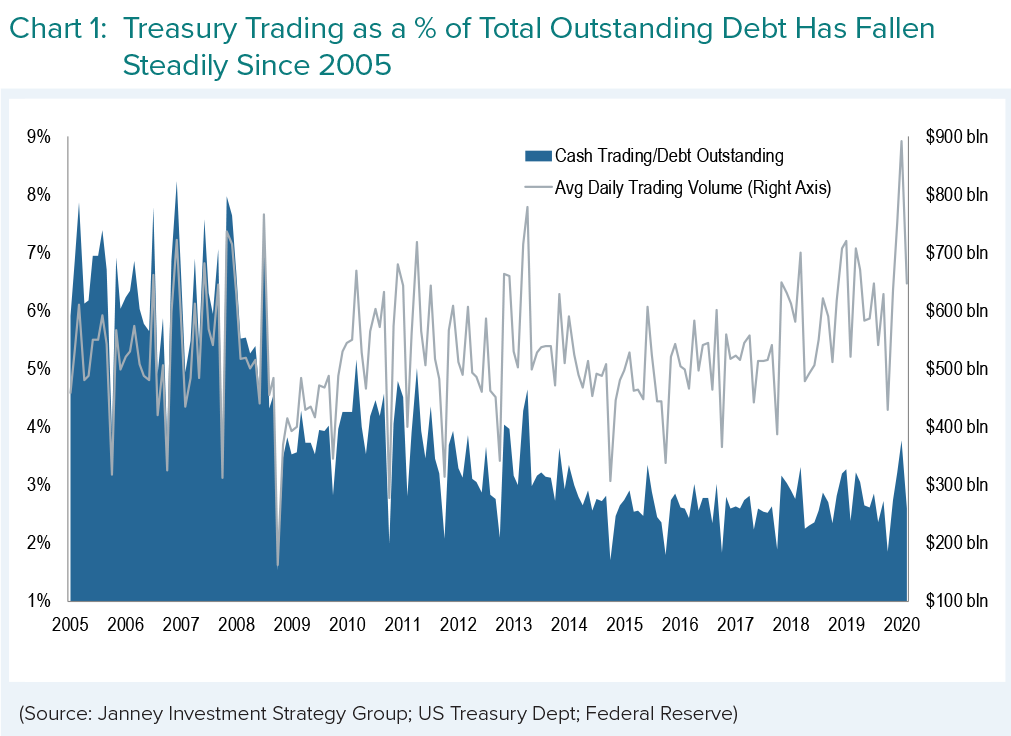 Over the past 10 years, the average trading volume in Treasury bills, notes, and bonds is virtually unchanged. Using primary dealer trading volumes as a proxy, about $647 billion in Treasuries changed hands in April 2020, up roughly 20% from the level 10 years ago. While on the surface, those numbers might imply more liquidity, as a percentage of outstanding Treasury volume, trading activity has actually plunged to an average turnover of about 2.5% per day from 4.5% in April 2010. The trading volumes numbers clearly indicate lower liquidity.

Corporate Bond Market Characteristics
There are similar stories in other non-Treasury bond markets, most notably corporates. While nominal corporate bond trading volumes are averaging around $110 billion per day compared to $90 billion 10 years ago, the corporate bond market has grown 80% in the same period, so volume as a portion of the overall market is only two-thirds of what it once was. Moreover, though the data are too complex to walk through in this context, corporate trading is very much concentrated in a relatively small number of issues from large debt-issuing companies, so broader liquidity is arguably poorer for corporates than these percentage measures suggest.

Today's Situation
The concept of lower liquidity is a scary one, especially since liquidity created so many problems in 2008-2009 and re-emerged in 2020. But, that was a different type of liquidity (internal) that was a problem.

Today, with external liquidity somewhat weaker, the risks are not as much about corporations failing. Instead, there are two major outgrowths:

1. Institutional investors may have trouble buying or selling large quantities of bonds efficiently, and
2. Bond market price moves may be more violent than usual, particularly to the downside (absent, of course, Fed intervention).
On the first count, large investors have a bigger probability of moving the market against themselves if and when they sell a position. For individual investors, or even small-to-midsize institutional investors (especially ones that do not plan to sell their holdings), the lower liquidity does not pose that much of a problem.

On the second count, sharper moves in the bond markets offer more of an opportunity than a problem. The biggest challenge for patient bond market investors today is the relatively low long-term returns available. What patient investor would not want prices to temporarily fall and returns to temporarily rise for liquidity reasons? Some of the best market entry points in the past decade have been the result of liquidity-driven bond selloffs.

No June swoon, but maybe hesitation - Greg Drahuschak
Despite swift and decisive Federal Reserve and Congressional actions aimed at mitigating the effects of the self-induced business shutdown, the economy produced significantly negative and in some cases precedent-setting economic data.

Private sector payrolls fell 713,000. Industrial production was down 5.4%. The Philadelphia Fed Manufacturing Index was below the Great Recession level to the second-lowest level in the 52-year history of the index. Initial jobless claims reached more than 40 million. Durable goods orders fell 17.2%, while first-quarter GDP growth fell 5.0% with a significantly lower number expected for the second quarter.

Expectations for 2020 corporate earnings offered little solace. As May ended, the 2020 S&P 500 Index earnings estimate was $124.60, down from $175 only three months earlier. To put this in context, final S&P 500 earnings for 2018 were $161.83. Final 2019 earnings were $163.94.

Market Optimism Based on Economy Reopening
All these data might appear to be prime ingredients for a major equity market decline. Instead, the S&P 500 increased more than 4.53% last month on top of a 12.68% gain in April. The S&P 500 ended May 38.89% above the March 23 low.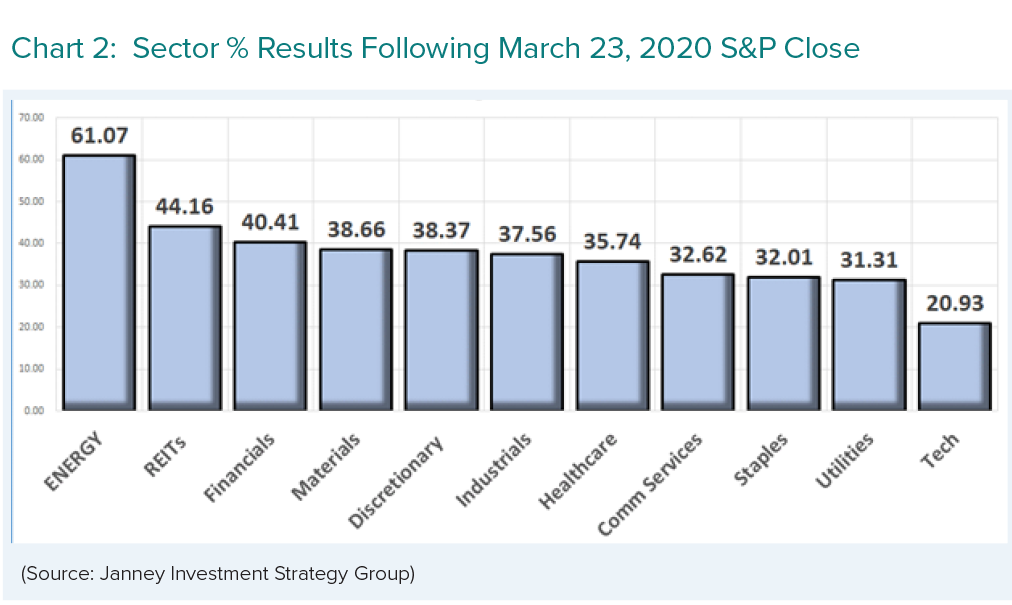 Initially, the market reacted to modest sequential improvement in several economic measures. Once all states either totally or partially reopened, stocks began to discount a rapid recovery. An early estimate suggested 2021 S&P 500 earnings could be 30% above the 2020 level.

The recovery from the March low had three distinct phases. The initial snapback lifted most stocks higher. Midway in the recovery, the prior leadership from technology and communication services took control. Nearing the end of May, the market broadened out with the equally weighted S&P 500 outperforming the capitalization-weighted S&P 500, as the index surpassed its previously impenetrable 200-day moving average. This process, however, produced extended market internal conditions typically associated with a potential pullback.

What to watch for in June
June typically is not an eventful month for the stock market. On average, the S&P 500 ends the month with a modest gain (up 38 of the 70 Junes since 1949 for an average 0.08% gain), but in election years, June tends to have a more positive bias as the S&P 500 posted a gain in June in 14 of the previous 17 election years. As illustrated in the chart below, 2008 produced the worst election-year June when the market and economy struggled with the Great Recession.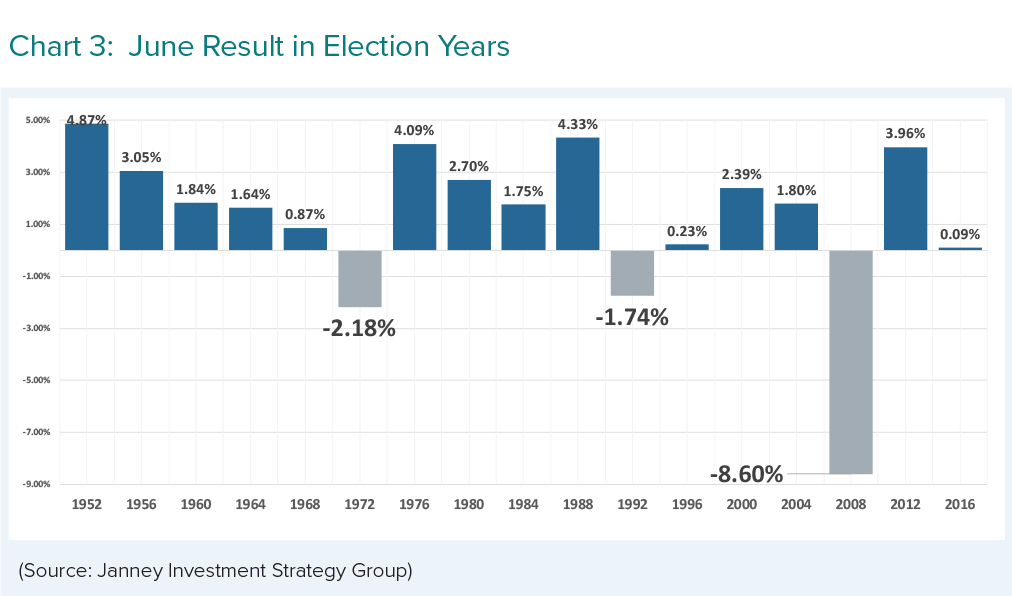 June dawns with numerous unknowns. Systemic problems do not exist in the credit markets and the Federal Reserve has made it abundantly clear that credit policy will remain highly accommodative, but reopening the economy will be uneven, as some industries and regions likely will take far longer to recover than others.

How rapidly consumer demand rebounds will influence overall improvement prospects, but this is likely to be influenced significantly by what happens with COVID-19 data.

The market ended May clearly overbought technically, as more than 96% of S&P 500 stocks were above their 50-day moving averages, which was the highest level since 1991. This and other stretched technical factors could be headwinds early this month.

A recovery back to the S&P 500 all-time high might not happen quickly, but barring a major shock, March 23 set the low for the decline. A return to the old high still could be a 2020 event.
The information herein is for informative purposes only and in no event should be construed as a representation by us or as an offer to sell, or solicitation of an offer to buy any securities. The factual information given herein is taken from sources that we believe to be reliable, but is not guaranteed by us as to accuracy or completeness. Charts and graphs are provided for illustrative purposes. Opinions expressed are subject to change without notice and do not take into account the particular investment objectives, financial situation or needs of individual investors.

The concepts illustrated here have legal, accounting, and tax implications. Neither Janney Montgomery Scott LLC nor its Financial Advisors give tax, legal, or accounting advice. Please consult with the appropriate professional for advice concerning your particular circumstances. Past performance is not an indication or guarantee of future results. There are no guarantees that any investment or investment strategy will meet its objectives or that an investment can avoid losses. It is not possible to invest directly in an index. Exposure to an asset class represented by an index is available through investable instruments based on that index. A client's investment results are reduced by advisory fees and transaction costs and other expenses.

Employees of Janney Montgomery Scott LLC or its affiliates may, at times, release written or oral commentary, technical analysis or trading strategies that differ from the opinions expressed within. From time to time, Janney Montgomery Scott LLC and/or one or more of its employees may have a position in the securities discussed herein.
About the authors