Our strategists discuss the tech sector, impact of U.S. interest rates, and what lies ahead in July.
Technology stocks are behaving like defensive investments lately.
We look at the global influence on the U.S. financial system, specifically interest rates.
The second half of 2020 begins, following some improvements for equities in June. Data will continue to tell the bigger story.
Is owning tech as a defensive sector an oxymoron? - Mark Luschini
In 2020, the Technology sector is behaving like a classic defensive sector. Its relative performance is correlating positively with the price of bonds, as other classic defensive sectors, such as Health Care, tend to do. Of course, that begs the question: Why has the Technology sector's behavior flipped from being historically very cyclical in nature to more defensive?

Tech's Configuration
To answer this question, one need only to look at the tech sector's composition, which has changed in recent years from being dominated by hardware to software. Back in 2008, the sector's market capitalization had a majority tilt to hardware, i.e. PCs and other computer equipment. Typically, this component of technology would be purchased once, and then amortized over a multiyear period before a new replacement cycle began. This made hardware sales more susceptible to oscillations in economic activity. However, today, it is the mirror image reflecting a swap to computer and software services, such as cloud and customer relations management programming.

Business spending in general is being directed into the Technology sector in order to boost productivity and outsource activities to preserve margins. A disproportionate amount of spending on technology has been going to software, and that share is growing. Since software is often a contractual, subscription-based service, as opposed to the discretionary hardware purchase cycle, the revenues and commensurate profits of companies that occupy this space are often more predictable. Wall Street judges and assigns disparate valuations to profit streams in many cases predicated upon their predictability. When macroeconomic uncertainty is higher than usual, as it is currently, investors will tend to associate predictability with safety.

Sector Success and Defensive Behavior
It is for that reason computer and software services have many defensive characteristics suited to the current environment. Consider:

Recent surveys that regional Federal Reserve Banks have taken of their constituents highlight soaring business expectations, which helps to explain why their capital expenditure plans have uniformly improved. We expect the recovery that is unfolding to continue to bolster the case for future tech spending.
The virus-driven surge in remote work, communications and touchless everything is accelerating tech's growth. Its increasing role in retail sales, manufacturing, supply chain management, customer service, etc., will likely continue to grow even in the post-pandemic world.
During the last (and historic) expansion, consumer and business capital spending on technology were important drivers of activity. Indeed, the digital economy had an outsized effect on its contribution to domestic growth, through employment to spending and investment.
Consumer spending on technology is growing faster than overall consumption and gaining share. That seems to be a trend that is unlikely to slow. More and more services are going online, increasing the likelihood that a repeat of the last two recessions, during which tech spending remained positive throughout, will occur.
Bottom Line
Despite these defensive characteristics, there remains a lingering worry: Is the tech sector overvalued? Some people fear that the recent run-up in the markets does not make sense. After all, the pandemic is still very much in play, and so are other geopolitical risks.

Yet, to us, the rally in growth defensives does make sense. Valuations have moved in step with the low and mostly falling yield on longer-term bonds. If yields do begin to move up if, or when, market participants believe the reflationary efforts by policymakers are gaining traction, and demand recovers, a tactical shift to the more cyclical areas of tech may prove rewarding, i.e., hardware and semiconductors. Until then, or in spite of that prospect, the secular growth story that underpins technology, making the U.S. the world leader in publicly trading technology companies and innovation, is well rehearsed. Investors may want to consider the type and sizing of tech exposure that should be represented in the equity portion of a portfolio with an eye to both its cyclical, and importantly, defensive qualities.
Importance of the Euro to U.S. interest rates - Guy LeBas
In recent years, in Investment Perspectives and other publications, we have discussed in some detail how foreign investors influence the U.S. interest rate markets.

In 2016, it was overnight buying in Treasuries that drove a rally to (then) record low yields. In 2019, it was a lack of foreign buying that caused U.S. banks to hoover up Treasuries, creating financial fragilities that exacerbated March 2020's market downturn. Now, that the Fed has cut overnight rates to zero and collapsed hedging costs, the tides have turned.

The Global Reach
While it is easy to think of the U.S. financial system as a distinct entity, the reality is that it has no borders. Of the $110 trillion in worldwide debt, about 40% is denominated in U.S. Dollars (USD), and that 40% has owners across the globe. U.S.-based buyers of USD debt do not have to worry that fluctuating currency values will change the returns on their bonds, but foreign buyers do. As a result, through risk management or regulation, many foreign buyers of USD bonds hedge their currency risk.

Until March of this year, high U.S. overnight interest rates (relatively, anyway) meant high hedging costs. When the Fed cut overnight rates to zero in the early phases of the U.S. pandemic, those hedging costs fell. The Fed also bought billions of Treasuries, but now, with the combination of slower Fed buying and more Treasury supply, foreigners are once again the marginal buyers—and this time they are not dissuaded by high currency hedging costs. Furthermore, with the Fed on hold for some years, hedging costs are unlikely to increase.

For the first time since 2016, the main factor in determining foreign demand for USD debt is changes in yields in local currency (i.e., foreign) bonds. That puts the USD markets at an interesting crossroads. Yes, stronger economic data in the U.S. will help push yields higher, but not nearly so much as economic developments and policy shifts in the Eurozone and in Japan. And in turn, the most important prospective development is fiscal expansion in the EU.

Eurobond: A Smaller Degree of Risk
In late May, the two principal players in the Eurozone—Germany and France—agreed on the outlines of a Eurobond program, through which the EU—not individual countries—would issue bonds and use the proceeds for fiscal stimulus across the EU. The initial size proposed was €750 billion, although it looks like the proposal will be reduced to €500 billion after discussion with other EU members. Given Europe's love affair with infrastructure projects, it seems likely this bond issuance will be longer duration and the stimulus primarily targeted at expanding continental infrastructure.

The idea of a Eurobond is just as important as the size or nature of the spending it funds, since a Eurobond will serve symbolically and literally to unite fiscal fortunes that have diverged since 2008.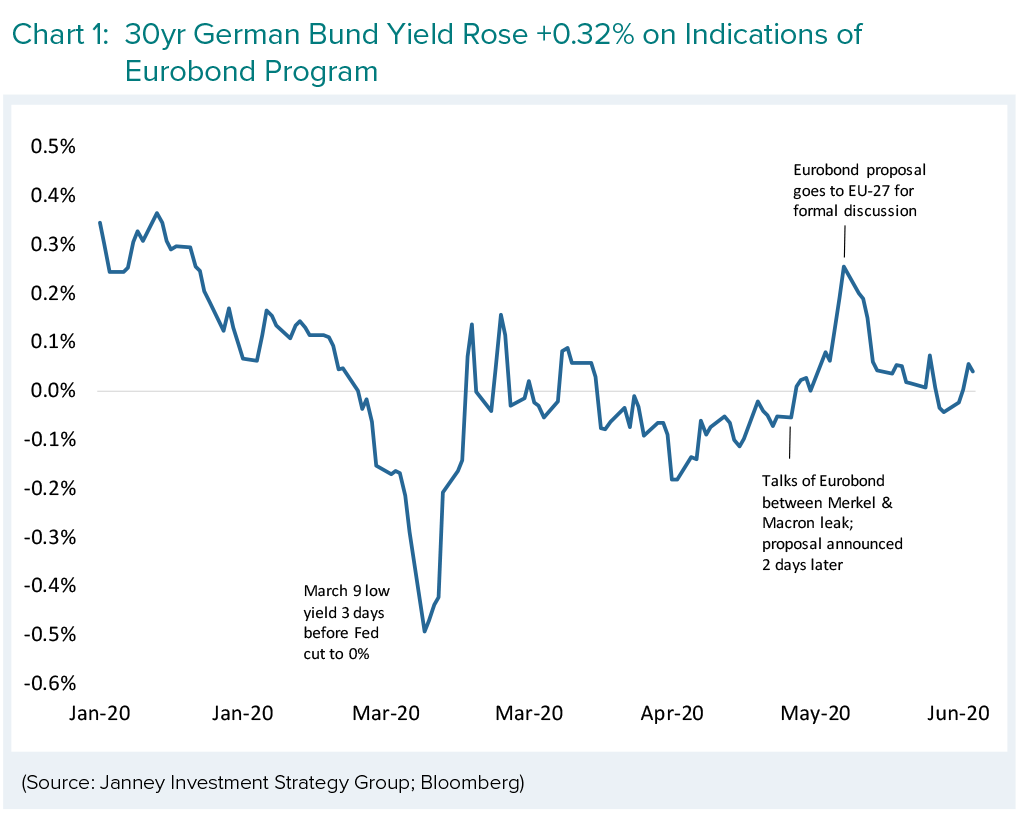 Economically speaking, a Eurobond sharply reduces the risk that an EU country will seek to exit the union. Greater confidence in EU-continuity, meanwhile, increases willingness for external investors to plow more money into beaten-down economies, namely Greece and Portugal. That should provide a growth boost much larger than the amount of the bond issuance. Market-wise, increased supply should push yields higher across long duration EUR bonds—the rumors and announcement of the Franco-German agreement increased German 30-year bund yields +0.43% in May through early June. With the foreign buyer now in charge of USD rates, any increase in Euro yields is likely to flow through into the U.S. as well.
A June encore for stocks might be difficult - Greg Drahuschak
After posting one of the most vigorous rallies on record, the combination of deteriorating virus data and internal market factors blunted the rally.

The market ended May clearly overbought technically, as more than 96% of S&P 500 stocks were above their 50-day moving averages, which was the highest level since 1991. This and other stretched technical factors provided headwinds early in June.

Improvements in Some Areas, Not in Others
The market's rise into early June was aided by sequential improvement in many economic measures. These measures, however, did not translate into expectations for corporate earnings improvement. As June ended, the 2020 S&P 500 consensus earnings estimate slipped to a new low of $123.71 (from the $185.80 high) and the 2021 estimate fell for the seventh time in the past eight weeks to $161.21.

The S&P 500 hit its June peak six trading sessions into the month. Two days later, the S&P 500 sank 5.89% as concerns arose about the speed and aggressiveness of the rebound since the March low. Cautious comments from the head of the Federal Reserve added to the downdraft. The fact that the S&P 500 held near a definable support level allowed the S&P to recover more than half of the loss, but the S&P fell again due to mounting evidence that the rate of virus infections was increasing. Nonetheless, the S&P 500, ended with its best quarterly result since 1998 and the best election-year quarter in the past 70 years.

Reopening Effects on Market
Two distinct patterns were present last month. When the market embraced prospects that reopening the economy would be successful, pro-cyclical sectors fared well. When reopening prospects were questioned, as they were late in June, the market turned back to a handful of high growth stocks, suggesting that this group was being viewed as offering a defensive posture, which typically is a role reserved for Utilities, Staples, and Health Care.

Considering the extreme deterioration in most elements of the U.S. economy, the S&P 500 exited June only about 10% from its all-time intraday high. Clearly, the market is looking beyond the trough, but how long it is willing to look ahead without solid data to support valuations is likely to be a key question in the months ahead.

July's Positive Bias
The equity market historically has had a positive bias in July. Since 1949, the S&P has posed an average 1.02% gain in July. The S&P 500's average price change in July is higher than the average for all 12 months, but the frequency of gains is only 57% of post-1949 Julys. Two of the five best July results came as the economy exited the Great Recession when the S&P 500 gained 7.41% and 6.88%, respectively, in 2009 and 2010.

As the market unwound some of its post-March gain, an interesting technical picture evolved, but one lacking a clear bias.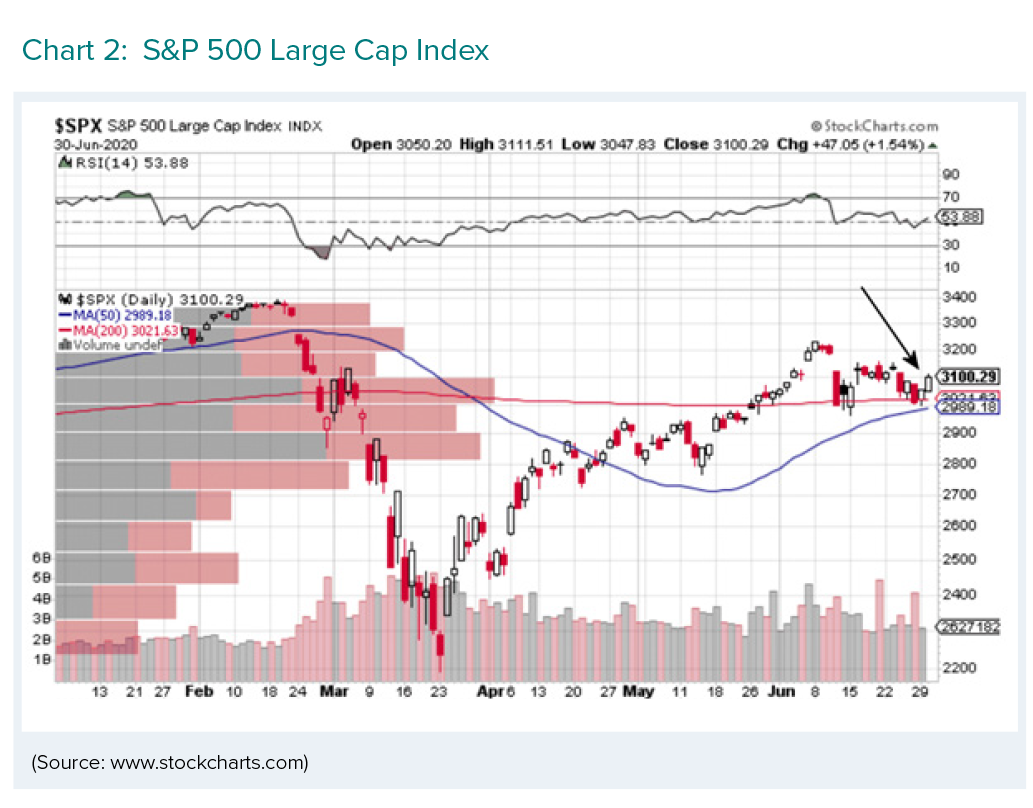 As the chart from stockcharts.com illustrates, from the 3,233 high on June 8, the S&P 500 produced a triangular formation with lower highs. The base was within the 2,980-3,021 range, which coincided with the 50- and 200-day moving averages. Typically, this suggests that this will resolve with a consequential move away from the moving average-bound range. Entering July, we find as much reason to think this could send the S&P 500 to 2,800 just as easily as 3,200.

Earnings reports for the second quarter are likely to be the catalysts for this month and possibly several more, as they could provide solid evidence as to how companies are dealing with vastly diminished economic activity and what this implies for the balance of this year. With valuations as stretched as they are, the market may need solid evidence that the 2021 earnings estimate is achievable.
The information herein is for informative purposes only and in no event should be construed as a representation by us or as an offer to sell, or solicitation of an offer to buy any securities. The factual information given herein is taken from sources that we believe to be reliable, but is not guaranteed by us as to accuracy or completeness. Charts and graphs are provided for illustrative purposes. Opinions expressed are subject to change without notice and do not take into account the particular investment objectives, financial situation or needs of individual investors.

The concepts illustrated here have legal, accounting, and tax implications. Neither Janney Montgomery Scott LLC nor its Financial Advisors give tax, legal, or accounting advice. Please consult with the appropriate professional for advice concerning your particular circumstances. Past performance is not an indication or guarantee of future results. There are no guarantees that any investment or investment strategy will meet its objectives or that an investment can avoid losses. It is not possible to invest directly in an index. Exposure to an asset class represented by an index is available through investable instruments based on that index. A client's investment results are reduced by advisory fees and transaction costs and other expenses.

Employees of Janney Montgomery Scott LLC or its affiliates may, at times, release written or oral commentary, technical analysis or trading strategies that differ from the opinions expressed within. From time to time, Janney Montgomery Scott LLC and/or one or more of its employees may have a position in the securities discussed herein.
About the authors