Janney's analysts discuss health care, laddered bonds, and stocks in August.
Health Care is a hot topic in the U.S. and abroad. Read about the changes that might define the sector and its industries.
Gather insights into how to build a bond ladder in this historically low interest rate environment.
Entering August, the summer of 2020 is turning out to be anything but dull for stocks.
Global health care has secular tailwinds - Mark Luschini
Because the U.S. spends more than 16% of government expenditures on health care, this important and sometimes maligned sector is exceedingly vital.

It is notable not only for its efficacious solutions to the world's sicknesses, ailments, and diseases, but because its representation in the S&P 500 Index at more than 14% is second only to Technology in size, and at roughly 13% of global equities (measured by the MSCI ACWI), makes it too important for U.S. and non-U.S. investors to ignore.

Monitoring Sector's Health in the U.S.
Therefore, it bears watching closely as there is trouble brewing for domestic industries within the Health Care sector. President Trump recently signed a handful of executive orders geared toward lowering drug pricing for Americans. This has served to challenge the near-term prospects for Health Care stocks, particularly pharmaceuticals, but even potentially other subsectors, as well.

President Trump is not alone in targeting healthcare costs. Presumptive Democratic presidential candidate, Joe Biden, has also spoken of policies that would be imposed on the industry that could impair growth and pressure profit margins. Consequently, shorter-term investors should be aware that there is increasing uncertainty associated with bipartisan policies evolving out of Washington.

Ultimately, structural dynamics such as demographics will still play a major role in driving the underlying support for the Health Care sector. That is not only true domestically, but also, and importantly, overseas where there is tremendous upside given the size and age of the populations in many emerging countries that are larger and possess a less-developed healthcare infrastructure. A country fitting this description is China.

Transforming Health Care in China
The aging population and the rapidly expanding middle class in China entail that healthcare expenditures will remain on a secular growth trajectory for years to come. The COVID-19 outbreak will likely function as a catalyst for the rapid transformation of China's healthcare system. In fact, many game-changing trends in global healthcare systems will probably be attributed to the COVID-19 pandemic. Regardless, China's fiscal healthcare expenditure is projected to rise because of the increasing affluence and rapid aging of its population. Obviously, this is not simply a reaction to the coronavirus outbreak. Health expenditures in China have grown considerably during the past three decades.

Indeed, between 1978 and 2018, total health expenditures in China grew at a rate exceeding that of its GDP growth. Notwithstanding the rapid expansion of China's healthcare market, expenditures still remain at a modest 6.4% of China's GDP in 2018, far below the Organization for Economic Co-operation and Development (OECD) average of 9%. In fact, health expenditures per capita in China are still below levels of those in most countries. In 2017, health expenditures per capita on a purchasing power basis ranks China barely within the top 100 countries in the world (according to the World Bank), dwarfed in spending, for instance, by its neighbors Japan and Korea, which rank 18th and 31st, respectively.

The Effects on Social and Economic Well-Being
Access to adequate health care is crucial to social and economic development. In China, healthcare capacity is underwhelming. For example, in 2018, the number of physicians and nurses as a percentage of the population was far below the OECD average. In addition, hospital bed capacity is similarly below the OECD average and multiples below Japan and Korea. Back in 2016, China released the Healthy China 2030 blueprint, covering public health services, environmental management, medical, and food and drug safety.

The five specific goals of this blueprint are:
improve the population's health,
control against major risks,
increase the capacity of healthcare services,
grow the scale of the healthcare industry, and
improve the health service system generally.
This program has set targets for health service capacity, including an increase in the number of doctors, nurses, and beds but also aims to further ease the financial burden imposed on the population by the cost of health care and medical treatments. This has important investment ramifications for two reasons. The first is China's size as the world's second-largest economy, and second, its population among which there are an estimated 167 million people over the age of 65 (a figure expected to grow to more than 200 million by 2025). It does not take much imagination to think the spending required to achieve the blueprint's success is potentially enormous. China's pivot to become more consumption driven, akin to most developed world economies, requires a strong social safety net and a well-supported eldercare system. As health expenditures grow, so will investment opportunities.

The outbreak of COVID-19 sounded the alarm across global markets, and especially within Chinese society. Building a well-prepared and effective healthcare system with adequate capacity will become one of the most important priorities globally over the coming decade.

In China, among other burgeoning world economies, the people's well-being will be critical to social stability and populations will demand better healthcare services.

Please ask your Janney Financial Advisor for a copy of the Investment Strategy Group's recently released report entitled "Investment Themes for the Next Decade," where we explore this and other sectors that possess strong secular underpinnings.

Laddered bond investing in a low-interest rate environment - Guy LeBas
Although the summer doldrums have settled in, the bulk of 2020 has proven to be anything but boring for financial markets.

Treasury Yields
At time of publication, 10-year Treasury yields are hovering below 0.60%, which is the lowest they have been at any point in history (sustainably anyway; they fell below this level during the March meltdown).

Similarly, yields on corporate and municipal bonds are at all-time lows. While it is challenging to accept the lower levels of income new bond purchases generate today as opposed to, say, 12 months ago, it remains an unavoidable market fact. Just as importantly, low interest rates do not invalidate one of the classic fixed income portfolio construction tools: The bond ladder.

Bond Ladder Strategy
Laddered investing refers to investing in the bond markets with a series of bonds with ascending maturity dates in regular intervals. Each maturity is akin to a rung on a ladder. For example, an evenly spaced $500,000 10-year ladder portfolio comprised of 10 bonds would have $50,000 bond maturities in year 1, 2, 3, and so on, with the final maturity coming in year 10.

Based on a generic mix of A-rated corporate bonds, such a ladder would yield about 0.8% today. There are ways to extend this ladder structure as well, with an income "boost" from a portion of the total portfolio in higher income-producing bonds. For example, that same portfolio might have $350,000 in bond maturities in years 1, 2, 3, and so on through 10, with the remaining $150,000 invested in 30-year bonds, lower-rated short-term bonds, or preferreds. That hypothetical ladder with a boost portfolio would yield as much as 1.6% today, a significant boost to the basic ladder example. That higher-yielding allocation can help combat low initial income generation from a bond ladder.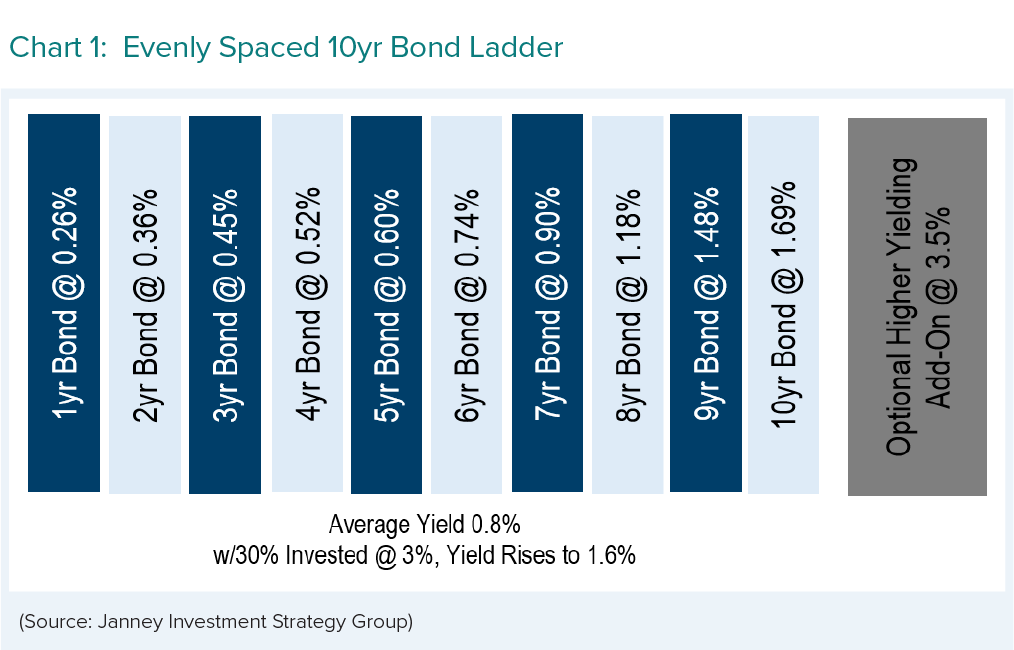 Is a Bond Ladder Strategy Right for You?
More importantly, however, the lifetime income of a bond ladder is not about today's yields, but rather about developing disciplined reinvestment to capture tomorrow's yields. Academic research1 has repeatedly validated this approach, showing that bond ladders perform comparably to a total-return managed portfolio in the long run, generally defined as twice the longest maturity of the ladder. The reason is, for the most part, simple: For an individual with a 20-year time horizon, the initial yields when starting a one-to-10-year bond ladder only represent about half of the total income generation. For an example, consider the below ladder, assuming reinvestment of each bond when it matures. After five years of reinvestment, even in a scenario of slightly higher interest rates over time, income generation from the portfolio will have risen 34%. Hypothetically, were that trend to continue, income generation after 10 years would be higher by 64% and will have more than doubled from the starting point after 20 years—even assuming our yielder add-on portfolio remained stagnant (unlikely).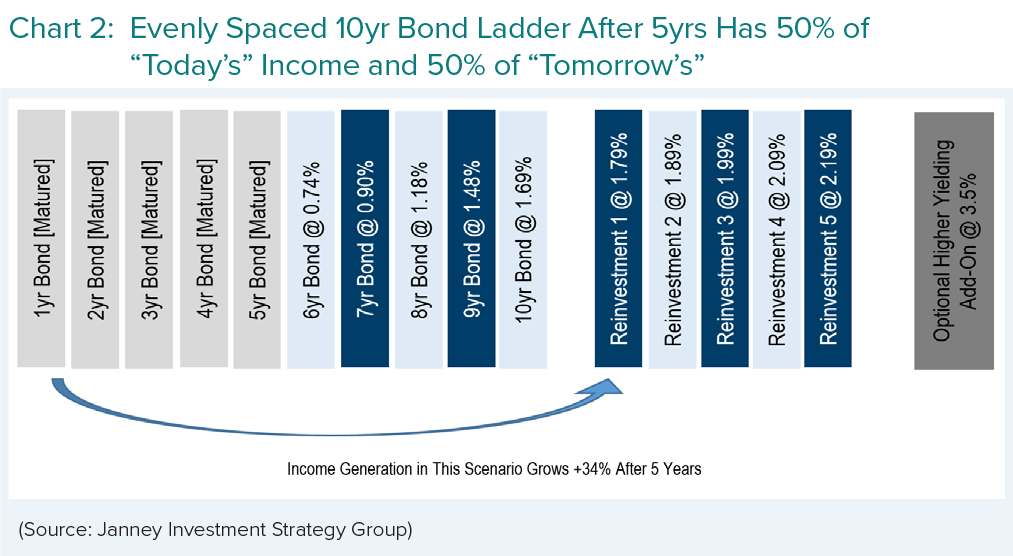 While nothing in financial markets—especially interest rates—ever moves in a straight line over decades, this hypothetical scenario underscores the value of creating discipline in a bond ladder for investors with long time horizons. The key here is not the starting point, which involves historically low yields for most categories of bonds, but rather the probability that interest rates will gradually rise over time, permitting reinvestment and progressive income growth in the coming years, particularly for investors with long time horizons.

Stocks set for an atypical August - Greg Drahuschak
Summer doldrums and vacations often syphon interest from the stock market in August. In the prior 70 years, August is only one of three months that on average has ended with a loss. Interestingly, however, more often than not, the S&P 500 ended the month higher.
The S&P 500 posted a gain in August in 12 of the previous 20 years and in four of the previous five election years. Since 1950, on average, the result in election-year Augusts for the S&P 500 has been substantially higher than for all Augusts in the period (+0.94% vs -0.12%), but this was due to the outsized gains in 1984 (+10.63%) and 2000 (+6.07%).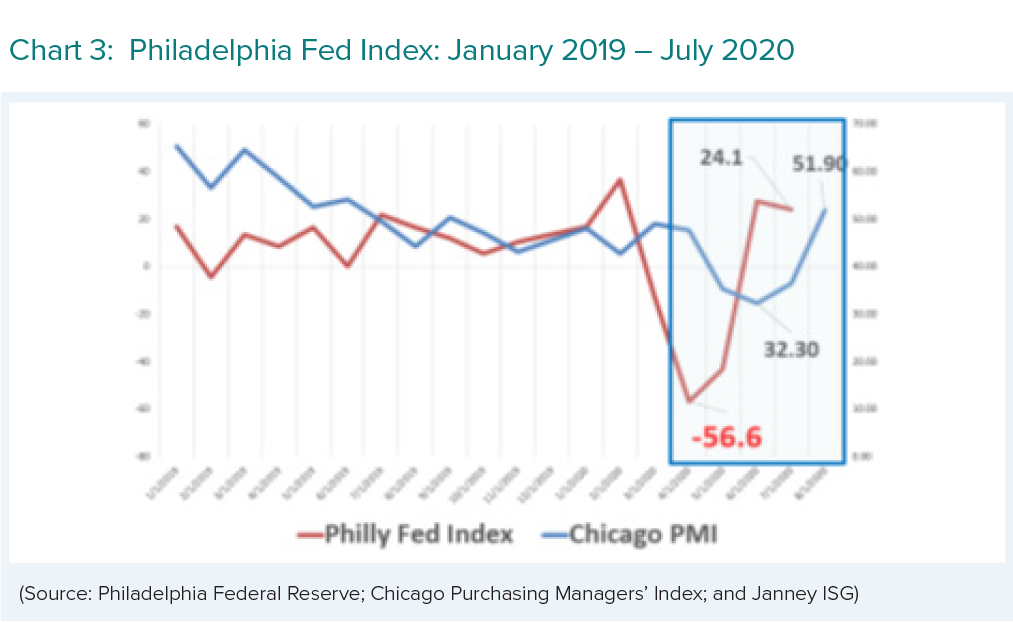 In July, S&P 500 Rises on Tech's Lead
The economy's recovery from the virus-induced slump will continue to command most of the attention. July offered hope the recovery that began in April can continue. For example, the Philadelphia Fed Index, Chicago PMI, ISM manufacturing and services indexes all showed major improvement from their recent lows. The shift between high-profile growth issues and economically sensitive stocks was a major story in July.

Representing 22% of the entire S&P 500, the five largest stocks in the index have exerted extreme influence. By the end of July, these five technology-related stocks on average were up 36.14% for the year. The Technology sector, overall, had a 20.56% gain. The S&P 500 overall was up only 1.25%. The Stockcharts.com comparison chart of the cap-weighted S&P 500 and the equal-weighted S&P 500 ETF displays the widening performance gap these five stocks have helped to create.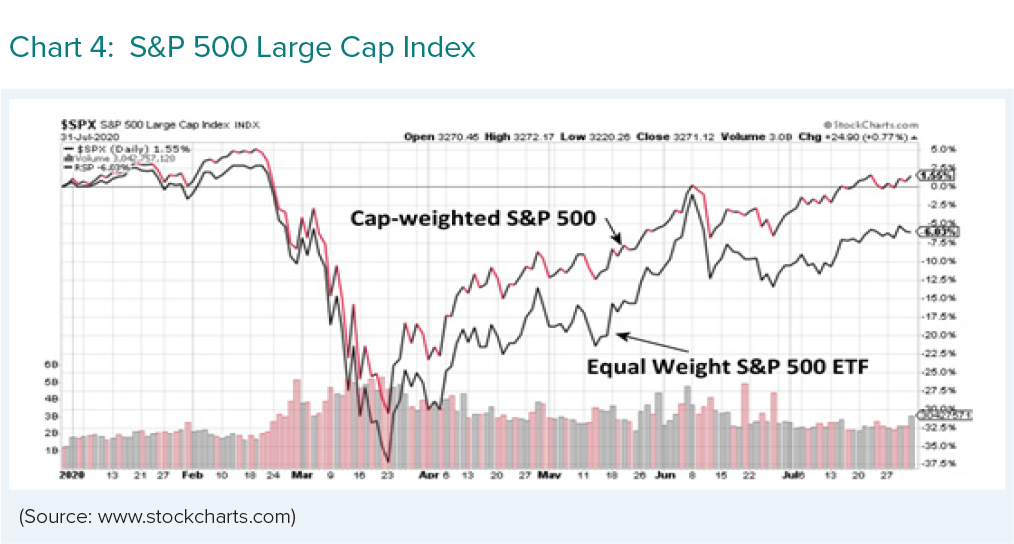 Multiple times last month, however, movement out of the high-profile tech stocks weighed on the cap-weighted index. Although this suggested a potential switch to broader segments of the U.S. economy, the movement did not last. This battle is likely to continue this month. The outcome could be a major determinant of how the S&P 500 Index performs in August.

Factors that Will Drive the Market in August
Virus-related issues will continue to be important, but several other factors are likely to drive the market this month.

The sharp economic slump that generated an annualized 32.9% decline in second-quarter GDP drove corporate earnings expectations sharply lower. After falling nearly 32% below initial expectations, the 2020 S&P 500 earnings estimate troughed six weeks ago. The 2021 estimate low was reached four weeks ago. Continued upward progress could be crucial in keeping recovery hopes alive.

After reaching technical support in mid-April and again in mid-May, the S&P 500 moved steadily higher, as the S&P 500 hit an interim peak early in June before continuing the upward move to the most-recent high at 3,279.99. In the process, the S&P 500 50-day moving average crossed above its 200-day moving average. This generally has bullish implications.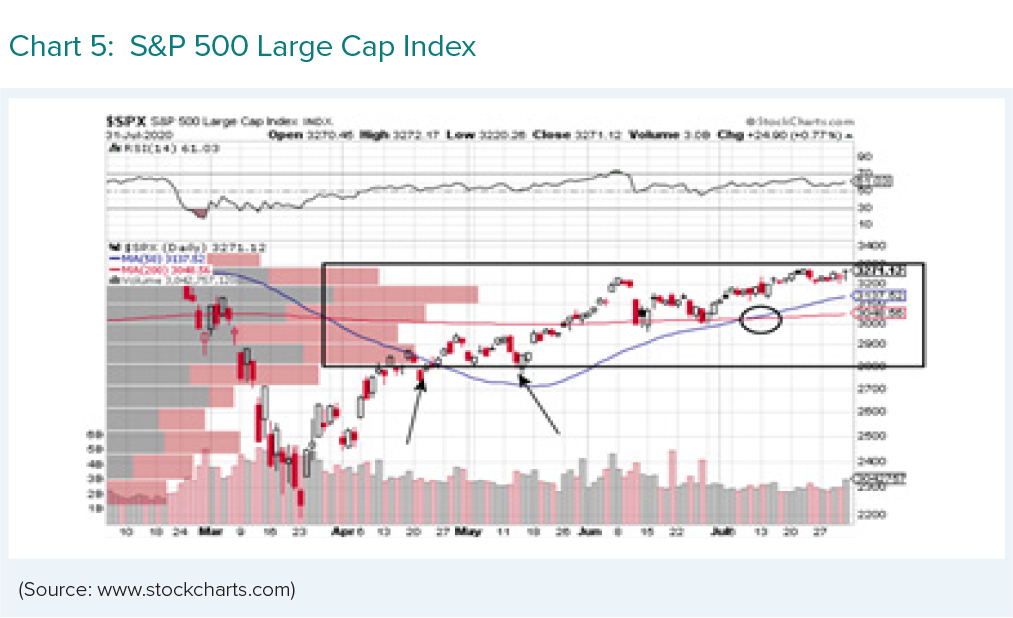 Late last month, however, the S&P 500 stalled at the upper end of a wide trading band. If the S&P 500 can break through the upper end of the range, challenging the 3,400-3,500 range could be possible. In our view, barring a major negative event, breaking the lower end of the band seems unlikely.

The information herein is for informative purposes only and in no event should be construed as a representation by us or as an offer to sell, or solicitation of an offer to buy any securities. The factual information given herein is taken from sources that we believe to be reliable, but is not guaranteed by us as to accuracy or completeness. Charts and graphs are provided for illustrative purposes. Opinions expressed are subject to change without notice and do not take into account the particular investment objectives, financial situation or needs of individual investors.

The concepts illustrated here have legal, accounting, and tax implications. Neither Janney Montgomery Scott LLC nor its Financial Advisors give tax, legal, or accounting advice. Please consult with the appropriate professional for advice concerning your particular circumstances. Past performance is not an indication or guarantee of future results. There are no guarantees that any investment or investment strategy will meet its objectives or that an investment can avoid losses. It is not possible to invest directly in an index. Exposure to an asset class represented by an index is available through investable instruments based on that index. A client's investment results are reduced by advisory fees and transaction costs and other expenses.

Employees of Janney Montgomery Scott LLC or its affiliates may, at times, release written or oral commentary, technical analysis or trading strategies that differ from the opinions expressed within. From time to time, Janney Montgomery Scott LLC and/or one or more of its employees may have a position in the securities discussed herein.
About the authors



Related Articles