Janney's analysts discuss health care, laddered bonds, and stocks in August.
The topic of inflation raises many questions, but investors don't have to be left in the dark.
Details of the Fed's revised policy framework and what it could mean for the markets.
This September begins with eyes on potential stock moves and the upcoming election.
Inflation what ifs - Mark Luschini
Several years ago, there was a commercial for a well-known computer company. In it, an actor was shown in a casual setting—the shower, out for a run, etc. Then, suddenly, the actor stopped to make a phone call to a fictitious customer and say "What if?" The inquiring tagline implied the company's representative was always thinking about the customer and the best solution for their technological needs. It was a brilliant advertisement.

Below Target
"What if?" scenarios relevant to inflation are discussed below, but here is background about where we stand today. Inflation has remained low over the past decade because of slow growth and unfilled output gaps. The low levels most recently are due to the pandemic-induced economic collapse. Since the demand shock from the lockdown and subsequent all-too-frequent closures has yet to fully recover, it might still be a long time before inflation emerges to a level that approaches the rate most central banks have spent the past 10 years or more trying to achieve—the elusive 2%.

We know central bankers have strived to boost growth subsequent to the Great Financial Crisis and were largely successful even if the pace was relatively subdued compared to economic expansions of the past. We also know, however, all the effort and monetary accommodation of the past 10 years still did not generate a sustained pace of inflation to meet, let alone exceed, the targeted rate of 2% (the Federal Reserve's explicit mandate since being adopted officially in 2012). The Federal Reserve's favored gauge of price, known as the core Personal Consumption Expenditures (PCE) index, has hovered mostly between 1% and 2%, giving reason for some to believe we may never see a sustained rise, let alone high inflation, ever again.

Questions Abound
This leads us to various "what if" questions and more:
What if the combination of massive monetary stimulus, and the increasing willingness of profligate fiscal officials to spend,actually works to stoke growth that in turn breeds inflation? How? Employment gains and the enormous amount of money supply introduced by monetary officials actually begins to be borrowed and lent again. Businesses recover and borrow. Projects and capital expenditures are launched as business leaders become more optimistic and demand, unleashed by the economy reopening and job creation, begins to recycle money from borrowing to spending and back again. Policymakers worldwide have the spigots open and the scale of fiscal and monetary intervention has been unprecedented.
What if the goal of reflating the economy works? What if that growth, and all the things introduced to produce it—massive debt-financed government spending, unconventional monetary policies,and the willing of central bankers to fall behind the curve on inflation and allow economies to run "hot" before embarking on an effort to temper that growth by raising rates—actually works?
What if central bankers are naïve and think simply raising rates will thwart the advance of inflation if it becomes unanchored?The complexity of what causes inflation reduces the efficacy of this traditional treatment.
What if inflation does not just run at a level "modestly" above the 2% target and instead creeps toward 3%? Does the market interpret that as the Federal Reserve having lost control, which could cause an unwelcome market riot?
Preparation, As Usual, Is Key
While the answers to the aforementioned are unknown at this point, preparing for any of these outcomes should include the consideration of investments that have historically defended well against the ravages of incipient inflation.

These investments include, but are not limited to, inflation-adjusting instruments such as Treasury Inflation Protected Securities (TIPS) and cash equivalents, commodities such as basic metals and gold, and other hard assets such as real estate. Equities, such as those in the Basic Materials and Industrial sectors, are also worth consideration. Foreign equities, particularly emerging market stocks, are too.

While amassing these instruments for the sole purpose of defending against an imminent breakout of inflation may be premature, talking with your Janney Financial Advisor about "What if?" is not.

Fed Focuses on Average Inflation Targeting - Guy LeBas
Each year, the Kansas City Federal Reserve holds a policy conference in Jackson Hole, Wyoming; a boring affair where mostly academic researchers present papers in a National Park Service lodge.
The Jackson Hole Symposium gained a certain mythology in the mid-2000s Bernanke Fed as a conference at which the Fed chairperson and foreign monetary officials present serious and new policy options. This year, the symposium was not very Jackson Hole-like. For starters, it was virtual. Nevertheless, Chairman Jay Powell delivered a speech as significant as any in recent memory.

On August 27, Chair Powell outlined some of the results of the Fed's first monetary policy framework review. This review, originally slated for 1Q completion but delayed by the extraordinary policy developments of 2020, was designed to evaluate the "how" behind the Fed's dual mandate of full employment and low inflation. Equally as important, the review is to inform policy decisions for the next decade. While the full framework review is not yet public, and the Federal Open Market Committee (FOMC) has not voted to accept all aspects, there is one aspect that has gained critical support: Average inflation targeting (AIT).

Aim of AIT
Average inflation targeting is a new way that the Fed plans to manage the trade-off between full employment and inflation. Historically, the Fed has sought to raise interest rates when the economy was near full employment to ensure that inflation "settled" around a 2% spot rate. Under an AIT approach, the Fed will instead look to target 2% inflation over a rolling period.

For example, if there were an economic slowdown and inflation fell to 1% for one year, under AIT, the Fed would be willing to accept inflation at 3% in year two in order to get to the 2% average. This example is incredibly simplistic. For one, it is a two-period example whereas most academic research recommends a five-year rolling AIT. Additionally, it assumes the Fed can move inflation with policy very precisely, which it clearly cannot. However, the biases that this approach create are very important for the bond markets and possibly the equity markets.

3 Conclusions About New Policy Framework
AIT is likely to have the Fed leaving interest rates lower than they otherwise would have over the next several years.Since the start of AIT comes from a point of low inflation(as the below chart notes, core Personal Consumption Expenditures (PCE) inflation has barely seen 2% in adecade), the targeting approach means the Fed will need higher inflation to get near the 2% average. Lower inflation means lower-for-longer overnight interest rates.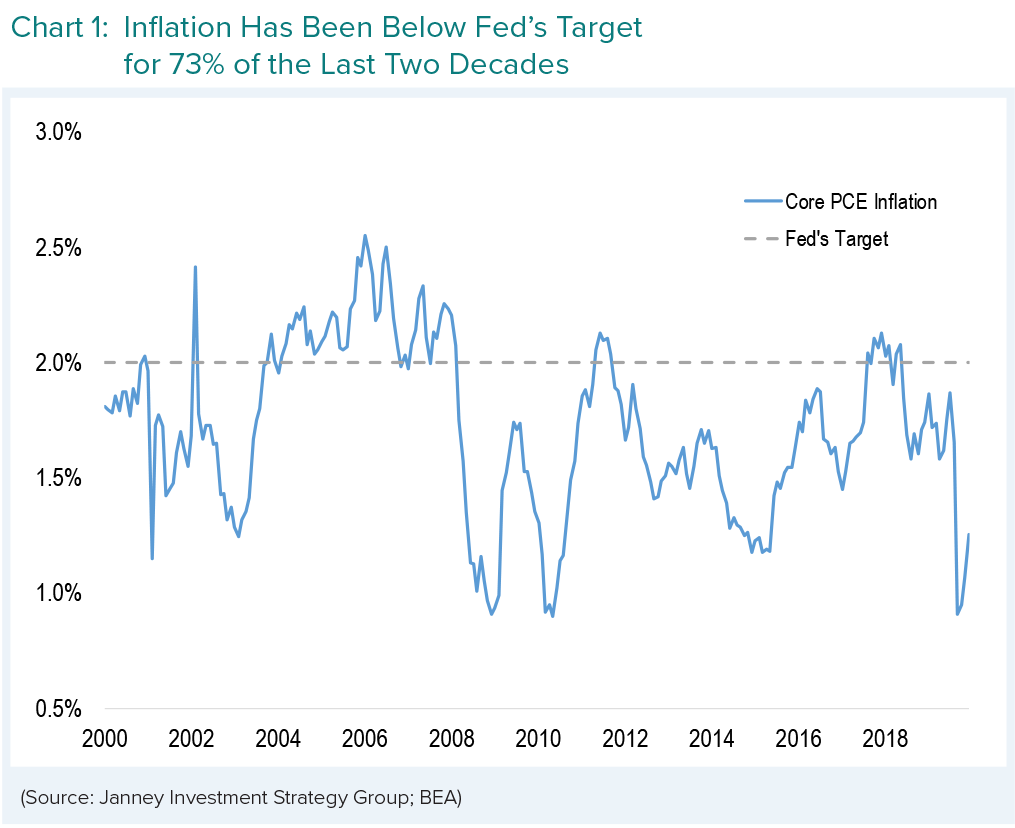 AIT introduces a risk for long-term interest rates, as longer-term bonds (seven years or more) are more sensitive to inflation. If the Fed manages to stimulate more inflation than we've seen, there is a chance inflation rates could stabilize above 2% for longer than anticipated, which will cause longer-term interest rates to rise and eat into the returns from longer-term bonds. Given the past two decades of inflation trends, this worry is remote, but markets are starting to price a chance of it happening, as indicated by a slightly higher cost of buying long-term inflation protection.
AIT, if executed well, has the potential to improve economic well-being, which is presumably positive for risk assets like equities. And, that's the rub. If easier Fed policy under AIT helps bring the economy to full employment faster and allows it to remain there longer, consumption and well-being rises. Aside from being a valuable goal in and of itself,greater consumption and savings can help support financial markets for the long haul.
September stock trends grab attention following historic month - Greg Drahuschak
The August Investment Perspectives article "Stocks Set for an Atypical August" concluded by suggesting that if the S&P 500 Index can break through the upper end of its recent trading range, challenging the 3,400-3,500 range could be possible. It met and surpassed the challenge.

Stocks to the Top
The S&P 500 topped its trading range early last month. Any semblance of potential resistance disappeared when the index crossed above 3,400, which led to the next 100-point move taking only four trading sessions.

As the percentage of the five-largest components in the S&P 500 reached a record high, however, increasing concern that a pullback in these stocks could lead to a sudden and sharp overall market decline was expressed.

By many fundamental and technical measures, the equity market is stretched. At more than 21 times the 2021 S&P 500 earnings estimate, traditional valuation metrics suggest stocks are not cheap. In addition, the S&P 500 and Nasdaq Composite Index are at extremely overbought levels technically, and the spread between the S&P 500 Index and its 200-day moving average is extreme.

While these factors and others suggest the potential for a market pullback, none of them portends a consequential market drop in our view.

We do not foresee an immediate surge in the 2021 S&P 500 earnings estimate, but gradual improvement in the weeks ahead will help to ease valuation concern. A modest pullback or even moving sideways for a few weeks can improve the market's technical condition.

Federal Reserve credit policy is a key pillar that not only helps to prop equity prices now, but also allows the market to have a higher-than-typical valuation that in time could exceed even today's relatively liberal level. At the Jackson Hole Symposium late last month, Federal Reserve Chairman Jerome Powell further underpinned the market when he outlined the basics of a change in Fed policy focus that appeared to assure interest rates will remain low for much longer.

Track Record for Election-Year Septembers
For the relatively short-term, the market is entering what typically is not its best time of the year. The S&P 500 has ended lower in September 39 times since 1949 for an average 0.46% loss. Contrary to popular belief, however, October more often than not sees the S&P 500 post a gain. Losses of 21.76% in 1987 and 16.94% in 2008 plus several frightening mid-month declines give October an undeservedly bad reputation.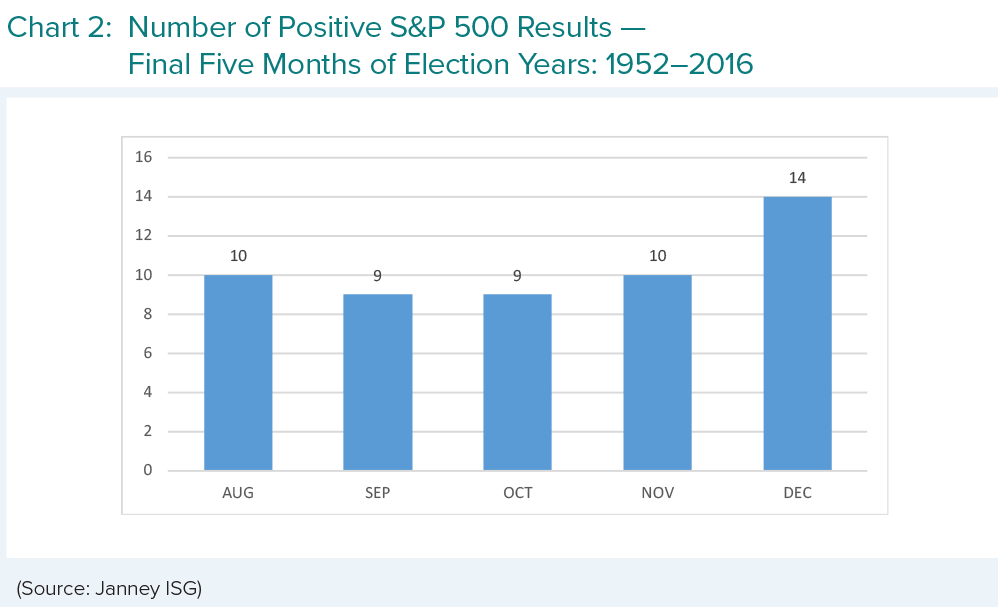 Now only two months away, the U.S. presidential election could complicate trading. Three of the 10 worst losses in September happened in election years 1960 (-6.25%), 2000 (-5.35%), and 2008 (-9.08%). On the other hand, election years 1954 (+7.56%), 1958 (+4.29%), 1988 (+3.97%), and 1996 (+5.42%) produced four of the 11 best September results in the previous 70 years. In the 17 previous election years since 1950, the Dow Jones Industrial Average ended the month higher seven times, but the S&P 500 was up in nine of those years.

What are the Next Major Moves?
An Investment Strategy Group report titled "Where Do Stocks Go from Here" summarized our market view as we now enter the last third of 2020. In that report, we suggested that the next move in the S&P 500 may take longer than recovering the bear market draw down, but now that the S&P 500 has recovered more than its entire bear market drop, the next major point increment eventually could send the S&P 500 to 4,500.

Based on possible 2022 earnings and an elevated multiple resulting from low interest rates, reaching this S&P 500 level is possible far more quickly than most investors now believe is likely.

For this reason, investors are encouraged to use any market pullback as an opportunity to add to equity exposure.
The information herein is for informative purposes only and in no event should be construed as a representation by us or as an offer to sell, or solicitation of an offer to buy any securities. The factual information given herein is taken from sources that we believe to be reliable, but is not guaranteed by us as to accuracy or completeness. Charts and graphs are provided for illustrative purposes. Opinions expressed are subject to change without notice and do not take into account the particular investment objectives, financial situation or needs of individual investors.

The concepts illustrated here have legal, accounting, and tax implications. Neither Janney Montgomery Scott LLC nor its Financial Advisors give tax, legal, or accounting advice. Please consult with the appropriate professional for advice concerning your particular circumstances. Past performance is not an indication or guarantee of future results. There are no guarantees that any investment or investment strategy will meet its objectives or that an investment can avoid losses. It is not possible to invest directly in an index. Exposure to an asset class represented by an index is available through investable instruments based on that index. A client's investment results are reduced by advisory fees and transaction costs and other expenses.

Employees of Janney Montgomery Scott LLC or its affiliates may, at times, release written or oral commentary, technical analysis or trading strategies that differ from the opinions expressed within. From time to time, Janney Montgomery Scott LLC and/or one or more of its employees may have a position in the securities discussed herein.
About the authors



Related Articles