Janney's analysts examine investment strategy with today's market.
Investors might not need to worry today about the burden of government debt, but read why the deficit matters.
The road for infrastructure spending is paved by various sources. Find out how fixed income securities fit in.
Look at what's ahead for stocks and some seasonal characteristics.
When Will the Deficit Matter? - Mark Luschini
Any discussion of long-run economic prospects cannot ignore the alarming rise in government debt.

The U.S. was already running a $1-trillion-plus federal deficit before this year's viral crisis led to a further extraordinary explosion of red ink. Between the economic collapse because of the coronavirus-induced lockdown and fiscal spending that has surged in an effort to speed the post-pandemic recovery, that deficit has expanded to trillions—an amount rapidly approaching the equivalent of our country's GDP.

Investors, Thus Far, Unfazed by Deficit
One has to remember, though, that it is neither the size of the debt nor what is being added to it that matters, as long as the interest on that debt is low and there is a willing buyer of the issuance of it when funds need to be raised to service it. In so far that the former is concerned, government spending on entitlement programs, defense, and other important discretionary items is not being crowded out by the interest costs so it has not really sparked any remedial political action. On the latter, between foreign buyers and the Federal Reserve's bond-buying programs undertaken to reflate economic activity on and off since the Great Financial Crisis, we have not faced the prospect of a Treasury auction that failed to attract sufficient demand.

So, at the moment, the burgeoning and sizable deficit is not fazing investors. In the past, the spread between 30-year and 10-year Treasury bonds widened as the deficit rose, but this relationship has weakened recently.

The Federal Reserve's program of buying copious amounts of bonds may have had some impact, but it also reflects the perceived structural weakness in the economy and low levels of inflation. Having said that, it is also hard to know at what point investors will take fright at U.S. fiscal trends. The experience of other countries that faced sovereign debt crises suggests problems can arrive with little advance notice.

One day, investors seem complacent and the next, they are running scared. That is not to imply we are on the path to Third World country status anytime soon. After all, the U.S. dollar's status as the world's main reserve currency gives the U.S. more protection than most other countries when facing high and rising debt. Again, the increasingly unreserved willingness of central banks' to be the bond buyers of last resort gives debt burdens more room to grow than in the past. However, there is no escaping that debt arithmetic is unforgiving when, or if, bond yields eventually rise.

A Look Ahead
It is futile to speculate on a date when bond vigilantes will assert themselves in the U.S. fixed income markets. To be sure, it seems a non-trivial risk that it will happen at some point. There is a chance that before that happens there will be political pressure to do something about soaring debt levels even without a market revolt, but that could be some time away particularly given the increased attention given to Modern Monetary Theory (MMT). MMT holds among other things, that a country with its own fiat currency can use fiscal largesse as a policy tool to promote economic activity. Short of full adoption of that theoretical discipline, spending on entitlements and debt servicing will probably force the government to pursue austerity. Taxes will rise and spending growth will be curtailed. That is one reason the Congressional Budget Office scores future economic prospects to be sub-trend.

Granted, the short- and long-run economic outlook would have been worse if there had not been a powerful fiscal response. Consumption would have suffered an even sharper decline with a catastrophic impact on employment, profits and capital spending. Arguably, in some components of the economy, namely travel, leisure and entertainment, it has been catastrophic. In this sense, the government really had no choice: The health of government finances becomes irrelevant in the midst of a pandemic-related economic collapse.

However, at some point, debt and deficits will matter and speculation will abound as to how to unwind it. Growing out of it would be ideal, but often it is inflation that is easier to conjure by way of hyper-stimulus and a weakened currency.

Investors may not need to react today to the threat posed by the burden of government debt, but it should be more than a throwaway line to think the consensus view that inflation is a relic of the past.

Infrastructure Spending and Fixed Income Investing - Guy LeBas
Infrastructure—a broad area which includes all of the industrial foundation upon which we live our daily lives—is a decidedly lukewarm topic in the U.S. financial industry, and has been for quite some time.

Where We Started, Where We Are Today
Problems with U.S. infrastructure jumped into the headlines with the 2007 highway Minneapolis bridge collapse. Today, the American Society of Civil Engineers (ASCE) gives America's infrastructure a "D+" grade, down from a "C" the first time ASCE reviewed the matter in 1988. While there have been plenty of infrastructure projects during the past 32 years, the reality is no government entity nor private investor has managed to make major nationwide shifts.

How Infrastructure Projects are Funded
Building out infrastructure, whether it be in the form of roads, public transit facilities, or physical inputs to technology requires funding. Generally, there are three ways infrastructure projects find funding:
Public-Private Partnerships (P3) are vehicles through which a private operator builds an infrastructure asset and charges for use. Common examples (mostly outside the U.S.) include toll roads and airports. Although there are a handful of large partnerships, P3s have run into hurdles in many U.S. jurisdictions.
Private sector buildouts are for-profit approaches through which a company creates the infrastructure for its own use. A recent example is that of the U.S. telecom firms building out 5G mobile technology in major cities. Regulated water and power utility infrastructure also falls into this category.
Municipal infrastructure finance, the least exciting of the three methods, involves a state or local government issuing bonds to fund a not-for-profit project and using revenues to repay those bonds over time. The onus to make repairs (ex. fixing a bridge on a local road) or launch small projects (ex. replacing a mid-size town's water treatment plant) often lies with state and local governments and their accordant authorities, financed in large part with tax-exempt bonds. In some cases, a municipal issuer will use federal grants to pay for part of a project.
A Major Topic with Near-Term Implications
Infrastructure has taken on importance as an issue in 2020's presidential election. President Trump's White House has discussed a $1-trillion infrastructure proposal built on the foundation of the 2015 national transportation-funding package, which expires this year. Meanwhile, candidate Joe Biden's campaign has issued a $700-billion infrastructure proposal, including $400 billion in clean energy infrastructure projects.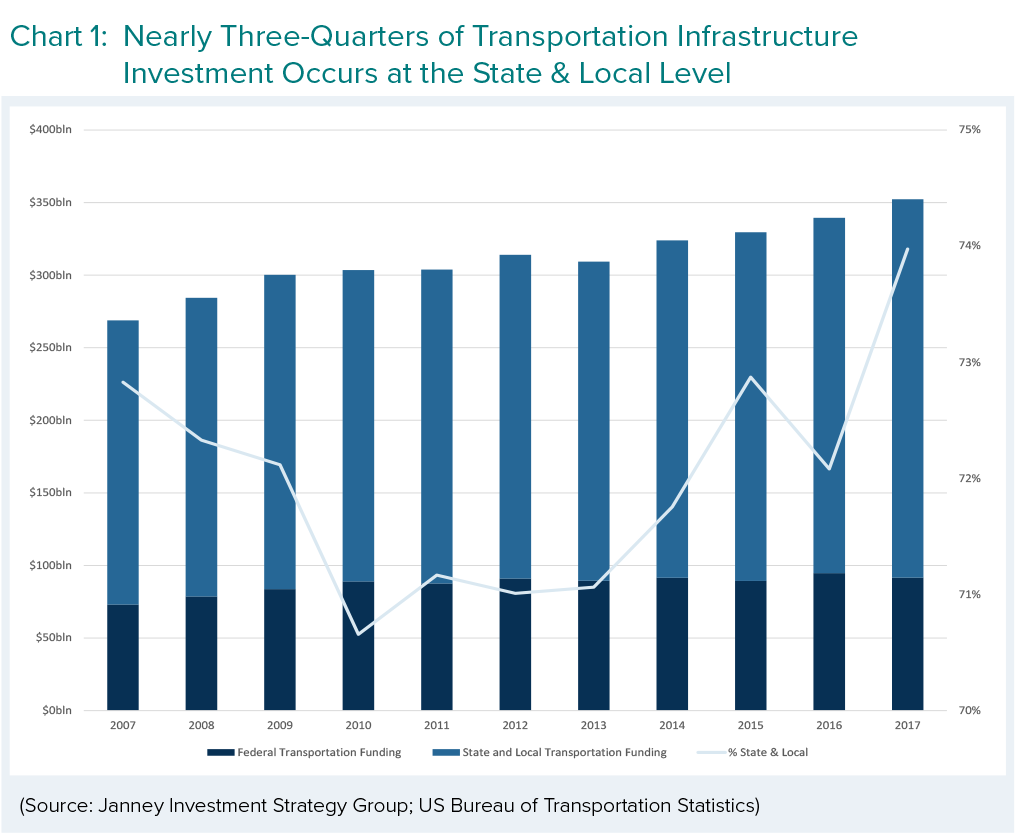 As fixed income investors, there are very substantial reasons to care about the next 12 months.

First, if either of the Trump or Biden infrastructure packages become law, there will be significant additional Treasury note and bond issuance coming in 2021. Infrastructure needs are long term, and so it seems likely a good portion of this issuance will be in long-term bonds, potentially pushing yields in the seven-30-year sector of the yield curve higher.

Second, if the packages do not become law, spending at the state and local level may have to increase to fund infrastructure. That means more muni bond issuance and weaker credit quality on the municipal side.

Finally, there are corporate profitability and credit quality implications. Public companies that manufacture construction equipment, manage large civil engineering projects, and utilities all stand to benefit from the significant dollars in either proposed package. But then again, regardless of the election outcome, it is unclear that either candidate's measure will become law.

Autumn's Seasonal Bias Begins for Stocks - Greg Drahuschak
September's typical bearish bias continued, as the S&P 500 Index posted its 40th loss for the month since 1949 and snapped a five-month winning streak. Stretched technical conditions early last month largely were responsible for the S&P 500 decline.


Seasonal bias again might be on investors' minds this month. Losses of 21.76% in 1987 and 16.94% in 2008, plus several frightening mid-month declines, give October an undeservedly bad reputation, as the S&P 500 ended October higher in 41 of the past 70 years for an average 0.83% gain for all years. October takes on added significance in advance of presidential elections. Since 1950, the S&P 500 ended October higher in 11 of the 17 election years and advanced in November in 10 of those election years. It also had post-election gains in 14 Decembers, including after the contested election in 2000 and in December 2008 as the Great Recession was unfolding.

However, A Shift in Sector Bias Might be Developing
It is difficult in a down month to have a high degree of conviction about the market changing emphasis, but there were signs in September that a shift in sector bias may be unfolding.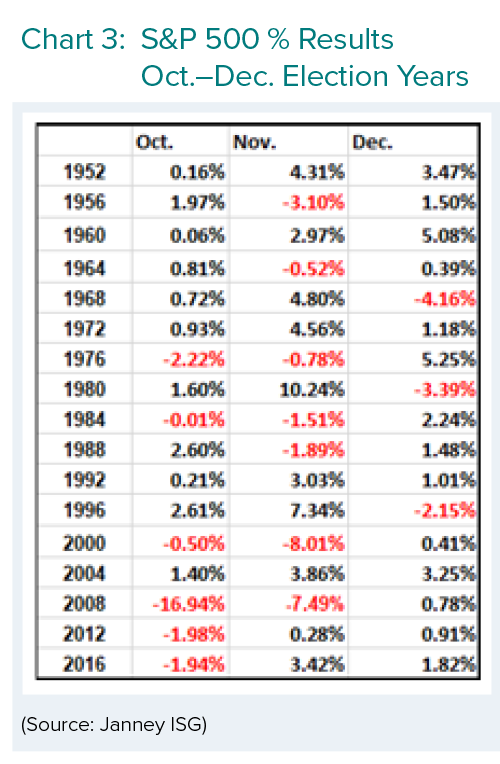 It has been well documented that through most of the bull market, high-growth and high profile names led the advance. But, in part of August and September, Materials and Industrials were two of the better performing sectors. The difference between these two sectors and the prior leadership is relatively nuanced, but if it continues, it could be foretelling a broadening of the market, which would be a strong positive for future market movement.

In the extremely short term, it probably is just as easy to make an argument for a 10% pullback as it is for the market rising 10%. Continued virus concerns, high valuation, election uncertainty, and less-than-optimal economic data could weigh on stocks while monetary policy, gradual earnings improvement, and potential for a vaccine support the bullish case.

Case for a Bull Run
A massive amount of cash with few investment alternatives offers the potential for earnings multiple expansion, which combined with gradual earnings improvement, argues for the equity market extending the 11-year bull market well into 2021.

As detailed in a segment of the September Investment Perspectives, however, the massive amount of cash on hand brings with it the potential for higher inflation rates.

Watching for Inflation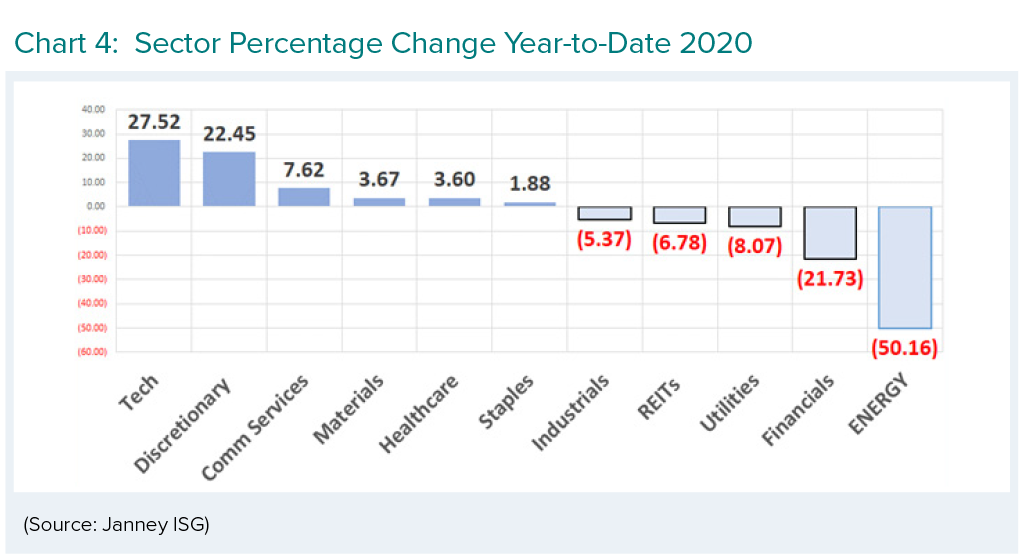 A burst in the inflation rate is highly unlikely soon. Changes in the inflation rate, however, easily are overlooked, as they tend to happen slowly until they become a major problem. Monitoring prices for industrial commodities like nickel, copper and silver could forewarn of a potential inflation problem. To some degree, the market already may be considering higher inflation potential, as the Materials sector of the S&P 500, which consists of many industrial commodity producers, set an all-time high early in September.
The information herein is for informative purposes only and in no event should be construed as a representation by us or as an offer to sell, or solicitation of an offer to buy any securities. The factual information given herein is taken from sources that we believe to be reliable, but is not guaranteed by us as to accuracy or completeness. Charts and graphs are provided for illustrative purposes. Opinions expressed are subject to change without notice and do not take into account the particular investment objectives, financial situation or needs of individual investors.

The concepts illustrated here have legal, accounting, and tax implications. Neither Janney Montgomery Scott LLC nor its Financial Advisors give tax, legal, or accounting advice. Please consult with the appropriate professional for advice concerning your particular circumstances. Past performance is not an indication or guarantee of future results. There are no guarantees that any investment or investment strategy will meet its objectives or that an investment can avoid losses. It is not possible to invest directly in an index. Exposure to an asset class represented by an index is available through investable instruments based on that index. A client's investment results are reduced by advisory fees and transaction costs and other expenses.

Employees of Janney Montgomery Scott LLC or its affiliates may, at times, release written or oral commentary, technical analysis or trading strategies that differ from the opinions expressed within. From time to time, Janney Montgomery Scott LLC and/or one or more of its employees may have a position in the securities discussed herein.
About the authors