Janney's analysts discuss inflation and stock trends.
With vaccine breakthroughs and recovery in sight, we take a look at stocks and the economy post-pandemic.
Read how potential tax code changes might affect municipal bond markets.
Record-breaking performances have many warming to the thought of more stock market highs to come. Will we see a Santa Claus rally?
Stocks for the Post-Pandemic World - Mark Luschini
The past few weeks have produced some good news on the pandemic front.
The number of reported daily cases of COVID-19 has begun to turn lower in Europe. In fact, the seven-day average has fallen by 30% from its early-November peak.

In the U.S., which has lagged the evolution of the outbreak in Europe by several weeks, there are finally faint indications that the number of new cases is stabilizing, especially in the hard-hit Midwest.

Keeping a Watchful Eye on Virus Surge
Nevertheless, it is clearly too soon to breathe a sigh of relief. Healthcare experts warn that the spread of coronavirus occurs more easily in colder temperatures. The migration indoors induced by the onslaught of winter and holiday activities will create more opportunities for the virus to propagate. Unfortunately, if the number of new infections continues to grow, it is conceivable that more states will tighten social distancing rules and mitigation protocols. That, in turn, could impair near-term economic activity.

Ultimately, the availability of vaccines will pave the way for stronger growth in the medium-to-longer term. News of three seemingly viable and highly efficacious drugs so far has heightened expectations that inoculations could begin in a few weeks for healthcare and other first responders. This could also soon extend to a population of the most vulnerable and expand more broadly throughout the next year.

Could a Mini-Boom Be Forming?
With economic activity already primed to continue expanding and reasonably good odds of another fiscal stimulus package in the next few months, the restoration of "normalcy" the vaccine could bring will serve as an accelerant to the pace of positive growth. The confluence of these factors could create a mini-boom that could last through next year.

Since these developments are occurring on a similar level in overseas markets, the synchronized uptick in activity should be fertile for equity markets in general, but particularly for those sectors that are levered to economic growth. The deep cyclicals such as Materials, Industrials, Energy, and even Financials, could prosper. If that were to be the case, investors would also do well to spread capital to European and Emerging Markets where these industries dominate.

Equities have pulled forward much of this news and run up a lot since the start of November. Bullish sentiment among market participants has surged in the American Association of Individual Investors weekly bull-bear polls.

In addition, the put-to-call ratio found in the options market has fallen to multiyear lows. These are often seen contrarily as a sign that enthusiasm has exhausted the potential demand for stocks in the short run. Given the likelihood that economic growth could sputter because of viral considerations, and the fiscal cliff associated with the end of CARES Act-related pandemic assistance and unemployment extensions expiring at year-end, a surprise on the downside could leave equities vulnerable to a short-term correction.

Portfolio Considerations
Nevertheless, rising odds of an effective therapeutic solution sooner than expected and continued easy monetary policy, keep us bullish on stocks over a 12-month horizon. Equity investors should be shifting their allocation away from growth stocks towards value stocks and incrementally from the U.S. bourse towards the rest of the world.

Looking further out, investors may want to prepare for the potential that inflation could accelerate meaningfully once unemployment returns to pre-pandemic levels, possibly in the next couple of years. The departure of Baby Boomers from the labor market, sub-trend productivity growth, backlash against market-dominant corporations, and the slowing of globally sourced supply chains and production, could all conspire in one form or another to push up inflation.

These forces could create a challenging environment for ubiquitous portfolio strategies. A secular regime change from falling inflation and interest rates to a rising rate and inflationary environment will upend the stock and bond portfolio construct that worked successfully over the past decade or more.
Taxes and Munis in 2021 - Guy LeBas
Taxes, after all, are the dues that we pay for the privileges of membership in an organized society."

Those were President Franklin D. Roosevelt's words in the first half of last century, and while less pithy than Christopher Bullock's (oft-misattributed) joke about death and taxes, the sentiment is perhaps more meaningful.

Benefits of Municipal Bonds
In a self-contradictory twist to Roosevelt's comments, state governments provide much of society's social organization, and yet, they finance their budgets largely with tax-exempt bonds. Irony aside, the long-term value proposition offered by U.S. municipal bonds is the fact that income generated by said bonds is exempt from federal and, in many circumstances, state and local taxation.

For investors in a 24% or higher marginal tax bracket, the exemption (depending on market conditions) generally provides a net benefit. Said another way: While gross yields on munis may be lower than, say, yields on corporate bonds, the tax exemption makes the after-tax returns more attractive on munis so long as tax rates are above 24%.

We are just three years out from the last tax reform, formally called the Tax Cut & Jobs Act of 2017. That reform, among other things, reduced higher-income earners' tax rates; the top tax bracket for earners of $500,000 and higher came down to 37% from 39.6%. The impact on the muni markets of that tax cut was lost to the mists of time, but when it comes to municipal bonds, falling tax rates lead to relative underperformance. The simple reason is the value of tax-exempt income declines when tax rates decline, particularly for higher-income investors.

Potential Changes on the Horizon
President-elect Biden has made no secret of his and his Democratic colleagues' interest in increasing personal income tax rates for high-income earners—although not until the pandemic response is settled and economic growth stabilizes. At present, there are no concrete proposals to do so; moreover, it is unclear whether the Senate will go along with any such proposals.

The outcome probably depends not only on the results of the Georgia runoffs in January, but also of the leanings of various Senate moderates on both sides of the aisle. The bottom line is there's a small chance of higher tax rates for high-income earners in 2022. While that's bad for disposable income, it's good for the performance of municipal bonds.

The following table includes an estimate of the potential market-value impact of a federal income tax bracket increase on municipal bonds. What's a bit strange about this analysis is that impact is extremely small in terms of market value. We estimate just +0.3% outperformance for a 2% increase in top tax brackets, while in 2017, we estimated a -1.0% underperformance from the same size move. The reason the two experiences are not mirror images is that interest rates are far lower today than in 2017, and so the tax benefit is effectively smaller.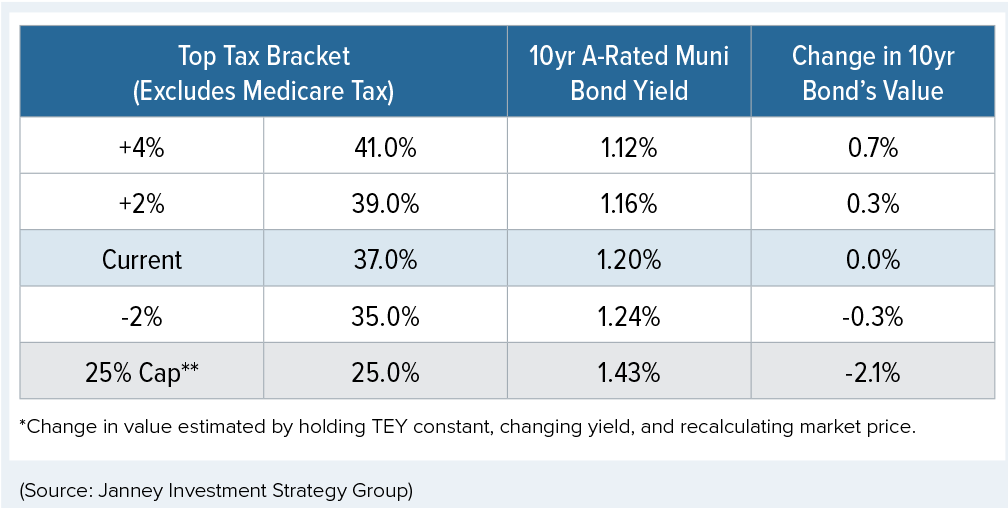 The greater, although far less likely, threat to the municipal bond market is that tax reform includes some sort of change to the nature of the municipal tax exemption. Tax expenditures refer to line items in the federal budget that account for foregone income. To an individual taxpayer, these items look like deductions or exemptions. For example, the largest such expenditure is the fact that U.S. taxpayers don't have to pay taxes on the portion of their health insurance premiums paid by their employers. That expenditure accounts for $228 billion of foregone revenue; together, the top 10 tax expenditures cost about $1 trillion in revenue and the municipal bond tax exemption represents $61 billion in foregone revenue.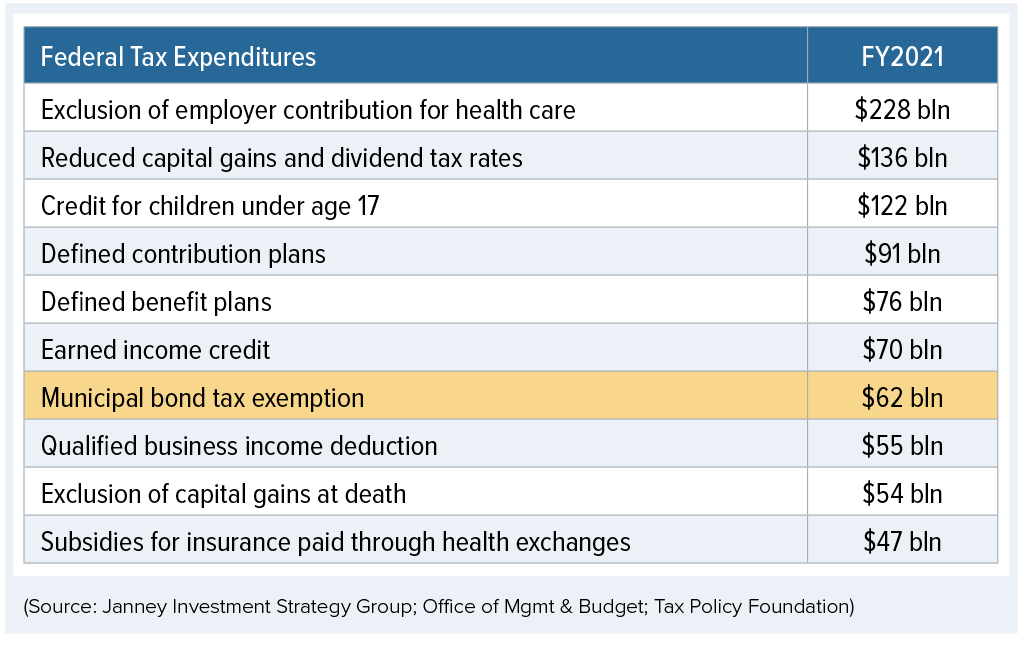 Tax Policy Impact on Munis

What, in theory, might changes to the municipal bond tax exemption look like? Almost nobody believes the exemption will be completely eliminated, as it provides a powerful benefit to state and local governments. Instead, in theory, changes to the tax exemption would most likely "cap" the amount of muni bond income exempt from taxation. That would have the effect, noted for sake of example in the first table above, of causing the market value of our hypothetical 10-year municipal bond to decline by an estimated -2% in the event deductibility is capped at 25%.

The point of this tax discussion is not to scare investors. Rather, it is to point out that an increase in marginal tax rates will benefit the muni markets more than others—although the size of that benefit is small thanks to low starting yields. Similarly, the market-value impact of any deductibility cap is small as well, perhaps smaller now than at any other point in history.
Wait...There's more - Greg Drahuschak
For the 10th time following the past 18 presidential elections, the stock market ended November higher.
The S&P 500's 10.75% gain was the best percentage gain for the month in 70 years. The Dow Jones Industrial Average, Nasdaq Composite, and Russell 2000 posted November gains of 11.84%, 11.80%, and 18.29%, respectively.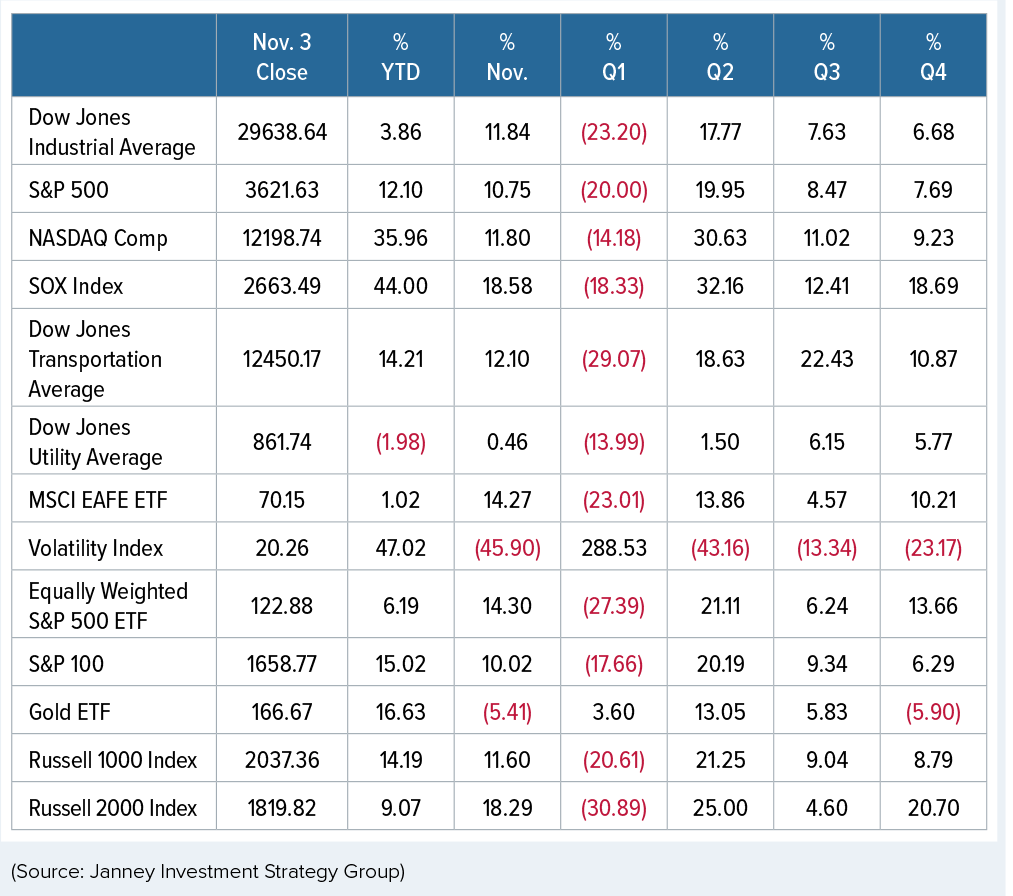 Election and Vaccine Progress Helps
Getting the presidential election out of the way certainly helped ease tensions, but three vaccine candidates reaching critically important efficacy rates provided the main catalysts for higher stock prices.

The market's bias immediately swung toward cyclical sectors, but none more so than the Energy sector that topped the performance of the 10 other sectors by a wide margin.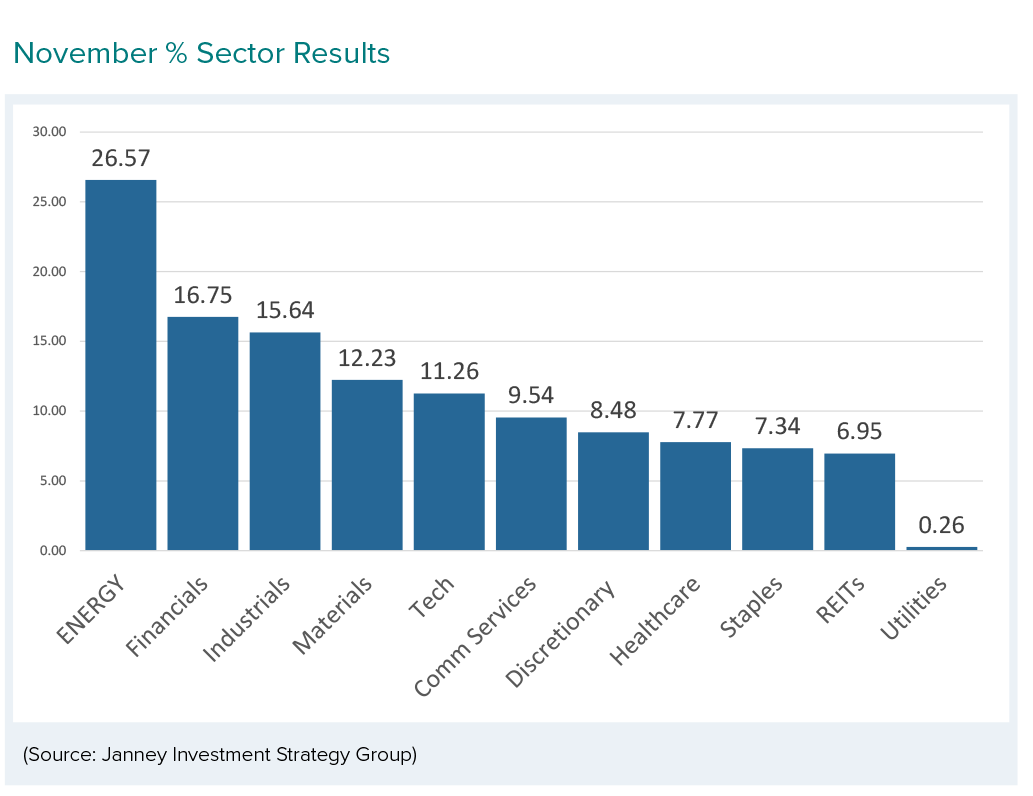 Some December Cheer?

After a large gain in a month, it is normal to suspect that the following month might face some profit taking. On average, however, big November gains have not typically led to down Decembers.

In the previous 10-best Novembers, the S&P 500 was up in the following eight Decembers for an average gain of 1.71%. In the previous best 20 years, the S&P was up in 14 Decembers for an average 1.15% gain.

Circumstances this December, however, are different as the Dow Jones Industrial Average, S&P 500, and Russell 2000 each set new all-time highs in November. Since WWII, the S&P 500 on average rose nearly 1.5% in December and posted a gain 73% of the time. But following prior simultaneous new-high periods, the S&P 500 was higher only 50% of the time one month later. Small caps tends to fare very well in December, especially in an election year. Since 1980, the Russell 2000 has fallen only in December 1980. The average small cap gain in all 10 years has been 3.0%.

More in Store

Unlike typical post-election Decembers, the market this year faces two unresolved senatorial elections in Georgia that will not be decided until January 5, 2021. The outcome of these two races will determine control of the Senate, which could have major policy impact.

Tax-motivated transactions can inhibit the equity market in December. We find, however, that institutional tax selling largely is complete before the middle of the month. This then leaves the market with a less-encumbered path to higher levels as the calendar approaches New Year's Day.

Although another stimulus program could develop to fill the economic gap, if it takes too long to implement, short-term economic progress would suffer, which the equity market likely would not ignore.

Excessively positive sentiment, plus overbought conditions in some market indices and market sectors, suggest that December might include increased volatility. Nonetheless, we think it is appropriate to end Investment Perspectives this month exactly as we did last month by concluding that new highs are likely as we move into 2021. Increasing equity exposure on pullbacks is appropriate.
The information herein is for informative purposes only and in no event should be construed as a representation by us or as an offer to sell, or solicitation of an offer to buy any securities. The factual information given herein is taken from sources that we believe to be reliable, but is not guaranteed by us as to accuracy or completeness. Charts and graphs are provided for illustrative purposes. Opinions expressed are subject to change without notice and do not take into account the particular investment objectives, financial situation or needs of individual investors.

The concepts illustrated here have legal, accounting, and tax implications. Neither Janney Montgomery Scott LLC nor its Financial Advisors give tax, legal, or accounting advice. Please consult with the appropriate professional for advice concerning your particular circumstances. Past performance is not an indication or guarantee of future results. There are no guarantees that any investment or investment strategy will meet its objectives or that an investment can avoid losses. It is not possible to invest directly in an index. Exposure to an asset class represented by an index is available through investable instruments based on that index. A client's investment results are reduced by advisory fees and transaction costs and other expenses.

Employees of Janney Montgomery Scott LLC or its affiliates may, at times, release written or oral commentary, technical analysis or trading strategies that differ from the opinions expressed within. From time to time, Janney Montgomery Scott LLC and/or one or more of its employees may have a position in the securities discussed herein.
About the authors