Janney's analysts discuss inflation and stock trends.
Expectations are for a brighter 2021, but we detail what the near-term might bring for stocks.
A retrospective on the fixed income market in 2020.
There is room for optimism, and improvement, for the economy and markets.
And A Healthy New Year
Mark Luschini, Chief Investment Strategist
Economic growth will remain linked to the dynamics of the pandemic in the near term.

The re-imposition of restrictions in most European countries is causing a marked slowdown across the European economy. The impact of restrictions in some parts of the U.S. has been far less pronounced. Policymakers realize a return to the strict measures undertaken in the spring of last year to thwart the outbreak came at a high economic and social cost. With economic activity still running below pre-pandemic levels, and an increasingly weary and resistant public, authorities have become reluctant to apply aggressive measures. The key consideration is the extent to which the pressure on medical systems warrants a shift in the actions taken.

Reviving the Economy
The ongoing pandemic underscores the need for fiscal and monetary officials to continue to provide a reflationary "bridge" until vaccinations are more widely distributed. Currently, health experts project that this is unlikely to occur before late spring or mid-year. Overall income remains higher than its pre-pandemic baseline, but aggregate figures mask large divergences.

Some employees saw a substantial increase in their savings this year as their spending declined while income held up, whereas others, particularly in the service industries, found themselves dependent on government assistance since work-from-home is not an option in many cases.

That reality motivated the new $900 billion COVID-19 relief deal. The deal is not perfect, but it is a credible extension of the fiscal bridge. It also clarifies the path from the immediate growth outlook to the more positive and robust cyclical outlook.

Brighter Outlook Keeps Us Bullish on Stocks
As we highlighted in our 2021 Outlook report, developed market economies are likely to experience above-trend growth, low inflation, and accommodative monetary policy this year. As an important factor for global growth, China's economic cycle is running well ahead of the rest of the world. Although we expect Chinese growth to moderate eventually, it is still set to accelerate in the first half of this year.

The combination of a new fiscal package, ongoing pandemic relief efforts in Europe and Japan, and strong Chinese demand meaningfully reduces the odds of an adverse economic outcome during the next year. In that sense, consumers, businesses, and investors are much more likely to view any near-term lockdown-driven impacts on growth as more temporary in nature. This helps to de-risk the path to a healthy post-pandemic economy and increases our conviction in a cyclically bullish stance towards risk assets.

To that end, our opinion is that investors favor stocks versus bonds. That does not imply a binary choice, but rather an allocation shift toward equities. Within equities, our pro-growth forecast should benefit economically sensitive areas of the U.S. stock market, such as Materials, Industrials, Energy, and Financials. For global investors, we advocate raising international exposure, particularly to emerging markets. We are also increasingly fond of commodities as we expect a continued decline in the U.S. dollar currency due to its counter-cyclicality and domestic fiscal imbalances.

Watch for Near-Term Volatility
Over the very near term, however, technical positioning shows equities are potentially vulnerable to a moderate tactical correction.

Valuations are fairly rich, and any signs of modest delays in the immunization campaign, a failure of Congress to provide support for state and local governments, or inadequate fiscal support in Europe, could be used as an excuse to sell.

The question for investors is whether the next significant episode of risk-off sentiment should be bought or sold. Given the ongoing impact of very easy monetary policy and the high likelihood of a significant earnings recovery, we are strongly inclined towards the former, barring any substantial shift in the timeline to mass vaccination.

We encourage readers to explore our recently published Outlook 2021 with their Janney Financial Advisor. In preview, we believe the year holds great potential for equities to flatter the investment results earned on balanced portfolios once again.
2020 Fixed Income Year in Review
Guy LeBas, Chief Fixed Income Strategist
As a tradition, the first fixed income discussion of the New Year features a look back at some of the performance and themes from the year just ended.

Although it was a tragic year in many ways for humankind, 2020 was also a good, if messy, year for financial markets. Balanced investment portfolios, exemplified by a classic 60/40 mix of the S&P 500 and the Bloomberg Barclays U.S. Aggregate Bond Index (the "Agg") posted a total return of 12.8%, capping off a two-year run that is easily the best since 1998. While strong equity returns—after April, anyway—were responsible for the biggest gains, the aggregate bond markets nonetheless posted a 7.5% return in 2020, proving that even at relatively low interest rates, bonds can generate a significant portion of portfolio performance.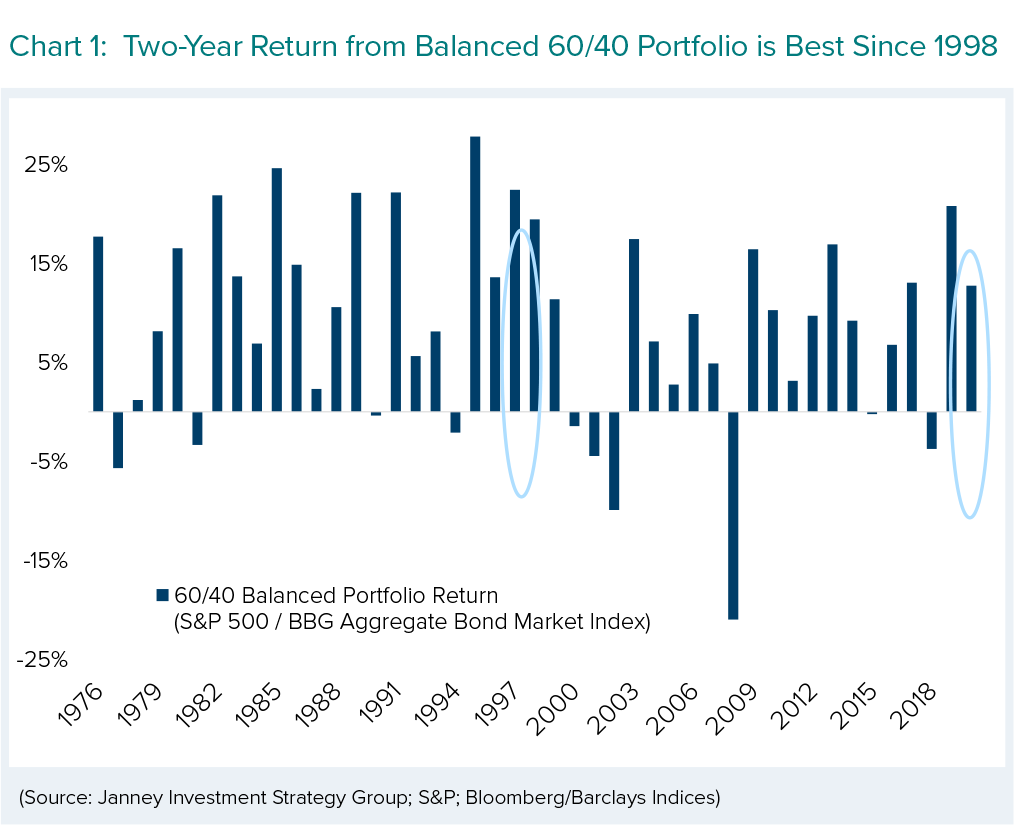 Impact of Interest Rates and Credit Spreads
There are essentially two aspects of fixed income markets that drive returns:
changes in interest rates
changes in credit spreads
For the second consecutive year, interest rates fell considerably, with the benchmark 10-year Treasury yield down by alm>ost exactly -1.0% (equivalent to a roughly 9% total return), while 2-year yields are down by -1.45% (equivalent to a roughly 3% total return). As that comparison suggests, longer-term bonds performed better, which is what one would expect to see when interest rates fall across the board. The entire decline in long-term interest rates came between the beginning of 2020 and August, when 10-year yields bottomed at 0.50%; since that point, the selling has been fairly consistent.

The second source of return in bonds—credit spreads—is a much messier story. Spreads on investment-grade-rated corporate bonds finished the year almost exactly unchanged, so returns on these investment-grade securities essentially tracked returns on Treasuries.

By contrast, spreads on high-yield-rated corporates widened by +0.25%, which means they underperformed Treasuries somewhat. Finally, the value of the U.S. dollar fell considerably in 2020, therefore foreign-currency-denominated bonds, adjusting for interest rate changes, performed well.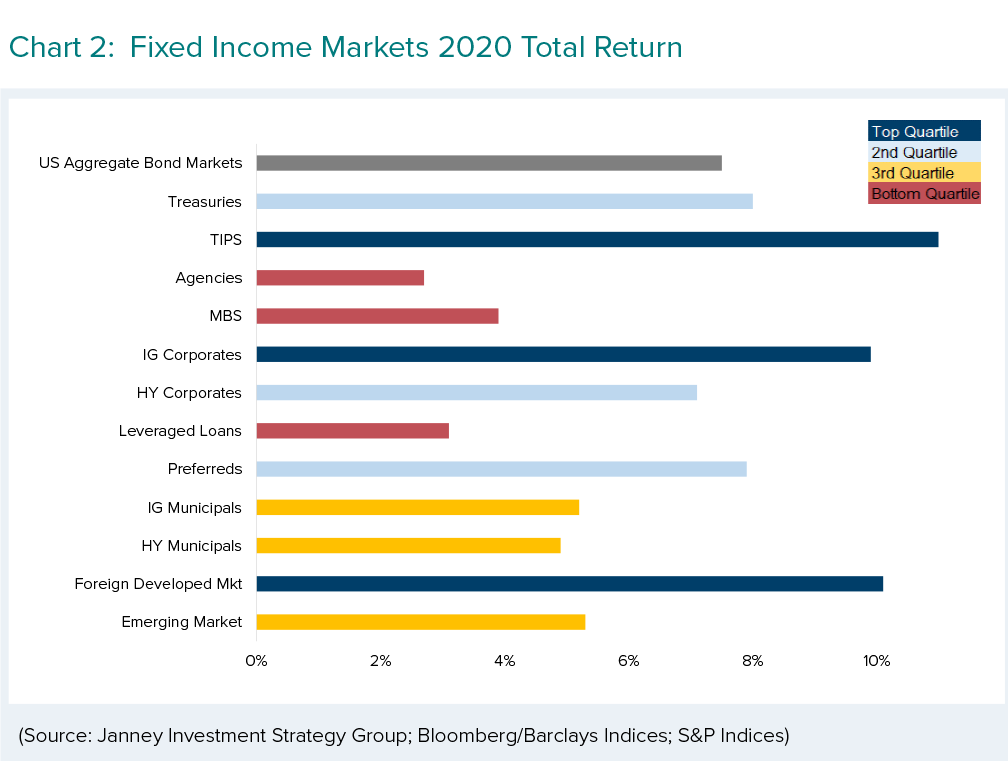 How the Year Unfolded

The factors that drove declining interest rates and volatile (although ultimately stable) credit spreads are evident in hindsight.

Public health concerns from February through early March encouraged many individuals and corporations to draw down on lines of credit, stressing banks' regulatory capital limitations. In response, banks with broker/dealer operations pulled capital from those operations, and without an intermediary in financial markets, there were sellers, but a vacuum of buyers across many financial assets.

The Federal Reserve first reacted by cutting overnight interest rates to 0% and relaunching quantitative easing (QE) bond buying, which caused long-term Treasury yields to fall precipitously as well. Even then, as with equities, credit conditions deteriorated in March and April until the Federal Reserve committed to supporting those markets and Congress enacted the CARES Act. Spreads widened almost exactly up until the day the Fed announced corporate bond-buying programs. Ultimately, the Fed and Congressional actions, plus a subsequent rebound in the private sector, proved enough to stabilize credit conditions.

One sector of the fixed income markets that has been notably slow to rebound has been commercial mortgage-backed securities (CMBS). These are bonds secured by loans for commercial properties, which can include everything from office buildings to multifamily apartments to shopping malls to hotels. Many of these sectors experienced harsh cash-flow disruptions from the pandemic. It is hard to imagine what they will look like in 2021 and beyond.

Looking Back and Moving Forward
Good riddance to 2020, and, though the bar is awfully low, hopefully 2021 will be a better year.

Be Patient. Stocks Set to Push Higher
Greg Drahuschak, Market Strategist
For 30 years under his own byline and continuing today, Robert Ripley's "Believe It or Not!" brought newspaper readers a cartoon-formatted sampling of unusual facts from around the globe. It is said that in his quest to provide readers with a daily dose of often-bizarre material, Ripley hired someone who spent a career finding the oddities "Believe It or Not!" required.

Ripley's successors had no need to hire anyone last year. The front pages of the same newspapers that carried his cartoon panel provided all the material they needed.

Perhaps it was fitting that 101 years after Ripley began "Believe It or Not!" the globe was dominated by another pandemic that overwhelmed almost everything like the 1918 flu pandemic did.

Unbelievable Market Events of 2020
In early 2020, COVID-19 largely was responsible for the stock market's three worst point drops in U.S. history that together amounted to 7,363.46 points. After reaching multiple all-time highs by mid-February, roughly two weeks later the Dow Jones Industrial Average fell a record 2,013.76 (7.79%) followed by two more record-setting point drops on March 12 (-9.99%) and March 16 (-12.93%). The combination of these declines shoved the market into bear market territory in the shortest time on record.

No part of the stock market was spared in the drop from the February 19, 2020, high through the market low on March 23, 2020. Even the typically defensive market sectors succumbed to the selling, as the S&P 500 lost 34% in only 33 calendar days. By early May, this all drove bearish investment sentiment as measured by the American Association of Individual Investors to its highest level in approximately seven years, which in almost classically contrarian fashion signaled that the market was on the cusp of a major rebound.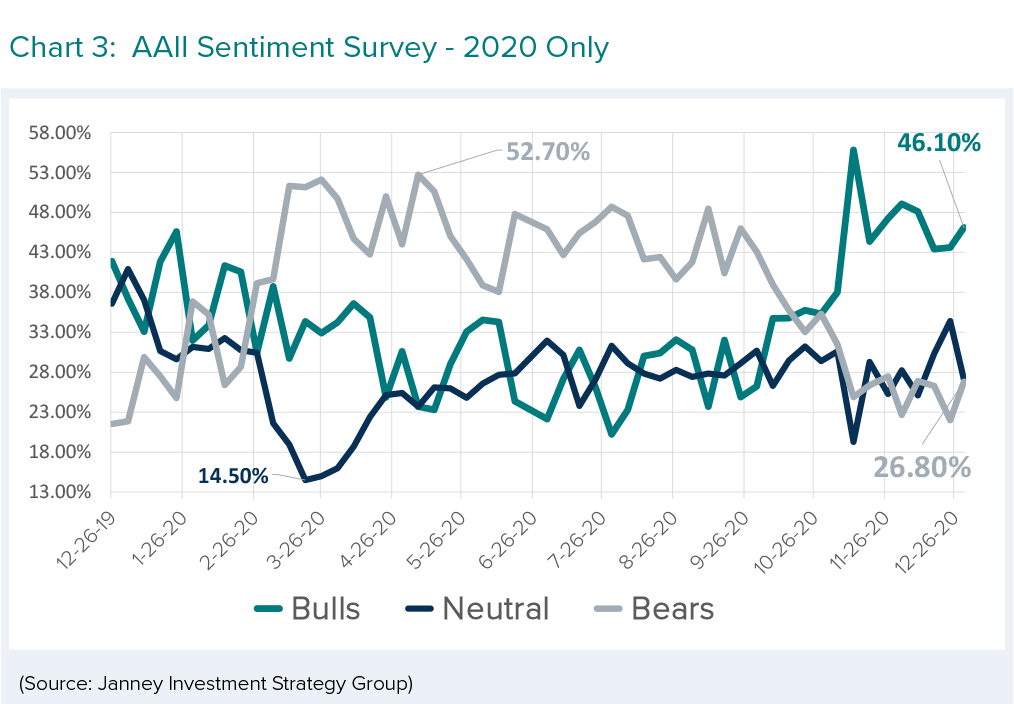 In what truly would have been fodder for Ripley, a bizarre condition in the futures markets sent the front month West Texas Intermediate (WTI) futures contract to a negative $38.45, which meant sellers effectively were paying buyers to take their oil. Although this did not accurately reflect the real oil market, it put an exclamation mark on what had been a nearly 82% drop in the price of oil from January 1, 2020, to April 21, 2020.

The Short-Lived Bear Market
Nonetheless, after bottoming on March 23, it took less than five months for the S&P 500 to reach a new all-time closing high, and by late December 2020, the price of WTI crude was more than four times higher than its April low.

Although many economic measures have recovered from their 2020 lows, initial unemployment benefit claims and other measures still have considerable room for improvement to ratify the market's optimism. Earnings expectations suggest that S&P 500 earnings will fall short of pre-pandemic estimates for 2020.

Highs Likely to Continue through 2021
The rush to a new all-time high New Year's Eve put an exclamation point on a year that had many demarcation points, but it also sent the S&P 500 and other major indices to technically vulnerable levels. Sentiment is stretched again, but on the bullish side now.

Nonetheless, we think that numerous new highs are likely as we move through 2021. The path to new peaks, however, is likely to be uneven, as the market grapples with containment of the virus and valuation. Policy initiatives from the new administration are likely to be highly influential also.

Pullbacks that are likely to be relatively minor should be used as opportunities to increase equity exposure. Federal Reserve credit policy is likely to offer continuing support as the economy works toward pre-pandemic normalcy.

The information herein is for informative purposes only and in no event should be construed as a representation by us or as an offer to sell, or solicitation of an offer to buy any securities. The factual information given herein is taken from sources that we believe to be reliable, but is not guaranteed by us as to accuracy or completeness. Charts and graphs are provided for illustrative purposes. Opinions expressed are subject to change without notice and do not take into account the particular investment objectives, financial situation or needs of individual investors.

The concepts illustrated here have legal, accounting, and tax implications. Neither Janney Montgomery Scott LLC nor its Financial Advisors give tax, legal, or accounting advice. Please consult with the appropriate professional for advice concerning your particular circumstances. Past performance is not an indication or guarantee of future results. There are no guarantees that any investment or investment strategy will meet its objectives or that an investment can avoid losses. It is not possible to invest directly in an index. Exposure to an asset class represented by an index is available through investable instruments based on that index. A client's investment results are reduced by advisory fees and transaction costs and other expenses.

Employees of Janney Montgomery Scott LLC or its affiliates may, at times, release written or oral commentary, technical analysis or trading strategies that differ from the opinions expressed within. From time to time, Janney Montgomery Scott LLC and/or one or more of its employees may have a position in the securities discussed herein.
About the authors