Janney's analysts discuss inflation and stock trends.
A check-in about the likelihood for inflation as anticipation of an economic rebound grows.
February's fixed income installment looks at major issues that will impact the market.
We explain why our outlook for 2021 stands firm, despite recent stock volatility.
Could Inflation Be In Our Future?
Mark Luschini, Chief Investment Strategist
After many false alarms over the past decade or more, could inflation emerge as the story of 2021?

While unlikely, the idea is not entirely far-fetched. Consider that households are sitting on $1.5 trillion of excess savings—equivalent to 10% of annual consumption—and that number is likely to grow by way of the stimulus deal Congress reached in December. Add to this President Biden's proposed $1.9 trillion fiscal package that would inject an average of $300 billion per month into the economy through the end of September.

While Congressional negotiations will probably winnow down his stimulus plans to something closer to $1 trillion, this nevertheless would provide about $200 billion in incremental monthly support.

All this adds up to a lot of firepower, that, if ignited by the release of pent-up demand spawned by widely available COVID-19 vaccinations, could engender an extended period where demand exceeds supply and causes prices to rise.

Conditions for a Post-Pandemic Rise
How much will they increase? In the near term, inflation is certain to bump higher if only due to base effects. The Consumer Price Index may soon run above 2% on an annualized basis as the deflationary data points collected during March and April of 2020 fall out of the rolling 12-month average.

Looking beyond the next few months though, the trajectory for inflation will depend on the pace of the economy. In some areas, for instance, there is already evidence of excess demand. Core goods inflation is running at the highest level since 2012 and the ISM manufacturing Prices Paid Index points to further upside. The recent rally in commodity prices tell a similar tale. While services inflation has been more downbeat, that could change as the labor market tightens. Shelter inflation also looks to be nearing a bottom. If so, shelter would begin to push price readings higher because it is a major component in the calculation of the inflation index.

Subject to Input
Inflation is subject to feedback loops. If households expect prices to increase initially, but then fall back down once the stimulus has lapsed, they may defer some of their spending until prices return to normal. This could prevent prices from rising in the first place.

In contrast, if households expect prices to rise and then keep rising, they may try to expedite their purchases. This would supercharge spending. One can see that there is a self-fulfilling process at work.

A similar effect can be seen at companies as they think about payrolls. Firms may be reluctant to raise wages in response to a temporary overheating of the economy for fear that this would lock in a higher cost structure. In contrast, firms would be more willing to raise wages if they thought prices would keep rising. Hence, the expectation of rising inflation could trigger a wage spiral, encourage firms to raise prices to absorb higher employment costs, and boost inflation.

Central Banks Throw Out an Anchor
The inflationary scenario described above could play out if long-term inflation expectations become unmoored. Central banks have invested a lot of effort in trying to anchor inflation expectations around the 2% level. Since the Great Financial Crisis, they have fallen short of their goal. To remedy that, the Fed has pledged to allow inflation to rise above 2% for 5a time, with the aim of bringing the average price level back to its long-term target trend. The risk is that such an inflation overshoot happens sooner, and is more pronounced, than policymakers' desire.

Summary
In our baseline view, we think inflation will probably increase only modestly over the next few years before accelerating as tighter labor conditions breed rising employment costs and spurs demand.

Even if we encounter stronger-than-expected inflation, it does not necessarily spell disaster for stocks. Inflation usually hurts stocks only when it triggers monetary officials to tighten the policy setting. In the absence of rate hikes, rising inflation would push real (inflation-adjusted) rates lower.

This could actually be quite good for stocks, as the experience of the past nine months demonstrates. Therefore, investors should not fear inflation, but rather consider positioning portfolios to withstand the possible rising risk of it.

Investors should also favor value stocks over growth stocks. Both commodity producers and financial institutions are over-represented in value indices and would benefit from rising inflation.

The accompanying decline in the dollar, which we expect should follow, would also promote the virtue of diversifying into international equities.
Four Key Issues For 2021
Guy LeBas, Chief Fixed Income Strategist
Keeping with an Investment Perspectives tradition, this second fixed income article of the year will focus on the major issues we believe will affect the market in 2021.

In 2020, we identified bank balance sheet capacity, credit market sensitivity to downside risk, Fed "insurance" rate cuts, and municipal bonds' sensitivity to fund flows as major issues. Each of these turned out to be incredibly significant—they were negatively biased for rates/credit. This is a sharp contrast to our key issues for 2021, which are largely positively biased.

Inflation
Fed policy turned squarely to inflation with the announcement of Average Inflation Targeting (AIT) in 2020. So far, that commitment to higher inflation, promises of larger budget deficits, and the still-nascent private sector economic expansion, have been effective in increasing inflation expectations.

Our favorite measure of future inflation is the 5-year, 5-year forward inflation swap, which roughly tracks expectations of average CPI inflation between five and 10 years from today. That 5y5y inflation swap has held above 2.30% for most of 2021. Were it to creep higher, that would represent a sign AIT is working, and accelerate market expectations for a first Fed rate hike, thereby pulling interest rates higher.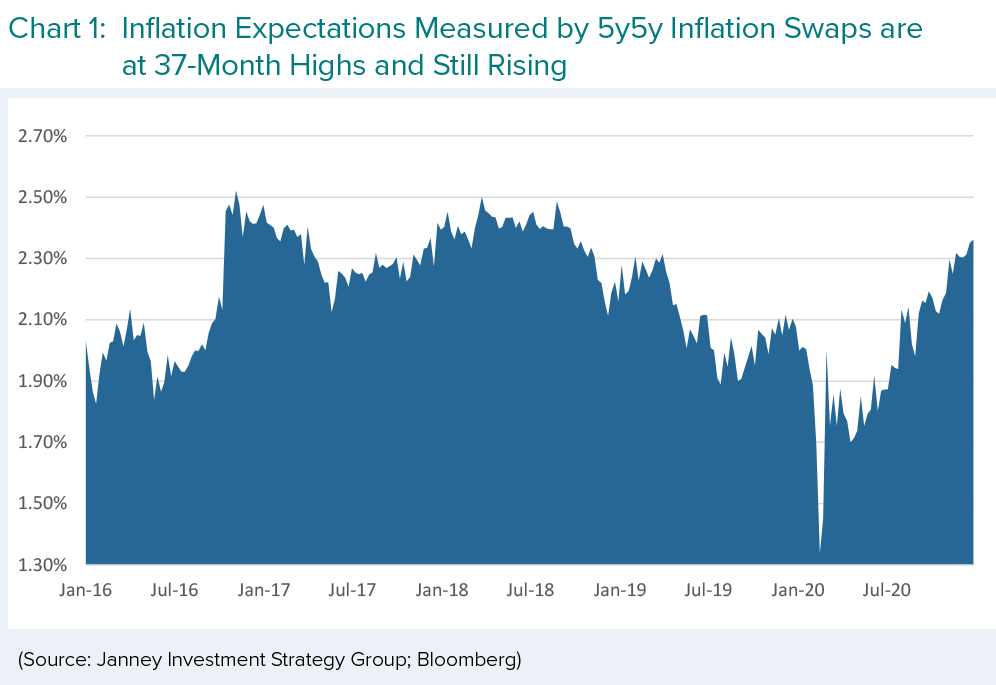 Fiscal Adventurism
December saw $900 billion in stimulus folded into the annual federal appropriations bill; the new Biden administration meanwhile has $1.9 trillion of additional stimulus in the works, plus another unspecified trillion or more infrastructure spending program behind that.

Legislative approval remains questionable, but these programs have two effects on interest rates:

1. Incremental supply, especially in 10-year and longer bonds, pushes rates up as investors demand more compensation for taking on risk.
2. More significantly, a big increase in fiscal spending increases both private sector consumption and investment, potentially nudging prices up, encouraging inflation, and pushing interest rates higher.
Bank Lending
The banking sector was capital constrained in early 2020, which is one reason for the severity of the credit market downdraft in March/April. In early 2021, the combination of changing regulations and over-reserving for loan losses (actual losses have been smaller than expected) means that the banking sector has excess capital. Banks will end up lending some of this capital out, which will effectively compete for demand for corporate bonds, as bonds and loans are close substitutes. The likely impact is that credit spreads on corporate bonds will narrow, possibly to all-time tights, despite the fact that we are still early in the economic growth cycle.

State Budget Deficit Tolerance
As usual, our fourth key issue for the year focuses on the municipal markets.

Most municipal credits navigated through the 2020 economic downturn little scathed, despite initial worries. Those credits that faced problems were generally on a problematic trajectory pre-March, and the decline in revenues exacerbated, rather than caused, the downtrend. But in 2021, a key issue for municipal markets is whether very low borrowing costs encourage state (and local, but mostly state) governments to fund their own fiscal projects.

For issuers with legal flexibility, cheap financing could prove an irresistible incentive to launch capital investment projects such as road construction. A federal infrastructure package that encourages contributions further increases the chance of state/local deficit-financed projects. More issuance means higher supply and, with muni valuations already full, it would not take a huge increase in issuance to generate some relative weakness in municipal markets—though we suspect the weakness would be fairly short-lived.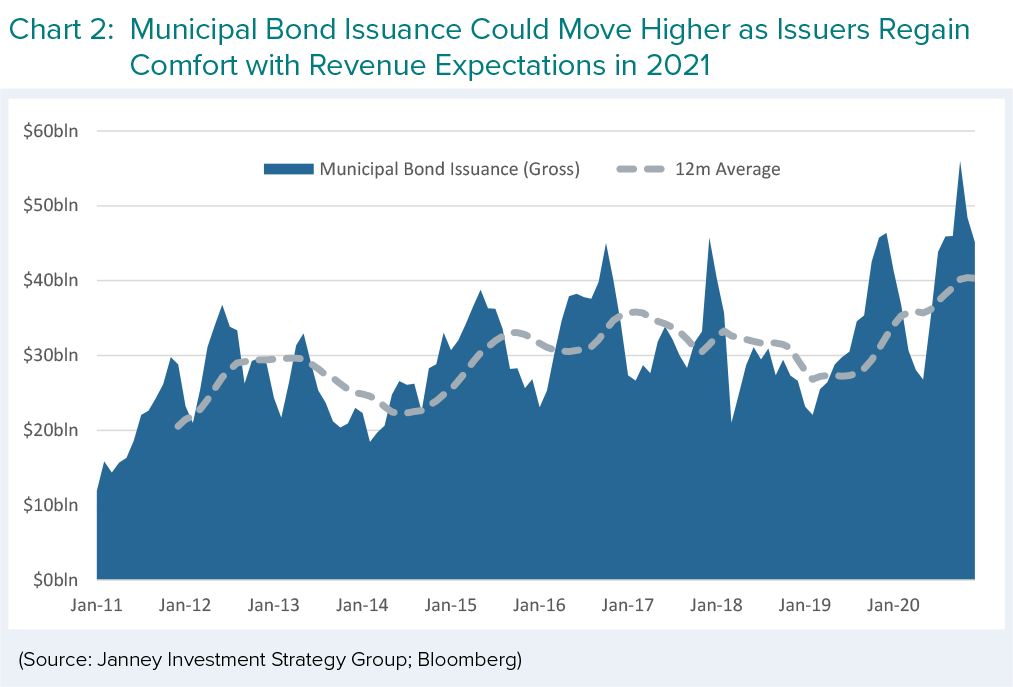 Stock Moves Spark Volatility, But Outlook Still Firm
Greg Drahuschak, Market Strategist
The January Investment Perspectives suggested that numerous new highs are likely as we move through 2021, but the path to new peaks is likely to be uneven, as the market grapples with virus-related issues and valuation. Unknown then was the weight the short squeeze would bear on late-month trading.

A difficult first trading session to 2021 was followed by a fairly consistent market increase fueled by the promise of vaccine deployment leading to a lasting economic resurgence. Economic data released last month were not uniformly positive, but they were sufficient to reaffirm the market's belief about the trajectory of the economy.

Market Frenzy Grabs Attention
Positive thinking about economic prospects, however, possibly led to excessive enthusiasm that drove some individual stocks and the market's valuation to unusually high levels. This, in combination with the short-selling-related episode several trading sessions before January ended, shoved the market slightly below its 2020 close.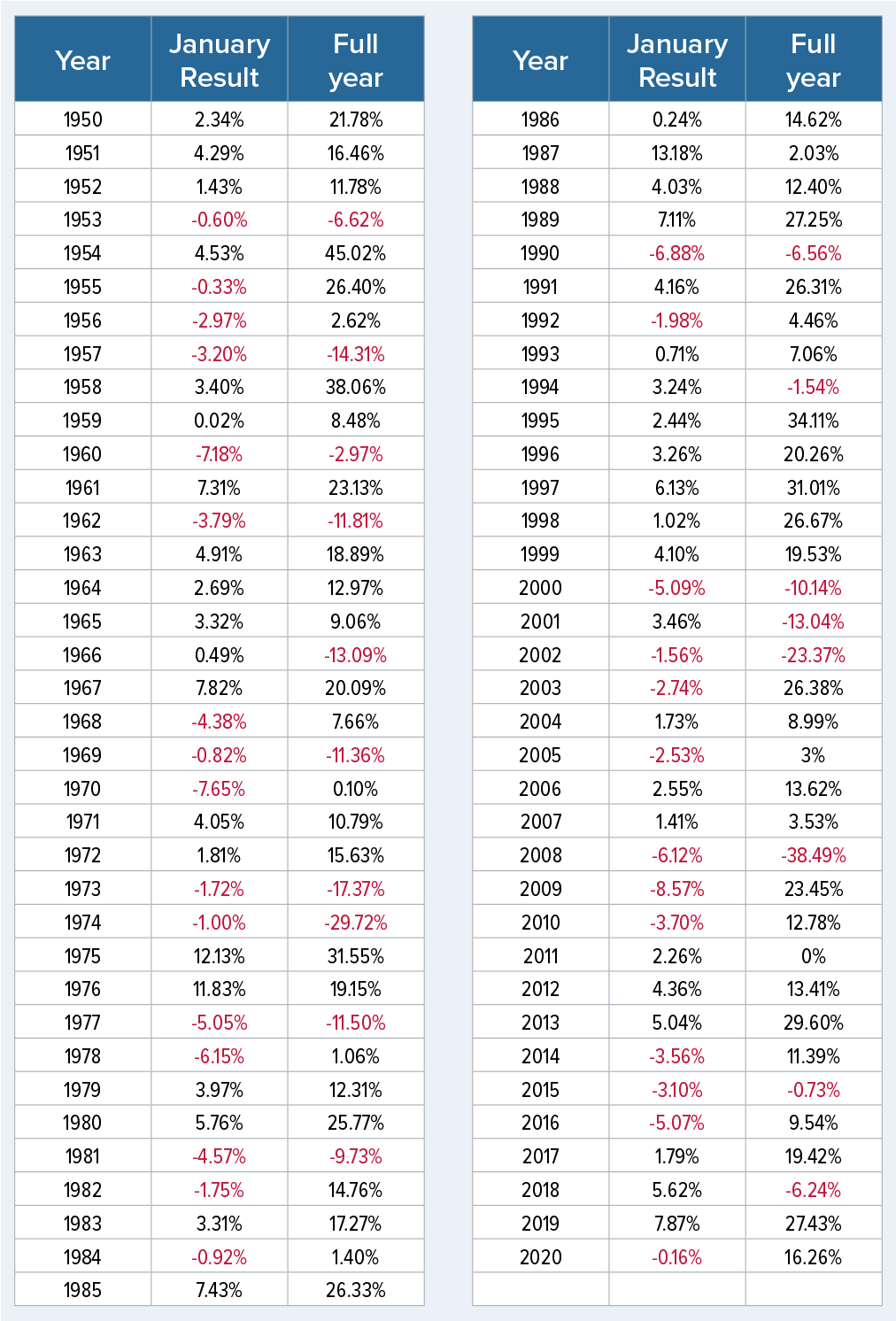 Traders were particularly interested in January results for the S&P since they tend to be a harbinger of full-year results. The 1.11% loss this January might appear to suggest the full year would be relatively poor. The S&P 500 has fallen in 28 years since 1949. The S&P 500 ended the year higher in 15 of these years, but on average posted a 1.55% full-year loss.

The S&P 500 has produced gains in February in 40 of the previous 71 years, but February is one of only three months that the S&P 500 on average ends lower. In the first year of a new presidential term, the S&P 500 has managed a February gain only eight times in the 17 post-election years.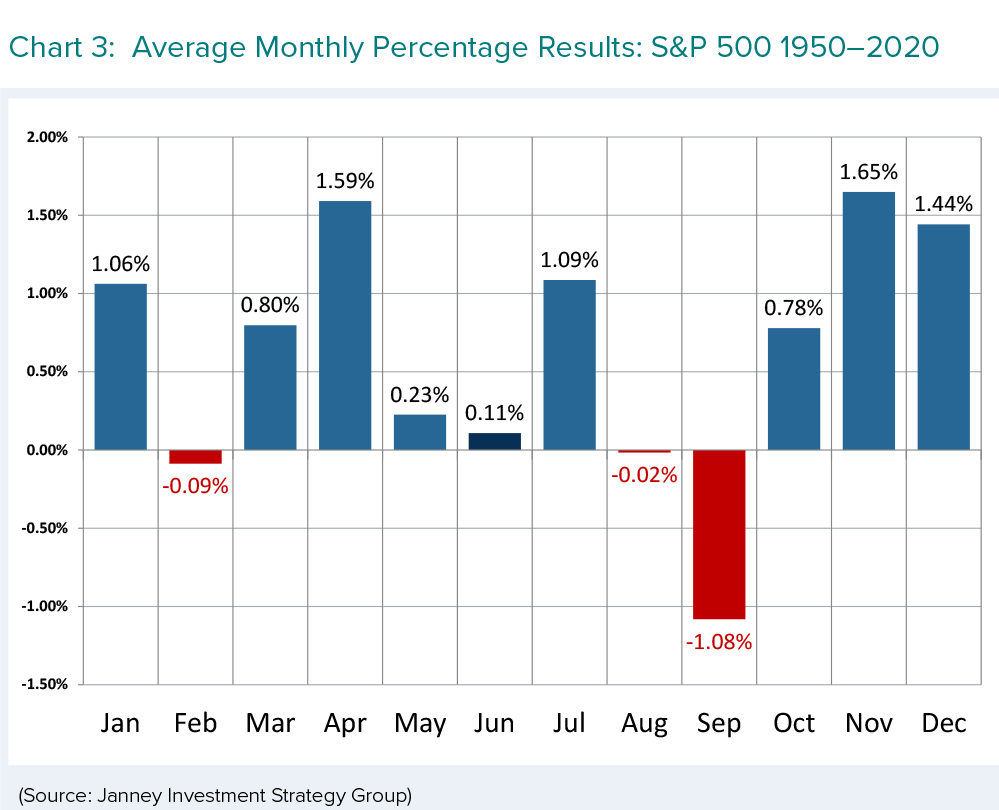 Earnings Season Continues Into February
Corporate revenues and earnings might be the best gauges of the pace of economic improvement. Although both have improved relatively slowly so far, early fourth-quarter results hint that the pace might quicken soon. At the end of January, the S&P 500 2021 earnings had risen for five consecutive weeks and 12 of the previous 14 weeks.

The most recent $169.53 earnings estimate from CFRA-Standard & Poor's still left the S&P 500 trading at an historically high 21.9 earnings multiple. We, however, believe that the current 2021 earnings estimate is too low. In addition, it is obvious the Federal Reserve intends to keep interest rates low for an extended period. Low rates tend to support higher earnings multiples.

Near-Term Considerations
The most significant near-term risk for the equity market is a potentially short-lived correction that would ease some excesses from the previous two months. The S&P 500 essentially ended January at its 50-day moving average. A pullback to its 200-day moving average would be approximately 10% below the February 1, 2020, level and 13% below its all-time high. Both would be consistent with intra-year pullbacks the market often encounters.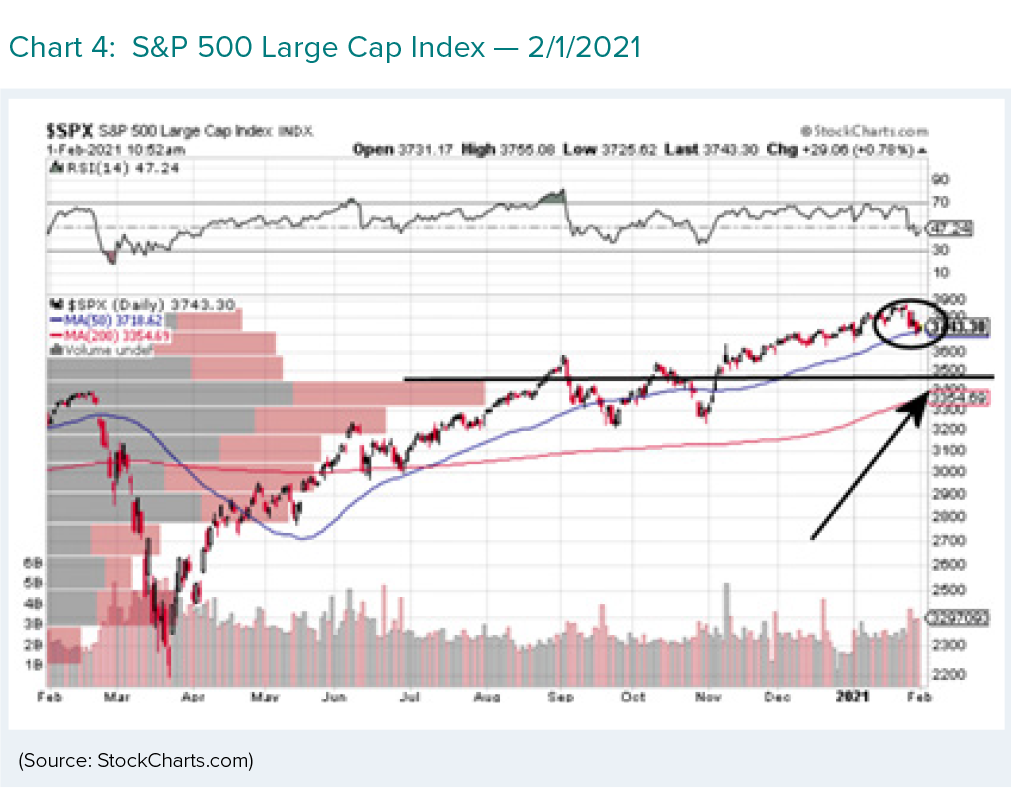 The major market issues this month appear to be how much progress is achieved on vaccinations, earnings expectations, employment, and market internals. Despite the loss in January and the potential for a bumpy February, we anticipate the S&P 500 will reach new highs above January's close of 3,714.24.

The information herein is for informative purposes only and in no event should be construed as a representation by us or as an offer to sell, or solicitation of an offer to buy any securities. The factual information given herein is taken from sources that we believe to be reliable, but is not guaranteed by us as to accuracy or completeness. Charts and graphs are provided for illustrative purposes. Opinions expressed are subject to change without notice and do not take into account the particular investment objectives, financial situation or needs of individual investors.

The concepts illustrated here have legal, accounting, and tax implications. Neither Janney Montgomery Scott LLC nor its Financial Advisors give tax, legal, or accounting advice. Please consult with the appropriate professional for advice concerning your particular circumstances. Past performance is not an indication or guarantee of future results. There are no guarantees that any investment or investment strategy will meet its objectives or that an investment can avoid losses. It is not possible to invest directly in an index. Exposure to an asset class represented by an index is available through investable instruments based on that index. A client's investment results are reduced by advisory fees and transaction costs and other expenses.

Employees of Janney Montgomery Scott LLC or its affiliates may, at times, release written or oral commentary, technical analysis or trading strategies that differ from the opinions expressed within. From time to time, Janney Montgomery Scott LLC and/or one or more of its employees may have a position in the securities discussed herein.
About the authors