A steady selloff in the interest rate markets accelerated in the last two weeks, pushing yields to their highest level in 12 months and fueling apparent dislocations in other financial markets as well.
Interest rates have been steadily rising since we reached post-pandemic lows of 0.51% on the 10yr Treasury note in August 2020. Yields climbed to local highs of 0.96% immediately after the presidential election (on hopes of more fiscal stimulus), and again to 1.15% after the Georgia Senate runoffs in early January (again, on stimulus expectations). Both of those events have a discernible casus belli; fiscal stimulus generates more bond supply and supports inflation expectations thereby leaving market participants to demand higher returns for the bonds.

In the last three weeks of February, interest rates began to rise more suddenly, with 10yr note yields peaking at about 1.52% intraday on Feb 25. It is convenient to use the 10yr as a benchmark, but there have been similar selling pressures in other maturities as well. Unlike the earlier moves, this last trading action has been at times violent and accompanied by apparent dislocations in other markets including equities, which fell sharply along with the peak in yields. While bonds and stocks are usually negatively correlated, there are a number of historical examples of equity markets pushing back when bond markets experience a sharp selloff as they have recently.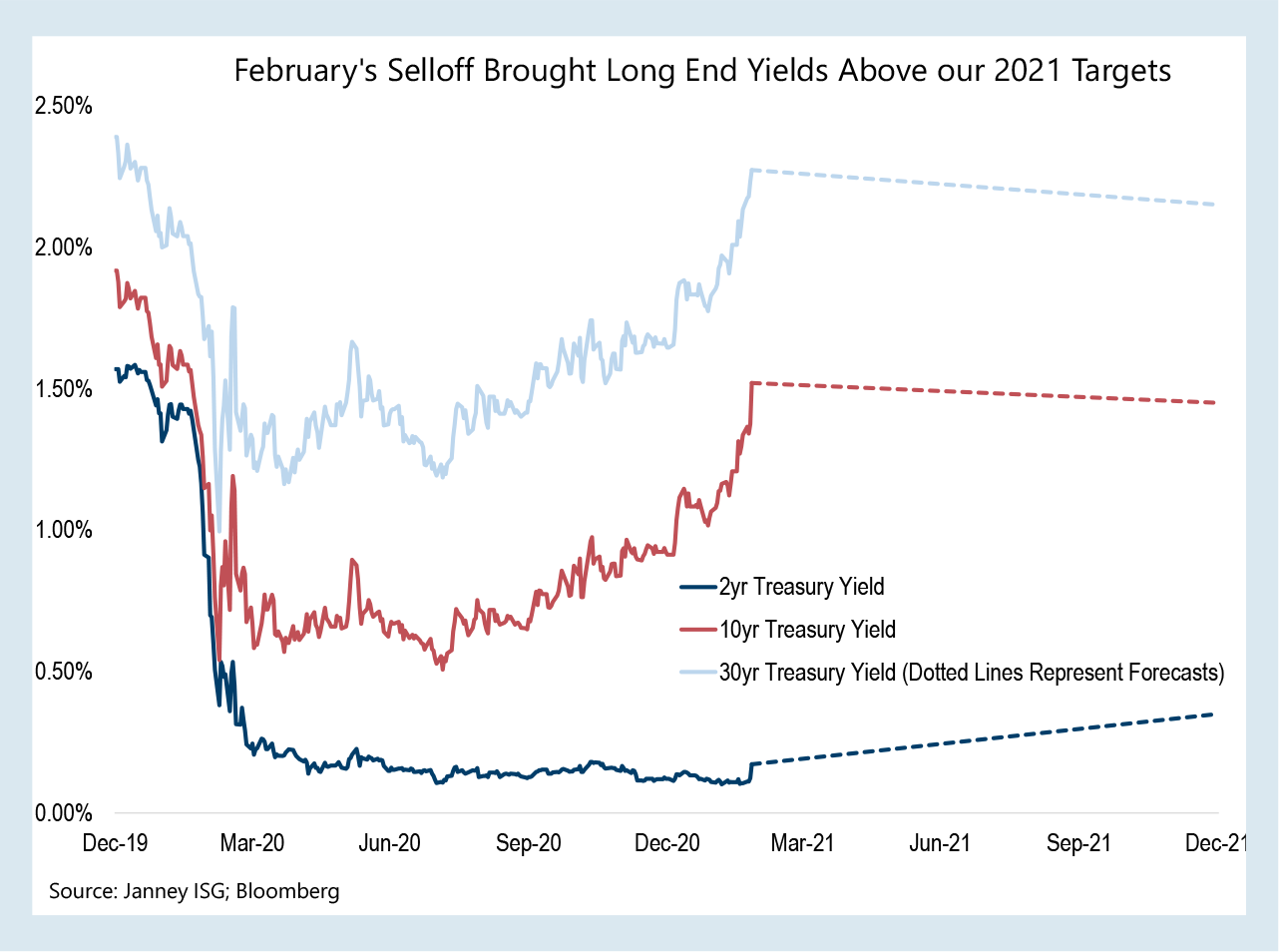 Our own forecasts, beginning with the one published in June 2020, have included expectations of rising interest rates. For 2021, our initial target for 10yr yields was 1.35%; in response to the aforementioned Senate runoff election results, we upped that forecast to 1.45% to account for incremental stimulus. At present, the interest rate markets are trading modestly above that year-end 10yr target. Of course, if our targets were 100% accurate—they are, of course, not—one would expect yields to be above them 50% of the time and below them 50% of the time throughout the year. In other words, just because interest rates have risen above that target does not mean they cannot fall below it again in the coming months.

Beyond this evident point, the pace of selling in the last week has been torrid. By one technical indicator, noted in the chart below, 10yr Treasuries are oversold by the largest margin (excluding surprise Fed hikes) since the 1980s! By some other more subtle indicators, many popular hedge fund curve trades appear to be unwinding violently. One example is the 2/5/10yr butterfly (what the fly measures is not important for these purposes), which moved in price by more than twice its previous largest daily move. Finally, based on another indicator called swap spreads, it looks like mortgage hedging, a culprit for many extreme rate moves, has already run its course.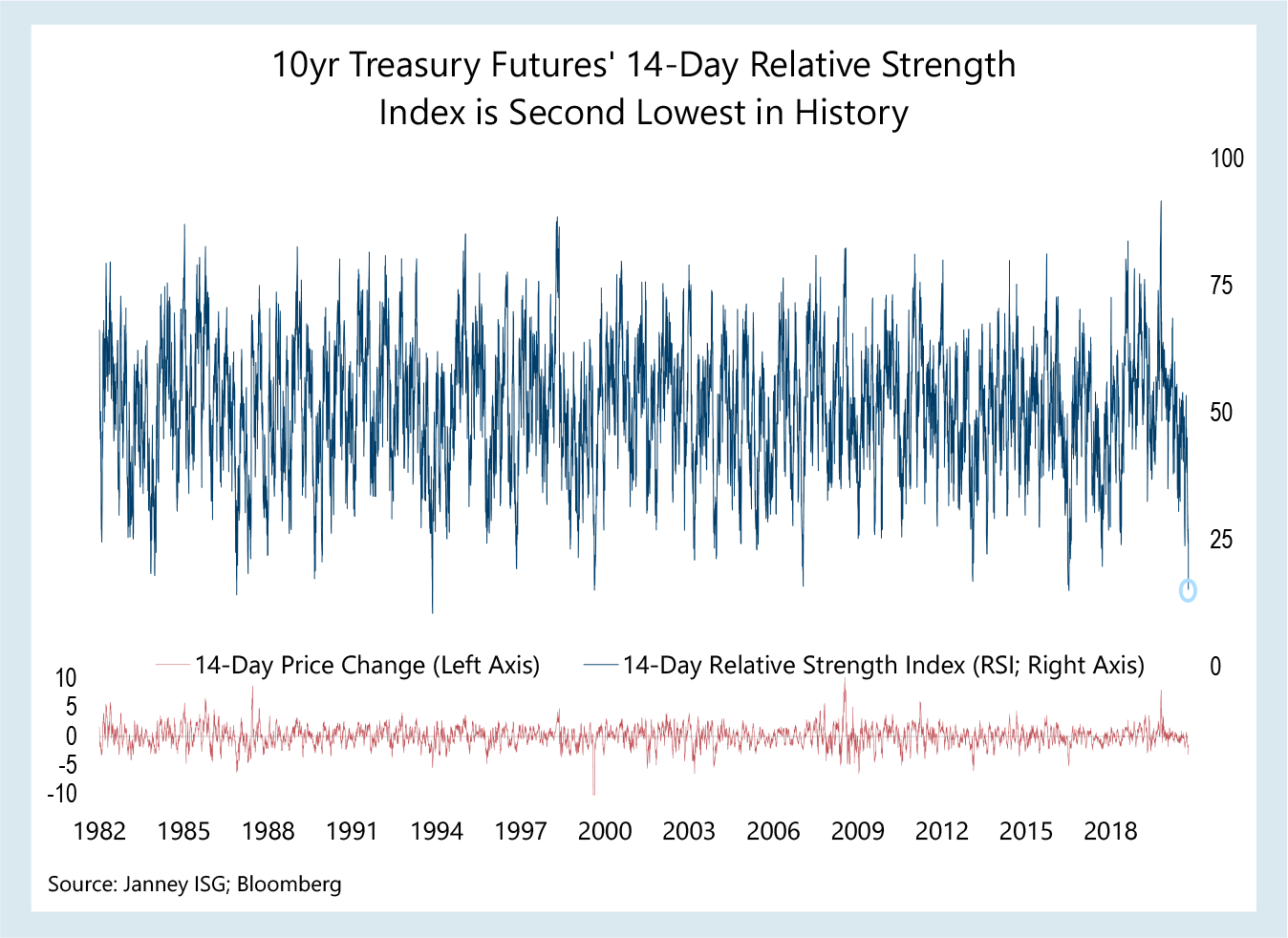 The two legs of selling we have seen in the fixed income markets have distinctly different tones. Between early November and mid-February, the selling was primarily the result of rising inflation expectations. We can measure the change in inflation expectations with something called TIPS breakevens, which is the difference in yield between an inflation protected Treasury and a nominal one. In the 10yr area, inflation breakevens rose to about 2.25% from 1.65%, an increase of 0.60%. That increase accounted for more than 100% of the rise in 10yr yields overall, so we can confidently say that the initial rise in yields was inflation-driven.

Incidentally, higher inflation expectations are a "good" thing in that, 1.) inflation was generally too low to begin with, and 2.) they are correlated with stronger economic growth. Since mid-February, the tone changed, however. Real yields (yields after accounting for inflation) spiked, rising 0.39% from mid-February to the intraday peak on Feb 25. Why would real yields rise? Higher expected Treasury supply might be at play, as might some bank regulatory exemptions that might expire, or it could be expectations of fed rate hikes coming sooner rather than later. The lesson is not as simple as "inflation expectations good, real yields bad," but that theme may go some ways to explaining why higher yields suddenly impacted risk asset markets such as equities. In any case, as rising inflation gave way to rising real yields, the selling accelerated and took on a more violent tone.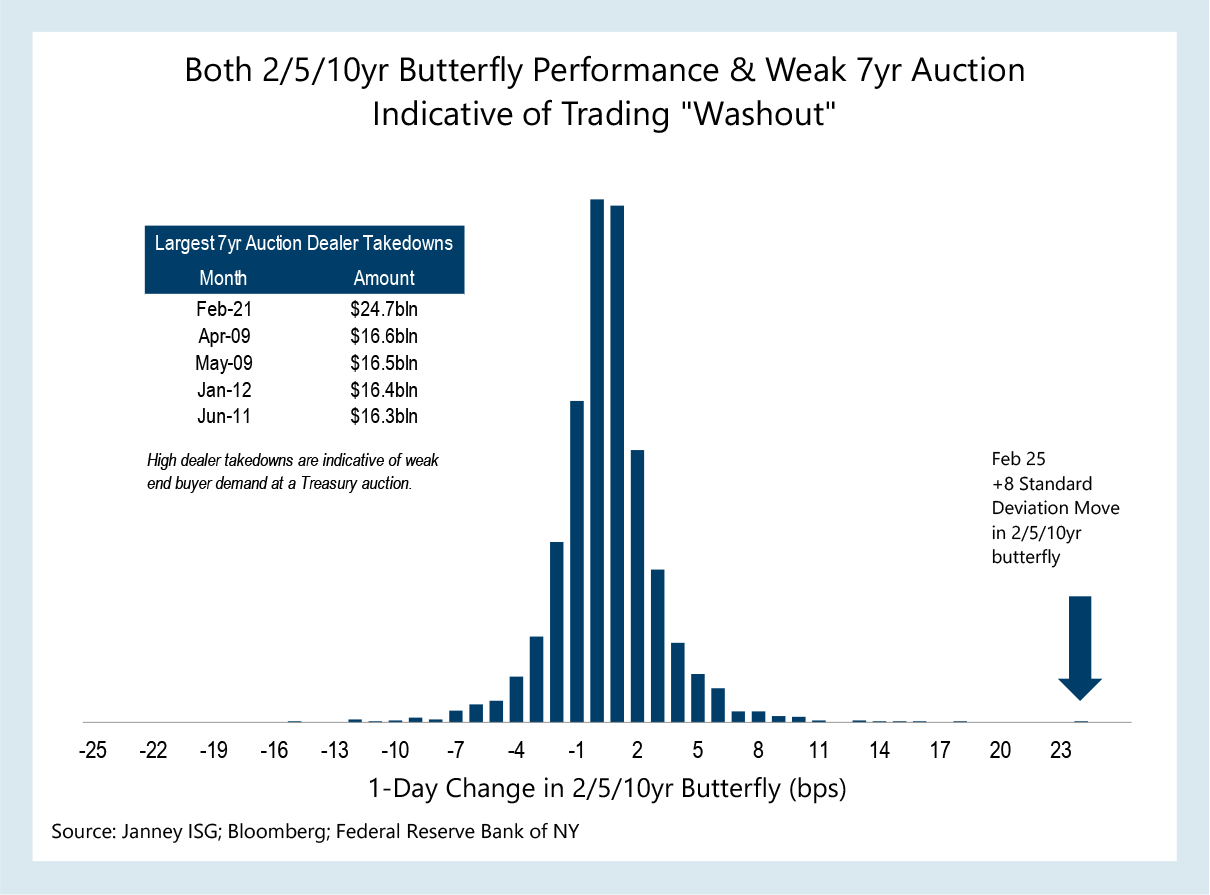 In terms of market mechanics, violent moves tend to culminate in "washout" events. The theory is that these washouts represent that last of the price-sensitive traders in a given position liquidating that position. Often the most price-sensitive traders are individual investors who exercise psychological stops ("Just get me out at any price!") or are leveraged traders who get a tap on the shoulder from their risk manager. Feb. 25 featured three such events. The first was the 7yr Treasury auction at 1PM ET. End-buyer demand at the auction was weak and dealers were forced to take down almost a quarter of the sale. The second was the aforementioned 2/5/10 butterfly trade, and the third was a massive underperformance of 20yr bonds relative to 10yr and 30yr bonds.

Where do we go from here? Superlatives aside, when any financial market is this deeply oversold, it is due for a lengthy cooling off period, usually measured by a partial reversal, although sometimes measured in extended sideways trading action for weeks or even months. A washout intuitively increases the odds of sideways action, as marginal market participants are hesitant to re-enter their losing trades. If we are to see a reversal, usually, the trigger is some subtle news that counteracts the prior narrative—a hypothetical example might be a senior Fed official such as Powell, Bernanke, or Clarida expressing concern about rising interest rates. Regardless, after a move of the magnitude we have seen, unsupported by economic data or massive shifts in other variables (e.g., the dollar) and capped by several washout events, there is a clear bias for interest rates to move at least sideways and more likely to retrace a portion of their selloff.

Disclaimer
Janney or its affiliates may from time to time have a proprietary position in the various debt obligations of the issuers mentioned in this publication. Unless otherwise noted, market data is from Bloomberg and Janney Investment Strategy Group (Janney ISG).

This report is the intellectual property of Janney Montgomery Scott LLC (Janney) and may not be reproduced, distributed, or published by any person for any purpose without Janney's express prior written consent. This report is provided for informational and educational purposes only and shall in no event be construed as an offer to sell or a solicitation of an offer to buy any securities or a recommendation for any strategy or to buy, sell, or hold any product. The information described herein is taken from sources which we believe to be reliable, but the accuracy and completeness of such information is not guaranteed by us. The opinions expressed herein may be given only such weight as opinions warrant. This Firm, its officers, directors, employees, or members of their families may have positions in the securities mentioned and may make purchases or sales of such securities from time to time in the open market or otherwise and may sell to or buy from customers such securities on a principal basis.

Any issue named or rates mentioned are used for illustrative purposes only, and may not represent the specific features or securities available at a given time. Preliminary Official Statements, Final Official Statements, or Prospectuses for any new issues mentioned herein are available upon request. The value of and income from investments may vary because of changes in interest rates, foreign exchange rates, securities prices, market indexes, as well as operational or financial conditions of issuers or other factors. Past performance is not necessarily a guide to future performance. Estimates of future performance are based on assumptions that may not be realized. We have no obligation to tell you when opinions or information contained in Janney ISG publications change.

The Janney Investment Strategy Group does not provide individually tailored investment advice and this document has been prepared without regard to the circumstances and objectives of those who receive it. The appropriateness of an investment or strategy will depend on an investor's circumstances and objectives. For investment advice specific to your individual situation, or for additional information on this or other topics, please contact your Janney Financial Advisor and/or your tax or legal advisor.

Janney Montgomery Scott LLC (Janney) Debt Research Disclosure Legend: Janney may seek compensation for investment banking services for any municipal bond issuer in this report in the next 30 months. The research analyst is compensated based on, in part, Janney's profitability, which includes its investment banking revenues. Additional information available upon request.

Definition of Outlooks
Positive: Janney ISG believes there are apparent factors which point towards improving issuer or sector credit quality which may result in potential credit ratings upgrades. Stable: Janney ISG believes there are factors which point towards stable issuer or sector credit quality which are unlikely to result in either potential credit ratings upgrades or downgrades.

Cautious: Janney ISG believes there are factors which introduce the potential for declines in issuer or sector credit quality that may result in potential credit ratings downgrades. Negative: Janney ISG believes there are factors which point towards weakening in issuer credit quality that will likely result in credit ratings downgrade.
About the author
Related Articles