Janney's analysts discuss inflation and stock trends.
A paradigm shift might be underway for how investors need to think about the relationship between stocks and bonds.
The anniversary of last year's fixed income turmoil offers a few lessons.

Our expectations for the stock

market keep us looking up.
Paradigm Shift
Mark Luschini, Chief Investment Strategist
The positive correlation between stock prices and bond yields, which has been in place for more than two decades, may well be turning negative.

In other words, for several years we have seen the relationship between these two classes of assets work in concert where, as bonds yields have fallen stock prices have risen. Going forward, however, we believe stocks will be more likely to fall when bond yields rise. Certainly, this is not an immediate fear. Rather, it is our view that the next decade may impose a new paradigm on how investors need to think about the relationship between stocks and bonds.

The basis for this forecast is the key macro risk to equities is shifting from low inflation/deflation to higher inflation. In that context, we think growth stocks will underperform value stocks, U.S. equities will lag international markets, and commodities will awaken from their decade-long slumber.

Time for a Change
In our judgment, investment strategies and frameworks that have worked in the past might require modifications. After almost 30 years of inflation (mid-1960s to the mid-1990s), or leaning against the risk thereof, the basis for the late-1990s' reversal in the stock-bond correlation was a regime shift in the global macro backdrop. Just before the end of the 20th century, the main risk to business cycles and share prices was inflation. From the beginning of the 21st century until very recently, the main risk to equity markets was deflation or very low inflation. The watershed event that triggered this shift from inflation to deflation was foreign currency devaluations in the mid-1990s. These currency devaluations allowed local producers—operating in large manufacturing hubs across mainly Asia—to cut their export prices in U.S. dollar terms. The price reductions unleashed deflationary forces that spread all over the world, including the U.S.


Factors That Could Drive Inflation
Today, we see the odds increasing that inflation will rise. The main factors that could drive inflation higher include a strong economic recovery induced by massive fiscal stimulus and aggressive monetary measures that last well beyond the point of having achieved a self-sustaining expansion. The pandemic has distorted supply chains while domestic household spending on goods is booming and core goods prices, as well as import prices from emerging Asia, China and Mexico, are rising.

Meanwhile, the reopening of the economy will likely release pent-up demand for services. As a result, demand for some services will overwhelm supply and companies could take advantage of this new reality by charging higher prices. Consumers may not mind paying higher prices to enjoy services that were not available to them for the last year or more. If true, this will lead to higher inflation expectations, which might become engrained.

Securing Economic Stability
Many investors are relying on the Fed and other central banks to get things right. Yet, policymakers are not infallible. It is not unusual for central banks and other government agencies to fight previous wars. As long as any inflationary impulse is merely a redux, the Fed's vision and strategy will remain adequate and its policies and actions will secure financial and economic stability, to the benefit of both bond and equity markets. However, if we are experiencing a paradigm shift from low to higher inflation, the Fed's strategy and actions, which officials have been quite explicit about, could prove slow or inadequate, begetting higher market volatility.

In brief, if rates continue to edge higher, which we think they are likely to do in the coming years, the bond market will experience bouts of selling and rising yields will depress equity valuations. The basis for that is equity and credit markets are not priced for higher interest rates. By directly and indirectly supercharging equity and bond prices, the Fed has crafted excesses that are vulnerable to higher interest rates.

Presently, the U.S. recovery will continue, and economic growth will be rather robust. However, we expect inflation to climb and, in commensurate fashion, Treasury yields to follow. At some point, this will upset the equity market. A pertinent question for stocks from a valuation standpoint is whether profit growth expectations can continue to increase enough to offset the rise in the discount factor. Long-duration growth sectors like some of the high-flying technology companies may be vulnerable in that environment, whereas, their economically sensitive counterparts, such as Materials, Energy, Financials, and Industrials could fare better.

The same applies to overseas equity markets, which tend to be rich in cyclical and resource-related sectors. In sum, rates and inflation do not appear to impose an immediate impediment to stock prices reaching much higher levels than where we are today. However, the future may dictate a need to navigate macroeconomic conditions using a different playbook than the one that has worked so successfully for a long time.

One Year Later: Lessons for Fixed Income

Guy LeBas, Chief Fixed Income Strategist
The United States marks the one-year anniversary of the coronavirus pandemic this month. This passing undoubtedly brings up stressful and sad memories. For those involved in the financial markets, it also brings up the opportunity to review the events that touched off volatility and provide a hopeful prescription for the future.

Our Investment Perspectives fixed income article from March 2020 described "a fresh set of records"—a reference to the then record-low yields. In that article, we discussed how the Fed was likely to cut interest rates (they did in violent intermeeting fashion about a week after publication) and that high-quality long-term bonds were useful at the time as fuel for reallocating into equities in the event of declines (a hypothetical, but one that became painfully real over the subsequent month). The anniversary of last year's fixed income turmoil also offers a good distance from which to evaluate market action and draw a few lessons with the benefit of hindsight.

Lesson One
Market plumbing matters A LOT. While the emergence of the pandemic was the proximate cause of violent financial market swings, the intermediate cause was clearly a lack of bank balance sheet capacity. In addition, that capacity was constrained because of market plumbing clogs that had been worsening for two years. Specifically, banks found themselves overloaded with U.S. Treasuries, and new regulation meant (in contrast to prior crisis periods) that banks had to hold capital against excess Treasury holdings. When the plumbing clogs, problems become financial catastrophes overnight.

Lesson Two
In a crisis, all correlations go to one. That is hardly a new lesson, but it has become more extreme over time. The best example of this phenomena was one of the more bizarre trading days in memory in which the S&P 500 fell as much as -10% intraday, the 10-year Treasury note traded weaker in a massive 2% intraday range, and, at one point, the British Pound was down a whopping 8% vs the U.S. dollar. Individually, these events are extreme; together, they simply should not happen. The underlying theme, however, was that leveraged fixed income hedge funds desperately needed U.S. dollars to meet margin calls and so were liquidating everything, even their safe-haven bond positions. In hindsight, this extreme day on March 20 was a strong indication that the bottom was near.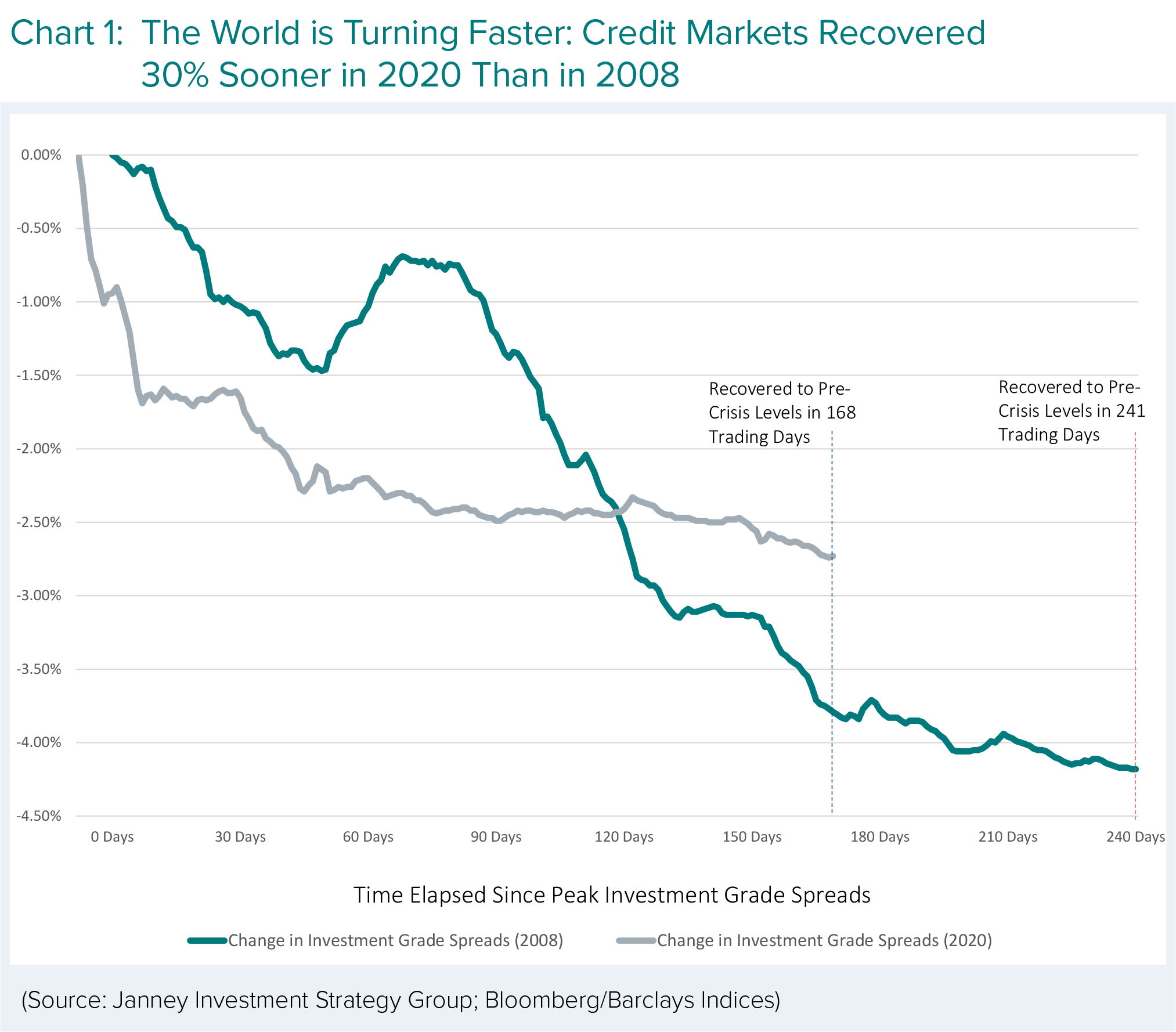 Lesson Three
Moving fast is a necessity in even traditionally slow markets. Technological advances have sped up the pace of transactions in fixed income markets. In the last major financial crisis (2008-2009), the majority of bonds transacted by voice. Today, the majority of activity takes place electronically. In addition, the popularization of various investment structures (for example, credit default swaps) have made it easier for large institutions to express views in the fixed income markets very rapidly. One outcome is that, when fixed income markets reach a bottom—as investment-grade credit spreads did on March 23—the bounce is much faster. In 2020, within two weeks of that bottom, spreads had retraced 50% of their move. In 2008-2009, it took five months for spreads to retrace 50% of their move. Municipal bonds still move slower than their taxable counterparts do, but even tax-exempt markets have been faster to respond in 2020 than in prior years.

Each crisis teaches us something new about fixed income markets, and usually in the most financially painful way. This time around, we learned to pay greater attention to market plumbing risks, use rising correlations as a signal, and be more nimble, particularly on the upside. By all indications, it should be a long time before the next financial crisis emerges, but these three themes should make navigating it just a little simpler and hopefully more profitable.
For Stocks, It's up and to the Right
Greg Drahuschak, Market Strategist
After being on track to be the fourth-best February since 1949, the S&P 500 and other market indices were victimized mid-month by an understandable, but nonetheless incorrect, assumption that rising interest rates signaled an end of the equity market's gains.

The 10-year Treasury note yield hit a low September 3, 2020, at 0.651%. A month later, it was only marginally above this level. From there, however, rates began rising. By January 6, the 10-year yield touched 1.0%. Midday February 25, the 10-year note rate was 1.614%.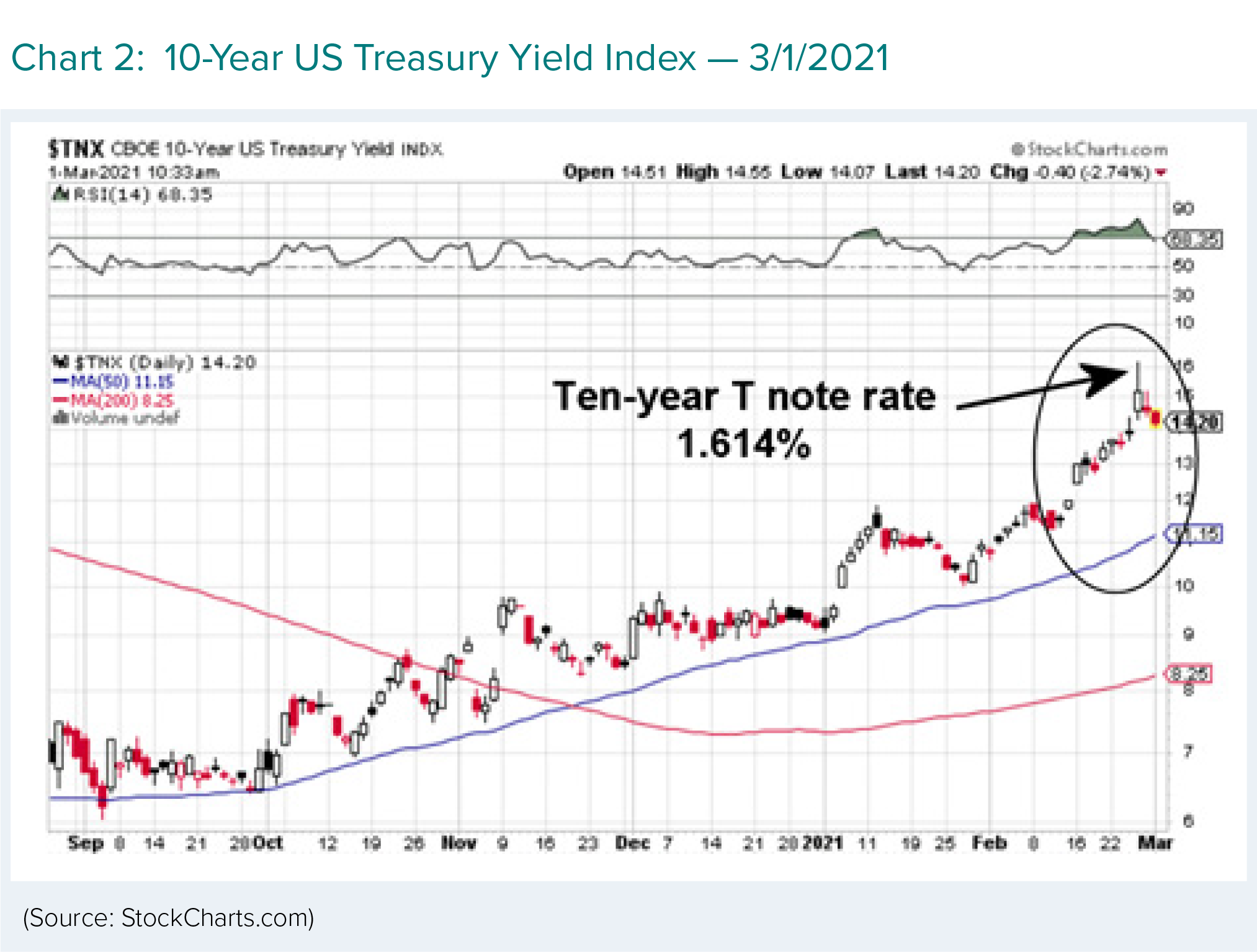 The 1.614% might appear to be inconsequential considering that in the summer of 1981, the 10-year rate was 15.41%. Nonetheless, the sudden rate rise late last month prompted worry that the move might be the start of a lasting interest rate increase. This concern weighed on many high multiple, growth or momentum stocks, which is why from its February mid-month closing peak to the end of the month, the Nasdaq 100, which includes many of the most-affected issues, was down 6.3%.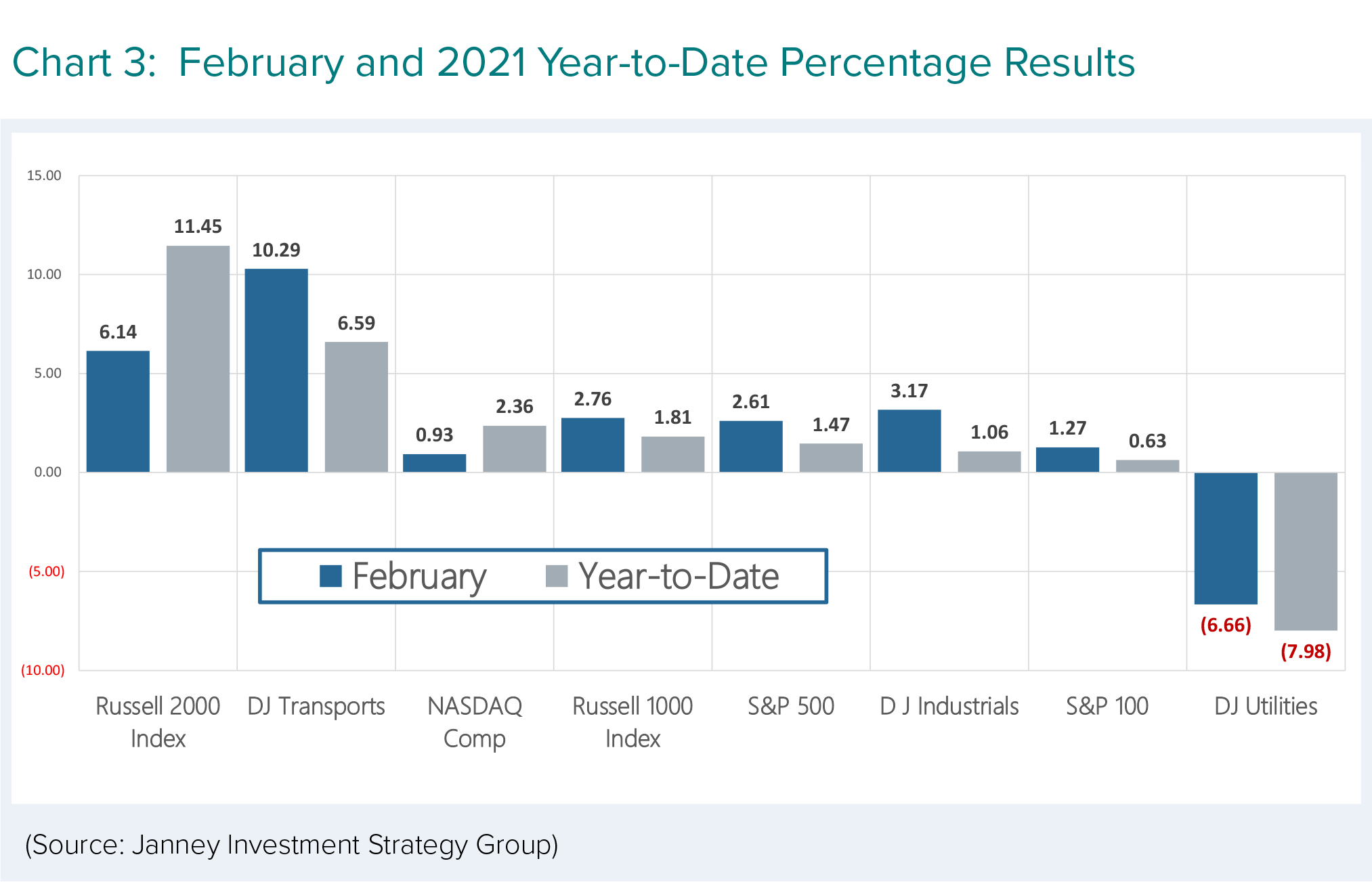 No Need to Worry
The equity market seldom has a time without concerns, and this is not one of those times.

Relative to historic norms, the market is far from inexpensive at more than 21 times the current consensus 2021 earnings estimate, and the S&P 500 market cap to nominal GDP currently is at an all-time high. According to CFRA-Standard & Poor's, all sectors in the S&P 500 except Health Care trade at double-digit premiums to their 20-year average-next 12-month P/E ratios, ranging from 12% to as high as 93%, and 37% for the 500. Various technical factors also are stretched.

The S&P 500 ended February 73.9% above its March 23, 2020 intraday low. A gain this large in this short period leaves the market vulnerable to periodic bouts of selling. Our concern is this leads investors to reduce equity exposure just ahead of what might be unprecedented economic expansion.

Lifting Our Expectations Higher
Changes in the stock market and the economy often appear to be out of sync largely due to the market's discounting of future expectations. This implies that the market's rise from the virus-induced low already might have accounted for the economy's recovery potential. In our view, accepting this notion could be extremely costly.

A dramatically high 20.5% personal savings rate, a $1.9 trillion relief program, the natural extension of the post-pandemic recovery and a possibly large infrastructure program suggest potentially dramatic GDP growth ahead.

Assessments of this potential are reflected in the most recent estimates from the Federal Reserve Bank of Atlanta and Federal Reserve Bank of New York. The Atlanta Fed's GDPNow and the New York Fed's Nowcast estimates, respectively, are forecasting 10.0% and 8.7% first-quarter GDP growth.

After the S&P 500 last March suffered its worst loss for the month in 70 years, something closer to the 0.93% average March gain is a reasonable expectation this year.

March 2021, however, could be a transition month. As the market moves from acknowledging the initial recovery to looking toward the results of the massive injection of liquidity into the U.S. economy, we suspect charts of economic activity and the stock market will continue to point up and to the right, which in our view ultimately could take the S&P 500 to 4,500 and perhaps beyond.

Disclaimer

The information herein is for informative purposes only and in no event should be construed as a representation by us or as an offer to sell, or solicitation of an offer to buy any securities. The factual information given herein is taken from sources that we believe to be reliable, but is not guaranteed by us as to accuracy or completeness. Charts and graphs are provided for illustrative purposes. Opinions expressed are subject to change without notice and do not take into account the particular investment objectives, financial situation or needs of individual investors.

The concepts illustrated here have legal, accounting, and tax implications. Neither Janney Montgomery Scott LLC nor its Financial Advisors give tax, legal, or accounting advice. Please consult with the appropriate professional for advice concerning your particular circumstances. Past performance is not an indication or guarantee of future results. There are no guarantees that any investment or investment strategy will meet its objectives or that an investment can avoid losses. It is not possible to invest directly in an index. Exposure to an asset class represented by an index is available through investable instruments based on that index. A client's investment results are reduced by advisory fees and transaction costs and other expenses.

Employees of Janney Montgomery Scott LLC or its affiliates may, at times, release written or oral commentary, technical analysis or trading strategies that differ from the opinions expressed within. From time to time, Janney Montgomery Scott LLC and/or one or more of its employees may have a position in the securities discussed herein.
About the authors