Janney's analysts discuss inflation and stock trends.
We examine the signs of an economy that can become too hot to handle.
An exploration in Modern Monetary Theory, which is having a moment.
April's positive bias and the "buy the dips" strategy are focal points for equities this month.
Not Too Hot
Mark Luschini, Chief Investment Strategist
Our baseline view holds to a very constructive outlook for the financial markets and the U.S. economy. However, we acknowledge there are two other possible outcomes over the coming 12 months: The most likely in our judgement is a warm porridge, in which the Federal Reserve refrains from pushing back against outsized growth, therein providing risk assets with an extended runway.

An alternative outcome is one that is too cold; brought on by adverse public health developments. Finally, there is a possible outcome that runs too hot, where an overheating economy breeding a rapid climb in inflation forces monetary authorities to unexpectedly tighten policy, a reaction-function coming well ahead of the forecasted schedule.
Virus Concerns Can Temper Recovery
A resurgence in COVID-19 infections is the most likely way economic growth could disappoint, and vaccinations are the best way to neutralize that threat. If they can confer herd immunity, they would allow the U.S. to move beyond the pandemic. Staying out of the too-cold scenario then depends on the efficiency with which the inoculation rollout is executed.

Although the vaccination campaign was slow out of the gate, it has more than caught up with the required pace to achieve a level of immunity that should allow for stringency protocols to greatly recede perhaps as soon as this summer. The latter helps to make this outcome the least likely to evolve in our view.
Growing Too Much?
The risk to our baseline view comes by way of too much growth, which could spoil the party by causing Fed officials to withdraw support.

Lavishly accommodative fiscal and monetary policy, combined with vaccinations and the release of pent-up demand that has gone unsatisfied since the onset of the pandemic, is a potent mixture for economic and corporate earnings growth. If investors were to begin to anticipate a hawkish turn in Fed policy, risk assets may encounter some turbulence.

ndeed, outsized consumption, stoked by the release of pent-up demand, is a clear overheating catalyst. History shows that changes in aggregate household net worth lead changes in consumption patterns. The double-digit gains in household net worth in the last 12 months, to an all-time high, implies the potential for consumption growth in the upper single-digits. That has led forecasters to project a pace of GDP this year to be 5-6% or more.

Investors should not interpret outsized consumption growth necessarily as a sign that uncontrollable inflation pressures will be released. To be sure, we will see some splashy inflation readings over the next few months but that will merely represent the re-establishment of price levels that prevailed before the pandemic cut off demand. They will probably be "transitory," in Fed Chair Powell's words, and he has promised that the FOMC will look through them.
Investor Behavior and Inflation Expectations
Changes in consumer and business behavior form as future inflation expectations adjust. When durable price increases are anticipated, businesses will seek higher selling prices and workers will seek higher wages. The feedback loop connecting expectations and actions makes expectations somewhat self-fulfilling and gives consumer price changes an element of momentum. The takeaway for investors is that overheating will not be a major concern unless investors expect an upward inflection in the long-run path of consumer prices.

For now, investors do not believe the Fed has let the inflation genie out of the bottle. In fact, the negatively sloped 5-year vs 10-year TIPS breakeven inflation rates indicate that investors expect the pickup in inflation will steadily fade over time. We, however, are disposed to think investors are overly complacent about the potential for structurally higher inflation, if not in the next 12 to 24 months, more so by the middle of the decade.

Market-determined inflation expectation measures do not indicate that economic overheating is at hand. The problematic too-hot-to-handle potential economic outcome will only come into play when inflation expectations reach uncomfortably high levels. If they do, investors may begin behaving in ways that entrench upward inflation momentum. The telltale signs of an upward inflation spiral will include:
steadily higher inflation readings,
steadily higher inflation expectations,
and positively sloped inflation expectation yield curves.
In the absence of any of these three factors, an inflation vicious circle will likely not take root. We thereby continue to stand with our Outlook 2021 asset allocation recommendations. Investors should continue to underweight Treasuries in multi-asset portfolios, keep maturities relatively short, and favor inflation-protection securities. In addition, overweight global equities, with a tilt toward pro-growth sectors in the U.S., and an elevated level of non-U.S. equities from regions such as Europe, Japan, and emerging Asia.
MMT Is Having Its Moment For Fixed Income
Guy LeBas, Chief Fixed Income Strategist
Modern Monetary Theory (MMT) is a relatively new set of hypotheses that attempt to describe the macroeconomic workings of government finance in developed economies.
Overview
Like Keynesianism, MMT emerged from an economic and financial market practitioner, and took several decades to push its way into mainstream economic thought. That said, MMT actually traces its roots back to the 1970s and its greatest evangelist, Stephanie Kelton, rose to prominence in the 2010s.

Also like Keynesianism, MMT has faced a great deal of derision and unserious critiques from traditionalists—one favorite criticism is calling it "Magic Money Trees"—as well as some more serious and skeptical analyses. Whether or not one ostensibly "believes" in MMT, its predictions have undeniably altered the framework with which markets view government policy decisions.

While it is challenging to boil down an economic thesis into bullet points, there are a few salient features and predictions of MMT worth exploring at this moment in financial history:
MMT holds that a government with its own currency that issues debt in that currency (such as the U.S. and the USD) can never run out of the ability to borrow and spend money.
A government cannot crowd out private sector activity.
The primary constraint on a government's ability to spend is the society's tolerance for inflation.
The reason these features of MMT are particularly important right now is that the U.S. is in the middle of the largest boom in deficit spending and fiscal stimulus in at least a generation. In calendar year 2020, the U.S. ran the largest budget deficit as a percentage of GDP, 15%, since 1945. That comparison is particularly useful since then, as now, the U.S. was essentially in a wartime footing. Then against an external aggressor, now against a virus.

Between the two rounds of economic stimulus passed in December and again in March, and the prospect of an infrastructure spending program again this summer, it looks like that deficit may increase in 2021 in absolute terms—although thanks to a rapid rebound in economic growth, it will probably be smaller as a percentage of GDP. Finally, the Federal Reserve has been quite public in its plans to tolerate and indeed even encourage somewhat higher inflation.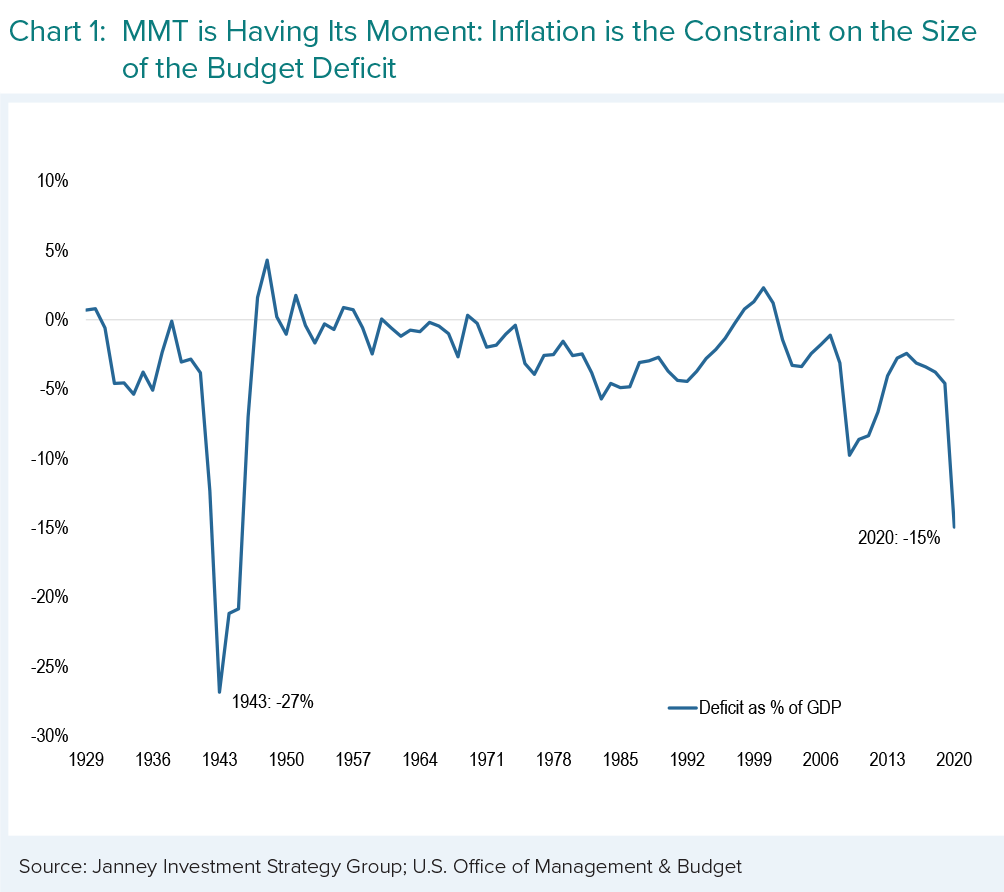 What it Means for Fixed Income
Based on the aforementioned three tenets of MMT, the increase in federal borrowing and spending in 2020-2022 and perhaps beyond should not have a negative impact on private sector savings and investment. Moreover, it should have a stimulative effect on both economic growth and inflation, at least relative to some hypothetical counterfactual. When it comes to the fixed income markets, this combination provides a clear outlook: Risk assets should perform well, and inflation expectations along with interest rates should rise. So far in 2021, that is exactly what has happened. Through the end of 1Q, the S&P 500 is up about +6%, while 10-year Treasury yields are higher by 0.82%.

Distilling an economic theory's predictions into a single quarter of financial market performance is a bit of a foolish exercise, but for the moment at least, the theory fits directionally. For market practitioners, getting the direction right is not enough; the magnitude is just as important.

At least for the moment, we are still skeptical that the deficits that have emerged are enough to nudge longer-term inflation—and therefore long-term interest rates—any higher than the 2.5% mark. But, in many ways, MMT has already won. Even fiscal conservatives now talk about inflation, not "running out of money" as the limiting factor in the size of the budget deficit.
Buying the Dips Still Works
Greg Drahuschak, Market Strategist
Improving virus data and vaccine distribution in March helped the S&P 500 post its 10th best performance for the month since 1949. Despite mid-month choppiness, the S&P 500 set a new all-time intraday high on the final trading day of the month on its way to notably higher levels as April began.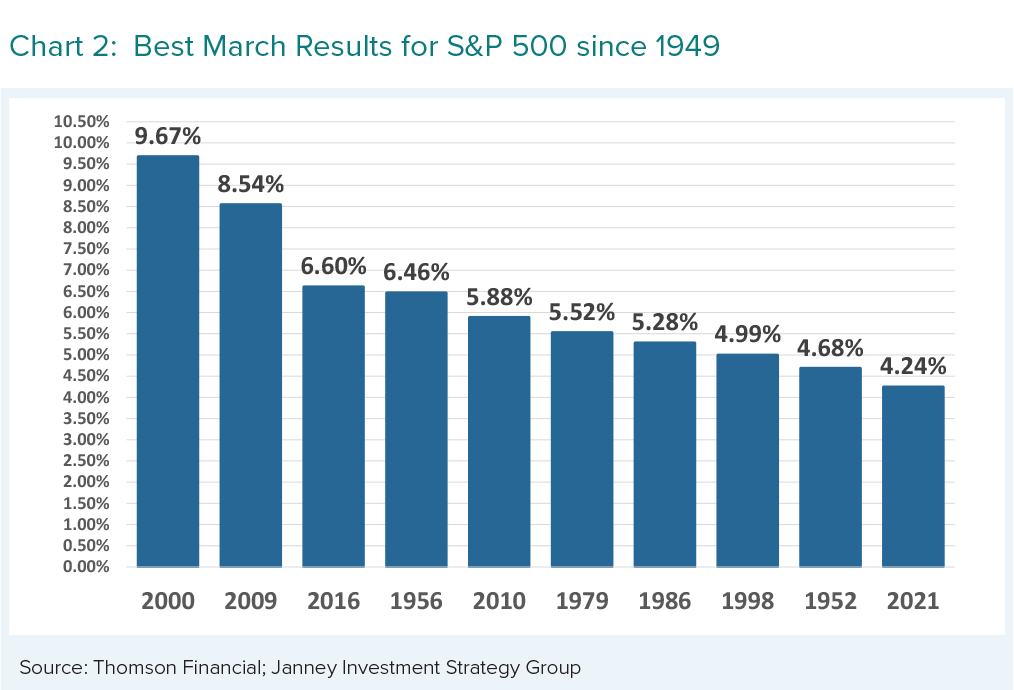 Three times in the first quarter, the S&P 500 slipped to or slightly below its 50-day moving average. Each time it moved on to new highs.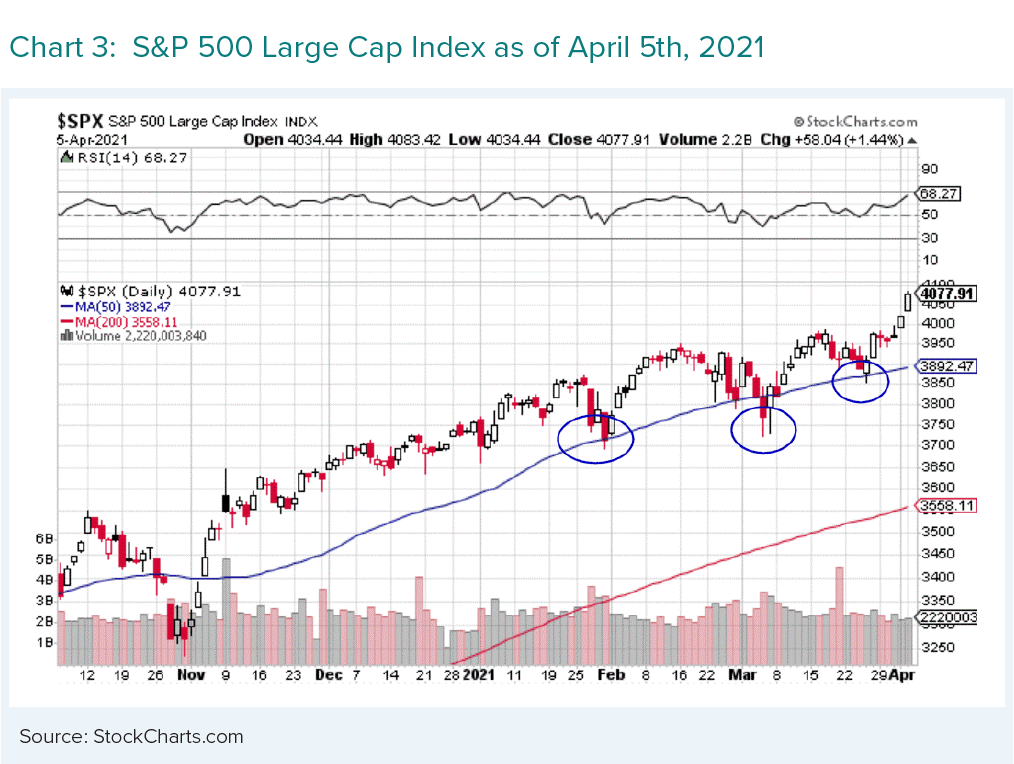 Recovery a Reality
Last month, the market appeared to be moving from merely hoping for an economic recovery to realizing the effects of the massive injection of liquidity into the U.S. economy and a normal lift as the economy rebounds from virus-induced weakness.

April began with three reports showing economic revival prospects were becoming reality.

The March ISM Manufacturing PMI was up 3.9 points to 64.7, which was its highest level since December 1983. New Orders production indexes were the highest since January 2004.

The employment measure was the highest since February 2018. Two days later, the ISM non-manufacturing index, at 63.7, topped expectations and set an all-time high. The new orders component was striking, as it was 67.2 compared with 51.9 the month before.

These data were good, but the 916,000 increase in non-farm payrolls probably was the most encouraging report, as it was approximately 50% more than expected and nearly four times the amount of the upwardly revised number of new jobs in January. Revisions to the prior two months added 156,000 jobs to the three-month tally.

Movement away from Technology toward the market's most cyclical sectors drove the S&P 500 in the first quarter. However, near the end of March, a rebound in the tech-heavy Nasdaq 100 suggested that abandoning the Technology Sector would not be wise.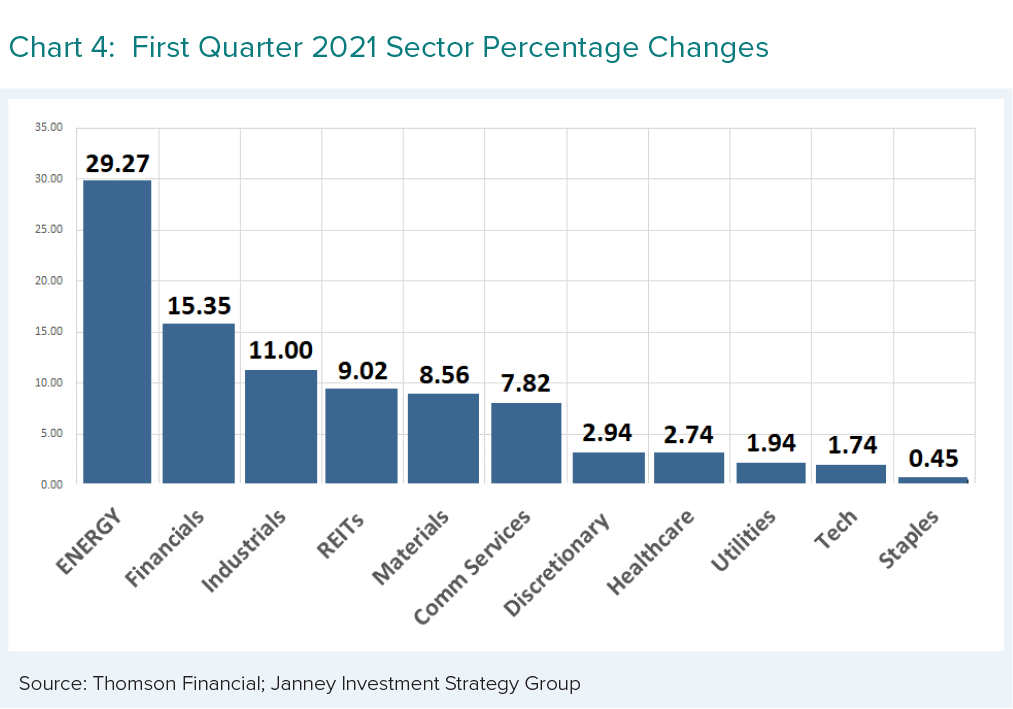 April's Positive Bias
The stock market's upward surge as April began was a reminder of the strongly positive bias typically present during the month. Since 1949, April on average has been the second-best month of the year with a 1.59% average gain for the S&P 500. April also has produced the second-highest frequency of monthly gains. The S&P 500 posted a gain in April in the last 8 consecutive years and in 14 of the previous 15 years. The 12.68% in April 2020 was the best for the month in the previous 71 years, as the market was in the early phase of a rigorous rally off the March 23, 2020, low.

The Atlanta Federal Reserve office's GDPNow estimate of real first-quarter GDP growth is 6.0%. The New York Fed Staff Nowcast estimate for the same period is 6.2%. The International Monetary Fund projects 6.4% growth this year for the U.S. economy. These estimates underscore what we think could be an extended period of solid economic recovery that should be reflected in generally rising equity prices.

Based on credit conditions, earnings potential and the massive amount of stimulus being applied to the U.S. economy, the market in our view still is far from having discounted the magnitude of the economic potential. This suggests that at the end of March, the major market indices were 12% or more below their eventual cycle peaks.

Buying market dips that has worked well for months may potentially be a sound approach for those suitable during future market pullbacks.
Disclaimer
The information herein is for informative purposes only and in no event should be construed as a representation by us or as an offer to sell, or solicitation of an offer to buy any securities. The factual information given herein is taken from sources that we believe to be reliable, but is not guaranteed by us as to accuracy or completeness. Charts and graphs are provided for illustrative purposes. Opinions expressed are subject to change without notice and do not take into account the particular investment objectives, financial situation or needs of individual investors.

The concepts illustrated here have legal, accounting, and tax implications. Neither Janney Montgomery Scott LLC nor its Financial Advisors give tax, legal, or accounting advice. Please consult with the appropriate professional for advice concerning your particular circumstances. Past performance is not an indication or guarantee of future results. There are no guarantees that any investment or investment strategy will meet its objectives or that an investment can avoid losses. It is not possible to invest directly in an index. Exposure to an asset class represented by an index is available through investable instruments based on that index. A client's investment results are reduced by advisory fees and transaction costs and other expenses.

Employees of Janney Montgomery Scott LLC or its affiliates may, at times, release written or oral commentary, technical analysis or trading strategies that differ from the opinions expressed within. From time to time, Janney Montgomery Scott LLC and/or one or more of its employees may have a position in the securities discussed herein.
About the authors