Exactly 12 months ago, in the depths of the worst public health crisis in at least a generation and in the tail end of the worst financial crisis in a decade, we published a note titled Coronavirus and the Municipal Bond Market.
That note posited three major themes:
Fiscal and monetary policymakers would support the municipal bond market.
Credits already on a downward trajectory could get pushed further downhill.
Tax revenues would face primarily short-term pressure.
In addition, we reviewed a number of major potentially affected sectors, including state and local governments (low risks), tourism-heavy destinations (significant risks), transportation (mixed), higher education (mixed), and health care (modestly negative).

In this post-crisis look, we'll review and update our initial thoughts from 2020. Overall, with the benefit of a year of hindsight, the municipal credit picture has turned out significantly better than feared, helped most notably by a range of federal funding programs.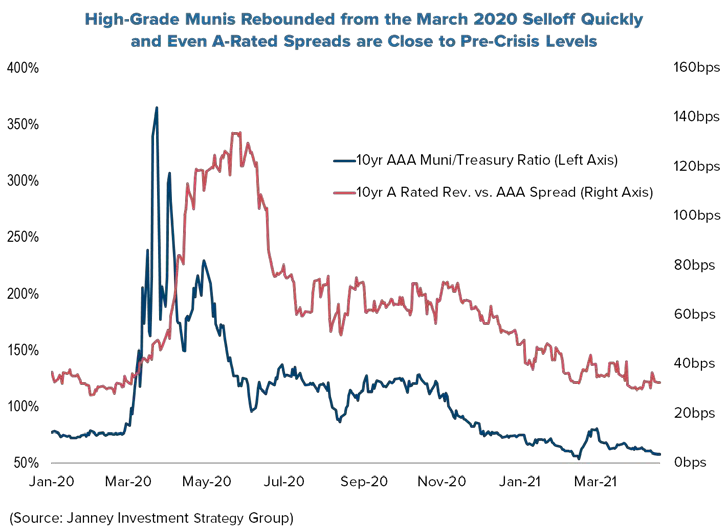 States and Local Municipalities: A Much Brighter Picture
During the most acute phases of the pandemic—spring into mid-summer 2020—state and local governments faced severe declines in revenue. High joblessness and small business closures in many geographies meant drops in income and sales taxes, respectively. In addition, these same governments often bore the most direct costs of the public health crisis from supplying aid and healthcare services. The most severe phases of the pandemic also coincided with many states' budget timelines (usually finalized by May). Faced with a dire economic outlook, many budgets included conservative revenue projections and spending cuts. New York State's FY2021 budget, for example, assumed a $13 billion decline in tax revenues and an accompanying $10 billion spending cut.
With the benefit of economic hindsight, many of these budgets proved overly conservative. What fiscal officials failed to adjust for was that the more persistent job losses were among lower-income individuals who pay less in taxes at the outset. Large businesses' income tax payments also rebounded remarkably quickly. In addition, sales of goods, though not services, bounced, aided in part by federal transfer payments. Consumer incomes, inclusive of those payments are actually up year-over-year, which is a first for a recessionary period. Finally, the Coronavirus Aid, Relief, and Economic Security Act (CARES Act) from 2020 added $150 billion of payments and the American Rescue Plan Act from 2021 (ARP) added another $350 billion to state and local governments.

The combination of a less severe than anticipated tax revenue downturn, conservative budgeting, and sizable federal transfers means the state and local government credit picture is considerably brighter today than it was 12 months ago. In mid-2020, Moody's estimated the three-year fiscal gap at state and local governments at $434 billion. Today, their estimate of the shortfall is just one-third of that number.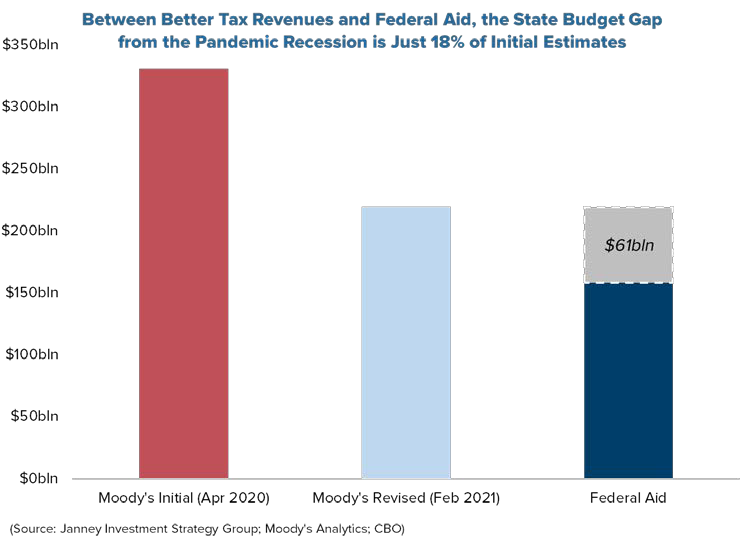 Within the state and local sector, we made special mention last year about tourism-heavy destinations. Obvious examples include Hawaii and Las Vegas, but states like Florida also rely on tourism via revenue line items such as lodging taxes. The outlook in those destinations was decidedly cloudy through early 2021, but widespread vaccinations coupled with excess consumer savings seem to have created a travel itch in the American public.

With many foreign destinations likely still off limits this summer, the rebound in tourism-related tax revenues will likely surprise to the upside in 2021, possibly recouping 2020's tax revenue losses within a few short years for tourism-heavy destinations. One tourism-related area that remains in limbo is convention centers due to limited corporate travel spending and high-contact events. Standalone convention center finance projects remain a considerable risk. The best avenue for sustaining them is if some cities de-risk these projects by supporting them out of budgets rather than keep them as standalone initiatives.

Transportation: Edging Back to Normal
In our April 2020 note, the second major muni category in which we identified pandemic-related risk factors was the transportation sector. Transportation includes a wide range of credits, though the largest three are airports, public transit, and toll roads. With legal and practical restrictions on travel particularly severe in the early phases of the pandemic, the outlook for transportation was especially cloudy. At the same time, as we posited 12 months ago, there is a clear national interest (security and other) in maintaining air, rail, and road transportation.

A national interest, in turn, means federal incentive to support the sector financially, which is exactly what happened. The 2020 CARES Act included $10 billion earmarked for airports, the FAA took over a number of shared payments, and the 2021 ARP Act added another $8 billion, bringing federal support to $20 billion in 12 months. Federal grants to the airlines also indirectly aided the airport sector, and going forward, Congress could add to the fiscal support in the proposed infrastructure-spending package.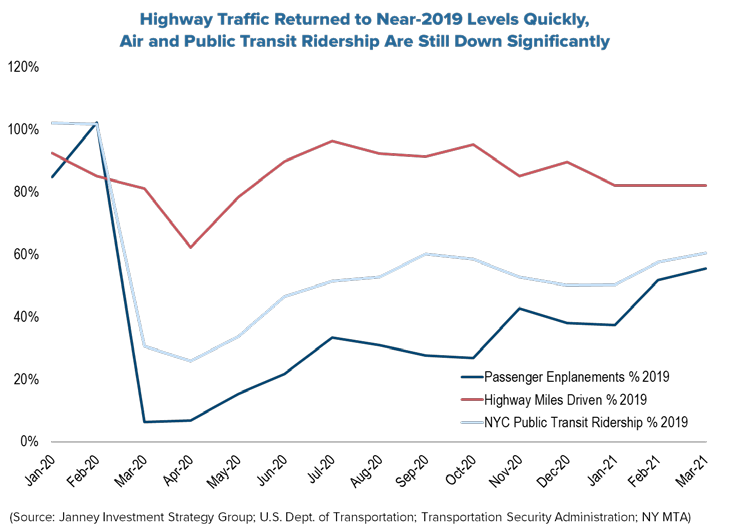 For public transit systems, ridership dropped precipitously and has only recovered to about half of 2019 levels in the largest transit systems. New York's MTA, the largest transit system in the nation, had collected 1.9 million subway fares at the daily peak in March 2021, down from about 5 million daily in 2019. The MTA historically relied on fares for about 45% of its revenue, so that still represents a substantial decline in cash flow, and in response, the MTA and other systems cut back on expenses—if not structurally, then at least temporarily. CARES and ARP Acts added a combined $52 billion to support public transportation sectors. For context, that $52 billion over two years essentially triples the total federal spending on those programs. While public transit ridership is still far below peak levels, the federal funding in aggregate finances roughly three more years of large budget deficits at the nation's public transit authorities.

Finally, for toll roads, revenues declined between about 10% and 80% in calendar 2020, with the numbers varying widely based mainly on how strict a given state's lockdown protocols were, and how reliant a given toll road system is on commercial vs passenger traffic. Many systems cut back on expenses (for example, staffing at tollbooths) to account for weaker revenues. As such, it is hard to offer generalizations as to how the sector fared. State Departments of Transportation (DOTs) collected $10 billion in federal grants from the December 2020 stimulus package, but will likely have to wait until the long-term infrastructure-spending package is passed to benefit from further federal support. In our view, that support will likely emerge, although it is impossible at this stage to estimate the size of any further aid.

Despite sizeable holes in budget deficits for airports, public transit authorities, and toll roads in 2020, federal aid seems to have done a good job in staving off most of the downside credit risk in these sectors, and should provide further support going forward as well. Just as important, however, is that the accelerated vaccinations, high consumer savings rates, and the latent desire to go anywhere but home should aid demand for air and road travel in the coming months this year. That demand, in turn, will drive user revenue fees at airports and toll road revenues. With expense cuts across many transportation sectors, higher organic revenues could have a surprisingly large benefit in generating excess net cash flows that can go, over time, to paying down debt or enhancing services.

Higher Education: Seeking Stability
Broadly speaking, the higher education sector includes three subsectors, each with very different credit outlooks. Of those three sectors, state-sponsored and Tier 1 colleges and universities are, on average, in quite good shape. Risks remain for private colleges and universities in tiers 2 and 3—especially the smaller ones. Based on data from the National Student Clearinghouse, for the 2020-2021 academic year, overall undergrad student enrollment at traditional schools is down about -1.5%. Enrollment is essentially unchanged at public institutions, slightly better at selective institutions, slightly worse at other private institutions, and much worse at community colleges. Enrollment is, of course, not the only source of higher education revenues, but many institutions have relied on ancillary fees (housing, parking, etc.) to add to what had been fairly narrow margins in recent years. Endowment income is another source of revenue.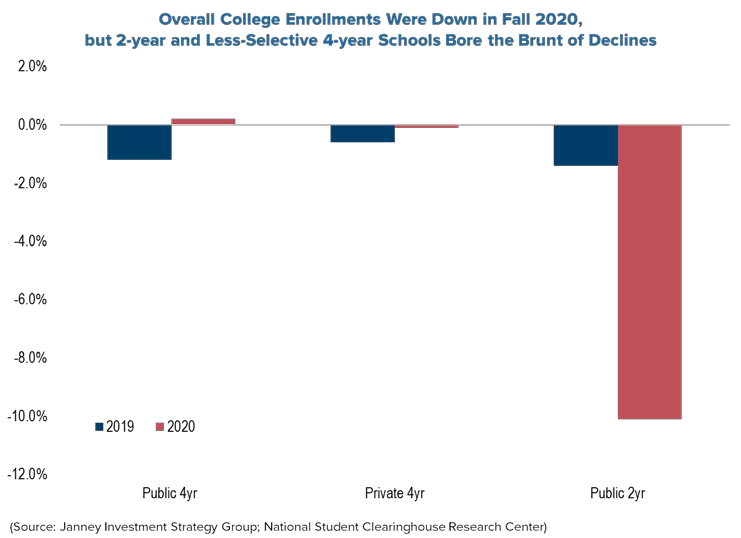 Unfortunately, for the smaller Tier 2 and Tier 3 private colleges, they are being squeezed on all three fronts. Enrollment is down—these are the "fulcrum" institutions that tend to see sharper enrollment declines, whereas Tier 1 institutions rarely see dips—student fees have been largely missing for the last year, and their endowments tend to be smaller, though not universally so. In order to support margins, a fair share of such higher ed establishments have relied on federal relief funds in the past year. The full estimated amount of the funds is $92 billion.

The higher education sector is another example of a muni credit arena where generalizations fall short. While public university and Tier 1 private university revenues are unlikely to suffer significantly from the COVID-19 crisis, smaller schools are more at risk. As students return to campuses for good next fall, we will likely see a resumption of prior credit trends, meaning that stable schools will continue to maintain positive operating results, and deteriorating credits will continue to see reduced demand and revenues.

Health Care: Bolstered by Aid
In our extensive 2020 muni credit note, we pointed out that the Health Care sector—though uniquely important in the face of the worst public health crisis in a century—ironically faced some significantly increased credit risks. Namely, the cancellation of so-called "elective" procedures would deprive smaller hospital systems of needed high-margin revenues, even while expenses rose for care of COVID patients (n.b., "elective" is an industry term used without offense. Orthopedic surgery often falls into this category, even though a patient in severe knee pain probably would not call joint replacement surgery "elective.").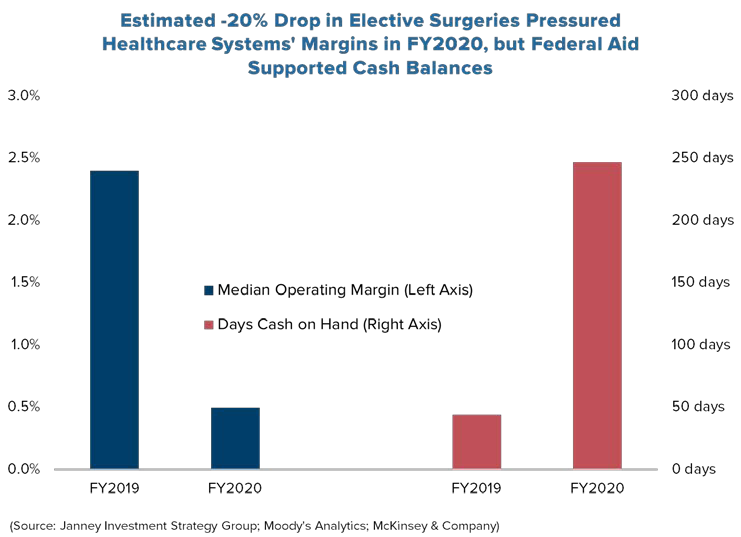 Even though risks to the healthcare sector were quite high in early 2020, we had confidence that federal support would be forthcoming for many institutions, owing to their position in the middle of the pandemic. That was certainly the case for hospitals, for which grants largely replaced lost revenues even though many of the elective surgeries resumed by midyear. The CARES Act provided $76 billion to essentially any healthcare provider that accepted Medicare up to 2% of revenues, although rural and severely impacted providers could apply for well more than 2%. Further revisions essentially changed this initial program into a "make whole" provision that thus far included $153 billion in payments from something called the Provider Relief Fund (PRF). While there are many nuances, the PRF ensured that healthcare providers bore essentially no cost from COVID in aggregate.

The outlook for continuing care retirement communities (CCRCs) and other managed care providers is a bit cloudier. The initial CARES Act offered $10 billion to nursing facilities, though subsequent federal support rounds in December 2020 and March 2021 added up to only another approximately $1 billion. Skilled nursing facilities will always have a need as part of the U.S. healthcare system. But, given the higher mortality rates that befell residents of some facilities, demand for new entries into CCRCs could suffer for some time to come. It is impossible to tell how preferences and tastes will change, but substantial risks remain for that industry, particularly among newer facilities that are, or were, ramping up towards full occupancy when the pandemic emerged. For muni investors, the CCRC sector is almost universally high yield or nonrated. As such, bonds issued by these facilities occupy a negligible portion of most investors' portfolios, but it does seem very likely that there will be significant restructurings and or defaults among CCRC bonds in the coming several years.

Conclusions
Municipal cash flows have long tails. An economic or credit event one year can affect tax revenues two, three, even four, years down the road. That phenomenon is not isolated to just tax-backed issuers, since as we have seen, transportation, higher education, and healthcare sectors also feel the long-run impact of credit events. The one clear theme running through municipal credit in the last 12 months is that Congress—through three rounds of rescue packages and stimulus—has essentially "covered" most of the immediate revenue losses. Where Congress has not, many issuers were able to borrow through short-term cash flow shortfalls at historically low interest rates. Therefore, with 2020 and 2021 holes plugged, and once the economic reopening euphoria fades in 2022, we expect most sectors emerge with credit trends from the pre-pandemic era largely intact. For better or for worse.

Disclaimer
This report is provided for informational and educational purposes only and shall in no event be construed as an offer to sell or a solicitation of an offer to buy any securities or a recommendation for any strategy or to buy, sell, or hold any product. Opinions expressed are subject to change without notice and do not take into account the particular investment objectives, financial situation, or needs of individual investors. Employees of Janney Montgomery Scott LLC or its affiliates may, at times, release written or oral commentary, technical analysis, or trading strategies that differ from the opinions expressed here. The information described herein is taken from sources which we believe to be reliable, but the accuracy and completeness of such information is not guaranteed by us. The opinions expressed herein may be given only such weight as opinions warrant. This Firm, its officers, directors, employees, or members of their families may have positions in the securities mentioned and may make purchases or sales of such securities from time to time in the open market or otherwise and may sell to or buy from customers such securities on a principal basis. This report is the intellectual property of Janney Montgomery Scott LLC (Janney) and may not be reproduced, distributed, or published by any person for any purpose without Janney's prior written consent. This presentation has been prepared by Janney Investment Strategy Group (ISG) and is to be used for informational purposes only. In no event should it be construed as a solicitation or offer to purchase or sell a security. Past performance is no guarantee of future performance and future returns are not guaranteed. There are risks associated with investing in stocks such as a loss of original capital or a decrease in the value of your investment. For additional information or questions, please consult with your Financial Advisor.
About the author