Janney's analysts discuss inflation and stock trends.
What does peak growth mean for the stock market?
A review of inflation risks and pricing in the fixed income markets..
This May includes a positive view of corporate earnings and the broader economy.
Is Peak Growth Synonymous with Peak Stocks?
Mark Luschini, Chief Investment Strategist
Developed economies around the world continue to transition towards a post-pandemic state. While Europe is lagging the United States, it is merely delayed on its path to recovery.

This ongoing transition is reflected in the global macroeconomic data, which continues to surprise to the upside. Widespread optimism about the outlook for economic activity and corporate earnings over the coming year has led some investors to ask whether an imminent peak in the rate of growth could be a potentially negative inflection point for what appears to be fully valued stock prices.
Some Things to Consider About Stock Performance
If history is any guide, we find that a peak in growth momentum in and of itself is not likely to be enough of a catalyst for meaningful underperformance. Since 1990, there have been a number of episodes of waning growth momentum that can serve as a template for what the future might hold. While it is true there have been several recessions following a peak in economic indicators that led to stocks performing poorly, those have been few and far between.

Instead, in cases where equity underperformance was observed, it occurred concurrent with a hawkish turn in Federal Reserve monetary policy or a significant event of sorts. The key point for investors is that a peak in growth momentum is in and of itself not enough of a catalyst for meaningful stock market underperformance. Rather, a sizeable shock to sentiment would likely be required, causing either a very serious growth slowdown, outright fears of recession, or some other event that negatively impacts earnings growth or raises the equity risk premium.

Granted, we can identify several candidates for such a shock, including the emergence of new, vaccine-resistant variants of COVID-19, overtightening of the fiscal purse strings by policymakers in China, and a potentially hawkish shift in monetary policy in the developed world. Certainly, these require monitoring as they could otherwise undermine our sanguine views about the macroeconomic landscape, but none generate serious reservations at the moment. New to the inventory of variables to consider as a risk to equity markets: The potential effect of higher taxes.

Potential Impact of Tax Changes
Both corporate and individual tax rates are set to rise which, at first blush, could certainly qualify as a non-recessionary event that negatively impacts earnings or raises the equity risk premium. For corporations, the proposed increase moves the tax rate to 28% from 21%, and includes a higher minimum tax on foreign profits plus a 15% minimum tax on "book income."

In addition, as part of the American Families Plan, President Biden is proposing to increase the top marginal income tax rate for households earning $400,000 or more to 39.6% (from 37%), and to substantially increase the capital gains tax rate for those earning $1 million or more from a base rate of 20% to 39.6%. Investors with wealth accumulated in popular tax-advantaged plans (ex. 401(k), individual retirement accounts) are not especially affected by the Biden proposal because capital gains taxes do not apply to qualified retirement plans.

Meanwhile, the 3.8% tax on investment income that funds the Affordable Care Act would be kept in place, which would bring the total capital gain tax rate to 43.4% for that income group. At face value, estimates show that could result in an 8% decline in forward earnings, but that could be lower if the tax increased to 25% as some officials counterproposed.
The behavior of stocks that benefitted the most from President Trump's corporate tax cuts suggest that very little impact from these potential changes has been priced in.

To be sure, they may not matter if the effect of strong economic growth offsets the negative impact of higher taxes on earnings.

Still, if these changes have not been fully priced in, corporate tax hikes could be a more meaningful driver of lower stock prices if the growth outlook suddenly shifts in a negative direction.

In terms of changes to individual taxes, the proposed increase in the capital gains tax rate is significant for higher-income households, bringing the top rate to the highest level since the late 1970s. Given the full valuation of equities, it seems that such a change could trigger some short-term selling of equities to lock in longterm gains at lower tax rates. However, similar to the changes to corporate taxes, we see the potential for higher taxes on individuals as a near-term risk to the equity market and not as a likely driver of stock prices over an extended time horizon. Looking back over many decades, changes in tax regimes have had a fairly weak relationship with stock market valuation.

Maintaining a Sanguine View
These risks, however real, do not yet, if at all, warrant reducing our advocacy for pro-growth, cyclical portfolio exposure. We continue to expect positive returns from stocks over the coming year, and would recommend that investors remain overweight stocks versus bonds in a multi-asset portfolio. We favor value vs growth stocks, cyclical vs defensive sectors, and small vs large cap stocks.

We also believe the U.S. dollar is likely to weaken over a cyclical time horizon. Within the global equity market, we would lean into European equities, as the preponderance of companies that are highly levered to the global economic recovery should boost returns by an advantageous degree.
Inflation Superlatives All Around
Guy LeBas, Chief Fixed Income Strategist
Barely a day goes by this spring when some inflation superlative does not emerge from the market woodwork.

Examples:
"Most consistent string of higher lumber prices trading session in history."
"Highest monthly Consumer Price Index print since 2012."
" Highest market-implied inflation rate since the 2008 Recession."
The list goes on, and for good reason. Since WWII, we have had many forces line up on the inflationary side of the fence—at least for the short term. Despite these short-term pressures, Federal Reserve policymakers continue to assert that any significantly higher level of inflation will be, to use their word, "transitory." These policymakers are probably right; here is why.

Transitory Nature of Inflation
Inflation has been troublingly low for going on two decades. The economy needs some inflation for two reasons:
Goods' prices going up regularly creates an incentive to buy today rather than wait, as they will become more expensive tomorrow.
Moderate inflation also helps ensure that businesses have the flexibility to protect margins in a recession without laying off as many of their employees.
Too high inflation, say above 4%, is also a problem because it corrodes standards of living. The Federal Reserve, with the support of a large amount of economic research, believes that a core inflation rate that averages about 2% is ideal. We as fixed income investors care because higher inflation eats into the fixed returns that bonds deliver.

Getting to a 2% inflation rate from below has proven challenging; in fact, the Fed has seen inflation above only 13 months in the last decade.

A few aspects of today's economy are changing the odds. First is a huge "demand pull" from fiscal stimulus and organic spending as consumers resume life after a year on pause. Second is cost-push inflation triggered in part by supply chain disruptions, but also partially by a higher cost of delivering goods and services (imagine the cost of health safety measures at a factory, for example). Third is commodities push inflation, as the prices of many raw material inputs are rising rapidly. Fourth is Fed policy itself. The central bank is explicitly aiming for slightly above 2% inflation.
Near-Term vs Long-Term View
While these factors will almost certainly push consumer prices higher in 2021, they are not likely to translate to long-term inflation. Inflation is the persistent year-after-year increase in prices, and three of the four aforementioned inflationary factors should dissipate by 2022. Fiscal stimulus will slow and demand growth will normalize; firms will have already incorporated one-time costs of delivering goods and services; and supply will come in to stabilize commodities prices—all of which means that inflation will move higher than 2% in the short term, but probably not much higher in the long term.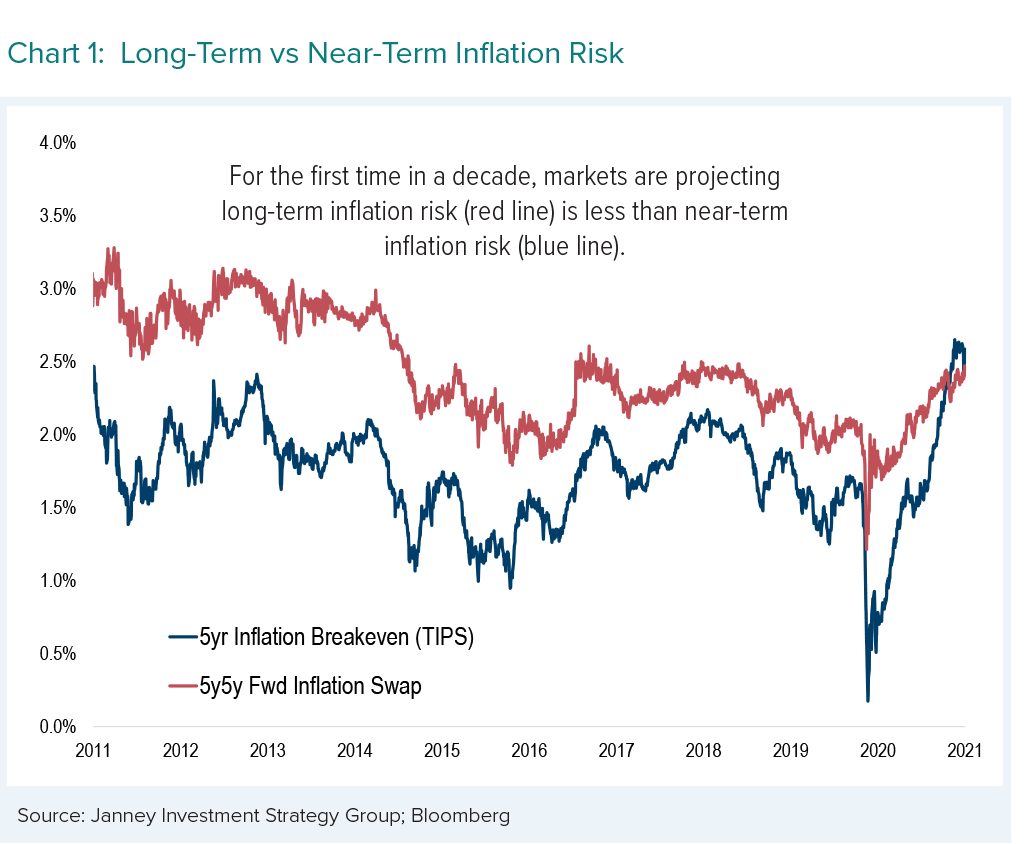 Against this backdrop, it seems for the moment that markets pay fixed income investors reasonably well for taking longterm inflation risks. Our favorite way to measure inflation risk is using something called the "five-year forward five-year inflation swap" (5y5y forward swap), a financial derivative used to bet on the average CPI inflation rate starting in five and lasting until 10 years from today. The 5y5y forward swap is trading around 2.45%, and has been in the 2.20- 2.45% range for all of 2021, even while measures of shortterm inflation increased. What this tells us is that investors are paid about 2.45% per year for taking long-term inflation risk, less than the 2.55% they are paid for taking shorterterm inflation risk. That inversion is rare and strongly signals inflation is more likely to first rise, then decline again.

Could inflation be somewhat higher than 2.45% in the long run? Yes, it could.

However, it is not very likely.
All in the Numbers
Greg Drahuschak, Market Strategist
Perennially, investors typically enter May reminded that average May-October returns historically have been relatively weak, as the S&P 500 in these six months of the years since 1945 posted an average return of only 1.6% versus the 6.8% gain on average for November-April.

Sell in May? Maybe Not
May, however, has not always been a poor month for stocks. Since 1950, the S&P 500 was up 49 times in May, with a gain in the month 10 out of the most recent 11 years.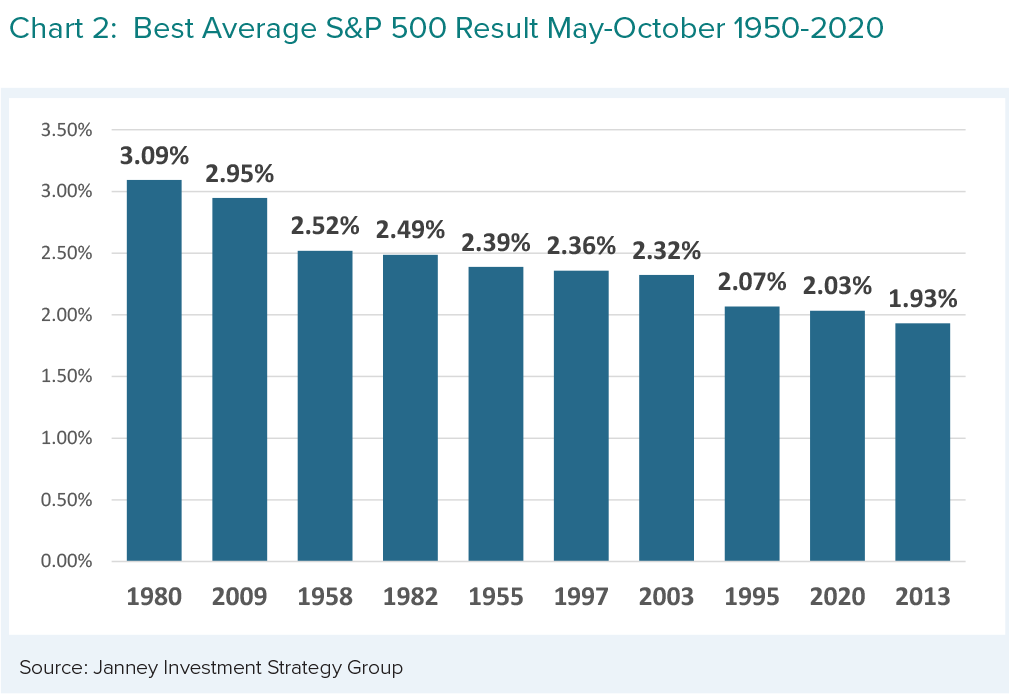 Seasonal factors might have a hand in the market soon, but it will be difficult to overlook outstanding economic data.

The initial estimate of first-quarter GDP growth reported near the end of April showed the economy expanding at a 6.4% pace as personal consumption rose at the secondfastest pace since the 1960s. Recent data on manufacturing and service industries were solidly in expansion mode. The addition of 916,000 jobs in March might only have been a prelude of several months ahead when non-farm payroll growth could top 1,000,000 a month.

Earnings Improvement
Most importantly, the recovery has lifted corporate profits significantly more than initially anticipated.

Earnings for 2021 have improved markedly.

The early part of first-quarter earnings report season showed the blended earnings growth rate was 45.8% while revenues rose 9.1%. In addition, the 86% of reporting companies that surpassed consensus earnings expectations was a new record. Companies beat earnings expectations by 22.8%, which also was a record high.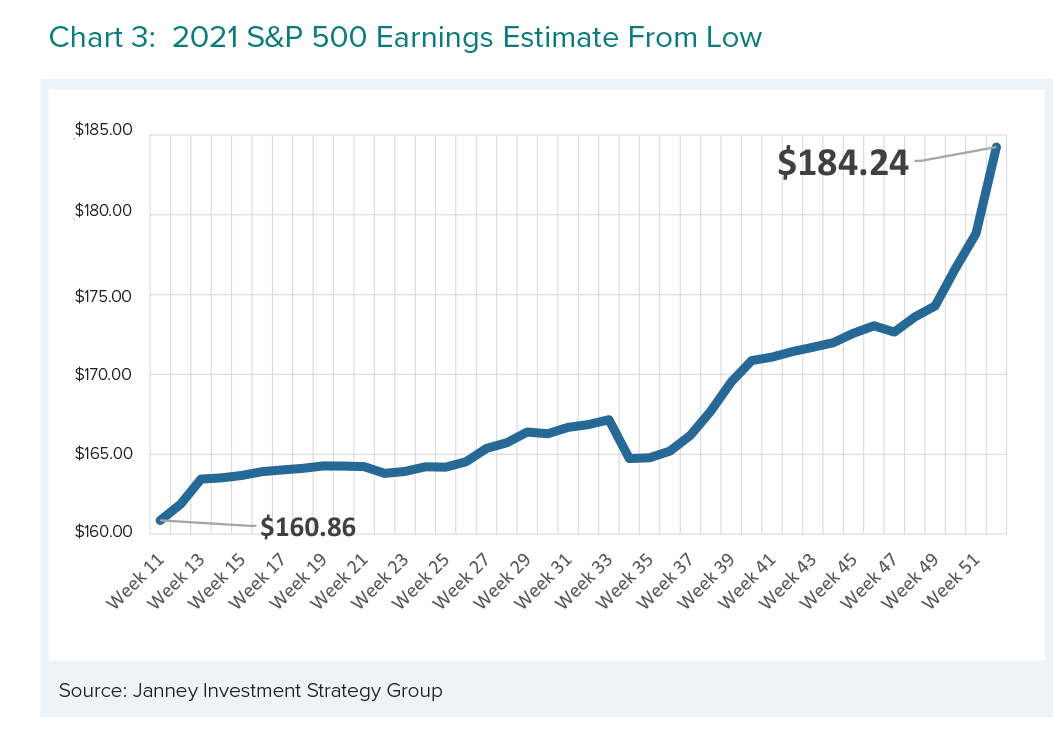 This potential was not lost on the stock market last month, as the S&P 500 gained 5.24% for the ninth-best gain for the month since 1950. This, however, left the S&P 500 trading at a relatively high 22.69 earnings multiple on the 2021 estimate and 20.2 times the early 2022 estimate. Preliminary 2022 earnings numbers, however, suggest the potential for a 15%, or greater, gain next year. Earnings multiples today rely on interest rates remaining in check, which we think is likely, but they underscore the risk if interest rates suddenly rise.

Stock Market Expectations Rise
Assuming the market multiple remains about where it is now, reasonable 2022 earnings expectations justify the potential for the S&P 500 reaching 4,500. Only modest multiple expansion make 5,000 a reasonable objective for this cycle.

Year-to-date sector performance largely has tracked pandemic recovery expectations with the stock prices of cyclical sectors outpacing other market segments. We think a bias toward pro-cyclical sectors will persist throughout the balance of 2021.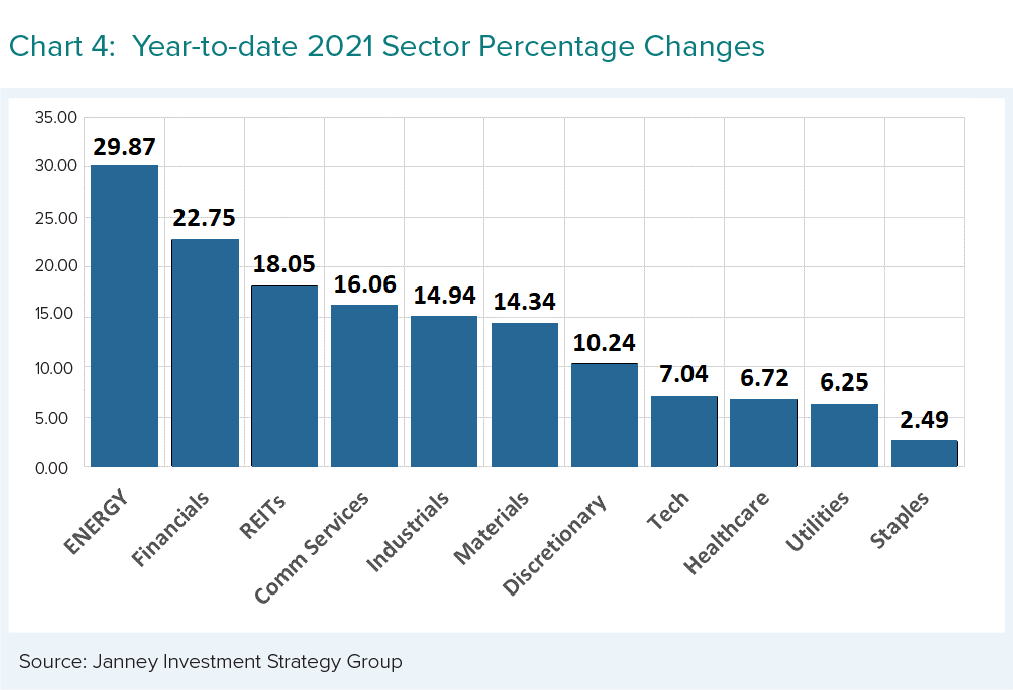 After a strong start to April, the S&P 500 largely spent the last half of the month stuck fractionally below 4,200, as the market was on the cusp of the major part of earnings report season.

The S&P 500 performance eventually broke a pattern in place since the end of January, as the index touched or slightly broke its 50-day moving average, rallied, and then repeated the pattern. In April, an expected pullback did not develop as the S&P 500 set new highs even as it faced an overbought condition and major market sentiment gauges were elevated.

We remain confident that the general path of the economy and corporate earnings will be sufficient to lift stock prices to higher levels in coming months. We, however, would not discount the potential for a temporary, but shallow pullback toward the 3,950-4,000 range.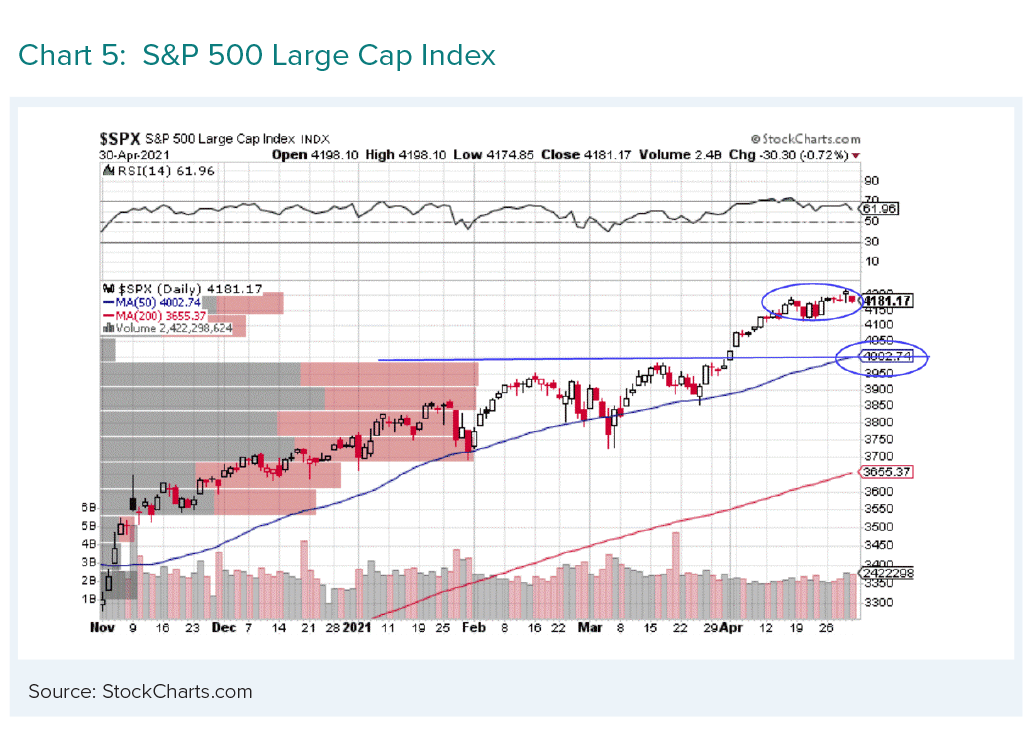 Disclaimer
The information herein is for informative purposes only and in no event should be construed as a representation by us or as an offer to sell, or solicitation of an offer to buy any securities. The factual information given herein is taken from sources that we believe to be reliable, but is not guaranteed by us as to accuracy or completeness. Charts and graphs are provided for illustrative purposes. Opinions expressed are subject to change without notice and do not take into account the particular investment objectives, financial situation or needs of individual investors.

The concepts illustrated here have legal, accounting, and tax implications. Neither Janney Montgomery Scott LLC nor its Financial Advisors give tax, legal, or accounting advice. Please consult with the appropriate professional for advice concerning your particular circumstances. Past performance is not an indication or guarantee of future results. There are no guarantees that any investment or investment strategy will meet its objectives or that an investment can avoid losses. It is not possible to invest directly in an index. Exposure to an asset class represented by an index is available through investable instruments based on that index. A client's investment results are reduced by advisory fees and transaction costs and other expenses.

Employees of Janney Montgomery Scott LLC or its affiliates may, at times, release written or oral commentary, technical analysis or trading strategies that differ from the opinions expressed within. From time to time, Janney Montgomery Scott LLC and/or one or more of its employees may have a position in the securities discussed herein.
About the authors