Janney's analysts discuss inflation and stock trends.
The housing market is still hot. We look at how it got here and where it might be going.

Why muni bonds have outperformed their Treasury counterparts during recent times of rising interest rates.



A breakdown of the important factors that will influence stocks in the coming months.
Is Housing Too Hot to Handle?
Mark Luschini, Chief Investment Strategist
House prices are soaring, as demand continues to outpace supply.

Low inventories have intersected with low borrowing costs and put upward pressure on home prices. Undaunted by last year's pandemic-induced economic shock, prices barely wavered and proceeded to rise sharply. Despite richer home values, housing affordability remains reasonable for many potential homebuyers.

Professionals Embrace Remote Work
A catalyst for the recent housing activity was last year's sudden shift to remote work arrangements due to mandatory stay-at-home orders from the government. Employers and office workers had to quickly rethink how and where they work.

As time went on, employers found that the productivity of their employees did not suffer and, in some cases, improved while working from home. Indeed, some companies have made work-from-home options permanent. This shift has affected the real estate industry, creating new demand for housing and changing buyer preferences, thus the surge in home prices.

Monetary Policy Plays a Part
It would be remiss not to mention how monetary policy has also contributed to the housing market. Policy settings were easy and became easier following the pandemic lockdowns in order to avoid the economic fallout from possible foreclosures and delinquencies.

Historic fiscal easing enabled demand from remote-work policies to expand. The massive fiscal transfers generated by trillions of dollars' worth of pandemic-related stimulus programs and an abundance of personal savings kept housing retention high, even as employment plummeted and eager new homebuyers emerged. The effects of these policies, in some part, help to explain the shift in the geographic preferences of some homebuyers, created a building boom in some underdeveloped areas, and likely produced a new source of demand from renters in urban areas purchasing homes in suburban or other outlying areas.

Supply Shortage Persists
An ongoing theme that preceded the pandemic is constrained supply.

The vast population cohort known as Millennials are in a life stage when home ownership is a big priority. Low interest rates and pandemic stay-at-home orders accelerated younger Millennials' home-buying timelines, which is reflected in the rising percentage of homes being purchased by first-time buyers. By some estimates, the demand from this demographic alone overwhelms the production of new homes to satisfy it.

Consequently, inventories of both new and existing homes have dwindled and stand well below levels considered by the National Association of Realtors to be equilibrium (approximately six months of housing stock). Obviously, the solution is more inventory introduced by faster housing construction, or new listings from existing homeowners, as there still seems to be a healthy appetite for housing in spite of the surge in prices.
Housing Market Affects Larger Economy
Certainly, the housing market is hot and this spells good news for the economy at large. The housing industry is unmatched by way of the multiplier effect it has on business activity—that which is directly associated with residential investment (i.e., construction jobs, real estate agents, lumber mills, developers, etc.), and that which is tertiary (household furnishings, contracting, landscaping, etc.).

Will prices keep going higher unabated? That seems unlikely. Some of the past year's activity may have pulled forward some demand that would otherwise have occurred organically. In addition, we will probably see some deceleration, and may already have, in the number of people moving away from large urban centers. Finally, either supply will eventually catch up, or demand will plateau if further increases in home prices erode affordability.

Activity Likely to Cool, but Support is Strong
A replay of the 2008-2009 housing crisis seems unlikely. Bank lending standards have tightened significantly since then as a consequence of subprime lending. Meanwhile, the U.S. banking system is extremely well capitalized, having been subject to rigorous stress tests by the Federal Reserve to mitigate the risks of a reoccurrence of the financial crisis.

For investors, the underpinnings of this renewed expansion remain quite robust. Growth is likely to moderate later this year, but remain stout, as the uniform reopening of many heretofore-shuttered industries occurs and the pent-up demand associated with it is absorbed. This is likely to strengthen profits and help sustain the advance in equity markets going forward.
Yet Another New Muni Regime
Guy LeBas, Fixed Income Strategist
It seems like every few months, we pen a note on the swings in the new municipal trading "regime."

Two years ago, the focus was on pension shortfalls. One year ago, the worry was revenue risks from COVID. Barely six months after that, roaring equity and bond markets helped address those same pension shortfalls, and revenue risks turned out unfounded for most credits. Today, what is most striking about the municipal markets is the sharp supply/demand imbalance that is holding yields steady and a world apart from other sectors in the fixed income market.

Relationship between Bond and Treasury Yields
During the past decade of trading, 10-year municipal bond yields and 10-year Treasury yields have been 87% correlated. Correlation is a simple statistical measure that relates changes in one variable to changes in another on a scale of -100% to +100%. Saying that these two measures are 87% correlated means they move in the same direction and roughly the same magnitude the vast majority of the time.

While correlation does not equal causation, the causal relationship here is conceptually simple as well: 10-year munis and 10-year Treasuries are imperfect substitutes for one another, so when the price of one moves, the price of the other should generally move in the same direction and similar magnitude as well, especially in the long term. Assuming a highly correlated and causal relationship is an easy conclusion to make.

However, 2021 offers an exception to these assumptions. Municipal bond yields have been unusually stable, while Treasury yields have swung about, occasionally with great force.

Over the last 60 days ending May 28, the correlation between 10-year muni and 10-year Treasury yields has measured 79%, which is still fairly high, but on a rolling basis, that 60-day correlation has been as low as 3%.

The reason is muni yields barely budged even while Treasury yields rose rapidly in late February through mid- March. For example, between February 1 and the recent peak in yields on March 19, 10-year muni yields rose only 0.13%, while 10-year Treasury yields rose almost 0.40%.

The relationship between munis and Treasuries has been virtually nonexistent in 2021, and only appears in the correlation numbers when Treasury yields are stable, not when they are rising.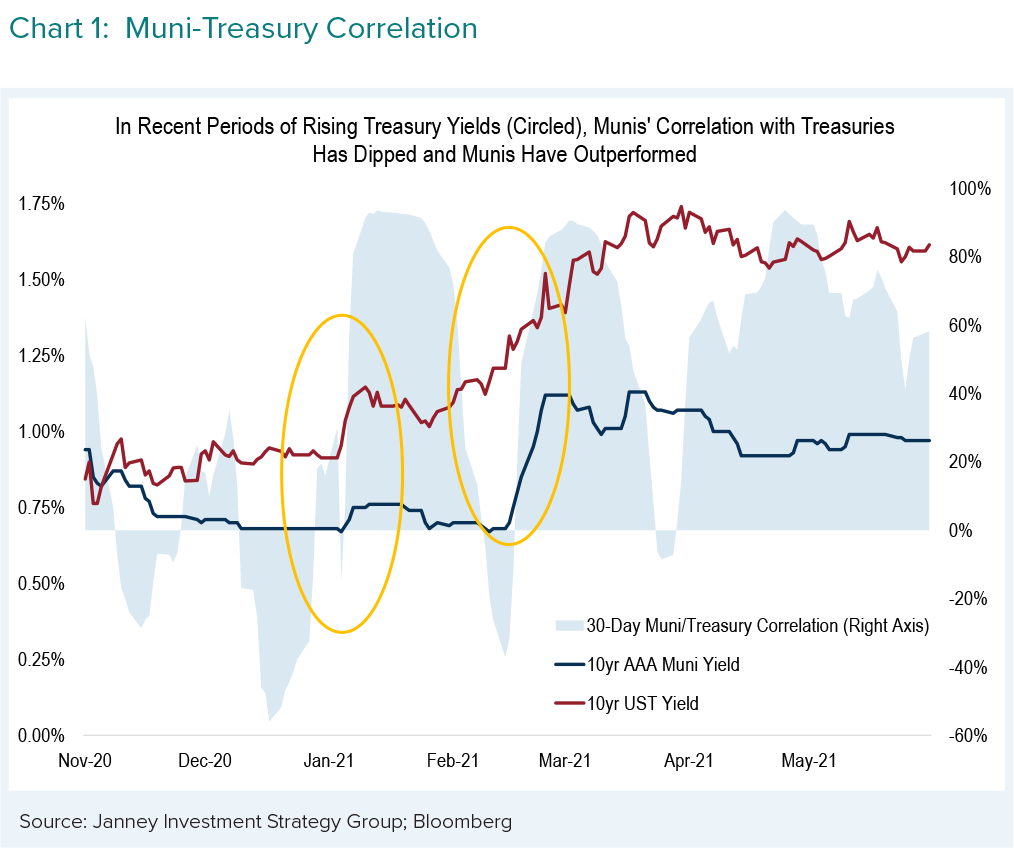 Supply/Demand Imbalance in Muni Market
The tale in the muni universe is one that echoes through a wide number of real and financial markets this year: Demand is outstripping supply by a wide margin. On the demand side, high-net-worth investors are regularly rebalancing gains from equity portfolios into fixed income. High personal savings rates from a year of light consumer spending and government transfers are further supporting demand. Supply, meanwhile, is negative. Muni issuance through May, net of maturities and calls, is -$16 billion, according to Bloomberg data.

Moreover, the market is likely to shrink further, as June and July are two of the largest maturity months of the year. Demand is high and rising, and supply is low and falling.

The net result of this supply/demand imbalance is that prices in the muni markets are generally outperforming Treasury markets, particularly in periods of rising interest rates such as from February to mid-March when yields increased.

While Treasury yields rise and prices fall, demand supports the muni markets more quickly than in other periods of rising interest rates. Moreover, the broad trend of demand outstripping supply in the municipal markets should continue into the latter part of 2021.

While there's plenty of uncertainty in the short term about Treasury yields (economic growth, the size of any further fiscal packages), the stability and consistency present in tax-exempt municipals is one more reason we favor the sector as an outsized allocation in individual investment portfolios and where the investor's risk tolerance and investment objective is appropriate for the investor.
What to Watch in the Summer Ahead for Equities
Greg Drahuschak, Market Strategist
Investors who monitor the equity market closely are aware of the composition differences in various market measures. The S&P 500 is the most notable, as it has equally weighted and capitalization-weighted versions. Although both versions tend to match directionally, at times they can produce widely different results.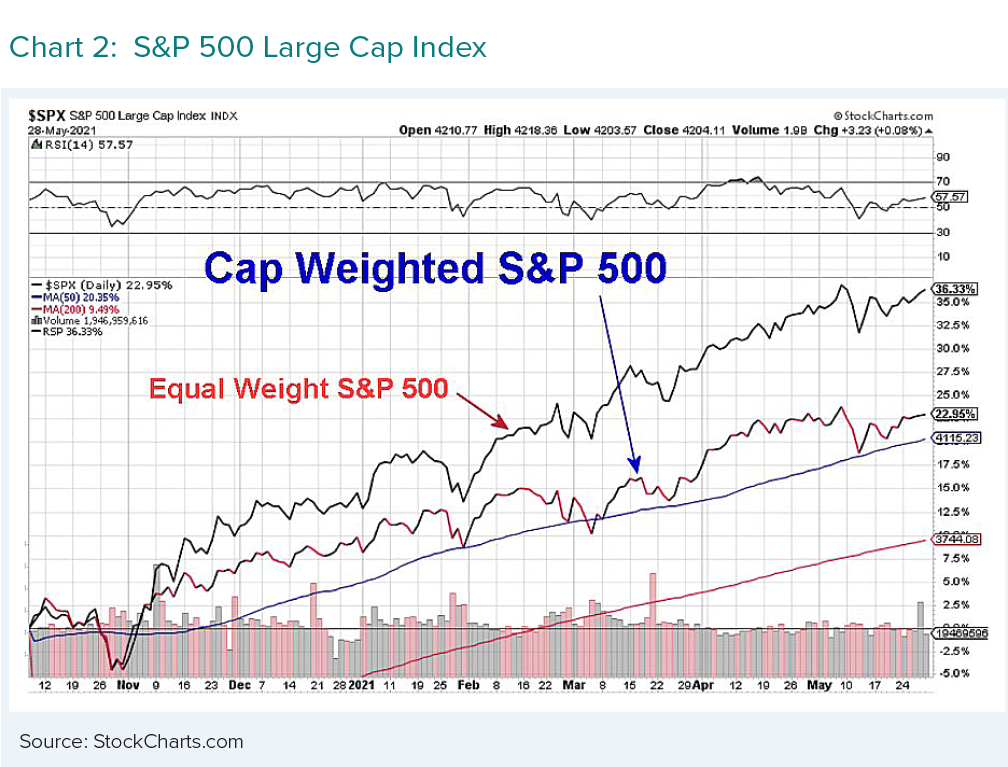 Cyclical Stocks Make Their Move
Technology, Discretionary, and Communications sectors together represent 49.3% of the entire S&P 500. For much of the previous 10 years, these sectors dominated the S&P 500 and heavily influenced other market measures.

Around mid-November 2020, this began to change. These three sectors still represented a dominant positon in the index, which enabled the cap-weighted S&P 500 to end 2020 with a 16.26% gain, while the equally weighted S&P 500 posted a 10.21% gain. At the end of May this year, however, the equal-weighted S&P 500 was up 18.49% year-to-date, while the cap-weighted version had an 11.93% gain.

Several factors prompted this shift.

Tech and momentum stocks were victims of their own success, as valuations became stretched. They also were victims of gradually rising interest rates as discounted cash flows suggested lower stock prices were warranted. At the same time, improving virus data, dramatically expanding vaccine distribution, and the reopening of businesses suggested that classically cyclical businesses should fare significantly better in coming months and quarters.

These factors are likely to continue to impede tech and momentum stocks for the weeks and months immediately ahead, but we doubt the performance spread between this group and the pro-cyclical stocks will widen much more than it has so far.

Important Economic Factors in the Coming Months
The market might face a more important issue this month.

Although economic news in recent months often provided significant upside surprises, some data have begun to weaken. This is most easily recognized in the Citigroup Economic Surprise Index that dropped into negative territory for the first time in a year, which indicates that the majority of economic reports are coming in below expectations. Often this measure moves deeper into negative territory before rebounding.

Some people suggest that the "easy money" has been made in the stock market's recovery from the virusinduced low. The rate at which gains have been produced might not be duplicated, but there are many months ahead for the massive stimulus money and a drawdown in the dramatically high personal savings rate to work through the economy. This can extend the recent economic and equity market upswing through 2021 and possibly deep into 2022.

Several factors will influence market performance in coming months.
Earnings. With first-quarter earnings report season basically complete, it probably will not be until mid- July before we see another notable uptick in the 2021 and 2022 earnings estimates. Pre-releases of earnings, however, could become an issue in mid-June.
The dollar. The dollar has been under continuous pressure since early April. A countertrend rally could pressure stocks of multinational firms.
Interest rates. Higher interest rates might appear to be a negative for stocks, but moderate increases would signal strength in the economy and certainly would benefit bank stocks.
Despite potential stumbling blocks, a persistent market decline is unlikely. There is a large amount of cash still on the sidelines, improving earnings prospects, and enormous fiscal stimulus likely. Therefore, a possible approach would be to take advantage of any interim market pullbacks instead of positioning portfolios for a consequential decline.
Disclaimer
The information herein is for informative purposes only and in no event should be construed as a representation by us or as an offer to sell, or solicitation of an offer to buy any securities. The factual information given herein is taken from sources that we believe to be reliable, but is not guaranteed by us as to accuracy or completeness. Charts and graphs are provided for illustrative purposes. Opinions expressed are subject to change without notice and do not take into account the particular investment objectives, financial situation or needs of individual investors.

The concepts illustrated here have legal, accounting, and tax implications. Neither Janney Montgomery Scott LLC nor its Financial Advisors give tax, legal, or accounting advice. Please consult with the appropriate professional for advice concerning your particular circumstances. Past performance is not an indication or guarantee of future results. There are no guarantees that any investment or investment strategy will meet its objectives or that an investment can avoid losses. It is not possible to invest directly in an index. Exposure to an asset class represented by an index is available through investable instruments based on that index. A client's investment results are reduced by advisory fees and transaction costs and other expenses.

Employees of Janney Montgomery Scott LLC or its affiliates may, at times, release written or oral commentary, technical analysis or trading strategies that differ from the opinions expressed within. From time to time, Janney Montgomery Scott LLC and/or one or more of its employees may have a position in the securities discussed herein.
About the authors