Monthly commentary on timely investment and economic issues by Janney analysts Mark Luschini, Guy LeBas, and Gregory Drahuschak.
Oil is pushing higher. Read about the near-term outlook and the impact on Energy stocks.

Some good news about municipal pensions.



Investors hope earnings season will offer a bright forecast for the remainder of 2021.
OIL HAS BECOME TRENDY
Mark Luschini, Chief Investment Strategist
We have maintained that oil prices are likely to stay elevated, if not increase, in the coming months. Inventories are being de-stocked to cover the physical supply deficits brought about by the demand created as economies around the world reopen. As demand increases, predicated upon further advancements in the vaccination campaigns underway in oil-consuming countries, such as India, Japan, China, and even here in the U.S., prices might press higher in the absence of a renewed commitment on the part of OPEC+ (defined as the traditional OPEC membership plus Russia) to raise supply.
Outlook for Second Half of 2021
The early-July meeting with oil ministers, the most important of which hail from Saudi Arabia and Russia, was made complicated by the lack of clarity around the ongoing negotiations between U.S. and Iranian officials regarding Iran's denuclearization. Worrisome for OPEC+ is what it might lead to in terms of a return of Iran as a bona fide oil exporter and the associated level of incremental supply introduced to the market.
Heading into the second half of this year, oil markets are likely to tighten because of OPEC+'s production-management strategy. In other words, non-U.S. suppliers have been disciplined in adhering to their agreed-upon production schedules and have worked to keep supply of new oil below the demand for it. In addition, capital discipline imposed on the price-taking cohort, namely U.S. shale operators, have reduced incremental supply well above breakeven and oil prices that would normally spring from the well-stocked oil beds in the Permian Basin, Bakken, and other domestic fossil-fuel deposits.
Could rising prices destroy demand? Of course. The old adage is that the cure for high commodity prices is high commodity prices. However, OPEC+ can release spare capacity to accommodate rising demand so that price increases do not crush demand just as oil exporters are rebuilding their fiscal balance sheets following last year's massive collapse in the oil market.
Going forward, the challenge facing both producers and investors alike will be to navigate the eventual wind-down of production and the investment historically made to support it. Risks remain although OPEC+ has effectively been managing supply against the drop in demand due to the coronavirus-induced lockdowns and into the post- COVID world, while still reducing inventories to support prices. If the domestic and international bodies promoting a pathway to a decarbonized future—one in which there are diminishing needs for new oil or gas production—the threat of stranded assets will invade investor attitudes toward the prospects for energy stocks and the type of allocations made to them.
Reopening Drives Demand
In the meantime, developed market demand is recovering as mobility is increasing and pent-up demand for travel and leisure is unleashed. In addition, emerging market demand, which is responsible for about 55% of global consumption, should get a boost from wider vaccine availability and a steepening curve of inoculations.
Domestic oil producers, who in many cases are price-takers, (i.e., they produce supply for delivery at whatever price the dominant producers set), have recently been forced to prioritize shareholder interests because of prices near, or below, operational costs.

This has driven mergers and acquisitions, divestitures, and portfolio shifts to optimize lines of business. Ultimately, the survivors of this consolidation will be firms with strong balance sheets and a focus on profitability, as is the case with any well-run manufacturing firm.

At the same time, large producers will likely opportunistically shed production assets to reduce their carbon footprints, in order to comply with court-ordered emission reductions and activist shareholder demands to reduce pollution. Fewer, but more cash-rich, players operating in the shales will benefit from lower break-evens and should be better positioned to address the sustainability issues encroaching upon the industry.
We have favored Energy stocks as we expected them to benefit from:
rallying oil prices,
a weaker dollar, and
the dynamic combination of constrained supply intersecting with rising demand.
While the longer-term industry risks have not diminished, we believe the need for fossil fuels to supply transport, manufacturing production, product development, and energy still has a long runway. In our view, the Energy sector remains attractive for risk-based capital given the aforementioned tailwinds and, if as we expect, demand continues to rise to match or exceed the onboarding supply.
MUNICIPAL PENSIONS: A RARE POSITIVE NOTE
Guy LeBas, Fixed Income Strategist
The promise of income in retirement—the core value proposition of a pension— was a common benefit for many workers in the second half of the 20th century.
Today, less than 15% of large companies have active pension plans. However, pensions for municipal workers remain common. The value proposition in this case goes something like this: Local and state government workers accept modest wages and instead are compensated with benefits, job security, and income in retirement.
For more than a decade now, municipal pensions have been a source of consternation. Although the major bond ratings agencies incorporate pension risks into their bond ratings, market discipline on municipal pensions has been relatively lax. In regards to municipal credit quality, the primary risk of a pension is that it represents a legally obligated future payment, not unlike a bond payment. In a world of scarce resources, a pension payment takes away from cash that might otherwise go to bondholders. Illinois and Chicago credits are the most prominent examples, but there are also risks priced into New Jersey and Connecticut state credits.
Municipal Pension Funding
The chart below looks at a metric called "funding ratios" across all 50 states' employee pension plans, although note that the data are about two years old at this point, as disclosure is delayed and complicated. Conceptually, funding ratios represent what portion of assets needed to fund future pension payments are actually in a pension plan today. As the chart indicates, there is a wide range of funding ratios from South Dakota to New Jersey.
Chart 1: State Pension Plan Funding Ratio (FY2019)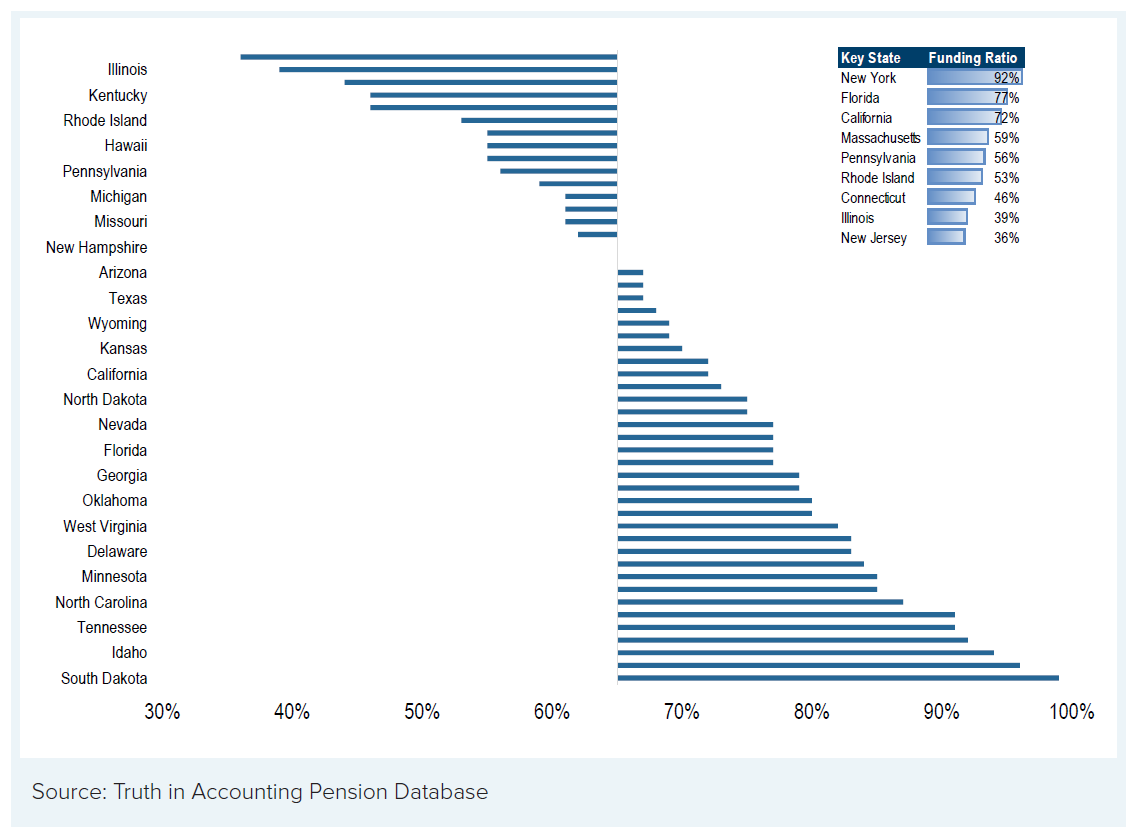 The national median is 72% funded. For many states with low populations, high wealth levels, or alternate sources of revenue (for example, Alaska's oil taxes), funding ratios likely understate overall pension health.
In order to take advantage of market returns, municipalities traditionally contribute funds into a pension plan, invest those funds, and pay out pensions from the returns of those plans. The major problem is that many municipalities have failed to add fully to their pension plans over time, a trend that started in the early 2000s. Now, low interest rates further complicate pension math. Since pensions typically allocate 40-60% of their assets in bonds, low interest rates reduce expected future returns and compel municipalities' need to contribute more to these funds.
The Good News
Midway through 2021, however, there is a rare stretch of good news for municipal pensions. For one, state and local tax revenues in many jurisdictions have been surprisingly strong during the last 18 months, thanks to higher consumer incomes (despite a recession!) and rising property values. Conservative budgeting practices for many municipalities in FY2021 have saved on the expense side, and federal grants, some of which are just funding now, have helped further. Excess cash in municipal coffers is, in some cases, going to fund excess pension contributions. California, for example, is planning to use its FY2021 budget surplus to make $1.5 billion in pension payments in FY2022 over and above the required amount. New Jersey's recently signed budget includes a full pension contribution for the first time in more than two decades.
Finally, and perhaps most importantly, market returns on existing pension pools have proven very strong. A generic 60/40 investment portfolio—similar to what pensions own—has a five-year 11.4% annual return, well above expectations. Municipalities cannot rely on those types of returns in the long run, but the extra 3-4% realized returns goes a long way to increasing pension funding over and above the expected 7.0-8.0% return rates embedded in most funding formulas.
Resolving all financial risks from underfunded municipal pensions is not something that will happen in just one year, and the nature of underfunding means that some municipalities will face problems for decades to come, but for the first time in more than a decade, the nationwide trend is looking positive.
STOCKS KEEP UP MOMENTUM HALFWAY THROUGH 2021
Greg Drahuschak, Market Strategist
The second quarter of 2021 marked the 21st time in the last 26 quarters that the S&P 500 registered a gain.

The second-quarter result more than doubled the average gain in the previous 25 quarters as the S&P 500 registered 34 new all-time closing highs.

The S&P 500 recorded its second-best first-half performance since 1998.

Chart 2: Quarter % Change in the S&P 500 2015-2021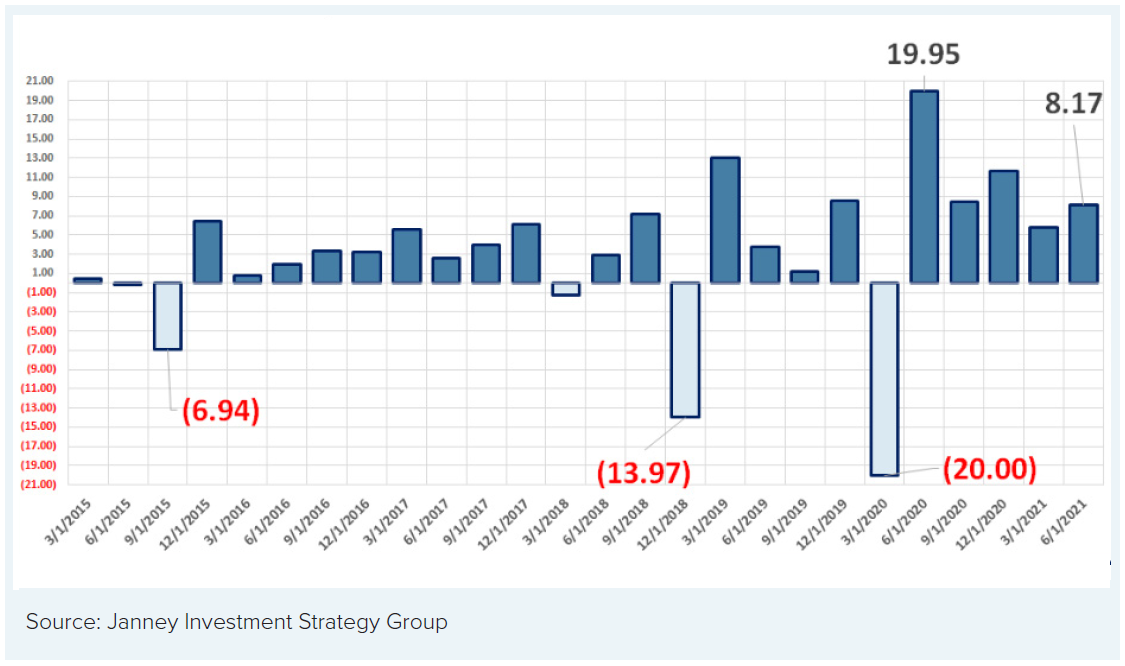 At the June 30 close, the S&P 500 was 96.07% above its March 23, 2020, low and 92.08% above the close that day. Five of 11 S&P 500 sectors more than doubled during the period.

Chart 3: Sector % Results Following March 23, 2020 S&P 500 Close as of June 30, 2021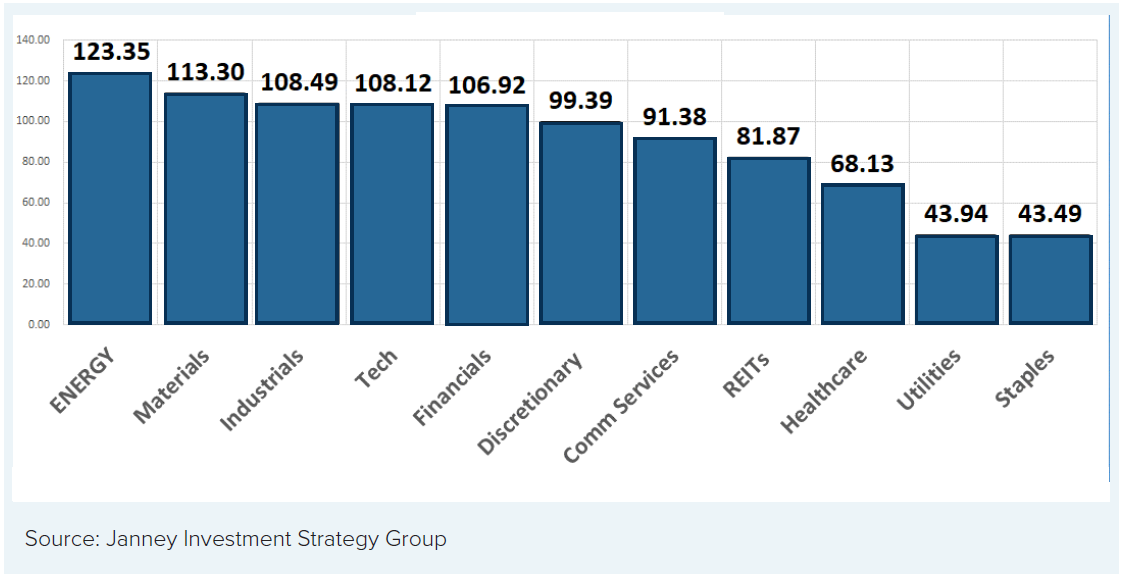 With the gains from the March 23, 2020, low in the three leading sectors, you might think the S&P 500 would have done even better, but these sectors together are only 14.1% of the entire S&P 500. Energy, for example, got a major boost as the price of West Texas Intermediate crude posted the second-best gain in any first- or second-half period in the previous 35 years. The sector, however, is only 2.9% of the S&P 500.

Sector results in the first half of this year closely resembled results from the March 23, 2020, low with one key exception: The Real Estate sector produced the fourth-best gain in the second quarter versus its eighth-place result from the March 23, 2020, low.

Chart 4: Year-to-date 2021 Sector Percentage Changes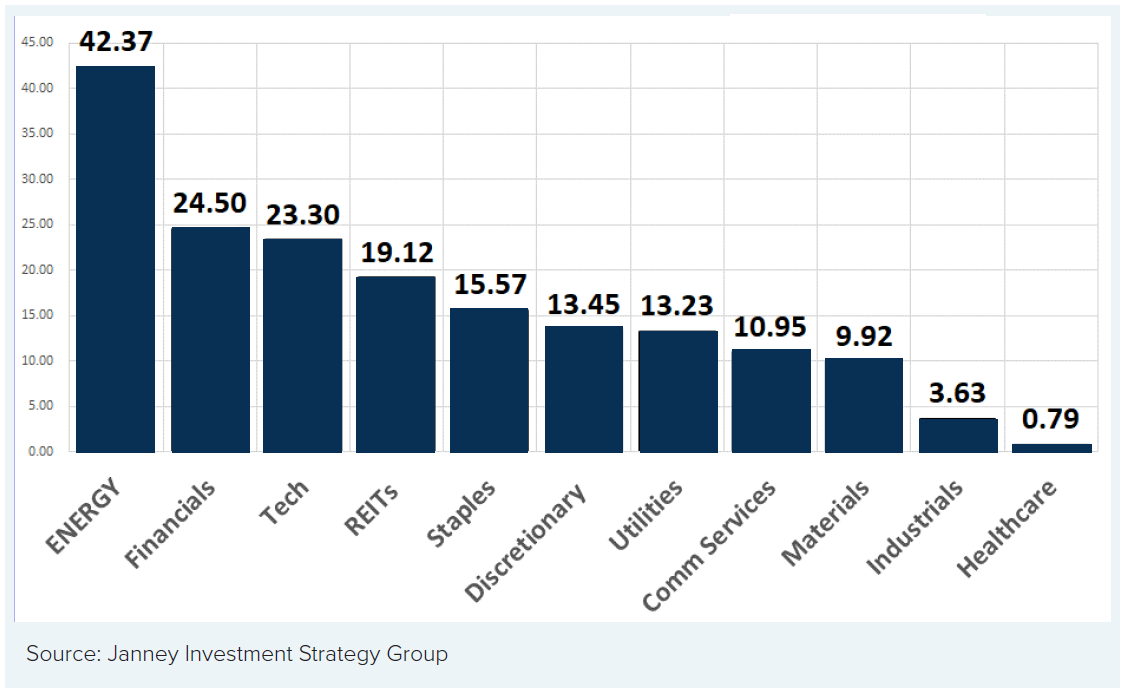 Is it Always Sunny in July?
Historically, July holds the distinction of being on average the best of the summer months and the fourth-best month of the year. A few July results, however, were less than ideal. Of the seven worst July market outcomes since 1950, two (1974 and 1975) were posted as the price of crude oil rose significantly. Although higher gasoline prices sap cash from consumers' wallets, we think the recent jump in the price of crude oil is not a harbinger of the protracted market turmoil present in the mid-1970s.

Chart 5: Best Six-Month % Gain for WTI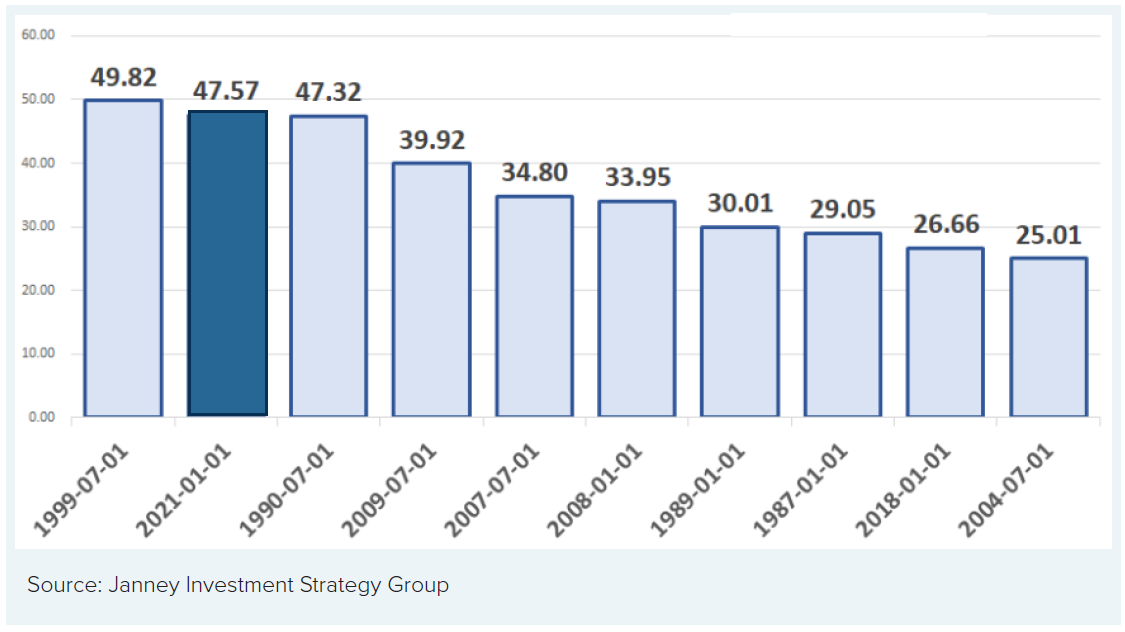 Gasoline prices have not sapped consumer sentiment, as the most recent Consumer Confidence Index reached its highest level since February 2000. This probably was reflected in the personal savings rate. After spiking to an astronomical 33.7% in April 2000, the rate has fallen sharply.

Nonetheless, it still is more than a third greater than the long-term average, which represents billions of dollars of potential consumer spending.
Chart 6: Consumer Confidence Index—January 2017–June 2021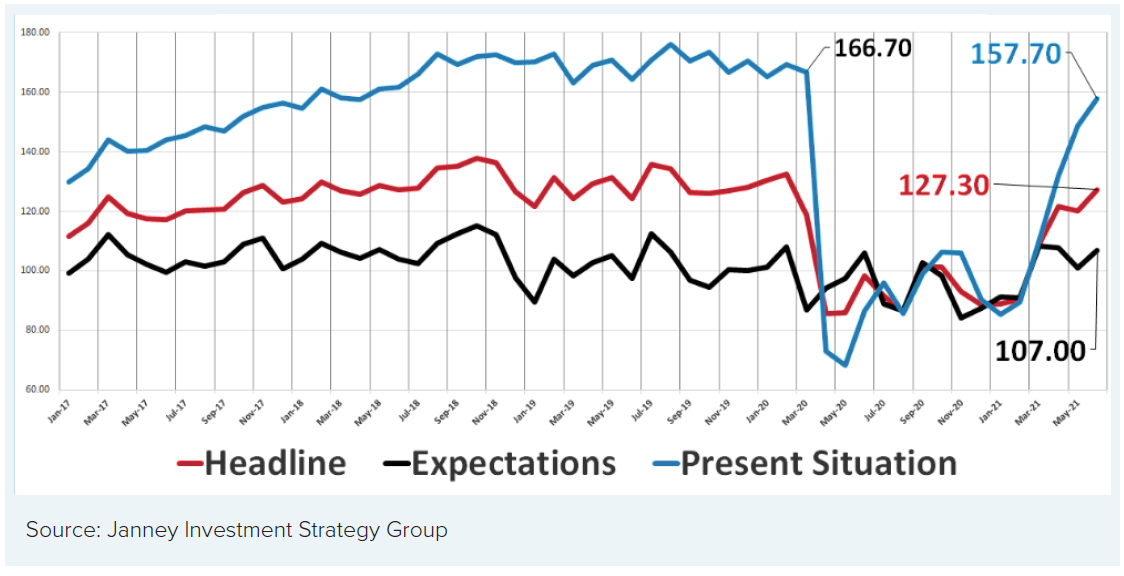 Not just consumers have a positive attitude. The Conference Board's CEO Confidence Index reached its highest level since 1976.

Earnings Season Expectations

By the middle of July, second-quarter corporate earnings will be the market's driving influence.

From the low for 2021 S&P 500 earnings, the estimate is up 17.4% with year-over-year second-quarter earnings expected to be up as much as 63%. The 2022 estimate also has risen consistently. Many market analysts think it can end well above the current $211.01.

The second-quarter earnings report period begins the week of July 13 and hits full stride the following week. We expect close scrutiny on these reports to see if they at least match the already elevated expectations and provide positive commentary about earnings for the balance of 2021.
Chart 7: 2021 S&P 500 Earnings Estimate from Low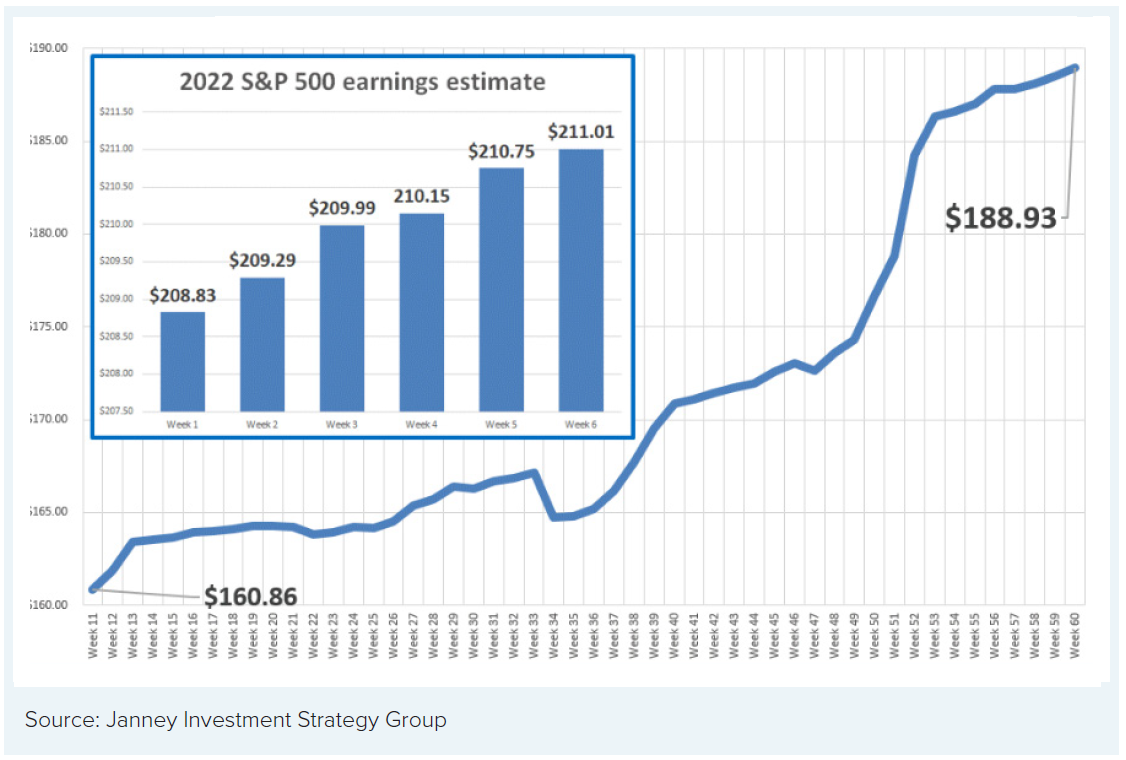 With the S&P 500 topping 4,300 late in June, it is worth noting that the S&P 500 has not had a decline of 5% or more since September 2020 (9.8% from September 2 to September 23). Activity since then, however, established what we think is a definable range that could contain a pullback. A drop to 4,050 would be approximately 5.87% off the recent high. Falling to 3,950 would be 8.19% off the high. A 10% drop would shove the S&P 500 close to its rising 200-day moving average.

We think the proper approach to the market now is to maintain equity exposure on the high side of an individually appropriate risk tolerance level with an eye toward 2022, not July 2021. Any pullback should be viewed opportunistically, as we believe the stock market still has not reached its full potential.
Disclaimer
The information herein is for informative purposes only and in no event should be construed as a representation by us or as an offer to sell, or solicitation of an offer to buy any securities. The factual information given herein is taken from sources that we believe to be reliable, but is not guaranteed by us as to accuracy or completeness. Charts and graphs are provided for illustrative purposes. Opinions expressed are subject to change without notice and do not take into account the particular investment objectives, financial situation or needs of individual investors.

The concepts illustrated here have legal, accounting, and tax implications. Neither Janney Montgomery Scott LLC nor its Financial Advisors give tax, legal, or accounting advice. Please consult with the appropriate professional for advice concerning your particular circumstances. Past performance is not an indication or guarantee of future results. There are no guarantees that any investment or investment strategy will meet its objectives or that an investment can avoid losses. It is not possible to invest directly in an index. Exposure to an asset class represented by an index is available through investable instruments based on that index. A client's investment results are reduced by advisory fees and transaction costs and other expenses.

Employees of Janney Montgomery Scott LLC or its affiliates may, at times, release written or oral commentary, technical analysis or trading strategies that differ from the opinions expressed within. From time to time, Janney Montgomery Scott LLC and/or one or more of its employees may have a position in the securities discussed herein.
About the authors