Monthly commentary on timely investment and economic issues by Janney analysts Mark Luschini, Guy LeBas, and Gregory Drahuschak.
• Understanding the stock market lifecycle can help investors create a roadmap for sector selection.
• A turbulent two-month stretch for stocks might be ahead, but we believe the year could still finish strong.
• The possibility of rising interest rates calls attention to floating-rate bonds. What is the trade-off between floaters and fixed-rate corporate bonds?
INVESTING ACROSS THE STOCK MARKET LIFECYCLE
Mark Luschini, Chief Investment Strategist
Consider that the lifecycle of the stock market consists of various phases. These phases shift imprecisely by way of timing, but move directionally with underlying economic conditions. Put simply, the economy's oscillations have a significant influence on the behavior of the overall stock market and, in particular, the sectors that comprise it.
By my estimates, less than half of the movement of an individual stock can be explained by company-specific idiosyncrasies. In my opinion, macroeconomic forces are important because companies and the sectors they align with will generally follow the economy as it traverses the swings from expansion to contraction. This makes sector selection a key consideration.
The Sector Selection Strategy
Sectors within the stock market are comprised of businesses that largely conduct the same, or similar, activities. In other words, the Consumer Staples sector, which holds companies that sell food, beverages, and household and personal products (i.e., goods that are considered to be so common that their purchase is made regardless of economic conditions), is not going to be propagated by oil companies or real estate investment trusts (REITs). Therefore, I have found that the movement of the Consumer Staples sector over various economic cycles can be predictable since the companies in it have similar factors, such as steady, if unspectacular, growth and products that are ubiquitous.
When analyzing the merits of an equity security, investors often distinguish a stock and its prospects against its peers in the same sector. With rare exception, sector outperformance or underperformance vis-à-vis the broad stock market is influenced by the economic cycle more than any one individual company's impact, so managing to the stock market's lifecycle might be an effective exercise.
There are 11 sectors as defined by Standard & Poor's, a company notorious for the proliferation of indices it provides that represent different components of the market, including the granddaddy that most investors associate with the U.S. "stock market" known as the S&P 500 Index. These sectors range from those that are somewhat small in their representative weighting within the stock market (e.g., Materials and Utilities) to those that command a large weighting (e.g., Financials and Technology).
Why is this important for investors? Perhaps it isn't if one is investing in the stock market as a whole through a passive vehicle like an exchange-traded product (ETP). For instance, an investor could purchase an ETP that represents the S&P 500 Index and the returns it generates could generally match that of the index minus the internal administrative costs applied to the ETP by its sponsor. In this case, the gyrations that occur at the sector level will aggregate into the index's return.
On the other hand, for those actively selecting individual stocks, it is important to consider what sectors are overrepresented or underrepresented in the portfolio because that can have a large influence on the outcome achieved, at least across a cyclical time horizon.
Market Lifecycle Stages
Breaking the economic and market lifecycle into different stages can provide a guide to what areas of the market may be best poised to outperform others. Here is how I break down the lifecycle based on my experience:
First Stage
In the first stage, the economy is recovering from a steep economic slowdown or even recession. Typically, this is congruent with the Federal Reserve (Fed) easing or operating a very loose monetary policy in an effort to stoke growth via stimulating borrowing by lowering the cost of capital.
In the stock market, this also tends to produce a period of strong returns as investors bid up stock prices in anticipation of a strong profit upcycle unfolding. During this stage, the stock market is often led by cyclical sectors—those most economically sensitive, such as small-company stocks, as well as those within the Financial, Materials, Industrial, and Energy sectors.
Second Stage
In the second stage, the economic expansion matures. Growth, while positive, begins to decelerate and there is increasing chatter around a potential shift in monetary policy that might begin to stir investors' visions of the Fed embarking on a rate-hiking campaign. During this phase, investors begin to curb their enthusiasm for the most-levered areas of the market. They begin to seek sectors such as Technology, Consumer Discretionary, and Communication Services, which consist of companies that offer above-trend growth potential and have a sturdy tailwind on their revenues—implying these sectors are typically the beneficiaries of the strong spending from a healthy labor market and confident consumer.
Third Stage
The third and final stage is one in which the economy slows. During this phase, there might be concerns that a recession is near and the Fed has yet to, or is only beginning to, reopen the monetary spigot. This is when the so-called defensive sectors, including Health Care, Consumer Staples, and Utilities, tend to outperform because they fulfill needs in the economy that persist almost regardless of the pace of economic activity.
REITs have defensive characteristics and usually deemed stable during times of volatility. However, recent activity within certain REITs sectors offers an exception to this rule. Retail and office REITs were greatly impacted by COVID-19 disruptions. They subsequently performed well as the economy picked up. Thus, it can be worthwhile to reassess the investment playbook depending on new circumstances. Re-evaluation does not undermine the use of the stock market lifecycle as a roadmap for allocating capital along the sector spectrum.
Where Are We Today?
Growth is probably plateauing, albeit from a high level, and likely to slow gradually through the second half of 2021 and into next year. This view is complex considering today's unusual circumstances—record job openings and prospects for rapid employment gains over the coming months; Fed policy that remains highly accommodative; the possibility of more fiscal stimulus by way of an infrastructure bill or program that could further spur economic activity.
The current complexity leaves us believing that it is premature to abandon cyclicals completely and too soon to leap into defensives. Profit estimates continue to increase with expectations for gains in the next two years—supporting the overall advance in equity prices.
Contact your Janney Financial Advisor for more information on the Investment Strategy Group's sector updates and industry biases.
ARE FLOATING-RATE BONDS WORTH A LOOK NOW?
Guy LeBas, Fixed Income Strategist
Long-term interest rates have declined sharply during the summer of 2021, with 10-year Treasury yields, as of the time of writing, trading at 1.25%—the lowest yield since February. We believe the possibility exists that the next leg in long-term yields is higher. At the same time, overnight interest rates are essentially zero.
The Federal Reserve is contemplating gradually ending extraordinary monetary stimulus and eventually hiking overnight interest rates—most likely by early 2023—but it will certainly be a while. The combination of low-but-set-to-rise long-term rates and zero short-term rates makes for a challenging decision: Clip the yield on longer-term bonds and tolerate the probable chance of higher rates, or deal with lower upfront yields on shorter-term bonds and limit risk.
Floating-Rate Basics
Intermediate-term floating-rate corporate bonds can bridge at least some of the gulf between these two extremes. Floating[1]rate bonds pay a coupon determined by adding a spread to some benchmark interest rate. Historically, the most common benchmark interest rate for floating-rate bonds has been the 3-month London Interbank Offered Rate (LIBOR), but most new bonds reference an alternative rate called the Secured Overnight Financing Rate (SOFR). A full discussion of the LIBOR/ SOFR transition is beyond the scope of this note, but the main point is that both LIBOR and SOFR are short-term benchmarks that roughly track the Federal Reserve's overnight target interest rate. When the Fed hikes, overnight rates go up, and both LIBOR and SOFR will rise, causing the coupon on floating[1]rate bonds to rise as well.
For example, a U.S. bank might issue $1 billion of five-year floating-rate bonds that pay an annual interest rate of SOFR + 1.00%, meaning if the SOFR in Year 1 was 0.25%, the bonds would pay 0.25% + 1.00% = 1.25%. If SOFR rose to 1.00% in Year 2, the bonds would pay 1.00% + 1.00% = 2.00%.
Since floating-rate bonds pay investors more when interest rates rise (and conversely, pay less when interest rates fall), their market values tend to be stable and do not vary much if interest rates rise or fall. Unlike, say, a one-year maturity bond that an investor then "re-buys" each year, this hypothetical five[1]year bond has exposure to the issuer for a longer period. As a result, in contrast with a short-maturity bond, investors in the intermediate floating-rate bonds are compensated for taking five years of exposure to the issuer with a wider spread and therefore more income.
The Trade-Off between Floaters and Fixed-Rate Bonds
It does not take a big logical leap to build a strategy around floating-rate bonds: If we know with certainty the Fed is going to hike interest rates, the income produced by floating-rate bonds will increase, and they should be a good buy.
While that if/then statement is categorically true, it ignores a crucial comparison: While floating-rate bonds' coupons would increase in that scenario, fixed-rate bonds pay more income today. Analyzing the effectiveness of a floating-rate strategy, therefore, requires analyzing the trade-off between more income today from a fixed-rate bond versus potentially more income tomorrow from a floating-rate bond. More often than not, investors, even when the Fed is hiking short-term interest rates, will earn more income off a fixed-rate bond than a floating-rate one.
Here is one example using today's interest rate outlook. The largest bank in the U.S. has a number of fixed-rate and floating[1]rate bonds outstanding, including a recently issued four-year floating-rate bond yielding SOFR + 0.58% and a five-year fixed[1]rate bond yielding 0.97%. At present, SOFR is 0.05%. In order for the floating-rate bond to pay as much as the fixed-rate bond, SOFR would have to rise to 0.39% (0.39% + 0.58% = 0.97%). But, if the floating-rate bond starts out at today's coupon for one year, in order to produce the same amount of income as the fixed-rate bond does, SOFR would have to rise 0.23% for each of the next five years before the income on the fixed-rate and floating-rate bond were equal.
Chart 1: Floating-Rate Bonds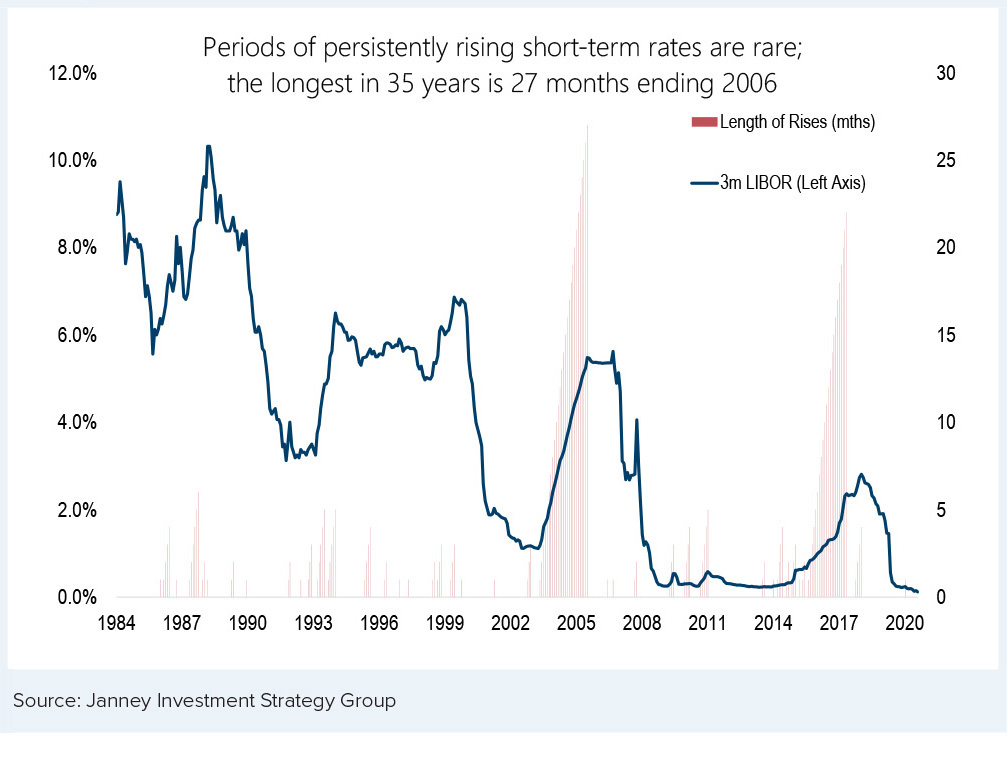 This scenario of persistently higher rates could certainly happen, but it is a bit outside of what the markets are pricing. If the markets are wrong in this pricing, however, it is most likely because inflation is creeping higher and the Fed will have to hike more, not less, rapidly. In that sense, the risk/reward trade-off in floating-rate as opposed to fixed-rate corporate bonds is about as good as it can get right now.
Finally, based on the historical record, there has been only one period in 30 years (occurring in 2007) in which short-term rates rose by 0.50% per year for five years. So, while history suggests that, on a comparative basis, fixed-rate bonds will produce more income than floating-rate bonds even over the coming rate hike cycle, there is a good case to be made that the experience will be a bit different this time around.
"BUY-THE-DIP" STRATEGY REMAINS DRIVING FORCE
Greg Drahuschak, Market Strategist
Once again, the middle of a month was a key turning point for the equity market.
In the four trading sessions from July 14 through July 19, the S&P 500 sank 3.65%. The mid-July sell-off culminated with the Dow Jones Industrial Average (DJIA) 725.81 points lower July 19, as nearly 89% of all S&P 500 stocks were down at the close.
Market's Mixed Messages
As it had done nine times since June 2020, however, the S&P 500 halted the slide at its 50-day moving average and eventually went on to set all-time highs.
Chart 2: S&P 500 Large Cap Index, July 27, 2021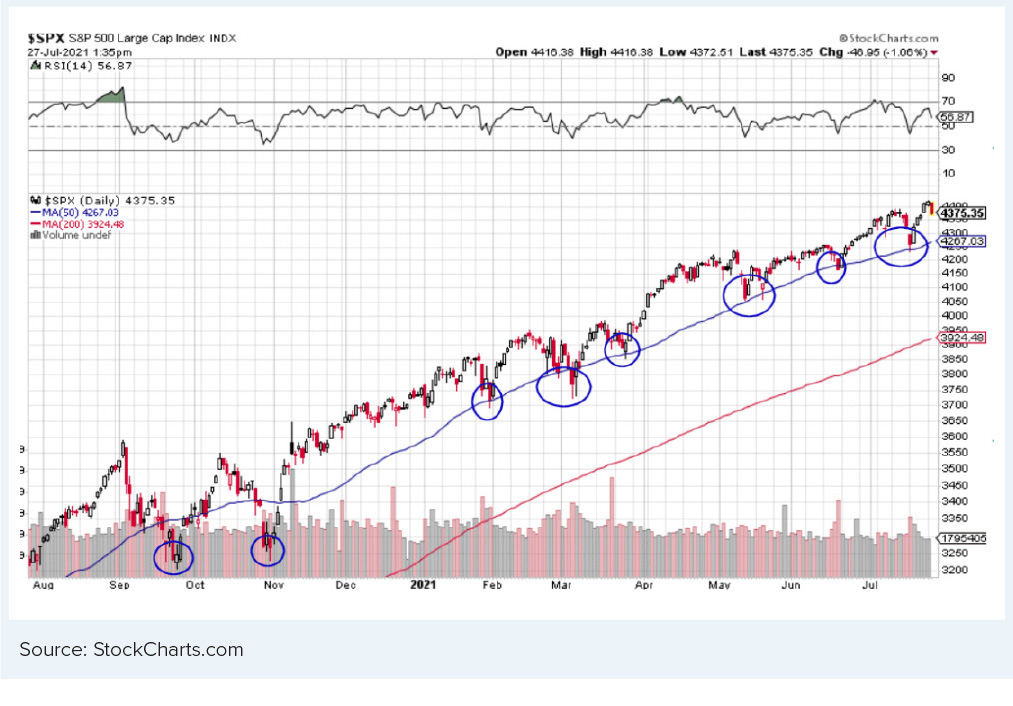 Although economic data released last month had a positive bias, some were weaker than anticipated. However, corporate earnings were decidedly positive overall.
With earnings reports still due from more than half of the S&P 500 companies, second-quarter earnings at the end of July were expected to be up 75% year-over-year and 20.5% above the low. If the current pace of improvement continues, 2021 could end with S&P 500 earnings topping $200 as expectations for 2022 rise to $225.
Chart 3: 2021 S&P 500 Earnings Estimate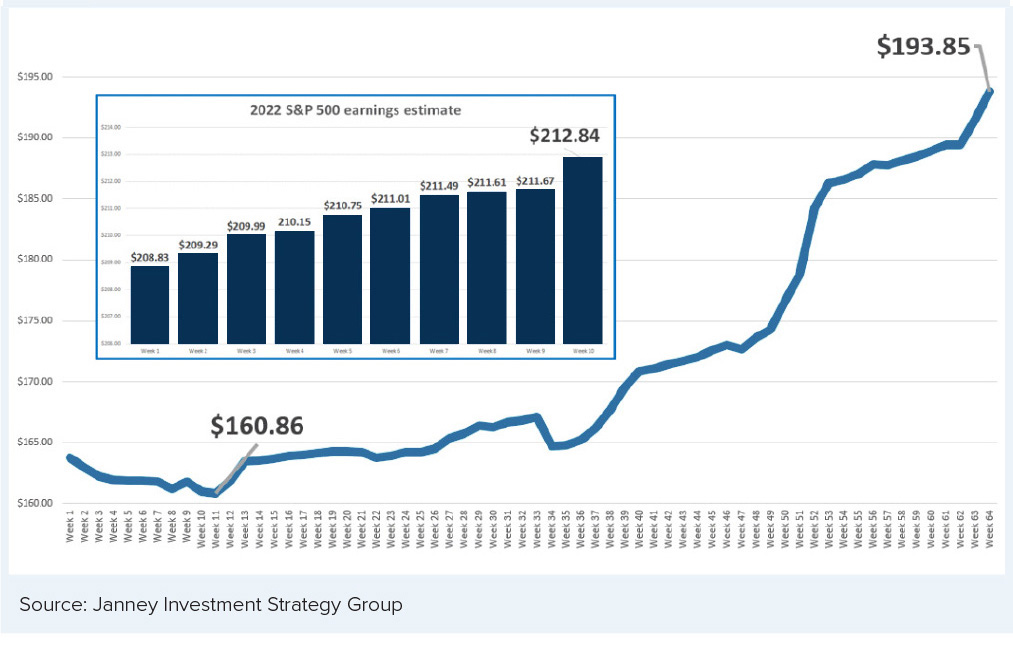 As July ended, the latest variant of COVID-19 generated concern that another round of restrictions might be implemented, which would delay the recovery. Nonetheless, the late-July Federal Reserve Open Market Committee meeting offered no reason to think that the presently accommodative credit policy was on the cusp of a major change.
The Two-Month Stretch Ahead
Prospects for additional market gains are bright, but stocks are not without some impediments as we enter August.
Chart 4: Average Monthly Percentage Results, S&P 500 1950–2020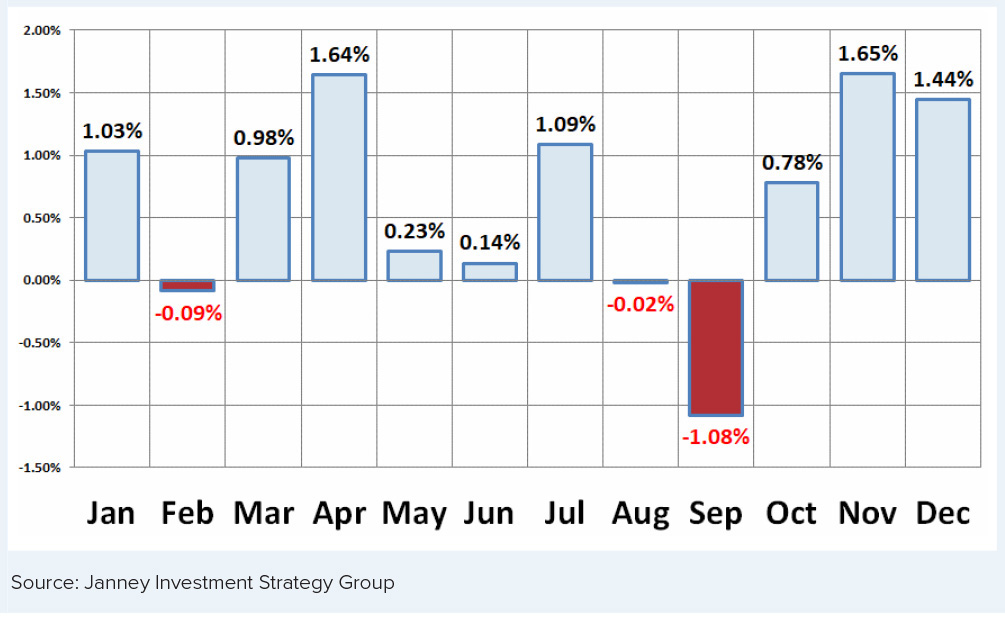 Chart 5: S&P 500 August & September 2000–2020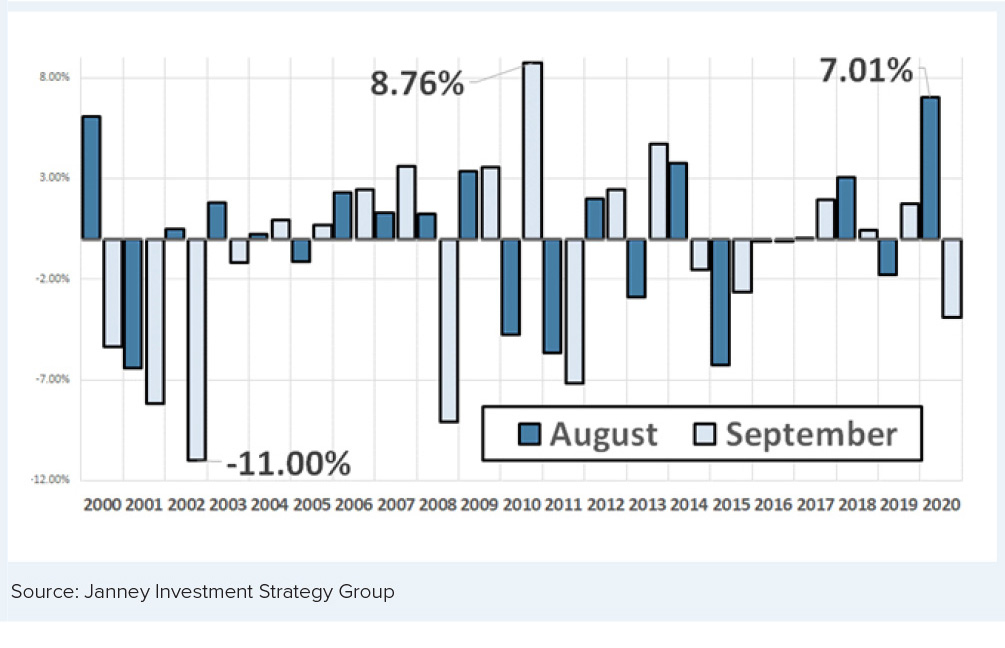 The S&P 500 faces what historically has been a difficult two[1]month period, as on average the index has ended lower in August and September. Significant losses in a few years dragged the long-term average lower. August is a particularly difficult period for the market in the first year of a presidential term, when it is the worst month of the year for the DJIA and the second worst for S&P 500, Nasdaq Composite, and the Russell 2000.
The market also will need to be convinced that the Federal Reserve is correct in its often-stated position that the currently high level of inflation is "transitory."
Consumers regularly are reminded of higher prices, but late last month executives from 3M (MMM) and General Electric (GE) joined the growing ranks of company officials warning that inflation may persist for longer than expected. This will add greater importance to all direct inflation reports and price components of other economic measures.
August is a key retail month that includes back-to-school buying, as well as inventorying ahead of the holiday shopping season. Consumer sentiment remains strong, but more COVID-related restrictions could change sentiment quickly.
The new highs posted by many market indices masked a developing problem as market internals failed to keep pace with the price indices. This divergence often is a warning that correction might be developing. In our view, however, a pullback in the S&P 500 would be relatively modest and no greater than often occurs in a bull market.
Although seasonal issues might inhibit the market in the next two months, the equity market is poised for a strong finish to 2021.
Disclaimer
The information herein is for informative purposes only and in no event should be construed as a representation by us or as an offer to sell, or solicitation of an offer to buy any securities. The factual information given herein is taken from sources that we believe to be reliable, but is not guaranteed by us as to accuracy or completeness. Charts and graphs are provided for illustrative purposes. Opinions expressed are subject to change without notice and do not take into account the particular investment objectives, financial situation or needs of individual investors.
The concepts illustrated here have legal, accounting, and tax implications. Neither Janney Montgomery Scott LLC nor its Financial Advisors give tax, legal, or accounting advice. Please consult with the appropriate professional for advice concerning your particular circumstances. Past performance is not an indication or guarantee of future results. There are no guarantees that any investment or investment strategy will meet its objectives or that an investment can avoid losses. It is not possible to invest directly in an index. Exposure to an asset class represented by an index is available through investable instruments based on that index. A client's investment results are reduced by advisory fees and transaction costs and other expenses.
Employees of Janney Montgomery Scott LLC or its affiliates may, at times, release written or oral commentary, technical analysis or trading strategies that differ from the opinions expressed within. From time to time, Janney Montgomery Scott LLC and/or one or more of its employees may have a position in the securities discussed herein
About the authors