Many small businesses started reporting renewed optimism after COVID-19 vaccinations led to the reopening of the economy. Now, business owners face another challenge: Inflation.
The economy keeps showing signs of a rebound, which offers plenty of hope for small businesses. Confidence among small businesses in the U.S. increased in June 2021 to an eight-month high, according to data from the National Federation of Independent Business (NFIB) Optimism Index. Job openings and hiring plans for the next three months are also hovering at or near record highs. However, many businesses were hit hard by the pandemic and still encounter unique challenges on their road to recovery. Among these challenges is inflation.
Inflation and the new normal
Inflation is typically measured by changes in the consumer price index (CPI) maintained by the U.S. Bureau of Labor Statistics (BLS). The index, which tracks the change in prices of a basket of common consumer goods and services, increased 5.4% in June from a year earlier. The rise in U.S. inflation can be attributed to an economy reopening as COVID-19 pandemic restrictions loosened. Supply-chain issues and a boost in demand are major factors.
Consumer Price Index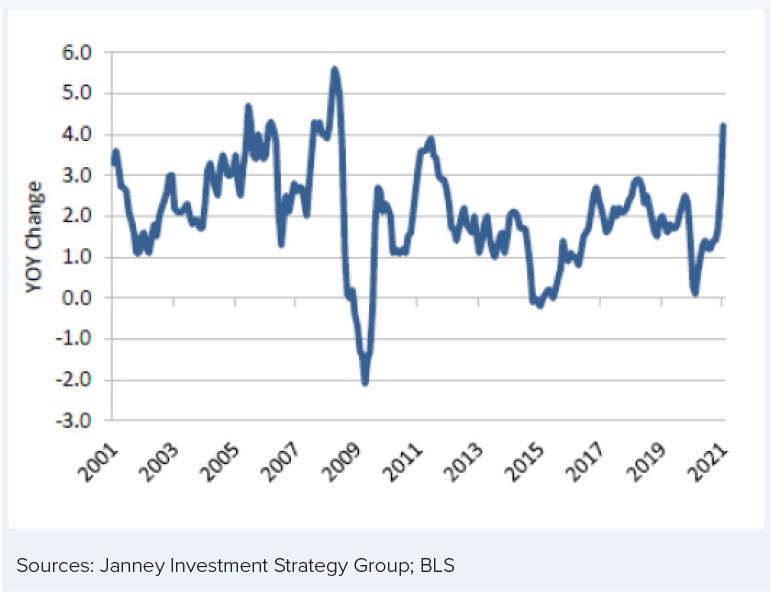 Costs for many things have increased, putting a burden on small businesses. Business owners, feeling the frustration of higher prices as consumers themselves, might be hesitant to pass along the costs to their customers.
Meanwhile, many small businesses are struggling with hiring since the economy reopened. Although hiring expectations are high, the reality is hiring has been difficult due to pandemic-related causes, including child-care and health-care concerns and unemployment aid buffers.
How you can prepare for inflation
As a business owner, besides looking out for the needs of your business and employees, you also pay attention to your individual investment plan. There are several ways you can invest and spend money for your business—purchasing inventory, making upgrades, hiring more employees. Do you also have a plan for your personal finances?
Inflation might chip away at the wealth you have built; thus, part of financial planning requires figuring out how to inflation proof your portfolio to withstand gradual increases in prices for goods and services. A knowledgeable Janney Financial Advisor can help you consider and evaluate your personal and business options and develop a comprehensive plan to fit your unique needs.
Disclaimer
This report is provided for informational and educational purposes only and shall in no event be construed as an offer to sell or a solicitation of an offer to buy any securities or a recommendation for any strategy or to buy, sell, or hold any product. Opinions expressed are subject to change without notice and do not take into account the particular investment objectives, financial situation, or needs of individual investors. Employees of Janney Montgomery Scott LLC or its affiliates may, at times, release written or oral commentary, technical analysis, or trading strategies that differ from the opinions expressed here. The information described herein is taken from sources which we believe to be reliable, but the accuracy and completeness of such information is not guaranteed by us. The opinions expressed herein may be given only such weight as opinions warrant. This Firm, its officers, directors, employees, or members of their families may have positions in the securities mentioned and may make purchases or sales of such securities from time to time in the open market or otherwise and may sell to or buy from customers such securities on a principal basis. This report is the intellectual property of Janney Montgomery Scott LLC (Janney) and may not be reproduced, distributed, or published by any person for any purpose without Janney's prior written consent. This presentation has been prepared by Janney Investment Strategy Group (ISG) and is to be used for informational purposes only. In no event should it be construed as a solicitation or offer to purchase or sell a security. Past performance is no guarantee of future performance and future returns are not guaranteed. There are risks associated with investing in stocks such as a loss of original capital or a decrease in the value of your investment. For additional information or questions, please consult with your Financial Advisor
About the author