Monthly commentary on timely investment and economic issues by Janney analysts Mark Luschini, Guy LeBas, and Gregory Drahuschak.
Key Takeaways:
China's economic and social plan might offer opportunities for U.S. investors in the longer term.
History shows that September is not great for stocks, but what could make this time different?
A review of the main drivers of emerging market debt in the past year
MADE IN CHINA
Mark Luschini, Chief Investment Strategist
Chinese President Xi Jinping presented a plan in mid-August for "common prosperity" in China, which will serve as a guide for national policy in the coming decades. The plan seeks to reduce social and economic imbalances and hence strengthen China and reinforce the Communist Party's rule. Specifically, it states, "Common prosperity is an essential requirement of socialism and a key feature of Chinese-style modernization…" and China will "adhere to the people-centered development philosophy and promote common prosperity while pursuing high-quality development."
Certainly, the plan acknowledges, "achieving common prosperity will be a long-term, arduous, and complicated task and it should be achieved in a gradual and progressive manner."
China's Economic and Social Goals
The plan is an ambitious and broad undertaking, but it is also somewhat aspirational in nature. As presented, it carried limited targets or concrete policy initiatives. Instead, it builds on already established policy goals that were set for achievement by the year 2049, not coincidentally the 100th anniversary of the People's Republic of China.
This likely means the plan's implementation, while already underway, will be gradual. Additionally, the plan is consistent with the Xi administration's previous emphasis on improving the country's quality of life and reducing systemic risks. It takes aim at social immobility, income and wealth inequality, poor public services, a weak social safety net, and other problems that did not receive enough attention during China's rapid growth phase in the previous decades.
Policymakers are concerned that, if left unattended, China's socioeconomic imbalances could fester and eventually destabilize the regime.
From the beginning, the Xi administration has tackled the most pressing popular concerns to try to rebuild the party's legitimacy, increase public support, and avoid crises. Crackdowns on pollution, corruption, and excessive debt are prime examples.
The key takeaways are multifold and include:
an extended runway for execution—almost 30 years
emphasis on retaining a role for state control and state[1]owned enterprises, while attracting private capital
the redistribution of household income via a reformation of the tax code • the establishment of property rights
the censorship of media
the need to reduce the disparity in wealth between urban centers and rural settings.
On the last point, officials will focus on growing the size and economic well-being, thus the quality of life, of the middle class.
Measures Supporting the Plan
Recently, China put forth a vigorous effort to initiate the plans. Markets in China, although it spilled over to U.S.- traded Chinese companies, were tumultuous as companies in industries such as education, media, and the internet, came under attack. Policymakers, either explicitly or implicitly, targeted certain activities they deemed as operating outside of the goals of "common prosperity." Heavy-handed regulation ensued and market participants sold shares of Chinese stocks, uncertain as to what further steps, and how quickly, Chinese officials were prepared to act in pursuit of its objectives.
While the administration backed off for a time to cool the market's agitation, it seems clear that markets, and more specifically Chinese shares, may face more volatility going forward. Further policy actions could be expected as the National People's Congress crystalizes the plans for the 20th National Party Congress to be held in the fall of 2022. It is at this event that President Xi might further elevate his status and exert even greater control within the Communist Party. That implies moving from what heretofore has largely been consensus rule to rule by a single person, which in turn could increase policy uncertainty and geopolitical risk over time. Stay tuned.
Potential Opportunities to Follow
At the same time, we recognize that China's effort to increase the size and prosperity of its middle class, while expanding the social safety net, could spur consumption. China has pivoted in recent years from its growth being dominated by investment to today, when consumption drives the majority of its GDP. Still, at less than 55% of its economic activity, consumer spending has much further to go to represent a similar impulse to that of developed countries like the U.S. or Japan, where that number nears 70%.
To curb the high savings rate China possesses, policymakers recognize the need for a more mature capital market, better wages, and improved health care and retirement benefits to support workers. If implemented, these could have positive implications for investors seeking long-term opportunities that exist in China, particularly in areas such as health care, financial services, and e-commerce, which should benefit from rising per-capita incomes among a large cohort of the Chinese population.
EMERGING MARKET DEBT IN A POST-PANDEMIC WORLD
Guy LeBas, Fixed Income Strategist
Emerging market debt—bonds and loans issued within countries the International Monetary Fund (IMF) labels as "developing nations"—is one of the riskiest fixed income asset classes.
While the classic definition focuses on bonds issued by governments outside of developed nations, over the last decade, it has expanded to include corporate debt from companies based in emerging economies as well.
Similarly, emerging market debt includes local currency bonds issued, as well as hard currency bonds issued usually in dollars or euros. There are upsides to each: Local currency debt usually has higher yields, but exposes an investor to exchange rate fluctuations. Hard currency debt has lower yields and no exchange rate risk, but may be harder for an issuer to repay if there are sharp currency moves. Most investors access emerging market debt via funds, exchange-traded funds (ETFs), and other comingled vehicles, thereby outsourcing much of the security selection. However, there are components of emerging market returns that tend to be sector-wide.
2020-2021 Themes
The three biggest drivers of sector-wide emerging market debt returns are global economic growth (a proxy for fundamentals), the performance of the U.S. dollar and euro relative to other currencies, and investor risk preferences. In 2020, global economic growth was atrocious thanks to the COVID-19 pandemic, the U.S. dollar and euro were weaker relative to emerging market currencies, and investor risk demand was paradoxically strong as all sorts of risky assets rallied. In 2021, global economic growth has rebounded, the U.S. and euro are stronger, and investor risk demand has continued strong. While two of the three themes from 2020 persisted into 2021, emerging market debt performance has been very different.
Chart 1: Emerging Market Debt Returns Have Fallen Between Developed Market and US High-Yield Returns in Each of Last Two Years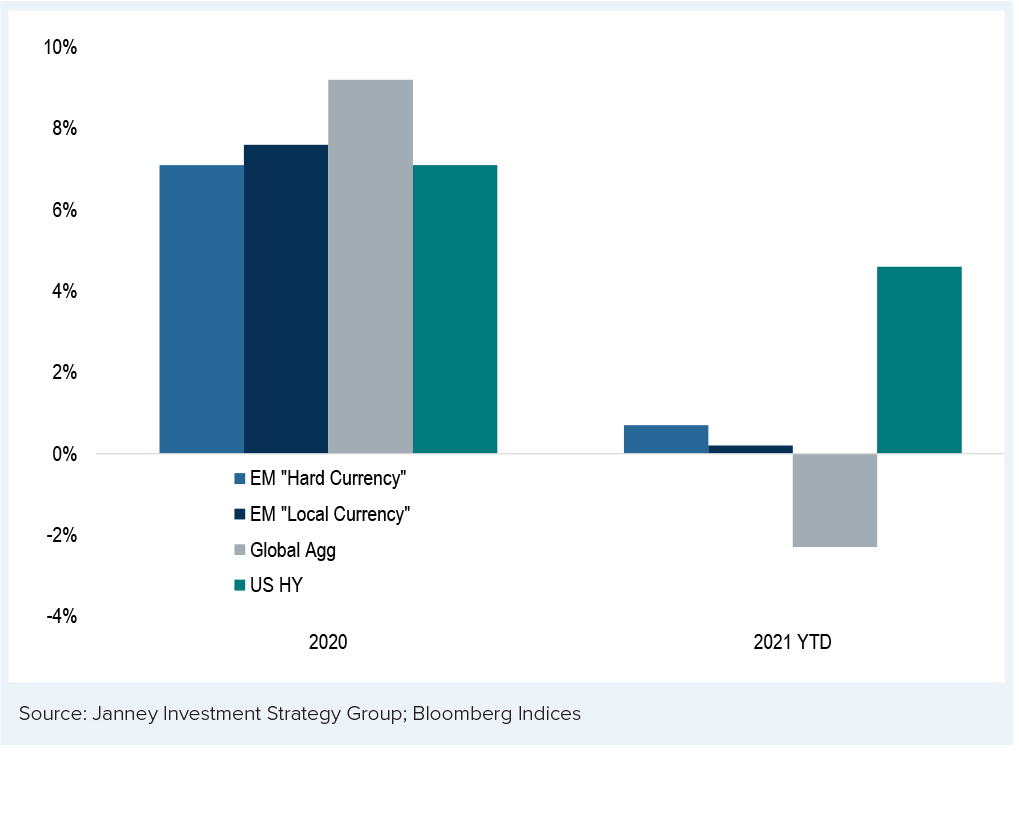 If nothing else, the past 18 months underscore that economic credit fundamentals are probably the least important factor in emerging market returns. Since the onset of the global pandemic, many emerging market economies have faced severe contraction. Unlike developed nations, whose governments can provide economic stimulus in times of stress, many developing nations lack the fiscal ability to offer economic support, which deepens and prolongs recessions. On the flip side, developing economies have, on average, younger populations, which make them less susceptible to some of the worst effects of the pandemic. Overall, the IMF estimated emerging economy GDP contraction at -4.0% in 2020 and projects an +11.6% gain for 2021. The same figures for the U.S. (a proxy for developed economies) are +2.3% for 2020 and +8.3% for 2021. In addition, COVID-related headline risk is fading as vaccine production increases and becomes more easily available overseas.
Chart 2: Performance of USD is Inversely Correlated to Performance of Emerging Market Debt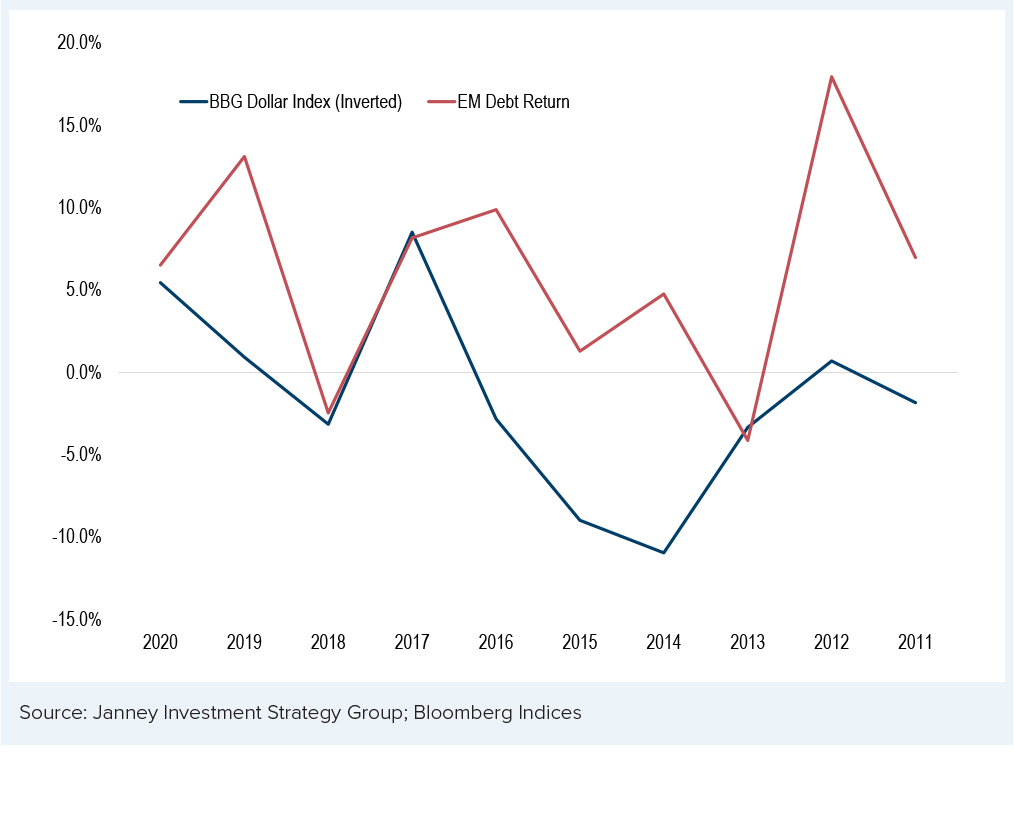 Summary
Essentially, emerging market growth was relatively weak in 2020 and looks relatively strong in 2021, yet emerging market debt performed well in 2020 and, so far, is not performing well in 2021. In addition, investor demand for risk has been insatiable in 2020 and into 2021. Given those crosscurrents, it seems currencies are in the driver's seat for emerging market debt performance thus far. A stronger dollar and euro relative to emerging market currencies in 2021 has led to emerging market underperformance—and there are good odds that if, and when, developed market currencies stop strengthening, emerging market debt will catch up with its developed market counterparts.

STOCKS FACE CHALLENGES, BUT STILL HAVE SUPPORT
Greg Drahuschak, Market Strategist
The S&P 500 ended August with its seventh-straight monthly gain. However, seasonal and other factors have some market participants concerned that achieving eight consecutive positive months might be difficult.
September's Unflattering Reputation
Historic results tend to justify concern about how the market fares in September.
Several stunning declines in October gave the month a bad reputation, but in time, investors realized that September was the most worrisome month. On average since 1950, the S&P 500 has fallen in 40 of the possible 71 Septembers for an average 1.08% loss.
It is worth noting that several sharp drops in September contributed mightily to the month's average loss. Six of the worst post-1950 drops, however, coincided with recessions.
Chart 3: S&P 500 Ten Worst Percentage Declines in September Recession Years Highlighted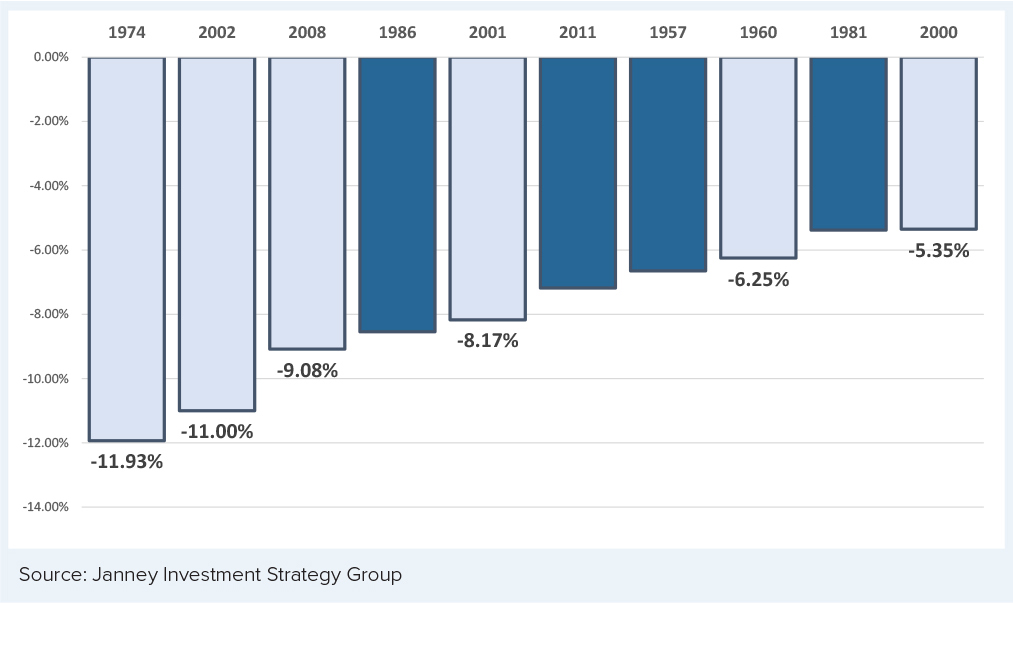 There is no recession looming this year, but there was no recession on the horizon last year either when the S&P 500 fell 3.92% in September. Concerns about another wave of coronavirus cases, along with the U.K. implementing another national lockdown, produced two significantly weak trading sessions. September 2020, however, was pre-vaccines. Their availability now should lessen a potentially disruptive influence from the current COVID-19 variant.
Federal Reserve Chair Jerome Powell's presentation at the Jackson Hole symposium set aside fear the Fed would slow or stop its bond-buying program, which might precipitate the so[1]called "taper tantrum." Powell opened the door to eventually halting the Fed's bond buying, as he acknowledged that the Fed's inflation objective had been met. Employment, however, still has not achieved the Fed's goal, which suggested that a potential interest rate boost is a relatively distant event.
Corporate earnings have improved significantly. S&P 500 earnings for 2021 are on track to be up 24.2% above the virus induced low and 41% above the 2020 final. Earnings in 2022 are expected to be 52.9% above the 2020 final.
Chart 4: 2022 S&P 500 Earnings Estimate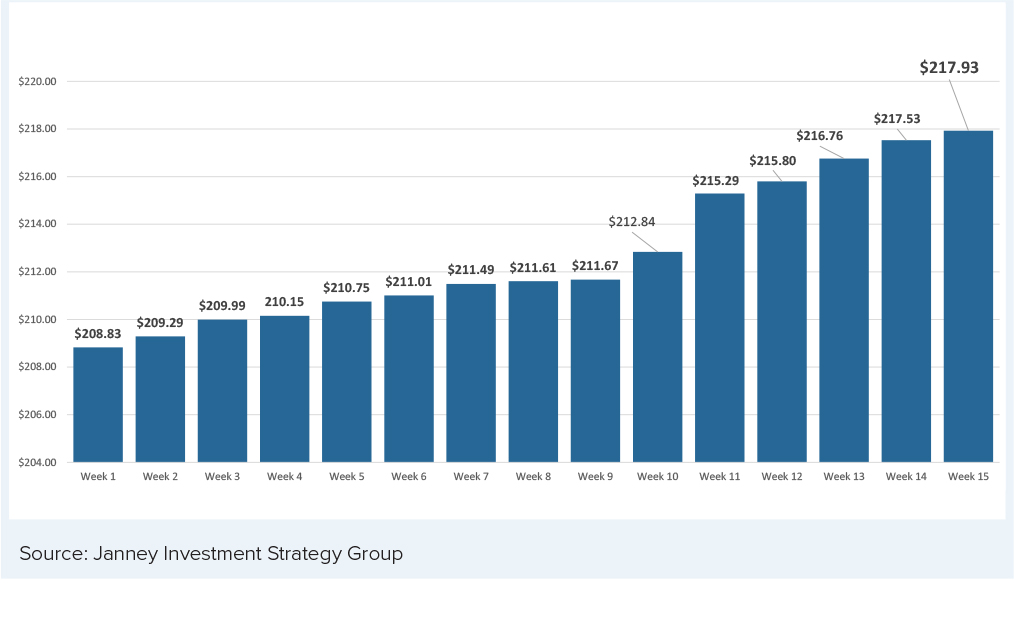 What Might Affect the Market this Month
We anticipate that market fundamentals will continue to improve, but two issues could weigh on stocks this month.
The stock market so far has ignored the dollar's recent rise, but trading in August suggested the potential for an upside breakout in the dollar that might weigh on U.S. foreign trade and the market.
New highs in multiple market indices last month kept a technical pattern in place in which dips to the S&P 500 Index's 50-day moving average were followed by recoveries that led to the 53 closing new highs for the S&P 500 so far this year.
In this process, however, some of the market's internal characteristics pointed to the possibility of an interim pullback, especially considering that the market has not had a 5% or greater pullback in more than 200 sessions. The S&P 500 slipping below its 50-day moving average (4,390.92) by more than a marginal amount, however, could precipitate a pullback, but one that we believe will be contained well within normal correction parameters.
While September's market history is not great, the frequently positive October-December period is just ahead. Earnings prospects as well as general economic conditions suggest that this period is not likely to disappoint.
Disclaimer
The information herein is for informative purposes only and in no event should be construed as a representation by us or as an offer to sell, or solicitation of an offer to buy any securities. The factual information given herein is taken from sources that we believe to be reliable, but is not guaranteed by us as to accuracy or completeness. Charts and graphs are provided for illustrative purposes. Opinions expressed are subject to change without notice and do not take into account the particular investment objectives, financial situation or needs of individual investors. The concepts illustrated here have legal, accounting, and tax implications. Neither Janney Montgomery Scott LLC nor its Financial Advisors give tax, legal, or accounting advice. Please consult with the appropriate professional for advice concerning your particular circumstances. Past performance is not an indication or guarantee of future results. There are no guarantees that any investment or investment strategy will meet its objectives or that an investment can avoid losses. It is not possible to invest directly in an index. Exposure to an asset class represented by an index is available through investable instruments based on that index. A client's investment results are reduced by advisory fees and transaction costs and other expenses. Employees of Janney Montgomery Scott LLC or its affiliates may, at times, release written or oral commentary, technical analysis or trading strategies that differ from the opinions expressed within. From time to time, Janney Montgomery Scott LLC and/or one or more of its employees may have a position in the securities discussed herein.
About the authors