Monthly commentary on timely investment and economic issues by Janney analysts Mark Luschini, Guy LeBas, and Gregory Drahuschak.
Key Takeaways:
Details on what to watch for as the bull market continues.
The history of monetary policy and the Fed's use of quantitative easing.
Stocks might be in for a refresh
VIGILANT BULL
Mark Luschini, Chief Investment Strategist
While we continue to view prospects for the economy and financial markets through a rosy prism, there are variables that could serve to tarnish that view. What Might Challenge Stocks An obvious factor is inflation, which remains unresolved with concerns about its imposition on consumer sentiment and spending. The issue will likely remain open-ended for some time to come given monthly readings are still incorporating the artifacts of the pandemic-induced shocks to demand-and-supply chains.
In addition, elevated valuations in the stock market render equities vulnerable to turmoil that, even if brief and relatively benign, could be enough to catalyze a measured pullback in prices. Along with the aforementioned, we continue to watch policymakers, including those elected and those helming the Federal Reserve, for a shift in the accommodative fiscal and monetary settings that have served to spur above-trend economic growth.
Unless a vaccine-evading variant reestablishes COVID-19 as a renewed threat to the broad population, and in turn induces strict mitigation protocols to be applied, we think it is unlikely that growth decelerates to a below-trend level anytime soon.
The pace of consumer price increases cooled in August, according to reports from the widely followed Consumer Price Index (CPI). The measure came in below market expectations and although the data were encouraging at face value, many inputs are still being warped by car prices and badly disrupted service industries such as air travel, lodging, and entertainment.
We expect prices in most of those areas to decline in the next few months, but give way to another component of inflation that is emerging and bears watching: Shelter costs account for a large portion of the core CPI basket (calculated as headline CPI excluding the costs associated with the volatile categories of food and energy). Owners' equivalent rent—the estimated amount of what a house would rent for if substituted for a rental property—has begun to turn upward. This could lead to a more significant and sustained rise in inflation than some of the transient measures that are more likely to fade as pent-up spending and supply-chain disruptions normalize.
We expect inflation will continue to come down from its summer peak, but remain at or above the Federal Reserve's average target of 2% or so. While tightening labor markets and the expiration of fiscal programs may lead to slowing growth and an inflationary impulse to watch for at some point, we think it may pose a greater concern for investors more so in a few years than today. Given the low yield offered on high-quality bonds, and the tame inflation break-evens found on Treasury Inflation-Protected Securities (TIPS), for the moment it seems market participants concur.
Run Continues Despite Pressures
Equities have shown little concern that inflationary pressures will thwart the bull's advance. After all, high inflation by itself is not kryptonite for stocks. Rather, it is the restrictive monetary policy measures the Federal Reserve eventually imposes in response to high inflation that is. Inflation's market importance thus turns on the tipping point at which it heralds the Federal Reserve's reaction function to swing from loosening to tightening monetary policy.
Inflation might eventually trigger a policy change should it stay high enough for long enough to catalyze the Federal Reserve's voting membership to embark on a rate hike campaign. In advance, the stock market will sniff out a policy change and engender a response. However, much will depend on the pace of rate increases anticipated, and myriad other variables, when hints of a forthcoming tightening regime become warranted.
We do not believe that is an event to trigger a shift in our positioning for quite some time. Therefore, we retain our constructive view on the economy and stock market. In our judgment, growth and corporate profitability are likely to be in a sweet spot well into next year. While we are prepared to adjust our views based on the incoming data, we think conditions are and will remain conducive to risk asset outperformance. Therefore, we continue favoring that investors overweight equities.

WHAT'S QE GOT TO DO WITH IT?
Guy LeBas, Fixed Income Strategist
In late September, Federal Reserve Chair Jay Powell said it about as bluntly as can be, "We have all but met the test for taper." At present, the Fed is buying $120 billion of Treasuries and mortgage-backed securities (MBS) per month—a policy called quantitative easing, or "QE." Powell's comment about "taper" refers to the common term for slowing that pace.
Following months of debate, it seems clear that Fed officials will begin the great taper very soon, likely November, provided economic data do not deteriorate sharply. That taper announcement will mark the beginning of the end of a policy that started in the depths of the 2020 downturn. We published a full report about the financial downturn and policy response in 2020, but the impending taper is a good excuse to revisit how and why the Fed influences interest rates in this era of extraordinary policy.
The Federal Reserve's Toolbox
The Fed's role is to set monetary policy in order to achieve maximum employment and stable inflation. Historically, the tools the Fed used to manage to this mandate were blunt. They would lend or borrow into the overnight money markets, and interest rates would move based on this supply or demand.
Later, the Fed began announcing the level of interest rates, which caused markets to "snap to" the Fed's rate. In the 1990s, this approach extended to include a statement describing the reasoning behind each Fed decision—a huge advent. Why? The statement gave clues to not just today's overnight rates, but to where the Fed might set rates in future months. As a result, bond traders would have a better idea of where intermediate-term interest rates should be, since the intermediate term is made up of overnight rates strung together.
Through the 2000s until the Global Financial Crisis, the statement approach provided information on future policy. Then, in 2008, the Fed embarked on its first QE adventure in several generations, buying up billions (eventually trillions) of bonds for several reasons:
1. QE clears bonds from banks' balance sheets—the Fed literally buys the securities from banks—leaving space on those banks' balance sheets to buy other things, like corporate bonds.
2. QE creates the psychological effect for market participants about the Fed's willingness to backstop markets.
3. QE provides a signal of when the Fed will likely next raise interest rates. This third point is key, especially in 2021.
Chart 1: QE Provides a Signal to Markets that Intermediate-Term Interest Rates "Should" Be Low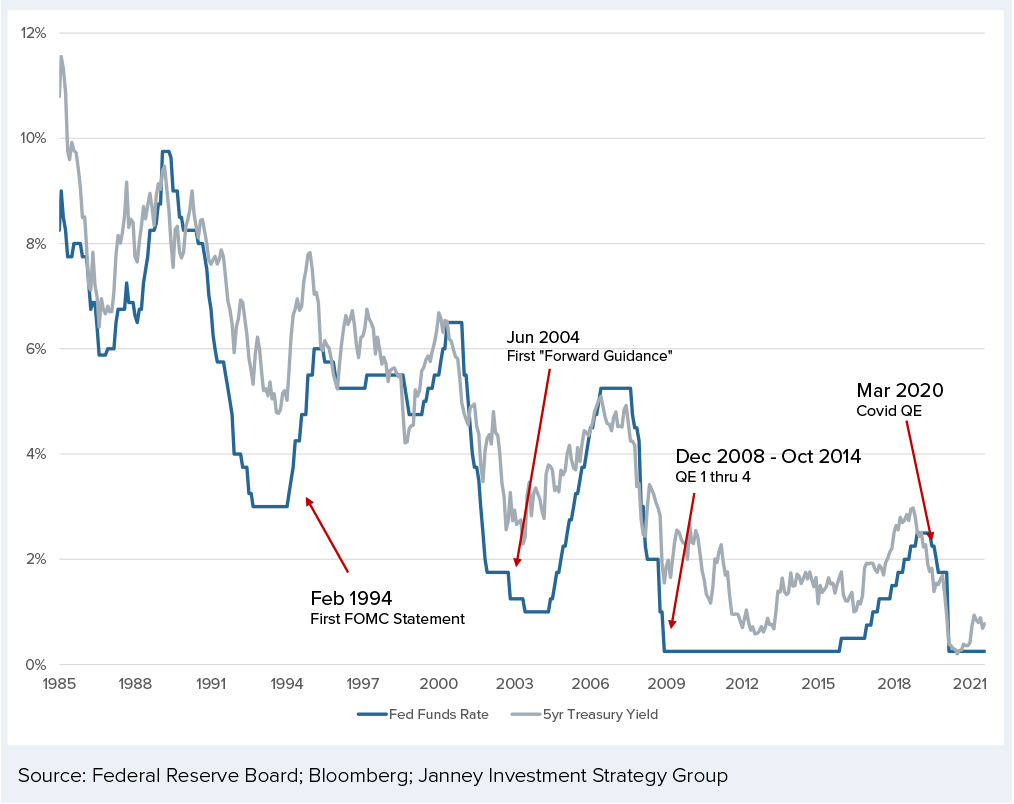 Seasonal pressures may have contributed to the relatively weak September results this year. However, seasonal issues often produce the opposite market result in the final three months of most years.
A PAUSE TO REFRESH
Greg Drahuschak, Market Strategist
September's reputation of often producing the worst market result for a year was reinforced, as the S&P 500 Index's 4.77% loss last month was the 14th worst for the month since 1950 and the biggest monthly loss this year. Rising interest rates, troubling news from China, and uncertainty about several government spending programs conspired to pressure stocks.
Chart 2: Performance of USD is Inversely Correlated to Performance of Emerging Market Debt

Seasonal pressures may have contributed to the relatively weak September results this year. However, seasonal issues often produce the opposite market result in the final three months of most years.
Ghosts of Octobers
Past This month begins with the memory of October 19, 1987, when the 20.47% loss in the S&P 500 set the record for a single-day loss. Decades later, trading in October 2008 added to the negative view for the month as the S&P 500 fell 16.94%. What might be forgotten, however, is that October on average is the fourth-best month of the year in terms of frequency of gains, and it often sets an interim low that leads to a strong finish for most years. However, it might be unrealistic to expect all three final months of the year to produce gains, as this has happened only 18 times in the previous 70 years.
Chart 3: 2022 S&P 500 Earnings Estimate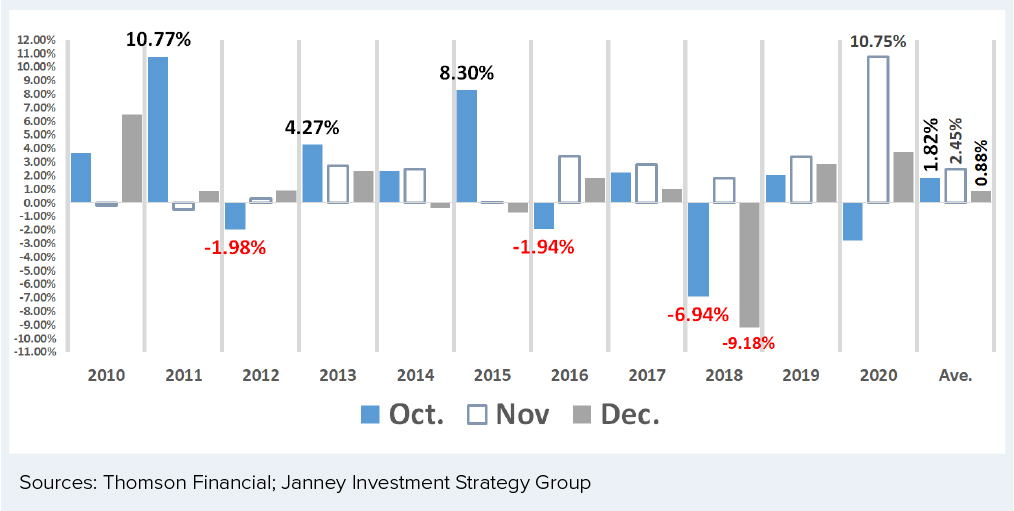 The strong year-to-date market performance so far this year might prompt concern about whether the market can add to its gains. A study done by CFRA-Standard & Poor's suggests this is not a worry.
In the 10 instances since 1990, including this year, in which the equal-weight S&P 500 produced the highest results in the first four months of the year, the S&P 500 always was higher in the final three months of the year.
Current Issues Facing the Market
Achieving gains to end 2021 will not be easy. Approval of a continuing resolution that funds the government until December 3, 2021, removed the near-term fear of a government shutdown, but Congress likely will remain embroiled over several spending issues and the related tax changes as well as the debt ceiling. October's market fate, however, might rely more on earnings expectations.
Through the first 15 weeks of S&P 500 earnings estimates, expectations moved steadily higher. Since then, the consensus estimate has flattened. The intense flow of third-quarter earnings reports does not begin until the week of October 18, but by the end of the first week of November, the market should have a good sense for third-quarter earnings results and what they suggest for the final quarter.
Slowing revenue momentum, rising input costs (labor, raw materials, and energy) and supply-chain issues likely restrained earnings growth. Year-over-year earnings comparisons, however, still should be good, just not as strong as they have been. According to data assembled by FactSet, the estimated growth rate for the third-quarter earnings is 27.6%. If this is the result for the third quarter, it would be the third-highest year-over-year earnings growth rate since 2010.
For nearly a year, the S&P 500 repeated a pattern of slipping back to its 50-day moving average and then rebounding on its way to new highs. This pattern was broken on September 20, when the S&P 500 convincingly broke below its 50-day moving average. Subsequent tries to regain this level failed as the S&P 500 proved an old adage that once support is broken it becomes resistance. An attempt at regaining the moving average (4,443.34 as of September 30, 2021) and moving beyond it will be a key part of trading this month.
Disclaimer
The information herein is for informative purposes only and in no event should be construed as a representation by us or as an offer to sell, or solicitation of an offer to buy any securities. The factual information given herein is taken from sources that we believe to be reliable, but is not guaranteed by us as to accuracy or completeness. Charts and graphs are provided for illustrative purposes. Opinions expressed are subject to change without notice and do not take into account the particular investment objectives, financial situation or needs of individual investors. The concepts illustrated here have legal, accounting, and tax implications. Neither Janney Montgomery Scott LLC nor its Financial Advisors give tax, legal, or accounting advice. Please consult with the appropriate professional for advice concerning your particular circumstances. Past performance is not an indication or guarantee of future results. There are no guarantees that any investment or investment strategy will meet its objectives or that an investment can avoid losses. It is not possible to invest directly in an index. Exposure to an asset class represented by an index is available through investable instruments based on that index. A client's investment results are reduced by advisory fees and transaction costs and other expenses. Employees of Janney Montgomery Scott LLC or its affiliates may, at times, release written or oral commentary, technical analysis or trading strategies that differ from the opinions expressed within. From time to time, Janney Montgomery Scott LLC and/or one or more of its employees may have a position in the securities discussed herein.
About the authors