We think the housing cycle has further to go. Home prices have been supported by a lack of inventory, high demand with millennials at prime home-buying age, and low interest rates.
Since the housing crisis of the 2000s, we have underbuilt by close to four million homes, according to FreddieMac. The top chart shows the collapse in construction after the 2006 peak and financial crisis that took about a decade to recover.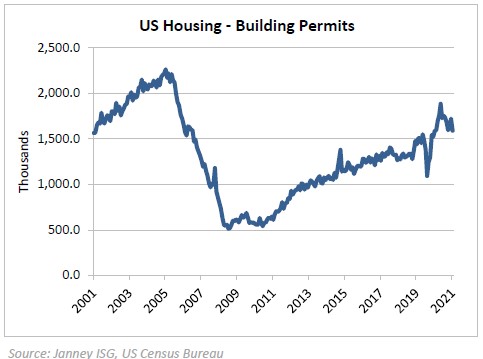 This lack of construction has led to very low existing home inventory as shown in the middle chart.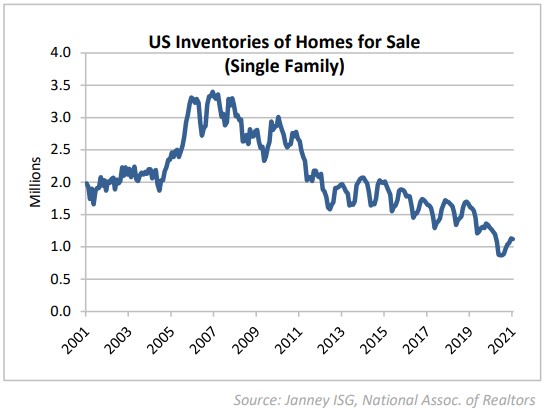 The lack of inventory, helped by very low interest rates, has led to higher home prices as shown in the bottom chart. This creates the incentive to build more homes to satisfy demand.
However, we believe it will take years to rebuild inventory to levels that match demand, especially with millennials in their prime home-buying years.
This should support home prices and explains why we do not consider this a housing bubble—yet.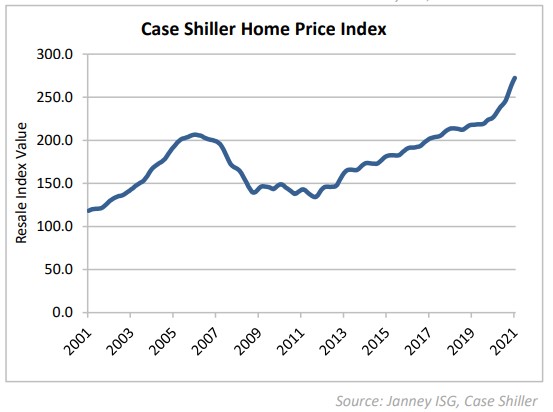 In terms of future home price gains, consumers are now balking at the high prices. The University of Michigan's monthly Survey of Consumers shows the assessment of home buying conditions near all-time record lows due to higher prices. So, while the very high price gains are probably behind us, current prices should be supported by the lack of inventory.
Another important point to make is that we believe the banks are making solid loans—unlike the housing bubble of 2006- 2008 when many bad loans were made, which fueled the housing bubble.
We expect housing to make further positive contributions to economic growth and to continue providing a positive fundamental backdrop to housing-related industries.

Disclaimer
This report is provided for informational and educational purposes only and shall in no event be construed as an offer to sell or a solicitation of an offer to buy any securities or a recommendation for any strategy or to buy, sell, or hold any product. Opinions expressed are subject to change without notice and do not take into account the particular investment objectives, financial situation, or needs of individual investors. Employees of Janney Montgomery Scott LLC or its affiliates may, at times, release written or oral commentary, technical analysis, or trading strategies that differ from the opinions expressed here. The information described herein is taken from sources which we believe to be reliable, but the accuracy and completeness of such information is not guaranteed by us. The opinions expressed herein may be given only such weight as opinions warrant. This Firm, its officers, directors, employees, or members of their families may have positions in the securities mentioned and may make purchases or sales of such securities from time to time in the open market or otherwise and may sell to or buy from customers such securities on a principal basis. This report is the intellectual property of Janney Montgomery Scott LLC (Janney) and may not be reproduced, distributed, or published by any person for any purpose without Janney's prior written consent. This presentation has been prepared by Janney Investment Strategy Group (ISG) and is to be used for informational purposes only. In no event should it be construed as a solicitation or offer to purchase or sell a security. Past performance is no guarantee of future performance and future returns are not guaranteed. There are risks associated with investing in stocks such as a loss of original capital or a decrease in the value of your investment. For additional information or questions, please consult with your Financial Advisor.
About the author