Monthly commentary on timely investment and economic issues by Janney analysts Mark Luschini, Guy LeBas, and Gregory Drahuschak.
Key Takeaways:
The latest scoop about inflation and whether it will be more persistent.
Stocks enter what is typically the market's best three-month stretch.
Recent yield curve volatility and some high-profile hedge fund losses.
INFLATION, INFLATION, INFLATION
Mark Luschini, Chief Investment Strategist
In the 1970s sitcom, The Brady Bunch, the character Jan Brady utters one of the most iconic lines from the series when she says in frustration "Marcia, Marcia, Marcia" in reference to her older sister (Marcia Brady) getting all the attention. Everywhere one turns today, attention is being given to inflation that appears rampant in both goods and services. Rightly so.
Here's the Story
Headline inflation last reported for the month of September was up 5.4% year-over-year—the fastest pace in more than a decade. Given the loss of momentum in economic activity during the third quarter, when compared to the blistering pace over the first half of this year, that has evoked concerns of "stagflation," a phenomena loosely defined as a period of slow growth, high unemployment, and elevated inflation. We do not believe stagflation is a legitimate threat at this juncture because unemployment is falling, growth is poised to reaccelerate, and inflation should subside. Persistently higher inflation, however, could be a longer-term risk.
The buzzword used by Federal Reserve officials, even as they acknowledge the heightened level of inflation, is that the factors generating it are "transitory." In other words, they will fade as supply-chain issues are resolved, and the tailwinds of pent-up demand abate. More recently, however, monetary policymakers have expressed some reservations about their judgment as to just how quickly inflation is likely to subside. Certainly, the pandemic-induced shock to global trade and supply-chain distribution networks have contributed to an unusual period of unfilled demand greatly exceeding that of supply. This is true of commodities, capital goods, and soft merchandise, and extends to services and labor for somewhat different reasons.
More Persistent than Expected?
Indeed, a contributing factor to support the transitory camp is that the abundance of inputs to inflation thus far have to do with durable goods spending (those items with a longer shelf life such as appliances, furniture, electronics, and autos). Typically, a massive economic contraction as we had in 2020 would have been accompanied by a collapse in spending on higher-ticket-price items. Instead, having dipped only briefly, spending came roaring back because of generous fiscal stimulus payments and stay-at-home restrictions that precluded households from consuming the services (such as dining out, travel, and entertainment) they normally enjoy.
Now, even as durable goods spending is retreating due to the inability to find goods in stock and spending behavior is shifting toward leisure and hospitality as mitigation protocols have eased, supply chains remain clogged. According to the most recent release of the Duke/CFO survey, many respondents expect supply-chain bottlenecks to persist into the second half of next year. This may cause a nasty bout of inflation to percolate for longer than the well-established consensus view anticipates.
We believe there are structural forces also at work that could cause much higher inflation in the out-years. Rent inflation, for instance, has begun to rise as vacancies plummet, eviction moratoriums and rent freezes expire, and homes prices, which tend to push rental rates higher over time, are at or above all time highs.
Inflation and Wages
Another factor is tightening labor markets. While the current unemployment rate is still well above the 50-year low achieved just as the pandemic broke out, the job vacancy rate is near historic levels. As inviting labor conditions lure workers back, enabled by sizeable wage offerings and the decline in cases of the Delta variant of COVID-19, a wage-price spiral could emerge if not soon, eventually.
Inflation expectations are still grounded at the moment, but should higher prices fail to recede, workers could lobby employers for even higher wages to combat the harmful effects of losing purchasing power. Emboldened workers might strike or leverage their skills to find new, higher-paying jobs, which further enforces the expectation that employers must combat that risk by hiking wages. In fact, surveys garnered through the National Federation of Independent Businesses show a large percentage of small businesses nationwide have had to increase worker wages recently, and similarly, many have plans to raise wages in the coming months.
The issue with forecasting the future levels of inflation is that it tends to be a non-linear variable, which means it may seem dormant until suddenly it sparks to life. For now, we think inflation is likely to decelerate over the next year even if it may come to rest at an above-trend level. What we will watch for are developments on the structural front that may lead to a more complicated diagnosis of what lies ahead in the next few years.
On a cyclical basis, we remain optimistic about the prospect that stocks can move higher. The combination of relatively low interest rates and the above-trend growth we expect over the coming year should support equities. We await news from Washington regarding the infrastructure and Build Back Better programs, which could influence the prism through which we frame our outlook in the coming months. Stay tuned.

YIELD CURVE VOLATILITY OFFERS SOME TOUGH LESSONS
Guy LeBas, Fixed Income Strategist
We have a tendency to think about interest rates and bond yields in levels. For instance, a financial news network might report that the 10-year Treasury note is trading at a yield of 1.55% on the last day of October, or that it has risen in yield thus far in 2021 by 0.65%.
However, fixed income professionals at asset management companies, banks, hedge funds, and other institutions, tend to view yields not so much in absolute, but rather in relative, terms. For example, a portfolio manager responsible for buying and selling Treasury notes at an asset manager might point out that the spread, or difference, between the 5-year and 7-year Treasury note is 0.26%, or 26 basis points. This differential refers to the "yield curve shape" or slope, and is one of the most significant—and, recently, most volatile— concepts in fixed income investing.
Shape of Things
For owners of fixed income assets, the shape of the yield curve tells us, among other things, what the incremental return is for taking additional unit(s) of risk. To extend the above example, a 5-year Treasury note has interest rate risk, as measured by duration, of 4.8, meaning that its market value would decline about 4.8% if interest rates were to rise by 1%. A 7-year Treasury note, meanwhile, has a duration of 6.6, indicating its market value would decline about 6.6% in the same scenario. The longer-term bond of this pair has a 1.8 longer duration. As noted in the introduction, in today's market environment investors are paid an extra 0.26% in yield for taking on the 1.8 units of risk. When the yield curve is steep, that means the return to taking more duration risk is higher, and when the yield curve is flat or inverted, the return to taking more duration risk can be zero or even negative.
Hedge Funds' Wrong Moves
A range of hedge funds and other leveraged macro traders earn their profits (and often losses) making bets on changes in the shape of the yield curve. These bets generally involve purchasing one maturity of bond and selling short another maturity. A curve steepener bet might include buying 7-year Treasuries and selling 5-year Treasuries (or, more realistically, using futures contracts to express that position); that bet would be profitable if 5-year Treasury yields rise faster than 7-year Treasury yields. Why might 5-year yields rise faster than 7-year yields? Perhaps a hedge fund portfolio manager thinks the Fed will raise interest rates rapidly, pushing shorter-term bond yields up, while slowing inflation from Fed hikes pushes long-term yields lower. A flattener bet would be the opposite.

Chart 1: Yield Curve Shape Has Been Increasingly Volatile Since May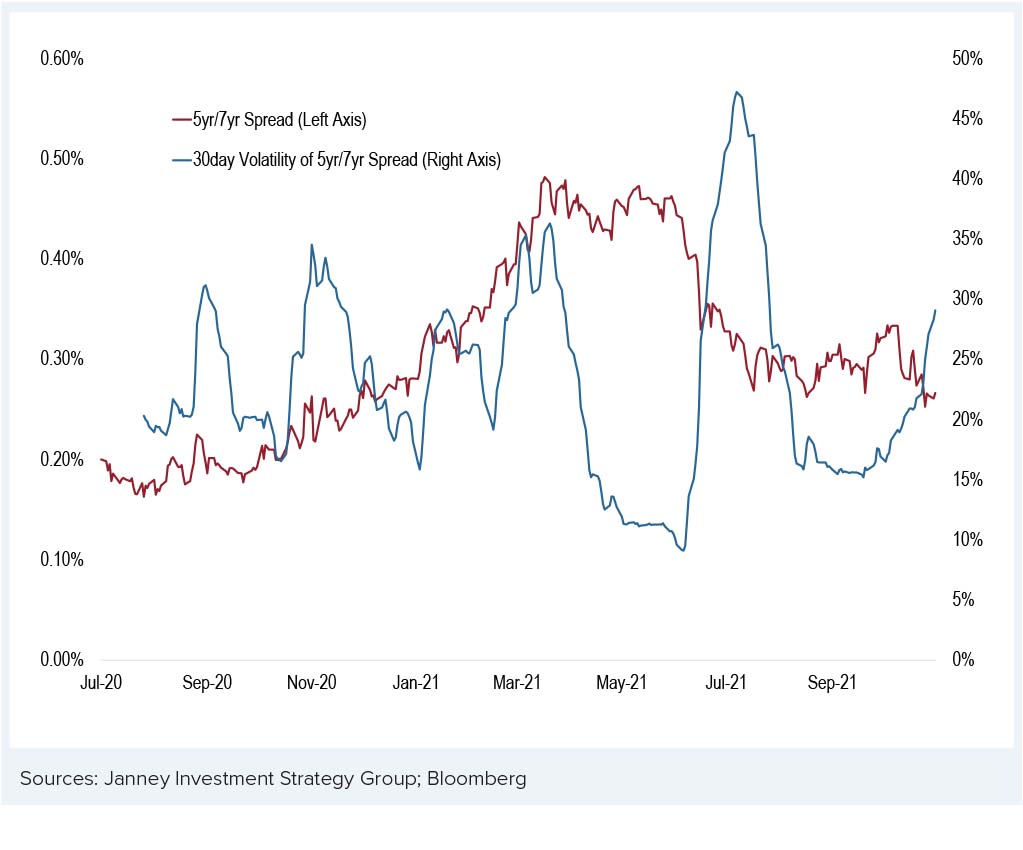 Since May 2021, the yield curve has been shifting in shape rapidly, catching many sophisticated, experienced, and successful hedge funds off guard. In late October, the eponymous Rokos Capital Management, a $12 billion fund, revealed that it lost 20% over an eight-week period, reportedly on wrong-way yield-curve bets (in fairness, Rokos has had triple-digit gains in recent years). Other funds followed suit. On the last trading day of the month, a multi-billion dollar manager in business since before the Global Financial Crisis announced it would be winding down its various funds, again, reportedly after sizable losses on yield-curve bets. Presumably, other firms making opposite bets have been more profitable, although news on that front has been quieter.
Even while the level of 10-year Treasury yields are nearly unchanged from their April-June average, unusually rapid swings in the difference between shorter- and longer-term yields have deeply impacted many arenas of the fixed income markets. With monetary policy in the U.S. and at many central banks around the world at a crossroads, it seems likely that this higher-volatility regime, particularly with regard to the shape of the yield curve, might be with us for months to come.

MORE STOCK MARKET HIGHS MAY BE AHEAD
Greg Drahuschak, Market Strategist
In characterizing the market slump in September, this portion of last month's Investment Perspectives was titled A Pause to Refresh. The refresh process set the stage for the S&P 500 posting its seventh-best gain for October in the previous 71 years.
Chart 2: Best Octobers for S&P 500 since 195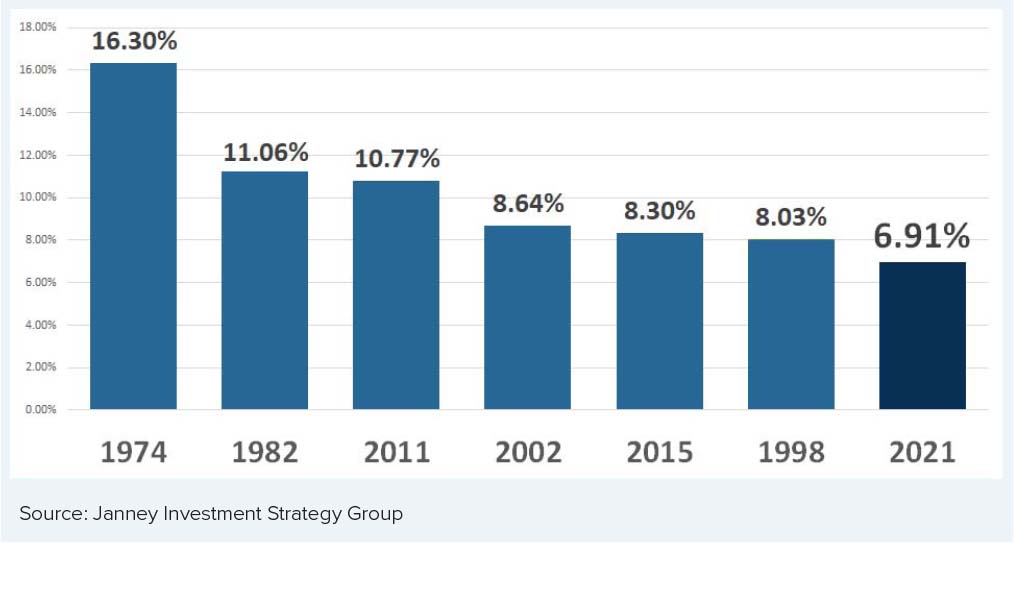 Strong Rebound in October
A downside opening to October led to a low on October 4, when technology and healthcare issues were particularly weak. The S&P 500 posted its lowest close since July and the Nasdaq touched its lowest point since June. Technical breakdowns accelerated the weakness.
From the October 4 low, however, the market set aside many of the concerns that weighed on stocks in September. From the October 4 intraday low, the S&P 500 rallied 7.6% by the end of the month. Technology, which was one of the key reasons for the market weakness in September, contributed notably to the recovery rally that ultimately sent the S&P 500 to a new all-time high above 4,600.
Chart 3: Results from October 4th Close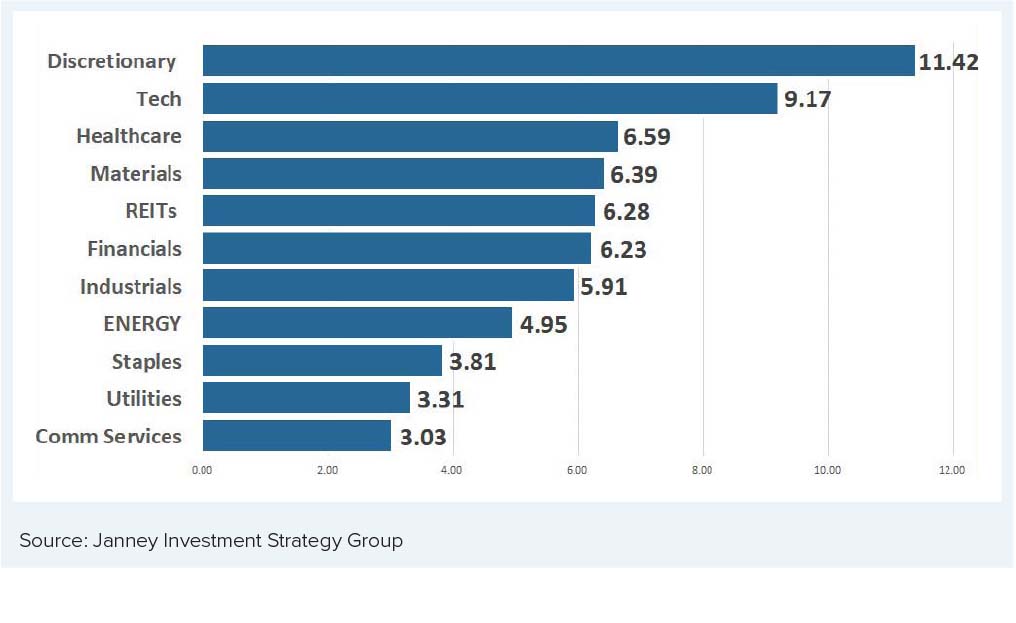 The early results from third-quarter earnings reports helped the October rebound. By the end of October, 56% of the S&P 500 had reported results for the third quarter of 2021. Of these companies, 82% reported earnings better than expected. This put the blended earnings growth rate for the S&P 500 at 36.6%, on track to post the third-highest year-over-year earnings growth rate since 2010. The October 31, 2021, report of the 2021 S&P 500 earnings estimate showed a jump of $2.24 to an all-time record at $204.45. The 2022 estimate increased 60 cents to $219.11.
Best Three-Month Stretch
Seasoned investors are well aware that November through January is the best three-month period for the S&P 500, Dow Jones Industrials, and the NASDAQ Composite. Since 1949, this period has produced an average gain of 4.3% for the S&P 500 and the Dow, with October-December next best at 4.1% for the S&P 500 and 3.9% for the Dow. Although it is highly unlikely, investors nonetheless would like November this year to repeat the S&P 500 Index's 10.75% gain posted last November.
The seemingly ever-present worry that the Fed will raise interest rates is unrealistic at this time even if the Fed begins pulling back on its bond-buying program. In addition, worry that the holiday shopping season might be hurt by supply-chain problems appears to be easing thanks to steps taken by several key retailers. An estimate by the National Association of Retailers suggests that holiday sales this year might increase as much as 10%.
As the market navigated the downturn and recovery last month, the S&P 500 created a pattern that in the past often has been a good indicator of higher prices to come.
Chart 4: S&P 500 Large Cap Index, November 1, 2021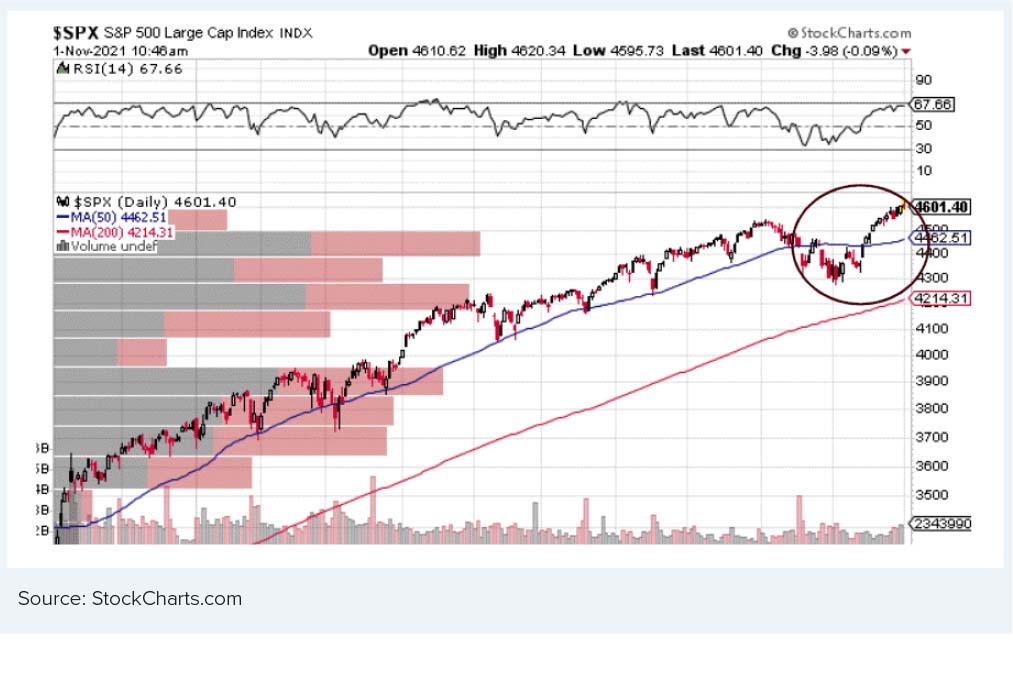 The cup and handle formation circled in Chart 4 tends to be a very bullish pattern. After the sharp move up in the second half of October, some hesitation would not be surprising. However, the trading pattern of the S&P 500, the underlying economy, and the easing of some concerns, suggest the 2021 stock market high is still ahead.
Disclaimer
The information herein is for informative purposes only and in no event should be construed as a representation by us or as an offer to sell, or solicitation of an offer to buy any securities. The factual information given herein is taken from sources that we believe to be reliable, but is not guaranteed by us as to accuracy or completeness. Charts and graphs are provided for illustrative purposes. Opinions expressed are subject to change without notice and do not take into account the particular investment objectives, financial situation or needs of individual investors.
The concepts illustrated here have legal, accounting, and tax implications. Neither Janney Montgomery Scott LLC nor its Financial Advisors give tax, legal, or accounting advice. Please consult with the appropriate professional for advice concerning your particular circumstances. Past performance is not an indication or guarantee of future results. There are no guarantees that any investment or investment strategy will meet its objectives or that an investment can avoid losses. It is not possible to invest directly in an index. Exposure to an asset class represented by an index is available through investable instruments based on that index. A client's investment results are reduced by advisory fees and transaction costs and other expenses.
Employees of Janney Montgomery Scott LLC or its affiliates may, at times, release written or oral commentary, technical analysis or trading strategies that differ from the opinions expressed within. From time to time, Janney Montgomery Scott LLC and/or one or more of its employees may have a position in the securities discussed herein.
About the authors