Monthly commentary on timely investment and economic issues by Janney analysts Mark Luschini, Guy LeBas, and Gregory Drahuschak.
Key Takeaways —
The path to recovery is complicated, but investors could still find comfort in the market.
Interest rate volatility is an important factor in fixed income. Read why.
December has some typical stock market moments. However, could things be different this year?
MISERY DOESN'T LOVE COMPANY
Mark Luschini, Chief Investment Strategist
Headline inflation continues to dominate the news, having recently hit an annualized level last seen in 1990. According to U.S. Bureau of Labor Statistics and Consumer Price Index data, the "misery index"—the sum of the unemployment and inflation rates—has punched above 10%, a height that during the past 50 years is observed only coincident with recessions.
While we believe the risk of an economic contraction that would define a recession is exceedingly low now, the inflation component of the misery index has contributed to the rather sour readings from consumer sentiment surveys. So far, spending behavior has not changed much, however it remains to be seen how that will evolve. An abatement of today's high inflation readings would likely improve consumer sentiment and lower the misery index's elevated print. Indeed, we believe that could occur but probably only become more evident in the first half of next year.
Goods Inflation Might Soon Peak
The most important driver of today's high inflation rate has been the remarkable surge in goods inflation—the things people buy that include everything from computers to refrigerators—from near 0% prior to the pandemic to over 8% today. This jump in goods prices is explained by a shift in the composition of consumer spending, which has been away from services and toward goods. This pivot began during the worst of the pandemic, when spending on services, namely travel and hospitality, was not an available option.
Coincidentally, households diverted their spending toward goods at a time when COVID prevented factories from running at full capacity, which served to compound the supply/demand imbalance. As the impact of the pandemic continues to fade, we should see the composition of spending shift back toward services concurrent with companies being able to increase capacity. The result should be a drop in goods inflation during the next year by an amount that is significant enough to offset the inflation emanating from services industries, sending the overall inflation rate lower.
In fact, there are already signs that inflation may be close to peaking on goods. The Baltic Dry Index—an index that measures the cost of transporting raw materials—has plunged, and other measures of the price of shipping containers are starting to roll over. All of these indicators tracked inflation's rise and are now signaling an easing of bottlenecks in the goods supply chains.
Potential Impact as We Move Forward
So far, investors have apparently looked past the rapid pace of inflation, concurring with the Federal Reserve's repeated view that inflation, for the reasons we discussed above, is likely to subside. Equities have fared well coming off the lows of March 2020, and this year alone have posted gains north of 20%. However, what might the impact be on the stock market should inflation remain elevated for a long time?
In the U.S., inflation that exceeded the Federal Reserve's target of 2% has been fairly uncommon since the Great Financial Crisis, so there is little in recent history to observe what the market reaction might be to a sustained climb in consumer prices. However, it is easy to show that today's inflation, which has not just been the province of the U.S. but rather a global phenomenon, has infected the stock markets of other countries around the world. The primary impulse of the impact on stocks in general is to compress multiples, meaning equity valuations are reduced to reflect the higher costs businesses incur which weighs on profits.
The complicated thing about inflation is that it affects some economies more quickly and in different ways because of idiosyncratic consumption patterns. As a rule of thumb, the effects of inflation tend to be almost instantaneous for developing economies, where necessities like food and energy account for a large share of the consumer-spending basket. In contrast, it can typically take a year or more for inflation to gain enough momentum to have an impact on developed economies.
Observations of this disparity can be witnessed today in the reaction function of central banks around the world. A large and growing number of them have raised interest rates this year, in some cases more than once, to curb inflation. However, almost all instances are confined to developing countries. Among the major developed-market central banks, namely the U.S. Federal Reserve, Bank of England, European Central Bank, and Bank of Japan, there has been no change in interest rate policy.
Among developed economies, the U.S. tends to be acutely sensitive to inflation because of its consumer-centric profile. Indeed, the U.S. consumer accounts for 68% of GDP and unsurprisingly, this year's rise in inflation has already weighed on confidence. The recent reading on the University of Michigan's Consumer Sentiment Index was the lowest in a decade.
Investment Implications
The concern for investors is that earnings expectations for the S&P 500 tend to closely follow the ebb and flow of consumer confidence. This is in essence the link from inflation to the consumer and then to equities. Currently, inflation has pushed into levels in which, if sustained, could become a threat. Historically, the market's price-to-earnings ratio tends not to suffer a discount unless inflation exceeds 3% for an extended period.
Prognosticating the likely path of inflation is extremely difficult because it is a lagging and variable indicator. However, monitoring its glide path and the stickiness of its constituents in terms of their current elevated or subdued readings, will guide our views about the potential deleterious effect of inflation on the stock market. For now, the misery index is a warning, but not a call to change our bullish view.
INTEREST RATE VOLATILITY AND FIXED INCOME
Guy LeBas, Fixed Income Strategist
Low interest rate volatility is a phenomenon that investors had been familiar with for several years leading into 2020. Even when volatility, or "vol," picked up in spring 2020, it soon began to decline after the initial Federal Reserve rate cuts settled in and has remained mired at low levels through 2021.
The volatility situation tends to focus on the U.S. stock market, with the CBOE Volatility Index (VIX) receiving greater attention in recent years. Despite the attention on the equity side, volatility is arguably a more important concept in fixed income markets, as there are entire asset classes whose value depends directly on volatility. Moreover, given the low level of interest rates, the broad perception is that volatility is more likely to work against bondholders and drive rates higher rather than lower. This is why it is now worth further examining volatility as it relates to fixed income.
Realized Volatility vs. Implied Volatility
For starters, there are many different measures of volatility. However, we can break down the concept into two separate parts:
realized volatility, which measures what happened in the past, and
implied volatility, which measures what the markets are pricing for the future.
Of the two parts, realized volatility is a more user-friendly concept because it is simpler to measure what has happened by looking at historical data.
Chart 1: 3-Month Range of 10-Year Treasury Yields is in the Lowest Quartile Suggesting Low Realized Volatility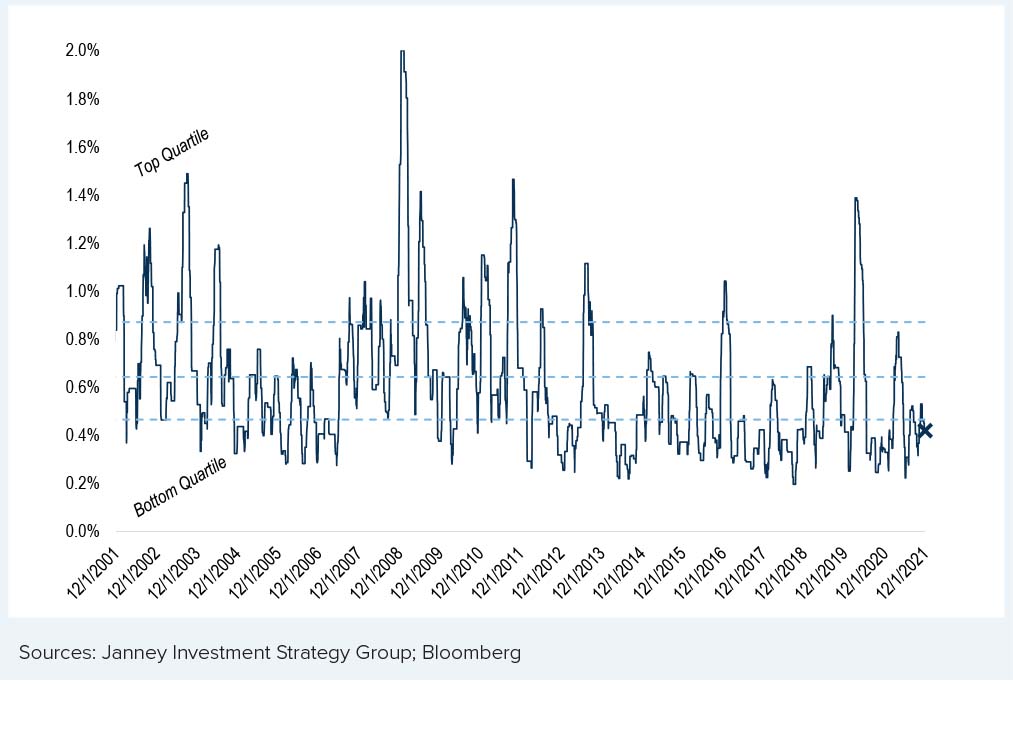 Let's consider the yield on the 10-year Treasury note. During the past 90 trading days, the yield on the 10-year note has spanned a 0.42% range, which is at the bottom quartile of historical ranges (the lowest the range has ever been was 0.12% in mid-1972). However, range does not describe everything about realized vol—imagine the difference between a very zig-zag pattern that holds in a narrow range, as opposed to a straight-line chart pattern that holds in the same range. To capture that effect, we need another measure—standard deviation—which on a three-month basis is in the second-lowest quartile. In other words, realized interest rate volatility is extremely low right now when you measure it daily, but is unusually high intraday.
Implied volatility is a little more complicated to explain. Conceptually, it represents how much volatility the markets think there will be in the future. We can arrive at the concept of future volatility by looking at pricing in the bond options markets. Options get more expensive when volatility is expected to be high, since there is a higher probability of those options becoming valuable.
MOVE It
While there are thousands of different options on bonds, perhaps the simplest and most comprehensive measure of implied volatility is the Merrill Lynch Option Volatility Estimate (MOVE) Index, which includes the implied volatility from options on 2-, 5-, 10-, and 30-year Treasury bonds. The MOVE index, incidentally, functions similarly to the VIX index for stocks.
Today, the MOVE bond volatility index is actually elevated and hovering at highs previously exceeded in March 2020 and at intervals in 2019, 2015, and 2013. What do these time periods have in common? There were significant shifts in Fed policy during each of these times. March 2020 was, of course, the Fed's sudden rate cut, while 2015 was the first hike of a cycle and 2013 was the infamous taper tantrum.
Chart 2: MOVE Volatility Index Tends to Rise When Fed Policy Changes Afoot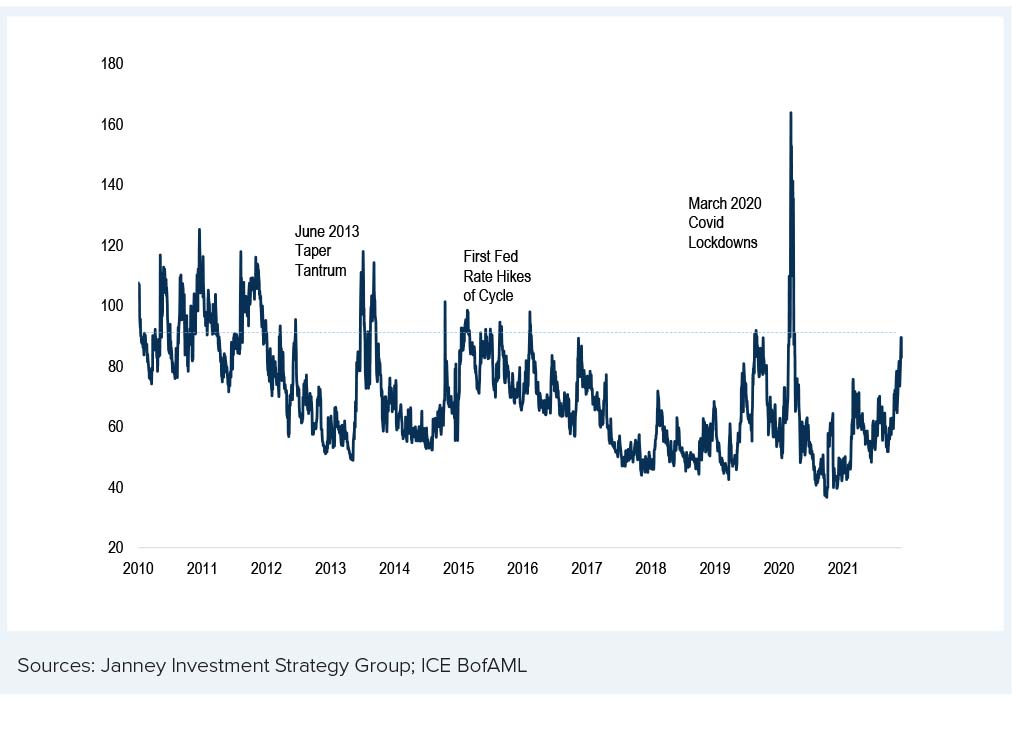 In summary, changes in Fed policy cause implied volatility to rise, and some of the leveraged fixed income trading losses we discussed in the November Investment Perspectives probably serve to exaggerate increases in implied volatility. When a low-volatility regime breaks and volatility quickly rises, the result often includes short-lived spikes and dips in interest rates—as we have seen since October.
'TIS THE SEASON TO BE JOLLY…USUALLY
Greg Drahuschak, Market Strategist
This year was difficult for two market clichés—"as January goes, so goes the full year" and "sell in May and go away." Neither worked.
The S&P 500 closed January this year down 1.11%, but the index went on to a double-digit percentage gain. The S&P 500 gained 10.15% from the end of May through October.
Investors hope that December can avoid a similar contrarian fate, as the S&P 500 has ended higher in nearly 75% of all Decembers since 1949.
December's History
More so than most other months, the market in December has a few predictable elements.
The typical December begins with a positive bias before entering a slump that often ends mid-month and coincides with the typical end to institutional tax selling. The final two weeks of the month usually have an upward bias, although the final option expiration of the year can generate short-lived excess volatility.
However, it is interesting that the week of options expiration in December and the following week have the most bullish record of all quarterly option expirations. Portfolio rebalancing occurs all year in an effort to position portfolios in line with market performance. Commonly referred to as "window dressing," this process tends to be more pronounced as the final quarter ends.
Then, of course, there is the time-honored "Santa Claus rally" that often lifts stocks through the last five trading days of December into the first two trading days of January. On average, this period on its own produces a gain roughly equal to the average gain for entire Decembers since 1950, with positive results in nearly 80% of all Santa Claus rally periods.
Focus on the Fed
The re-appointment of Jerome Powell to lead the Federal Reserve brought credit policy into even greater focus as the Federal Reserve Open Market Committee (FOMC) decided to begin reducing the monthly pace of its net asset purchases by $10 billion for Treasury securities and $5 billion for agency mortgage-backed securities.
As November ended, thinking developed that the December 14-15 FOMC meeting might accelerate the "tapering" process. This belief was reiterated by Powell himself when he said the Fed will consider winding down its bond-buying program sooner than expected.
Tapering is viewed as the precursor to an eventual boost in interest rates. The "dot plot," which shows FOMC members' projections for the federal funds rate, will be a critical part of the December policy release.
Other Market Factors to Consider
Earnings will be a key driver of stock price performance. The S&P 500 earnings estimate has risen 5.06% in the 27 weeks since we began tracking the 2022 estimate. Through this period, the S&P 500 has increased by roughly double the rate of the earnings estimate increase. This prompts some investors to suggest that the market is too far ahead of earnings and needs to pull back for a time. The stock market, however, seldom perfectly parallels earnings growth. At approximately 21 times the 2022 estimate, the S&P 500 earnings multiple is below a level that often marks a market peak, but it might mean that achieving additional market gains could be more difficult than has been experienced this year.
Multiple times in 2021, investors worried that the major market indices were due for a major correction. This concern intensified when the S&P 500 slipped from the beginning of September through October 4, 2021. The subsequent recovery from the October 4 low led to a technical breakout at the 4,550 level and eventually to the latest new all-time high approaching 4,750.
The Takeaway
Despite this month's strongly positive seasonal bias, correction worries again surfaced on news of a new COVID-19 variant. Despite the potential for increased near-term volatility, we think the weight of the evidence suggests that any corrective action could be limited in scope and duration. Support for the S&P 500 appears to exist at the previous breakout level (4,550) followed by the 200-day moving average around 4,300. As we move into 2022, we would not be surprised if a correction this month might lead to the market rebounding as it did following the October correction.
Disclaimer
The information herein is for informative purposes only and in no event should be construed as a representation by us or as an offer to sell, or solicitation of an offer to buy any securities. The factual information given herein is taken from sources that we believe to be reliable, but is not guaranteed by us as to accuracy or completeness. Charts and graphs are provided for illustrative purposes. Opinions expressed are subject to change without notice and do not take into account the particular investment objectives, financial situation or needs of individual investors.
The concepts illustrated here have legal, accounting, and tax implications. Neither Janney Montgomery Scott LLC nor its Financial Advisors give tax, legal, or accounting advice. Please consult with the appropriate professional for advice concerning your particular circumstances. Past performance is not an indication or guarantee of future results. There are no guarantees that any investment or investment strategy will meet its objectives or that an investment can avoid losses. It is not possible to invest directly in an index. Exposure to an asset class represented by an index is available through investable instruments based on that index. A client's investment results are reduced by advisory fees and transaction costs and other expenses.
Employees of Janney Montgomery Scott LLC or its affiliates may, at times, release written or oral commentary, technical analysis or trading strategies that differ from the opinions expressed within. From time to time, Janney Montgomery Scott LLC and/or one or more of its employees may have a position in the securities discussed herein.
About the authors