Monthly commentary on timely investment and economic issues by Janney analysts Mark Luschini, Guy LeBas, and Gregory Drahuschak.
Key Takeaways —
What should investors watch for as Russia-Ukraine tensions rise?
A look back at fixed income in 2021.
Why asset allocation and other factors could be key to achieving maximum results in 2022.
A RIDDLE, WRAPPED IN A MYSTERY, INSIDE AN ENIGMA
Mark Luschini, Chief Investment Strategist
In 1939, U.K. Prime Minister Winston Churchill famously called Russia "a riddle, wrapped in a mystery, inside an enigma." Back then, he was referring to Moscow's political ambitions as unpredictable and shrouded. Today, there is still a lot of game theory being played as to President Putin's intentions regarding Ukraine, among other things.
Ukraine-Russia Tensions Rise
A non-trivial source of risk for investors in Russian financial markets, and perhaps for other parts of Eastern Europe as well, are news developments surrounding Ukraine. Unless the United States and Europe abandon their political and military support for Ukraine and preclude the sovereign's possibility to join NATO, Russia will likely continue to escalate pressure and threaten at least a partial invasion of Ukraine. Although President Biden has agreed to some compromises regarding the Russia-Ukraine conflict, odds seem quite low that the U.S. and Europe will completely withdraw their reinforcement of Ukraine.
The U.S.-Russia confrontation originates primarily from each side's national strategic interest relating to the post-Soviet space. On one hand, Russia's strategy is to disallow NATO's expansion near its borders. On the other hand, America's grand strategy is to prevent the rise and strengthening of Russia's regional powers. In this context, Ukraine's aspiration to join NATO, and possibly the European Union in the future, remains a major point of contention. In short, it appears Ukraine's accession into NATO is President Putin's red line.
Indeed, in an article published last summer, he spoke of the importance of Ukraine to Russia's national strategic interests.
Ukraine serves as critical buffer territory as it offers Russia a land-and-sea buffer. Some political strategists think it is highly unlikely that Russia would try to invade and conquer all of Ukraine. Instead, Russia will focus on Ukraine's access to the Black Sea, as that avenue is of the most strategic interest. From a geographic view, that would imply only Ukraine's southern coastline around Crimea is at risk.
Russia may just be bluffing, but its military build-up poses a credible threat. The U.S. is unlikely to preclude Ukraine from potential NATO membership, after all, doing so would cave in to Russia's strongman tactics, jeopardize any relationship with the Ukrainians, and send a patchy message to other U.S. allies around the world.
In the meantime, Russia could remain bold in its negotiating stance. Putin has not indicated that he deems the threat of sanctions as prohibitive of invasion. Also, Russia is probably not showing off its military force merely to ensure that the Nord Stream 2 pipeline goes into operation. In fact, high energy prices and rising natural gas prices in Europe, might offer Russia some insurance that the Europeans would be reluctant to impose harsh sanctions on Russia, and in turn, restrain the U.S. as well.
Investors Take Heed
Meanwhile, on the domestic front, Russian authorities continue to tighten monetary and fiscal policies as inflation is running at a six-year high and stubbornly above the 4% target established by the Bank of Russia.
This bodes ill for domestic growth and warrants further caution on Russian equities, which have performed much better than the MSCI Emerging Markets benchmark.
Rampant inflation poses a serious threat to the Russian economy and the government's popularity. Even as Russians realize rapid wage-growth price hikes are eroding disposable income in real terms.
Finally, fiscal policy will be another headwind as the government is expected to cut spending next year. This could, in effect, result in a negative thrust for GDP in the New Year. The upshot is that Russia's activity on the Ukraine border, and ongoing talks between Presidents Biden and Putin, and other European leaders, will demand monitoring. In the meantime, both geopolitical and domestic conditions warrant caution on making Russian investments.

FIXED INCOME: 2021 YEAR IN REVIEW
Guy LeBas, Fixed Income Strategist
A long-running Investment Perspectives tradition, this first fixed income article of the New Year will look back at how fixed income markets performed in the old year.
Picture Brightens, a Bit
Last year's review of 2020 was tinged with pandemic induced sadness, as well as the economic sadness brought on by a sharp, although short lived, recession.
This year's review of 2021 is more hopeful. While the human toll of the coronavirus was still severe in the past year, the economic hardship was far less, and the financial market performance was more "normal" in most respects.
Balanced investment portfolios, exemplified by a classic 60/40 mix of the S&P 500 Index and "the Agg" (Bloomberg U.S. Aggregate Bond Index), posted a total return of 16.5%—capping off a now three-year run which has totaled more than a 62% return. In 2021, equity returns were responsible for all of the gains, as the aggregate bond markets, nonetheless, posted a -1.5% return amidst moderately rising interest rates.
Chart 1: 60/40 Balance Portfolio Returns Were Strong, Though Bonds Detracted for First Year in Three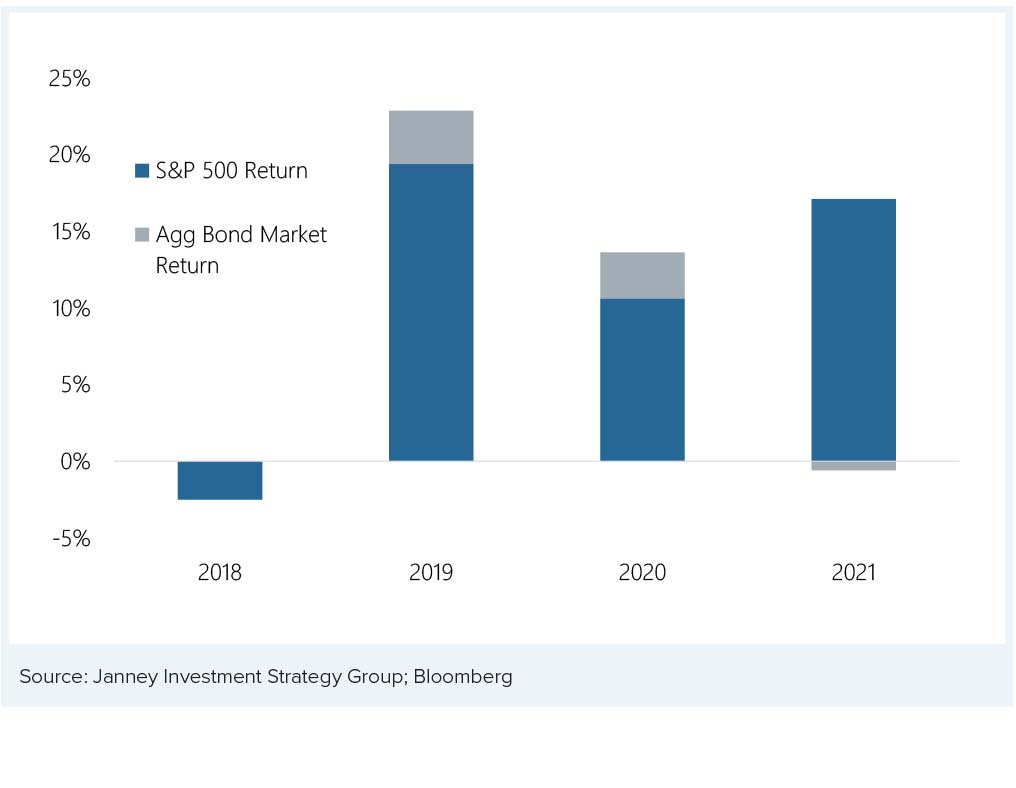 There are essentially two aspects of fixed income markets that drive returns: changes in interest rates and changes in credit spreads. For the first year of three, interest rates rose considerably, with the benchmark 10-year Treasury yield rising +0.6% to 1.51% on December 31 (equivalent to a roughly -2.5% total return), while 2-year yields were also up by +0.6% to 0.73% on December 31 (equivalent to a roughly -0.7% total return).
While interest rates rose across maturities, the lower price volatility of short-term bonds means they performed better in total-return terms.
Credit spreads, the second source of return in bonds, offers a cleaner story. Spreads on investment-grade-rated corporate bonds finished the year close to unchanged, so returns on these investment-grade securities essentially tracked returns on Treasuries, plus a margin. The fact that spreads started the year out relatively narrow by historical standards proved the biggest challenge for further improvement. By contrast, spreads on high-yield-rated corporates contracted by -0.77%, meaning that high-yield rated corporates outperformed Treasuries significantly—a win for the "risk-on" trade. Finally, the value of the U.S. dollar rose considerably in 2021, meaning that most foreign-currency denominated bonds, adjusting for interest rate changes, performed relatively poorly
Chart 2: 2-Year Treasury Yield and 10-Year Treasury Yield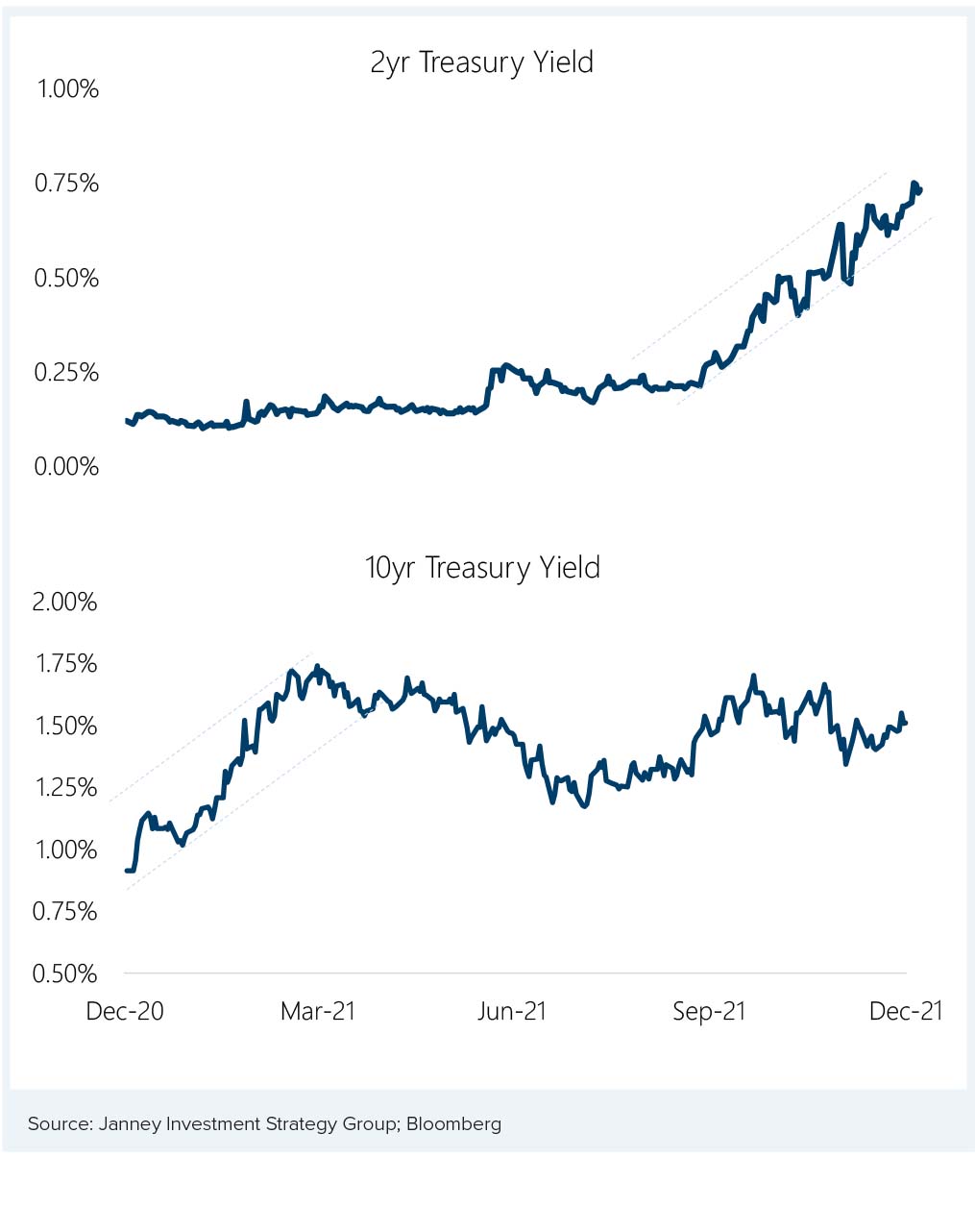 The bulk of 2021's rise in long-term rates occurred surprisingly early in the year, between January and the end of March. Overseas buying stepped in heavily in the spring, limiting further increases, and we mostly muddled along without obvious direction later in the year.
The year-end level of 1.51% on the 10-year note is close to our initial 1.60% forecast from our Outlook 2021. By contrast, short-term rates spent the first half of the year mired near zero before rising consistently between August and December to 0.73%, well above our 0.45% expectation.
The factors that drove declining interest rates were perhaps a bit surprising. From 2021's experience, it is evident that long-term rates are today more sensitive to fiscal expansionism—hopes for which peaked early in the year— while short-term rates are more sensitive to impending Fed rate hikes—which were priced in late in the year.
Evidence of private-sector economic growth, meanwhile, seemed to do little to influence buying or selling in the interest-rate markets. In addition, credit spreads seemed held hostage to animal spirits in the risk-asset markets far more so than fundamentals. That much was obvious from the high correlation between high-yield spreads and the S&P 500, when equities displayed a bit of weakness in September and again in early December.
Prepare for Challenges
2022 is shaping up to be somewhat frustrating for fixed income investors. Much like the last half of 2021, we anticipate a frustrating start, with bond bulls and bears both disappointed in turn before any consistent move in rates or credit emerges. In the meantime, you can read more about the themes we expect to see in the fixed income sections of Janney Investment Strategy Group's Outlook 2022.
WHAT TO CONSIDER FOR STOCKS IN 2022
Greg Drahuschak, Market Strategist
Back-to-back annual gains for the S&P 500 are not uncommon. After three consecutive annual gains, however, investors might enter 2022 with concern that achieving four-straight annual gains might be difficult.
Perhaps Four in a Row?
Nonetheless, the S&P 500 has posted a fourth-consecutive annual gain five times since 1942; three times generating a fifth-straight-year gain, and posting an eighth-consecutive annual gain in 1982-1989.
In each of these periods, the stock market benefitted from strong underlying factors.
Chart 3: 4 or More Consecutive Annual % Gains for the S&P 500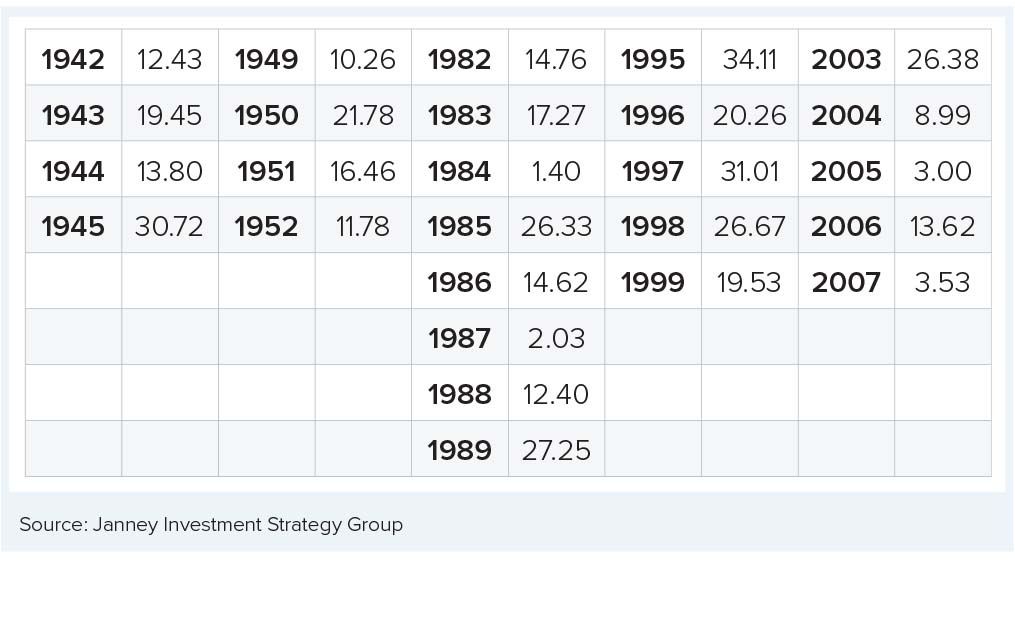 World War II industrial production bolstered the 1942-1945 period. The post-war baby boom helped the economy from 1949 through 1952. After reaching the highest interest rates since the Civil War, the rapid drop helped propel the equity market to its record-setting streak of annual gains.
The tech boom of the 1990s drove the market sharply higher. The post-recession recovery led the S&P 500 to fivestraight annual gains from 2003 through 2007. The S&P 500 had a miniscule fractional loss in 2011, otherwise the Great Recession recovery period would have given the S&P 500 six-straight annual gains from 2009 through 2014.
How Will the Year Shape Up?
We anticipate that 2022 will have elements that could be catalysts for a fourth-consecutive annual gain, but a smaller gain than was achieved in any of the three previous years. Although 2021 ended with COVID issues negatively affecting the economy here and abroad, new therapeutics and the eventual turn of the virus into an endemic phase with decreasing economic interruption should lead to a more free-flowing economy. A resolution to the supply-chain issues that plagued the economy for much of 2021 should help also.
Individual and corporate liquidity remains high, which should provide the overall economy with a solid base. After a slow post-COVID period, the Energy, Industrials, Materials, and Financials sectors should fare well and probably lead the market higher.
Importance of Asset Allocation
Asset allocation could be the key to achieving maximum results in 2022.
Chart 4: Percent of S&P 500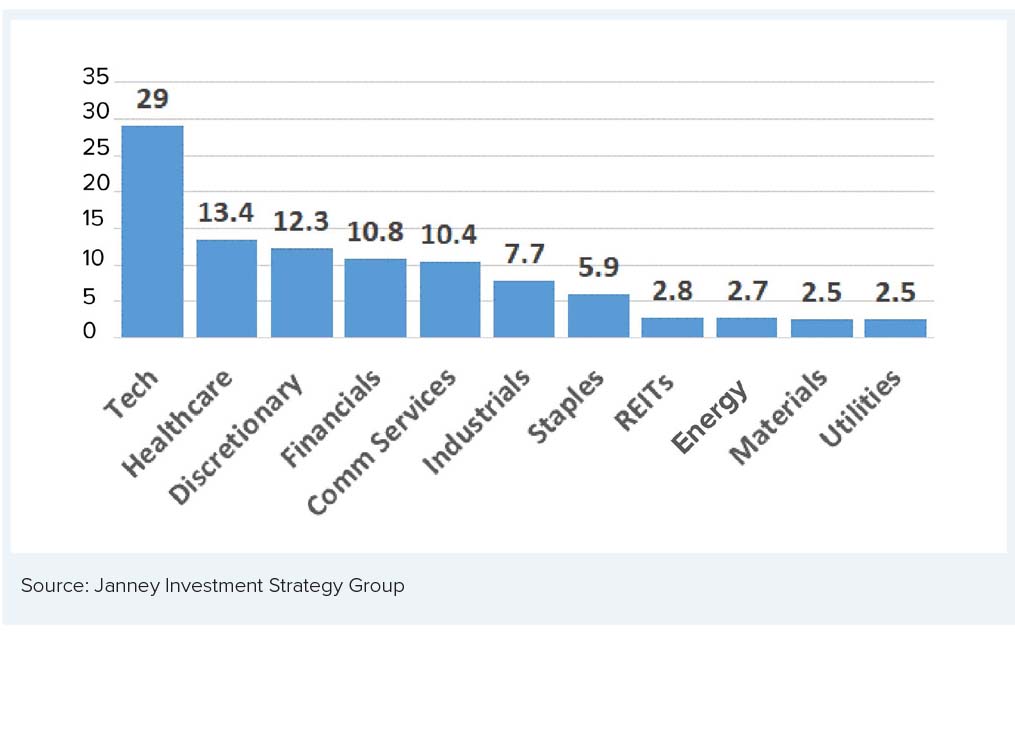 A heavy allocation to bonds is likely to be a drag on portfolios. Although Energy, Industrials, and Materials are appealing, in aggregate they represent only 12.9% of the index, which is less than half the position Technology has in the index. Maximizing portfolio returns will mean increasing the allocation to the three cyclical sectors. This would suggest cutting back on the tech sector since it is by far the largest portion of the S&P 500, but we would caution against reducing the tech sector too much and instead would bolster the cyclical component by reallocating money from a wider range of sectors.
Realigning portfolios, however, should consider recent sector performance.
Often there are dramatic shifts in year-to-year sector performance as back-to-back annual leadership is relatively rare. It is not unusual to see the top-ranked sectors in one year fall to, or near, the bottom of the rankings the next year and vice versa.
The Energy sector topped the S&P 500 results throughout 2021 and ended the year with its best annual performance in the past 32 years. In this period, the sector has topped the S&P 500 in two straight years only once (2004 and 2005). The combination of demand and energy prices, however, provides the sector with fundamentals as good as it has had in many years.
It is equally noteworthy that through these same 32 years, the Materials and Industrials sectors never topped the S&P 500 in any year.
As a separate S&P 500 sector, the Real Estate sector led the index three times, but its 2021 performance was significantly better than in any of the years when the sector topped the index.
Inflation, Federal Reserve actions, domestic and international political considerations, plus COVID-related issues, could periodically produce choppy trading and possibly create a temporary pullback in the S&P 500.
Rising corporate earnings, high levels of corporate and individual liquidity, solid GDP growth, as well as stock buybacks, however, should keep the market on an overall path to more new highs for the S&P 500.

Disclaimer
The information herein is for informative purposes only and in no event should be construed as a representation by us or as an offer to sell, or solicitation of an offer to buy any securities. The factual information given herein is taken from sources that we believe to be reliable, but is not guaranteed by us as to accuracy or completeness. Charts and graphs are provided for illustrative purposes. Opinions expressed are subject to change without notice and do not take into account the particular investment objectives, financial situation or needs of individual investors. '
The concepts illustrated here have legal, accounting, and tax implications. Neither Janney Montgomery Scott LLC nor its Financial Advisors give tax, legal, or accounting advice. Please consult with the appropriate professional for advice concerning your particular circumstances. Past performance is not an indication or guarantee of future results. There are no guarantees that any investment or investment strategy will meet its objectives or that an investment can avoid losses. It is not possible to invest directly in an index. Exposure to an asset class represented by an index is available through investable instruments based on that index. A client's investment results are reduced by advisory fees and transaction costs and other expenses.
Employees of Janney Montgomery Scott LLC or its affiliates may, at times, release written or oral commentary, technical analysis or trading strategies that differ from the opinions expressed within. From time to time, Janney Montgomery Scott LLC and/or one or more of its employees may have a position in the securities discussed herein.
About the authors